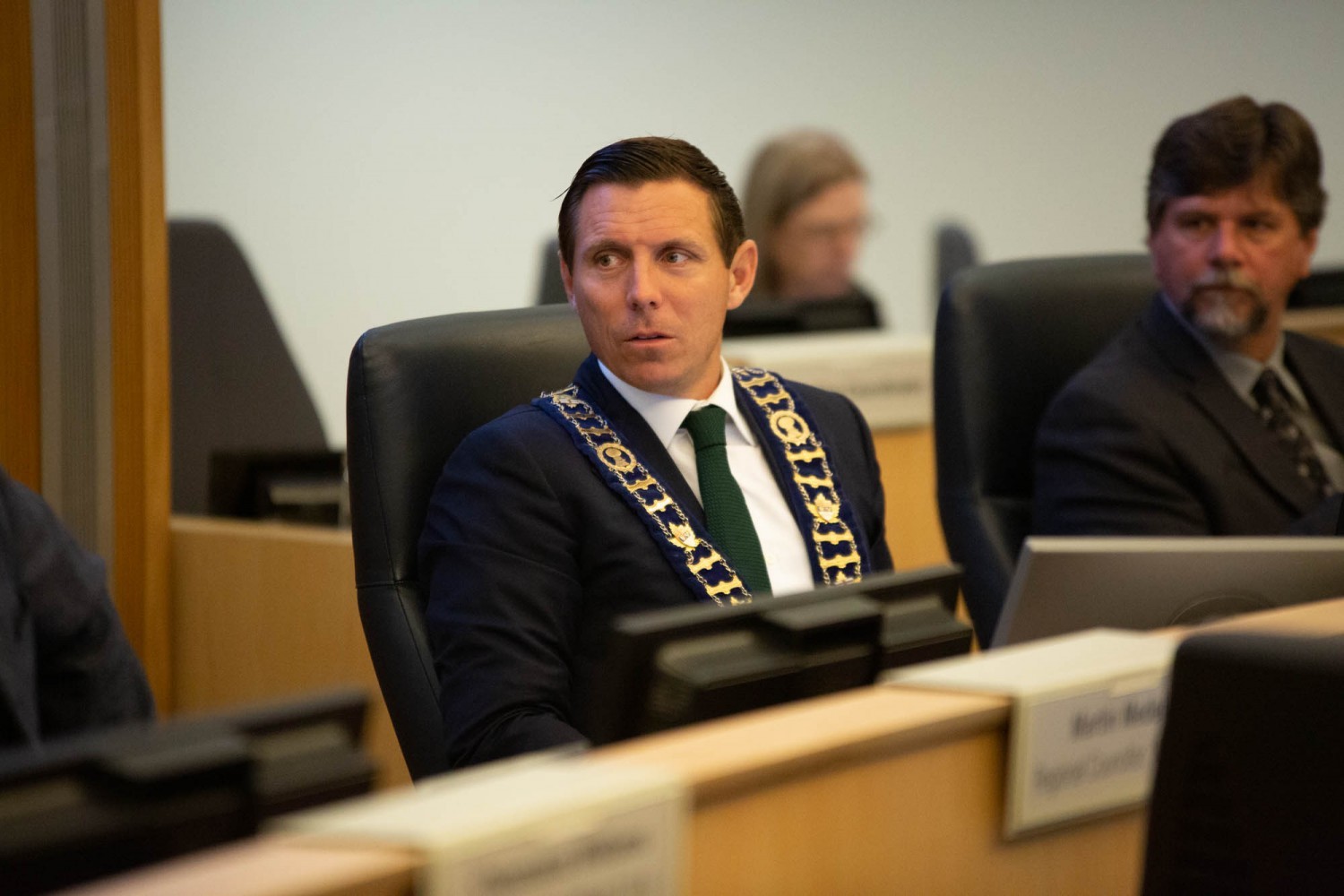 The Pointer files
Patrick Brown lies about Nikki Kaur's firing: media comments were 'public attacks', her lawyer says 
Despite the possibility of legal action against the City of Brampton, and claims that no public comments would be made about the firing of Nikki Kaur, Patrick Brown conducted media interviews right after the decision, disparaging the former City Hall employee's work record.
Just days after Brown was reelected he spoke on iHeartRadio and Y Media about the firing of his mayoral election opponent, a senior staffer who was let go a day after coming second to Brown in last week's mayoral election.
"Council didn't make this decision, this was her superiors at City Hall on the City staff side," Brown told Yudhvir Jaswal during a Y Media interview Thursday. "If anything, I think the reaction on Council when we heard the CAO fired her was almost surprise that it hadn't happened before. The Deloitte investigation said that she had lied and tried to put her phone in water to cover it up. A lot of people thought she should have been fired then. I think if anything the City administration was very, very lenient on her after numerous ethical lapses and mistakes so I don't think it's a big surprise. I just hope in the future we don't see that kind of waste again."
The Deloitte investigation Brown referred to was launched by his opponents after Kaur came forward in April of 2021 with allegations and evidence of wrongdoing by Brown and senior staff, including the since fired CAO, David Barrick.
Kaur's evidence included damning messages from Brown and Barrick sent to her phone. She was fired by Barrick on the same day she emailed her allegations and evidence to the media, members of council and the public, and she couriered the phone to the City shortly after (she was eventually rehired into a different position on direction from Brown's council opponents).
Immediately after she emailed her allegations, The Pointer viewed her phone and received screen grabs of the alarming messages sent by Brown and Barrick to Kaur. The phone was working normally at the time, before it was sent back to the City.
Brown's claim that Deloitte "said that she had lied and tried to put her phone in water to cover it up" is a blatant lie.
When the City gave the phone to Deloitte months later, the firm reported it couldn't be charged, turned on, or otherwise accessed. After taking it to Apple for repair, Servall Canada Incorporated determined the phone experienced water damage.
"City staff retrieved the phone from Deloitte and brought it to Apple Incorporated for repair, who then provided it to Servall Canada Incorporated ("Servall")," the firm reported. "City staff provided Deloitte with a copy of a report prepared by Servall, which indicates that the phone experienced water damage to the following areas: Rear glass housing; Logic-board; Face ID and rear camera; Speaker and mic; Taptic engine; Display; Battery; and Lighting port and Sim port."
Kaur's lawyer, Frank Portman, a partner at Massey LLP, called Brown's media comments last week regarding her firing, "public attacks."
"Given that litigation may result from the retaliatory firing and subsequent public attacks by the Mayor on Ms. Kaur's professionalism and integrity, responding to the Mayor's public comments is not appropriate at this time. With that said, we have written to the City of Brampton instructing the City to preserve and save all documents, records and communications between the Mayor and other officials within the City, and we expect that the City will comply with that demand."
Kaur, who is a lawyer, has denied intentionally damaging the phone, and said, if it was damaged, the City could have accessed its cloud storage. Kaur said the device was sent by courier to the City after she was first fired in April of 2021 by Barrick on the same day she publicly released her wide-ranging allegations of wrongdoing. City staff, not Kaur, provided the phone to Deloitte in August of 2021 when the firm investigated her allegations.
Numerous damning messages by Barrick from his personal text-based platforms to Kaur, targeting an employee to be pushed out of City Hall and instructing her to contact a close associate of Brown who was given a lucrative contract, were reviewed and screen shots were then forwarded to The Pointer in the presence of Kaur while she handled the phone. Messages from Brown from his WhatsApp account directing Kaur and other senior staff to sell Conservative Party memberships during work hours were also reviewed and screenshots were provided.
Prior to being recruited by Brown in Brampton, Barrick had no experience as a municipal CAO and had never even run a small municipal department. He was a small-town Niagara councillor who represented Port Colborne and was closely connected to Brown through Conservative political circles.
Before Brown brought him to Brampton, Barrick was implicated in a Niagara Region hiring scandal called an "Inside Job" by Ontario's Ombudsman.
The alarming conduct by Barrick and two other men, also later hired under Brown in Brampton, was detailed in the Ombudsman's report, titled "Inside Job".
The investigation report describes that key individuals involved in the hiring scandal claimed to the Ombudsman that evidence was tampered with and that damning messages had been fabricated and planted. The Ombudsman found none of their claims could be substantiated by forensic computer experts.
WhatsApp messages from Patrick Brown to Nikki Kaur, ordering Brampton staff members to sell memberships for Peter MacKay during work hours; Brown cut the Deloitte investigation short before the firm could interview him. Brown lied last week, claiming Deloitte said Kaur destroyed her phone to cover up her lies. The messages above, which The Pointer reviewed on Kaur's phone (along with many others), show she was not lying.
Brown first lied about what the Deloitte report said regarding Kaur's phone on Moore in the Morning last Wednesday, with John Moore on his iHeartRadio show. Brown said Deloitte found Kaur had lied and "destroyed her phone to avoid accountability."
Brown was asked about Kaur's firing a day after she came second to him in the mayor's race.
"That would be a decision of the administration, not a Council decision," Brown said. "If anything though I would say Council was wondering why it took so long. Because obviously last year when Deloitte reported that she had lied and destroyed her phone to avoid accountability, people thought she would be fired then and of course when she ran unsuccessfully for the federal Conservative nomination while she was supposed to be doing GR (government relations) with the federal government. I know a number of councillors who were really upset about that. Ultimately the CAO will make the best decisions that he thinks are required for the city, but if anything I think the response from council would be that they were surprised it hasn't happened sooner."
Moore again asked Brown about the timing of Kaur's firing: "... but for somebody to be fired the day after they run against the mayor and the mayor wins?"
"I think, and it would be my guess, you would have to ask HR, whether it was mismanagement of the university file or constantly running for different races, I think this is the third race she has run in in the last year and a half, I just think there was a level of distraction there and she had lost the confidence of her colleagues at City Hall and senior staff. Ultimately I don't want to speculate and that's for the CAO or the HR department to answer."
Despite claiming he didn't "want to speculate" Brown repeatedly did just that, making damaging, unsubstantiated comments about Kaur's work performance.
His claim that she mismanaged the university file, flies in the face of Kaur's evidence around the failed Brampton University project Brown pushed. A recent forensic investigation found widespread wrongdoing, and that a close friend of Brown was the point person for a firm that was given a contract for more than $500,000. That was three times more than what council had approved in 2019. Much of the work was never done and Brown's friend was paid even though the tasks had not been done.
A staff report and subsequent forensic investigation found contracts were given to friends of Brown and Councillor Rowena Santos and that procurement rules were broken, creating an unfair bidding process that included advantages which benefited their friends. Kaur, the former point-person on the file, served as a whistleblower bringing the allegations forward.
When Kaur raised red flags to staff, she told council members earlier this year that she was instructed to approve payments. The Brampton University project was part of her initial allegations in 2021 and led to the forensic investigation this summer. It was cancelled by Brown before Kaur could be interviewed and before other key pieces of evidence were addressed.
Brown's disparaging comments about Kaur's employment and his repeated misleading claims that the Deloitte report said she lied about her phone, were made despite a statement from the City of Brampton that nothing could be communicated regarding personnel matters.
Accessible in its entirety on the City Hall website, the Deloitte report was ordered following allegations by Kaur that contracts and procurements went to City Hall insider friends, and that Brown used City resources for his own political interests. Kaur provided her cell phone which showed WhatsApp messages from Brown directing her and other senior staff who didn't work in his office to sell memberships for former federal Conservative leadership candidate Peter MacKay during work hours.
Barrick refused to hand over communications, which were made using his personal device. He was supposed to conduct City business using public platforms, such as his City-issued phone and his City of Brampton email account.
"The CAO provided his corporate mobile device, an iPhone XS, of which Deloitte created a forensic image," the firm reported. "The device contained limited information for review, in particular it did not contain any WhatsApp data, including any of the conversations provided to Deloitte by the Complainant. The CAO stated that he used a personal device to engage in WhatsApp conversations."
Brown also used personal platforms such as WhatsApp to send Kaur work-related messages.
Messages from Barrick to Kaur instructing her to contact a close political associate of Brown, a man named Brett Bell, were also shown to The Pointer and screen grabs were forwarded. Bell was given a City contract worth more than $300,000, despite having no experience in the area. Kaur said she was told to contact Bell, and the messages from Barrick show the man's contact information was given to Kaur. She said it was made clear to her that Bell was the only person to be contacted for the lucrative contract he was given. Bell did not even have a company registered when he was contacted by City Hall to do the work.
This was included in Kaur's initial allegations. She said the wrongdoing she witnessed, and Brown's repeated attempts to cover it all up, were the reasons why she decided to run against him.
While Brown claimed Kaur's work suffered due to a "level of distraction" for running politically, he ran in the federal CPC leadership campaign, refusing to vacate his seat or take a leave while he was preoccupied with the race until he was disqualified from it in July. He continued to be paid, even though he missed several council meetings and key votes.
After his disqualification from the CPC race he registered to run again for mayor, and moved immediately to cut off the ongoing forensic investigations tied to many of the allegations Kaur had first brought forward in 2021.
After a damning interim update in August, Brown cancelled all of the investigations before completion. He claimed they were politically motivated.
A final letter by investigators showed their Brampton University work was looking into Brown's relationship with consultant Rob Godfrey, his close friend, when Brown terminated the entire probe.
A screengrab of the Froese Forensic Partners update report which notes the investigators were in the process of looking into connections between Mayor Patrick Brown and Rob Godfrey when the mayor ordered the investigation be stopped.
The Mayor's Office did not reply to questions regarding Brown's media comments about Kaur's firing last week.
A spokesperson for the City of Brampton said it cannot comment on individual personnel matters.
---
Email: [email protected]
Twitter: @JessicaRDurling
---
COVID-19 is impacting all Canadians. At a time when vital public information is needed by everyone, The Pointer has taken down our paywall on all stories relating to the pandemic and those of public interest to ensure every resident of Brampton and Mississauga has access to the facts. For those who are able, we encourage you to consider a subscription. This will help us report on important public interest issues the community needs to know about now more than ever. You can register for a 30-day free trial HERE. Thereafter, The Pointer will charge $10 a month and you can cancel any time right on the website. Thank you
Submit a correction about this story