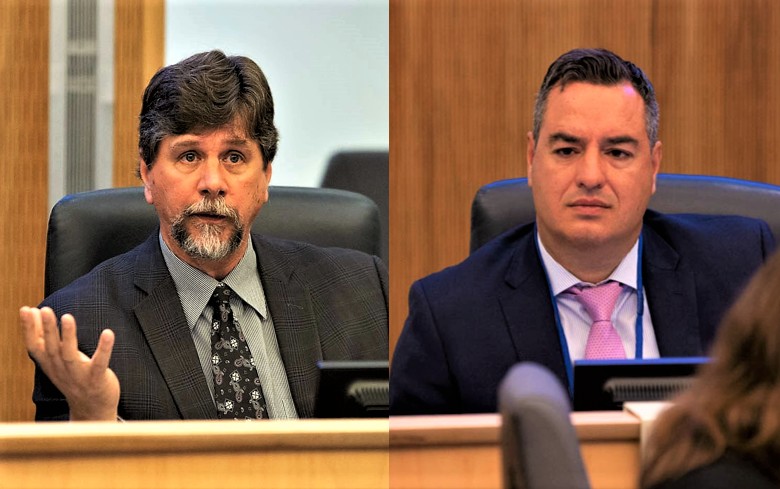 Feature image The Pointer file photos
Councillors frustrated by rushed taxpayer-funded corruption investigation that lacked accountability
It's been top of mind for Brampton councillors, staff and City Hall watchers for months. Hours of closed-door meetings and hundreds of thousands of taxpayer dollars have been sunk into it. But when Deloitte's investigation into corruption allegations at the top of the local government finally appeared in front of council, a majority of elected officials, including Mayor Patrick Brown, seemed determined to sweep it away.
"Let's move the City forward and just get some things done," Councillor Doug Whillans said during Wednesday's meeting when the Deloitte probe was supposed to be discussed. "I'm tired."
Whillans was one of several councillors who initially pushed for the investigation to be handled transparently. While the other four remained committed to a proper process, he fizzled out and seemed more aligned with Brown and these other five members who supported the mayor throughout, trying to minimize the allegations and the investigation: Rowena Santos, Paul Vicente, Harkirat Singh, Michael Palleschi and Pat Fortini.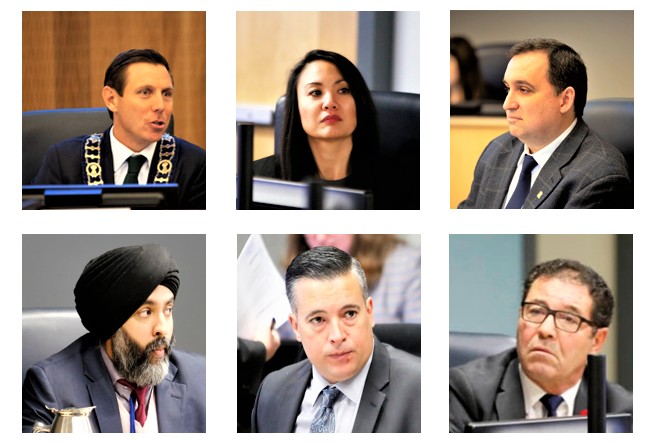 Patrick Brown, top left, and his council allies; clockwise: Rowena Santos, Paul Vicente, Pat Fortini, Michael Palleschi and Harkirat Singh. (The Pointer file photos)
The report probed corruption allegations levelled largely against CAO David Barrick, who was hired under Brown's direction despite a scandalous past in Niagara and having no experience running a city department, let alone a municipality the size of Brampton.
Councillors Charmaine Williams, Gurpreet Dhillon, Jeff Bowman and Martin Medeiros supported a full investigation. After it was launched they were forced to push forward a key motion to stop the other council members and senior staff from continuously moving the matter in camera, behind closed doors where the public could not see what was going on.
It was eventually revealed that Brown and his five supporters tried to curtail the investigation by limiting it to 30 days, despite the wide ranging allegations and dozens of staff that potentially had to be interviewed.
Brown, aided primarily by Santos and Vicente, resisted. With the support of the other council allies, they raised concerns about the cost of the investigation and tried to rush it through as quickly as possible.
The report itself was finally added to Brampton's agenda Tuesday night, barely 12 hours before the meeting was due to start and months after it was commissioned. Its publication followed a transparency fiasco the week before, when staff suggested Deloitte had completed its investigation, but could not bring the report forward before an internal review, admitting it would not be available for the public to view ahead of the council meeting to discuss it.
When its release was postponed a week, the report was still not made available to the public and Deloitte claimed it had not completed its investigation work.
The consultancy firm, which will walk away with more than $300,000, refused to answer questions during the meeting and would not even make its two investigators available to appear before council, the only public opportunity to address their findings. Municipal governments generally include a requirement of consultants and other third-parties to appear before council and the public to explain what taxpayers have paid for.
Instead, councillors were left with almost no time to prepare and no one to pose questions to. The lack of transparency and accountability blocked residents from delegating.
In a telling comment during Wednesday's meeting, City Clerk Peter Fay admitted he had not uploaded the investigation to relevant portions of the City website before the meeting began because he did not have time.
The fact Fay was too rushed to even properly distribute the report shows just how hard it would have been for the public to access it prior to the meeting, and the extent to which the open democratic process was subverted by staff, who are led by the man allegedly responsible for most of the corrupt conduct.
"I did not do that last night in consideration of everything else that I was working on [in] preparation for today's meeting," Fay said, referencing concern the report was not shared on a special investigation web page or via a media release. The City only published a media release, which misleadingly airbrushed the report, after council had discussed and received it.
"I can tell you that I've just posted it now," Fay said, hours after the meeting had already begun.
The way senior staff handled the messaging of the investigation report was further evidence of how senior employees under Barrick's authority have tried to mislead Brampton taxpayers.
Jason Tamming, who was implicated in the Niagara Region "Inside Job" hiring scandal that got him fired from his communications role there, when he worked to rig the CAO hiring process as Barrick exerted influence on senior regional staff behind the scenes to get his boss at the time Niagara's top job, now runs Brampton's communications department, after Brown had him hired for the role following the 2018 municipal election. Tamming works under Barrick. Brown has ties to both men through his conservative political circles.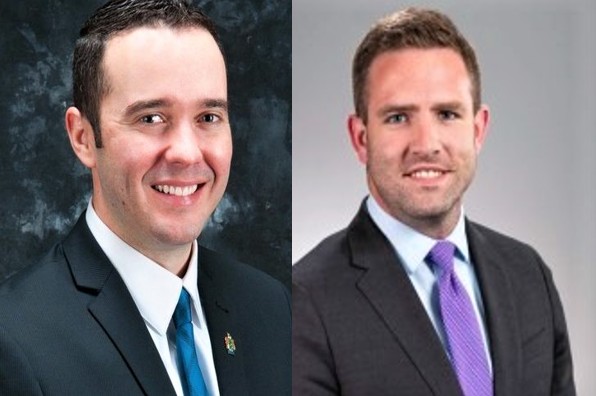 Brampton CAO David Barrick, left, and Jason Tamming were hired by Patrick Brown after they were fired in Niagara. (Facebook, LinkedIn)
After the Deloitte report was released, and with no opportunity for the public to address it, Tamming's department put out a media release that claimed the report's "conclusions are further supported by previous reviews of this matter by the Ontario Ombudsman."
When asked if this was true, despite no formal acknowledgement by the Ontario Ombudsman that it had ever reviewed the matter, Linda Williamson, head of communications for the provincial agency, told The Pointer, "The Ontario Ombudsman has not conducted any investigations or released any findings regarding the City of Brampton since 2017." That was two years before Barrick was hired and a year before Brown was elected mayor.
It means that Tamming, who ultimately reports to Barrick, tried to mislead the Brampton public into thinking the province's top municipal watchdog had already cleared staff of the alleged wrongdoing.
The investigation was ordered in May after bombshell allegations made by a senior Brampton staffer, Gurdeep (Nikki) Kaur, detailed delinquent hiring practices and fraudulent procurements.
---
Read More:
---
Instead of offering an opportunity to carefully probe Kaur's damning allegations, many of which were supported by evidence such as screenshots of disturbing messages sent by Brown and Barrick, council's handling of the Deloitte investigation raised even more concern.
In the end, the firm determined it did not have enough evidence to find wrongdoing in many of the matters investigated but did find misconduct by Barrick in some cases. The thin report, which is barely 20 pages long (less than half is actually fresh material) and incredibly vague was called a disappointment by some councillors.
It did not even address allegations and evidence provided by Kaur that Brown had directed her and other senior staff to work on Peter MacKay's bid to win the federal Conservative leadership contest last year.
"In our opinion, for several reasons, the report fails to properly address many of the concerns Ms. Kaur brought forward, not the least of which is the fact they didn't even complete the full investigation," Kaur said in a statement issued by her lawyer. "Some allegations were not dealt with."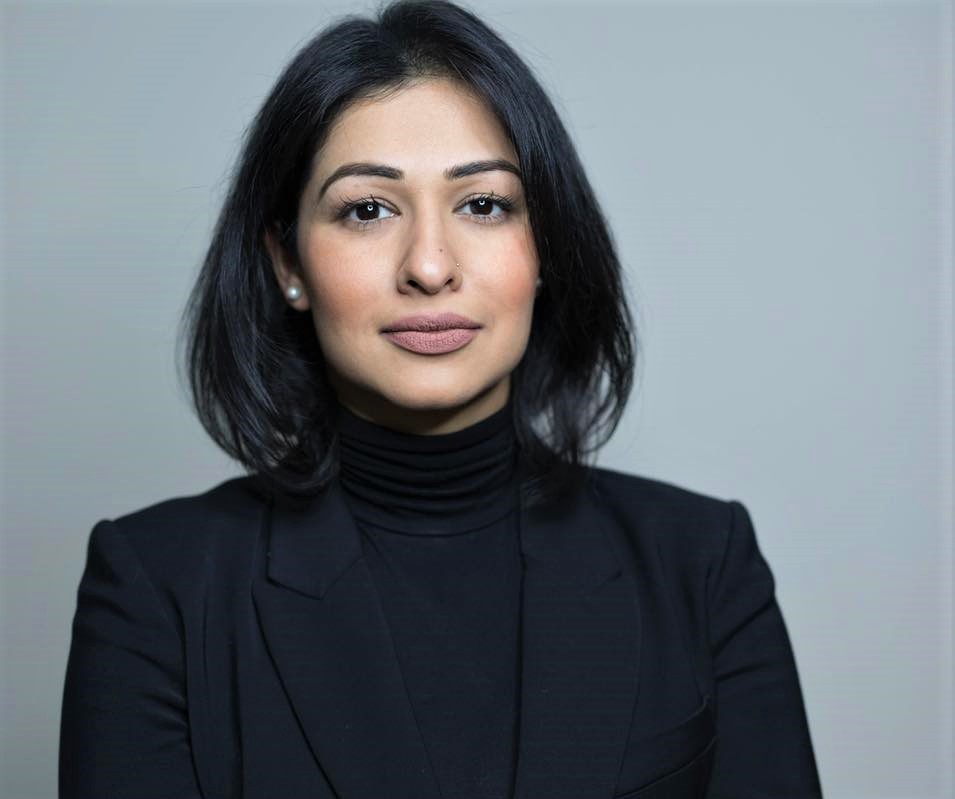 Brampton senior staffer Nikki Kaur says the Deloitte report is incomplete. (Facebook)
At council on Wednesday, the content of the report was barely discussed. An attempt by Williams to delay discussions to allow time for proper analysis and debate failed in a 7-4 vote and the report's content was simply received by council.
"We had a lengthy discussion in-camera, and so, let's do our best not to repeat discussions that we've already had," Brown instructed councillors when the report was raised, referencing a meeting on September 15 the public was not privy to. The meeting took place before Deloitte had even submitted its report, so it's unclear how Brown determined council members could have formed opinions without properly reviewing the rushed document.
"We got briefed over hours from the investigator — I wish we could have had that same briefing here in public session, it was the investigator's wish to present it in-camera for liability reasons," Brown claimed, causing more confusion, as the secretive, behind closed-doors conversation he referred to happened before the report was even available to council members. "Deloitte has said that their report speaks for itself and … are not prepared to answer questions on it," Brown said during last week's meeting, justifying why council members should just move on.
It's unclear why Brown and other council members could not demand the Deloitte investigators appear before them and the public to answer questions, given taxpayers will likely be paying the firm more than $300,000 for what was supposed to be a public process.
"I think all the minutes [from times] that we've gone behind closed doors should be released," said Bowman, one of several council members who asked for the hidden minutes to be published. Santos, the mover of a successful motion to receive the report despite the absence of its authors, said she was not comfortable with the minutes being published, even after suggestions they could be anonymized. The Deloitte report was published with anonymized details, and Santos did not explain why she would not accept the same for council minutes in order to maximize transparency.
"Everybody has a right to know how we got here, how the work was chosen, the conversations we've had about other companies that could have done this report for us as well," Bowman responded.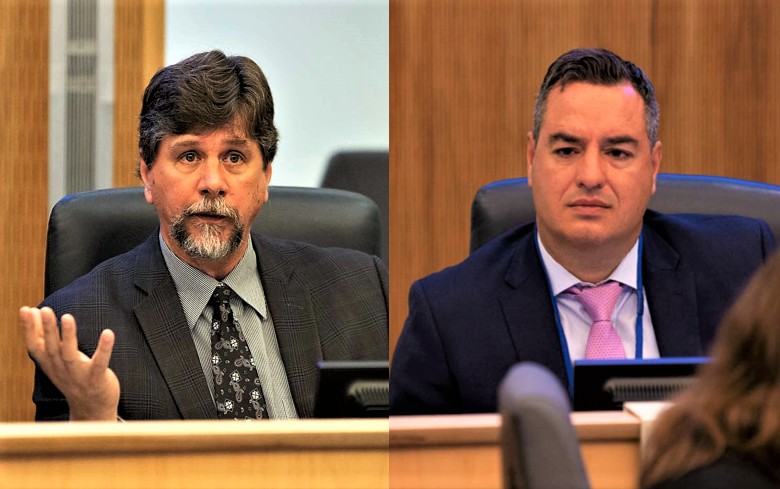 Councillors Jeff Bowman, left, and Martin Medeiros say they will pursue further action on the corruption allegations. (The Pointer file photos)
Apart from a few references to the investigation's inconclusive findings — described by Santos as "the reality that any allegations were unsubstantiated" — the report was hardly mentioned. The baffling lack of discussion came despite clear evidence Deloitte could not complete a thorough review. Multiple lines in the document suggest Barrick is running City Hall as an authoritarian, paying no heed to established practice, accountability mechanisms or previous policy.
Deloitte, for example, failed to get access to Barrick's personal WhatsApp messages. Screenshots from Kaur show the CAO uses the platform to communicate with City staffers to conduct important City business. Other screenshots show Brown also uses it to communicate, making Barrick's conversation history a potentially key source of information for investigators to probe.
The investigators did not appear to even question Barrick and Brown about why they are using a private, encrypted social media platform on their personal devices to do the important work of the city, which is supposed to be done on official City of Brampton platforms.
"The CAO stated that he used a personal device to engage in WhatsApp conversations," the report states, failing to explain why Deloitte made no effort to get these communications that could have proved the allegations.
Santos and Brown's other allies seemed unconcerned with the practice of conducting the City business on private, confidential channels.
The investigators also failed to get access to Kaur's phone to substantiate some of her allegations. The device, Deloitte claims, was water damaged and could not be accessed. However, through her lawyer, Kaur said a backup should have been available and expressed frustration that one was not accessed.
"The Report deals with the fact [that] Ms. Kaur's old phone had been damaged and the implication is that something was untoward about that," her lawyer wrote. "The investigators were advised of what happened to the phone, and that there should be no issues, because it was our understanding the data from City phones is backed up and could be obtained either from the City's IT department or directly from the phone carrier, if they needed to review it. The Report doesn't state whether the investigators attempted to do this."
It's also unclear why Deloitte did not request the damning information on Kaur's personal phone, which she shared with The Pointer. Messages show Barrick directing her to contact an associate of Brown for a $300,000 contract, and Brown messaging her to do work for MacKay.
Without investigators present to discuss their findings and City staff under the thumb of the man at the centre of the allegations, councillors did not ask about the issues. There was no one to explain discrepancies in how the report was carried out or answer questions about its methodology, including why there is very little information about the various staff complaints. The Pointer was told by sources that some 70 current and former staff members contacted Deloitte with information on alleged misconduct. The report does not explain why Brown was not interviewed and does not mention Kaur's evidence against him.
"I guess I don't know who to ask these questions [to] but anything that council felt that needed to be looked into further, are those items going to audit [committee]?" a frustrated Medeiros asked.
The key finding in the report is confirmation that Barrick deliberately hired candidates without the relevant experience to hold key roles within City Hall. Multiple examples in the report show Barrick subverting the hiring process to push his preferred, and under-educated, candidates into important roles paid for by taxpayers.
In July of 2020 Barrick, according to Deloitte, selected two new "Directors for departments responsible for managing critical city infrastructure." The job postings stated that university engineering degrees were a requirement for the jobs, as well as professional accreditations that allowed them to perform or approve highly technical work. The successful candidates should have "7-10 years of managerial experience with at least 5 years of experience in project management and construction," according to the report.
The men Barrick chose himself didn't even have engineering degrees. "Deloitte did not identify any indications of construction experience on either candidate's CV," the report says. Despite his alarming conduct, Deloitte accepted there was nothing wrong with Barrick's explanation that he simply changed the hiring requirements himself at the last minute and also had the authority to change policies on the fly which allowed him to override existing HR rules.
Essentially, all Barrick had to do was change the rules he violated, as he was carrying out his misconduct.
"Certain policies and standard operating procedures were revised or updated by the CAO contemporaneously with alleged activity," Deloitte wrote in its report.
In another case, Deloitte did not even address why Barrick was using his personal WhatsApp account to coach Kaur ahead of her own job interview with the City, to help her get the role, a clear violation of rules that require all candidates be treated equally.
Violations of policies were not explained, and most of the allegations, according to Deloitte, could not be substantiated, but the investigators admit their probe was incomplete, many interviews were not even conducted and Kaur herself still had another scheduled meeting with the investigation team that never happened.
It remains unclear what councillors will do next. The reality is Brown and Barrick effectively have complete control over City Hall. Councillors told The Pointer Brown made sure Deloitte was the chosen firm, despite its role in a Region of Peel scandal The Pointer exposed in 2019.
Members who have tried to shed light on the conduct of Brown and Barrick have said on background that as long as the mayor has six votes (including his) on the eleven-member body, and Barrick serves as his hand-picked CAO, controlling staff, there is little they can do internally.
"This [how the City deals with allegations] is what matters because it's the underpinning of how we service our residents, it's the underpinning of how we serve our community, it's the underpinning of what we stand for and the integrity of our administration," Medeiros, who told The Pointer the allegations still need to be dealt with, said. "The integrity of our municipality in many ways."
---
Email: [email protected]
Twitter: @isaaccallan
Tel: 647 561-4879
---
COVID-19 is impacting all Canadians. At a time when vital public information is needed by everyone, The Pointer has taken down our paywall on all stories relating to the pandemic and those of public interest to ensure every resident of Brampton and Mississauga has access to the facts. For those who are able, we encourage you to consider a subscription. This will help us report on important public interest issues the community needs to know about now more than ever. You can register for a 30-day free trial HERE. Thereafter, The Pointer will charge $10 a month and you can cancel any time right on the website. Thank you
Submit a correction about this story