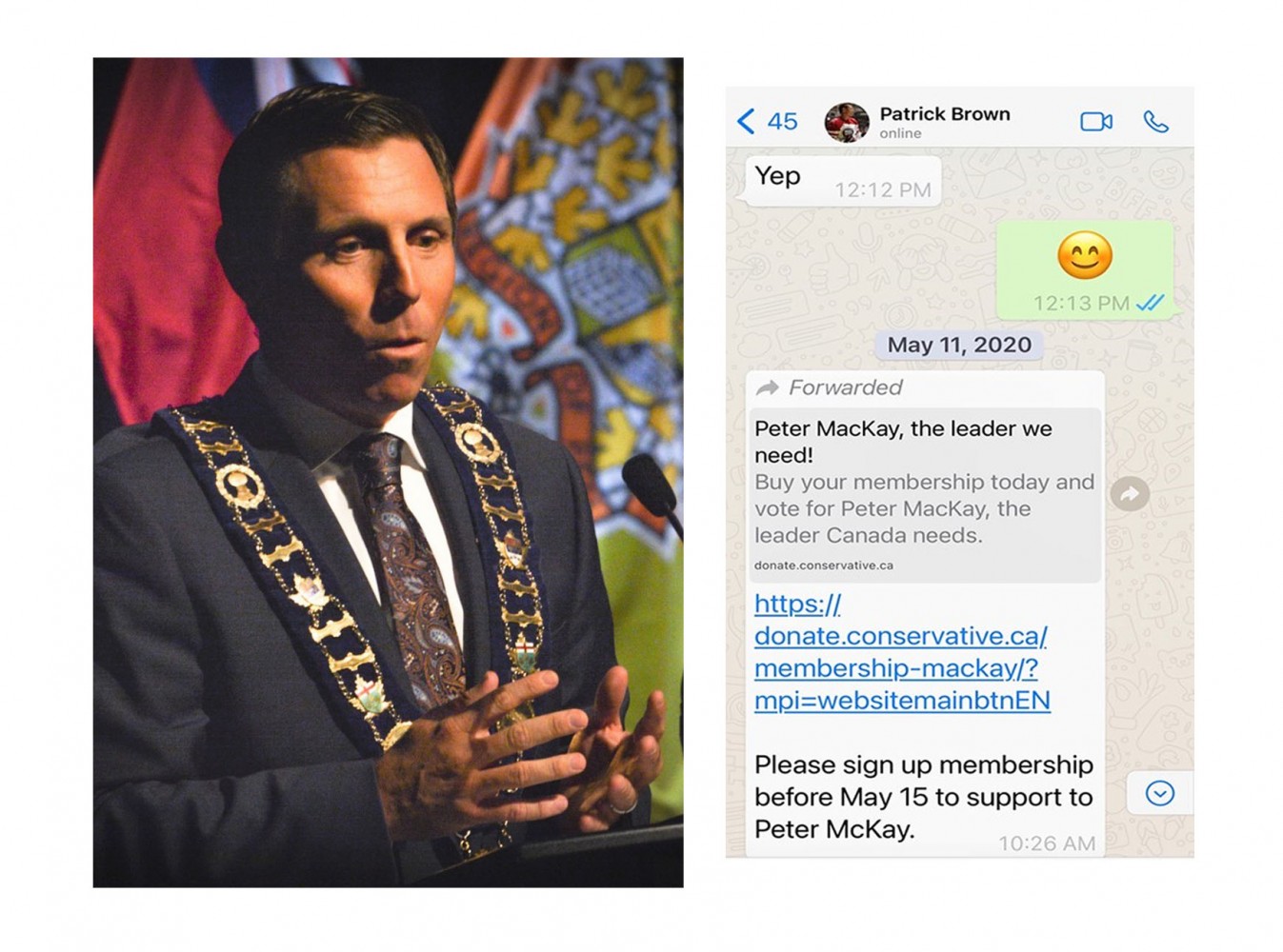 Feature image from The Pointer files
Patrick Brown appears to have violated rules by secretly directing City staff to campaign for Peter MacKay
When Mayor Patrick Brown was elected to lead the City of Brampton in 2018, he promised to focus on the city's economy and make the community safer.
Violating the principles of legislation and rules meant to prevent undue influence was not a campaign promise, but that's what Brown appears to have done.
Senior City staffer, Gurdeep (Nikki) Kaur, publicly levelled allegations of mismanagement, corruption and racism inside City Hall to thousands of employees, members of council, and media outlets on April 22. She alleged Brown "openly supported Peter Mackay" when he was running to lead the federal Conservative Party a year ago and used City resources to help MacKay's campaign efforts.
Kaur provided texts to The Pointer showing Brown instructed her and other City of Brampton staff to assist MacKay.
"Please sign up membership before May 15 to support Peter McKay (sic)," Brown texted Kaur on May 11, 2020 (a Monday) at 10:26 a.m.
A second text message the next morning, just before 9 a.m., was more specific: "Meet membership sellers and then do meet and greets with members after the membership deadline is over."
Then: "Let's aim for 10' to 20 membership sellers. People who can do a minimum of 100 each". Brown directed Kaur to be at a commercial unit at 3:30 p.m. that day, then changed the time to 4 p.m.. It appears the location is in Etobicoke, near Pearson Airport. He was attempting to sell Conservative Party memberships through local riding associations.
The next text from Brown stated "Very low turnout." Followed by "can you go there with Rob (D'Amboise, a senior staffer in CAO David Barrick's office) tomorrow night and Tuesday night to collect ballots. Knock on their doors."
Neither Kaur nor D'Amboise work for Brown in his mayor's office, and he is not supposed to have any authority over staff outside his political office. The bureaucratic staff are not supposed to favour any member of council and are mandated as civil servants to work for the taxpayers, not politicians.
Soon after, Brown texted "We need Stoney creek for peter," followed by "We have found people give ballots when we door knock them."
Duff Conacher, co-founder of Ottawa-based Democracy Watch, told The Pointer the text messages clearly show a conflict of interest because Brown's "furthering the interests of Peter MacKay."
It's clear MacKay and Brown are friends, he said. MacKay was reported to be at Brown's wedding and the two have been pictured at numerous events throughout the years. Brown tweeted about his presence at a charity event in Barrie on August 8, 2019, writing it was "Wonderful to see old friends like Peter Mackay and Mike Gartner," posing for a picture with the pair alongside his wife and son.
Congratulations to my friends in #Barrie for raising $155,000 for local charities tonight. Well done @AlexNuttallMP! Wonderful to see old friends like Peter Mackay and Mike Gartner. Very proud that this charity game has endured over the years. pic.twitter.com/kFBPn5fzyI

— Patrick Brown (@patrickbrownont) August 8, 2019
MacKay was also provided with boardroom space at City Hall when he visited last year to meet with roughly two-dozen businesspeople from the South Asian community.
Brown previously told The Pointer he welcomes visits from many politicians. "Liberal Steven Del Duca visited my team at City Hall when he was running for leader and wanted feedback on his healthcare plan. The NDP federal candidates also visited me at City Hall to learn about our Brampton agenda. The Green Party leader Mike Schreiner also visited me at City Hall to learn about our climate agenda. No taxpayer funds were used for any of these visits."
But others have a different account. One source told The Pointer City Hall was filled with City security staff doing overtime to accommodate MacKay's visit. The former leadership hopeful arrived in the early afternoon and stayed well past 5 p.m., surrounded by City security the entire time. The Pointer was told by multiple sources that Brown spent $30,000 to $40,000 of taxpayer funds on MacKay's campaign. This has not been confirmed by City officials.
Peter MacKay pictured above last year at City Hall with a member of Patrick Brown's staff at the time. More than two-dozen businesspeople in Brampton's South Asian community were invited to meet with MacKay.
If Brown was assisting MacKay and using City staff and public resources in order to advance his own political future, this is a clear conflict of interest. However, under the province's Municipal Conflict of Interest Act (MCIA) the mayor would have had to take a vote or formally discuss the matter related to the use of City staff or other resources in order for a violation of the Act to have occurred. It's possible that discussions and votes Brown participated in regarding the City's budget could be considered a violation, if he did not disclose that he had resources used for a purpose that could be viewed as a conflict of interest, because he stood to gain personally from the use of those City resources.
While these are at the very least clear ethical breaches, Conacher said Brown might be able to skirt the Act in this case because of a "huge loophole that should be closed." He explained the Act only covers the financial interests of Brown, his spouse, and children, but not his friends or acquaintances. So while MacKay clearly had a personal interest and gained a benefit from the use of City resources, he has nothing to do with decisions around the use of Brampton taxpayer funds.
But even if Brown could argue he had no personal benefit and did not participate in any relevant votes or discussions, just because his conduct was not out of line with the letter of the law, doesn't mean it was ethical.
He has refused to take questions from The Pointer for more than three months, and since January has only addressed one question, which he side-stepped.
Section 1 of the Act outlines basic principles of the legislation, concepts that are not enforceable but should be followed for best practices. Subsection 1 states: "Members are expected to perform their duties of office with integrity and impartiality in a manner that will bear the closest scrutiny."
Conacher believes Brown's actions are "a conflict of interest" and violate "the principles of the municipal conflict of interest act."
The possible consequences would be much different if Brown did this at the federal level because the government has laws preventing such actions. Conacher shared the example of former federal finance minister Bill Morneau, who was in a conflict of interest when he favoured WE charity, an organization he's closely associated with, to manage a student summer program, leading to the highly publicized WE scandal throughout 2020.
Ethics Commissioner Mario Dion found Morneau was "improperly furthering WE's private interests, by failing to recuse himself from decisions relating to WE, and by giving WE preferential treatment." Morneau resigned from the position last summer.
It also appears Brown violated the City's own rules.
Brown sent the text messages to Kaur during work hours, and directed her and other senior City staff to perform tasks for MacKay during the workday. Brown's directions and conduct appear to go against the City's corporate resources policy. It states "City staff shall not perform any work in support of a candidate or registered third party (e.g. campaign), during hours in which a person is receiving any compensation from the City, except during scheduled time off (e.g. scheduled vacation time)."
It also appears to go against the Council Code of Conduct. Rule four states: "No member shall use for personal purposes any City property, equipment, services, supplies, or services of consequences."
City Councillor Jeff Bowman told The Pointer he was surprised when he saw the texts but hasn't discussed the matter with the mayor.
"When I first learned of the texts, my initial reaction was, 'Is this for real', as some of the accusations are very serious."
Regional Councillor Gurpreet Dhillon also has questions about the texts and Brown's conduct. "These matters are indeed very concerning, and I believe that anyone with a conflict should declare one immediately. Unfortunately, due to Council choosing to keep most of this discussion in closed session, our residents are not receiving the full breadth of information they should be provided in relation to this issue."
An investigation into the allegations by Kaur is currently taking place. Dhillon pushed to have all discussions on the investigation in open session during the June 2 City Council meeting but received push back from many members of council who have appeared loyal to Brown and senior City staff at the centre of the corruption allegations. After altering his motion, Dhillon received support to have the third-party investigation by Deloitte handled in open, public sessions, as long as the matter deals with timelines, the agreed upon scope of the probe and the results which are to be shared publicly.
The principles of the MCIA were also apparently violated when Brown allegedly visited Kaur at her home right after she was fired by CAO Barrick on the same day she made allegations against him. According to a letter dated May 11 and signed by a nameless assistant, Brown visited the whistleblower at her home and offered her a job if she withdrew her allegations and cooperated with the City.
Council immediately ordered Barrick to rehire her in a different position and she no longer works in the CAO's office.
Brown has not denied that he visited Kaur at her home right after she was fired by Barrick.
The Pointer has emailed Brown and his director of communications, Gary Collins, numerous times to seek clarification. Attempts to ask questions at Wednesday's press conference were also unsuccessful as Brown continues to freeze out The Pointer, leaving few avenues for the public to get answers on the numerous controversies swirling around City Hall.
Brown told the St. Catharines Standard he didn't feel comfortable sharing the details of conversations he had with Kaur when asked about the alleged meeting.
Conacher points out the visit, if it happened, would amount to intimidation. "It's seriously an unethical and wrongful thing to do because it's an invasion of her privacy and in the situation it can easily be seen by her as intimidation." He said such conduct would violate the principles of the MCIA.
The letter alleging Brown visited the senior staffer's home was emailed the same day The Pointer reported Kaur would be rehired by the City. Sources confirmed Council directed the rehiring during a May 5 meeting. The City's June internal organizational chart, a copy of which was obtained by The Pointer, confirms Kaur has been rehired as the director of strategic projects in the planning, building, and economic development department.
The May 11 letter is addressed to HR director Sandeep Aujla, who Kaur has accused of making racist comments about Brampton's Black community and being complicit in some of the fraudulent hiring activities by senior staffers. Aujla is fighting these claims and is suing Kaur for $200,000 in damages, stating Kaur's allegations have hurt her reputation and lowered her status in the community. Aujla has aggressively denied all the allegations against her and her lawyer told The Pointer the lawsuit will prove her innocence.
Kaur was fired hours after she made her allegations in April and staff have scrambled to cover the reason behind her initial termination by Barrick. His letter states her firing was "a result of your failure to accept the transfer to the position of Strategic Leader, Planning, Building & Economic Development Project." A copy of the letter, signed by Barrick, was obtained by The Pointer.
It goes on to say Kaur's decisions to seek nomination for the next federal election violated the "Employee Code of Conduct and Conflict of Interest Policy." It's unclear how the City could prevent her from seeking elected office, as the right is constitutionally protected.
The employee code of conduct, approved February 16, 2021, states "If someone chooses to participate in political activity, it is a personal choice and it is not as a representative or on behalf of the City." The Pointer did not find any statement barring staff members from seeking public office.
Gurdeep (Nikki) Kaur's allegations resulted in a lawsuit by the City's HR director.
(Photo from Nikki Kaur/ Facebook)
Conacher said a whistleblower protection system is needed at the Provincial level and Council shouldn't be responsible for approving such policies because it presents a conflict of interest.
He says it should be like the freedom of information system the government set up decades ago. If municipalities were given the power to make their own rules, there would be "excessive secrecy." He has the same concern with whistleblower policies.
"You can't choose your own judge and write your own rules and ethics doesn't change across the Province. It's unethical in North Bay, it's unethical in Windsor and in Ottawa."
The City of Brampton does not have a standalone system to protect whistleblowers at this time but general forms of protection are mentioned in numerous policies. The City's corporate fraud prevention policy, for example, states no one can "retaliate against a Whistleblower for reporting in good faith."
Conacher said proper legislation means whistleblowers have someone they can rely on throughout the process to protect them. Simply saying whistleblowers are allowed to make complaints isn't enough.
The latest allegations against Brown of political influence aren't the first time he's faced accusations of wrongdoing.
Brown led the Ontario PC's when allegations of voter fraud in the riding of Hamilton West–Ancaster–Dundas surfaced in 2017. Former candidate Vikram Singh alleged ballot boxes were stuffed with fraudulent forms in favour of a second candidate who ultimately won the nomination ahead of the 2018 provincial election. An email leaked to the media from Brown to his senior campaign staff shows him demanding them "to get the results I want" in the nomination race. He told The Pointer in 2018 that he was asking for a fair election where no one was cheating or cutting corners.
Police did find falsified forms, but ultimately said they could not obtain enough evidence of who was responsible and did not lay charges.
---
Email: [email protected]
Tel: 416 890-7643
Twitter: @nida_zafar
---
COVID-19 is impacting all Canadians. At a time when vital public information is needed by everyone, The Pointer has taken down our paywall on all stories relating to the pandemic and those of public interest to ensure every resident of Brampton and Mississauga has access to the facts. For those who are able, we encourage you to consider a subscription. This will help us report on important public interest issues the community needs to know about now more than ever. You can register for a 30-day free trial HERE. Thereafter, The Pointer will charge $10 a month and you can cancel any time right on the website. Thank you.
Submit a correction about this story