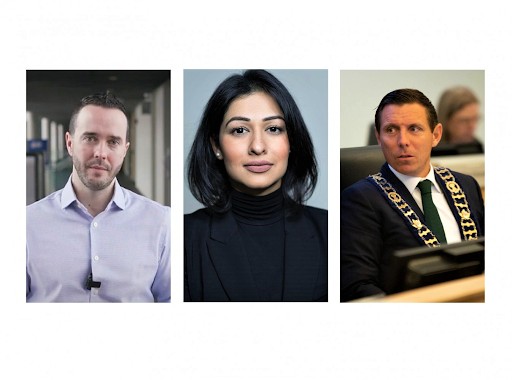 The Pointer file photos/Facebook
Concerns mount over influence, transparency, delays around Deloitte investigation into Brampton corruption allegations
The process to investigate widespread corruption allegations inside Brampton City Hall has once again raised eyebrows, as concerns over possible tampering by senior staff and the lack of transparency are being raised.
Attempts to thoroughly look into bombshell allegations made in April have been frustrated since the senior staffer came forward with her alarming claims. Roadblocks, delays and disturbing behaviour have frustrated those trying to get to the bottom of a series of troubling allegations.
The investigation report was supposed to finally be dealt with today, but it was apparently going to be kept from the public, according to the release of the council agenda, which originally stated the report by Deloitte, which was hired for the investigation, would not be included in the public agenda released about a week before the meeting. Instead, the report was to be distributed at the meeting itself, denying the public and elected officials the opportunity to thoroughly review the entire finding before the report was presented during the meeting scheduled for today.
Now, City staff claim the investigation report needs internal review before it can be dealt with by elected officials. This raises concerns that the same staff facing corruption allegations, primarily CAO David Barrick who controls all other City Hall employees, might be able to tamper with the report before it is made public, as the document was clearly ready this week and that's why it was put on the agenda by the City Clerk (who is dealing with Deloitte) for today's meeting, before it was bumped another week. The move raises concern about what senior staff might be doing with the report behind the scenes.
"It's always concerning, especially dealing with a third party investigation, that there would have been time pressures or expectations to schedule a report," Councillor Martin Medeiros told The Pointer. "When you put a title of this magnitude [on the agenda] and the interest that it raises and then we're not producing [it], just adds more fuel to the fire of suspicion of possibly influencing the report."
Councillor Gurpreet Dhillon also voiced concern.
"I'm hopeful that the report will be made available to the public in its entirety, and that they will have ample time to read it before it's presented at the meeting," he said.
The last minute request by Deloitte has added to the ongoing confusion around the corruption investigation. Brampton's Committee of Council agenda suggested, until late on Tuesday, the report would be discussed on Wednesday, September 22. The report would have only been put on the agenda by the City Clerk if Deloitte had informed him it was ready, suggesting someone intervened and did not want the investigation's findings, as detailed in the original report, presented today.
Deloitte will now outline its report to council next week, September 29, after a third extension, following two earlier requests by the firm for more time to deal with the sweeping allegations. But, as Medeiros pointed out, the sudden delay, after the report was apparently handed over to senior City staff for today's meeting, raises questions about why staff and Deloitte now need an extra week with the report.
It follows a number of previous actions around the investigation that raised concern.
It was revealed that Mayor Patrick Brown, who is at the centre of many of the allegations, led a push to curtail the investigation right off the bat, when councillors loyal to him helped restrict the entire probe to 30 days, despite Deloitte's efforts to make clear that such a restrictive deadline would not allow for a proper investigation.
Then, other councillors demanded the investigation be brought out in front of the public, in full view, after Brown and his council allies pulled all substantial discussions in camera, behind closed doors and away from the public.
Dhillon eventually brought forward a motion that ensured the corruption investigation would be handled with the public in mind, allowing taxpayers to see what council members are doing, allowing residents to weigh in, based on transparent information provided to them.
Deloitte was retained by the City of Brampton to consider disturbing allegations levelled by Gurdeep (Nikki) Kaur in an email sent to staff, councillors and media outlets during the early hours of April 22. She alleged delinquent hiring practices, fraudulent procurements and other corruption. Kaur placed controversial CAO David Barrick, who has a scandalous past in Niagara region and was hand-picked by Mayor Brown, at the heart of her complaint.
When she sent the email, detailing allegations against Barrick and others, Kaur was the director of corporate projects and liaison. She was fired by Barrick hours after sending it. A termination letter from Barrick to Kaur, seen by The Pointer, stated a decision she made to seek a federal nomination in Brampton to run in the next election was a violation of the City's Employee Code of Conduct, and Conflict of Interest Policy. The letter did not explain how Kaur violated the two City codes.
It is illegal to fire someone for seeking political office.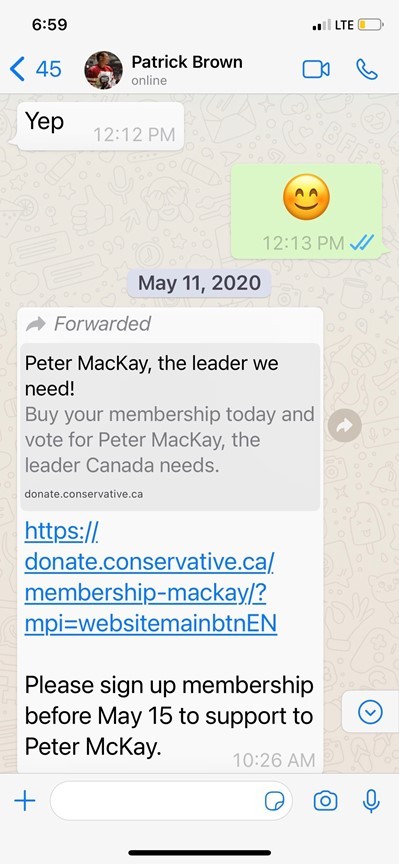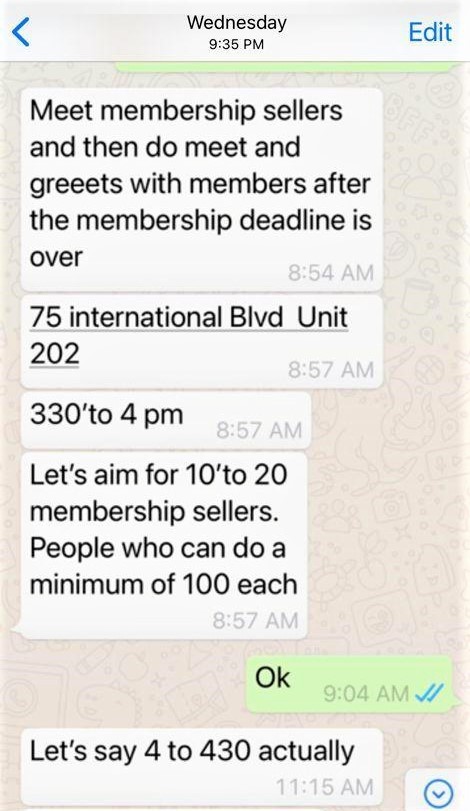 Text messages from Mayor Patrick Brown to Nikki Kaur directing her to work for Peter MacKay last year. (Supplied by Nikki Kaur)
It was reported that Brown visited Kaur's home right after she levelled allegations against him and senior staff including that Brown had directed her and other City employees to work on Peter MacKay's campaign last year when he sought the federal Conservative leadership. Brown has refused to answer questions about his conduct and would not clarify if he did or did not visit Kaur at her home after she released her allegations and was fired. He has not explained why he directed senior staff to work for MacKay, as is clear from text messages he sent to Kaur, which she provided to The Pointer.
Soon after she was fired and Brown allegedly went to her house, council intervened and directed Barrick to rehire Kaur in the planning, building, and economic development department.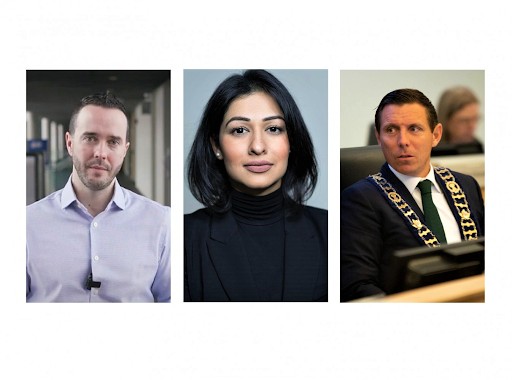 From left to right: CAO David Barrick, Nikki Kaur and Mayor Brown (Images from The Pointer files/Nikki Kaur-Facebook)
The issues Deloitte is tasked with investigating are complex and numerous. In the spring, councillors heard Barrick had shut down 28 internal fraud complaints filed by staff members, a decision he made without their knowledge or permission. Roughly 70 percent of all fraud complaints filed since the internal hotline was established in 2016 took place during a one-year period after Barrick was hired at the end of 2019.
He also tried to take over the internal audit department, which oversees the fraud hotline and should be an arms-length body to ensure tax dollars are spent responsibly. The department is required to report directly to council and, after Barrick tried to subvert its independence, councillors were forced to step in and return it to their control.
Kaur alleged in her email that Barrick had instructed her to reach out to just one consultant, Menes Company (MenesCo), to develop plans for a Municipal Development Corporation. The company was run by Brett Bell, a long-time Progressive Conservative who had a two-decade relationship with Brown and no background in municipal development or real estate.
A set of text messages Barrick sent Kaur show he sent her the name, email address and contact instructions. "Contact: Brett Bell," one of the texts read. Bell was approached by the City on January 9, 2020 but did not even have a registered company at the time. MenesCo was incorporated on January 11, 2020, two days after he was tapped for a contract worth around $300,000.
The Pointer also reported that Barrick hired a friend and former Niagara Region ally, Tony Quirk, in a consulting role. Council was never told that $218,000 was handed to the man without the approval of elected officials, and it remains unclear how the former small-town councillor, just like Barrick, was qualified to consult on issues of municipal organization for the ninth largest city in the country.
A third-party investigation was launched to find answers to a number of questions raised by Kaur in her stinging list of allegations. Deloitte was given a broad mandate to interview staff, access documents and investigate the conduct of senior staff hired under Brown's watch.
Initially, the firm was given just 30 days from the start of June to investigate Kaur's wide-ranging accusations, a timeframe that some councillors and members of the public insisted was far too short. Two subsequent extensions were granted before the eleventh-hour extension was announced Tuesday.
Deloitte told councillors early on that its time frame was too short.
"Deloitte has stated since [the] start that 30 days is not enough time for investigation based on number and variety of allegations involved," minutes of the June 2 Council meeting state. The minutes were released following the June 16 City Council meeting when some members demanded the matter be brought out into the public, after staff who report directly to Barrick made wild claims about the need to deal with the investigation behind closed doors.
Allegations of corruption go to the heart of City Hall (Image from Isaac Callan/The Pointer)
After the second extension, in August, Deloitte was working to a September 15 deadline. A third extension will now see the report delayed until next week after concern over the original plan for today's agenda included rushing Deloitte's investigation report onto the meeting floor without even providing its report in advance so councillors and the public could carefully review it before investigators explain their findings.
"On September 20, 2021, the Investigator, Deloitte LLP, provided the following statement advising the report is not yet finalized for presentation to the Committee of Council meeting and is requesting to present the report to the September 29 City Council meeting", a note belatedly added to the Brampton Committee of Council agenda Tuesday afternoon reads.
But there is no explanation as to why the report was added to the original agenda for today's meeting, as this would only have been done if Deloitte told the City Clerk it was ready.
"As we discussed during the last Council meeting, Deloitte's position was that more time was required to provide an anonymized, fulsome investigative report," the investigator wrote. "Before we can release a report publicly it needs to go through several rounds of internal review. As such, we would like to request that we submit our report at Council's next meeting on September 29, 2021." But all of Deloitte's investigative work would have been done ahead of September 22, and that is why the clerk put it on the original agenda for today, raising concern that the report could be in the hands of senior staff in control of the entire process, even though the CAO is at the centre of the corruption allegations and could now be tampering with the report.
Since the agenda was released late last week it looked like the report would be presented without ever being made available to the public or councillors. It was suggested councillors would discuss the entire Deloitte investigation report without any opportunity to read it first.
Under the headline, "Other/New Business", a brief note on the original agenda said the report would "be distributed prior to the meeting", which means it would have been handed out at the start.
The decision to instead delay the report's release caused confusion.
According to the Province's guide for municipal councillors, "Notice of meetings is an important factor in strengthening municipal accountability and transparency". Brampton's procedural bylaw says the City Clerk must deliver the agenda "not less than fourty-eight (48) hours before the hour appointed" for the meeting to take place.
In order to delegate to council on an agenda item, residents must send their request to City Hall "no later than 4:30 p.m. Tuesday of the week preceding the meeting", the City's procedural bylaw states. In practice, the rules are more generous, but council will still not allow residents to simply turn up at meetings and speak. If a delegation is about an issue for which there is no staff report, the process is further limited because the presentation must be "received without comment by members on the subject".
"This is a very important report, and I believe in the interest of openness and transparency, the public should have an opportunity to read the report prior to the actual Council meeting as it would provide an opportunity to delegate at council if they so choose," Councillor Jeff Bowman told The Pointer.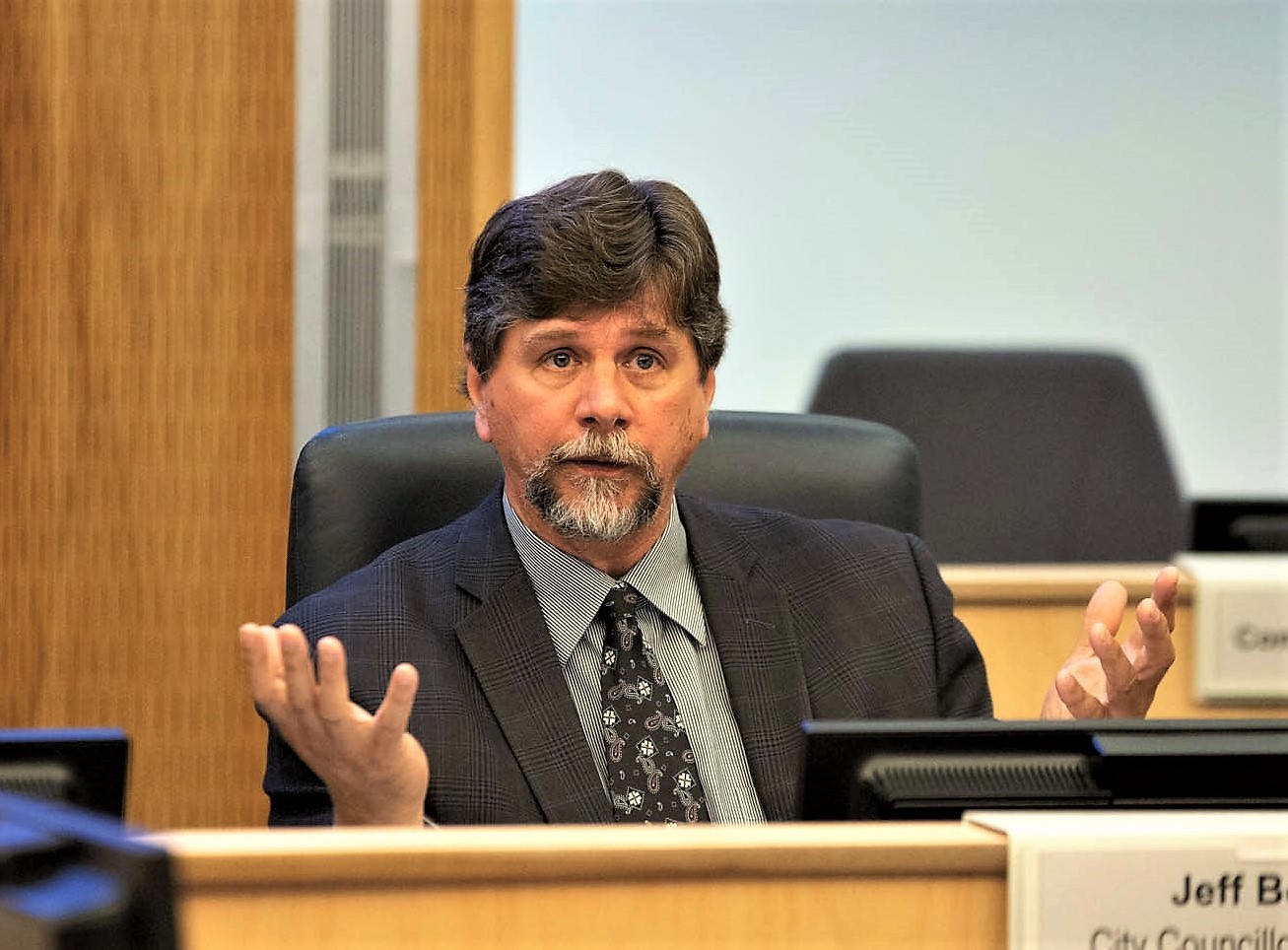 Councillor Jeff Bowman wants to be sure the public can access the investigation report before council discusses it. (Image from The Pointer files)
Brampton's chaotic governance — last-minute meeting amendments are common and key information is often missing from agendas — has come under fire. Just last week, Fabio Gazzola, president of CUPE Local 831 (City of Brampton), lambasted the City for its poor organization.
"There's significant frustration in regards to agendas and, you know, the material being posted," he said in a delegation, referring to a matter of significance to his members. "The appropriate documents weren't on the agenda at 5:30 yesterday afternoon, or evening… this has got to stop. The reason why I say that is this type of information, specifically what we're talking about today, is very important: dialogue and transparency need to take place."
The Deloitte investigation has seen an internal struggle unfold as some senior staffers and some council members have been determined to frustrate the process while other councillors have tried to bring transparency back to City Hall.
"I think it's important that we have the highest level of transparency on how we respond to complaints and have them investigated for their veracity," Brown claimed at a June 2 Council meeting, in open session. But councillors pointed out that in camera, when the investigation was dealt with behind closed doors, Brown and Councillors Rowena Santos, Paul Vicente, Harkirat Singh, Michael Palleschi and Pat Fortini did not support transparency.
They tried to handicap the probe by setting an unreasonable initial deadline of 30 days, a vote taken behind closed doors. Brown and his five loyalists have kept the investigation under wraps, with much of its early discussion taking place in-camera.
Dhillon, Bowman and Medeiros, supported by Councillors Charmaine Williams and Doug Whillans, led a charge to bring the investigation out into the open. In public sessions, they called on their colleagues to discuss the issues of timing, scope and outcome in an open setting where residents and taxpayers would be privy to conversations.
"The process has not been transparent to date," Bowman said during a council meeting in June. "So we know what the timeline is, thirty days, we don't know how we got there."
Bowman asked why the criteria and the focus of the investigation can not be discussed in public. "The public has the right to know. This is a very, very big issue."
He revealed the City received a letter from CARP, the national association representing retired Canadians, with more than 300,000 members, demanding the investigation be dealt with "out in the public".
"I think any single vote on any of these issues needs to be held in open session so that people understand exactly what's going on with this whole process."
Brown and Councillors Santos, Vicente and Harkirat Singh all expressed concern with Dhillon's successful motion that calls for the investigation to be dealt with openly, in front of the public. They repeatedly claimed secretive in camera meetings were more appropriate to avoid interfering with the investigation. They did not explain how, for example, dealing with the deadline to complete the investigation in open session could interfere with the probe.
"I want my vote to be on the record," Councillor Martin Medeiros said during an earlier council meeting, in opposition to those who tried to stop the transparency motion. "I don't want my vote to be hidden in camera." He said it's been frustrating to hear from concerned residents who have questions and concerns about the allegations and the investigation, but he can't answer them, and can't even tell them how he's voted, because in camera rules don't allow any disclosure at all. Meanwhile, Medeiros, like some of his colleagues, said they should not have been going in camera to make decisions and take votes in the first place.
He said his residents have "the right to know exactly what I do."
He suggested some members of council vote one way in open session, when the public can see what they are doing, but vote another way when they are protected from public scrutiny behind closed doors.
Dhillon previously raised concern that Council has been in violation of the Municipal Act, which clearly states that, with a few exceptions, issues must be dealt with by elected officials in full view of the public that elects them to represent their interests.
Brown's involvement muddies the water, taking part in hidden votes that could have revealed he is being less than transparent or cooperative around an investigation into allegations that include disturbing claims about his own conduct and use of taxpayer resources.
Bowman, Dhillon and Medeiros were the only council members to respond to questions sent by The Pointer regarding transparency and the handling of the completed Deloitte investigation report, which the public still has not seen.
---
Email: [email protected]
Twitter: @isaaccallan
Tel: 647 561-4879
---
COVID-19 is impacting all Canadians. At a time when vital public information is needed by everyone, The Pointer has taken down our paywall on all stories relating to the pandemic and those of public interest to ensure every resident of Brampton and Mississauga has access to the facts. For those who are able, we encourage you to consider a subscription. This will help us report on important public interest issues the community needs to know about now more than ever. You can register for a 30-day free trial HERE. Thereafter, The Pointer will charge $10 a month and you can cancel any time right on the website. Thank you
Submit a correction about this story