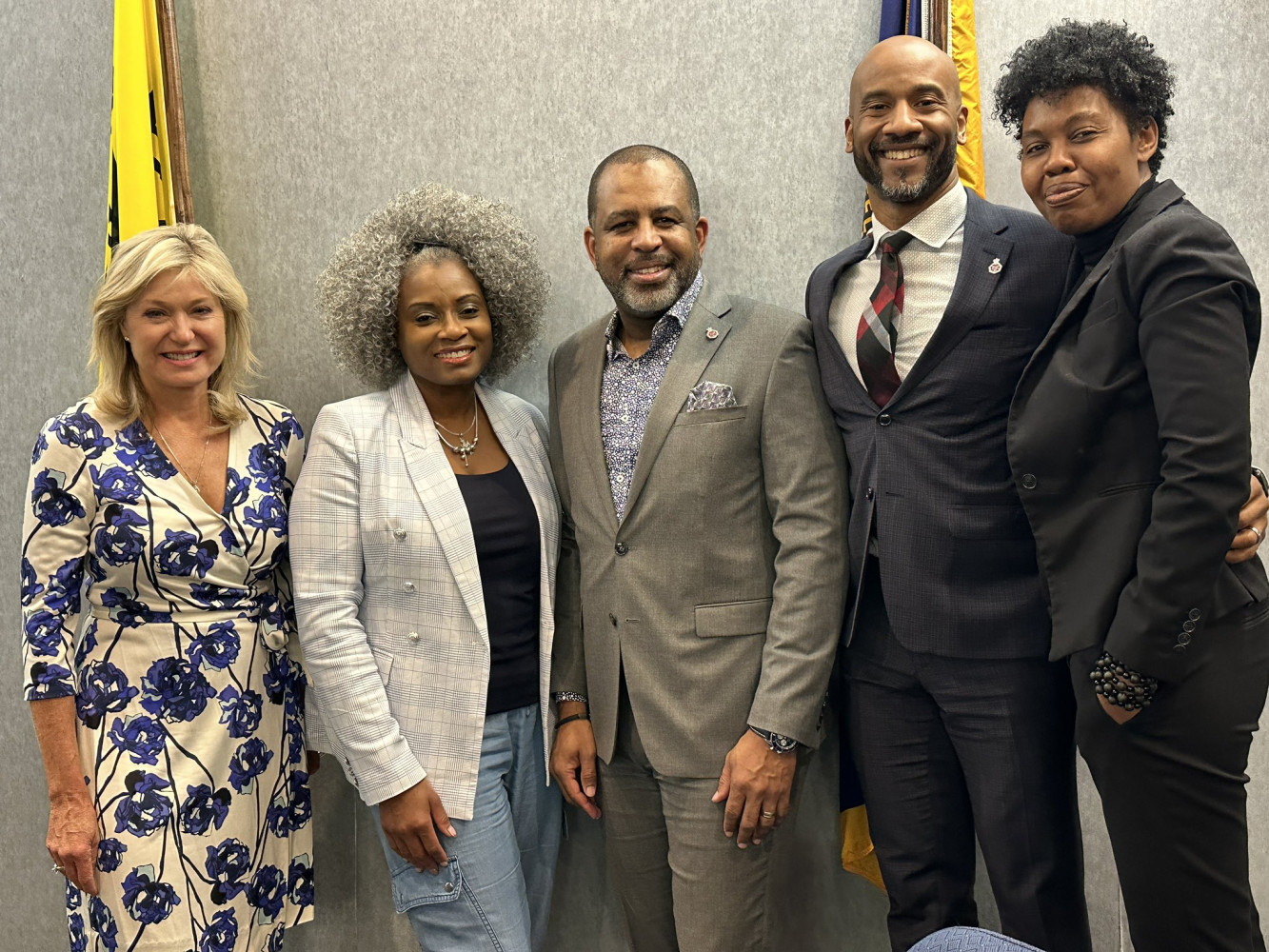 Bonnie Crombie/Twitter
Peel council appoints Len Carby to police board after years of advocacy by Black communities 
Peel's Black communities earned a historic victory Thursday afternoon as regional councillors unanimously voted to appoint Len Carby, a long-time volunteer and advocate for equity and inclusion, to the Peel Police Services Board, making him the first Black man placed in the role.
The vote followed a disturbing display of politicking and behind-the-scenes lobbying which members described in public as councillors debated whether to place Carby in the volunteer position or reappoint incumbent candidate Ahmad Attia, who has been on the board since 2019 and previously served as its chair.
The debate, which spilled beyond regional council onto social media and other public settings, saw politicians attempting to pit Peel's Muslim and Black communities against one another (the incumbent candidate Attia is Muslim). Brampton Mayor Patrick Brown, in a message sent to his Mayor's Black Advisory Group, described the choice as "whether we should fire the first muslim rep to appoint a Black candidate" which sources said was an effort to mislead the group's understanding of the situation to influence support for Attia.
Attia's term on the police services board ended in November of 2022. He was not fired, nor does Carby's appointment mean Attia is being fired. The choice to reappoint Attia would have been unprecedented for regional council. For the last two decades, those who sat as a board member appointed by the Region have only served a single term.
While Brown appeared to be lobbying for Attia, Mississauga Mayor Bonnie Crombie—both mayors sit on the police board—detailed her position to The Pointer ahead of Thursday's vote.
"I have been vocal in my support for a Black candidate on the police board for quite some time. I have advocated as such to the province when they were deliberating their last two appointments to the Board. We now have the opportunity before us with the citizen appointee. As you are aware, the Black community has been historically underrepresented as an equity-deserving group on the Board, and it's time and only fair that they have a seat at the table. I've also been listening closely to the calls from the City's Black Caucus advisory committee. As you are aware, it is also a recommendation stated in the Black Community Engagement (BCE) Report, that's been adopted by our City, and we have made a commitment to move these forward."
After approximately two hours of closed session discussion, years of advocacy efforts from Peel's Black communities paid off with Carby being chosen as the successful candidate. The appointment follows repeated calls from the region's Black residents for representation on the police services board to address the widespread harm inflicted upon them by Peel Police officers (Norma Nicholson, a Black woman, served on the board less than a decade ago).
"There's work ahead, but we're excited with this step because it means progress and it means that we've been heard and that we now have an opportunity to address some of the larger concerns going forward," David Bosveld, a dedicated community advocate who has worked tirelessly to raise awareness about the issues impacting Black residents, said.
The historic appointment is significant in a range of ways for the Region of Peel.
The Police Services Board is tasked with key governance decisions for the police force, including its budget—the largest expenditure, by far, for the Region of Peel—and assigning "objectives and priorities" to the police organization responsible for enforcing law in Canada's 7th and 9th largest cities. Along with the three members of regional council who sit on the board (including the Peel Region Chair who is not elected; the mayor of each of the two cities patrolled by the force are often the others), there are three civilian members appointed by the government of Ontario and one citizen appointed by regional council.
A Black voice around the table means the Board gains a much needed fresh perspective from a community that is disproportionately impacted by police use of force incidents. Black residents are more than three times as likely to have force used on them during interactions with PRP than any other racial group, according to police data.
In 2020, PRP officers used force—which along with using physical force, includes drawing or pointing any type of weapon—in 1,092 incidents. In cases where officers were able to determine the person's race, 35 percent of those individuals were Black, despite Black residents accounting for only nine percent of the population. There was a slight decrease to 32 percent in 2021.
(The Pointer files)
This drastic overrepresentation of harmful interactions with police is a reality that impacts Black residents more than any other group in Peel. A similar reality was observed when the use of carding—the random stopping of individuals to obtain personal information—was a commonplace tactic for police in Ontario. The practice was mostly abandoned when data revealed Black residents in the two cities were carded at more than three times the rate compared to whites.
"My son was carded while driving with his white friend… the white friend was the driver and my son (who is Black) was the passenger. The driver wasn't even carded, just the passenger," one Peel resident told the Canadian Centre for Diversity and Inclusion (CCDI) as part of an audit of Peel Regional Police released in 2019. The audit painted a picture of a force that systemically discriminates, harasses and punishes those who come forward with serious concerns.
Carby will be only one of seven voices around the police board table, but it will be the first time board members are joined by a Black man; someone who can truly grasp the harm being done to Black residents at the hands of police and has a proven understanding of how to address these issues.
He has lived in Brampton for two decades, and has entrenched himself in efforts to eradicate systemic racism from many of the region's core institutions. He was chair of the Black Advisory Council for United Way in Peel and was integral to the process behind the FACES report in 2015 which, for the first time, exposed the degree of systemic racism faced by Black boys within the Peel District School Board (PDSB)—something community members had been trying to get action on for decades.
Len Carby has been an advocate for Peel's Black communities for many years.
(Courtesy of Len Carby)
Carby was also a member of the Black Advisory Committee for former Peel Police chief Jennifer Evans. He stood up to Evans and pushed for the force to end the practice of carding—a harmful tool the former chief was a leading proponent of, despite its clear impact on Black residents. Carby is also the current co-chair of Peel Police's Anti-Racism Advisory Committee (ARAC).
"I am honoured to be entrusted with this responsibility to provide oversight and governance on behalf of the residents of (Peel Region)," Carby wrote in a statement on Twitter following the council vote.
The decision to appoint a Black man brings the Peel Police Services Board closer to fully complying with the mandate of Ontario's Police Services Act. The Act, which establishes how police boards and the forces they govern are required to serve citizens, lays out their fundamental obligation to residents across the province.
The legislation stresses "The need for co-operation between policing providers and the communities they serve…The need for sensitivity to the pluralistic, multiracial and multicultural character of Ontario society… The need to ensure that police services and police service boards are representative of the communities they serve."
"Communities across Peel have been speaking out for decades about how Black people experience policing in Canada," Brampton resident Annette Power told regional councillors Thursday. She previously worked with Peel Police to facilitate discussions between the force and Black residents to address ongoing harm. "The lack of Black representation on the police services board is not a coincidence, but reflects a long-standing example of discrimination and exclusion."
Annette Power urged regional councillors to appoint Len Carby to the Peel Police Services Board.
(Alexis Wright/The Pointer)
Previous attempts by community members to increase representation or address critical issues at the board have been sidelined or flat-out ignored.
Bosveld previously recommended the creation of a Black Advisory Committee to the police services board to help members address issues like the disproportionate use of force, racial profiling and the use of carding. His recommendation was ignored, and the board instead created a Diversity and Inclusion Committee to be a catch-all for equity issues in Peel—despite a recommendation from a professor hired by PRP to help eliminate systemic racism, who said such a committee typically does not effectively address the particular issues Black residents face.
The Board also appeared to ignore coroner's inquest recommendations into the police killing of a mentally ill Black man, and only addressed the issue after a citizen brought a request forward. The killing led to a $21 million lawsuit against former chief Evans.
A similar ignorance to public pleas was seen following the decision to institute body-worn cameras for all Peel officers in 2020. After the Peel police shooting of Ejaz Choudry—a video of which spread widely on social media drawing harsh criticism of the force—community members called for real solutions to address the killing of mentally ill residents. Board members were flooded with almost 100 letters sent by residents advocating for reform and a more holistic approach to policing. Some specifically criticized the introduction of body-worn cameras, fearing the move would distract from the broader need to strip down police departments, look at what works and what doesn't and then rebuild them in close partnership with other agencies that can focus on better service delivery to deal with "upstream" issues such as mental health and acute mental health crises.
The letters and comments were mostly dismissed, with little further action taken by board members.
Bosveld says Carby's appointment means there is now a sympathetic ear around the table.
"Representation matters in this case because Len is deeply connected in not just the Black community," Bosveld said. "We will be able to gain his ear and vice versa and work together to better understand the issues in front of us."
For years, David Bosveld has pushed regional council to increase Black representation on the police services board.
(Alexis Wright/The Pointer)
Many have questioned why it was so difficult to appoint a Black member to the board. No past appointments have been met with such debate and lobbying around the council table.
Among regional council's 24 elected members there has rarely been any Black representation. Mississauga's Martin Reid, who is Black, was elected in October and is the only current regional councillor who is Black.
The Region's Policy and Procedures Committee (PPC) is responsible for conducting interviews for regional appointments and carries out most of its business behind closed doors during in-camera sessions. The committee interviews candidates, reviews resumes and qualifications before providing a recommendation to all of regional council.
Some of this business began to spill into the public eye ahead of the final vote.
On March 29, during Mississauga's main committee meeting, Councillor Reid, asked about the process for appointing a replacement after introducing a petition, signed by over 500 residents, asking for a Black individual to be appointed to the board.
Councillor Carolyn Parrish, chair of the Region's Policy and Procedures Committee, said the committee had received "quite a few resumes", all of which were run through a scoring system "that we had agreed to".
"Then we met as a committee and went through them again, and I think we have five applicants that made it into the interview stage tomorrow, four of whom are Black, one is not," Parrish said. "I understand it's going to be a very tense couple of days over this, but all I can assure you is the best candidate, who has the best resume, and who has the best interview should be the one that will be chosen."
A day after the Mississauga meeting, the PPC gathered at the Region and details of the interview and decision-making process began to leak to the public. Ahead of the vote yesterday at full regional council, it was widely known that the list had been narrowed to two candidates, Attia and Carby.
Crombie did not mention a name to The Pointer ahead of the vote, but made her position clear.
"Peel Police have a lot of work to do to build trust with all racial communities, but the Black communities more so than all others. The stats show there is a larger sense of distrust, negative interactions, and use of force against Black communities, and this needs to change. This is an opportunity to ensure Black communities have a voice at the decision-making table, especially on the issues that disproportionally impact them, while allowing them to help advance the Board's efforts to tackle systemic racism through the Diversity & Inclusion committee," she wrote in an email.
"We've seen representation on the Board from many equity-deserving groups over the years. During that time, those communities have been given the opportunity and a voice to advance policing issues as they impact their communities. This is about giving the Black community that same opportunity to have their voices heard and a seat at the decision-making table."
Instead of the usual process by the PPC to make a decision and send its lone recommendation to regional council, its unusual choice of instead providing two top candidates for regional council to decide between was criticized by members of the public who described it as "changing the goal posts". Even Councillor Parrish, chair of the PPC, regretted the move.
"We should have followed through that day, one way or the other," she said Thursday, speaking of the March 30 PPC meeting she chaired. "It is really odd that it has turned into Muslims vs. Black. It's just the worst thing I've ever lived through."
"I don't know where we go from here," she continued. "We're putting them through hoops we've never done with anybody…It has really degenerated badly because there are a whole bunch of agendas going on here."
It was clear Brown advocated aggressively for Attia behind the scenes, as his message to his own mayor's group illustrated, and he was criticized on social media for trying to exploit both Black and Muslim communities by pitting them against each other while presenting himself as an ally to each side.
"Len was vocal against Patrick during the election but team Mississauga backed him," Donna Williams, who ran for a Brampton council seat in October and is the sister of Brampton MPP Charmaine Williams, wrote on Twitter after Carby's appointment. She accused Brown of trying to "weaponize the Muslim community" just to defeat someone who has voiced criticism against the mayor.
(Twitter)
"It was Patrick Brown that tried to divide the communities, and that didn't work," Bosveld said. "It's Patrick Brown that used the words you're trying to 'fire' the muslim candidate."
Brown did not respond to a request for clarification about why he used misleading language with his own mayor's group.
He has faced similar criticism about using the politics of division throughout much of his political career.
When he was a candidate for the Conservative Party of Canada leadership last year, before Brown was disqualified for alleged campaign violations, Jamil Jivani moderated a nationally televised debate that Brown skipped, and said, "Some Canadians are concerned that Mayor Brown is sowing division in our country. He has been criticized for manipulating diaspora politics to bolster his campaign."
In Brown's own 2018 memoir about his rocky time as Ontario PC leader, he admits exploiting ethnic and religious groups.
"By the time I announced my intention to run for Ontario Party leader in October [2014], I had lined up all sides of each of these communities—the four sides of the Sikh community and the three sides of the Tamil community," he wrote.
"This guy's our hero," Tamil organizers would tell families.
"In key ridings such as in Scarborough, where there were about 20,000 Tamil families per riding, my campaign team knew it would be a cakewalk for us. But I said to the team that the goal was to find Tamil families in other ridings."
Parrish voiced regret about the divisive discourse and said council should look at changing the way these appointments are made in the future.
Similar concerns were shared by Brampton Councillor Michael Palleschi.
"It's been overwhelming the amount of lobbying that has been going on on both sides of the equation," he said. "It's disgusting…It's absolutely ridiculous."
Brown remained silent throughout the discussion. But the division being referenced by his council colleagues, in part, was fuelled by his own messages to his Black Advisory Group following the departure of provincial appointee Ron Chatha from the board on April 12. Chatha is a politically connected Peel resident who was in the midst of his second 3-year term on the board. The Province removed him from the position suddenly on Wednesday without warning to councillors or police leaders. The PC government has refused to provide an explanation.
Chatha's removal appeared to be an opportunity for Brown.
"There is now two vacancies on the police board," he wrote the Black advisory group. "Hopefully this stops the division in our City of whether we should fire the first muslim rep to appoint a black nominee. Both are important. Both are key to a police board that reflects the City and the Region."
Brown continued:
"Racism is real. Islamophobia is real. Council hated being in the position of having to pick one of the two when both challenges are real in our society," he wrote. "Council has been receiving a ton of emails from both sides."
The characterization of Attia as being fired is blatantly false. Attia was appointed to the police board in May 2019 and his 3-year term ended in November of 2022. Past appointees have not received a second term. Unlike Chatha's sudden removal from the board, Attia's departure was a typical process, similar to those who served before him. Council also voted Thursday to write to the Province, urging them to appoint Attia as Chatha's replacement.
Bosveld echoed comments from multiple sources who told The Pointer Brown once again tried to exploit communities based on their identity, just to score political points. Brown did not respond to The Pointer.
In the past, Brown has told Black communities he was supportive of a Black member joining the police board and highlighted a June 2021 letter he wrote to the Minister of the Attorney General urging the Province to consider appointing a member of Peel's Black communities to the board.
The Province has repeatedly shown it is tone-deaf to the wishes of Peel's Black communities. Last year, the Province had two opportunities to make such an appointment, but failed, reappointing Chatha, a realtor with zero experience in policing and no educational experience listed on his bio, to a subsequent term; and appointed Sumeeta Kohli, who also has no experience in policing and is described as a marketing professional on her bio. The decision to appoint her was questioned by Black advocates at the time who felt she was not connected to their diverse communities, with no background in policing or policy. Kohli is a marketing strategist, according to her LinkedIn profile, and used to work in the office of Mayor Bonnie Crombie, who also sits on the police board.
"This process has taken on a life of its own," Bosveld said Thursday, noting the entire appointment had become "overly politicized".
Carby was a vocal critic of Brown during the last municipal election, writing a letter to Peel's Black residents urging them to vote Brown out of Brampton.
"When your actions are consistent with your words, that to me is the test of integrity… I don't see that in our past administration," Carby told The Pointer at the time. "You can't say you want transparency and accountability, then when there's an investigation you shut it down. That's not integrity, the actions have to be consistent with the words."
Carby was referencing Brown's decision in August to cancel investigations into his alleged wrongdoing around contracts handed to his close political contacts and friends just as the probes were zeroing in on his relationships with them.
During Thursday's meeting, Councillor Reid said his email inbox had been "inundated" with residents accusing councillors of firing a Muslim person from the board.
"We're creating all these different divisive approaches to it, when the reality is we have two individuals who want to volunteer their time to make their communities better," he said.
Carby is entering a police board at a particularly complex time.
Along with Chatha's departure and the questions which continue to swirl around his removal by the Province, there are a series of high-profile issues facing police forces across the country, including the unsustainable increases in police budgets; the growing complexity of criminal enterprises, organized crime and internet exploitation; and the dire need to address the mental health crisis as some in need of care have been shot dead by police.
Along with these issues, Peel Police has to meet expectations laid out in an unprecedented agreement with the Ontario Human Rights Commission to finally eradicate systemic racism within the force.
Politics aside, Bosveld said Thursday marks a historic moment for Peel.
"When push comes to shove, if we don't shine a light on it, the system will continue to produce the same results," he said. "The advocacy along the way led to this win."
---
Email: [email protected]
Twitter: @JoeljWittnebel
---
COVID-19 is impacting all Canadians. At a time when vital public information is needed by everyone, The Pointer has taken down our paywall on all stories relating to the pandemic and those of public interest to ensure every resident of Brampton and Mississauga has access to the facts. For those who are able, we encourage you to consider a subscription. This will help us report on important public interest issues the community needs to know about now more than ever. You can register for a 30-day free trial HERE. Thereafter, The Pointer will charge $10 a month and you can cancel any time right on the website. Thank you
Submit a correction about this story