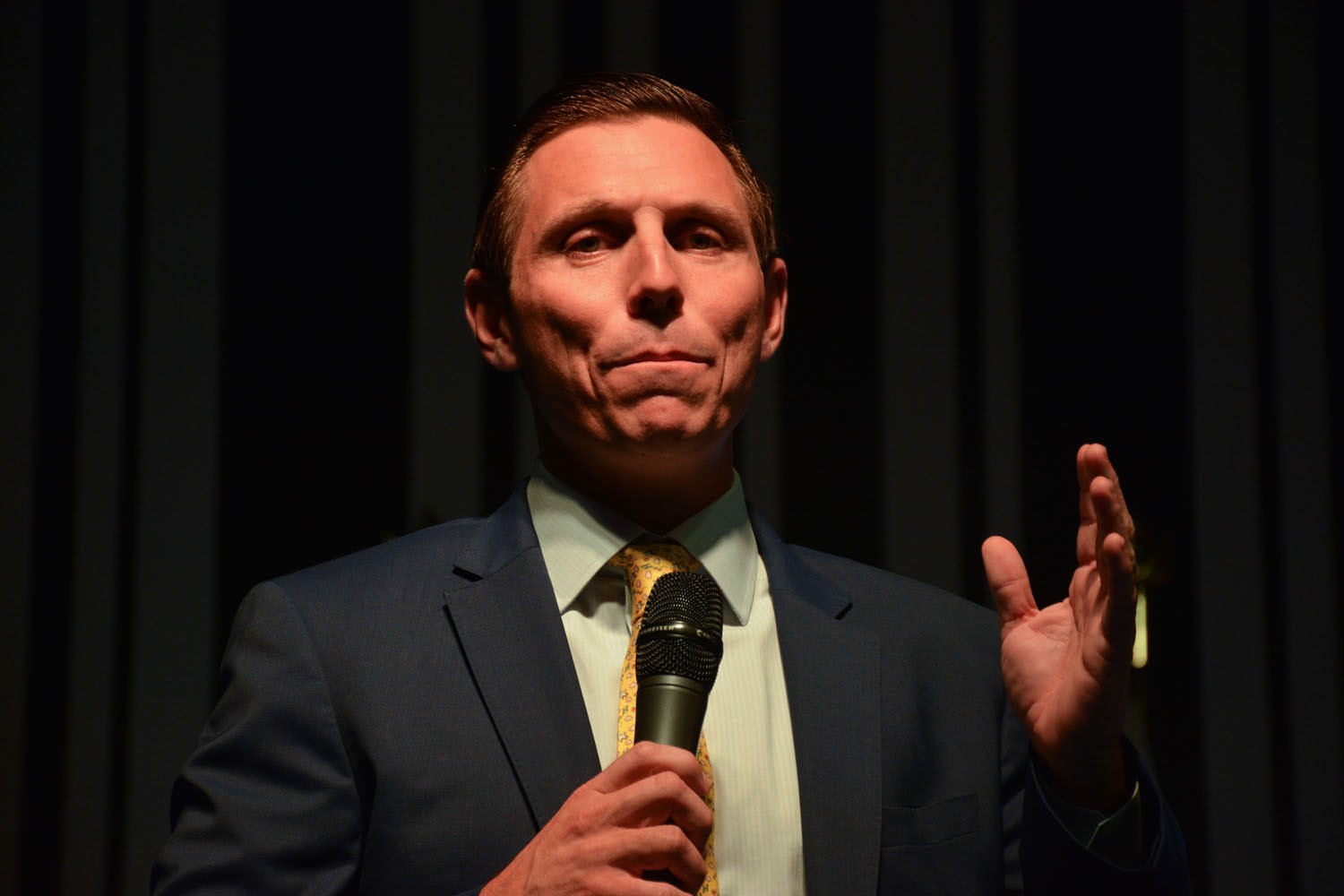 Joel Wittnebel/The Pointer files
After four years of broken promises, Black community advocates call for Bramptonians to vote out Patrick Brown
During the 2018 municipal election campaign, Patrick Brown took to the stage during a mayoral debate and repeatedly sidestepped questions about how he would improve the strained relationship between Peel Police and the diverse communities that call Brampton their home.
"Going forward, police are going to have to use investigative techniques that keep our communities safe that aren't racially based, and I know we can work with police to find the resources to do that," Brown said, offering no further details.
Brown was twice pressed to explain what he would do, as a Peel Police Board member, if elected, to address numerous concerns being raised by Peel's visible minority communities. Instead, he took his allotted time during the debate hosted by The Pointer to plug a vague community safety plan and defend the force.
"We want to improve policing in the city, but I'm thankful for the effort and sacrifice that's put in," Brown said.
It should have been a red flag for Brampton voters. Once on the Police Board he failed to take action on discriminatory policing, shown in carding and use-of-force data that has provided evidence that Black residents in Brampton are over-policed. They have been carded and been subjected to use of force at three to four times the rate compared to white residents.
Brown did not bring forward one single policy initiative as a police board member to address the glaring discrimination Black residents have been subjected to.
"With Patrick it wasn't the case that we didn't have the warnings, Brampton had the warnings, but somehow looked past it and fell for the words," Len Carby, a long-time community volunteer and advocate for Peel's Black communities, says.
Carby has lived in Brampton for two decades, spending his time working to eradicate systemic racism from many of the region's core institutions. He was chair of the Black Advisory Council for United Way in Peel and was integral to the process behind the FACES report in 2015 which, for the first time, exposed the degree of systemic racism faced by Black boys within the Peel District School Board (PDSB)—something community members had been trying to get action on for years.
Carby was also a member of the Black Advisory Committee for former Peel Police chief Jennifer Evans. He pushed for the force to end the practice of carding, which saw officers randomly stop residents on the streets and collect personal information, often in illegal custody situations. Carby stood up to the former chief who was a vehement supporter of these random street checks which were causing disproportionate harm to members of the Black community. He is also the current co-chair of Peel Police's Anti-Racism Advisory Committee (ARAC).
He is now addressing Patrick Brown's track record as mayor, urging in an open letter to Brampton residents to make sure Brown does not return to City Hall after October 24.
"In 2018, Brampton turned a blind eye to integrity and trust and look at what it got us. We have to stop looking the other way and pretending that this mess will fix itself," Carby's letter reads. "We have to acknowledge that we create the problem or the solution through the power of our vote."
Carby is not alone. Brown's constant controversies and apparent disinterest in Brampton (he wanted to leave the city to become the Conservative Party of Canada leader but was disqualified from the race for allegedly committing federal elections crimes) have drawn the ire of others.
Carby's letter was shared with The Pointer from another member of Brampton's Black community who said "we are fed up with Patrick Brown."
"He has used and pandered to our community for the last time. We are organizing to vote him out!" The email continued. "I prefer to stay anonymous as I am a member of the Mayor's Black Advisory group."
The Pointer was unable to verify the individual's identity or whether the person is actually on Brown's Black Advisory group.
"When your actions are consistent with your words, that to me is the test of integrity… I don't see that in our past administration," Carby told The Pointer. "You can't say you want transparency and accountability, then when there's an investigation you shut it down. That's not integrity, the actions have to be consistent with the words."
Len Carby, a dedicated community advocate, is urging residents to elect a new mayor on October 24.
(Courtesy of Len Carby)
In August, Brown took advantage of an absent councillor during a hastily called special meeting of council to shut down a series of investigations into alleged wrongdoing committed by himself, councillor Rowena Santos and staff members under his watch. This included the doomed Brampton University project—which saw approximately $630,000 of taxpayer money handed to associates of Brown and Santos—along with investigations into other city contracts handed out over the last term of council. Brown recently appeared on the Jerry Agar show on iHeart Radio and repeatedly lied about the Brampton University investigations.
"If Brampton is to reach its full potential and play a leadership role in the prosperity and growth of Ontario, we need a Mayor whose vision and commitment to the city exceed the size of their ego," Carby's letter continues. "To our dismay, we have too often elected individuals to high office who seem only capable of attracting scandal, dysfunction and mayhem. In so doing, they only erode the reputation of our city and its citizens condemning Brampton to provincial backwater status."
The scandals at Brampton City Hall have been outlined in detail throughout The Pointer over the last four years, including:
- Brown's coordinated hiring of David Barrick, a controversial figure from Niagara—along with two others who behaved corruptly in a hiring scandal there—to run the City despite Barrick's complete lack of experience
- The Brampton University scandal in which a truncated investigation—cancelled by Brown—revealed contracts were handed to associates of Brown and Santos
- Being caught at a hockey rink during the COVID-19 pandemic—despite public health restrictions prohibiting such games from being played—then trying to lie his way out of the controversy
- He ordered City staff members to campaign for Peter MacKay's failed CPC leadership bid during work hours
- He has refused to expand the budget for four years, crippling the City's finances and completely ignored the City's environmental plans in pursuit of his budget freezes
- Residents were appalled when he referred to the City of Brampton as "Browntown" during a speech that was supposed to celebrate Black students who won scholarships for their outstanding work, then refused to admit it or apologize, despite repeated requests from organizers and others in the Black community who said the event was marred by Brown's remark.
"The fact is the people chosen to run this city have failed or worse, been accused of lining their own pockets and those of their friends," says David Bosveld, who has advocated repeatedly for Peel's Black communities through his work to eliminate systemic racism from within the Peel Regional Police. Bosveld is currently running to be a trustee with the PDSB in Brampton's Wards 2 and 6. "We are all paying a price for this. One hospital, no university, public schools that are bursting at the seams, no underground or above ground (higher order) transit along Main Street, and people leaving to pursue other offices while Brampton residents suffer."
Brown has done next to nothing to affect real change in a City administration that does not reflect the community it serves.
A 2019 equity and inclusion audit of City Hall, ordered before Brown became mayor, found that only 37 percent of the City's workforce identify as racialized, and less so for those in senior positions, only 15 percent of the City's Corporate Leadership Team (CLT) were racialized individuals at the time. Meanwhile, approximately three quarters of the current population is made up of visible minorities. The disparity in these numbers raises the possibility that top City of Brampton officials are unable to understand the issues facing both their racialized staff members and the citizens of Brampton, the people they are hired to serve.
Carby says there has been next to no real action to address these issues, despite a clear example that could be followed in the City of Mississauga. As a member of Bonnie Crombie's Black Advisory Council, Carby says he's watched the City engage with Black communities around serious issues in policing, education and housing. These engagement sessions have resulted in resolutions of council—legislated commitments to take real action.
This includes Resolution 207 which, along with admitting that issues of systemic racism exist within Mississauga, commits the City to ongoing reviews of internal policies and programs "to ensure that all are free from racial bias and that they do not negatively impact Indigenous and racialized groups." This gives the community a means for holding their elected officials accountable, Carby notes.
"The difference in Brampton is that none of this is meaningful, there is no meaningful action that is being taken," Carby says. "The sentiment for many is well show us what you have done to support the Black community over the last four years? I have been asking that question myself and haven't gotten an answer, to my mind, that demonstrates anything impactful has happened."
In 2020, after the scathing equity and inclusion audit, the City of Brampton created an Equity Office, but it's unclear what change has occurred over the last two years aside from promotional material attempting to attract more diverse hires to the City.
"We have very little to show for the last four years as Brampton residents, unfunded projects, a languishing downtown, traffic congestion and the highest insurance rates around. Just to name a few shortcomings," Bosveld says. "Our city deserves better."
Following the sharing of his letter, Carby says he has heard from many residents who agree with its sentiments, but many are unwilling to speak out.
"There is apparently a sense of fear, apprehension for people coming forward," he says. "They are fearful of retribution, they are fearful that it could harm their own political aspirations, they are fearful it could have implications for their livelihood; being an enemy of Patrick Brown."
He worries this cone of silence will suffocate any momentum a collective feeling could create among the general population.
One day after the release of Carby's letter, Brown appears to have gone on the defensive, tweeting his thanks to African-Canadian organizations for their support.
Carby's letter concludes:
"We need a bureaucracy that is not the plaything of the executive branch but that exists solely to advance the issues that matter to the residents of this city. Integrity is on the ballot in October and we have a shared obligation to put our X beside it."
A full version of Carby's letter can be read below:
---
Email: [email protected]
Twitter: @JoeljWittnebel
---
COVID-19 is impacting all Canadians. At a time when vital public information is needed by everyone, The Pointer has taken down our paywall on all stories relating to the pandemic and those of public interest to ensure every resident of Brampton and Mississauga has access to the facts. For those who are able, we encourage you to consider a subscription. This will help us report on important public interest issues the community needs to know about now more than ever. You can register for a 30-day free trial HERE. Thereafter, The Pointer will charge $10 a month and you can cancel any time right on the website. Thank you
Submit a correction about this story