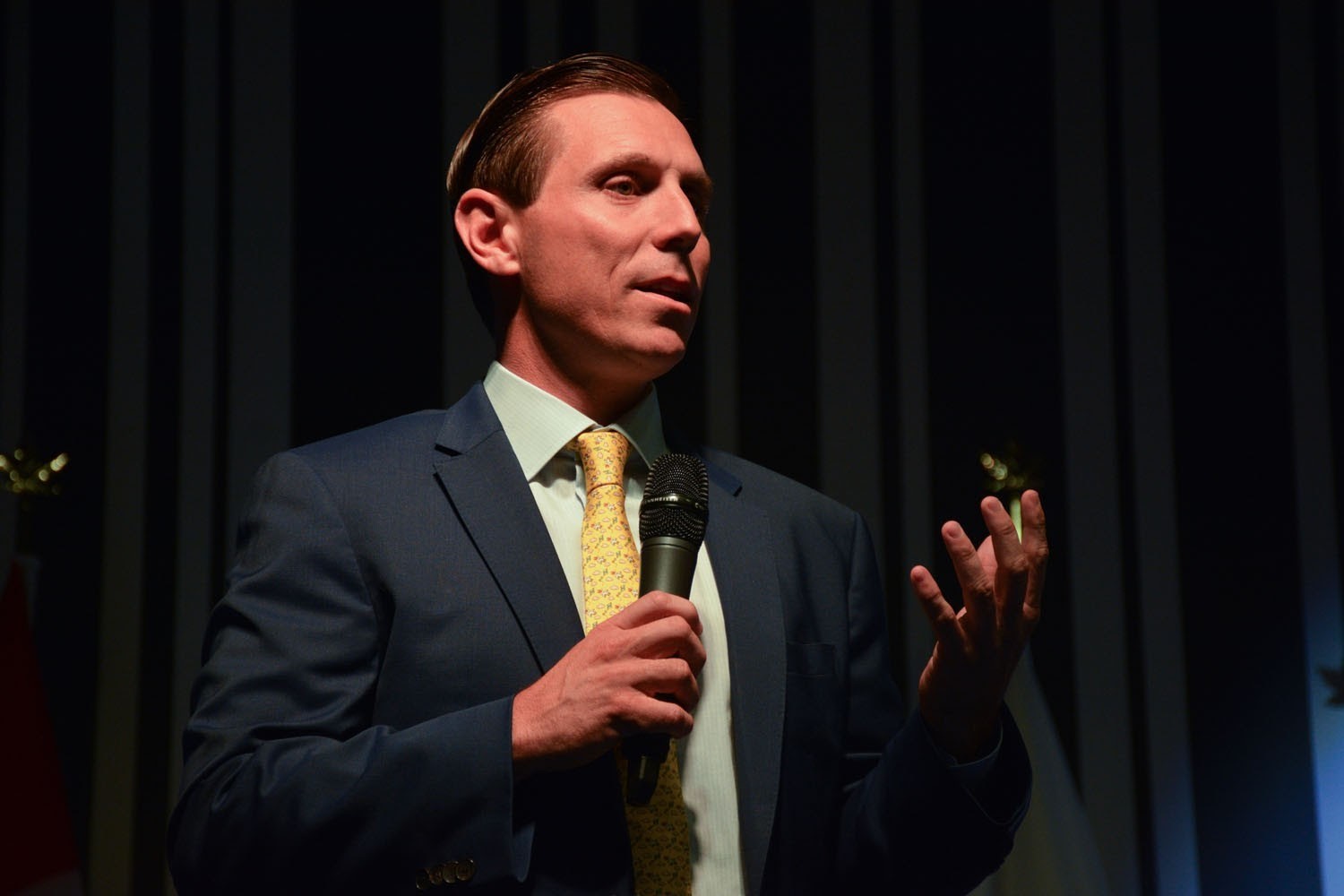 Feature image from The Pointer files
Patrick Brown uses common slur for Brampton, calls it 'Brown-town' but refuses to apologize 
Attendees of a virtual event awarding scholarships to Black students are calling on Mayor Patrick Brown to apologize for an offensive term he used.
In his speech at the Black Education Fund (BEF) scholarship event, Brown called the city "Brown-town," a derogatory term many use to reference stereotypes associated with the large South Asian diaspora in the city.
"Education can move mountains. Education unlocks doors and anything we can do in the city of Brown-town (small pause) city of Brampton to be an ally, you can count on us," Brown said during his speech at the August 22 event.
Attendees The Pointer spoke with said the comment was shocking and many immediately took to the live chat section of the virtual event to confirm what they heard. Brown soon entered the chat function after concern was expressed to say he had a cold and he "didn't mean to mumble the word Brampton."
The video of the event was publicly shared on YouTube and the organization's website (the mayor's use of the derogatory term can be heard around the 37-minute mark) on August 30, more than a week after the event took place.
Dave Bosveld, founder and board member of the BEF, told The Pointer the video wasn't posted right away to give Brown time to apologize. "This is from a person who we expect to advocate for Brampton, and all of the people and represent all of the people that live here and we have a bit of a higher standard."
He reached out to the mayor's office through Frances Bradshaw, a senior advisor to Brown, the day after the event asking for an apology. She replied, "You can send anyone with concerns my contact and let them know the mayor fumbled/mumbled the word Brampton but there was no intended slight." The Pointer has listened to the recording of Brown's comment numerous times. It is clear he did not use the word Brampton, and said 'Brown-town' instead, before cutting himself off prior to finishing the very end of the word. He pauses briefly then says "the city of Brampton".
Other members involved with the ceremony reached out to the mayor's office, but Bosveld said no one was given a "meaningful response."
In response to one of the requests, Gary Collins, the mayor's director of communications, said the mayor wanted to see a copy of the video. It was not public at the time and the group decided against sharing it.
"We're saying we're offended. You don't need to see a video of the event," Bosveld told The Pointer.
A screenshot of event attendees messaging each other shows concern over Brown's use of a discriminatory term.
Soon after, communication out of the mayor's office ceased.
Messages attendees shared with The Pointer show the BEF making it clear they wouldn't make the video public right away, offering Brown an opportunity to speak.
"We were waiting to see if he's going to say anything so that maybe we could attach his apology to the video when we release it," Richard Haldane, a founding member of BEF, told The Pointer.
Their intention wasn't to embarrass Brown, but they didn't believe continuing to delay the release of a video that celebrated the achievements of eight Black Canadian students awarded scholarships was fair to those hoping to celebrate the young scholars.
Haldane said the comment took the spotlight away from recognizing the accomplishments shared in the inaugural event.
Its importance in celebrating the dedication and impressive academic achievements of Black students has been heightened by the recent history of education in Peel. History has shown Black students are disproportionately negatively impacted by the education system, as was illustrated in evidence showing years of anti-Black racism at the Peel District School Board. For the 2018-19 school year, Black students made up roughly 10 percent of the student population but represented 21.7 percent of those in applied streams, cutting them off from crucial opportunities such as university.
Factors, such as overcoming lower socio-economic status were highlighted in the ceremony, a reminder of the barriers many Black students face in education. All this made the inaugural ceremony that more important. But Brown's comments, and his refusal to apologize, have taken away from this.
A week after the event, the video was published (the mayor's remarks begin at 34:50, the derogatory term is used around the 37-minute mark) with a disclaimer warning viewers of the term and their requests for the mayor to apologize.
The Pointer sent Brown a list of questions and asked him if he would apologize. Questions were also sent to Collins and Bradshaw, who did not answer directly but offered a general response. "Mayor Brown misspoke and said Bramptown and immediately corrected himself and said Brampton," Bradshaw wrote in an email. Brown and Collins did not respond ahead of publication.
Trying to distance himself from the situation shows "further disrespect" Bosveld said, and making up an excuse for the comment and ignoring requests for an apology only adds to the harm already caused by a mayor who is supposed to celebrate his city, not use a derogatory term for it. Those close to the situation questioned if the remark reflects how the mayor really feels about the city. "It's clear that he doesn't think it's something worth having a discussion about," Bosveld said. Haldane echoed this feeling and also had trouble buying Brown's excuse of having a cold. Putting out an apology and explaining what happened would have helped but by staying quiet, "he made it worse."
Dave Bosveld is a founding member of the Black Education Fund.
(Photo from Dave Bosveld)
Denise Warriner, another founding member of the group, believes the same and is concerned about how Brown's comment and his refusal to take responsibility will add to an already complex reality in Brampton. "My heart hurts because it just only lends to further stigma and bias and that's so dangerous".
The comment comes as the City says it's attempting to improve its equity and diversity practices after claiming to be an equal opportunity employer. But as members of Brampton's Black communities have pointed out, the City doesn't allow applicants to self-identify or collect any information that would prove it is an equal opportunity employer.
Calls for change around equity and diversity practices at City Hall got louder after a meeting Brown held with members of his Black, African, and Caribbean advisory council in May. In that meeting, HR director Sandeep Aujla outlined efforts aimed at improving the representation of Black people in the fire department. But when she was questioned about why that only led to the hiring of one person, she suggested other Black candidates simply were not as good. The remark shocked participants. The Pointer was not part of the meeting. Members who did attend reached out to The Pointer to share their concerns.
A push from City Councillor Charmaine Williams changed how employment data will be collected when she presented a motion calling for an equity audit. While it was a step in the right direction, concerns remained the City was continuing a trend of paying lip service in calling for action while doing very little to make it happen.
Haldane said Brown's recent actions make him concerned about the future of such initiatives by the City and how successful they will be, calling the efforts "token-ish." The silence of the mayor also shows him Brown doesn't have an understanding of the region.
He parachuted into Brampton to contest the 2018 election, after he was forced to step down from provincial politics following allegations of sexual misconduct, which Brown denies. He had no experience in Brampton and made his name in politics after representing the Barrie area.
During the election he was criticized for simply picking Brampton because it offered a convenient way to salvage his tarnished political career, even though he had spent very little time in the city prior to his public downfall.
He had also been widely criticized for misleading the public, after a leaked email showed he tried to control the nomination process while he was the PC leader.
Then, after becoming mayor, he was once again widely criticized for bending the truth, when he clearly misled the public about a videotaped appearance at a local indoor ice rink to play hockey during the pandemic.
Instead of simply apologizing for misleading the public about his hockey playing when children were not even allowed to use the ice, Brown kept changing his story and even denied that a hockey bag with his name on it, shown in the video right next to the ice surface, was his.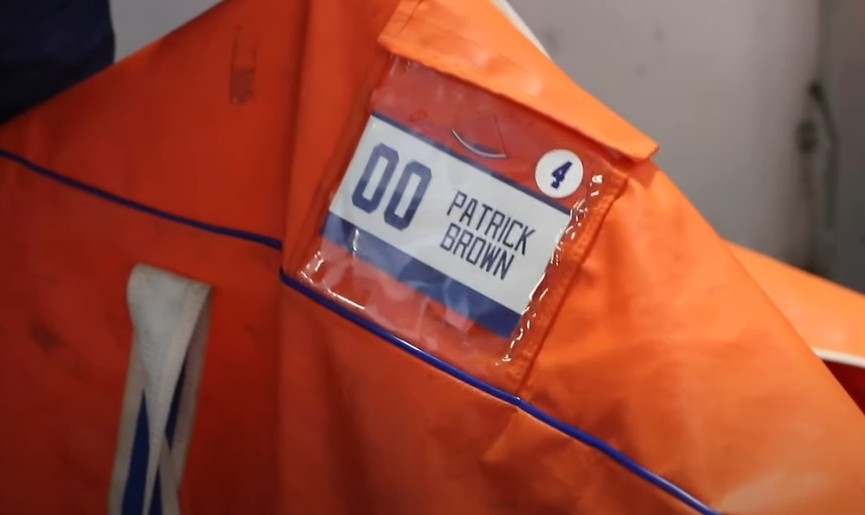 Mayor Brown denied he was at the ice rink to play hockey, despite a hockey bag filled with equipment at the rink that had his name on it.
(Image from Rebel News)
It now raises questions about his latest denial.
"Even if it was a slip-of-the-tongue, while that still suggests holding a disturbing view, apologizing for using the term would go a long way toward diffusing the harm already caused," Peel educator Ashoak Grewal said, after hearing the video and saying it clearly shows Brown saying 'Brown-town'.
"He's in a position of power and has even more responsibility to take responsibility for his actions. There is a common negative stigma that increasingly affects South Asian and other residents in Brampton. That term is a big part of it. For people to hear the mayor use it, that causes even more resentment among South Asians, especially young people like the students who were supposed to be celebrated at the event, whether they were Black, Brown or any other racialized member of the community."
With white residents moving away from Brampton in large numbers over the last two decades, and people from racialized backgrounds moving in, specifically members of the South Asian diaspora, derogatory terms like Brown-town are used to represent the changes some people do not like, such as speaking a language other than English, cooking a different cuisine and wearing clothes that don't fit with western ideas of fashion.
Grewal says 'Brown-town' is a term to make residents feel like the "other", to diminish them and divide them from the rest of society.
The term is commonly referenced in conversations that place a negative light on Brampton, as routinely seen on social media. Search results for the term on Twitter include: "Does anyone in Brampton speak English though?" Another user replies, "It's called Browntown Brampton for a reason."
"This is the man in charge of our COVID response, getting resources for the city. [If] there's any part of him that thinks of Brampton as that gross stereotype, then he should maybe re-evaluate," Bosveld said.
---
Email: [email protected]
Twitter: @nida_zafar
Tel: 416-890-7643
---
COVID-19 is impacting all Canadians. At a time when vital public information is needed by everyone, The Pointer has taken down our paywall on all stories relating to the pandemic and those of public interest to ensure every resident of Brampton and Mississauga has access to the facts. For those who are able, we encourage you to consider a subscription. This will help us report on important public interest issues the community needs to know about now more than ever. You can register for a 30-day free trial HERE. Thereafter, The Pointer will charge $10 a month and you can cancel any time right on the website. Thank you
Submit a correction about this story