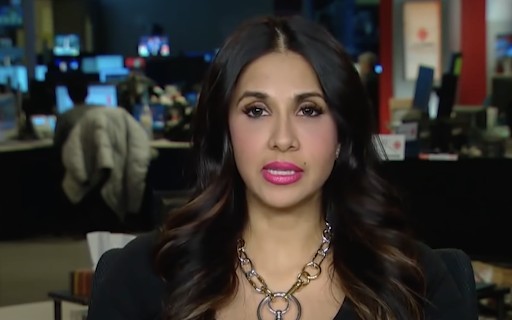 CBC-Youtube
Muneeza Sheikh, who publicly supported Patrick Brown after accusations of sexual assault, re-offered job as Brampton's Integrity Commissioner
Muneeza Sheikh, the City of Brampton's controversial former integrity commissioner who was fired earlier in the year, has been offered her job back, despite a cancelled forensic investigation that was probing her initial hiring, and a lawsuit she filed against the City.
Sheikh was previously let go in March after Council learned she had billed Brampton taxpayers $321,600 in 2020, her first full year on the job, then $340,000 in 2021, for the part-time role she maintained while simultaneously working as a partner in her law firm.
Her hiring at the beginning of the last term of council under the leadership of Patrick Brown was criticized due to connections with the mayor.
Sheikh's husband at the time was the owner of Style Counsel, which was paid to do work for the Ontario PCs when Brown was the party leader and she publicly came out in Brown's defence when he was accused of sexual assault, allegedly asking one young woman for oral sex in his home after exposing his penis to her, and allegedly forcing himself ontop of another woman on his bed, kissing her while his penis was erect before she made him stop. Brown has denied the allegations, which have not been retracted.
On social media and on a CBC panel, Sheikh voiced support for Brown's work as a politician following the allegations in early 2018.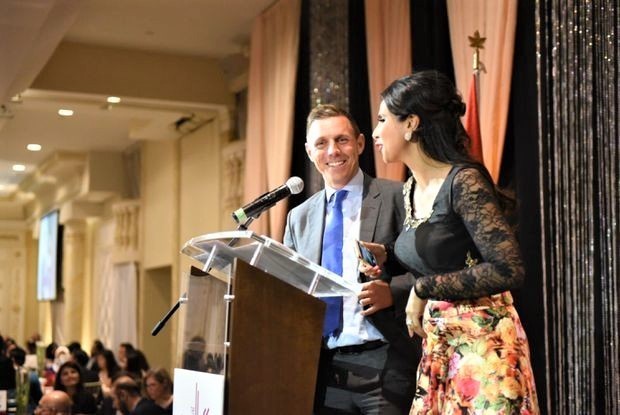 Patrick Brown and Muneeza Sheikh in an image used on one of Brown's previous campaign websites.
(Patrick Brown)
Social media posts since 2016 show Sheikh standing alongside Brown at events. One such photo appeared on the website for his 2018 mayoral campaign.
The Globe and Mail and the CBC published stories that drew attention to the appearance of a conflict of interest when Sheikh was hired in 2019 to be Brampton's integrity commissioner, under Brown's leadership, a role that would see her eventually handle at least one investigation into a complaint against the mayor.
"An integrity commissioner is essentially a judge for members of council on ethics issues and cannot have even the appearance of bias," Democracy Watch co-founder and government accountability expert Duff Conacher told the CBC. "And her relationship with Patrick Brown crosses the line, and as a result she will have to step aside and let someone else be the decision maker if there's any complaints filed about him."
"Just because they're from different parties or different levels of government wouldn't neutralize what she has said about Patrick Brown and has posted publicly about him in terms of comments in support of him," he said.
Sheikh said she had no personal ties to Brown and would not recuse herself in cases involving him.
After her firing and the launch of a lawsuit against the City of Brampton and two current members of Council, Martin Medeiros and Pat Fortini, The Pointer sent questions to Sheikh about the offer to rehire her. She did not respond ahead of publication.
In May, Council ordered an investigation into her initial hiring in 2019, under Brown's leadership, as she had no experience in municipal law and had never worked as an integrity commissioner.
Other hirings involving individuals with connections to Brown who received City of Brampton contracts, were also being investigated.
Brown ended the investigations along with others in August, through a special meeting he called hastily to terminate the probes.
The investigations cancelled included an independent forensic audit into the failed Brampton University project which saw friends of the mayor and Rowena Santos receive lucrative contracts without a proper RFP process; billing to the City for legal services involving a lawyer used by Brown personally; the RFP to shape the Municipal Development Corporation initiative, which was given to an associate of Brown who had no experience in the area; and the RFPs around COVID-19 supply purchases, after a private equity firm was given a contract for masks that was supposed to be for $82,000 but ended up costing $896,000. Sheikh's initial hiring was also being investigated, but the probe was killed by Brown and his council allies, along with the other investigations, during a snap special meeting he called at the end of August, during the municipal election campaign period.
When Brown moved to cancel the investigation into the Brampton University project, it was entering a third phase, where the auditors were going to examine the relationship between Brown and consultant Rob Godfrey, whose firm was given more than $500,000, with much of the work never completed. This was $360,000 more than what was approved by Council in 2019, when Brown failed to disclose his close relationship with Godfrey.
Before the investigation was completed, update reports showed the auditors were trying to determine who authorized $360,000 of payments to Godfrey's firm without council's approval. Councillors said they were unaware of the extra payments and did not know how City accounts with the public's money were used to hand over three times more than what they had approved.
Prior to Brown's cancellation of the investigations, the firm hired to do the probe of Godfrey and Brown's relationship found the City's procurement rules had been broken. Godfrey, as reported by Froese Forensic Partners, was paid before work was ever done, and much of that work, required under the terms of the contract, was never completed.
Because of Brown's cancellation of the investigations it is not known how the payments were authorized and who directed City staff to pay three times more than what Godfrey's firm was supposed to receive under the council approved 2019 contract.
It is also not known how Sheikh was hired, despite having no experience, beating out candidates who were qualified.
Brown has publicly stated that Godfrey, son of Postmedia Chair Paul Godfrey, is one of his closest confidantes and a key political advisor.
Sheikh was given the role of integrity commissioner in 2019 following a recommendation from a three-member hiring committee which included Brown. The position was made available after the previous commissioner, Guy Giorno, had resigned due to his connections with the mayor.
"Gone are the days of any notion of nepotism, untendered contracts and catering to special interests of any old guard. We are building a modern, transparent, accountable City that every Bramptonian can be proud of."
— Patrick Brown, November 15 at Council inauguration
The six councillors who moved to fire Sheikh in March have been critical of the mayor in the past, arguing that Brown was running council like an "authoritarian" leader.
In response to her termination, Sheikh filed a lawsuit against both the City of Brampton and each of the councillors who voted in favour of ending her employment. This included Medeiros and Fortini. She is asking for $20 million. It's unclear if she will drop the suit, now that she has been offered her job back.
Sheikh's statement of claim, dated July 19, demands a million dollars in damages from the City for "breach of contract" as well as over three million in damages from each individual councillor named. She demands another $75,000 from Fortini specifically "for defamation."
On Wednesday, the motion to offer her the job happened over 58 seconds, with no verbal reading of the resolution and no public discussion.
It was moved by Councillor Michael Palleschi and seconded by Rowena Santos, and passed in a little under a minute.
Medeiros and Fortini were absent from the vote, declaring a conflict of interest due to the active lawsuit Sheikh has against them. No other members announced a conflict.
The new motion read: "That City Council offer Muneeza Sheikh the position of integrity commissioner and lobbyist registrar for the 2022-2026 term of Council and terminate the existing services agreement with Principles Integrity, subject to the terms of such agreement."
The integrity commissioner handles complaints against council members and can recommend a suspension for up to 90 days, the harshest punishment allowed.
Sheikh handled a complaint after Brown was caught on camera at a City hockey arena right before he was about to play, despite pandemic lockdown rules at the time that prevented such use for him and his friends, who were already on the ice.
She dismissed the complaint without interviewing key witnesses and did not consider the video evidence. She failed to apply provincial policies in place at the time or expand her probe to examine Brown's use of the facility to play hockey for months with his friends during the lockdown when he was not supposed to be playing. Children and others, meanwhile, remained locked out.
The hockey bag next to Patrick Brown in the Rebel News video. It was filled with equipment but Muneeza Sheikh accepted Brown's explanation that it was someone else's bag, even though the other players were already in their equipment when Brown arrived late.
(Rebel News)
When asked how the rehiring of Sheikh doesn't go against his promise to end nepotism at City Hall, Brown wasn't specific, but told The Pointer that he doesn't support the hiring of friends or family members.
"We passed a motion at the previous Council that I'm very proud of that we don't hire family members," Brown said. "Obviously we grandfather in if people were connected to previous council members but no one should be hired based on being related to someone else and I'm glad that we've brought that higher standard to the City of Brampton."
There were other significant changes made to senior staff.
In an email to all City staff, Brown informed employees that Diana Soos, who served as Commissioner for Legislative Services as the City solicitor, is no longer with the City, and Paul Morrison, who served as interim CAO, has been given her role on an acting basis.
Marlon Kallideen has been appointed permanent Chief Administrative Officer. It is unclear how he was selected. Large cities such as Brampton usually carry out an extensive search to hire a CAO, who heads the entire City Hall administration, overseeing all municipal staff.
Kallideen previously resigned from his position of Commissioner of Community Services in the City of Vaughan where he served for 12 years, following a lengthy closed-door council meeting in 2014.
As commissioner of community services, Kallideen was responsible for overseeing the construction of the new city hall building there, which ended up running $15.6 million over budget and triggering a $17 million lawsuit from Maystar General Contractors Inc. and Kuwabara Payne McKenna Blumberg Architects. The suit was eventually settled. He resigned along with the City's Buildings Manager Angelo Cioffi.
In 2021, Kallideen was hired in the City of Brampton's Realty Services department, then became Commissioner of Legislative Services before transitioning into Community Services.
Brown told staff that Fire Chief Bill Boyes will support Community Services as Acting Commissioner while continuing to serve as the head of Brampton Fire and Emergency Services.
Jason Schmidt-Shoukri, the City's Acting Commissioner for Planning, Building and Economic Development, has also been replaced by Steve Ganesh.
---
Email: [email protected]
Twitter: @JessicaRDurling
---
COVID-19 is impacting all Canadians. At a time when vital public information is needed by everyone, The Pointer has taken down our paywall on all stories relating to the pandemic and those of public interest to ensure every resident of Brampton and Mississauga has access to the facts. For those who are able, we encourage you to consider a subscription. This will help us report on important public interest issues the community needs to know about now more than ever. You can register for a 30-day free trial HERE. Thereafter, The Pointer will charge $10 a month and you can cancel any time right on the website. Thank you
Submit a correction about this story