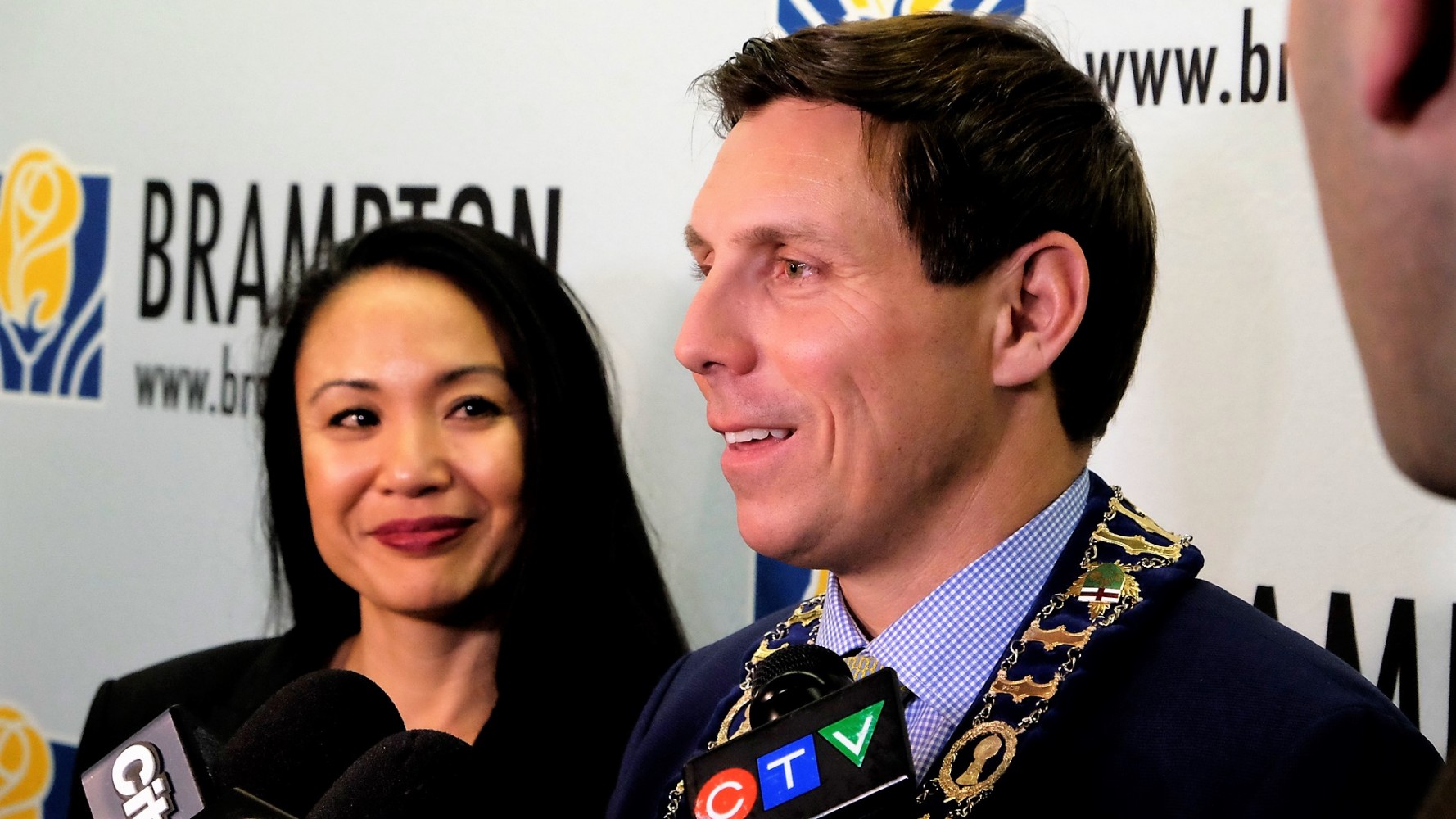 The Pointer files
Patrick Brown and Rowena Santos violate FOI laws; documents related to recent investigations withheld
Patrick Brown and Rowena Santos have violated Ontario's freedom of information laws, failing to hand over documents involving communications with Rob Godfrey and David Wheeler, the two main consultants, who received $629,000 for the controversial Brampton University project.
Godfrey is a close friend of Brown, Wheeler is a close friend of Santos, relationships that were not disclosed to council while Santos worked behind the scenes to help Wheeler orchestrate how the contracts would be won in what was supposed to be a fair and transparent open bidding process.
Both of the council members took votes at the end of August to cancel ongoing forensic investigations into the contracts the two men received, after the relationships were revealed and after a staff report in May showed much of the work was never done, while Godfrey's firm was handed three times more money than what council approved for his contract in 2019.
On August 5, The Pointer submitted 12 Freedom of Information Act requests to the City's Access and Privacy Office. Expenses, communications regarding friends and associates of Brown who received lucrative City contracts and similar documents involving Santos were requested. Most have yet to be received despite the expiry of the 30-day legislated deadline. Even with accepted extensions, deadlines were still ignored. One request yielded a late document delivery this week but it failed to meet FOI standards that require municipalities to turn over what was requested.
Four of the FOI requests, seeking communications regarding friends and associates of Brown and Santos who received large City contracts, have been abandoned by the City after Brown and Santos ignored provincial laws that govern the public's right to have access to information, refusing to cooperate with City staff who attempted to obtain the documents from them.
The City was unable to obtain these documents from the "respective department(s) and/or individuals within the institution" despite "considerable efforts."
Brown and Santos would not hand them over ahead of the October 24 election, despite being given more than ten weeks since the FOI requests were filed on August 5.
"The Access and Privacy Office understands that these timelines are set by MFIPPA to provide members of the public with a right of access to records in a reasonable time. Our Office has made considerable efforts to obtain the potentially responsive records from the respective department(s) and/or individuals within the institution. Unfortunately, our Office has not received, at this time, potentially responsive records to your request. As such, we are unable to provide a decision to your access request in a reasonable time, and this matter can be considered a deemed refusal in accordance with Section 22 (4) of the Act," Brampton's Access and Privacy Team wrote in a response letter to The Pointer September 23.
Section 22 (4) of the Municipal Freedom of Information and Protection of Privacy Act (MFIPPA) states: "A head (of a public institution's FOI process) who fails to give the notice required under section 19 or subsection 21 (7) concerning a record shall be deemed to have given notice of refusal to give access to the record on the last day of the period during which notice should have been given."
The Pointer asked the Office of the Information and Privacy Commissioner of Ontario, which governs access to information laws, what the public and the media can do when an elected official fails to hand over documents under the province's freedom of information laws.
"Under Ontario's access laws, institutions are required to respond to a freedom of information request within 30 days. If that is not possible, they must respond (within 30 days) indicating they need a time extension and provide a reason for the time extension. If an institution fails to issue a written decision to a requester within the applicable time limit or extension, it is considered a "deemed refusal" under s.22(4) of the Municipal Freedom of Information and Protection of Privacy Act, (MFIPPA)."
"Our staff will attempt to work with the parties to reach a mutually beneficial solution. If a solution is not reached, the matter may proceed to a formal inquiry and an order requiring the institution to respond by a certain date may be issued."
Freedom of Information requests allow members of the public to ask for documents relating to the use of taxpayer funds and the operation of public institutions. They can include emails, text messages, WhatsApp communications, any other digital communication, staff memos, reports, and any other text, video or audio-based record deemed to be part of the public interest and deemed to be disclosable under MFIPPA.
The first of the four refused FOI requests submitted August 5 was for any communications from Patrick Brown, his office, or any staff member working for Brown, referencing the name "Rob Godfrey":
"Any memos, emails, or informal communications (including text and Whatsapp) on any platform from Patrick Brown or any staff member working for him or has worked for the Mayor's office that includes the name 'Rob Godfrey' from January 1, 2018 to August 1, 2022."
Brown did not respond to questions about his refusal to cooperate with the FOI request, despite provincial law that requires him to do so.
Godfrey is noted as one of Brown's closest friends in his 2018 memoir, and was one of the two main consultants working on the Brampton University file. When SRA, Godfrey's firm, was awarded the contracts in October of 2019, Council was not informed of their relationship. Godfrey received almost $360,000 more than what council approved for the work, was paid before work was ever done and much of it still has not been completed, according to the forensic investigation Brown cancelled at the end of August.
When Brown killed it on August 26, the investigation was zeroing in on his relationship with Godfrey.
The second request ignored by Brown was for any communications regarding staff who took a leave of absence. It read:
"Any memos, emails, or other communications (including text and Whatsapp) on any platform from Patrick Brown or any staff member working for him or has worked for the Mayor's office that requests use of City Hall staff outside his office or City resources for any purpose since December 2018."
In August, a Brampton Integrity Commissioner report showed Brown used seven City staff on his Conservative Party of Canada leadership election campaign during normal working hours. Brown did not take a leave and continued to collect his mayor's salary despite admittedly being preoccupied with the CPC campaign for much of the year. No approvals for the staff leave could be found by the integrity commissioner and the City's electronic records system was altered after the fact to reflect the time-off. The integrity commissioner wrote that no finding of wrongdoing against Brown could be made because the "lack of such documentation makes the circumstances incapable of audit."
Brown refused to provide documentation under the FOI request that would indicate if staff did indeed request time off before they began working for his CPC leadership campaign.
The third request was for documents regarding City staff who traveled with Brown during his term in office including while he was campaigning for the CPC leadership through much of 2022:
"From January 1, 2018 to August 1, 2022, the names, dates and reasoningfor any City of Brampton staff that have traveled with Patrick Brown in any capacity during his term as Mayor."
The fourth request that was refused, after Santos ignored provincial law, asked for any communications involving the name "David Wheeler", her close friend who received one of the Brampton University consulting contracts.
"Requesting any memos, emails, or informal communications (including text and Whatsapp) on any platform from Rowena Santos or any staff member working for her or who has worked for Councillor Santos during her term that includes the name 'David Wheeler'. Timeframe is from January 1, 2018 to August 1, 2022."
Santos did not respond to questions asking her to explain why she ignored provincial FOI law that requires her to provide the public access to information under the legislation.
Wheeler was the other primary consultant on the Brampton University project. The firm he used to get the contract, ASI, has since said it had nothing to do with the project and that Wheeler pursued the work on his own. Wheeler is a mentor and close friend of Santos (Brown's loudest supporter on council) who documents show worked behind the scenes to get Wheeler the $100,000 contract.
The investigation Brown and Santos cancelled in August found Wheeler billed Brampton taxpayers for international travel expenses months before he was given the contract.
This isn't the first time Brown has tried to stop records from being released regarding the Brampton University file.
On August 26, Brown terminated the ongoing forensic audit investigating the $629,000 spent on the failed project, causing public controversy, prompting Councillor Jeff Bowman to visit Queen's Park to demand intervention.
Councillor Martin Medeiros, requested that all supporting evidence (documents and appendices that had already been collected by the forensic investigators) which taxpayers had paid to see, be released to the public. Brown, Santos along with Paul Vicente, Harkirat Singh and Michael Palleschi voted down his request.
---
City fails to supply Brown's credit card statements ahead of the election
A fifth FOI request submitted August 5 is still ongoing. It pertains to Brown's credit card statements.
"Responsive records of all credit card billings, expenses, statements and invoices that have been processed for the Mayor. This includes any expenses or credit card bills incurred on behalf of him by any staff who works or previously worked under the Mayor's Office. This includes any and all credit card charges paid by the City of Brampton from December 1, 2018 to August 1, 2022."
In September, the City informed The Pointer it would require additional time to conduct the review for these documents due to "the voluminous nature" of the records, committing to provide the City's decision and the credit card documents for Brown and his staff no later than October 14. The Pointer had stressed that the FOI requests filed August 5 needed to yield the documents well before the October 24 municipal election.
No response was received on October 14, despite the assurance that had been given. The City did not contact The Pointer to explain why its deadline, which was already beyond the legislated time limit, was missed.
On October 17, after multiple attempts to contact the City via email, The Pointer was told by Peter Fay, the City Clerk who is the head of the FOI process, that the Access and Privacy Team was continuing to review the records received in order to issue a decision as soon as possible, but it was taking longer than expected "given the volume of records."
"Once the responsive records have been reviewed, and any applicable redactions in accordance with MFIPPA applied, a decision will be issued to you in response to the FOI Request."
On October 19, The Pointer received 3,047 pages of invoices and phone records—the credit card billing records, which were what was requested, were not included.
The City has informed The Pointer that the outstanding FOI requests filed August 5 will not yield any documents before the second week of November, almost three weeks after the election.
In 2021, The Pointer reported that only 61 percent of FOI requests were processed within the 30 days set out under the Act.
This was a drop from previous years; in 2018, prior to Brown's election, the City managed to return 98 percent of requests within the required 30 days.
---
Email: [email protected]
Twitter: @JessicaRDurling
---
COVID-19 is impacting all Canadians. At a time when vital public information is needed by everyone, The Pointer has taken down our paywall on all stories relating to the pandemic and those of public interest to ensure every resident of Brampton and Mississauga has access to the facts. For those who are able, we encourage you to consider a subscription. This will help us report on important public interest issues the community needs to know about now more than ever. You can register for a 30-day free trial HERE. Thereafter, The Pointer will charge $10 a month and you can cancel any time right on the website. Thank you
Submit a correction about this story