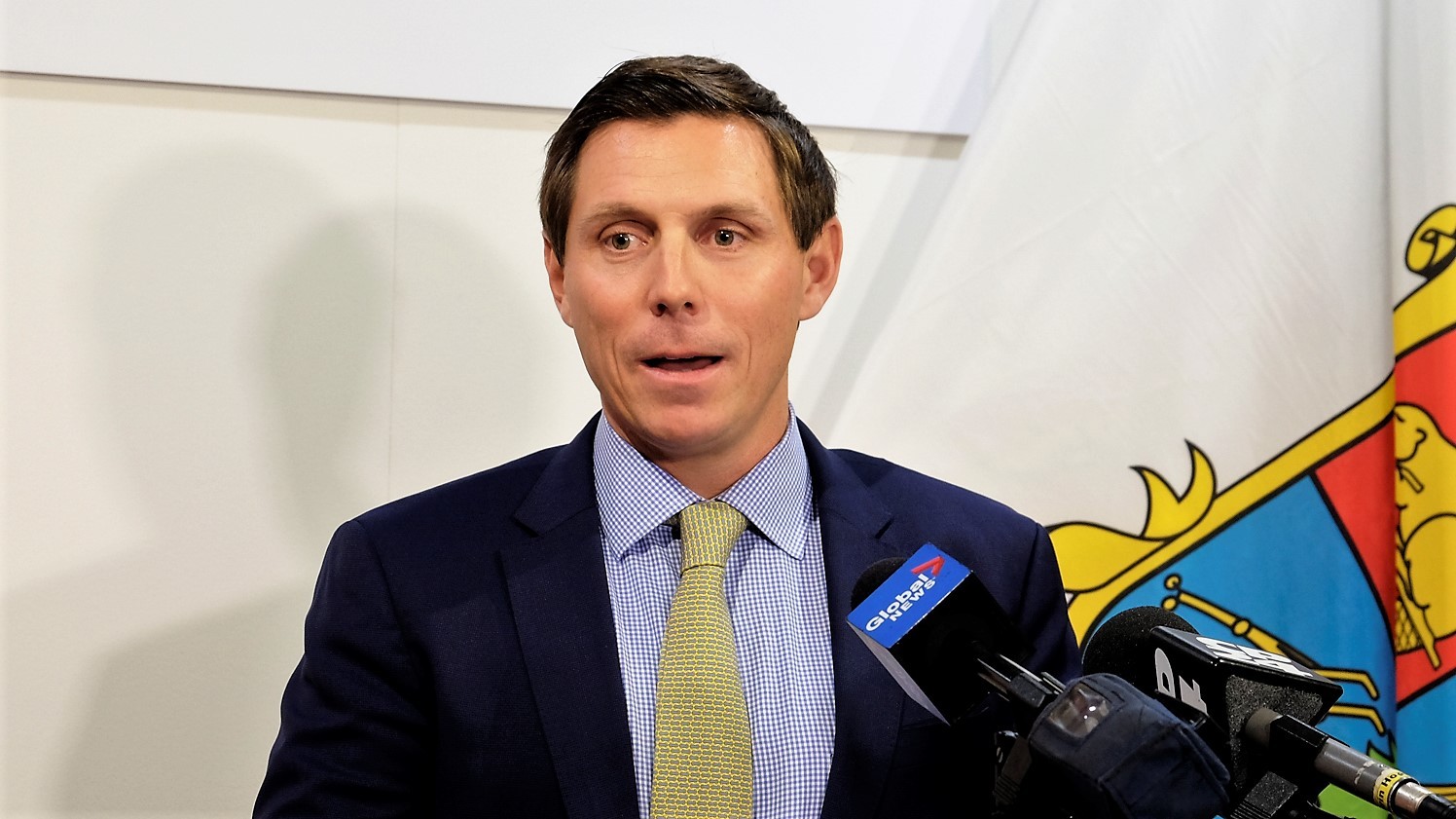 The Pointer file photo
Brampton Integrity Commissioner report shows Patrick Brown used 7 City staff on his CPC election campaign without approval
Patrick Brown used seven members of his taxpayer-funded mayor's office staff to work on his federal Conservative Party leadership campaign during normal working hours. No approvals for the leave could be found and the City's electronic records system was altered after the fact to reflect the time-off.
These were the key findings in the City's integrity commissioner report following a complaint against Brown after a media story in June showed the mayor driving up to his Vaughan campaign office where cars belonging to his City Hall staff were parked.
But because Brown failed to keep proper records the integrity commissioner, Principles Integrity, could not make a finding against him, as there was a lack of evidence to show he had violated Code of Conduct rules preventing the use of City resources for political campaign activities.
"It is clear that responsibility for ensuring compliance with the policy falls to the Mayor. There is no system in place in the Mayor's office to record approval for time off – no paper files, no email requests – just entries in the corporate electronic system," Principles Integrity, the firm that fills the commissioner role for the City, wrote in its damning August 18 report.
"The lack of such documentation makes the circumstances incapable of audit, and likewise cannot give rise to a determination, on the balance of probabilities, that staff were working on city-paid time while serving on the Mayor's campaign."
The report reveals a lack of proper record keeping by Brown to show how he uses taxpayer resources.
"In all it is evident that seven members of the Mayor's office staff were engaged in working on the Mayor's leadership campaign at one point or another during normal working hours."
The report states no approvals for the staff time-off could be found.
Brown claimed his City office staff were working on his federal leadership campaign during vacation time or while on leave, but no evidence of authorization for this was provided. Only the electronic records system was provided as evidence that appropriate time-off was taken, but the integrity commissioner found these records were changed after the fact: "The electronic City's time system records showed that in a number of cases an entry of vacation/lieu time was made retroactively…".
Brown has claimed the report vindicates him, but some Brampton residents see the integrity commissioner's findings as more proof that Brown has a pattern of abusing taxpayers.
"The integrity commissioner's findings couldn't be more clear: Patrick Brown is not fit to hold any public office in this country," local resident and co-founder of Citizens For a Better Brampton, Chris Bejnar, told The Pointer. "He used City Hall staff paid by Brampton taxpayers to quietly go to his secret Vaughan office where he was spending his time campaigning to become the federal Conservative Party leader. He was not at City Hall working for the taxpayers of our city, he missed council meetings, skipped key votes and ignored all the important business of Brampton while he traveled across the entire country signing up members for his federal political aspirations. Now, we find out no approvals were given for the City staff to take leave and work for his campaign. Does anyone really believe Brown didn't direct them to go to the Vaughan office every day, instead of City Hall? It shows how dumb he thinks Brampton residents are. And when he got caught, the integrity commissioner reports the electronic record keeping system that shows time-off, was altered, changed after the fact."
"Will the CAO explain how this was approved?"
The Pointer sent questions to acting CAO Paul Morrison, asking why the integrity commissioner could not find any approvals for the staff time-off. He did not respond.
Bejnar wants to know how the work on behalf of taxpayers was being done while staff were in Vaughan working for Brown's CPC leadership bid, prior to his disqualification from the race by the federal Conservative Party for allegedly committing federal elections crimes. Brown reportedly used money orders to pay for memberships that individuals are supposed to pay for themselves, and had a third-party firm cover the salary of at least one campaign staffer, which is illegal.
"Brampton residents who pay the City Hall salaries want to know who was doing the work those staffers were supposed to perform for us," Bejnar said. "Wouldn't it be great if we could all stop showing up for work to do whatever we wanted instead, without any approval or authorization. How was the work those staffers are supposed to perform for Brampton taxpayers getting done while they were showing up in Vaughan everyday to work for Patrick Brown's political campaign? None of this has been answered. The integrity commissioner couldn't even make a finding against the mayor because he kept no records for staff time-off. And this man wants to be prime minister. We all know he has no interest in being mayor of Brampton. But because he allegedly, once again, broke numerous federal election rules while paying for memberships using money orders, he was disqualified, and now Brampton is again stuck with him as a mayoral candidate. He can't be trusted. He is incapable of following rules and respecting taxpayers."
Part of the Integrity Commissioner's findings can be read here, in an update on current investigations into City Hall conduct.
It provides more detail for the public.
"In an investigation we conducted respecting allegations of the use of municipal resources (staff time) for partisan election purposes, it become apparent that the employees in question failed to file written records, either in advance or in arrears, to seek approval for vacation/lieu time/unpaid leave in order that they may spend personal time supporting an election campaign. To be clear, the corporate electronic time recording system was updated to show that vacation/lieu time was taken, but there were no supporting electronic or written approvals available for review."
The investigation followed a report by Rebel Media broadcast June 9 showing two cars belonging to City Hall staff parked at Brown's Vaughan campaign office during working hours on a weekday in early June.
The Municipal Elections Act prohibits the use of municipal resources, including staff time, on municipal election campaigns, while the Election Finances Act of Ontario and the Canada Elections Act impose similar prohibitions.
The City's own Use of Corporate Resources Policy includes provisions set out to ensure the requirement for public service to be politically impartial. City Staff, including volunteers, are forbidden from canvassing or performing any work in support of a candidate or campaign, during hours in which a person is working for and/or receiving any compensation from the City, except during scheduled time-off.
Principles Integrity noted it was Brown's responsibility to ensure the time-off was properly taken.
"Members are reminded of their responsibility to ensure that their staff comply with municipal policy, especially policies that deal with sensitive matters such as time-off for election purposes. It is not sufficient, for example, to simply record vacation time in the City's electronic financial systems without some backup information to show the time-off request, the time-off approval, and if done in arrears, some indication why that might be so."
Brown posted a press release late last week on social media following the decision titled, "Mayor Brown cleared by the Integrity Commissioner."
"I am vindicated now that the Integrity Commissioner has ruled that I did nothing wrong," the release claims.
Brown made no mention of his mayor's office social media spending rising from $9,880.76 for all of 2021 to $16,943 in March and April, during the first two months of his CPC leadership campaign or other questions raised on his use of City resources.
This includes evidence that he used City staff to work on Peter MacKay's CPC leadership campaign in 2020 ahead of last year's federal election. Senior employee Gurdeep "Nikki" Kaur, provided messages on her phone which show Brown directing City Hall staff to sell memberships for MacKay during work hours. She alleged Brown directed her to work for MacKay when she was supposed to be carrying out her City Hall duties. Kaur recently entered the mayoral race ahead of the October 24 municipal election and is vowing to clean up City Hall after she came forward as a whistleblower.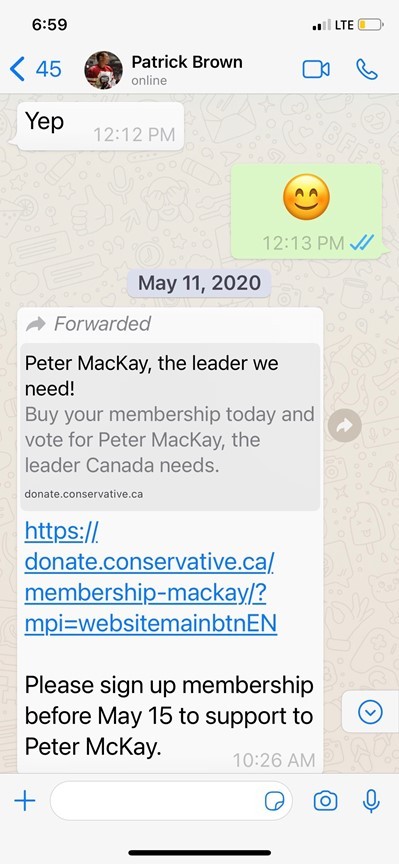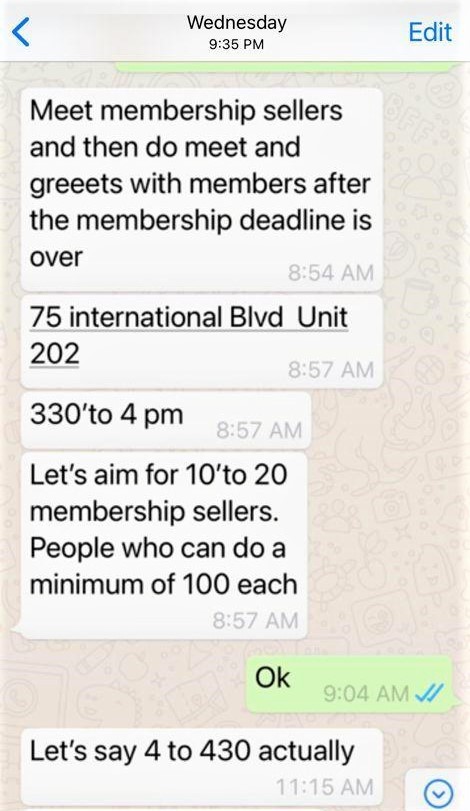 Screenshots of messages sent by Patrick Brown to senior staffer Gurdeep "Nikki" Kaur show he directed City Hall employees to sell memberships for Peter MacKay during work hours.
(Gurdeep "Nikki" Kaur)
In its update on Brown's conduct and other ongoing investigations, the integrity commissioner warned against the illegal use of City resources for partisan politics and the formation of voting blocs on Council.
"The strength of municipal government is that both Council and senior staff can operate without the burdens of partisan politics. The convention is that Council decisions are made not on the basis of party or other partisan affiliation, but on what might result in the best community impact. Factionalization at Council (a reliance on having 'the votes' rather than on an effort to persuade members to agree with one's perspective on a matter) is not healthy for local democracy and so we encourage each Member of Council to be reflective of their primary role which is to represent the public interest."
Bejnar said Brampton residents are perfectly capable of protecting the "public interest."
"This city's voters need to show Patrick Brown, once and for all, that his blatant abuse of taxpayers and his shameless use of our city to advance his federal political ambition, will not be tolerated again. On October 24, Brampton taxpayers should show Patrick Brown what happens to people who parachute in here just to abuse our city."
---
Email: [email protected]
Twitter: @JessicaRDurling
---
COVID-19 is impacting all Canadians. At a time when vital public information is needed by everyone, The Pointer has taken down our paywall on all stories relating to the pandemic and those of public interest to ensure every resident of Brampton and Mississauga has access to the facts. For those who are able, we encourage you to consider a subscription. This will help us report on important public interest issues the community needs to know about now more than ever. You can register for a 30-day free trial HERE. Thereafter, The Pointer will charge $10 a month and you can cancel any time right on the website. Thank you
Submit a correction about this story