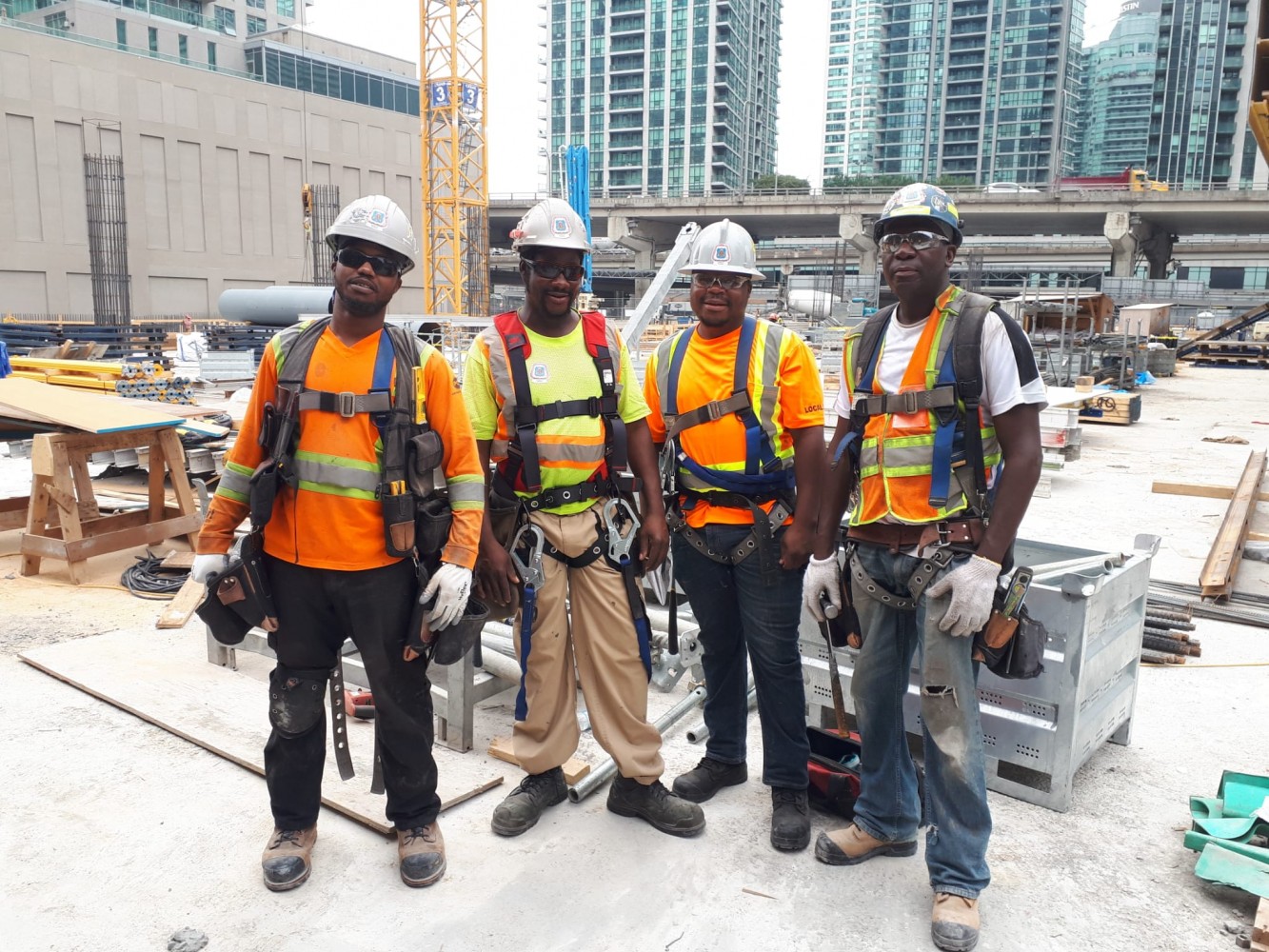 Feature image by Carpenters' District Council of Ontario (CDCO)
Union fights persistent problem with race on GTA construction sites
Black History Month is a time to learn and acknowledge the past contributions of Black Canadians and their ongoing efforts in shaping the country—but their contributions are often ignored.
"The role of Black Canadians and their communities in Canada has largely been ignored as a key part of Canada's history," the government of Canada admits on its website.
The theme of 2022, "February and Forever: Celebrating Black History Today and Every Day", aims to recognize the daily contributions Black Canadians make across the country.
Mathieu Da Costa was the first free Black person to walk these lands in the early 1600s, but it was not until December of 1995 that the House of Commons officially recognized February as Black History Month in Canada.
That was made possible by a motion introduced by the first African Canadian woman elected to Canadian Parliament—the Honourable Jean Augustine.
Twenty-six years have passed and Black Canadians are still bearing the torch for their rights, dignity and equity; consistently fighting against racism and injustices that persist in many of our public and private institutions.
A lack of representation of diverse communities in both Brampton and Mississauga city halls; Peel District School Board's refusal to address its issues with anti-Black racism, leading to the provincial government having to step in; and an alarming audit in 2019 found a leadership contingent within the Peel Regional Police unable to accept that a lack of diversity within the force was creating barriers for visible minority officers and impacting the community. Most recently, use of force statistics found officers used force against members of Peel's Black communities more than three times the rate compared to others in the region. Despite this, the Peel Police Services Board turned down a request from Black community members to create an Anti-Black Racism Advisory Committee.
While large public institutions grapple with these issues, industries are dealing with their own reckonings as well. Leading the charge with the Carpenters District Council of Ontario (CDCO) is Chris Campbell, Equity and Diversity Representative and Vice President of CDCO Local 27.
"I'm proud of my union today…I'm proud that my Canadian district vice president [Jason Rowe of the United Brotherhood of Carpenters and Joiners of America (UBC)] is speaking out in solidarity against anti-Black racism, and he's willing to put a statement (on) how this has never happened for 140 years with the carpenters' union," Campbell told The Pointer.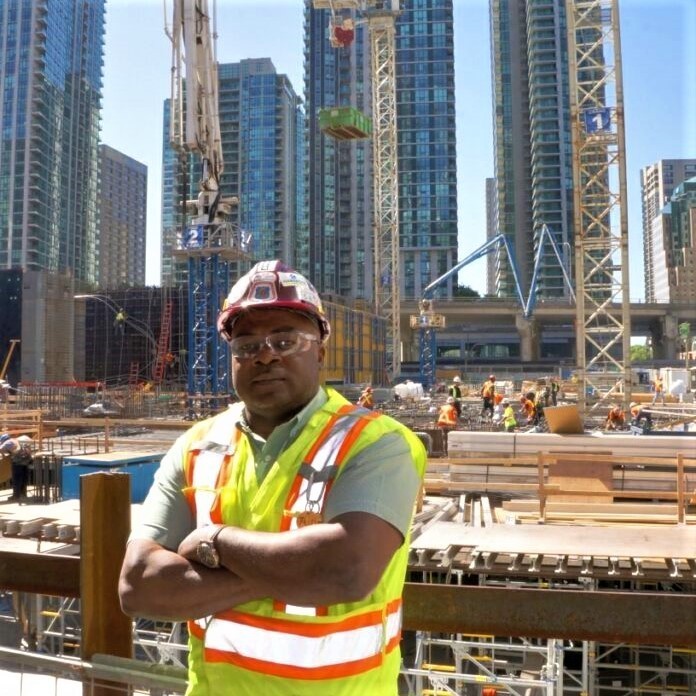 Chris Campbell, Equity and Diversity Representative and Vice President of CDCO Local 27
(Chris Campbell)
In a statement issued online, Jason Rowe says systemic anti-Black racism continues to persist in the construction industry.
"Disturbingly, UBC members continue to face discrimination and hateful acts of violence and crime. Safety, diversity, and inclusion are the number one priority for the UBC Canadian District, and our goal is to protect our members by eliminating racism, discrimination, and xenophobia of all forms," Rowe states.
He says Black History Month creates the opportunity to celebrate and honour the legacies of Black Canadians, past and present, while also serving as a stark reminder of the work we have yet to do in our efforts to combat systemic racism.
The union is joining hands with the Carpenters National office to promote awareness of Black History Month on job sites across Ontario.
"I am grateful to the Black leaders who went before us, and that built the structures upon which we stand today," Campbell says.
With over a half-million members, UBC is one of North America's largest trades unions. Two years ago, in the summer of 2020, the union responded with support rallies after nooses were found at construction sites in Toronto.
The reappearance of these halters—symbolic of hundreds of years of inhuman and heartless atrocities towards Black communities— was a sign to many that racism is still present in the GTA.
These incidents did not stop immediately. Another noose was found at the Eglinton Crosstown LRT construction site in March 2021. Since June of 2020, 8 nooses have been found at 4 different construction sites across the GTA.
In February of 2021, the union got together with other construction unions and developed the Toronto Declaration of Inclusive Workplace and Communities along with the City of Toronto. While this did not fix the issue immediately, Campbell sees it as a good starting point.
"Before you can fix something you have to at least admit that there is a problem," he says.
Campbell says incidents of name calling or hateful graffiti have persisted throughout his career in the industry, but following the killing of Geoge Floyd and the massive groundswell of Black Lives Matter support that followed, people are now more willing to speak out against incidents when they occur.
It wasn't the same for a 20-year-old Campbell who was trying to pay for his apartment, car insurance and starting a family. Speaking out could have come with devastating consequences.
"There was too much hanging over my head, so if you walk in a site and you see a noose—just put it aside and just continue on to work. You wouldn't really open your mouth, it was a different era," he says.
Now, with the existence of social media and grassroots movements aimed at rooting out anti-Black racism, Campbell says, at times, companies are forced to respond differently.
"It's posted on social media instantly and companies are forced to respond right away."
This is not always the case.
Orville Tatham, who joined the carpenters' union in 2000, says the industry has come a long way, but he still finds himself in difficult situations. He says oftentimes individuals choose to live with it and move on to their next assignment instead of confronting the issue or their employer.
"You can't fight a losing battle, and at the end of the day, I have my family to feed so I'm not going to rock the boat," he says.
A member of the Local Carpenters' Union, Orville Tatham, is a Brampton resident, working on the Woodbine Casino expansion for Hardrock Formwork.
(CDCO/Chris Campbell)
Despite the ongoing issues, Tatham says over the last 21 years he's witnessed his workplace transform from being "treacherous" to "having rights."
"You have to understand the industry is built on immigrants and sometimes they are misunderstood, we've got to be treated equally, you know?"
In 2022, the union is taking a step further, requesting language on equity, diversity and inclusion be included in the Carpenters' Union collective agreement, which is due for renegotiation this spring.
"Talking…doing interviews and not putting things in writing would be a little bit of a sham…so I'm looking forward to my leadership to take the next step and put this in our collective agreement," Campbell told The Pointer.
Skilled tradespeople are essential to help in Canada's pandemic recovery efforts, and the federal government estimates about 700,000 skilled workers are expected to retire between 2019 and 2028, creating a need for more helping hands. Making the industry more inclusive could go a long way toward attracting more interested individuals to these essential jobs.
It's estimated the industry needs to supply 309,000 new construction workers over the next decade (2021 to 2030) to match the growing demand.
In a press release on Monday, Employment and Social Development Canada (ESDC) launched an advertising campaign to promote the skilled trades as a strong first-choice career path for youth and young adults.
The government announced its Apprentice Service program in the 2021 Budget to help first-year apprentices in eligible Red Seal trades connect with small and medium-sized enterprises offering them on-the-job experience required to excel further.
Under its Apprenticeship Service, ESDC offers small and medium-sized enterprises up to $5,000 for every new, eligible first-year apprentice they hire to help with upfront training cost and salaries. The government also offers an additional $5,000 to employers if they hire from women, visible minorities and persons with disabilities.
Closer to home, in Ontario, 23 percent of carpenters in the province are immigrants, the 2019 Demographics & Diversity report states.
A Brampton resident of 25 years, Campbell says a career in the skilled trades can be highly rewarding for young people in Peel.
Fueled by the immense demand for carpenters, the average wage for unionized carpenters is the highest in Toronto, according to Statistics Canada, at $63 an hour.
"The doors to the union are always open," he says.
---
Email: [email protected]
Twitter: Anukul_AT
---
COVID-19 is impacting all Canadians. At a time when vital public information is needed by everyone, The Pointer has taken down our paywall on all stories relating to the pandemic and those of public interest to ensure every resident of Brampton and Mississauga has access to the facts. For those who are able, we encourage you to consider a subscription. This will help us report on important public interest issues the community needs to know about now more than ever. You can register for a 30-day free trial HERE. Thereafter, The Pointer will charge $10 a month and you can cancel any time right on the website. Thank you
Submit a correction about this story