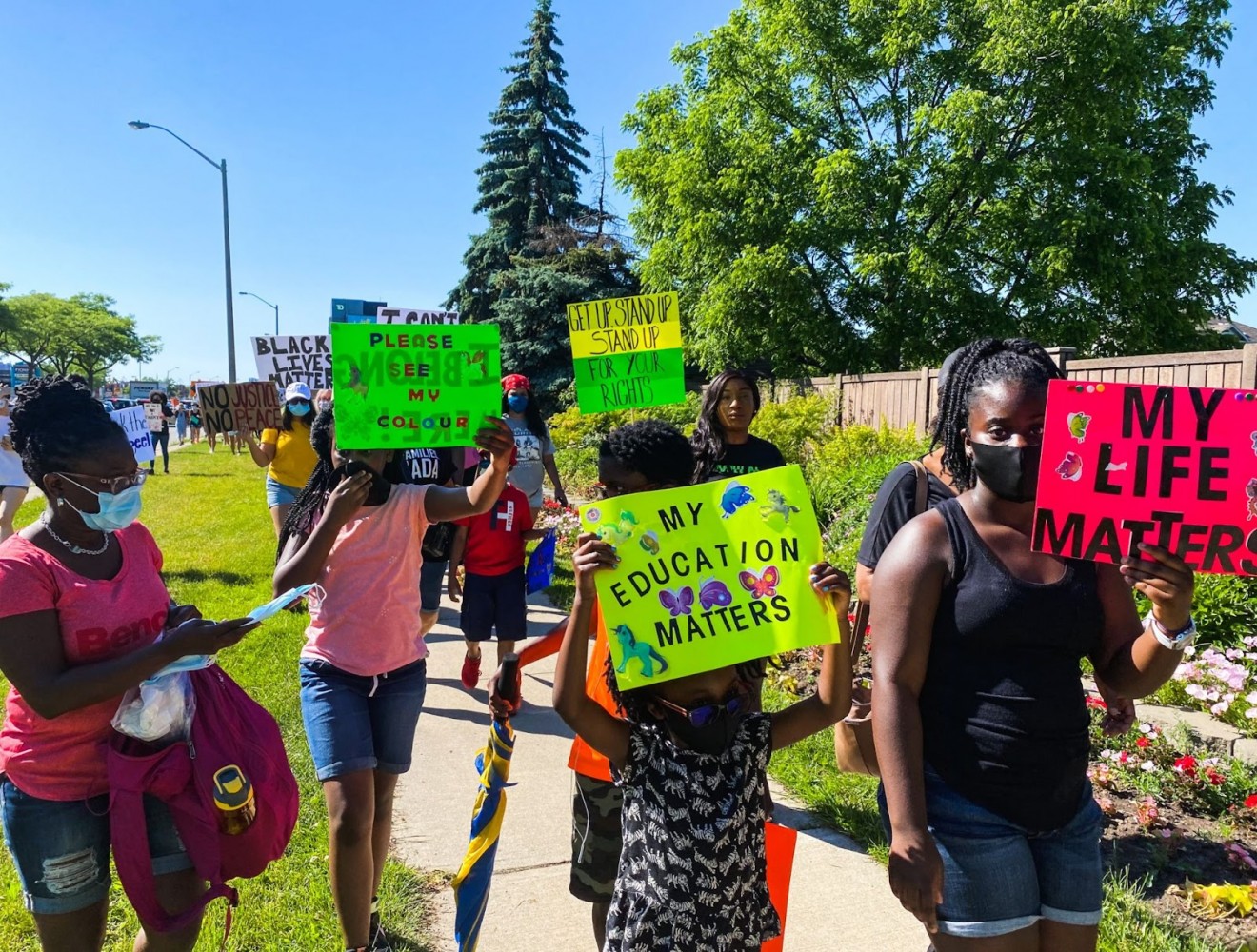 Image from The Pointer files
PDSB trustee demonstrates ignorance about systemic racism as disgraced colleagues try to quietly reclaim power
Kola Iluyomade was born in England. He went to school in Nigeria. And he died in Canada.
Iluyomade was a tenacious advocate at the Peel District School Board (PDSB) and his work was key to progress in combating anti-Black racism within the board, which is now stalling as the very trustees he had to fight mount an ugly campaign to restore the status quo.
The Pointer has obtained alarming emails that reveal what reformers are up against, after evidence was unearthed by the Province, which showed how elected trustees and other education leaders at the board perpetuated a harmful culture.
Two Ministry of Education reviews in 2020 showed anti-Black racism, systemic discrimination and Islamophobia were rampant within PDSB, a school board that serves one of the most diverse demographics of young learners in Canada.
Through 2019, 2020 and the beginning of 2021, Iluyomade was the face of critical conversations many did not want to have; he held leaders to account. His delegations and work to hold elected trustees' feet to the fire alongside other key activists like Idris Orughu, was a large part of why the Province sidelined elected trustees in June 2020 and appointed a supervisor to replace Peter Joshua, the fired director of education.
These education leaders who set the tone and culture of the board, had failed the students whose care was placed in their hands.
Trustees were forced to apologize and admit to the harm they had caused, highlighted across dozens of pages of the Province's blistering reports (in a display that proved what the probe revealed, trustees later complained the forced apology was against their rights).
Iluyomade died at the beginning of the summer after suffering a brain hemorrhage. Many of his friends and fellow activists blame his passing on the brutal toll created by constantly fighting anti-Black racism. They believe he is a martyr to equity in Peel.
"I think that it's not coincidental who they target in this work and how they try to use policy and bureaucracy to get people out," said Judy McKeown, a former anti-Black racism training officer with the Ontario Secondary School Teachers Federation Division 19, who recently had to step down. "And again, that obviously contributed, in my mind, to Kola's passing."
During his last six months working to bring equity to PDSB, Iluyomade watched the board slide backward. Its equity work slowed through 2021, something that was marked by the departure of the recently hired director of education, Colleen Russell-Rawlins (appointed with a mandate to address anti-Black racism), and a two-year leave for the associate director of equity, Poleen Grewal, who filed a scathing human rights complaint against the board leadership and its former director, alleging a harmful top-down culture they created which did long-lasting damage to visible minority students.
Grewal's continued treatment — she is the subject of some of the disturbing internal emails by one trustee recently obtained by The Pointer — signals the same problematic trustees responsible for years of harm refuse to learn from the past. These trustees are now publicly agitating for a return to governance, after their damaging behaviour forced the Province to strip them of their power, without demonstrating an understanding of the systemic barriers they put in place.
Education Minister Stephen Lecce appointed Bruce Rodrigues in 2020 as the special supervisor to replace the trustees and take over their governance function. A lobbying effort is now taking place to undermine the authority of the ministry and its objective to work with willing partners to finally eradicate systemic discrimination within the troubled school board.
Iluyomade (right) passed away at the beginning of the summer.
(Image contributed)
Following Iluyomade's death, a majority of the board's trustees wrote to the Ministry of Education demanding they be reinstated.
"We the undersigned, nine of the twelve democratically elected PDSB Trustees, now ask the Minister to withdraw the Supervisor and promptly return us to the roles which Peel voters chose us to fulfill," the letter said. The Province denied the request.
The letter was in stark contrast to the admissions of failure the same trustees uttered barely a year earlier. A unanimous motion on June 17, 2020, admitted PDSB could not deal with its issues of anti-Black racism or the internal chaos, largely caused by the same trustees who recently signed the letter. It was clear the board desperately needed outside help.
The trustees, facing mounting community pressure, and a deeply disturbing string of high-profile incidents of racism within the board, eventually requested provincial intervention, and Rodrigues was called in to clean up the mess and begin the complex process of restoring badly broken trust.
"Let's get some help and let's get these very real problems, get them solved," Trustee Will Davies, one of those now pushing to get rid of Rodrigues, said just a year ago.
In 2019, Davies was at the centre of controversy after referring to Brampton's McCrimmon Secondary School (which has a large Black student-body) as "McCriminal". He eventually apologized for the remark and said it was a nickname his children, who attended the school, had used. The issue was a key rallying point for many Black community advocates.
Two years after he was at the centre of the McCrimmon controversy and was pushed to apologize for his hurtful remark, Davies has made another harmful comment that suggests he learned little from his previous headline grabbing behaviour.
Almost four weeks ago, on September 30, Davies addressed the Regional Learning Choice Program, which avenues promising students onto educational pathways designed for high achievement and future academic opportunities.
Davies suggested a new approach under Rodrigues, designed to level the field for certain talented minority students who had previously been denied these advantageous opportunities due to discriminatory biases ingrained in the system, was "unfair". He then revealed an alarming lack of understanding about the new system and its goals, likening it to giving visible minority students "courtesy seats on buses" which drew looks of shock from some who participated in the video presentation.
The high-achieving program is normally oversubscribed and selection is made through a lottery system.
But for years, Black and Indigenous students have been glaringly underrepresented in this academic stream. They have not been able to access this desirable education route as easily as their peers, one example of how systemic issues of anti-Black racism have plagued the school board.
The elementary International Baccalaureate program illustrates the problem.
According to board data, 53.9 percent of elementary students in PDSB identify as South Asian, but 76.7 percent of the 296 youngsters in the IB program are from South Asian backgrounds. Black students account for 9.9 percent of all elementary kids, but fewer than 10 individuals are included in the IB program, meaning the board cannot even calculate a percentage for privacy reasons, but it would work out to about three percent.
To address this systemic failing the board — under Rodrigues — decided to scrap the lottery for eligible Black and Indigenous students. It means qualified Black or Indigenous students are now guaranteed a place in the program, while students from other backgrounds still enter through the lottery. The change does not lower the bar for Black or Indigenous students, it simply allows them to skip the lottery step, as many of them were previously segmented away from the program in the first place, despite their impressive academic performance. Since there are generally far fewer Black or Indigenous applicants in the first place, their underrepresentation was being compounded by not being fished out of the random pool.
Davies was unimpressed with the change.
"Many of my constituents, Trustee Davies' constituents, join him in concern for 'the unfair way that the RLP spots are just given to certain students, while all others must enter the lottery system,'" Rodrigues said, reading Davies' words out loud. "'If one were to imagine the PDSB allocating courtesy seats on buses in a similar manner, I am sure we could all agree that would not be tolerated'."
PDSB'S Gregg Pearson (left) reacts as William Davies' comment is read out by Bruce Rodrigues (bottom right).
(Image screenshot from PDSB meeting)
Courtesy seats on PDSB buses are offered to students who are not automatically eligible for transportation on school bus routes. Students must live far enough from their school to get a bus and, when there are spare seats on a route, PDSB allows ineligible students to request a seat on the bus as a courtesy. The accommodation was suspended during COVID-19.
The issue with comparing courtesy seats to the regional learning choice program is that, in its current form, school buses do not represent a structural barrier to Black or Indigenous students. The system may require priority for students living with a disability or whose parents are unable to walk them to school but it does not impact racialized students particularly.
The board, on the other hand, has empirical data that show Black and Indigenous students are underrepresented in its most ambitious programs. This is not because they are undeserving or in any way less capable, it is because of systemic biases that have informed a whole slew of decisions by educators who have traditionally stereotyped Black and Indigenous students, and unfairly kept opportunities from them. Targeted work to fix this decades-long reality is now underway, despite Davies' misunderstanding, which staff attempted to correct.
Davies did not respond to questions sent by The Pointer, including one asking if he could explain the structural issues in Peel that led to the underrepresentation of Black and Indigenous students in these classes. In a short phone call, he said he would not be commenting.
The trustee's comments at September's board meeting followed a controversial August agenda, where staff, trustees and the public were subject to a racist delegation from someone who identified themself as a parent, complaining about the ongoing focus on equity work. The pre-recorded video presentation was played during the live stream of the meeting, before PDSB decided to remove it from the archived version of the meeting, because "members of the PDSB community may be negatively impacted" by the racist remarks, a board spokesperson told The Pointer.
"There was nothing in the delegation that was prohibited by the delegation procedure in place at the time," the spokesperson said. "It was received and reviewed in accordance with the Board's delegation policy at the time. The rule has since changed as a result of the review of the Board's governance procedures."
The spokesperson outlined a variety of initiatives taking place to address last year's critical provincial review and issues of discrimination within the board.
"The Peel District School Board is in the process of developing an Anti-Racism Policy as directed by the Ministry," an email explained. "In addition, we will make the policy applicable to both staff and students and include clearly defined outcomes, operating procedures, roles, responsibilities and accountability measures, as directed by the Ministry...We realize systemic racism is experienced differently within Indigenous and racialized communities. As such, our approach to developing our Anti-Racism Policy will involve collaboration with Peel's diverse communities and the Ontario Human Rights Commission, as directed by the Minister's Report."
The spokesperson also wrote: "The Peel District School Board remains committed to equity, anti-racism, anti-oppression, and dismantling systems of all forms of discrimination in culturally relevant and responsive ways, with a specific focus on anti-Black racism as required by the Ministry Directives."
As PDSB's trustees stumbled publicly, a campaign to take back control is underway, with both inward and outward-facing goals. The letter sent by trustees to the Province, and widely reported in the media, was just the public face of a campaign to return to power. Behind the scenes, one trustee has been lobbying for a return and another played a questionable role in a leaked whistleblower investigation.
On July 2, Trustee Susan Benjamin sent a rambling email into the ether. She copied more than a few PDSB staff, later forwarding it to local MPPs and the Minister of Education. In her email, titled 'End of Year Musings', Benjamin lamented how work to address PDSB's well-documented issues with systemic racism had resulted in a "loss of value knowhow (sic) and expertise" among the board and school senior leadership. The letter was addressed to Rodrigues.
"As a former staff member of the PDSB, I feel that we cannot ignore the work done by the previous senior teams and Trustees of the PDSB," she wrote in an email that paved the way for her colleagues' open letter.
Trustee Susan Benjamin
(Image from Facebook)
When the PDSB's new director of education, Rashmi Swarup, was installed in August, Benjamin tried again. She forwarded her original musings and rehashed concerns about the sidelining of elected trustees by the Minister of Education, another elected official.
"We need to know what has been done in the past one year to implement the directives, we need to know answers to questions that are being asked by Trustees, by our parents and constituents," she wrote. "We are being given information that is deemed suitable by the supervisor, and expected to silently nod our heads in assent, that is not democracy!"
Both of Benjamin's emails included references to the associate director of equity and instruction, Poleen Grewal. Grewal, on a two-year leave, has been instrumental in pushing PDSB's equity work forward and one of few critical voices within the administration championing change before the Province stepped in.
In her first email, Benjamin alleged Grewal had been "long aspiring to the post of director" and that the appointment of Russell-Rawlins had "put paid to her ambitions" (meaning ended her efforts). In August, she doubled down on the narrative, after a confidential code of conduct whistleblower investigation into Grewal, which appeared to be reprisal for her human rights complaint, was widely leaked. Grewal highlighted in an update to her human rights tribunal complaint the lengths board leaders went to in an effort to undermine and discredit her following her initial filing to the tribunal, including how they dragged her son into their alleged reprisal against her.
The whistleblower investigation centred on a complaint that Grewal had used her position to pressure staff into accommodating her son's academic requests. Grewal is a single parent employed by the board and, according to the report, she believed she was acting "as a parent" and not a staff member when asking for accommodations for her son, a common request for parents.
"We had no shred of doubt about the Respondent's positive commitment to her son's best interests and well-being," the report says. Adding: "In our view, a reasonable person in the position of the whistleblower would have concluded that the Respondent was conflicted in requesting subordinates to grant the arrangements which she sought".
The internal investigation done after Grewal's human rights complaint, and allegedly as a reprisal for her action, found Grewal had technically broken the code of conduct but that credits and marks awarded to her son were not a result of her role or any perceived pressure.
The veracity of the entire investigation into Grewal, which was done under the authority of former director Peter Joshua, was further called into question, when he undertook a shocking legal action against equity advocates in various Black communities. After Joshua was fired, Rodrigues quashed the legal action and in an unprecedented step, called Joshua's behaviour, and that of other board leaders who were part of the heavy-handed legal action, a reprisal against those simply seeking equality. Iluyomade was one of those Rodrigues singled out in his apology for the actions of Joshua and other board leaders, calling them "discriminatory, anti-Black and a deliberate attempt to silence community members' public participation."
Rodrigues also had to issue a similar apology for reprisal against vocal community advocate Idris Orughu, who was issued a trespass notice by Joshua and the board, preventing him from appearing on board property after he had publicly questioned the conduct of trustees, Joshua and other senior educators within PDSB.
But these admissions of retribution against critics of the board, who had simply worked to end systemic discrimination, didn't stop Benjamin from publicly attacking Grewal.
"The Mississauga News published an article on the Associate Director Poleen Grewal (now on leave) relating to an investigation that has been ongoing since 2019," Benjamin wrote in her second email. "These are serious matters that compel me to resend to you my email of July 2, 2021, that was sent to Supervisor Rodrigues, as it touched on many similar issues."
The questionable investigation launched under Joshua is not ongoing, as Benjamin falsely claimed. The matter was concluded in 2019. Joshua was fired a year later after his pattern of retribution was revealed to Rodrigues.
Trustees govern the school board through the director of education and do not have direct control over any other staff. It is unclear why Benjamin felt it was appropriate to send emails to various stakeholders from her official PDSB email pushing allegations about Grewal's ambition and a leaked report about her son on a matter that was dealt with two years ago, and was part of an alleged reprisal effort. Grewal does not answer directly to trustees.
Grewal's complaint to the human rights tribunal alleges Joshua harassed her with "targeted behaviour" and created a poisonous work environment. Grewal's lawyer confirmed her human rights case has been settled.
Grewal (right) has led equity work at PDSB.
(Image from Twitter)
The whistleblower investigation into Grewal was leaked unredacted, including the name of Grewal's son, who was a minor at the time. It laid out how Trustee Robert Crocker played a key role in helping the complaint come forward against the associate director.
The long-concluded investigation, done under Joshua's alleged effort to seek retribution, chronicles how Crocker, who is elected to represent parents, met with a teacher concerned about Grewal's actions. The report says the teacher had "known Crocker for many years" and that the trustee arranged a meeting with Joshua to discuss the allegations. Crocker is a former OSSTF union president but no longer represents teachers in his role as trustee.
"That meeting occurred at the Board offices… with Crocker in attendance," the report says.
Like Benjamin, Crocker does not have jurisdiction over senior staff and is not supposed to arrange high-level meetings for teachers.
A trustee will "entrust the day to day management of the board to its staff through the board's director of education," the Education Act explains. Another line highlights the fact that trustees answer to students and parents, not teachers: "A member of a board shall… bring concerns of parents, students and supporters of the board to the attention of the board."
The PDSB code of conduct also specifies trustees should not help those with whom they have prior relationships with. Since the two-year-old whistleblower report being dredged up by Benjamin says the teacher had "known Crocker for many years" it raises concerns over conflict.
"A Trustee shall not use his or her office to advance the Trustee's interests or the interests of any family member or person or organization with whom or with which the Trustee is related or associated," the code of conduct reads.
Crocker did not respond to a request for comment. Benjamin acknowledged a request for comment, saying she could not speak until she had approval from the board's supervisor. No response was provided ahead of publication.
As anti-Black racism activists in Peel continue to grapple with the passing of Kola Iluyomade, PDSB's exiled trustees seem restless to win back their power.
Their public comments and attacks on equity-seeking staff continue to demonstrate a lack of understanding around the basic issues of inclusion and fairness within the board.
Trustees with a history of obstruction, who admittedly created a culture of harm within the PDSB, will face Peel voters in next year's municipal election.
---
Email: [email protected]
Twitter: @isaaccallan
Tel: 647 561-4879
---
COVID-19 is impacting all Canadians. At a time when vital public information is needed by everyone, The Pointer has taken down our paywall on all stories relating to the pandemic and those of public interest to ensure every resident of Brampton and Mississauga has access to the facts. For those who are able, we encourage you to consider a subscription. This will help us report on important public interest issues the community needs to know about now more than ever. You can register for a 30-day free trial HERE. Thereafter, The Pointer will charge $10 a month and you can cancel any time right on the website. Thank you
Submit a correction about this story