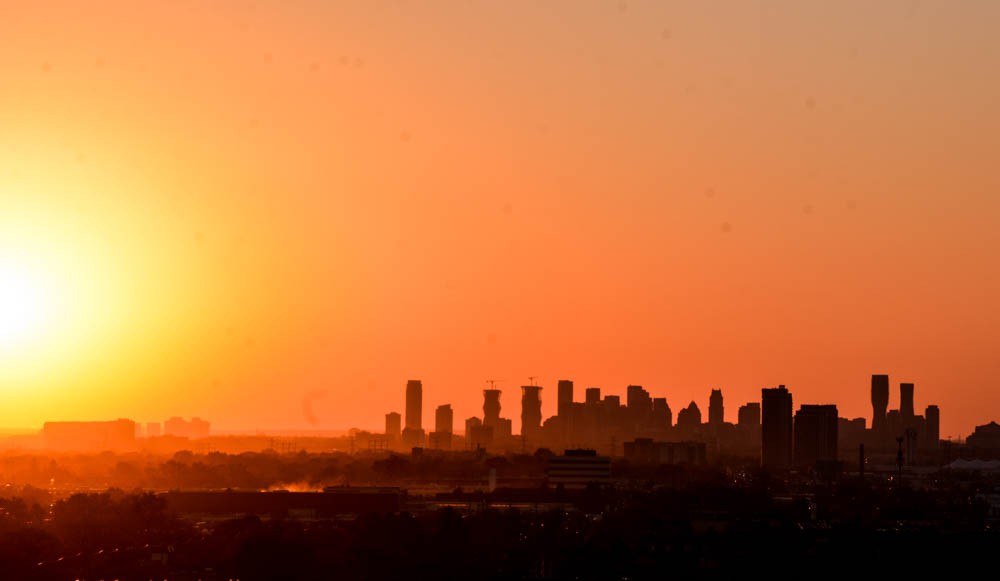 Feature image from Joel Wittnebel/The Pointer
Peel is warming twice as fast as the global average; will the climate emergency be taken seriously?
"We really need to take the same kind of emergency approach that we've taken to dealing with the pandemic, to the climate change issue," Bryan Purcell, vice-president of policy and programs at The Atmospheric Fund, tells The Pointer.
Many governments across the world took bold, swift action, pouring millions of dollars into public health measures, personal protective equipment, testing infrastructure and an unprecedented global vaccine rollout, in an effort to reduce viral spread. Drastic actions that previously would have been implausible to many — shifting workplaces online, shuttering schools, closing borders — became the norm over the last two years.
This kind of immediate action has left many environmentalists scratching their heads wondering why the same dedicated, coordinated effort has not been aimed at the climate emergency — humanity's greatest threat.
Since 1990, when the Intergovernmental Panel on Climate Change (IPCC) first warned world leaders that to avoid catastrophic climate impacts, warming should be limited to 1.5 degrees above pre-industrial levels, there have been far more words than action.
There is a near universal consensus — save for shrinking sects of climate change deniers — that the environmental emergency is already causing catastrophic destruction that will cascade into planetary crisis within the next three decades. This has led many countries, provinces and municipalities to declare climate change emergencies in the hope that these commitments will force future action, and let citizens know their elected leaders are taking climate change seriously. But actions speak louder than words, and the most recent IPCC report last year detailed how leaders the world over have failed to adequately address the global calamity we're all witnessing everyday, detailing how 1.5 degrees of warming is now practically unavoidable.
Just turn on the Weather Channel to watch the consequences.
Peel Region and its local municipalities have all declared climate emergencies of their own, and each has a dedicated climate change master plan designed to guide decision making that will lead to lower emissions.
In Brampton, it's already been reported that to date, the City's plan has largely failed due to the lip service paid to it, and for 2022, councillors dedicated next to no funding toward green initiatives across the city.
The City of Mississauga is on the opposite end of the spectrum, dedicating approximately $200 million in 2022 toward a variety of climate initiatives that should help it reach its ambitious goal of reducing municipal greenhouse gas emissions by 80 percent from 1990 levels by 2050.
According to a December 2021 report from The Atmospheric Fund (TAF), a Toronto based climate non-profit — set up by the City of Toronto in 1991 to help finance climate change initiatives — the governments of GTA municipalities are falling behind on their goals as emissions continue to rise across Southern Ontario.
The year 2020 was abnormal and many statistics are largely unreliable due to the pandemic's impact. However, even with asterisks placed on every number from 2020, TAF has concluded the Greater Toronto Hamilton Area (GTHA) is not on track to be net zero by 2050, a benchmark shared by the federal government, the City of Toronto and used by the organization.
According to the findings, carbon emissions rose two percent between 2015 and 2019 in the GTHA, however to achieve targets there should be yearly reductions of at least seven percent. As Purcell noted in the introduction to the report, "each year we fail to meet the trajectory toward our climate targets, it puts more pressure on future years."
Simply put, if we do not act now, a snowballing of emissions in the atmosphere means it will be harder to achieve reduction targets in years to come.
The above graph shows the largest sources of greenhouse gas emissions in Peel.
(The Atmospheric Fund)
TAF reports on overall emissions targets for the GTHA, but when asked specifically about Peel's reduction targets, Purcell said Peel is more or less in the same boat as the rest of the GTHA — GHG emissions are not dropping fast enough.
"If you look at the trend in Peel on emissions, it's quite similar to the overall GTHA trend. I think that the pace of reduction required is more or less the same," he said.
Some of the largest contributors are buildings, transportation, industry, waste and agriculture. To calculate emissions for specific regions/cities, TAF uses a variety of sources for each category. For example, to calculate building emissions (the largest contributor in the GTHA) it used data from natural gas or electric utilities to conclude energy consumption of particular areas, this can then be used to approximate the megatonnes of carbon being emitted.
Transportation, the second largest contributor, was calculated using fuel sales data and total volume of gasoline/diesel sold in the region along with certain technical multipliers to calculate fuel being burned and emitted.
The GTHA holds half of Ontario's population and is reducing emissions here will be keep to Ontario's and Canada's fight against climate change. Approximately 44 percent of the province's carbon emissions come from the area, meaning Peel needs to be a leader in green initiatives.
In 2020, Peel emitted approximately 10 megatonnes of carbon dioxide into the atmosphere.
The Region was the second highest polluter next to the City of Toronto with 13.1 megatonnes and the City of Hamilton with 9.4 megatonnes. Overall, emissions decreased by 13.4 percent in 2020, due to lockdown restrictions. For reference, emissions from the GTHA only decreased by 0.4 percent the year prior but were on an upward trend since 2015.
In 2019 and 2020, Peel emitted more CO2 per capita than the City of Toronto, but less than Durham Region and the City of Hamilton. In comparison, Toronto has made larger emissions reductions such as hitting its 2020 target of reducing 30 percent below 1990 levels, according to TAF.
Buildings are the largest source of carbon emissions due to the energy required for heating and cooling technologies powered by natural gas, which is a fossil fuel. The fluctuations in carbon from buildings is largely due to weather patterns, cooler summers and warmer winters allow people to generally consume less energy.
"We are seeing a trend towards increased use of natural gas to generate electricity in Ontario," Purcell says. "In fact, that's expected to increase dramatically in the decade ahead based on the current provincial plans and policies."
With climate change causing warming across the planet — a recent study completed in Europe concluded the last seven years have been the planet's hottest on record; 2021 was the 5th hottest, despite pandemic restrictions — this can have a significant impact on the amount of energy being consumed to mitigate the heat. For example, in July 2019, TAF reported a GTHA decrease of 2.3 percent of emissions from electricity — the result of a much milder summer month. Due to an extremely hot July 2020 — one of the hottest months the planet had ever recorded — emissions rose 2.1 percent as people turned on air conditioners, fans and other cooling devices to mitigate the oppressive heat.
Policies from governments play a huge role in the increase or decrease of carbon emissions, but especially with Ontario's electricity. Between 2015 and 2017 electricity emissions fell 55 percent, between 2017 and 2020 they then rose 56.5 percent.
"There have also been significant policy changes since 2017, which help to explain why we haven't been able to get electricity emissions back down to 2017 levels," Purcell said.
Premier Doug Ford and his PC government, after being elected in 2018, cut 758 renewable energy projects and cancelled many of Ontario's electricity conservation programs, including its electric vehicle subsidy, and increased exports of power to the U.S while using natural gas-powered plants, Purcell said.
About 42 percent of Peel's overall emissions come from buildings, 35 percent from transportation — cut in recent years by investments into greening the public transit fleets in Brampton and Mississauga — and 18 percent for its variety of industries. Waste and agricultural emissions makeup about 5 percent combined.
In November, The Pointer reported green initiatives in the City of Brampton were getting minimal funding through the City's 2022 budget. Mississauga continued to make huge investments in public transportation, but failed to address the growing building emissions as a whole.
Before the pandemic, transportation emissions were climbing rapidly. Despite taking a backseat in 2020, TAF reports it will increase again in 2021. Between 2015 and 2019 transportation emissions from cars and trucks increased nearly 10 percent in Peel, contributing to an annual GTHA increase of more than one percent a year.
Even though personal vehicle emissions decreased by 21.5 percent in 2020, residents' spending habits meant more and more delivery trucks were hitting local roadways. TAF references the Pembina Institute, explaining the rise in online shopping between 2016 and 2020 has a direct correlation with freight emissions, which are expected to exceed passenger transportation emissions by 2030.
Purcell says to combat growing emissions from this category, policies are needed to electrify these vehicles, and streamline delivery processes.
"It's often not very efficiently done because there's such an emphasis on next day delivery," he said. "Which means you have trucks driving all over the place rather than waiting until they could have a full load and a rational route to deliver a whole bunch of items in that neighborhood."
All sectors saw decreases in emissions in 2020, except for waste which grew two percent in the GTHA. Approximately four percent of emissions from Peel are due to waste, Purcell believes the amount of people staying home due to COVID-19 likely had an effect on the amount of waste produced.
In 2021, the Region made steps to invest in an anaerobic digestion facility, which will take organic waste and dispose of it while capturing the methane produced and harnessing it for power.
While this project is a win locally, helping to reduce the amount of waste going to landfill, the facility creates methane and will be used to produce further natural gas for Ontario and Peel households, still resulting in an increase of carbon emissions. This is simply moving emissions from waste to buildings.
The Credit Valley Conservation Authority monitors the forests in Peel and noticed many trees are struggling with disease.
(Credit Valley Conservation Authority)
Regardless of where these emissions originate from, they will have an impact on Peel's natural world. In April 2021, the Credit Valley Conservation Authority (CVC), which is responsible for maintaining watersheds that cover a large portion of the Region, put out findings from its integrated watershed monitoring program. It explains outcomes for what will happen locally without drastic carbon reductions.
Across its jurisdiction, the CVC reported an average annual temperature increase of 1.8 degrees since 1940 — this is about double the rate of warming that has happened globally. This means that certain negative effects from the warming planet — more extreme heat days, more extreme weather events like flooding — could be seen in Peel quicker and more prominently than other areas in years to come.
The watershed study also observed a total annual precipitation increase between 6 and 23 percent, and 13 percent more precipitation in winter months instead of snow.
The most prominent warming in Peel happened over the past three decades and if not blunted, could result in local temperatures rising another two degrees, according to the CVC data.
Warming temperatures increase the potential for disasters such as mass droughts or floods and the potential for heat waves putting the most vulnerable residents at risk. Milder and shorter winters increase the likelihood of pests like ticks who can carry Lyme disease to flourish.
CVC reports that 40 percent of the trees monitored are affected by various diseases and pests, eliminating diversity in foliage leaving forests more vulnerable to disasters. Sugar maple, white ash and American beech trees are most common in CVC forests, but the introduction of the emerald ash borer and beech bark disease is quickly changing the dynamic. Trees naturally pull carbon from the atmosphere and help reduce heat, particularly the urban heat island effect felt in many large urban centres — but not if they're dead.
The pandemic has shown that when faced with a problem people can drastically change their habits; the future of our planet requires the same type of action.
---
Email: [email protected]
Twitter: @taasha__15
---
COVID-19 is impacting all Canadians. At a time when vital public information is needed by everyone, The Pointer has taken down our paywall on all stories relating to the pandemic and those of public interest to ensure every resident of Brampton and Mississauga has access to the facts. For those who are able, we encourage you to consider a subscription. This will help us report on important public interest issues the community needs to know about now more than ever. You can register for a 30-day free trial HERE. Thereafter, The Pointer will charge $10 a month and you can cancel any time right on the website. Thank you
Submit a correction about this story