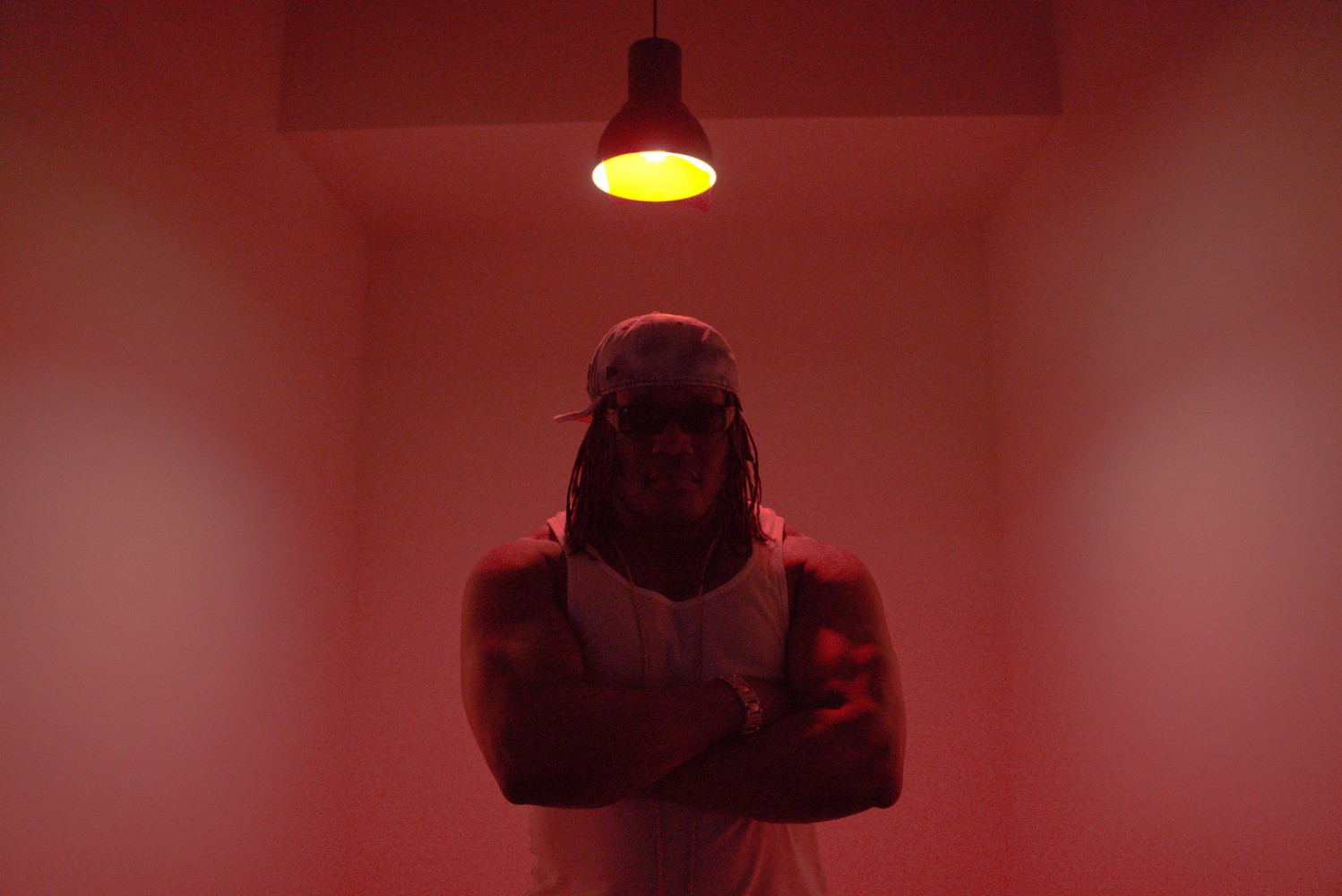 Feature image from Darren John
Will rap get its fair day in court?: Avalanche the Architect hopes to appeal conviction for threatening lyrics
The mountain is steep for Avalanche the Architect.
The Mississauga rapper, convicted in 2015 of uttering threats in connection to one of his songs, has lost his most recent appeal to overturn a decision that gave him a criminal record.
In early June a judge will decide whether Darren John, his given name, is allowed to appeal this most recent decision; if it's not granted, the conviction will stick for good.
The trial garnered attention across North American hip hop circles and exposed a bitter feud between John and his former music promoter Sonia Harry after they had a falling out two years prior. The pair met in January of 2013 when John was attempting to grow his burgeoning rap career, and Harry agreed to include him in an upcoming show.
Harry testified in 2015 that after one particular performance, she "believed" John got into an altercation with another rapper and took that as a sign he didn't work well with other artists she promoted. So she didn't want him to be involved in an upcoming show.
She testified that after telling John he would not be included on the list for the show in the Ottawa area, he became irate, calling her a "slut" and "whore".
Some time after being removed from the show, John released a song titled Got Yourself a Gun, which includes the name 'Sonia', along with references to sexual violence and murder. Harry felt it was a reference to her, which John disputes, and she testified that after hearing the song she became fearful for her life and contacted police.
When John produced audio of the conversation with her which included no name-calling, despite her claims, the court heard the evidence. It wasn't the only inconsistency John pointed to during the trial in which he mostly represented himself. John argued the song in question was not a threat against Harry, but a battle rap aimed at artist Scotian Sparxx who John was feuding with at the time and it was nothing more than artistic expression. Experts in the history of rap music and its genre conventions tend to agree.
Yet, Justice Lucia Favret decided Harry's testimony, despite acknowledging her inconsistencies, was credible, and that the song could be "artistic expression and evidence of criminal activity at the same time." John was convicted on the charge of uttering threats, but acquitted on the more serious charges of criminal harassment and threatening death. He was sentenced to one year of probation.
For the last five years, he has been appealing that decision. His most recent attempt to overturn the conviction was denied in January of this year, with Justice Peter Cavanagh dismissing all 14 of John's reasons why he staunchly believes Favret erred in convicting him.
John is now seeking leave to pursue a subsequent appeal but if his request is denied, the case will be over.
In the saga of Avalanche the Architect, issues of judicial fairness, privilege, artistic expression and rap culture intertwine in a Gordian knot. More young Black and Hispanic rap artists find themselves standing before a judge to answer for statements in their lyrics.
---
Issuing death threats, planning the murder of an intimate partner, talk of decapitating children and rapping about starting a riot on Capitol Hill — inspired by the January insurrection in the United States — are all common fodder for some of today's most mainstream artists, listened to by hundreds of millions around the world.
Eminem, while being widely viewed as one of the most influential modern rappers, is also known for his violent and threatening lyrics aimed at his ex-wife Kimberly Anne Scott. In the song 97' Bonnie and Clyde, the rapper comforts his crying daughter:
Baby, don't cry honey, don't get the wrong idea
Mama's too sleepy to hear you screamin' in her ear (ma-ma!)
That's why you can't get her to wake, but don't worry
Da-da made a nice bed for mommy at the bottom of the lake
Here, you want to help da-da tie a rope around this rock? (yeah!)
We'll tie it to her footsie then we'll roll her off the dock
In the recently released Daywalker, popular artist Machine Gun Kelly raps about a voice in his head, "talkin' to me and it's always tellin' me to kill." Adding: "If I get angry, I'm goin' to start up a riot like people on Capitol Hill." The song has been streamed by hundreds of thousands of listeners on Apple Music and Spotify and the music video has over 18 million views on YouTube.
"I got a problem with separating what my head is creating from things that are real," Machine Gun Kelly raps in his widely popular song Daywalker. (Screengrab from Youtube)
This threatening language is not just found in rap, or confined to music. In their song, Goodbye Earl, country band the Dixie Chicks sing about a woman murdering her abusive husband.
That Earl had to die, goodbye Earl...
Ain't it dark wrapped up in that tarp, Earl
In Stephen King's 1977 novel Rage he describes in vivid detail a disturbed student who brings a gun to his high school and shoots his algebra teacher, before engaging in a standoff with police.
I swung the pistol at the windows, holding it in both hands, and pulled the trigger four times. The reports slammed around the room like bowling balls. Window glass blew out in great crackling fistfuls. The troopers dived down out of sight.
This is before getting into more dark genres of music such as death metal or even early punk rock. Take The Misfits for example: in the band's 1982 song Skulls Glenn Danzig sings about collecting the heads of little girls to "put 'em on my wall" and in Mommy Can I Go Out and Kill Tonight? he sings about killing a young girl, and keeping her toes and teeth as a souvenir.
"The Misfits have lyrics that basically, if you took them at face value, you would think that Glenn Danzig was like a serial killer," says Jooyoung Lee, an assistant professor in the Department of Sociology at the University of Toronto. Lee has studied and written in depth about gun violence, hip hop culture and the development of young rappers. His 2016 book Blowin' Up detailed the stories of several young rappers in South Central Los Angeles who used rap as a path to try and avoid crime and the gang lifestyle. Unfortunately, the narrative of rap as a force for good is not one typically accepted in the general public or in the criminal justice system.
Jooyoung Lee, an assistant professor at the University of Toronto (Photo from Jooyoung Lee)
From Eminem to Stephen King to the Dixie Chicks, all include examples of what a reasonable person would consider threatening language; but the idea that these songs or written works constitute actual threats of violence from these artists is almost laughable. Does anyone think Stephen King is going to take a gun to a high school? Does anyone think Machine Gun Kelly is going to start a riot? Perhaps because Eminem actually had a previous relationship with Kim, his lyrics could be considered the most threatening, but should they be taken as actual threats of violence? Eminem has never been charged — perhaps because Kim has never stepped forward to complain — but should threats in song lyrics be treated the same as threatening someone face to face?
Film is replete with specific suggestive portrayals that led directly to real life violence. Oliver Stone's 1994 movie Natural Born Killers was one of the motivations Eric Harris and Dylan Klebold used when they killed 12 students and a teacher inside Colorado's Columbine High School. The film was also cited by Michael Carneal, who killed three students and injured five others outside his Kentucky high school.
But these acts of artistic expression escape the same scrutiny rap lyrics receive.
Outside the realm of artistic expression, contemporary political rhetoric often escapes association with threatening hate speech or incitement, even when the connections are obvious. If Donald Trump had been a Black rapper, there's a good chance he wouldn't have escaped criminal charges for directing a mob of his supporters to storm the U.S. Capitol, resulting in multiple deaths.
When it comes to young rappers, the criminal justice system classifies their art and their songs as exactly that; depictions of real life actions or potential actions. Rap is treated differently than any other art form, and this creates an incredible amount of prejudice toward these artists.
"Black folks are not afforded that kind of room to express themselves," Lee says. "Criminality is embedded in perceptions of Blackness in the US and in Canada, and it's amplified quite a bit in the justice system."
This kind of inherent bias is evident in the alarming track record of police interactions with Avalanche the Architect.
---
The Pointer has reported in depth on John's story. Detailing not only the hundreds of times he has been stopped by police — none of which have ever led to a criminal conviction — and the repeated examples of bias against him in the criminal justice system.
In 2019, the Canadian Judicial Council forced Justice Michael Quigley to apologize to John for a ruling which another judge would later admit left her feeling "deeply troubled".
After being convicted of uttering threats in his lyrics, John immediately appealed. It was the start of a lengthy, and expensive process.
John, now in his early 40s, made a living for a decade teaching martial arts. In August 2011, he was shot while trying to protect his mother during a home invasion. The injury has kept him from working and he now receives support from the Ontario Disability Support Program (ODSP).
John previously made a living teaching martial arts. (Image from Darren John)
With such limited resources, John explained to the court in 2019 that he would be unable to proceed with the appeal without assistance, especially because he must produce the costly transcripts from the 30-day trial (a cost that can run into the thousands of dollars).
Assistance was denied by Justice Quigley in a ruling that would later be quashed for being riddled with discriminatory language and assumptions about John.
Quigley described John's appeal as an "unmitigated waste of time", despite the reasonable expectation that anyone without a criminal record — like John — would want to keep it that way to avoid the many long-term impacts that can come after being convicted of a crime. Even though he was supposed to stick to evidence regarding John's need for financial assistance to carry out an appeal, Quigley stepped far beyond his mandate.
"The threatening language of some of his songs is littered with strong and overtly violent references to guns and killing people, with a 'black macho' kind of flavour," he wrote in his decision denying John assistance. It remains unclear why race was brought into the ruling when the judge's sole task was to determine whether John had the financial means to pay for his appeal on his own, or not.
It's clear from Quigley's ruling that he, like many members of the justice system, do not fully grasp the artistic conventions of rap music. Violence, crime, sex, threatening language, they are themes often uniquely embedded into rap, experts say. Ironically, it's often the treatment of marginalized individuals by the criminal justice system that creates part of the culture rap holds a mirror to.
While the same imagery and lyrical themes are seen in other popular musical genres, it is only rap, a musical genre with deep roots in the Black community and Black culture, often expressing particular aspects of a particular Black experience, that is being placed under a legal microscope.
"That is not to say that those types of lyrics are appropriate, but I do think putting somebody in a cage for making rap lyrics that are consistent with the genre is absolutely unreasonable," says Erik Neilson, one of the authors of the book Rap on Trial, which examines the increasing use of rap lyrics as evidence in criminal convictions across the United States.
After John's complaint to the CJC, Justice Anne Molloy overturned Quigley's decision on appeal.
"I'm deeply troubled by the conclusions of Justice Quigley," Molloy said in court. "Negative findings about Mr. John's character and misrepresentations to the court may have effected the assessment of whether there's any merit to the appeal."
During the same court appearance, the Crown attorney also made the surprising admission that she, too, found some of Quigley's findings "troubling".
It took several years of fighting for John to get the opportunity to provide his reasons for appealing his conviction.
That appeal includes 14 different reasons why John believes he should be granted a new trial, including credibility issues on behalf of Crown witnesses (including Harry herself), questions about who posted the initial video of Got Yourself a Gun and errors in the transcription of the lyrics read during the trial, along with significant issues of process and questions about the objectivity of the judge and Crown attorney.
Justices and juries are not isolated members of society without their own personal beliefs, biases, likes, dislikes and preferences when it comes to the evaluation of popular culture.
While on the stand though, objectivity is meant to be paramount to ensure a fair trial. Yet, this can be difficult to completely eliminate when, as countless studies have shown, and the justice system itself has recognized, some of these biases can be unconscious, impacting our decision making without us even knowing it.
A March 2020 ruling against two Peel police officers stated their handcuffing of a 6-year-old Black student was based on their unconscious biases toward her. When it comes to rap music, these biases can be incredibly strong, and prejudicial toward the defendants who created them.
A 1999 study conducted at Indiana University divided participants into two groups. Both were shown the same set of lyrics with depictions of violence. One group was told the lyrics were from a country song, the other from a rap song (the lyrics were actually from a country song).
"The group that believed the lyrics were from a rap song rated them as more dangerous and in need of regulations than the group that was told the lyrics were from a country song," Neilson and co-author Andrea Dennis outline in Rap on Trial.
This can become more prominent with age. According to the book, data show that the majority of defendants in cases where rap is used as evidence are young Black and Hispanic men, but the judges and juries are typically much older.
"This age disparity potentially translates into a difference in appreciation for and understanding of rap music, both generally and in the trial context," the authors state.
"For many people, rap music reinforces stereotypes about young Black and Hispanic men that people have: hyper-violent, hyper-sexual, so it becomes easy for people to hear those lyrics and believe that they are autobiographical," Neilson tells The Pointer. "I think underlying some of this is the notion that these young men are not capable of producing a sophisticated piece of art and so it's much easier then to treat their lyrics as just catalogues of things they've done because they're not smart enough to come up with something more creative than that."
These biases or stereotypical views can manifest in many different ways, from fear of certain groups, or a mistrust of their statements or actions. It is all discriminatory behaviour.
During the trial, John did not take the stand in his defence, stating that he knew the Crown attorney would be questioning him about an inaccurate version of his criminal record. The copy held by the Crown included a conviction for fraud, which had recently been removed after John had it quashed on appeal. When John informed the Crown about this fact, he refused to address it, noting that he simply did not believe him, despite John providing the page of the Court of Appeal decision which showed the conviction had been overturned. When John raised this issue during the trial it was given its own hearing to be addressed. A judge concluded John's decision not to testify was a "strategic" one, and did not find any wrongdoing on behalf of the Crown despite the misrepresentation to the court.
There was no discussion of bias against John and no prosecutorial misconduct was found.
A key element to ensuring the fairness of any trial is the sharing of disclosure. Defendants at trial and their lawyers have the legal right to review and cross-examine all of the evidence used against them. It is a fundamental feature of our justice process.
John claims he was not provided with all of the key disclosure in his case. During the trial, Harry referenced messages John allegedly sent over Facebook to multiple people where he called her a "rat" and a "whore" and said she slept with club owners. Harry testified that she shared the messages with the Crown. John, who denies making the statements, never received a copy of the alleged messages. When he raised the issue at trial in 2014, the judge informed him that he should write a letter to the Crown requesting the disclosure be shared, which he did, a request that was confirmed by a detective involved in the case. Yet, John still did not receive the messages. When he attempted to raise the issue again at trial, it was dismissed.
In early May of this year John learned that the disclosure in question had in fact been shared with the Crown's office in June of 2014 and then passed on to a lawyer who had previously represented John, but not John himself, despite the fact the Crown attorney in the case was well aware that John was representing himself for months in the case. The lawyer who was sent the disclosure was removed from the case in April 2014.
"I verily believe it is no coincidence that the same Crown Henry Poon that improperly led information of a criminal record of an accused and refused to confirm or verify the information of the criminal record he was alleging has yet again made an error that prejudices me. At some point these errors can no longer be called mistakes and must be called deliberate or gross negligence," John writes in his supplementary appeal.
In ruling on his initial appeal, the judge decided that while it was a legitimate issue that John did not receive the disclosure, it was not enough to immediately trigger a new trial. The information contained in the disclosure has to carry the potential of changing the eventual outcome of the case. The judge stated the sharing of the Facebook messages would not have made a difference in John's conviction.
"I am not persuaded that it is reasonably possible that disclosure of the Facebook group message might have affected the trial judge's finding that the appellant wrote the song and prepared the video," Justice Peter Cavanagh stated in his decision.
John disagrees, noting in his appeal that the trial never saw the contents of those messages and therefore it is not possible to decide what their impact on the trial could have been. He also argues that Justice Cavanagh is unable to make that determination because he also has never seen the contents of the messages.
---
"I remember thinking at the time that anyone who understood hip hop would not take this as a literal threat," states Neilson of John's case. Neilson was tasked to be an expert witness before John began representing himself.
The court disagreed. Both Justice Favret, and later Cavanagh, stated that a "reasonable person" would consider the lyrics a threat against Harry.
"The Crown need not prove that the intended recipient of the threat was made aware of it, or if aware of it, that he or she was intimidated by it or took it seriously," he writes. "The test, correctly articulated by the trial judge, is whether a reasonable person would perceive a threat. This can occur even if the subject of the threat did not feel threatened," Cavanagh writes.
But what is a "reasonable person"?
According to the Supreme Court of Canada, the definition of what is a reasonable person is not set in stone.
"What is reasonable depends on the facts of each case, including the likelihood of a known or foreseeable harm, the gravity of that harm," the Supreme Court stated in a 1999 decision. "In addition, one may look to external indicators of reasonable conduct, such as custom, industry practice, and statutory or regulatory standards."
In John's case, would a reasonable person with all the facts consider the rap lyrics a credible threat of violence against Harry? The two knew one another, had a falling out, and then threatening lyrics were used in a song that includes the same common first name. If the statements had been made directly to Harry's face or in written form, there would be no doubt. Does the use in a rap song intended for an audience steeped in the genre's conventions meet a 'reasonable' person's threshold of a threat?
Can older, white judges relate to this genre and its conventions? Lacking intimacy with rap, could they have biases against the art form they are not consciously aware of?
"I would think that in 2021 a reasonable person is somebody who at least has some knowledge of hip hop given that it is the most popular genre and has been for quite some time, and we're surrounded by it. It's in commercials, it's changed our lexicon," Neilson says, repeating that threatening language and larger-than-life, aggressive personas are incredibly common in rap, particularly gangsta rap. Similar to the way, blood, gore and paranormal activity are staple conventions of the horror genre, or aliens, spaceships and outer space are the known territory of science fiction, threatening language, macho personas and references to crime and sex are staples of the rap genre. Any number of modern rap songs include threatening language, even language directed at other artists, but does that automatically classify it as a threat under the Criminal Code? Judging by the evidence of how these cases are handled in the courts, the answer would be yes. If it's a threat in a rap, it is a real threat.
"It is a rhetorical convention of the genre and that all gets lost in the courts," Neilson states.
Larger than life personas are common in rap. So when it comes to the threatening lyrics, is it Avalanche the Architect making the threat, or Darren John? (Image from Darren John)
For artists being tried on the content of their lyrics alone, having judges and juries that understand these conventions is critically important. Lee from the University of Toronto says it is critical to have experts in the courtroom for these cases who can provide evidence on these conventions. He has been called to testify in cases where he has assisted in getting the charges dropped against the rapper on trial.
"When you don't have those voices there, it's just too easy then to cherry pick lyrics and evidence that fits this stereotypical narrative that you have about Black men," he says.
Lee says the first thing that should tip courts off that "threats" made in these cases are not credible is that rappers often use a stage name.
"By and large rappers, aspiring rappers, are not using their real names, they come up with a moniker, an alias, a stage name, a stage name itself is a pivot away from who they are," he says. "There's this element of fantasy involved in rap as well and it's unfortunate that law enforcement and the justice system have not recognized that."
In the same way that WWE wrestlers put on a persona to become the hero or the heel, rappers do the same thing. In this case, it is not Darren John making allegedly threatening statements, but Avalanche the Architect, a fake persona.
"The underlying premise with all of these with all of the different types of uses is that the rap lyrics themselves are accurate reflections of the author's life, they're negated as an art form or a fictional form and they are treated as accurate reflections of this person's state of mind, or an accurate reflection of what this person has done even when the lyrics are obviously hyperbolic and loaded with figurative language and people are rapping with stage names," Neilson says.
Justice Favret, in her 2014 conviction of John, did not see it this way.
"The trial judge considered the violent and powerful manner in which the appellant described himself in the lyrics and the juxtaposition of the images (in the music video) of the complainant and the references to issues between the appellant and the complainant and found that a reasonable person, fully aware of the tension between the complainant and the appellant and looking at the words in the lyrics dispassionately, would conclude that the video was a threat directed at the complainant," Cavanagh's ruling states.
If this "reasonable person" standard continues to be applied in a manner that sees rap lyrics as real threats, rappers will continue to find themselves before the courts.
"The thing that always bothers me about the reasonable person standard, in anything, not just involving lyrics, is that, what person are we talking about?" Neilson asks. "When you set those generic figures up, that's not generally going to help marginalized people, that's another way of saying what mainstream white society thinks is reasonable. It's based on a premise that I think is faulty from the get-go."
A judge is expected to decide on June 7 whether John has further grounds for appeal in his case. If refused, it will be the end of the saga for Avalanche the Architect's real life alter-ego.
---
Email: [email protected]
Twitter: @JoeljWittnebel
---
COVID-19 is impacting all Canadians. At a time when vital public information is needed by everyone, The Pointer has taken down our paywall on all stories relating to the pandemic and those of public interest to ensure every resident of Brampton and Mississauga has access to the facts. For those who are able, we encourage you to consider a subscription. This will help us report on important public interest issues the community needs to know about now more than ever. You can register for a 30-day free trial HERE. Thereafter, The Pointer will charge $10 a month and you can cancel any time right on the website. Thank you.
Submit a correction about this story