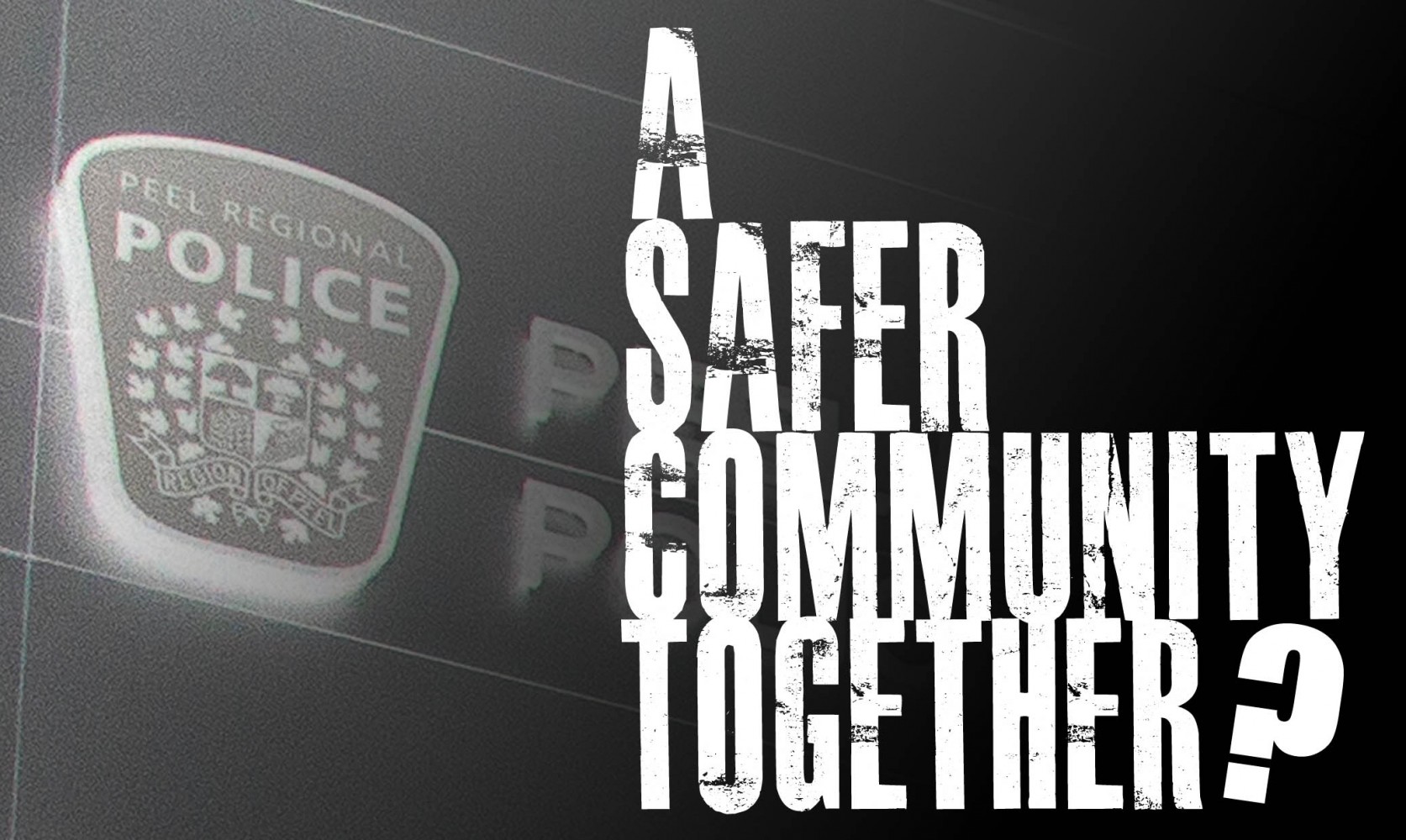 The Pointer file photos/Graphic illustration Joel Wittnebel/Kim Schofield
Peel police handcuffing of 6-year-old Black student motivated by her race, rights tribunal finds
The decision by two Peel police officers to handcuff the wrists and ankles behind the back of a six-year-old girl was motivated, in part, by her race, a decision by the Human Rights Tribunal of Ontario has concluded.
Made public last week, the decision by tribunal adjudicator Brenda Bowlby follows a lawsuit filed by the young girl's mother against the Peel Regional Police Services Board.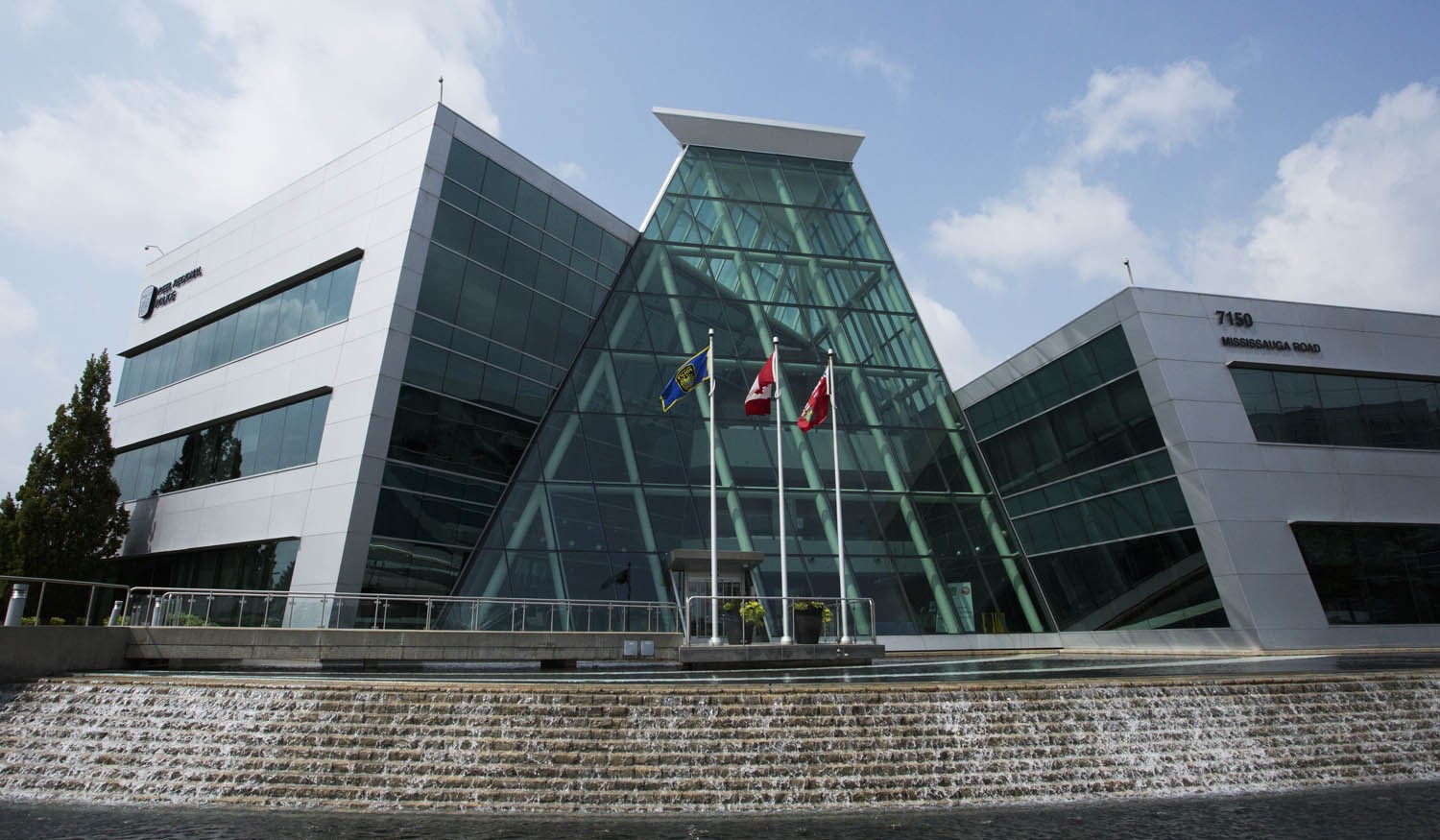 Peel Police headquarters in Mississauga
The HRTO decision found the force used by the two officers during an incident at a Peel school in 2016 was "disproportionate to what was necessary to provide adequate control and amounts to a clear overreaction in the circumstances."
"While the officers had a legitimate duty to maintain the safety of the (young girl), others and themselves in circumstances where (her) behaviours were challenging and might have created a safety risk, this did not give them license to treat the applicant in a way they would not have treated a White six-year-old child in the same circumstance."
It's not clear if any action will be taken against the two officers by Peel Regional Police. The PRP did not respond to a request for comment.
Robert Serpe, the executive director of the Peel Police Services Board, declined comment, noting it would be inappropriate to do so with the case still before the tribunal.
A time and date still needs to be set to determine any remedies as a result of the decision.
The claim was heard at the tribunal over seven days in 2019, wrapping up in November. Throughout the hearing, lawyers representing the Peel police board and the two officers had argued that they categorically denied the allegations, which stem from an incident in September 2016.
Peel police were called to Nahani Way Public School on Sept. 30, 2016, because the young girl, in Grade 1 at the time, was acting out.
According to the decision, she had struck another student, and when a behavioural teaching assistant and the principal tried to de-escalate the situation, she fled the classroom. The staff members followed, but when they attempted to bring her to the office she began throwing objects at the pair, including books, and swinging a chair-leg at the principal. When they were unable to get her to calm down, police were called.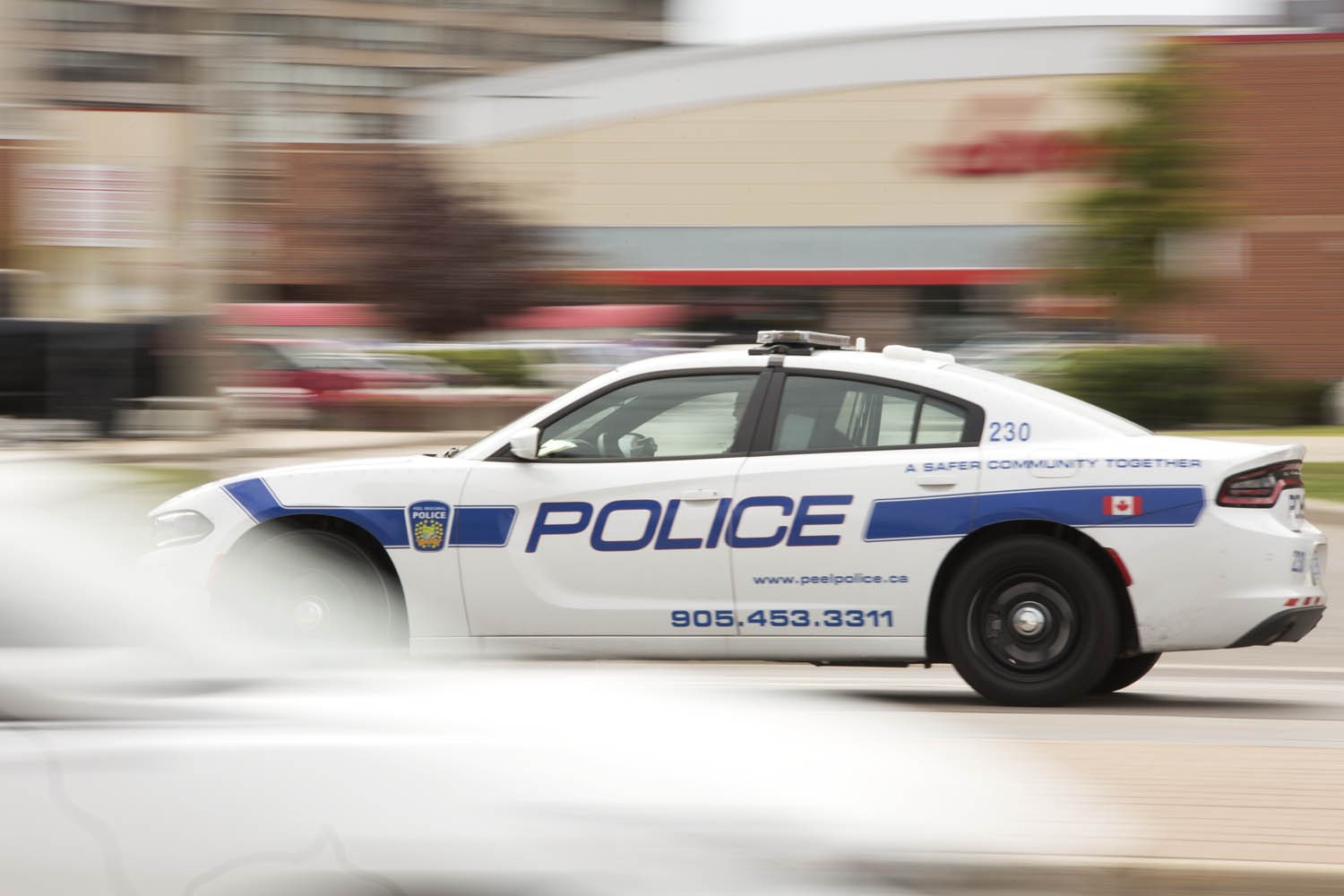 The rights tribunal heard that this wasn't the first time the school had dealt with the girl's aggressive behaviour, with police being called three separate times in September of 2016.
In one instance, she climbed a fence and began throwing rocks at cars, in another she threw toilet paper around a washroom as well as various objects around the hallway and kicked, punched or spat at staff when they came near.
According to the tribunal documents, the young girl had dealt with several traumatic experiences ahead of her outburst, including the murder of her father when she was younger, and was dealing with her mother undergoing treatment for cancer, which had begun a year earlier.
The young girl also had a history of disruptive behaviour in class. In 2014, when she was in Junior Kindergarten, the mother had been called to pick her up because she was refusing to stay in class, running around the school or fighting with other kids.
On the day in question, Constables Nicholas Eckley and Slav Kosaver (the school's police liaison officer) arrived on scene and were informed of the student's history. The officers have ten and nine years on the force respectively and both are white.
When Eckley arrived, the girl was calm and sitting in the office, but when Kosaver got there she tried to flee and eventually the officers decided to apprehend her, which led to the use of handcuffs.
Bowlby states in the HRTO decision that the officers' stories turned murky around this point, with contradicting accounts given by the constables and school staff.
"All agree that at some point after returning to the office, the officers placed handcuffs on the applicant's wrists and ankles. All agree that the officers, throughout, tried verbally to deescalate the applicant," the ruling states.
According to the testimony by both officers, the handcuffs were placed on the girl's wrists and ankles in front of her, but according to a school staff member, the behavioural assistant who had worked with the young girl before, she was placed on her stomach by the officers and her hands and ankles handcuffed behind her.
Bowlby noted this is a significant distinction in the case.
"This difference is critical because placing a six-year-old child on her stomach with her wrists handcuffed behind her, her ankles handcuffed, and holding her in that position for almost half an hour represents an entirely different type and level of control than leaving her in a sitting position," she states.
After studying the notes of both officers and the notes from the school staffer, Bowlby sided with the account provided by the behavioural assistant, noting his written accounts were "more detailed than the notes made by either officer" and he had absolutely no motive to mislead the hearing.
"I find that he was honest and that the evidence he gave about what happened in the office was reliable. Clearly this incident made an impression on him as it unfolded in the office. Since it is not every day that police attend at a school and handcuff a six-year-old, this is not surprising," Bowlby states in her decision.
She was highly critical of the accounts provided by the two officers, describing Eckley's notes as "hastily made" and "bereft of detail" and stating Kosaver's notes were "at best described as scant" while his account "contains errors and is lacking in detail or descriptions that provide a clear picture or narrative of the incident."
Bowlby also found "inconsistencies" in the evidence given by the Peel officers with one stating he placed the handcuffs on the girl and removed them several times, while the other said once the handcuffs were on, they remained in place until the paramedics arrived.
Both officers were aware of the gravity of the case, and the negative connotations associated with their actions, Bowlby states.
"It cannot be ignored that both (officers) are interested parties in this case. (Eckley) stated at one point that the optics of this case are not good — this is true for both of the officers. Consequently, there is reason for them to be less than candid in providing their evidence and to present themselves in the best possible light."
Peel police officers have a poor history in this regard, with previous cases showing how officers have tampered with evidence and even lied on the witness stand.
In 2018, four officers were charged with theft and perjury when they allegedly lied about removing a statue of Scarface character Tony Montana from a storage locker while investigating a drug case. After video footage from the area was used, the case was thrown out by the judge who described the "completely unjustifiable" behaviour by the officers. In another drug case, Peel officers were found to have colluded in altering their stories before a case went to trial. In throwing out the charges Justice Deena Baltman said the officers had "essentially colluded and then committed perjury en masse."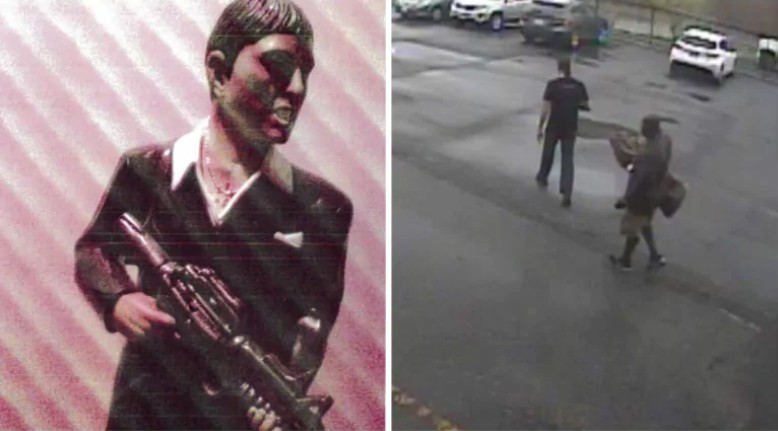 There is no similar intent exhibited in this case, and Bowlby explicitly states that "there is no direct evidence of discrimination" by the two officers, but their behaviour does rise to the level of an "inference of racial discrimination."
"While I do not believe that it was the intention of these officers to discriminate against the applicant based on her race, it is clear that their focus throughout was on controlling her. The overreaction can only be explained by the inference that because of implicit stereotypical associations that arose because of the applicant's race, they saw her, as a Black child, being more of a threat, being bigger, stronger and older than she was and consequently, of being more in need of control than they would have seen a White child in the same circumstances," Bowlby states.
It's a victory for those across Peel Region who have been battling against anti-Black racism in local schools. It's a complex topic to bring into legal decisions, and it's a significant occurrence when unconscious biases are addressed and used in legal cases, even though the existence of unconscious bias in various forms is now more frequently dealt with in the justice system.
The ruling came a few days prior to a meeting of the Peel District School Board (PDSB) where Trustee Nokha Dakroub attempted to bring forward a motion to alter protocols when police are called in the event of a student in crisis.
Dakroub wished to rethink cooperation with Peel police in non-emergency situations by allowing minors under investigation to have a parent or guardian consulted prior to contact with law enforcement, contrary to the existing protocol which doesn't have this provision.
However, before Dakroub could introduce the motion at the Feb. 25 meeting, PDSB chair Brad MacDonald ruled it out of order on the grounds it violated the existing arrangement with Peel police.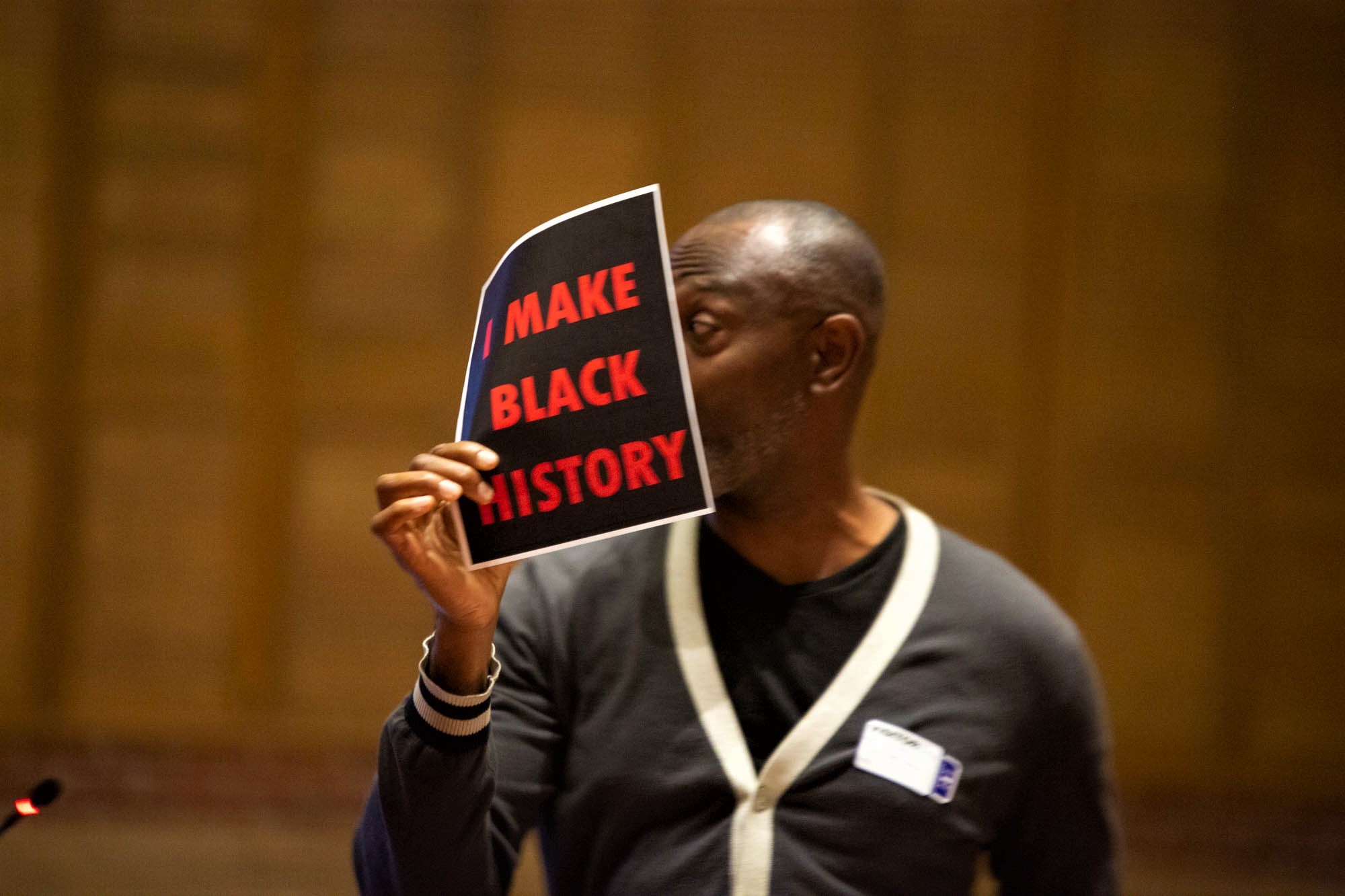 Parents have been attending PDSB board meetings to address concerns over anti-Black racism
After shouts of protest from the crowd in attendance, the meeting was closed to the public, and when a member of the board said he feared for his safety, Peel police were called, further inflaming already existing tensions between the PDSB and the Black community.
The issue also came to a head in November 2019, when the board appeared irreparably split after a white trustee was cleared by PDSB's integrity commissioner of accusations that he made a racist reference toward McCrimmon Middle School in Brampton — which has a significant Black student body — calling it "McCriminal."
The PDSB is also facing a Human Rights Tribunal of Ontario complaint from the very individual it promoted to head its anti-discrimination efforts. Poleen Grewal alleges she was sidelined in her efforts to address anti-Black racism and discriminated against by both the board and PDSB Director of Education Peter Joshua.
In the official complaint, Grewal says her recommendations were ignored and she was prevented from intervening in a case where a Peel school principal faced charges of racist conduct following an external investigation. While the board ultimately exonerated the principal, she was required to undergo unspecified training and has since been re-assigned to a new school.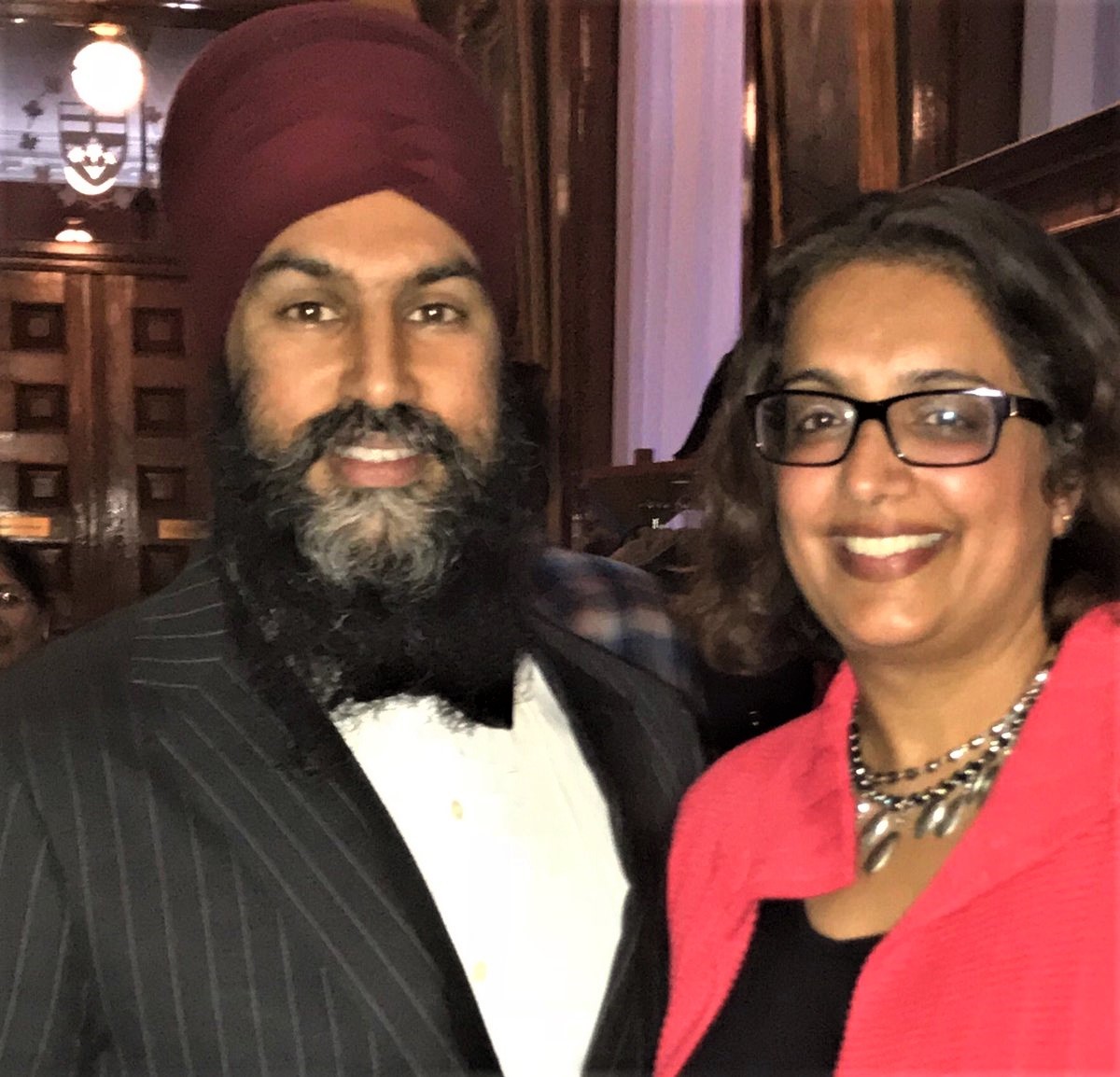 PDSB's head of equity and inclusion, Poleen Grewal, has filed a human rights complaint against the board
Following these high-profile cases, a provincial review was ordered over the PDSB's treatment of Black students. Prior to ordering the review, Ontario Education Minister Stephen Lecce met with parents and educators to discuss allegations of systemic discrimination.
The province's review is reportedly complete, but the final document detailing the ministry's probe into allegations of anti-Black discrimination within the PDSB has not yet been made public.
As part of the hearing into the handcuffing of the young girl, the rights tribunal heard from a pair of experts who laid out how these unconscious thoughts and feelings toward other people and groups can impact behaviour.
One of the expert witnesses called in the case was Jennifer Chambers, the executive director of Empowerment Council which works with the Centre for Addiction and Mental Health. She is also a member of the Police and Community Engagement Review (PACER), a Toronto Police Services committee focused on anti-Black racism which also had a focus on the practice of police carding, known in Peel as street checks.
Chambers explained that the young girl in this instance was at a significant disadvantage when it came to the officers' perceptions of her.
Statistically, she stated, there is an increased likelihood that police will use more severe force on people whom they perceive to have mental health problems. Further, research has found that Black children are perceived as less innocent than non-Black children and less in need of protection.
Dr. Kerry Kawakami, a professor in the department of psychology at York University was also called as an expert witness to talk about how "implicit bias acts on an unconscious or automatic level."
Her testimony shines a light on how behaviour can be impacted by unconscious beliefs without individuals even being aware it is happening, especially in certain, unexpected situations.
---
Findings in last year's damning diversity audit of the Peel police force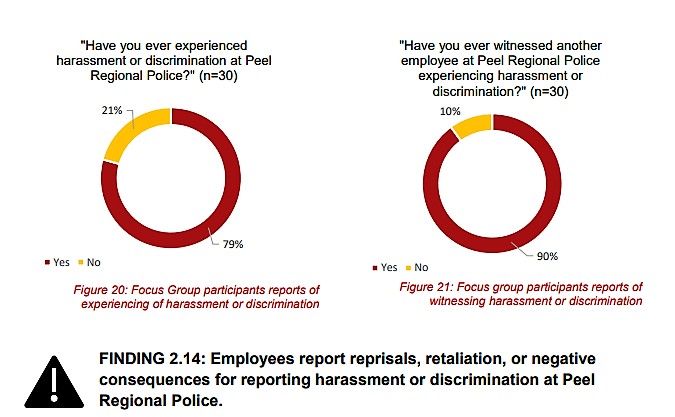 "In a dynamic or unfolding process, in the first instance, you perceive that someone is from a different category or the same category as yourself probably within the first 10 seconds. Neuroscience research has shown that within a fifth of a second, we know what racial category they belong to. Even if that is not our intention, even if we are only looking to see whether it is a man or a woman, or it is a male or female, race becomes activated," Kawakami stated in her testimony. "And then often within the next third of a second, associations we have with that category also become activated including the negative associations we might have with that category, the characteristics we might associate with that category, whether we identify that category as part of our own group, that person as part of our own group or a different group, those also appear very quickly…Once those characteristics are activated in our head, they influence how we perceive the person and how we treat them."
This is a significant factor for the Black community, which stereotypically in media and popular culture, has been associated with many negative connotations.
This means that in Peel, where a troubling audit of the police force released last year found that the vast majority of its police officers do not look like the residents they serve, and do not come from the same cultural backgrounds as them, incidents like this are more apt to happen.
Of the force's total uniform staff complement, about 20 percent of the officers are visible minorities, while almost 70 percent of residents in the two cities it serves, Mississauga and Brampton, are visible minorities.
The 142-page audit by the Canadian Centre for Diversity and Inclusion (CCDI) completed last year describes a police force that doesn't represent the diverse community it serves, raises barriers for racialized members of the force, punishes those who speak out, and, at the upper levels, has turned a blind eye to systemic bias.
A disturbing 79 percent of the Peel police employees who took part voluntarily in focus groups reported experiencing harassment or discrimination within PRP, while 90 percent of participants reported witnessing such behaviour.
The CCDI placed the blame for these issues on senior leadership within the PRP, with a majority of employees describing the organization as "change-averse" and "elitist." The report says almost three-quarters of police leaders and members of the board "do not seem to recognize that barriers exist or rarely exist for certain groups at Peel Regional Police."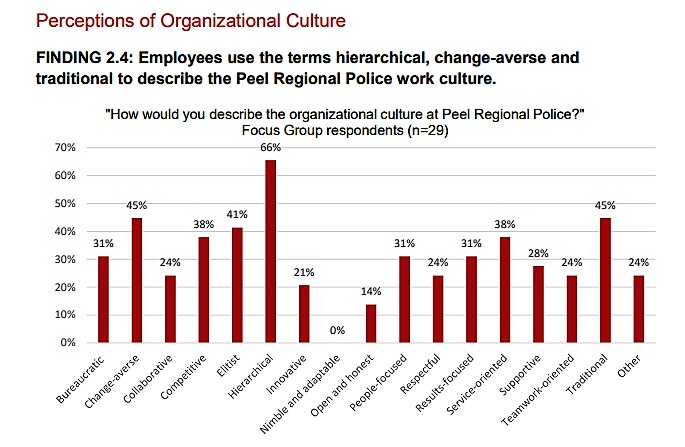 About a third of the PRP leaders in place in 2017-18 "indicated their belief that these systemic oppressions do not exist within PRP," while others suggested they believe "these oppressions manifest only as individual acts of meanness" and don't make "the connection that these oppressions are systemic in our society and therefore are also in our organizations," the report states.
The force's leadership has long been averse to accepting the obvious problems in its internal culture. This isn't the first time that Peel police have been ruled against at the Human Rights Tribunal.
In 2007, former chief Mike Metcalf disagreed with a ruling by the human rights tribunal, which found a Peel police officer racially profiled a Black Mississauga resident.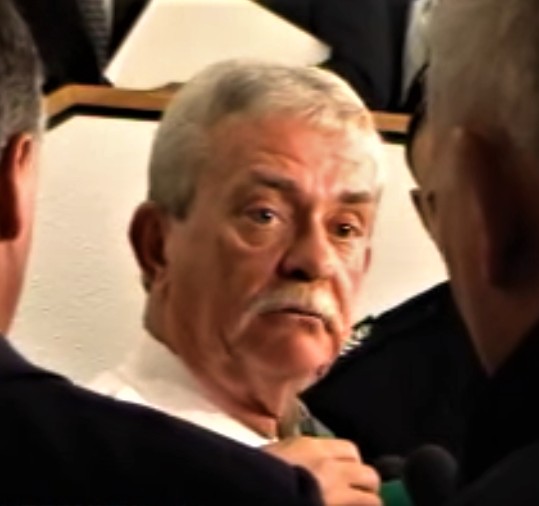 Former Peel police chief Mike Metcalf refused to accept the need for anti-racial profiling strategies in his force
Jacqueline Nassiah was awarded $20,000 after she was wrongly accused of shoplifting at a Mississauga department store, but Metcalf publicly stated he would not comply with an order to develop anti-racial profiling strategies within his force, because he said there was no such problem.
In 2011 the force had to apologize to 60-year-old Isaac Williams, a Black Brampton resident, who had been forced into police custody and interrogated by officers in connection with a break-and-enter. Williams was six inches taller and three times the age of the suspect. Despite a clear case of racial profiling the force, in its apology, failed to acknowledge that race had anything to do with the mistaken identification.
In 2015, former chief Jennifer Evans was confronted by her force's own data, which showed her officers were targeting Black individuals at more than three times the rate compared to whites in police carding stops.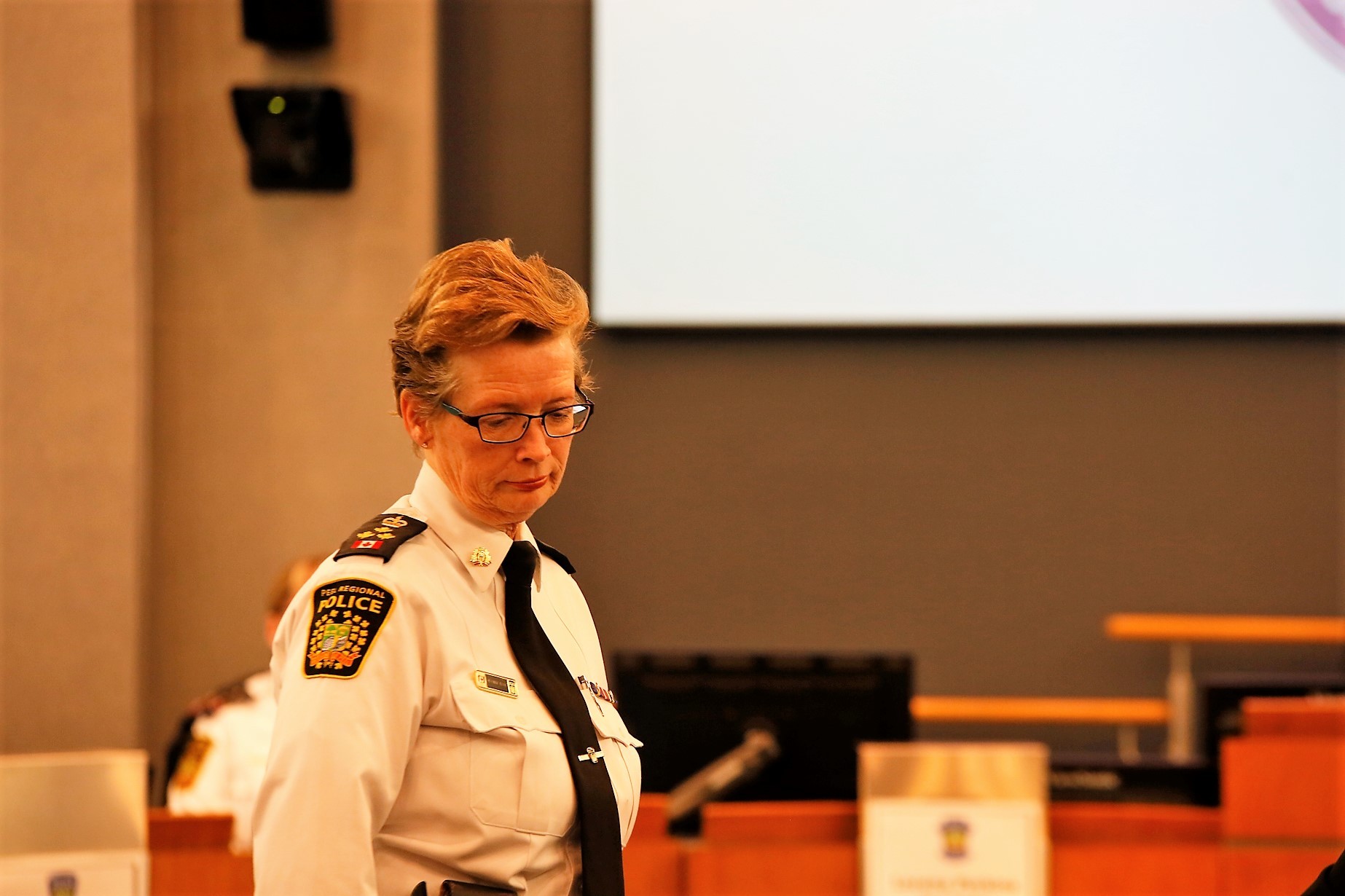 Former chief Jennifer Evans refused to stop the practice of police carding
Despite her public vow to find out why this was happening, after outrage spread throughout the Black community, she never did so.
Even in the face of mounting evidence that carding is a destructive practice, causing deep societal harm to visible minority groups targeted by police, and creating a complete breakdown in trust among community partners, she adamantly defended carding as a vital policing tool right till her resignation last year, while chiefs across Ontario publicly criticized the backward practice, pointing out how ineffective it is. In 2015 Evans defied the police board when it voted to direct her to stop carding by the force.
In 2017, a decision by the tribunal found the force discriminated against highly decorated officer Baljiwan (BJ) Sandhu, denying him a chance to compete for promotion into the senior ranks. The ruling also said the tribunal had found the Peel Police Service devalues policing in the South Asian community. Evidence in the case revealed racist language and actions within the force and a frat-house culture that mocked diversity and did little, from leadership down, to change things.
The tribunal ruled that Sandhu's failure to receive a chance at promotion was, in part, due to his ethnicity. "And as such I find that the applicant has been subject to discrimination because of race, ancestry, place of origin, and ethnic origin in violation of … the [Human Rights] Code," wrote Bruce Best, a vice-chair of the tribunal. Evans, the police chief at the time, issued no apology to Sandhu.
It's clear that it is going to take time and attention to address issues of race and policing which the Peel force has only recently shown a willingness to do under new Chief Nishan Duraiappah, and through the recent hiring of a diversity and inclusion coordinator.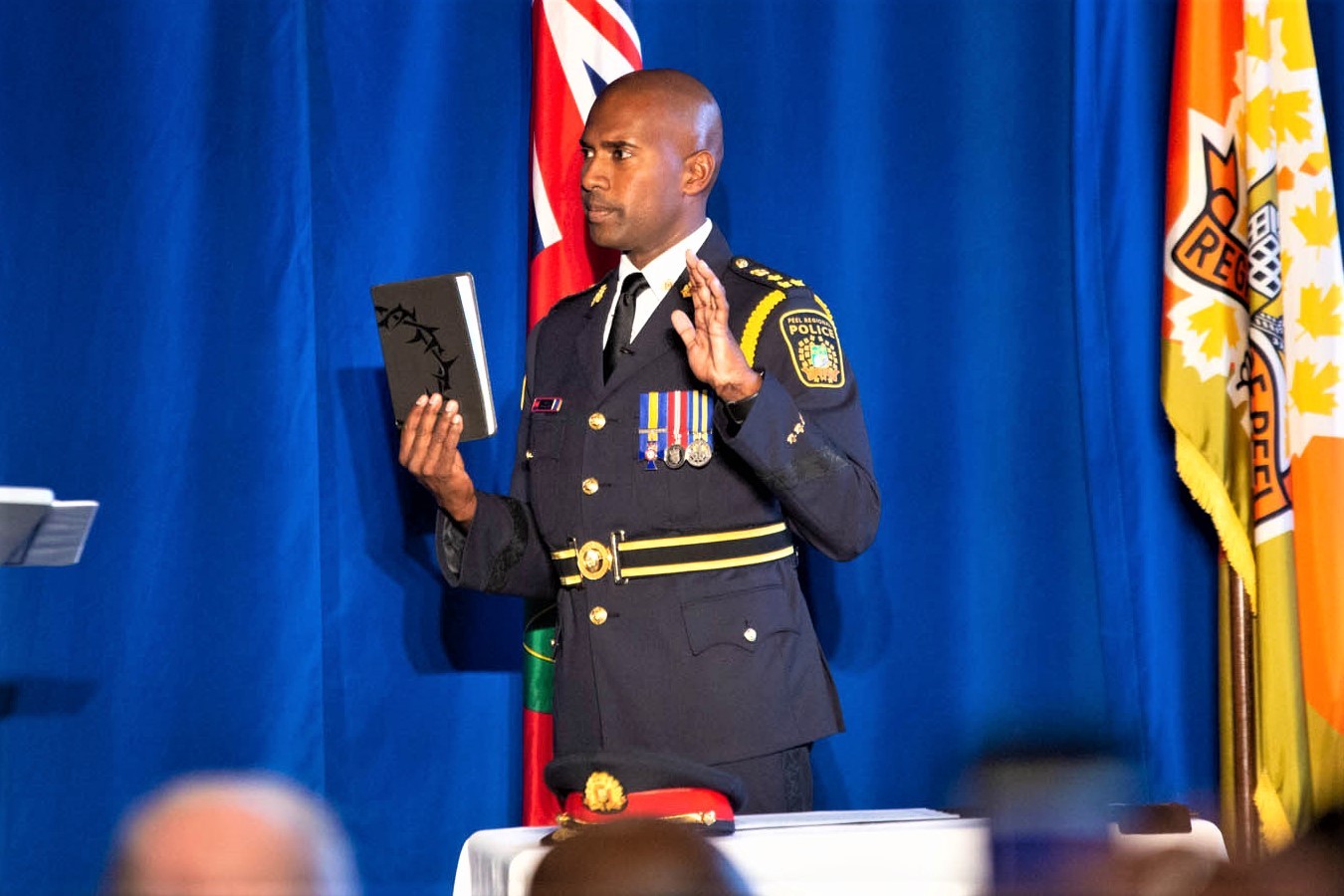 New Chief Nishan Duraiappah was sworn in late last year and has promised change
Past incidents show that issues of discrimination run deep within the organization.
In the most recent ruling, the behaviour and tactics of lawyers representing the two officers and the board followed a similar pattern shown by the force's leadership in the past: deny the allegations, instead of accepting that inappropriate conduct had taken place and proactively suggesting remedies to change the internal culture.
This is exactly what was described in the damning equity audit released last year that found leadership is chronically resistant to progressive change.
With a new police chief now in charge, all eyes will be on him to see if the country's third largest municipal police force is finally ready to accept that change.
---
Email: [email protected]
Twitter: @JoeljWittnebel
Submit a correction about this story