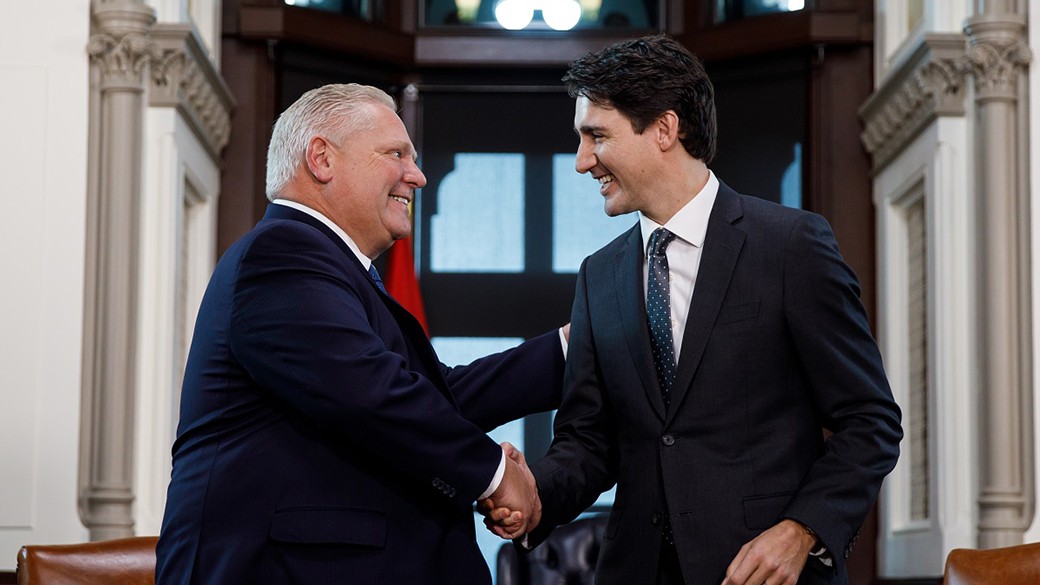 Photos from Environmental Defence/Prime Minister's Office
Part 3: The GTA West Highway is a chance for governments to finally talk to each other about climate change
There's a classic expression: Fiddling while Rome burns.
It references the historically debunked legend that Nero, the decadent and unpopular Roman emperor, blithely played the violin in 64 A.D. as the seat of the Roman Empire was engulfed in flames. The saying has been recycled since it was coined to describe leadership distracted by hubris at the expense of their own survival.
Fiddling while Earth burns is the contemporary version of the expression, as today's doomed leaders send more carbon into our boiling atmosphere.
They talk of protecting jobs and a way of life that won't even exist in a few decades, if we continue on the current trajectory.
In the face of increasingly dire warnings from coalitions of concerned scientists, notably the United Nations' Intergovernmental Panel on Climate Change (IPCC), politicians at each level of government in Canada have been guilty of fiddling as a crisis unfolds in front of their eyes, 'competing' against each other to determine climate-impacting policies.
Canada's fragmented system, where each tier of government works in an isolated vacuum, using its own unique palette of powers, encourages politicians to point the finger.
Instead, now more than ever, we need our leaders working together to prevent irreversible damage to the planet, which will render all differences irrelevant.
Cities blame provinces, provinces bicker and Ottawa wrings its hands.
Charts produced by climate reporter Barry Saxifrage show Canada is failing to meet its targets.
Of the three levels of government, municipalities control some of the most important environmental policies, namely land use and planning.
In 2018, the IPCC pointed the finger of blame squarely at the local planning process in a report that warned the planet was warming even faster than previously feared. Approving sprawling subdivisions, as Peel has done in the past, leads to major climate problems. Large, suburban homes force residents into the car, make public transit inefficient to run and require significant energy to heat and cool. The more square footage used to house each individual, the worse it is for our planet.
There will be almost 11 billion people on Earth by the end of the century. About two hundred years ago there were just one billion human souls. The energy demands to sustain these numbers are simply not sustainable, unless we submit to a scorched policy… or move away from carbon – fast.
Witnessing a local planning meeting makes it clear that big-picture thinking on climate change is not part of the process. Conversations in Brampton and Mississauga about new developments focus on privacy, shadow patterns, accommodation of drivers and adherence to aging official plans.
The market-driven attitude ensures planning will revolve around what residents want from the suburban promise sold to them for decades.
If behaviour among builders and consumers is to be changed in consideration of our dire climate reality, cities tend to look up. "That's for the provincial and federal governments to adjust" they say.
Roughly 35 percent of the City of Mississauga's $457.6 million climate master plan, for example, is money the federal and provincial governments must help with to green the MiWay bus fleet. The City of Brampton is currently hoping the federal government will find a spare $150 million lying around to electrify a badly needed transit storage facility.
Higher order transit, such as LRT and BRT systems, can't happen, cities say, without the will of higher levels of government.
Meanwhile, provincial and federal governments have an oppositional relationship on many key issues, depending on which party is in power. The future of zero emissions vehicles is just one example. The federal government hopes all new cars will be electric by 2050, meanwhile the PC government in Ontario scrapped a subsidy introduced to encourage the purchase of new electric cars after taking over government, leading to a crash in EV sales.
Sales of zero emissions vehicles dropped 50 percent in Ontario after the Ford government scrapped a subsidy.
The system, similar to Canada's COVID-19 response, means it's always someone else's fault. But it's the decision-making process itself that's to blame.
Ottawa introduces even stricter emissions penalties through its expanding carbon tax program.
The Ontario PCs do a u-turn on land-use policy, enacting amendments to allow more sprawl, in direct contradiction of the federal climate plan.
Municipalities pass climate emergency declarations and environmental master plans aligned with Ottawa, while pushing incredulously contradicting policies that encourage car dependence and more sprawl under the new PC legislation.
In the mix of it all, embedded transportation infrastructure that will be around for decades is a mismatch of green and dirty planning – a city introduces reduced parking rates; a region widens a connecting street; both dither on an agreed route for an LRT; while Ottawa opens a funding envelope to electrify municipal bus fleets.
In Peel Region, this age-old confusion faces an unfolding chapter as the future for the GTA West Highway, also known as Highway 413, hurtles toward a May 4 decision. The federal government is currently weighing up a request by environmental groups and local municipalities to take control of the route's planning process from Ontario.
It is a perfect example of the chaos in today's planning.
The previous Ontario Liberal government scrapped the plan, after endorsing a $50-billion, 25-year transportation infrastructure master plan for much of Southern Ontario called the BIG MOVE, built around mass higher order transit.
Mississauga shifted its entire focus around the plan, and was awarded the almost $2-billion Hurontario LRT.
But then the PCs came to power and Brampton and Caledon raised their hands in support of the GTA West Highway, placed back on the centre of the table by Doug Ford.
Ottawa watched idly, pushing its carbon tax and clean transportation goals through its own $188-billion infrastructure program.
At all three levels of government (four if you consider Peel Region) there is an utter lack of coordination around critical policy areas such as transportation and climate change, which are directly linked.
There is no collaboration, no overarching body or governmental agency that brings all of them together.
Unlike China, where the communist government determines what the national transportation policy will be, then ensures the regional and local authorities plan accordingly, our federalist system essentially guarantees that top-down decision-making will never erode local interests.
Instead, we get chaos.
Ford's PC government restarted the planning process for the 413 after it won a landslide majority. The four-to-six lane highway from Milton to Vaughan via northwest Brampton and south Caledon, is ostensibly intended to relieve congestion on existing 400-series highways, especially to loosen up the flow of commercial trucks that currently grind to a standstill while stuck across the GTA.
The plan has come under increasing scrutiny.
A new report released by Environmental Defence shows just how damaging it could be to Peel's plans to reduce greenhouse gas emissions. Modelling commissioned by Environmental Defence shows the route could lead to 17.4 million tonnes of CO2 by 2050. Even in a situation where a federal target of 100 percent electric cars by 2050 is achieved, Environmental Defence still estimates the addition of Highway 413 would lead to 13 million more tonnes of CO2 by the same year.
"This analysis did not calculate or predict traffic volume impacts on adjacent roads and highways, and was not intended to model the impacts on local traffic," the report explains. Basic traffic theory, in the form of induced demand, suggests a new highway will lead to more people choosing to drive because of the convenience, increasing the total number of cars on local roads and highways.
A graphic illustrating the impacts the GTA West Highway could have on emissions if it is constructed
"Highway 413 is a textbook example of how bad transportation planning could supercharge urban sprawl, air pollution and carbon pollution in the GTA West region," the report adds.
In 2019 and through most of 2020, politicians happily shunted this greenhouse gas-producing project around. When Brampton declared a climate emergency in the summer of 2019, it also unanimously endorsed the GTA West's environmental assessment. There was not a single councillor who identified or commented on the contradiction. A few months later, councillors at the Region of Peel, including those who did the same in Brampton, repeated the exact same contradictory move.
"Unfortunately there is too much hot air on this topic, not enough action," Brampton Mayor Patrick Brown said after the climate emergency was declared.
He also bragged about being the person who put the GTA West Highway on the PC election platform in the first place, when he was still the Party leader in 2018.
These types of blatant contradictions can be expected from blindly ambitious politicians like Brown, who read the room before deciding what to say.
But how can decision makers like him be neutralized in the name of policies that are too important for politics?
At the beginning of 2020, Brampton councillor Martin Medeiros demonstrated the inter-governmental disconnect by telling The Pointer he had not voted against the GTA West, because he felt council was powerless in the face of a provincial government hell bent on pushing the project forward. Similarly, after she joined her council in finally opposing the GTA West Highway's construction in February 2021, Mississauga Mayor Bonnie Crombie admitted she had been "complacent" and felt the project was "a done deal; a fait accompli".
As local politicians accepted another highway, conveniently a decision that was out of their hands, the warnings from experts only worsened. The IPCC report criticizing poor land use as a major contributor to growing emissions, predicted the world's climate could warm to 1.5C above pre-industrial levels by 2040. In the past, experts had thought severe impacts from climate change would come when the climate had warmed 2C above pre-industrial levels. It's now become increasingly clear many of those impacts (sea-level rise, drought, food scarcity) will be felt at the 1.5C level. In 2019, a peer-reviewed study in the British journal Nature found warming over the past 100 years is unprecedented in more than 2,000 years of fluctuating temperatures.
But it wasn't the dire warnings of experts that prompted change on the 413 decision making process. A request by legal group Ecojustice, on behalf of Environmental Defence, finally knocked over the table on Peel's predictable game of chess, sending the pieces scattering across the board.
In a letter to the federal government, the two groups said Ontario had abdicated its responsibility to the environment through a streamlining of the study process for the highway and asked for Ottawa to step in. The Impact Assessment Agency of Canada is considering the request and will decide by May 4 if the highway project encroaches into enough federal justiction to wrestle it from the grasp of Queen's Park.
It will be a key moment for the division of environmental responsibility in Canada.
Taking control would suggest Ottawa, as the level of government ultimately responsible for Canada's greenhouse gas emissions on the global stage, plans to take a more hands-on approach. Until now, the Liberals have focused on financial incentives to steer the climate debate.
"When it comes down to actually designing and implementing the policies that are going to get us there, a big chunk of the responsibility rests with municipalities and provinces," Mike Schreiner, Ontario's only Green MPP, told The Pointer. "Like anything in Canada, because of the jurisdictional issues, we need a lot of cooperation from all three levels of government to actually deliver the solutions we need."
Transportation and buildings, two areas Highway 413 will directly impact, are the two biggest polluters in the Region of Peel.
In 2019, the Green Party of Canada pitched a concept to circumvent the politics, bickering and policy gridlock that exists today. Coined the Council of Canadian Governments, the model suggested establishing a table where federal, provincial, local and Indigenous leaders could gather to thrash out broad policy directions. Instead of issuing pleas for legislative changes, pointing fingers for the cameras and beating their collective chests in public, governments could... talk.
"We need a mechanism that convenes all governments to discuss and decide upon issues of national importance," the party's 2019 platform explained.
A decision on the GTA West Highway could offer a chance for a similar concept to be explored again.
Whether Ottawa decides to take over the project or not, tempers are likely to be high. Last week, Prime Minister Justin Trudeau increased Canada's climate targets again, cutting emissions goals by 40 to 45 percent compared to 2005 levels in time for 2030. Without tackling projects like the GTA West Highway, the ambitious target could become impossible.
Ontario's bitter fight against the carbon tax, taking the issue all the way to the Supreme Court, is evidence of how Ford's government feels about federal intervention on issues that pose any economic consequences for the business community. His refusal to enact responsible paid-sick-leave legislation to save lives shows how far Ford will go to keep businesses happy.
It's all about votes and power.
To avoid a similar situation in the future, where municipal, provincial and federal interests seem out of step on a key, multi-billion dollar transportation infrastructure project, Canada could start a vital dialogue before it is too late.
The decision by May 4 on the fate of the GTA West Highway will have a massive impact on how Peel plans its employment and residential lands going forward. It will be a turning point for transit planning in the region. It will mark a pivotal moment in Canada's environmental history as well.
Ottawa's GTA West Highway decision could be a watershed.
---
Email: [email protected]
Twitter: @isaaccallan
Tel: 647 561-4879
---
COVID-19 is impacting all Canadians. At a time when vital public information is needed by everyone, The Pointer has taken down our paywall on all stories relating to the pandemic and those of public interest to ensure every resident of Brampton and Mississauga has access to the facts. For those who are able, we encourage you to consider a subscription. This will help us report on important public interest issues the community needs to know about now more than ever. You can register for a 30-day free trial HERE. Thereafter, The Pointer will charge $10 a month and you can cancel any time right on the website. Thank you.
Submit a correction about this story