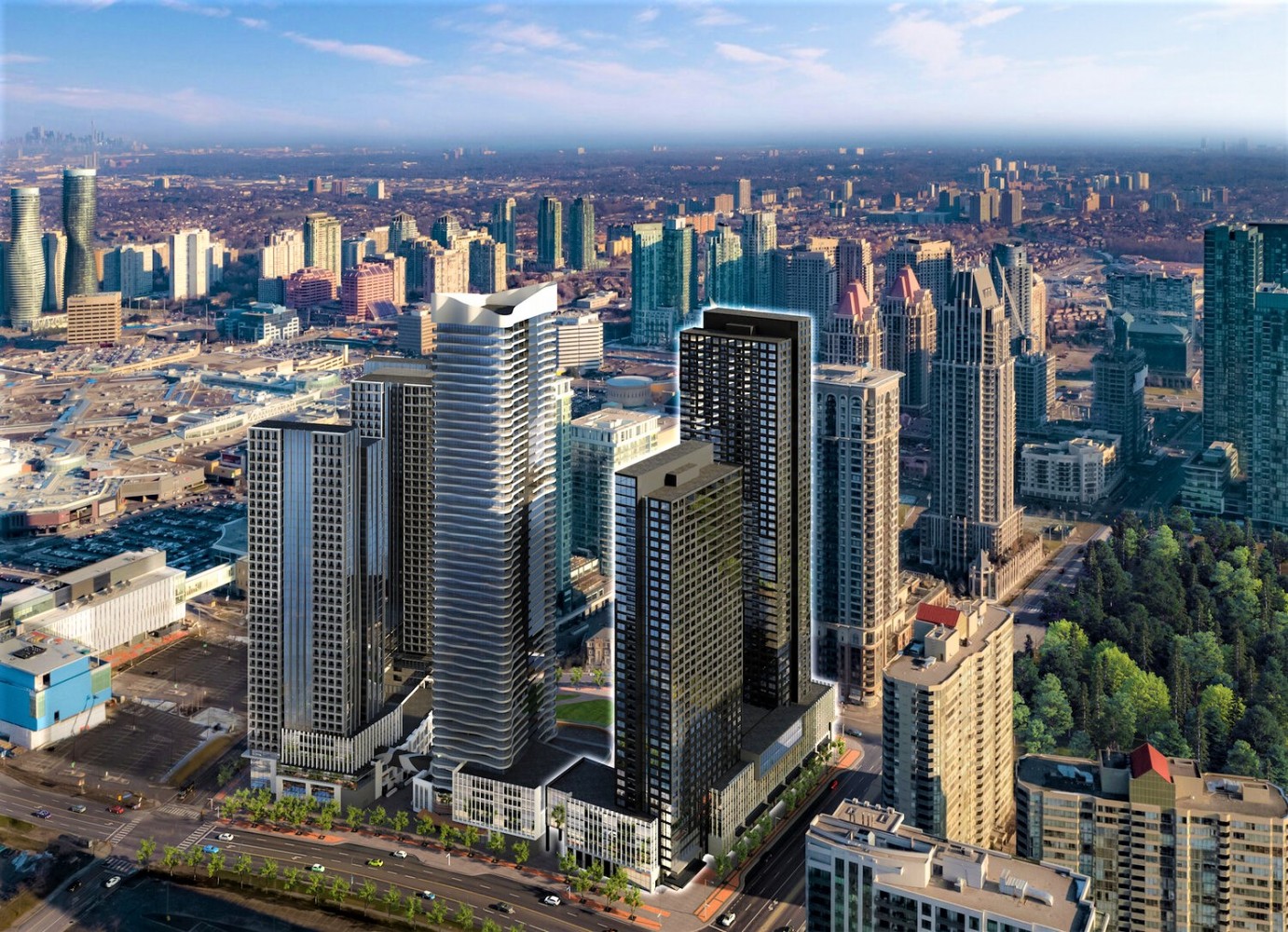 File photos The Pointer/Renderings City of Mississauga & City of Brampton/Oxford Properties/Videos Global News & YouTube
More education for councillors could help move Mississauga and Brampton toward smart growth
To become a doctor in Canada, candidates must complete at least 10 years of education and training. These aspiring physicians must obtain an undergraduate degree, score well on the MCAT and complete four years of medical school, then complete a residency requirement and possibly a fellowship to specialize before sitting for a licensing examination to demonstrate what they've learned and that they're ready for this highly important profession.
In order to qualify as an architect, most students are required to complete bachelor's and master's degrees, even a PhD which can mean as much as ten years in university. After graduation, they need to finish a three year internship before they can start working in their field, helping create the cities of the future.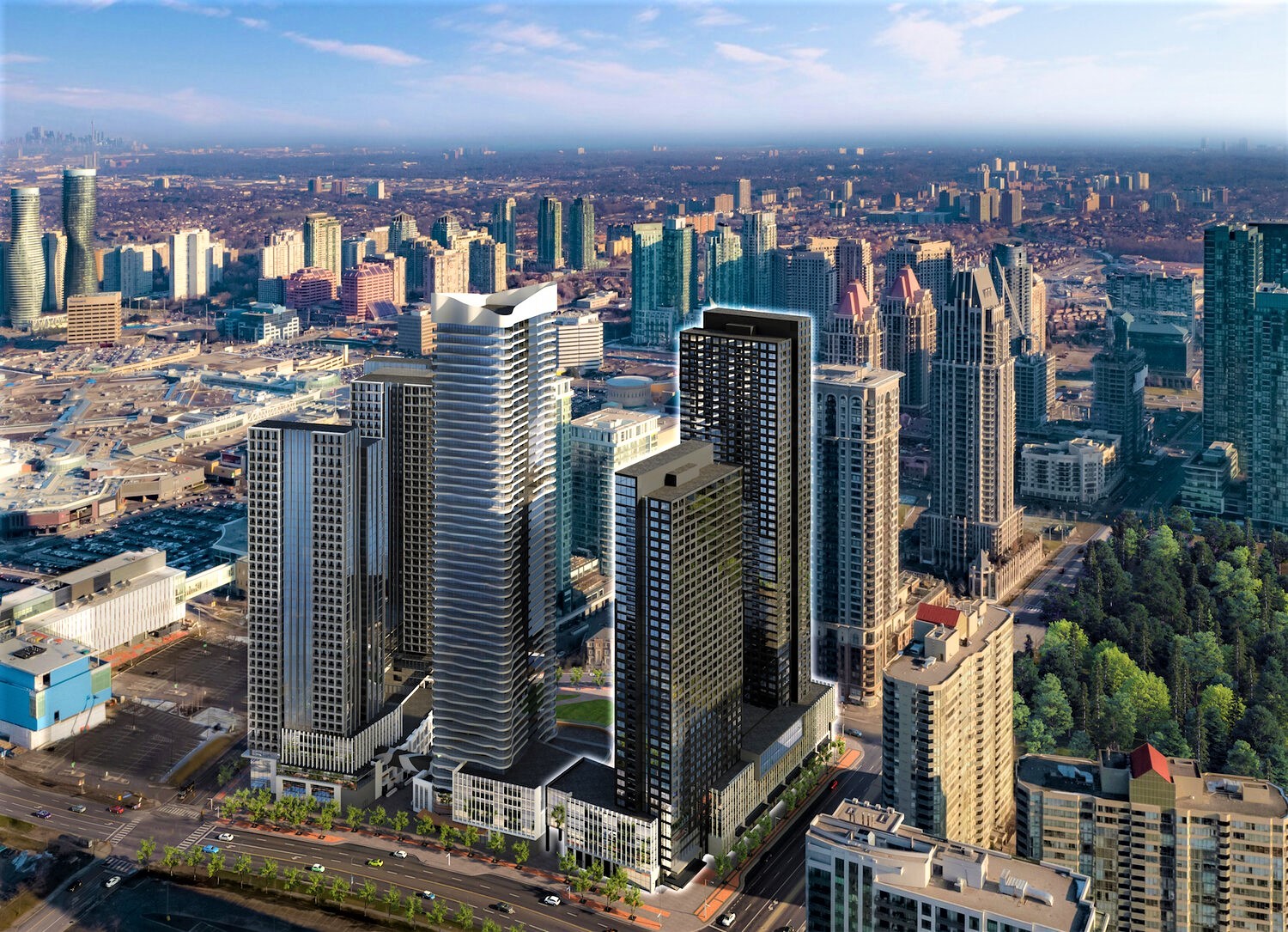 A rendering of the massive downtown Mississauga development being planned by Oxford Properties
To become a city councillor you don't need any education to win a popularity contest that in Brampton and Mississauga attracts less than a third of the voting population.
With varying qualifications and experience, those elected to council chambers are tasked with the most important decisions affecting the communities they serve. The gap in knowledge is particularly glaring in Brampton, where some councillors appear to have little qualifying experience to run the ninth largest city in Canada with an almost billion dollar budget, on top of the multibillion dollar Peel Region budget.
Before becoming an elected official, Regional Councillor Paul Vicente had a spotty past with no clear, tangible education or employment history listed on his official biography (click here); Regional Councillor Michael Palleschi's biography (click here) states he owned a business, but doesn't mention what it was, nor does it list any education or employment experience.
"Some guys show up here and they know nothing," long-term Mississauga Councillor and chair of the city's Planning and Development Committee George Carlson told The Pointer. Carlson, who also sits on Peel Region Council with his colleagues from Mississauga and Brampton, was not referring to any specific councillor.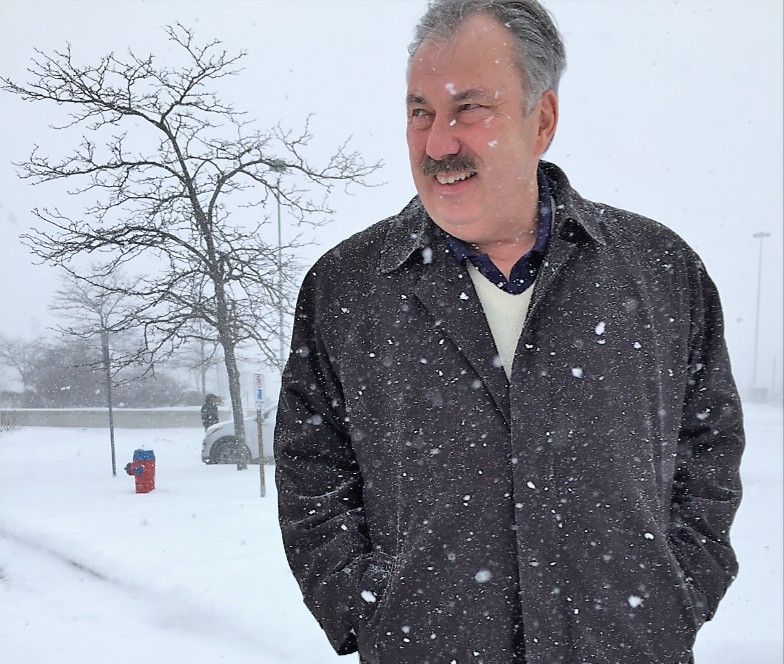 Mississauga and Regional Councillor George Carlson
"When I first got here I had a good briefing with the planning department and they went over all the big applications coming up in my ward. I don't know what everybody does, I've helped mentor councillors for so many years now, [I don't know]. There's no great program for it; there's no manual."
While Carlson has been part of the furniture in Mississauga since 2000, his Planning and Development counterpart in Brampton, Martin Medeiros, came onto the scene more recently.
"I'll be quite honest, when I first got elected my knowledge of construction or planning and development really was just about Brampton's growth," Medeiros, who won his first election in 2014, said. Within his first few months, he was compelled to learn the ropes by "force of nature." Adding a full 30 percent of his work was dealing with development interests, he said: "Very quickly and within my first month or first couple of months I knew that I had to really bring myself up to snuff in terms of proper planning to the point where I was reading the Planning Act, working with our staff and helping educate myself on how you build a proper city."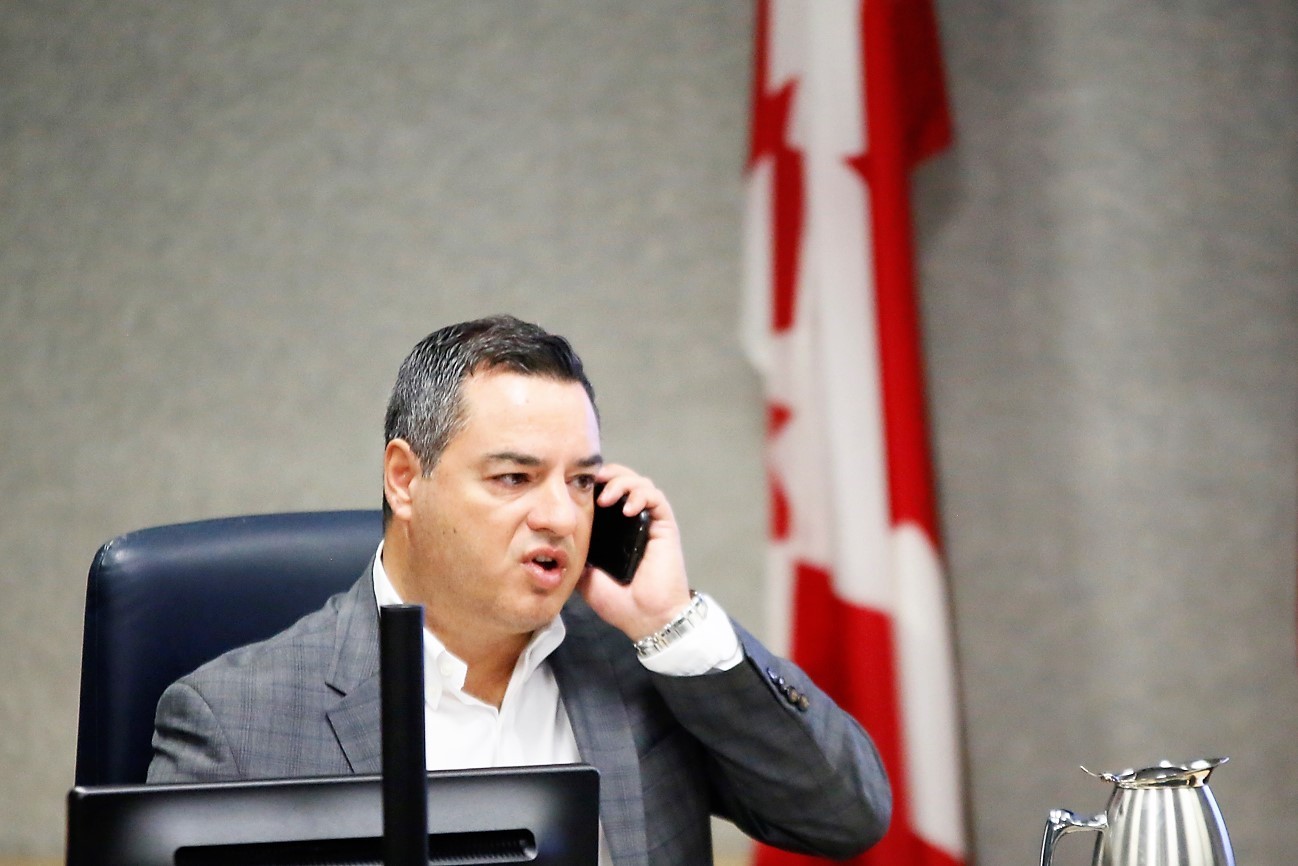 Brampton and Regional Councillor Martin Medeiros
While some councillors may take time to get up to speed on planning, there's no mechanism in place at city hall forcing them to. New councillors are given brief introductions to the dos and don'ts of their job, the swipe card to their office and shown how to file an expense sheet before they're set free.
The highly technical elements of the role, which revolve around city building and long-term planning, are left to short briefings or the assumption motivated individuals will take it upon themselves to dig into the details of planning.
There is no doubt that many head into office, fresh from the glow of an electoral victory, determined to take the time to learn. For a rookie councillor who wants to get up to speed quickly, fully understanding the Planning Act, the Municipal Act, the Municipal Conflict of Interest Act and all the city bylaws that govern complex decision making, is an unrealistic expectation. Comprehensive knowledge of their meaning and application would be akin to acquiring a master's degree. They simply don't have the time.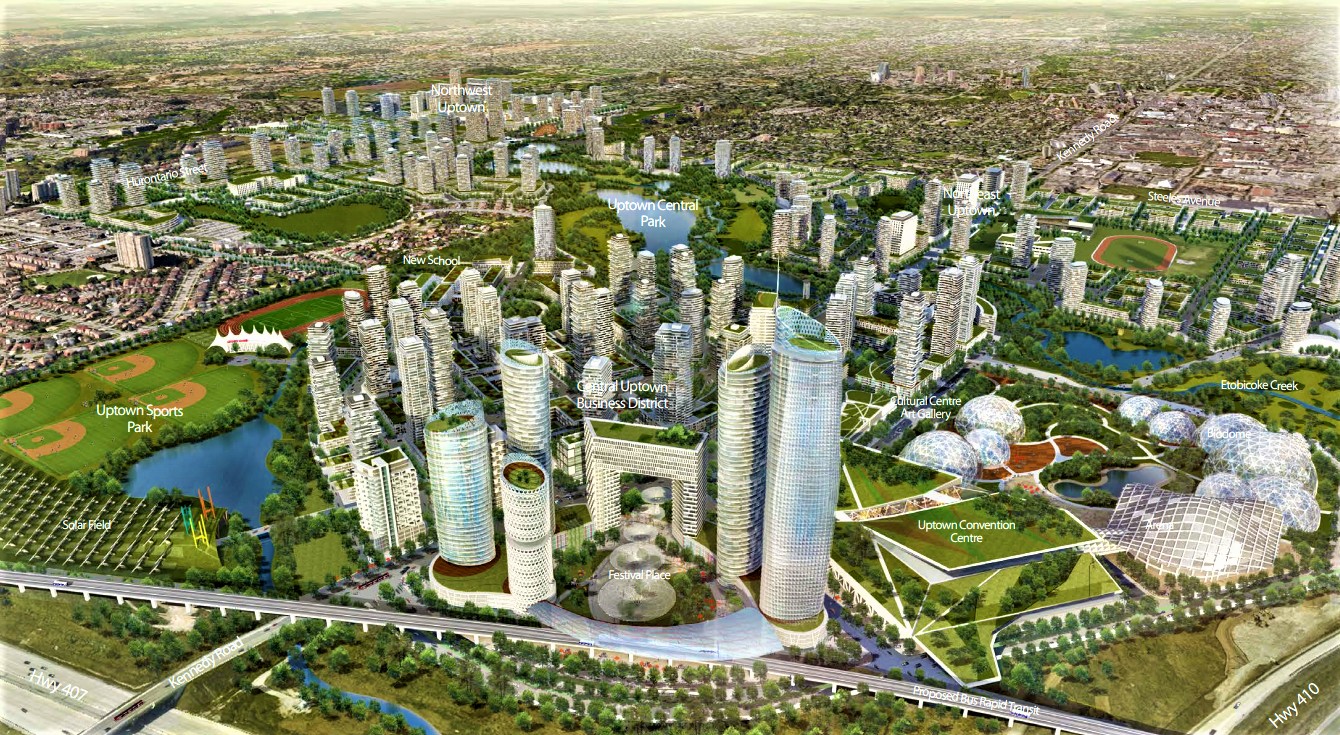 Brampton councillors are tasked with turning the City's 2040 Vision into reality
As soon as they set up shop the emails flood in and the phone rings. On the line are residents with a storm of demands and complaints: 'When is my sidewalk getting cleared?', 'My neighbour's music is too loud', 'How do I get a license to sell food?', 'You need to help with my application to build an extension.'
And then there are the developers: 'Listen councillor, this new subdivision I want to build for you, is exactly what your residents want, so we need you to help us out.'
The flurry of favours, complaints and development applications push the learning period out of sight, forcing new councillors to deal with issues head on.
Time that could be spent brushing up on planning policy and provincial guidelines is instead used for evening meetings with residents and committee obligations, attending ceremonial events and scrambling to find personal time. The hopes of building a smart, connected city of the future get overwhelmed, replaced by the task of simply stopping the current one from crumbling.
There is little structure currently for valuable professional development, unlike City staff who often complete such work on top of their professional degrees and certifications needed to get their jobs. The elected officials who ultimately make all the decisions have no such requirements.
"I think in general if we were able to do some kind of refresher courses, some kind of training, that would be great," Medeiros said, adding that he worried eagle-eyed residents would pick up on the expense of such undertakings, making them difficult to propose.
However, those same eagle-eyed residents might wonder why millions are spent sending councillors around the world on complex foreign direct investment missions or for expensive consultants, when the decision makers have little knowledge to make the right choices on behalf of taxpayers. A few thousand dollars spent on crucial education could save millions in bad decisions.
He explained councillors are given brief overviews by city staff covering the bare bones. "But do we truly understand it?" he asked. "Do we truly understand some of the decisions we make?"
Medeiros's honesty is refreshing and he should be lauded for being a councillor who has, in his five-plus years, often advised against making rash decisions, before council has a proper understanding of highly complex matters that will have huge consequences for his city.
As a regional councillor who has been in office for more than five years now, his honest assessment of his own ability should also encourage Bramptonians with strong views on planning to show up for council meetings to provide valuable input that can help elected officials understand priorities in the community.
This engagement can help offset the influence of developers, whose knowledge and ability to circumvent smart planning policy, can be an issue with far-reaching consequences for a community.
"If you're really weak, they [developers] don't slow down for you to catch up," Carlson explained, adding that as chair of the Planning and Development Committee, he spends a significant portion of his day meeting with developers, architects and planners. "That's why you've got to know a few things because there's a fair amount of bullying and leading by the ear to convince you of the merits of their plans. It all sounds good when they're explaining it to you, later on you [realize you] just agreed to a 330 storey tower-building in the downtown. [...] It doesn't take long for them to figure out which ones are a little weak."
Without a strong understanding of planning legislation, councillors lean on city staff to answer specific questions related to planning and development. In turn, this can cause smart growth decisions to suffer if staff or council members are not dedicated to standing up for proper planning principles.
A deep, master's-level, knowledge of environmental assessments, geological requirements, intelligent transportation design, density theory and the devastating financial consequences of bad planning, would help councillors when facing developers, their lawyers and the high-priced consultants they constantly march into city hall. Their lobbying should only be successful if it supports smart growth and offers wide benefit to the community.
A battle between resident groups who oppose new developments — as it impacts the character of their neighbourhoods — and developers interested in making a quick buck, needs to be mediated by knowledgeable leaders.
The cohesive growth of the entire city over decades, complete with public transit, post-secondary education, affordable housing, healthcare, commercial amenities, arts and culture and good jobs is a responsibility that only falls on council members.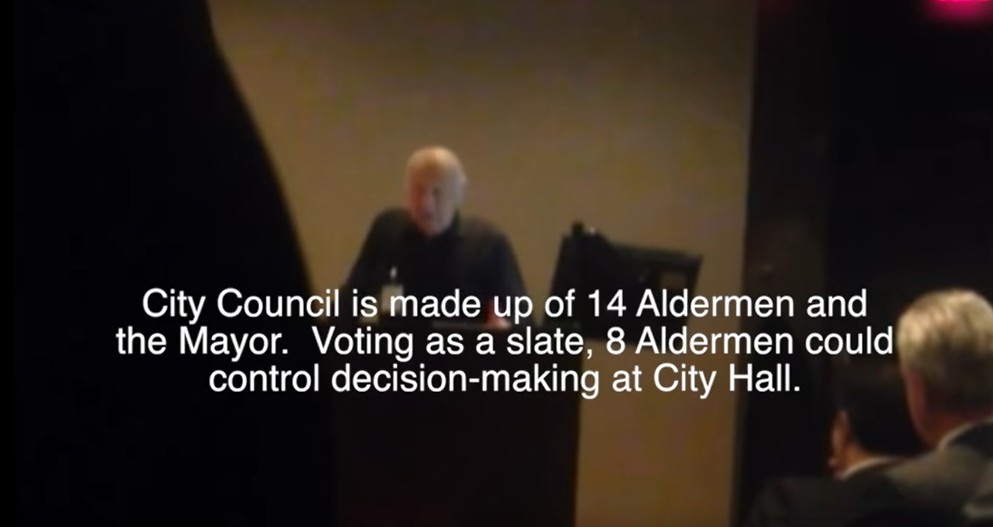 Calgary developer Cal Wenzel was caught on hidden video in 2013 telling a room full of other developers how they could take over council
It's no secret that some powerful developers work to unseat those councillors hostile to their plans. In 2013, multimillionaire Calgary developer Cal Wenzel was caught on a hidden video (click here) ahead of the city's municipal election, referring to smart growth proponents on council, including popular Mayor Naheed Nenshi, as the "dark side". The footage shows Wenzel outlining in detail to a room filled with other developers a strategy to topple these council members and replace them with people hand picked by the group to further their interests.
While it may be the public voting councillors in and out of office, developers have the means, as evidenced in the video, to sway elections.
"Do you come up against interests in terms of development?" Medeiros asked rhetorically. In response, he shared an anecdote regarding a development he opposed in his early years as a councillor, a move he says led to fewer fancy event invitations than some of his peers, and a world of favours he says he chooses to ignore. "I would lie to you if I told you that wasn't a consideration," he said. "I understand a council term is four years, but unfortunately that's not how you build a city, so I think people have to be courageous enough to stand up to these interests."
He was asked if the sprawl-inducing GTA West Highway planned for Caledon and Brampton (supported in principle by members of the two local councils and the Region of Peel's council, which both endorsed the launch of an environmental assessment to trigger the project) is an opportunity for councillors to oppose developer interests in favour of smart growth. Medeiros feels council is powerless when up against provincial will, as Premier Doug Ford seems hell bent on getting the GTA West Highway built. While some would argue this is an excuse, he said it is a reality.
Doug Ford caught on a hidden video in 2018 promising a room full of developers that, if elected premier, he would open up the Greenbelt for development
Another hidden video (click here) from 2018 captured Ford, during the provincial election campaign, promising a room full of developers that, if they helped get him the province's top job, he would open the Greenbelt for them, despite legislation that, at the time, prevented development in the protected area that rings the GTA.
He has since introduced new legislation that could turn this around and the GTA West Highway is a key part of the strategy to release thousands of hectares for more sprawling development.
If councillors were equipped with growth and planning knowledge, they might feel better positioned to fight such action and advocate for their cities' futures. Training could empower councillors to identify poor development proposals before they are ever submitted to planning committees, and equip them with the skills to negotiate compromises that usher long-term smart growth.
Instead, councillors trying to learn on the fly often have to rely on what they're told. This is an ideal scenario for private interests who have their ear.
As the chairs of their respective city planning committees, Medeiros and Carlson are the elected officials in Peel most in tune with smart growth. They are examples of the councillors most interested in the process of smart city building.
"So would I say I am an expert in planning and development? No," Medeiros said. "But I will say that I really understand where the city is going in terms of the types of healthy community that we're trying to build here with more urban transit, more walkable [and] public green spaces."
---
Email: [email protected]
Twitter: @isaaccallan
Tel: 647-561-4879
Submit a correction about this story