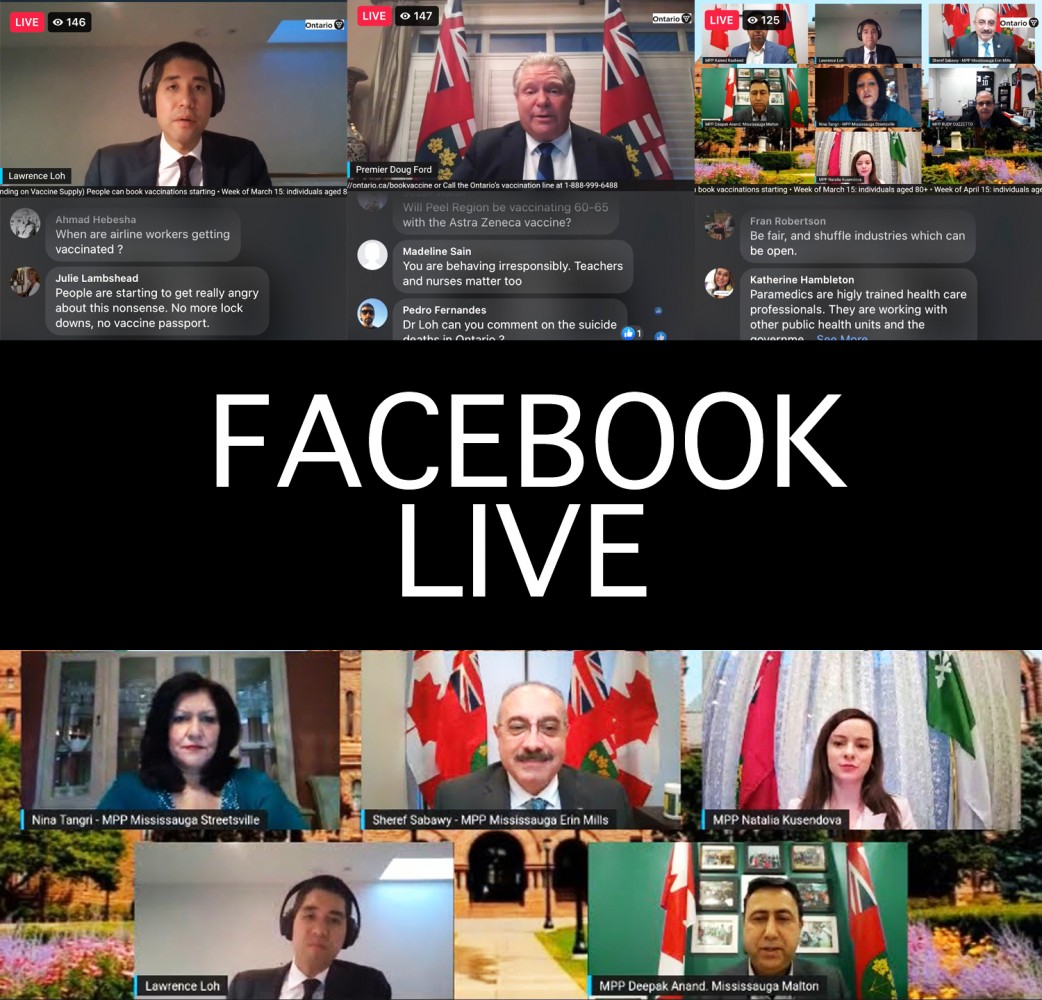 Graphics from The Pointer/Photos from Philip Halling/Creative Commons License/Facebook
Mississauga MPPs' Q&A demonstrates the pitfalls and potential of Facebook Live in local politics
The Pointer's Social Media Monitor is a weekly look at how elected officials and other public civil servants are using their taxpayer-funded resources to shape digital communication aimed at constituents. We feature one public figure each week.
---
In 1924, British Prime Minister Stanley Baldwin saw the future.
A newfangled invention was proliferating his island nation: day after day, new radio sets entered red brick homes. Between 1922 and 1938, the number of radios in the UK exploded, from 22,000 to 8.5 million. Everyone wanted their own revolutionary box, capable of carrying news and entertainment straight into the home.
Baldwin, notable as a Prime Minister who drifted in and out of power during the interwar period, understood the advantages radio offered him. Every set was a virtual armchair for him to sit in — an invitation to a family dinner or conversation around the hearth.
With a recently expanded electorate, it was important for him to reach as many voters as he could.
British Prime Minister Stanley Baldwin
Baldwin demonstrated the medium's potential during election broadcasts in 1924. While other politicians tried broadcasting their large rallies (sound familiar) he decided on a different approach.
Sitting in a soundproofed studio, Baldwin set the mood. Opposite him was his wife, knitting in a chair as he read deliberately from a script, his mouth close to the microphone. At one point he paused, struck a match and lit the tobacco in his pipe.
He drew in. Exhaled. And continued talking.
Baldwin was no longer an out of touch elite entitled to your vote, he was a gentleman invited round for dinner, sitting with millions of families simultaneously.
The broadcast was a triumph and many of the techniques it spawned — such as talking down the lens of the camera during televised debates — remain in use today.
Now, radio is old news. Car stereos, podcasts and a few digital sets keep the tradition alive, but the format no longer offers leaders an invitation into the elector's home. Instead, social media is the new opportunity to enter the homes — and minds — of voters.
A recent Facebook Live town hall organized by Mississauga's six Progressive Conservative MPPs demonstrated the best and the worst social media has to offer: An opportunity to interact with residents and face scrutiny; a platform to perform and allow misinformation to spread.
Facebook Live, a new method for elected leaders to communicate with the public.
The event was convened by Mississauga—Cooksville MPP Kaleed Rasheed to offer Mississaugans a chance to ask questions about COVID-19. All six PC MPPs were in attendance, alongside Peel's top public health official, Dr. Lawerence Loh, and a brief surprise appearance by Ontario Premier Doug Ford.
The online event came in the context of increasing pressure on Peel's governing MPPs.
After exactly four months of lockdown in Peel, residents have grown frustrated and the actions of local leaders have only increased their agitation. After Dr. Loh, along with Peel's mayors and council, spent the winter months calling for paid sick days to slow the spread of the virus (and now its variants) that causes COVID-19, Mississauga's MPPs voted against the policy at the beginning of March.
A few days later, they faced the wrath of local councillors in a public meeting to discuss the City's priorities. That same day, Peel was excluded from an AstraZeneca vaccine pilot.
If the town hall had been held in person, there is no doubt the atmosphere would have been febrile. The anger would have channeled through a packed community centre, spreading rapidly like an intimidating virus, but there was no such crush of public force that often scares otherwise disconnected elected officials into action. Instead, the muted dissatisfaction played out across 672 innocuous, or ill-informed, Facebook comments that appeared alongside the hour-long broadcast. Lockdown restrictions for restaurants and personal care salons felt the brunt of resident frustration, with MPPs responsible for moderating failing to steer the conversation into other areas of concern.
"How hard is it to answer my question: when are airline workers can receive the vaccine?" one commenter asked. "Is there anyone replying to these questions and who are MPPs accountable to i would think the people they serve," another wrote.
The format itself was a simple rotation, with each MPP asking a question of Dr. Loh in turn. At the beginning of the event, it seemed like the Q&A would consist only of pre-prepared questions, but pressure from the comment section increased and MPPs started to ask some of the points being raised by the public.
"Dr. Loh, just so you know, all the questions we're asking today, they were submitted to our offices from our constituents," Mississauga Centre MPP Natalia Kusendova said. Soon, her colleagues were fishing from the comment section and referencing texts they had received from residents during the call.
That wasn't without its issues. Public fatigue over lockdown rules, coupled with the fact MPPs did not read out comments criticizing their own actions and voting records, meant Dr. Loh was peppered with questions about Ontario's COVID-19 framework. Would he allow indoor dining? What about haircuts with one person in the store at a time? Why wouldn't he let patrons dine inside, after all restaurants have plexiglass screens?
The conversation went in circles, mirroring the comments being raised again and again. Dr. Loh was forced to repeat the basics — the more places people interact, the more likely it is the virus will spread.
Eventually, after about 30 minutes offering the same answer, Dr. Loh's mask slipped a little. "I have to say, I feel like this evening, I have been asked to defend a framework that I have no hand in really controlling or oversight on," he said, responding to yet another reopening framework question, this time from Mississauga—Erin Mills MPP Sheref Sabawy. "This is really the mandate of the chief medical officer of health and the Ministry of Health."
"We did see outbreaks in restaurants and we did see exposures in personal service settings," Loh continued (failing to explain why he didn't point this out when Brampton Mayor Patrick Brown tried to mislead the public with claims of no transmission in Peel restaurants and bars). "Those questions are all best directed to the Ministry of health and our chief medical officer of health."
Dr. Loh also referenced the comment section, where the good, the bad and the ugly of social media were on full display. The Region of Peel was recently forced to call for calm from residents, after a series of cases of racism and harassment of frontline staff. Sections of the comments were clear evidence of this.
Some accused Dr. Loh of not caring, while others appeared to level threats against the medical officer of health. The six MPPs expressed their appreciation for Dr. Loh's work, before conveying further resident dissatisfaction.
The live comments on the videos were also fertile breeding ground for unsubstantiated claims and misinformation. Unable to respond to the 600-plus comments — and choosing to ignore a select few — conspiracy theories went unchallenged. In a traditional town hall setting, it would perhaps have been easier to single out problematic claims and quickly knock them down.
For all the communication potential a Facebook Live question and answer session presented, Wednesday's event was far from any exhibition of that potential. MPPs avoided explaining their own positions beyond the party line, misinformation thrived in areas of the comment section and, without an outside moderator, there was no sense everyone's problems were being treated equally.
Since the event was designed to share the MPPs' views after a tough few weeks, it's no surprise they hosted it. But retaining an outside speaker, someone not affiliated with their party, could have taken the video to the next level, selecting questions that forced accountability and moving the conversation along. Failing to do so was a missed opportunity to serve the electorate and the interests of contributing to the democratizing of the decision making process around the pandemic.
The content of the town hall did little to inform any residents who had been keeping even half an eye on the news cycle, with the MPPs demonstrating an ignorance of the very provincial government responsibilities they are supposed to control on behalf of the constituents who tried unsuccessfully to get answers about what their elected representatives have been doing, specifically, while on the job. The residents who turned up to complain about lockdown measures also left dissatisfied, while Dr. Loh grew visibly more frustrated as the evening progressed.
Yet, in a city where provincial and federal officials can be anonymous for months (even years) at a time, the town hall showed at least the attempt to connect with the community. A live social media forum with comments viewed by the participants and public offered a level of scrutiny that has been notably absent during COVID-19. Any chance to actually ask a politician a direct question these days, without them dodging, deflecting or ignoring it altogether, is rare. Unfortunately, another common dynamic of today's political culture was on full display. As usual, the MPPs looked more like hand puppets, controlled by central command at PC party headquarters.
Any wonder why the public grows increasingly alienated from the political process they are forced to accept?
The MPPs might as well just stop wasting everyone's time – 'All we want is your vote every four years and your tax dollars to pay our salaries' they might as well say. Any problems and concerns, in the meantime, can be taken up with the central office.
None of the MPPs displayed the smooth charisma Baldwin did on radio in 1924, but at the very least they tried a technology that brings them to residents.
When the British Prime Minister embraced radio, it was to spread his message through a one-way exchange, not to listen to the electorate. Facebook Live, even with its potential to offer a level of actual engagement and participation in a two-way dialogue, can also be used the way Baldwin did all those decades ago.
---
Email: [email protected]
Twitter: @isaaccallan
Tel: 647 561-4879
---
COVID-19 is impacting all Canadians. At a time when vital public information is needed by everyone, The Pointer has taken down our paywall on all stories relating to the pandemic and those of public interest to ensure every resident of Brampton and Mississauga has access to the facts. For those who are able, we encourage you to consider a subscription. This will help us report on important public interest issues the community needs to know about now more than ever. You can register for a 30-day free trial HERE. Thereafter, The Pointer will charge $10 a month and you can cancel any time right on the website. Thank you.
Submit a correction about this story