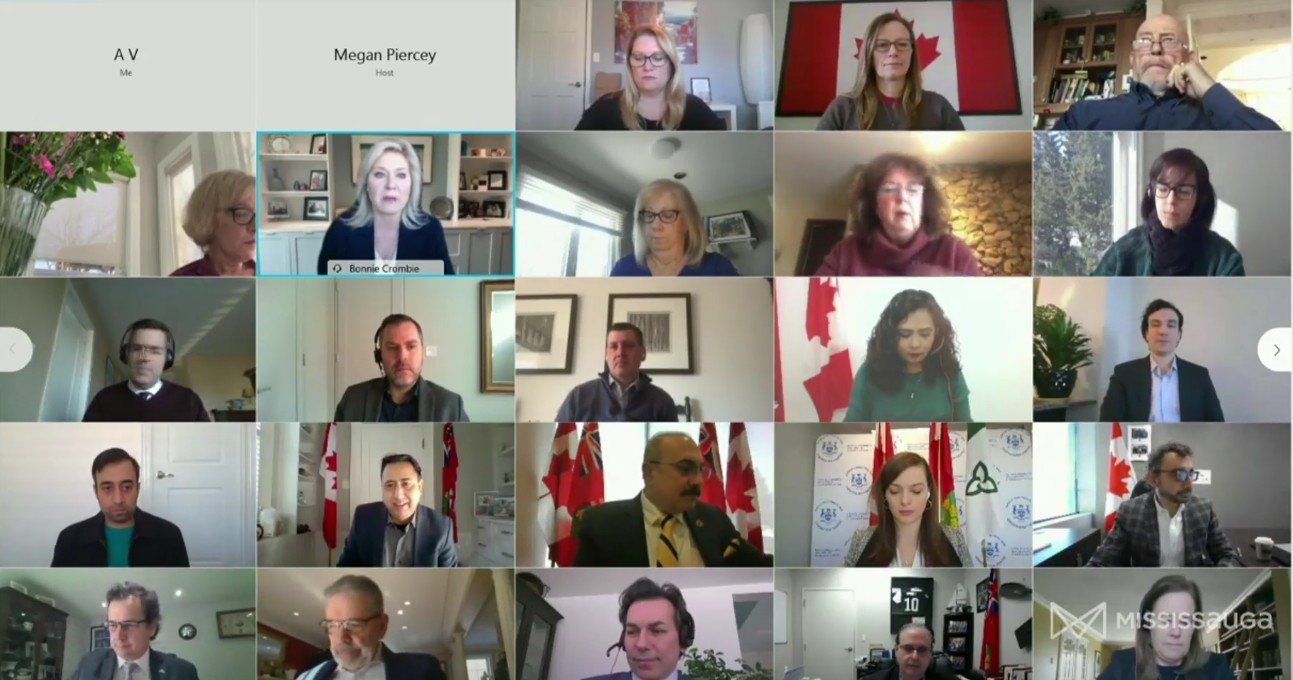 Photos from The Pointer files/City of Mississauga/Government of Ontario/Pearson International Airport
Frustration directed at Mississauga MPs and MPPs who serve their party not constituents
A meeting between City of Mississauga councillors, City staff, local MPs and MPPs last week was branded as an "education session".
The City hoped for a chance to push MPs and MPPs to advocate more effectively for Mississauga on the key issues created by the pandemic and ongoing rapid growth in the region.
Three Mississauga Liberal MPs were absent: Mississauga—Lakeshore's Sven Spengemann, Mississauga–Malton's Navdeep Bains and Mississauga—Streetsville's Gagan Sikand, who is currently on a lengthy and unexplained medical leave, did not join the Webex call.
All six Mississauga PC MPPs were present.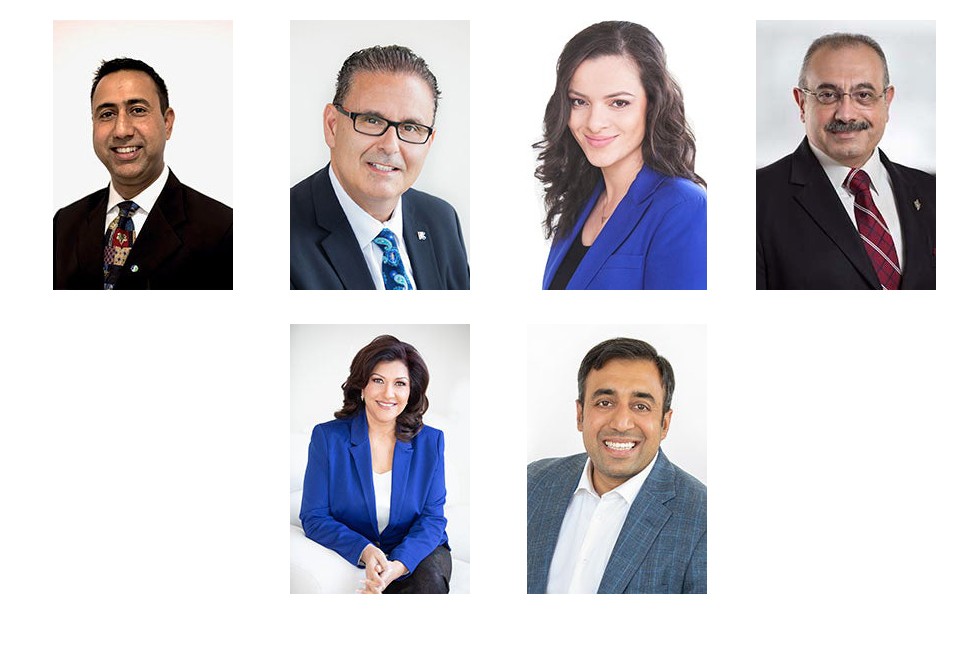 Mississauga PC MPPs (clockwise from top left): Deepak Anand (Mississauga-Malton) Rudy Cuzzetto (Mississauga—Lakeshore) Natalia Kusendova (Mississauga Centre) Sheref Sabawy (Mississauga—Erin Mills) Kaleed Rasheed (Mississauga East—Cooksville) and Nina Tangri (Mississauga—Streetsville).
For councillors, the presentations made by Mayor Bonnie Crombie and City Manager Paul Mitcham were old ground. The two leaders, one elected and one bureaucratic, laid out the bleak financial picture Mississauga will face in 2021 as a result of the pandemic and highlighted some of the projects they hope will receive support from senior governments.
On its 2021 operating budget alone, Mississauga is projecting a deficit between $50 million and $60 million.
At the top of Mitcham's wishlist are changes to how Toronto Pearson Airport pays its fees to Mississauga and an extension of the period to use the second round of funding Queen's Park sent to City Hall under its Safe Restart Agreement.
Staff calculations have shown Mississauga is in line to lose $22 million in Payments in Lieu of Taxes (PILTs) from Pearson next year, after COVID-19 decimated the number of passengers traveling through Canada's busiest airport, located in Mississauga.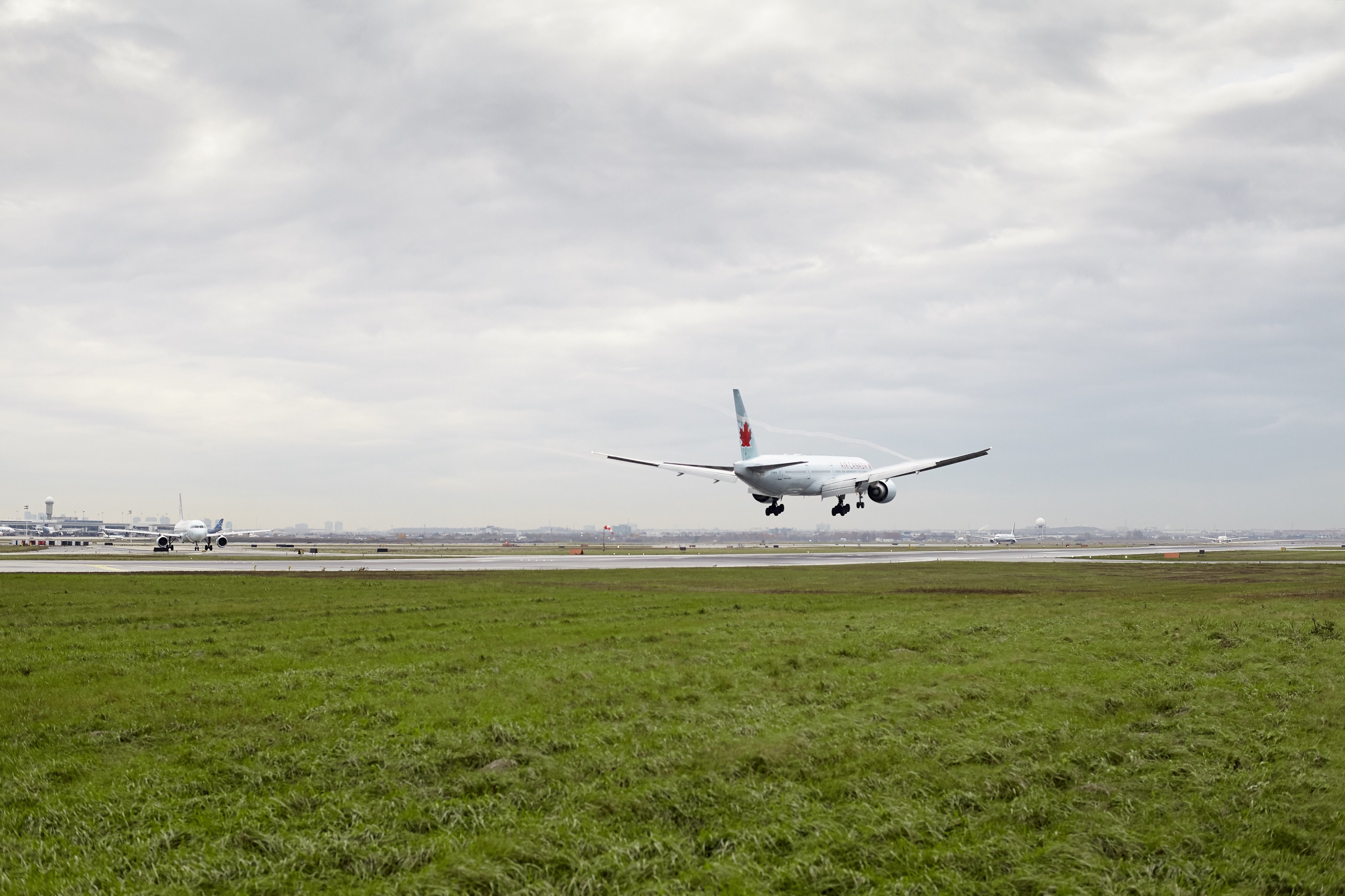 Due to decreased passenger traffic through Pearson Airport, the City of Mississauga is set to lose $22 million in Payments in Lieu of Taxes.
Under provincial legislation, introduced at the end of the '90s, Toronto Pearson pays the City a fee per passenger instead of property taxes. This formula has an upward increase cap of five percent, meaning in good years Mississauga can only see the contribution grow at a maximum of five percent. The cap does not apply on the way down, so when the bottoming out of payments because of lost passengers due to the pandemic kicks in next year, it will take 35 years for the City to return to 2019 revenue levels from the airport, if the rules are not changed.
Transit ridership is another area of massive financial pressure for Mississauga. Ridership decline accounted for the largest losses at the City in 2020 and continuing public health measures mean a similar hole will be left at the end of this year. Last week, the Province sent Mississauga a $38-million transit bailout, but it came with a catch: spend it by the end of the first quarter or return it to Queen's Park.
MiWay buses are currently at 35 percent of 2019 ridership levels and staff only expect that number to increase to 65 percent by the end of the year. In Mississauga, less than 50 percent of every trip is covered by the farebox in normal years, while taxpayers cover the rest; empty buses are even more expensive to subsidize. To help soften this blow, the City would like to spend its Safe Restart dollars until the end of the year, not before the end of March.
Mississauga's federal and provincial elected officials did not engage with the issues or the dollar figures tied to them. Streetsville MPP Nina Tangri was the only one to ask a clarifying question after City staff made their presentations.
Beyond the financial pressures that continue to challenge Mitcham and his team, Crombie addressed key areas that need advocacy. The introduction of paid sick days by the Ontario government, cancellation of the GTA West Highway plan and an equitable vaccine rollout plan were all raised by the mayor.
Once Crombie and Mitcham finished presenting, the meeting fell silent. "Don't all put your hands up at once," Crombie said, as councillors and staff waited to hear from their representatives in Queen's Park and Ottawa.
After some awkward exchanges took the conversation nowhere, Mississauga Ward 6 Councillor Ron Starr pushed for action.
"This isn't just an information meeting, it's a partnership meeting," Starr said, pointing out that every MP and MPP in Mississauga is part of a ruling party and has the power to legislate change. "Sometimes we don't hear from you folks and I'm trying to put it into perspective. We hear what the overall position is of the government and the government is doing this."
But what are you doing, he asked.
Mississauga Mayor Bonnie Crombie (image taken pre-pandemic).
"What is your position? What is the local position? … Don't hide behind the party."
The Liberal MPs and PC MPPs began pointing fingers, toeing their party's line.
"This is something that Premier Ford has advocated to Premier [Prime Minister] Justin Trudeau [for]," MPP Natalia Kusendova said, addressing the issue of paid sick days. "From our perspective there is no reason for the province to start from scratch and duplicate a single program that already exists." She referred to Ford's repeated line that provincial paid sick day legislation, which the PCs scrapped as soon as they took office in 2018, is not needed during the pandemic because the federal government is providing similar support through an emergency measure.
Critics have pointed out that the temporary program has limitations and does not apply to many who need paid sick days. They have also expressed the need for permanent provincial legislation.
Paid sick days represented the theme of the meeting, as party politicians repeated talking points used by their leaders, without offering solutions to Mississauga's problems. On the Wednesday before the meeting, Crombie expressed her disappointment with local MPPs, after five Mississauga representatives fell in line behind their party to block provincial paid sick days. The legislation is something both Mississauga and Peel Public Health have advocated for repeatedly.
"I'm really begging you, and we're all begging you," Ward 9 Councillor Pat Saito pleaded.
But the six PC MPPs wouldn't budge, making it clear they do not represent the will of the Mississauga constituents who put them in public office, they answer to their boss, Premier Doug Ford.
Research from Peel Public Health has shown the current federal option to secure income for time taken off work, to help prevent infection, is insufficient for the pandemic. It listed several barriers in the federal program that can only be bridged by provincial legislation to fill the gaps.
"Definitely you have our support in terms of finding solutions," Deepak Anand, MPP for Malton, said, days after he helped vote down an NDP motion that would have secured paid sick days, which the previous Liberal government had introduced shortly before losing power. Anand also promised to meet with his federal counterparts to push them to make the current program for workers more effective. It followed a pattern of politicians from one higher level of government highlighting the shortcomings of the other.
Federal Transport Minister Omar Alghabra joined in. "As you know, the Labour Code is provincial, other than a few sectors that are federal like aviation, like banking, like telecommunication, the Labour Code is governed by the province," he said, directing the comments at the six provincial PC members.
At the end of the exchange nothing was committed to protect Mississauga's thousands of essential workers.
The conversation also touched briefly on other issues. The resurrected GTA West Highway, which Mississauga and Peel Region councillors recently voted to oppose, was raised, which prompted a couple MPs to explain some of the federal process to determine if Ottawa can intervene. The Liberals did not express any commitment to fight against the highway's construction, despite their party's environmental platform and aggressive action to reduce carbon emissions.
Lakeshore MPP Rudy Cuzzetto spoke in favour of the highway, which his boss, Premier Ford, has pushed since it was put on the election platform in 2018. Cuzzetto told councillors that cancelling the project would mean more infill in Mississauga and "larger roads" in the city. He also said he "couldn't understand" why council's position had changed between his election in 2018 and the beginning of 2021.
"When I was first elected in 2018, I have a book right here, we had a meeting… that all three cities at the time, through the Region of Peel, were advocating for the 413," he said, lifting up a document to emphasize his point.
When the issue of vaccine priority for Peel was addressed by municipal officials, PC MPP Kusendova agreed with the need and suggested good news was on the way, but she appears to have been mistaken as an announcement by her government later in the day left Peel out of a vaccine pilot program to administer almost 200,000 doses (after the weekend, following a backlash from some municipal officials, Peel was included in a much smaller pilot).
MPs and MPPs were quick to get into the issues they had been briefed on by their parties while also mentioning funds that had already been committed to the city for a range of projects, but they showed little interest in the needs highlighted by municipal officials.
"I think they're hamstrung to some degree because those policies are coming from caucus," Starr told The Pointer after the meeting. "I'm not backing off, but I'm not sure how well those messages are received, interpreted and brought down into the bowels of government."
Despite the pleas of local officials, Mississauga's representatives in Ottawa and Queen's Park seemed disconnected from the pressing issues facing their constituents at home.
"I just want to reassure you that we will continue to fight for Mississauga and for more and more funding," Kaleed Rasheed, MPP for Mississauga East-Cooksville, who skipped the vote on paid sick days altogether, told the meeting. "We continue to work with our federal counterparts, this COVID has shown how all three levels of government can work together."
---
Email: [email protected]
Twitter: @isaaccallan
Tel: 647 561-4879
---
COVID-19 is impacting all Canadians. At a time when vital public information is needed by everyone, The Pointer has taken down our paywall on all stories relating to the pandemic and those of public interest to ensure every resident of Brampton and Mississauga has access to the facts. For those who are able, we encourage you to consider a subscription. This will help us report on important public interest issues the community needs to know about now more than ever. You can register for a 30-day free trial HERE. Thereafter, The Pointer will charge $10 a month and you can cancel any time right on the website. Thank you.
Submit a correction about this story