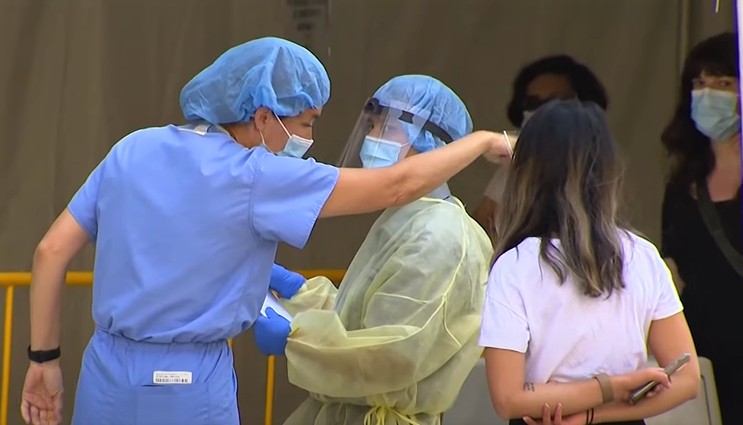 Photos The Pointer/Region of Peel/Charts Region of Peel
As vaccines slowly trickle into hard hit region, officials lay out plan to open up Peel
Peel residents aged 80 and older will be able to book vaccination appointments at Peel's hospitals starting February 27, Peel's medical officer of health announced at Thursday's regional council meeting.
"We're anticipating that from the 27th onwards, seniors 80-plus will be able to access a limited number of appointments at both of our hospital sites at Trillium as well as William Osler," said Dr. Lawrence Loh, who later confirmed that hospital and Peel communication teams are in the process of finalizing the number of vaccines and appointments that will be available. "This is in recognition of the continuing high transmission rates in our community [and] our desire to really start unlocking this for the community."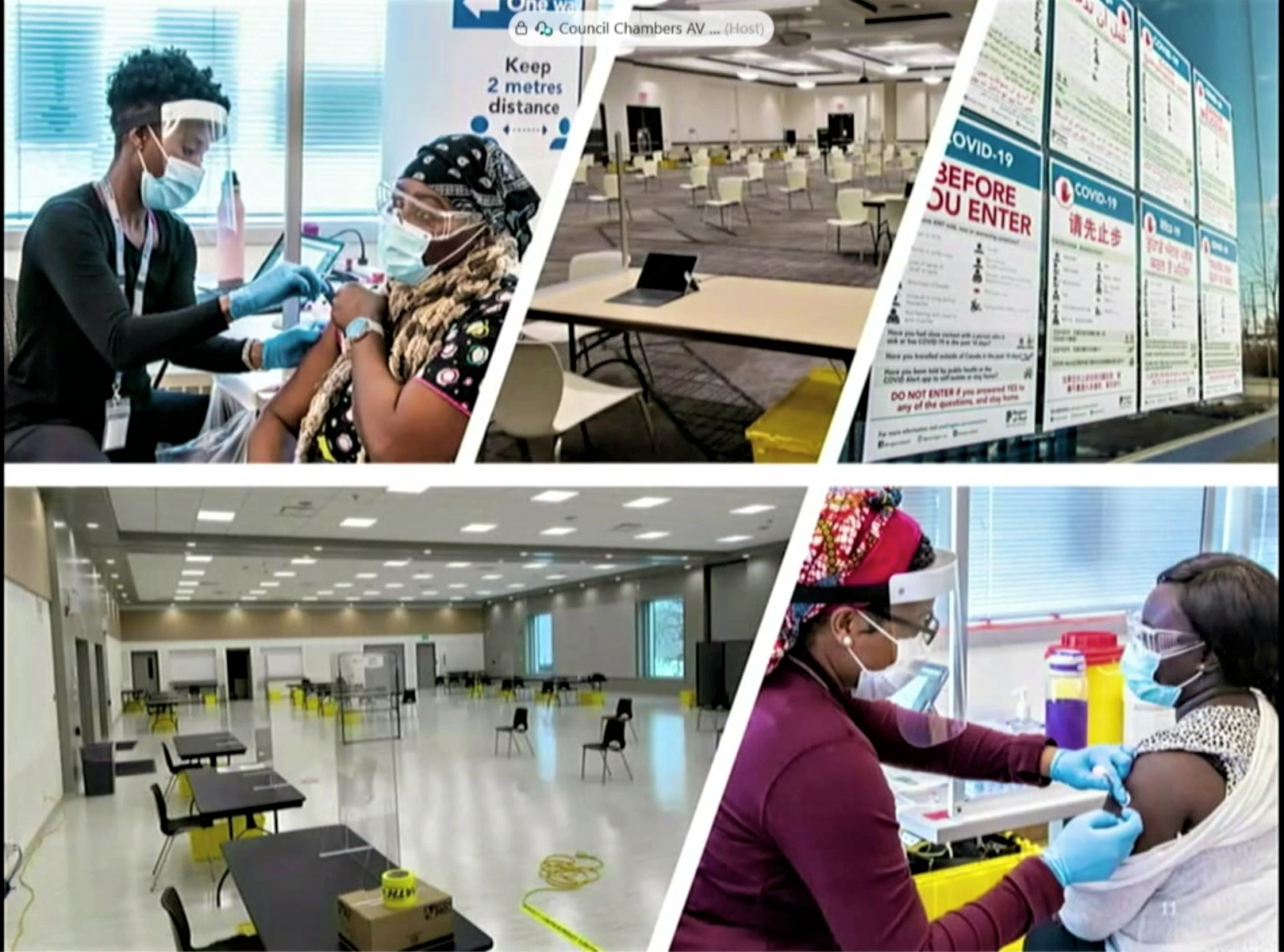 Peel Public Health has been preparing for the three-phase vaccine rollout expected to take place throughout the year, according to Dr. Loh. Pictured top left, top right and bottom right is the recently-opened 7120 Hurontario Street vaccination clinic, top centre the International Centre in Mississauga, and bottom left the Caledon East Community Complex.
Although the recent announcement is in line with the timing outlined in Peel Region's Community Mass Vaccination Plan (MVP), Dr. Loh urged all residents to remain patient as the region waits for more vaccine shipments to arrive.
"I want to be very clear that while this moment is a significant [step] in our fight against COVID-19 and represents the first small step towards wider community protection, this will not be completing all seniors over 80-plus immediately," said Dr. Loh, who asked residents not to line up at hospitals for the vaccine without an appointment. "Census data suggests that we have 50,000 or more residents in this age category and supplies, at this time, remain critically limited."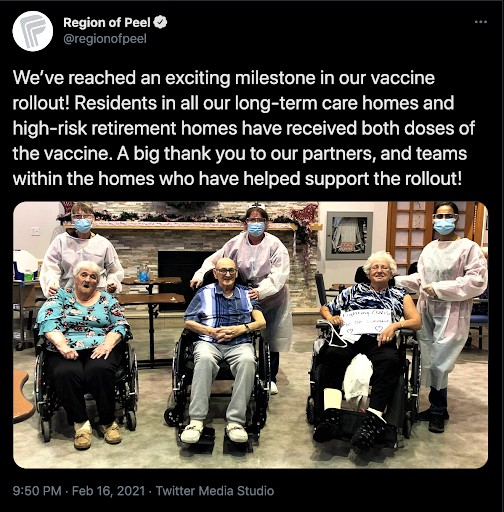 All long-term care residents and high-risk residents in retirement homes have been fully vaccinated. The vaccination of low-risk residents in retirement homes, staff, essential caregivers and health care workers in the highest and very-high-priority groups is well underway.
Further details regarding how to book an appointment, how seniors will be contacted, transportation plans for seniors with mobility restrictions and other communications regarding the new vaccination program will be released in the next few days, Dr. Loh said.
Although plans for the vaccine rollout are well underway, the real challenge lies in actually getting residents inoculated, said Peel Region's director of strategic policy and performance, Brian Laundry.
According to Laundry, Peel Public Health is conducting extensive outreach into the community through its network of partnerships, which includes local hospitals, long-term care facilities, retirement homes, Ontario Health Teams, primary care partners and pharmacies, to ensure everyone who qualifies for a vaccine is able to get one.
"It's a long road ahead," said Laundry. "We need to do these two things in parallel: mobilize and support those who can be reached and [are] ready to get a vaccine immediately, while simultaneously and proactively working to support our harder-to-reach populations where more complex needs exist, such as lower levels of vaccine confidence, systemic discrimination, where there's mobility transportation [issues], history, culture and low trust barriers – these are real challenges to overcome."
Currently, there are two out of eight vaccination sites open for appointment-only throughout Peel. When the vaccination rollout is in full swing, all sites are planning to operate 7 days a week with the exception of the Caledon East Community Complex on Fridays for COVID-19 testing. The Region of Peel released a video tour of the vaccination process to answer frequently asked questions.
According to Peel's MVP plans, approximately 2.3 million doses of the vaccine are needed to vaccinate at least 75 percent of the population. This is the benchmark Peel has set as the target.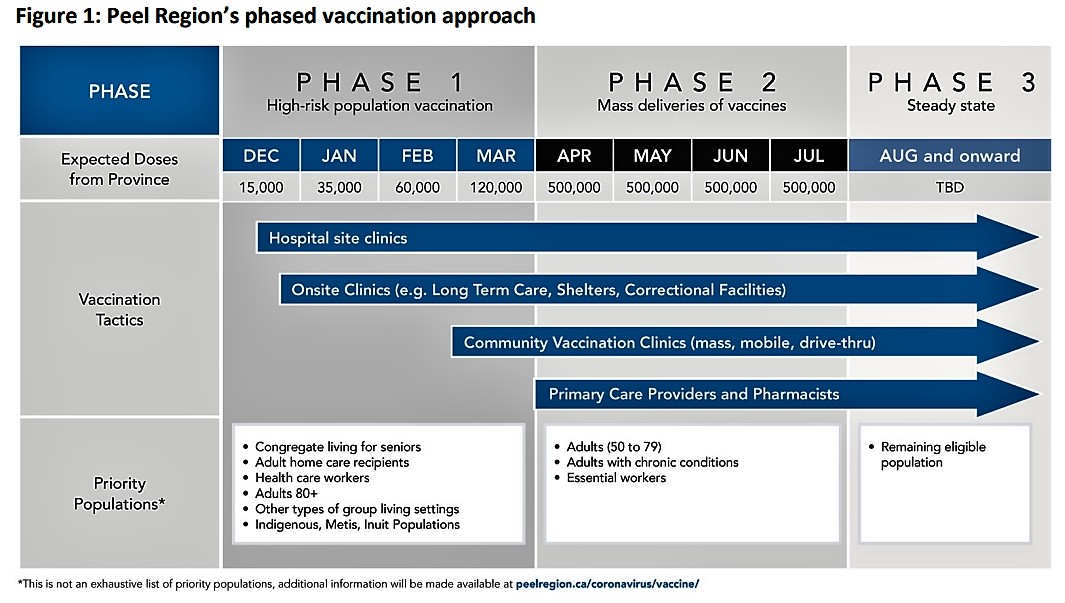 According to Peel Public Health, more scalable and flexible vaccination options will be introduced this spring, including drive-through, mobile "on-site" clinics, primary care and pharmacy locations.
In Peel, once vaccination is completed for seniors aged 80 and over and those who are hospital patients who have confirmed admission to a long-term care or retirement home facility, the next group will be high-priority healthcare workers, Indigenous adults and adult recipients of chronic home care.
In Phase 2, to take place from April to July, Peel will prioritize vaccinating adults aged 50 to 79, essential workers and adults with chronic conditions. The rest of the general public can expect to be vaccinated August and onwards.
Thursday's announcement comes a day after the provincial government revealed that a province-wide online vaccination appointment portal will be available starting March 15. In line with the province's vaccination plan, only those who are identified within the Phase 1-group or are accessing the service on behalf of someone who is will be able to use the online and accompanying telephone booking system.
At council Thursday, members raised concerns about the Province's ability to manage a COVID-19 appointment system without significant crashes and disruptions. In response, Laundry said Peel is working to get its own booking systems in place.
"We all progress with our own systems in the background, anticipating we have to rely on our own systems," Laundry said. "Both Peel Public Health-run clinics and the hospital-run clinics are developing those. Trillium does have an online capability for booking, and William [Osler] also is predicting they will be ready to have online booking early next week. But in the meantime, the communications [team] will allow residents to call William Osler to book them on."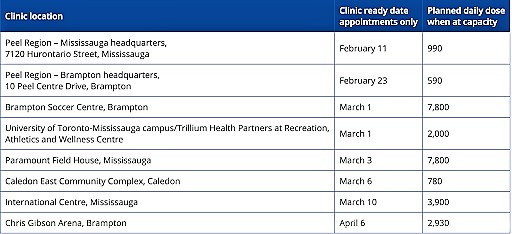 Vaccination locations in Peel
During the past few months, Pfizer-BioNTech and Moderna vaccine shipments to Canada have been significantly hampered and reduced due to supply and shipment delays.
Canadians received good news Friday morning with the announcement that Oxford–AstraZeneca's coronavirus vaccine was approved by Health Canada.
The AstraZeneca product did not have the same efficacy rate during clinical trials as the two previously approved vaccines — 62 percent compared to the 90s — but unlike the first two vaccines, the latest one to receive approval can be stored at normal refrigeration temperatures making logistics and shipping much easier.
The approval means up to 20 million additional doses will start to enter Canada's supply chain.
"We have come a long way in really trying to bring the second wave under control," Dr. Loh said. "Our gains thus far have been due to the collective efforts of all of our residents, and it is imperative that we stay the course a little bit longer. As the vaccine starts to roll in, we really want this to be our last shutdown. We don't ever want to come back here."
For the month of February, Peel was anticipating 60,000 doses from the Province. As of Feb. 22, 45,300 doses have been administered throughout the region, including over 15,500 doses in long-term care and retirement homes.
As of February 25, Ontario had administered a total of 621,960 vaccine doses, meaning Peel had a total of 7.3 percent of the total vaccines Ontario has received (Peel has about 10.3 percent of the province's population). Hamilton and Halton have administered a total of 32,925 as of February 24 and 23,934 as of February 19, respectively.
In response to Thursday's announcement, Peel regional councillors unanimously passed a motion to take their concerns to Premier Doug Ford, calling on the Province to adjust its plan for prioritization of vaccine supply, eligibility and distribution to "enable those areas of the province in prolonged shutdown with high rates of transmission of COVID-19, including Peel, to accelerate the vaccinations of their populations."
"If there's a fire in Toronto and Peel and you got fire extinguishers, use it here, rather than using a fire extinguisher in a part of the province where there is no fire," said Brampton Mayor Patrick Brown. "If there are available vaccines, there has to be understanding for the regions that have been hotspots. When there was the initial rollout – when it came to healthcare – we got some additional vaccines. That was a good precedent that they recognized that we were on the front lines. I'm worried that we might get forgotten – they've sort of hummed and hawed on that a little bit [when] we've had our provincial calls."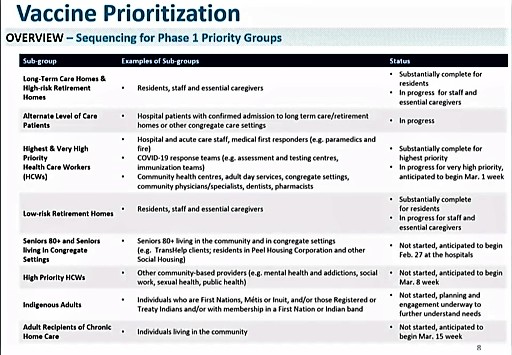 Although regional council was encouraged to hear about the development in vaccine plans, councillors remain discouraged due to Peel's extension of the current stay-at-home order under the recommendation of Dr. Loh. The council voted unanimously to officially recommend Dr. Loh put the Region of Peel into the red zone after the current lockdown period, which has been extended until at least March 8, in efforts to reopen small businesses and improve residents' mental health.
"We want to be in red in March," said Mississauga Mayor Bonnie Crombie, addressing Loh. "Help us get there, open us up, please."
Dr. Loh, although cautiously optimistic, was unable to make any promises.
"As long as we're still largely unvaccinated and this virus remains novel to a large part of our population, it is impossible, if anything, for me to give firm timelines as to when we will move through different colour schemes or guarantee that the trends will remain favorable," Dr. Loh said. "But once we actually are able to get vaccines on board, I think the experience of other places that have been able to vaccinate more quickly is highly instructive in terms of being able to provide what would be a final timeline."
---
Email: [email protected]
Twitter: @vanessabalintec
---
COVID-19 is impacting all Canadians. At a time when vital public information is needed by everyone, The Pointer has taken down our paywall on all stories relating to the pandemic and those of public interest to ensure every resident of Brampton and Mississauga has access to the facts. For those who are able, we encourage you to consider a subscription. This will help us report on important public interest issues the community needs to know about now more than ever. You can register for a 30-day free trial HERE. Thereafter, The Pointer will charge $10 a month and you can cancel any time right on the website. Thank you.
Submit a correction about this story