Photos from The Pointer files/Region of Peel/Unsplash/Daniel Schludi
Third wave arrives as vaccine frustration prompts racist behaviour toward Peel Region staff
Residents barely had time to take stock in Brampton, Caledon or Mississauga.
Residents in Kingston had been eating indoors, even singing karaoke. In Ottawa, people were getting haircuts and having their nails done. Neighbouring York Region allowed residents to enjoy a patio pint.
But just as Peel enviously eyed the possibility of a mid-spring reawakening, experts are now cautioning that Ontario's third COVID-19 wave has arrived. A tough winter is turning into an equally challenging spring.
On Monday, the Ontario Hospital Association (OHA) declared hospital capacity issues and a growing number of more transmittable variants meant the province had entered its third wave. Ontario's COVID-19 science advisory table agreed on Tuesday morning.
After significantly falling over the past two months, COVID-19 cases are showing clear signs of ticking up again. Peel Public Health's head, Dr. Lawrence Loh, notably reluctant to declare a second wave in the fall, has stopped short of confirming the arrival of a third.
"At this time, our declining trends have stalled," he told The Pointer via a spokesperson. "We continue to closely monitor the numbers with great concern about a third wave, but with fluctuations in recent weeks it's too early to definitively confirm a return to an upward trend."

The one bright spot for tired and isolated residents should be the four vaccines approved by the federal government. Each dose will act as an individual brick, laid carefully and painstakingly on the road to normal.
In Peel, the process has barely begun. Despite daily numbers that consistently represent the highest rate of new infections, the region continues to be ignored by the Province's COVID-19 response plans.
Numerous public health experts and local officials have expressed their frustration, pointing out that the region with the highest infection rate needs to be getting the largest number of vaccines per capita.
This is almost the opposite of what the Province is doing.
Figures from March 12, show just 7.4 percent of Ontario's vaccine doses have been offered to Peel's residents. The distribution of an unexpected batch of AstraZeneca doses that recently arrived in Ontario is even worse: barely 2.5 percent of Ontario's doses were given to Peel Public Health. The Region accounts for 10.3 percent of the province's population.
"We got 4,900 doses — that's a joke," Mississauga Ward 5 Councillor Carolyn Parrish said at a Tuesday press conference held with the Ontario NDP.
If residents were hoping for better news from their local public health unit, they were also disappointed. Communications staff for Peel Public Health are tightlipped about vaccine doses and are only at the early stages of planning further transparency.
"Peel Public Health relies on data access granted by the Ministry to the COVax system, a provincial system where all COVID-19 immunizations are entered by immunizers in Ontario," a spokesperson said. "Data was not reliably available to Peel Public Health until late last week. As we get more access to the data, and can run analysis, we hope to provide additional indicators and breakdowns on our dashboard."
The dashboard currently includes one statistic (total doses) that is updated every Friday.
During the first wave, Peel was particularly slow to provide important data to the public on its testing and rates of infection within the community. It was not until August that Peel released racialized data on COVID-19 rates, confirming visible minorities were suffering disproportionately from the pandemic.
Peel appears to be blaming Queen's Park for a similar delay to its vaccine data. "The Ministry has been updating the provincial system used to enter information on those that receive immunization and vaccine administration information," a spokesperson said. "Currently, race data is not available to Peel Public Health. As further information in the COVax system becomes available, Peel Public Health will provide additional indicators and breakdowns on our dashboard."
Regardless of who is at fault for the slow rollout of information, it means local residents are in the dark. It was only a throwaway remark from Parrish, rarely one to toe the party line, that revealed how few doses of the AstraZeneca vaccine Peel had received. Peel Public Health refused to confirm the number and would not explain why, only saying "supply numbers are ever-changing".
Locally, politicians — led by Parrish — are calling for the Ford government to prioritize mass vaccinations in warehouse, logistics and processing settings, in order to stop the rapid spread of the novel coronavirus and its variants which cause COVID-19.
She received the backing of NDP and Official Opposition Leader Andrea Horwath Tuesday. "I agree with Councillor Parrish in terms of the prioritization of these workers in these large workplaces in these hotspots… I'm glad she's mentioned the issue and the support for that kind of action at the local level," the NDP leader said, calling on the government to funnel desperately needed resources into Peel.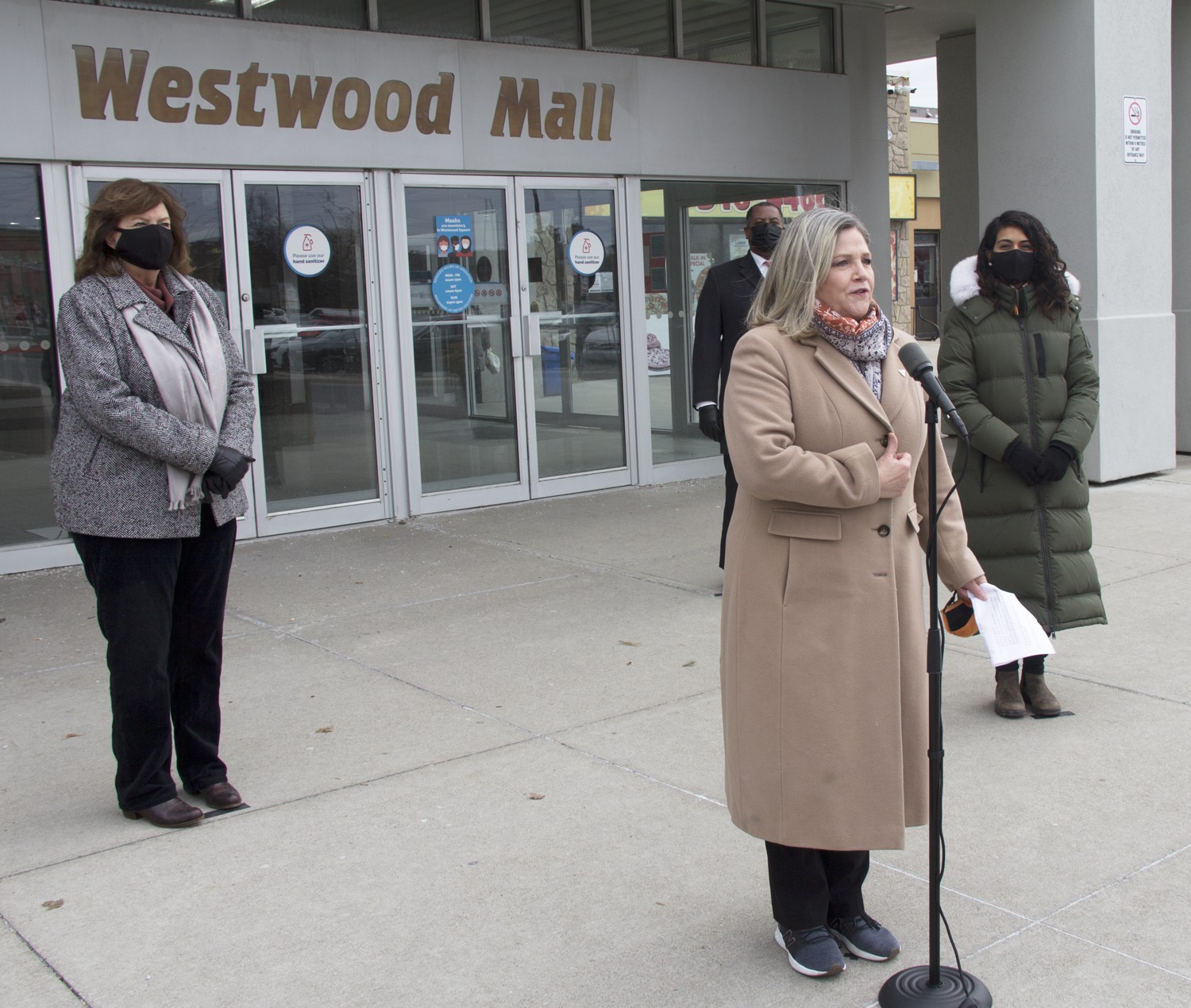 Ontario NDP Leader Andrea Horwath in Mississauga on Tuesday, joined by Councillor Carolyn Parrish (left) and Brampton MPs Sara Singh and Kevin Yarde.
Asked how limited vaccines should be re-prioritized to accommodate tens of thousands of essential workers in Peel, Horwath said she didn't think it was "a matter of putting other people to the bottom of the list" and that the government had already agreed to prioritize hotspots.
Speaking to The Pointer after the press conference, Parrish was more direct. "If you've got a house sitting in the middle of 15 or 20 houses and… the flames are leaping to the buildings next door, you don't go out and do the ones that are on the periphery, you don't say 'that's a more expensive house' or 'that house has seniors in it', you go right to the damn burning house and you hit it with everything you've got. What you've got in Peel right now is transmission we cannot control."
It's been a burning house since the start of the pandemic, and while the Doug Ford PC government sees the flames, it refuses to send in the fire trucks.
Parrish wants to see dedicated resources piped into Peel's problem areas, particularly workplaces, to stop the spread of COVID-19 many fear is radiating from Peel out across the GTA. "It's not who's a priority, it's what's a priority," she said.
So far Queen's Park has been silent on the request. The Ministry of Health has not responded to questions last week from The Pointer asking if the request will be met.
As frustrated residents wait under a lockdown that stretches back to November for a proper supply of vaccines, tempers have flared. The Region of Peel CAO, Janice Baker, recently called out a trend of abuse toward staff. She says frontline workers are feeling the brunt of the public's frustration, with instances of harassment and racism.
"This is not okay," Baker told The Pointer. "Our staff are doing their job to the best of their ability, but they're not controlling the response to the pandmeic, they're not making these decisions, they're simply on the frontlines trying to answer questions, trying to follow up."
Baker says employees are exhausted and anxious after a year like no other. First, staff were moved to testing and tracing duties, now more are being recruited or seconded to the vaccine efforts. To add abuse into the equation could be a tipping point, the Region fears.
"Let's face it, we understand the frustration from the community, we're just simply saying it is not an appropriate way to behave towards our team," Baker said. "We are very much engaged with the broader community around the issues of bullying, racism and this is just another subset I think of a problem we see within a community that's very diverse. And so I thought this was another opportunity to call it out."
---
Email: [email protected]
Twitter: @isaaccallan
Tel: 647 561-4879
---
COVID-19 is impacting all Canadians. At a time when vital public information is needed by everyone, The Pointer has taken down our paywall on all stories relating to the pandemic and those of public interest to ensure every resident of Brampton and Mississauga has access to the facts. For those who are able, we encourage you to consider a subscription. This will help us report on important public interest issues the community needs to know about now more than ever. You can register for a 30-day free trial HERE. Thereafter, The Pointer will charge $10 a month and you can cancel any time right on the website. Thank you.
Submit a correction about this story