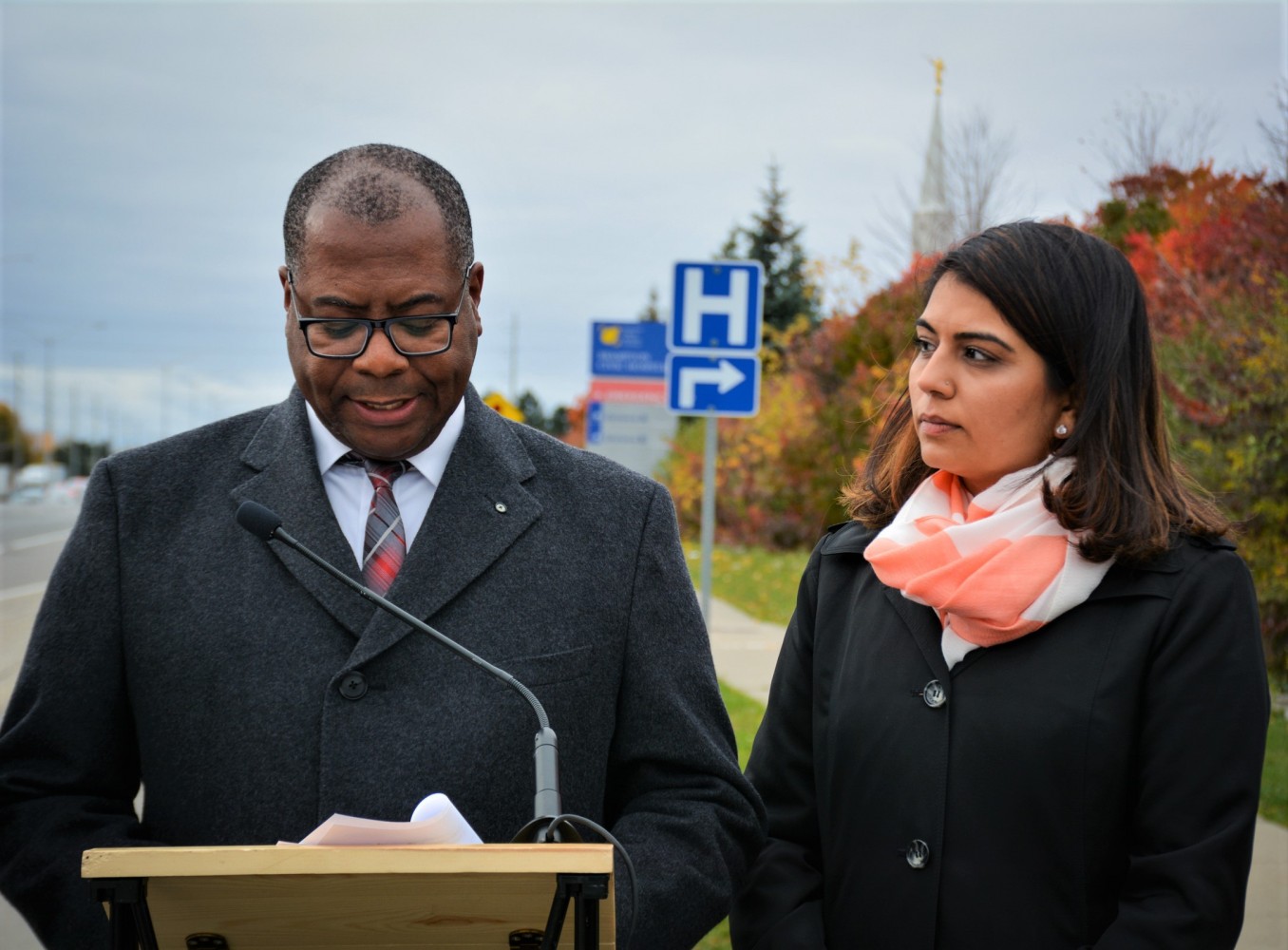 Photos from The Pointer files/Twitter/City of Brampton/William Osler Health System
Ford said he would help Brampton's 'broken' COVID situation; MPP tabling motion demanding resources
Brampton's chaotic COVID-19 response continues to flounder as case counts across the city move in the wrong direction. Testing remains the key issue, one that provincial and local leaders continue to ignore.
One Brampton MPP has seen enough. Kevin Yarde will table an emergency motion Thursday to get more resources to his city, so proper testing and contact tracing can be done to keep residents in the hotspot safe.
On the most recent day for which data is available through the Region of Peel, Brampton accounted for 18 percent of all cases reported in Ontario, on September 15. It continues a disturbing trend since early August.
This week a number of schools in the city reported cases of COVID-19, compounding risk in areas with already high rates of community transmission. So far, no classes or schools in the city have been closed.
View COVID-19 Map of Peel Schools in a full screen map
While the province has ramped up testing, as numbers across Ontario show the novel coronavirus is surging in many communities, Brampton's testing capacity remains woefully inadequate, despite claims by Premier Doug Ford and local officials that help will be delivered in the province's worst hotspot.
In the past week, between 28,000 and 35,000 tests, approximately, have been conducted across Ontario each day, a per capita rate of about 22 tests daily for every 10,000 residents in the province, using a population of 14.5 million. Health Minister Christine Elliott said this week that in a month the target will be 50,000 tests a day.
But in Brampton, where the rate of COVID-19 cases since the start of the pandemic is about 75 per 10,000 residents, compared to an Ontario rate of about 31, there is an opposite reality: much higher case rates and much lower testing figures.
The city is only testing about 9.8 people per 10,000 residents daily, based on a population of 650,000. William Osler, the system that manages the lone assessment centre in Brampton says it is currently conducting about 635 tests a day.
To reach the per capita target Elliott wants to hit in one month, Brampton will need to do about 2,300 tests a day, almost four times more than what Osler is currently doing in the city.
Osler's CEO said his organization does not see the need to increase testing capacity. When asked last week, while local infections skyrocketed, why it has only run one testing centre in Brampton since the start of the pandemic (Osler ran two in Etobicoke through the end of July despite having a little more than half the population and Mississauga has three assessment centres) Dr. Naveed Mohammad said "small spikes" are not something Osler would "react to".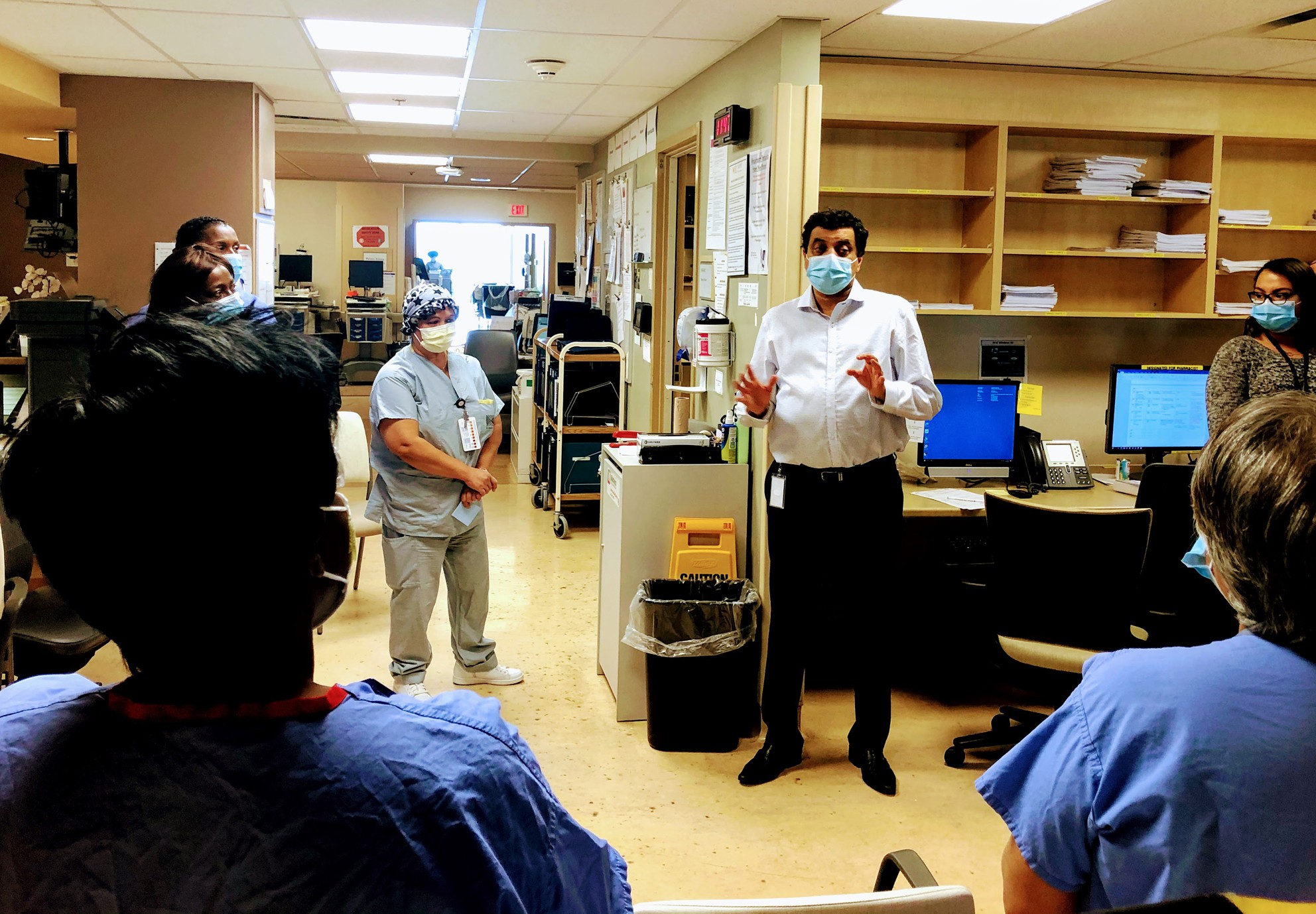 Dr. Naveed Mohammad, William Osler's CEO, said he believes his organization has been conducting adequate testing in Bramptpon, despite not meeting targets set by the province.
Residents are now reporting five-hour waits at the South Fletcher's Sportsplex drive-through facility run by Osler.
Despite accounting for four times the number of COVID-19 cases, compared to the Ontario rate, over the last three weeks, Brampton is only doing about one third the amount of testing, compared to the rate across the whole province over the past week.
By comparison, the City of Montreal, in the face of rising COVID cases, announced this week that it is ramping its screening capacity back up to 6,000 tests a day.

The Ontario government seems oblivious to Brampton's situation.
While Elliott called for a major scaling-up of testing in Ontario this week, this is what she said when asked about Brampton, the worst hotspot: "If we find that there is a need for another testing centre in Brampton, of course, we will take a look at that," she responded to The Pointer Monday.
Mayor Patrick Brown has displayed weak leadership throughout the pandemic. When the city's testing figures sat at less than 15 percent of the target set by the province, Brown misled the public, telling residents Brampton's hospital had the best testing numbers in the whole province. He was using figures that included the two testing sites run by Osler in Etobicoke, which made up two thirds of the testing number Brown claimed was for "our hospital".
Instead of advocating for desperately needed testing in his city, Brown has continued to use the misleading testing data, instead choosing to blame the South Asian-Canadian community, claiming recent travel from India and Pakistan is a major problem, ignoring the biggest factor contributing to his city's dangerously high case numbers since April: the woeful lack of testing.
Outbreaks in local populations and workplaces are popping up like wildfires, with staff at Peel Public Health desperately struggling to put them out. Surveying the dire situation, with the region clearly losing its fight, the Ontario NDP is finally calling on the government to properly fund the province's second most populous municipal region.
On Thursday, the opposition party will force a vote attempting to secure proper provincial investment in Peel to fight the pandemic in an area where the infection picture has gotten much worse since the start of August. The move seeks to send more funds to help Brampton test, trace and coordinate its response.
The emergency motion, being tabled by Brampton North MPP Kevin Yarde, will demand the Progressive Conservative government boost its investment in Peel. The opposition MPP hopes more resources for the troubled region, especially Brampton, can avoid a second slew of shutdown measures and save businesses currently fighting to survive.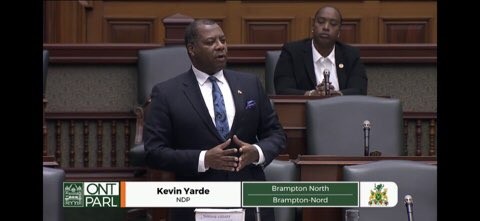 Brampton North MPP Kevin Yarde
"What I am calling for is for the government to give Peel Region immediate help to stop the spread of COVID-19," Yarde told The Pointer. "Brampton bears the brunt of these climbing cases, with this motion what it would do … it would help Peel Public Health to do a number of things like hire more staff [and] do more testing."
The motion will not include an exact figure or specifications, instead it will demand a commitment from the government in principle. It's a test for Premier Ford and his members, asking if they will offer proportional support to Brampton and the region as a whole to fight the virus.
"Ultimately, we just can't afford not to provide assistance. It is going to take the economy, not just in Brampton but across Ontario, longer to recover if we roll back reopening," Yarde added, alluding to the closures that could be imposed on Brampton if local cases continue to rise dramatically.
On provincial report cards, the Region of Peel is responsible for a large portion of Ontario's explosive COVID-19 growth. In reality, Brampton has been the real culprit.
On two separate occasions in September, Brampton alone accounted for roughly 37 percent of the province's total number of new cases. It is home to around 4.5 percent of its population. Mississauga, by comparison, has seen its new cases sit at less than half the rate of its neighbour during September, and in August, the larger city had about one quarter the rate compared to Brampton.
Mississauga, with its lower case count, has three assessment centres, where Brampton has just one. William Osler did recently open a COVID-19, Cold and Flu Clinic, but it is not a new assessment centre and only people with "moderate" flu symptoms can attend.
At the beginning of September, after months spent glossing over the issue, Mayor Brown finally asked Ford to support a second testing facility in his city. But the request came only after Ford informed the entire province Brown had missed three calls from him that same morning, on September 4, when the Premier called Brampton the epicentre of Ontario's COVID-19 cases, and described it as "broken", with almost 40 percent of the province's cases on September 2.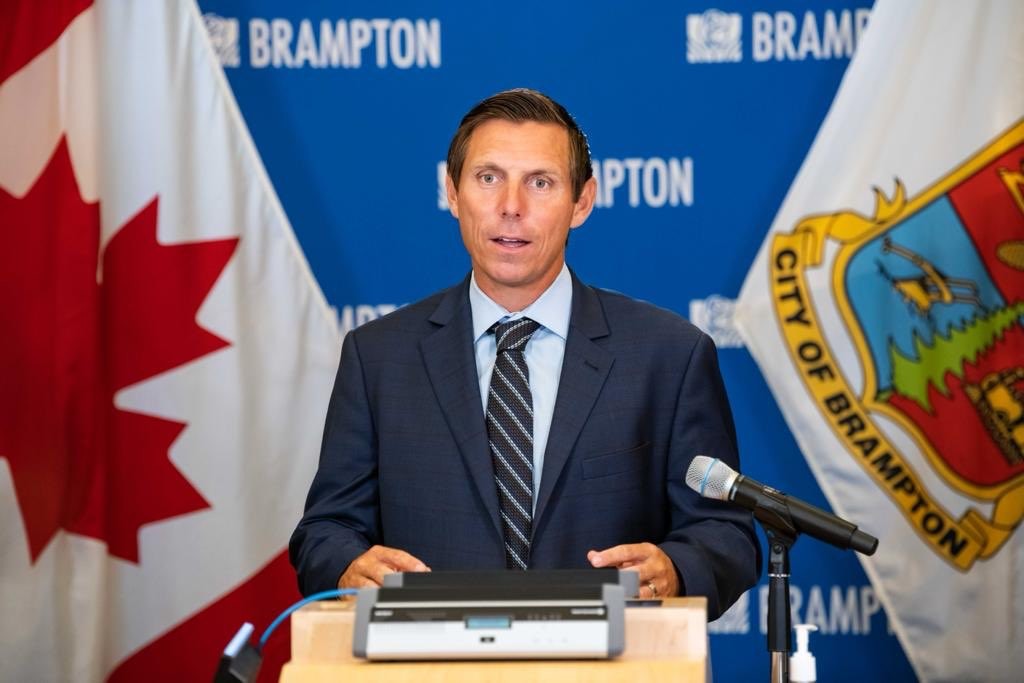 Mayor Patrick Brown
Ford and Elliott and the rest of their PC government will be able to put action toward their words, when Yarde's emergency motion is tabled Thursday.
In the past, the PCs have struck down similar demands from the NDP. The party has an abysmal record of answering the call when it comes to protecting healthcare in Brampton. Twice the sitting government has voted down motions to bring a second, full-service hospital to the city and its 650,000 residents.
On the first occasion, MPPs Prabmeet Sarkaria and Amarjot Sandhu, the city's two PC representatives, didn't even bother to turn up to vote. After being widely criticized, they voted in favour of the second motion, which was again defeated by their fellow PCs.
"If this government is serious about stopping the spread of COVID, then they'll support my motion," Yarde said. "I am not going to hold my breath, we've seen this happen in the past, with prior motions, but we need to provide Brampton, Mississauga, Caledon with more, healthier resources. I would hope and I would expect the Brampton [PC] MPPs … get on board and support this motion."
Neither Sandhu nor Sarkaria responded to a request for comment ahead of publication.
Doctor Lawrence Loh, Peel's top medical expert, was buoyed by the prospect of reinforcements. Politely thanking the province for its support to date, Loh said his stretched team would appreciate a boost.
"We, as with many other health units across the province, have been making do in emergency response since the beginning of January. I think there are certainly a number of areas we could do with support on, specifically around our ongoing surveillance of epidemiology work. We are continuing to release data as we are able to get it, so certainly supports there [would help]... there are a lot of places I think we could use those resources to respond," he told The Pointer during a Wednesday press conference in Mississauga.
"It has been a long slog of 230 days and more in emergency response and certainly any additional resources we are able to add to relieve the staff that have been running this for so long and also enhance some of our offerings would certainly be something we would be willing to explore," he added.
Loh did not say the money could be put towards testing, noting in a follow-up statement he viewed resource allocation for testing as the responsibility of the provincial government. It's unclear if Loh, who is expected to advise Queen's Park on local needs, has ever asked the province for more testing capacity in Brampton.
The motion for emergency help in Brampton and other parts of Peel will go to a vote in Ontario's legislature today. The result should be known by 4 p.m.
---
Email: [email protected]
Twitter: @isaaccallan
Tel: 647 561-4879
---
COVID-19 is impacting all Canadians. At a time when vital public information is needed by everyone, The Pointer has taken down our paywall on all stories relating to the pandemic and those of public interest to ensure every resident of Brampton and Mississauga has access to the facts. For those who are able, we encourage you to consider a subscription. This will help us report on important public interest issues the community needs to know about now more than ever. You can register for a 30-day free trial HERE. Thereafter, The Pointer will charge $10 a month and you can cancel any time right on the website. Thank you.
Submit a correction about this story