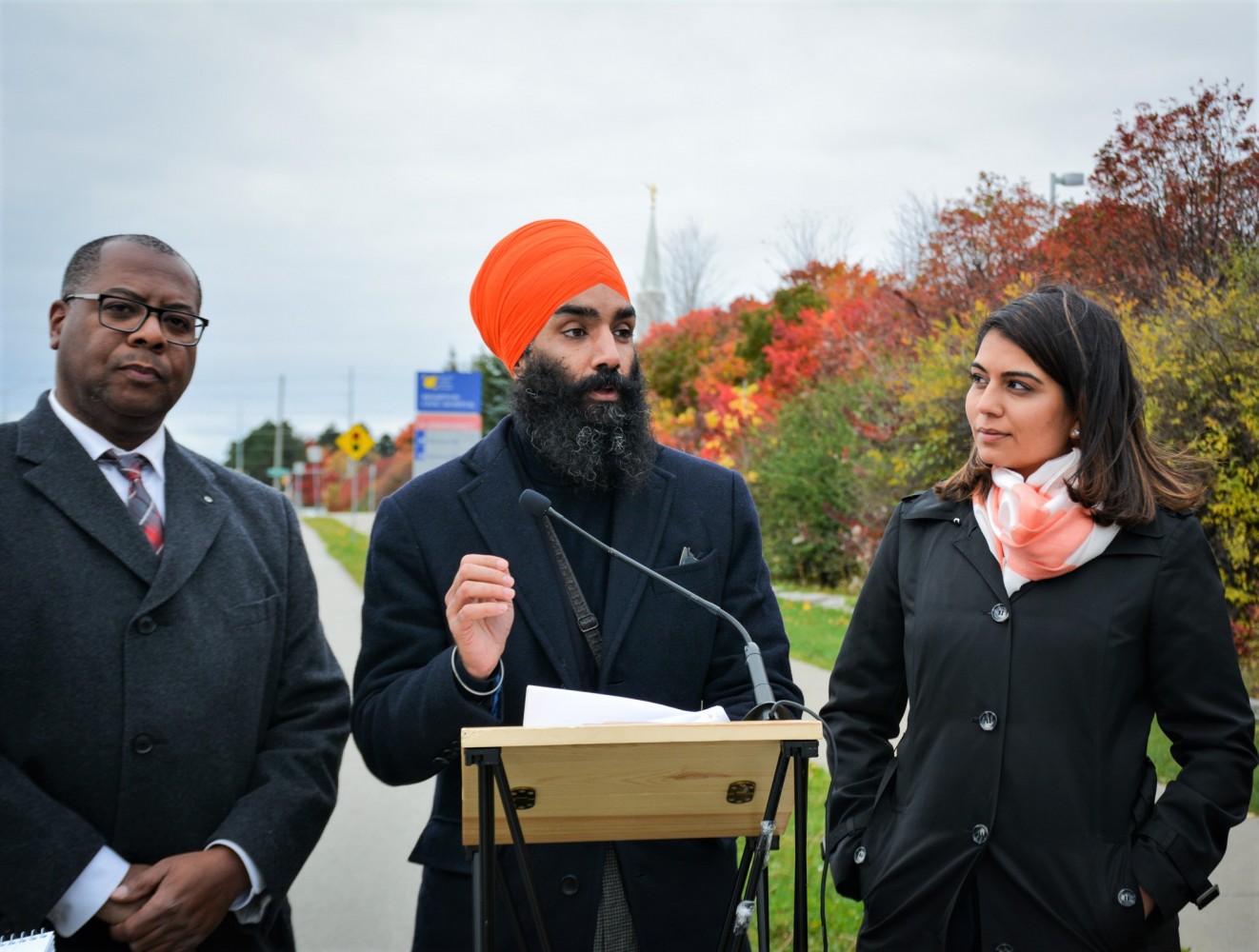 Photos by Joel Wittnebel and File photos
NDP will again force a vote on new hospital; calls on city's PC MPPs to show up this time
Brampton's healthcare system is suffering, and for the second time in just over a year, a motion will hit the floor of Queen's Park calling on the PC government to direct much needed dollars toward the city for hospital expansion.
At a press conference Friday outside Brampton Civic Hospital, the city's trio of NDP MPPs stated that the motion will be delivered by NDP Leader Andrea Horwath inside Queen's Park this coming Monday, and will call on Premier Doug Ford to include both the expansion of Peel Memorial Phase II, and a new hospital for Brampton in its upcoming fall budget update.
"I think the ask is clear. When you talk about hallway medicine in Brampton Civic, when you talk about how the hospital is operating over capacity, it's evident there is a crisis here in Brampton," said MPP Gurratan Singh (Brampton East).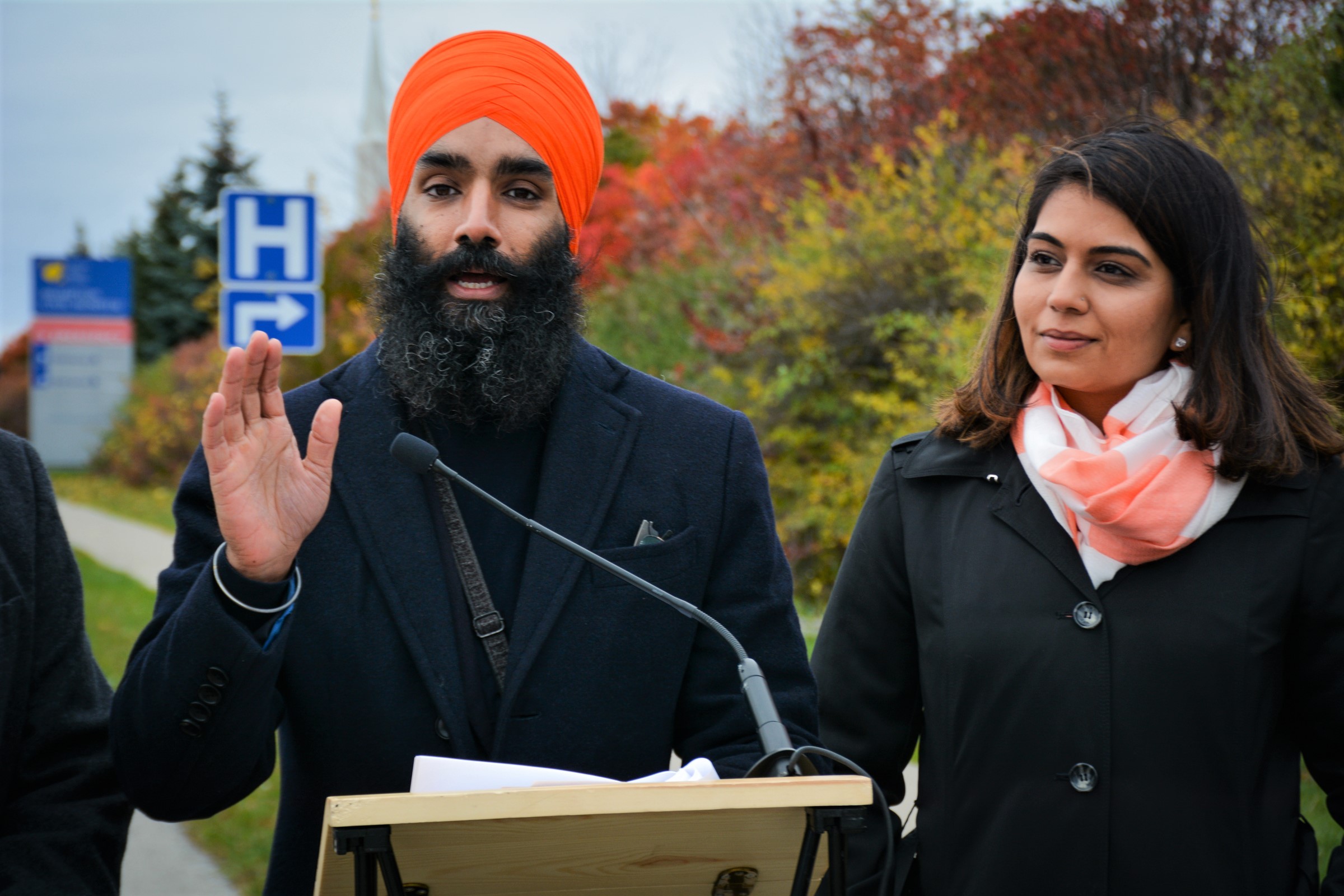 Brampton East NDP MPP Gurratan Singh at Friday's press conference outside the Civic Hospital
"Ford is refusing to make the investments that are needed to deliver the kind of healthcare that Brampton needs and Brampton families deserve," added MPP Kevin Yarde (Brampton North).
The press conference follows the delivery of new statistics by the NDP, obtained through a Freedom of Information request to the city's Osler health network that shows Brampton Civic, the city's lone full-service hospital, has been operating at 101 percent to 106 percent capacity for all of 2019, well beyond the recommended standard of care of 85 percent.
Meanwhile, Peel Memorial, the city's preventative-care facility, which opened in 2017 with the intention to relieve the increasing patient burden experienced at Civic, started the year operating at 557 percent capacity, a number that increased to 587 percent in April and continued into June, the last month for which data was provided by Osler.
"It means that moms are cradling their crying children for hours and hours in uncomfortable waiting room chairs waiting to see a doctor. It means admitted patients to Brampton Civic may be left on a stretcher in hallways for days with no privacy, with lights on 24 hours a day, and it means that people who show up at Peel Memorial wait, and wait, and wait for care that they deserve," said the party's Deputy Leader Sara Singh (Brampton Centre) during Friday's press conference.
The Brampton NDP MPPs urge their PC counterparts Amarjot Sandhu (Brampton West) and Prabmeet Sarkaria (Brampton South) to support their push for the much needed funding. In October 2018, following a press conference similar to Fridays, the NDP put forward a motion at Queen's Park requesting the Ford government commit to a third hospital for Brampton. That motion was defeated by the PCs 65 to 35; neither of Brampton's PC MPPs were in attendance for the vote.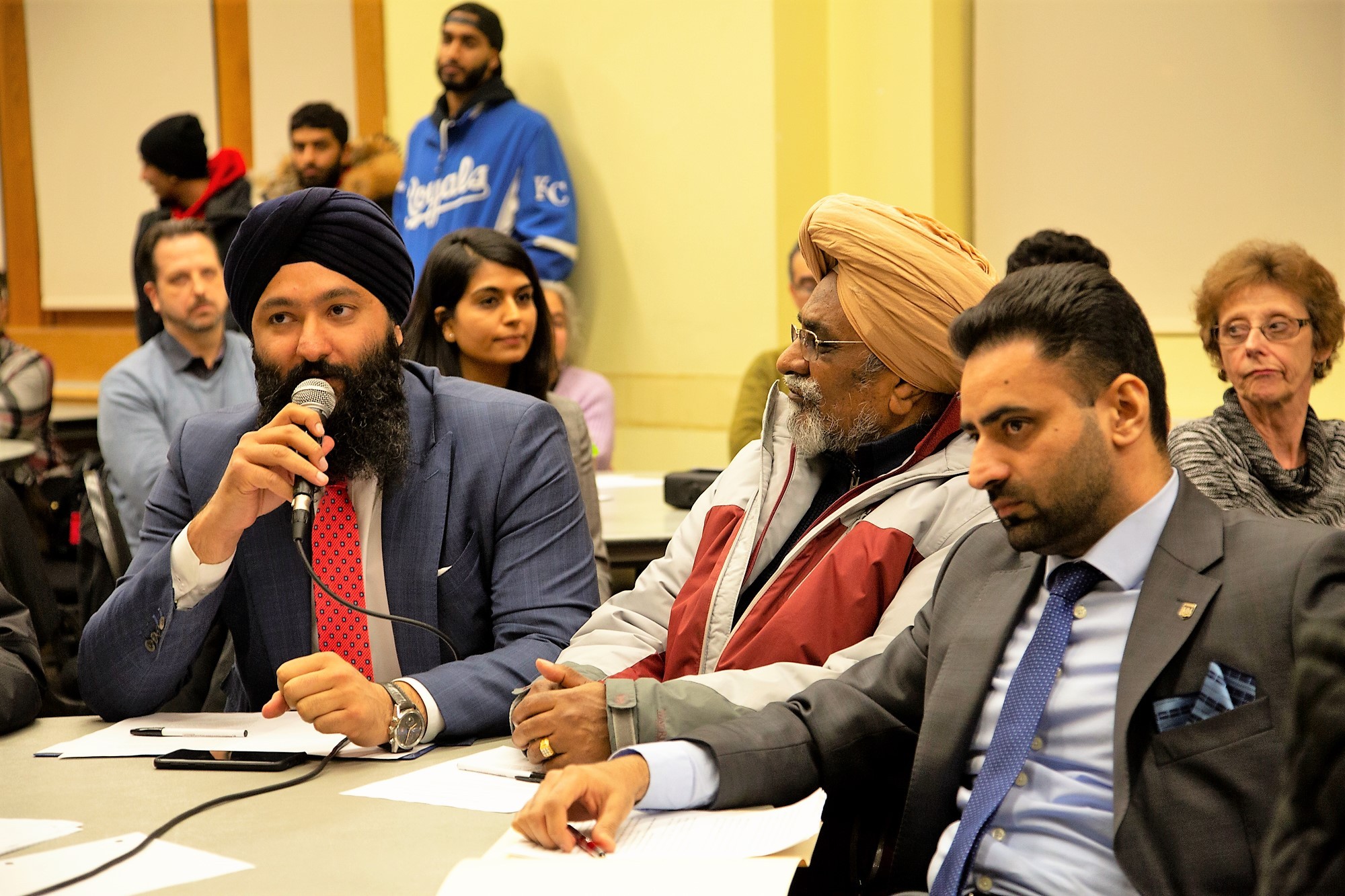 Brampton PC MPPs Prabmeet Sarkaria, left, and Amarjot Sandhu, right, were questioned by residents early this year over their government's failure to fund healthcare
"We need the Conservative MPPs to step up to the plate, to actually show up to these votes," Yarde says. "We've seen at Queen's Park that they've always been absent when it comes to any of our initiatives here in Brampton so we need them to step forward."
The Pointer sent requests to both Sandhu and Sarkaria seeking comment on the NDPs claim about their lack of action on the healthcare file and whether they have done any advocating in their majority government for increased healthcare funding for Brampton. Neither of them responded.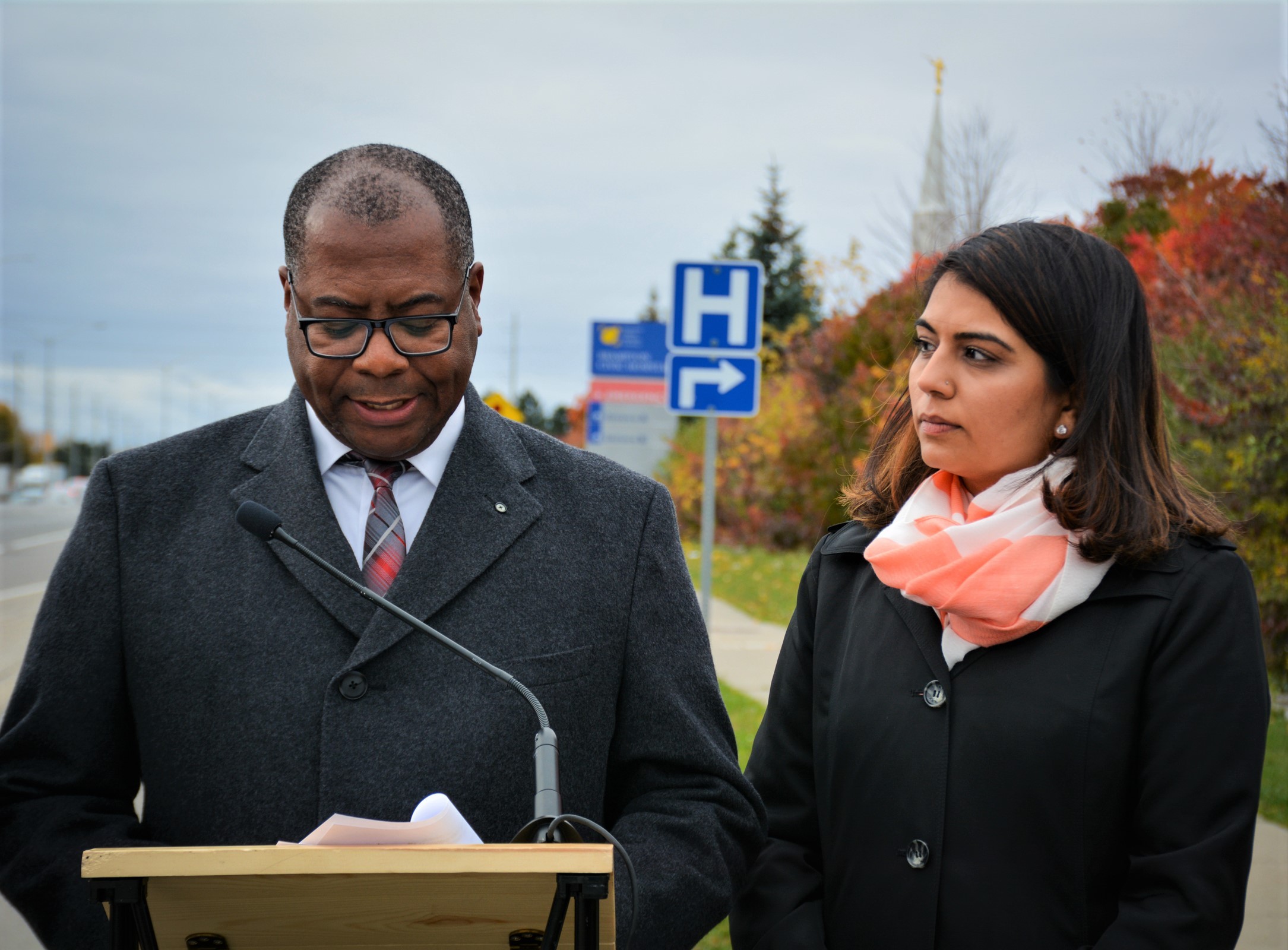 NDP MPP Kevin Yarde (Brampton North)
"If the Conservative MPPs care about our city, if they care about Brampton, they will put Brampton ahead of Ford's campaign of cuts to healthcare and education," Gurratan Singh said. "It's not just the hospital. It's the cancelled university, it's the cuts to our children's schools. We are urging the Conservative MPPs from Brampton to show up for this critical vote. Show up for Brampton, stand up for Brampton. Vote for our community to get the new hospital that we desperately need."
Regardless of the outcome of Monday's vote, according to William Osler Health System, any new infrastructure in Brampton is a long way off.
Earlier this week, Cara Francis, director of public relations with Osler, told The Pointer that the health network that serves Brampton is currently working through the Ministry of Health's five-stage planning process for major infrastructure projects to get the second phase of Peel Memorial underway, but opening the doors for patients in a new building is still five to eight years away.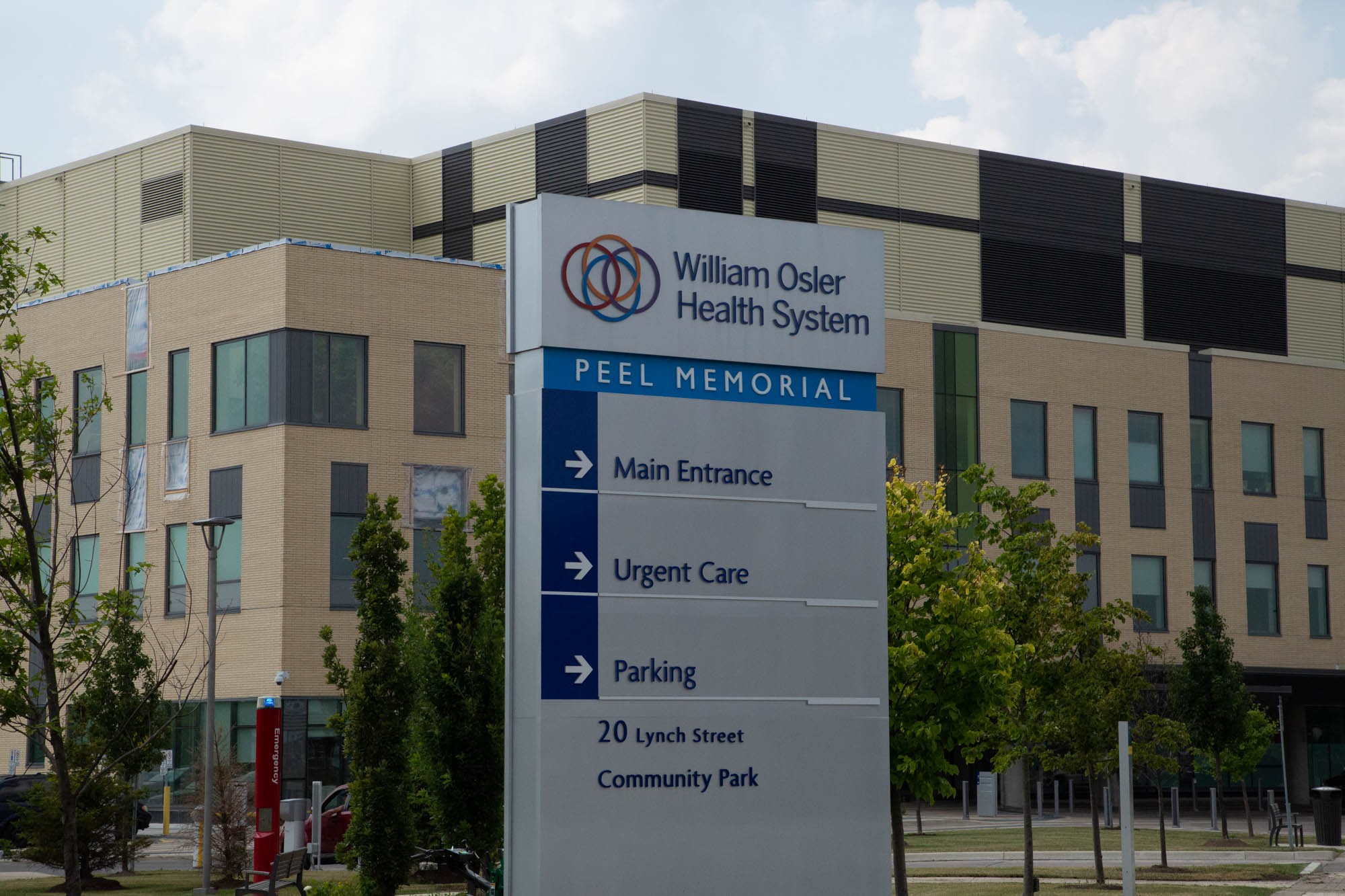 The timeline is surprising as residents and City Hall have for years been calling for Phase II to move forward and for a third hospital to be funded for the city. However, the process is complex, and it's unclear if the City of Brampton has even chosen a location for a third hospital. Francis says things remain in the "exploratory" stages.
"The reality is that the city is open and wants this investment in healthcare and as the Official Opposition we're fighting for what Brampton needs," Gurratan Singh said. "The problem is the Ford Conservative government is not prioritizing Brampton and they're not showing the dollars, they're not putting in the investment that Brampton needs."
The Ford government has little to show for the campaign promises made to end overcrowding in the city's lone full-service hospital. Similar sized cities across Canada have as many as six full-service hospitals. Of all the local hospital systems across the province, as of last year, Brampton's received the lowest amount of per capita funding, with less than one hospital bed per 1,000 residents, well below half the provincial average and about a third of the national average of approximately 2.7 beds for every 1,000 residents.
Brampton received roughly $1.5 million for repairs and maintenance to hospital facilities from the Health Infrastructure Renewal Fund (2018/2019). The investment pales in comparison to the sums other municipalities have received over the past few years for major, state-of-the-art hospital projects.
Vaughan received $1.6 billion for the Mackenzie Vaughan Hospital, currently under construction. Under the previous Liberal government, the province also paid for planning and construction of the new Oakville Trafalgar Memorial Hospital (opened late 2015), on top of provincial land donated to the project.
Earlier this year, the PC government announced it was pouring $90 million to address "hallway healthcare", including 1,100 new beds, with hopes they would ease the burden during the last flu season, and beyond. A further 15,000 beds are being added over the next five years.
Brampton won't get a dime of the $90 million, and it's unclear how and where the province will divvy up the 15,000 beds.
"It just doesn't make any sense why we're continuing to delay the investments that need to be made and the construction that needs to take place to accommodate what is very clear to everyone, mass population growth in the city itself and so it's just disappointing to see the overall lack of action around taking this issue seriously from the government," said Sara Singh ahead of Friday's announcement. "So when we look at where that responsibility lies I think it's a combination of factors in terms of why the ball has constantly been dropped for us in Brampton."
When the NDP introduced their motion last October, it was rebuffed by the PC members who said the motion was not backed by any funding criteria, or enough information from the local integrated healthcare network, that it was too rushed and that hospital expansion is something that needs to be dealt with in a more comprehensive way, through proper consultation. They also repeatedly blamed previous Liberal governments for leaving the province's finances in a disastrous condition, effectively tying the new government's hands, the PC's claimed.
A year later, this argument may not fly as the last 365 days have seen residents and municipal officials up in arms about the lack of investment, as Brampton has been ignored while other less-stressed communities not experiencing nearly as much population growth received funding for healthcare expansion.
Additionally, Brampton's healthcare crisis was put front and centre during the federal election when NDP Leader Jagmeet Singh — standing in the same place his brother did on Friday — promised a new hospital for Brampton should he be elected prime minister.
While Gurratan Singh says he does not want to speak for the federal NDP, he says he is "very confident we'll find support and allies in the federal NDP."
For Sara Singh, she says that the hospital infrastructure is only the first step in a long line of changes that need to be made to heal Brampton's decrepit healthcare system.
"We can't just focus on the construction of one building, we need to talk about this as a multi-sectoral, interdisciplinary approach that's needed to address what we're facing," she says, adding that one of the largest issues is the funding formula at the provincial level that continually leaves Brampton with less than it needs.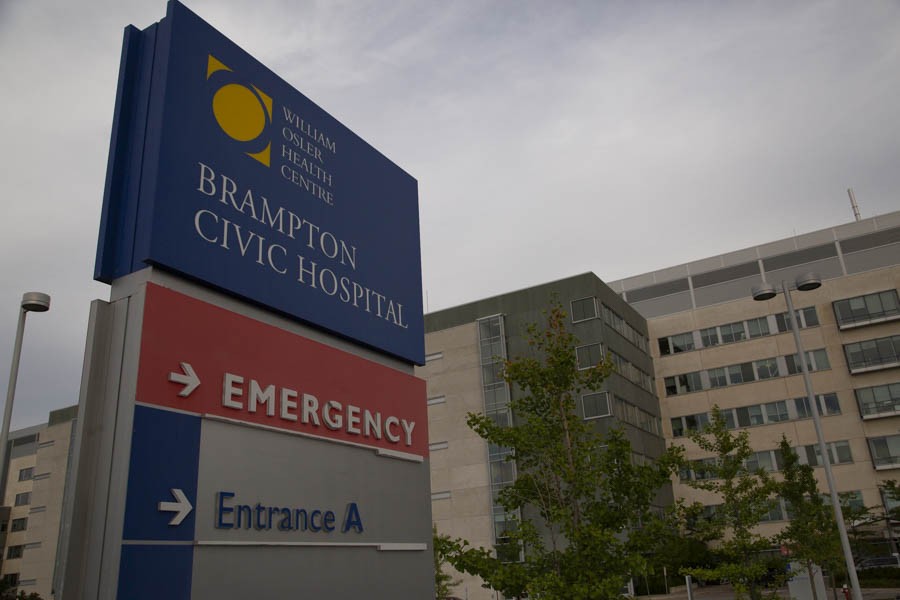 Brampton Civic Hospital is chronically over capacity
"I think while there is responsibility both for Osler and for the region, I think at the end of the day there's a huge responsibility that is placed on the government in terms of the funding formula that is broken and they have the power to fix that, which would ultimately help us to get the resources we need immediately into our community," she says.
One example of this is found by looking at the funding for Peel Region's public health unit.
Most of the 35 health units in Ontario rely on the provincial government for about 75 percent of their funding, while local municipalities make up the remaining 25 percent. In Peel Region, however, the Ontario government's contribution accounts for only 63 percent of the unit's budget, while the regional municipalities must make up the remaining 37 percent. This may change moving forward as the PCs are looking to merge Ontario's health units into 10 organizations with a pledge to move toward a 60/40 funding split.
However, because outdated funding formulas use old population counts Peel, and Brampton in particular with its massive growth, has consistently been underfunded for the last decade. In 2013 it was the worst funded public health team in the province when looking at per capita investment.
In 2015, the government made changes which meant Peel's rapid growth would finally be considered a determining factor when the province moved to set public health budgets.
"As Peel was historically underfunded compared to other health units, Peel benefited from the equity-adjusted model and saw an increase of $5.39 million in Mandatory Program funding over the last two years," says a December 2017 regional report.
Following that report, council wrote to then premier Kathleen Wynne, requesting that the equity-adjusted funding model and growth funding be continued.
However, after the provincial funding was announced for 2017, the public health budget ended up with a $1.85 million shortfall, which meant that Peel Region was contributing $9.1 million more than its 25 percent share of the funding. (In 2017, Peel's Public Health unit operated with a total budget of $89 million.)
A similar situation was seen in 2018, when the region anticipated a 3 percent funding increase from the province, but was notified that funding would be frozen for the year, resulting in a $400,000 shortfall.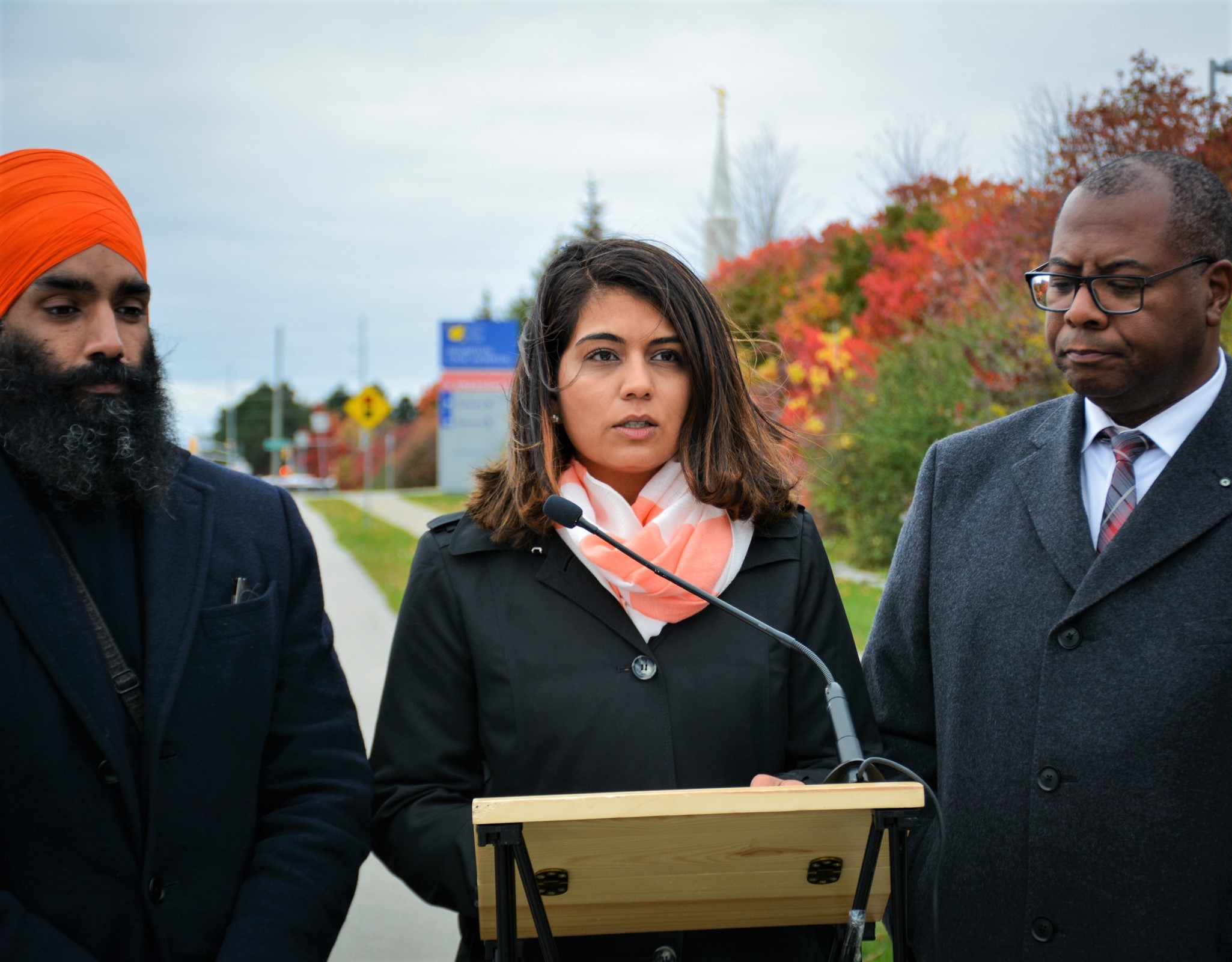 NDP Deputy Leader and MPP Sara Singh (Brampton Centre)
In 2019, a budget document shows that the province will be providing an additional $1.1 million in needs-based funding, but because of previous funding dips, there's still a $300,000 shortfall this year.
"This is not a new problem. It started with the Liberals, it's continuing to get worse with the Conservatives," Sara Singh says. "All of these sectors need to be invested in in order for us to address the issue of hallway medicine that's happening in our communities, but we hear radio silence from the government side."
Email: [email protected]
Twitter: @JoeljWittnebel
Submit a correction about this story