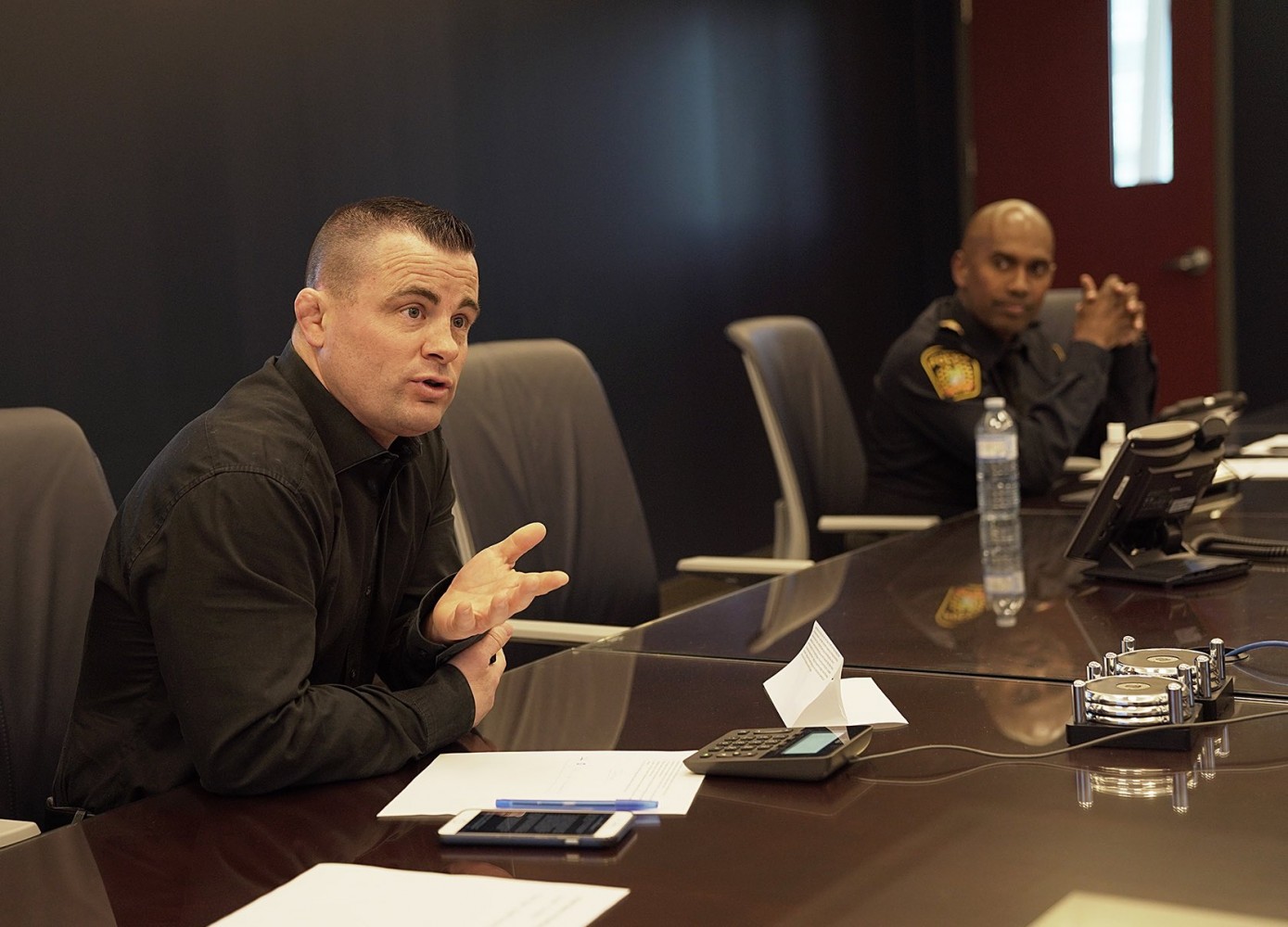 Photos from Twitter/Peel Regional Police
'Hypocrisy of the highest level': White Peel police union boss called out for racially charged social media behaviour 
In one of the country's most diverse regions, one of the largest Islamic groups in Canada is warning the public that Peel police's union boss is inciting racial and religious division, pointing out a pattern of disgraceful social media behaviour by Adrian Woolley.
One of Woolley's retweets was flagged by Mustafa Farooq, CEO of the National Council of Canadian Muslims, as particularly disturbing. A tweet by Ian Miles Cheong, a contributing editor to The Post Millennial, captioned a video of Black Lives Matter protests, which showed men in the streets firing handguns following the death of George Floyd as: "Minneapolis is the new Mogadishu [capital of Somalia]."
Woolley's endorsement of the derogatory, racially charged post left some shocked.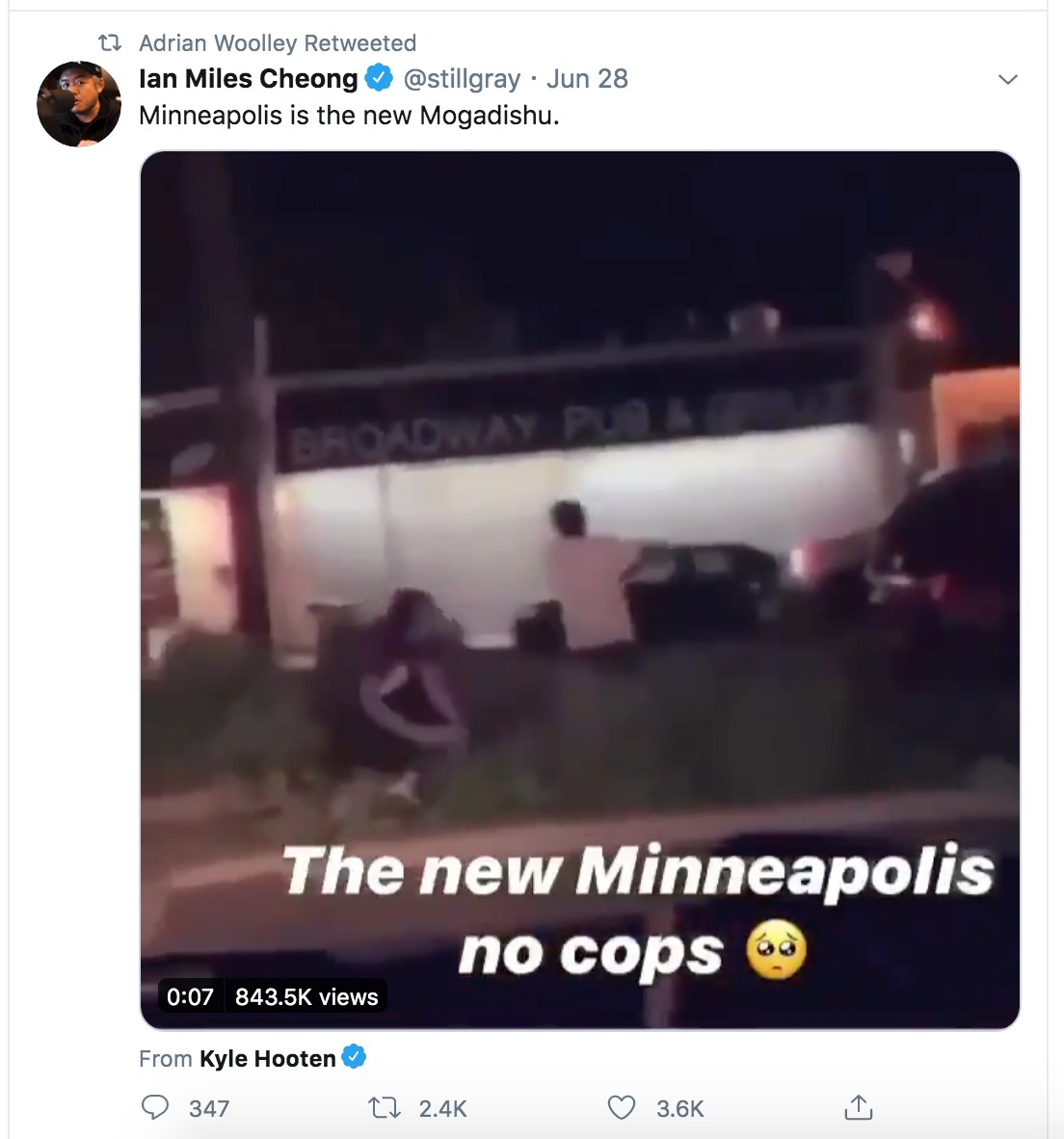 "I think when you have someone like this who is the elected representative, even when he pled guilty to a criminal offence… and backed by his police officers, I think that tells you everything you need to know about the problems at [the] Peel Regional Police," Farooq told The Pointer. "It's beyond me how anyone at [the] Peel Regional Police can say the words 'equity', 'diversity' and 'inclusion', when someone like him is the head of the association."
Recently, Chief Nishan Duraiappah, who was brought in by the Peel police board to change a culture that has been described as racist and discriminatory, featuring an overwhelmingly white officer rank in two cities that are almost 70 percent non-white, has committed to that change.
Two weeks ago he told the board that his force is "stepping out in front" of the progressive reforms demanded by the public and the seven-member board, who want to see an end to systemic racism in policing.
But the continued disturbing behaviour by Woolley, who has remained in his leadership role as the spokesperson and head of the union that represents all frontline officers, represents a complete contradiction of the chief's claims, Farooq says.
"It's a hypocrisy of the highest level."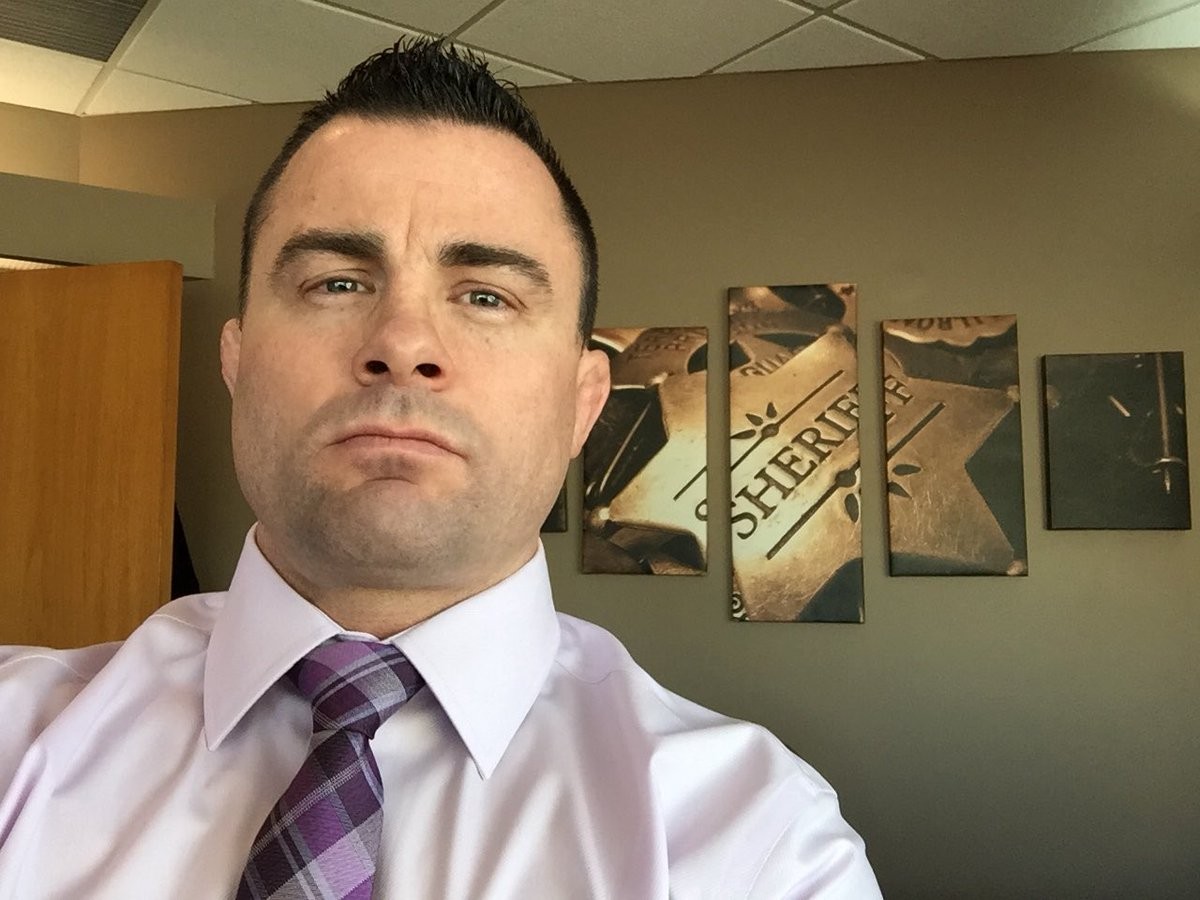 The man who speaks on behalf of some 2,000 officers in the Peel force, which has been dogged for years by allegations of an intolerant culture that has specifically targeted the Black population in two of Canada's most diverse cities, is now being called out for stoking racial and religious tension.
Farooq, a well known lawyer and former senior Queen's Park staffer, focusses much of his work on countering violent extremism.
He sees Woolley's social media behaviour as alarming.
"That kind of dog-whistling from the head of the police association like Peel['s] sends a very clear message to Canadians and to those who live within Peel," Farooq said.
Sharing various examples from Woolley's highly politicized online activity, Farooq accused him of insidious tactics. He said, as elected leader of the union, his online conduct made a mockery of any progressive stances Peel police as a whole says it is taking.
Chief Duraiappah has recently rolled out a new diversity and equity plan that includes few tangible actions to address root problems pointed out in a scathing external diversity audit last year, which found a force plagued by intolerance and a leadership that was resistant to change.
Farooq says Woolley's role as a key leader within the force is evidence of hypocrisy.
"I think there's no way to rationalize how we can talk around a police association where the police officers elect a leader and that leader is Adrian Woolley and not have that seen as a reflection on Peel police as a whole," Farooq told The Pointer.
In a thread posted to Twitter, and a subsequent interview with The Pointer, Farooq condemned Woolley for his online activity.
Recently, Woolley took offence to Mississauga Mayor Bonnie Crombie supporting the Black Lives Matter movement and NBA players in their walk-out to protest the shooting of Jacob Blake. Players across professional sports in North America, including members of the Toronto Raptors, refused to play last week, after Blake was shot seven times by a white police officer in Kenosha, Wisconsin, on August 23.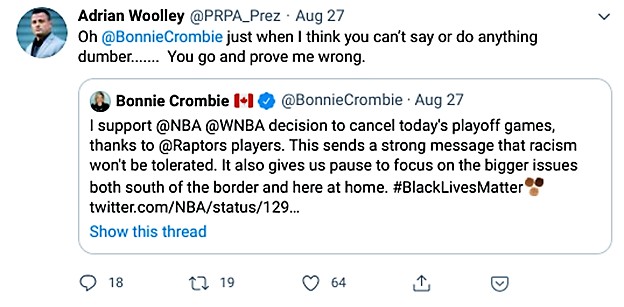 "Oh @BonnieCrombie just when I think you can't say or do anything dumber … You go and prove me wrong," Woolley tweeted, also 'liking' a tweet alleging Crombie was "supporting criminals who disobey the law".
The NBA tweets were part of a string of messages from the Peel police union president criticizing Crombie, who is also a member of the Peel Police Services Board.
After Crombie and Brampton Mayor Patrick Brown, who also sits on the police board, penned an Op-Ed in the Toronto Star suggesting serious changes were needed to repair police relations with the public, highlighting the need for harmony in two incredibly diverse cities, Woolley accused both of "ignorance".
The mayors stated, addressing their decision to implement body worn cameras by all frontline officers: "This is one piece of the puzzle when it comes to addressing systemic racism. But we know that this is a first step in a process of many changes required to build accountability, trust, and equity in the policing system."
Woolley attacked their position.
In 2019, Woolley also tweeted to point out the "flawed public perception" of carding, known as street checks in Peel. (read more about the process in this story).
It was a police practice heavily criticized in Brampton and Mississauga, where data over a five-year period showed Peel police had targeted Black individuals in carding stops at more than three times the rate compared to whites. After the destructive practice, which was shown to cause significant harm to young Black men, was halted by provincial regulations, Woolley lamented that "Gun crime is out of control" as a result of the curtailing of carding.
A similar unsubstantiated claim was made by former Peel police chief Jennifer Evans who steadfastly defended carding and fought calls led by Crombie to eliminate the racially divisive practice.
Woolley has also used his platform on several occasions to speak out against discrimination and show his support for LGBTQ+ rights.
He did not respond to a request for comment ahead of publication.
Serious concerns about Woolley's fitness for the job were first raised about the president of Ontario's third largest police union in 2019. He was stopped by the Ontario Provincial Police on the Queen Elizabeth Way going 74 kilometres over the speed limit, driving with a blood alcohol level almost 50 percent over the legal limit. Woolley was convicted and received an eight month demotion from Constable to Constable Second Class, which will commence when he returns to active duty.
In his current role as elected association president, he does not complete the daily duties of a police officer, with his union position a full-time undertaking. In 2019, he was paid $156,562. The membership publicly stated its support for him after his drunk-driving conviction, and the new chief has never issued any public remarks voicing concern over Woolley's dangerous illegal behaviour that put lives at risk on a major highway.
The drunk-driving offence does not appear to have impacted Woolley's position as the voice of Peel's police officers. As Peel Police Association president, he remains elected by the rank and file to represent them and his public comments — including those posted on social media — set the tone for how the force is portrayed.
Woolley's Twitter bio is somewhat contradictory.
He describes himself as "PRPA President," and includes the hashtag #PeelProud. He also includes a disclaimer: "The opinions expressed here represent my own and not those of my employer or any affiliated associations and/or organizations."
The presence of his official title within the police organization and two police cars suggests a profile at least somewhat affiliated to the force, despite the disclaimer. And the actual handle for the account, @PRPA_Prez, suggests it's for that role, not a private citizen.
Further examples of Woolley's questionable social media activity.
In a lengthy statement to The Pointer, Crombie highlighted her support for the police and belief in calls for progressive reform. Framing the debate as police versus Black Lives Matter is a "lose-lose" for everyone, she said.
"I do encourage Mr. Woolley to utilize a more respectful, collaborative and less divisive approach. I would expect him to come to the table and work together to find solutions for his members and the community he serves, instead of taking shots at my character on Twitter," she said in an email. "Ultimately, Mr. Woolley's suitability for the role of President of the Peel Police Union will be determined by his peers when he faces re-election. Should he be re-elected, it is my hope that he will employ a more positive approach to working with me, the Chief and the Board to ensure Peel Police remains a leading force in Canada and an example for the rest of the world."
It was not Woolley's attacks on elected officials or support of carding that attracted the attention of one of Canada's largest and most influential Islamic organizations. Farooq said, as NCCM began to look at the systemic issues within Peel's policing, the local union president surfaced.
When the Human Rights Tribunal of Ontario ruled the handcuffing of a Black 6-year-old girl by Peel police officers was motivated by racial bias, Woolley pushed back. "Both are 'good cops' being thrown under the tracks by today's out-of-control political correctness and anti-police score-settling," he tweeted in March.
It is unclear how much license Woolley, or any other taxpayer-funded Peel police officer, has to use social media. The Peel Regional Police does not link to a social media policy on its website and a spokesperson said its Code of Conduct and Code of Ethics can only be accessed by the public through a freedom of information request, which is odd, as other public institutions such as municipalities make their Code of Conduct readily available on their website.
In recent years, around Ontario, several other forces have disciplined officers for their use of social media. In 2019, a Sudbury police officer resigned after he was charged for critical comments he made about police salaries online. One Ottawa police officer pleaded guilty in 2016, after making offensive comments about the death of an Inuk artist using his personal Facebook account, and 2013 saw a Durham detective plead guilty to discreditable conduct charges after a series of tweets aimed at the Ontario Ombudsman and a Toronto City Councillor.
In all three cases, charges were under the previous discreditable conduct sections of the Police Services Act, before it was revised in 2019.
The Act had stated an officer commits misconduct if they "use profane, abusive or insulting language that relates to a person's race, ancestry or place of origin" and they also commit an offence when they use "profane, abusive or insulting language or [are] otherwise uncivil to a member of the public."
Further, misconduct was described as an officer who "acts in a disorderly manner or in a manner prejudicial to discipline or likely to bring discredit upon the reputation of the police force of which the officer is a member."
It's unclear whether any of Woolley's behaviour including his statements about members of the Police Services Board, which governs the police force, violates rules pertaining to insubordination.
Changes made to the Police Services Act in 2019 now mean instances of misconduct are handled under each police force's own Code of Conduct, which is not a public document.
How Chief Duraiappah, who was appointed to Peel with a mandate to bring about progressive change, feels about this is unclear. Whether he believes Woolley is expressing his views and defending officers as union president or bringing his force into disrepute has not been addressed. When The Pointer approached Duraiappah for comment in March regarding Woolley's drunk-driving conviction, he did not respond.
The chief also did not respond to questions about Woolley's Twitter activity.
As union president, it is not surprising Woolley has used his platform to defend the police as conversations take place regarding police defunding. Protests across North America since the death of George Floyd have turned heated criticism on the institution.
Farooq says it is how Woolley has chosen to defend policing that is troubling.
"I think one can always make a very good, reasonable argument for saying we need a well funded police force. I think that's a very reasonable position to take. It's one that, if Mr Woolley took that position … in that tone and provided a sort of clear cost/benefit analysis, I think it would be fair to have a good argument one way or the other," he said.
"Dog-whistle politics is not the kind of thing Adrian Woolley needs to engage in."
---
Email: [email protected]
Twitter: @isaaccallan
Tel: 647 562-4879
---
COVID-19 is impacting all Canadians. At a time when vital public information is needed by everyone, The Pointer has taken down our paywall on all stories relating to the pandemic and those of public interest to ensure every resident of Brampton and Mississauga has access to the facts. For those who are able, we encourage you to consider a subscription. This will help us report on important public interest issues the community needs to know about now more than ever. You can register for a 30-day free trial HERE. Thereafter, The Pointer will charge $10 a month and you can cancel any time right on the website. Thank you.
Submit a correction about this story