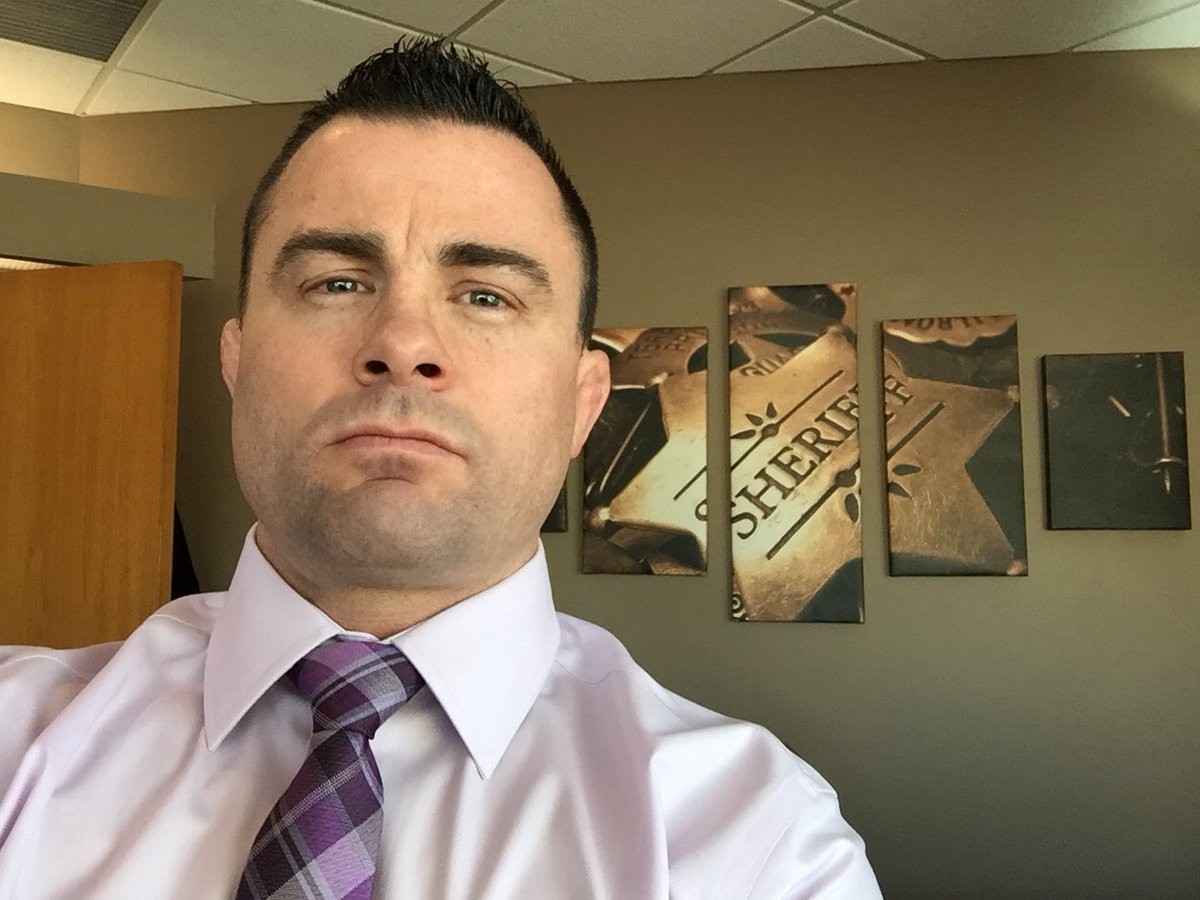 Photos from Twitter
Updated: Peel Police Association president charged for impaired and stunt driving on QEW
The Peel Police Service, already facing heavy criticism for high misconduct rates, has been hit by yet another embarrassing incident. Police union president Adrian Woolley was charged with impaired driving after being caught speeding down the QEW by Burlington OPP.
OPP spokesperson Kerry Schmidt tweeted Monday that the 44-year-old Woolley was stopped for speeding on Saturday evening and charged with impaired driving with excess blood alcohol content (over .08) and stunt driving. The Peel Regional Police Service confirmed the charges but had no immediate comment. The charges have not been proven in court.
The Pointer reached out to Woolley for comment ahead of publication but did not receive a response.
Peel Regional Police spokesperson Iryna Yashnyk tells The Pointer the service takes "allegations against any of our members very seriously.
"As PRPA President, Mr. Woolley is on a leave of absence from active policing duties while he holds that position. He is currently being paid by the PRPA. In these circumstances, Mr. Woolley was not suspended," she states in an emailed response. "As with any other similar allegation, the matter will be reviewed by Professional Standards."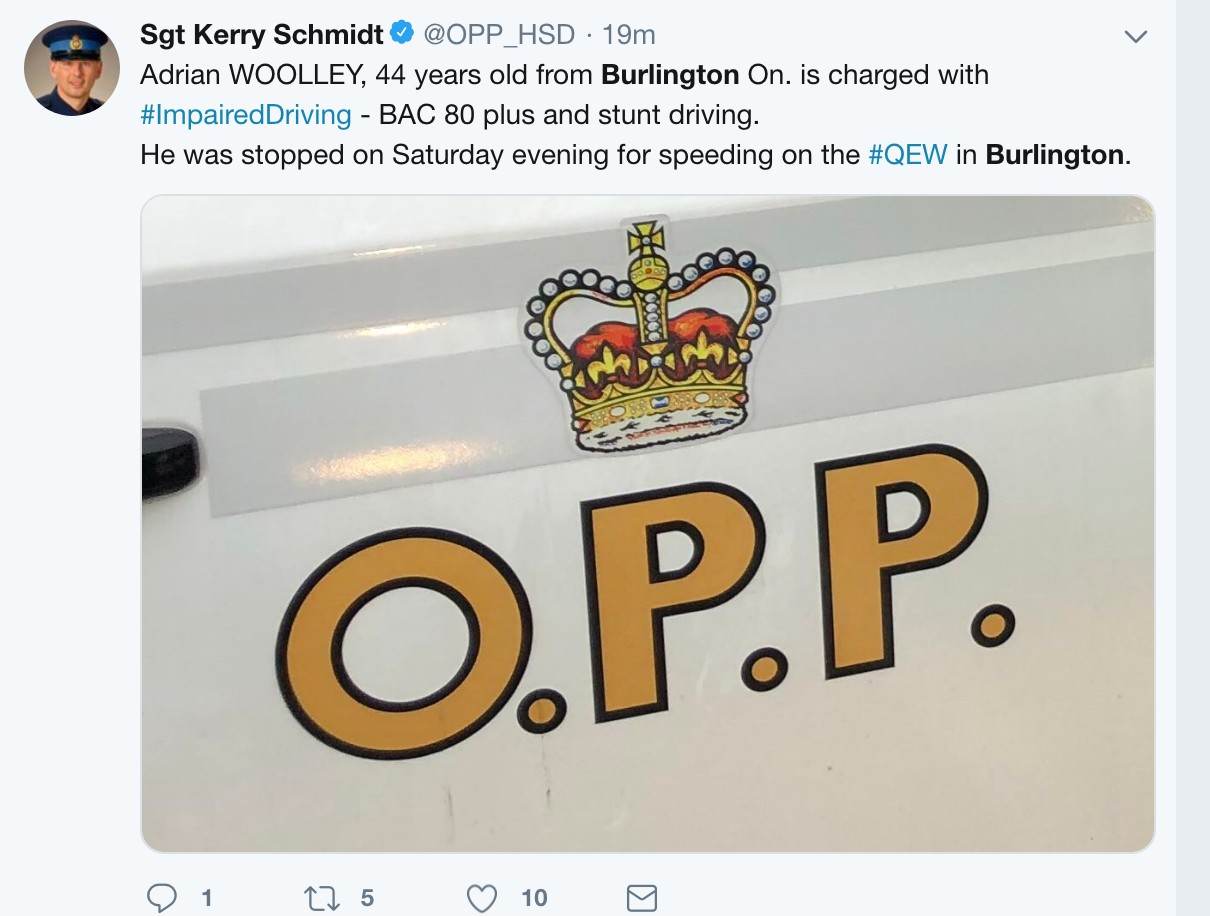 Woolley, a 17-year veteran police officer, served as a constable before becoming the Peel Police Association president — a position elected by the rank and file, which in many ways sets the tone for relations between them and their superiors. He is often a public face for Peel police, appearing in media interviews.
Woolley's position as a community liaison officer has him interacting frequently with local residents, community partners and politicians.
In 2017, Woolley was given the Police Merit Award at the Mississauga Civic Awards.
Ahead of his October election victory, Mayor Patrick Brown enlisted Woolley to be a part of his expert panel for a community safety initiative, to help tackle the issue of rising violent crime.
Mayor Brown declined to comment on the matter.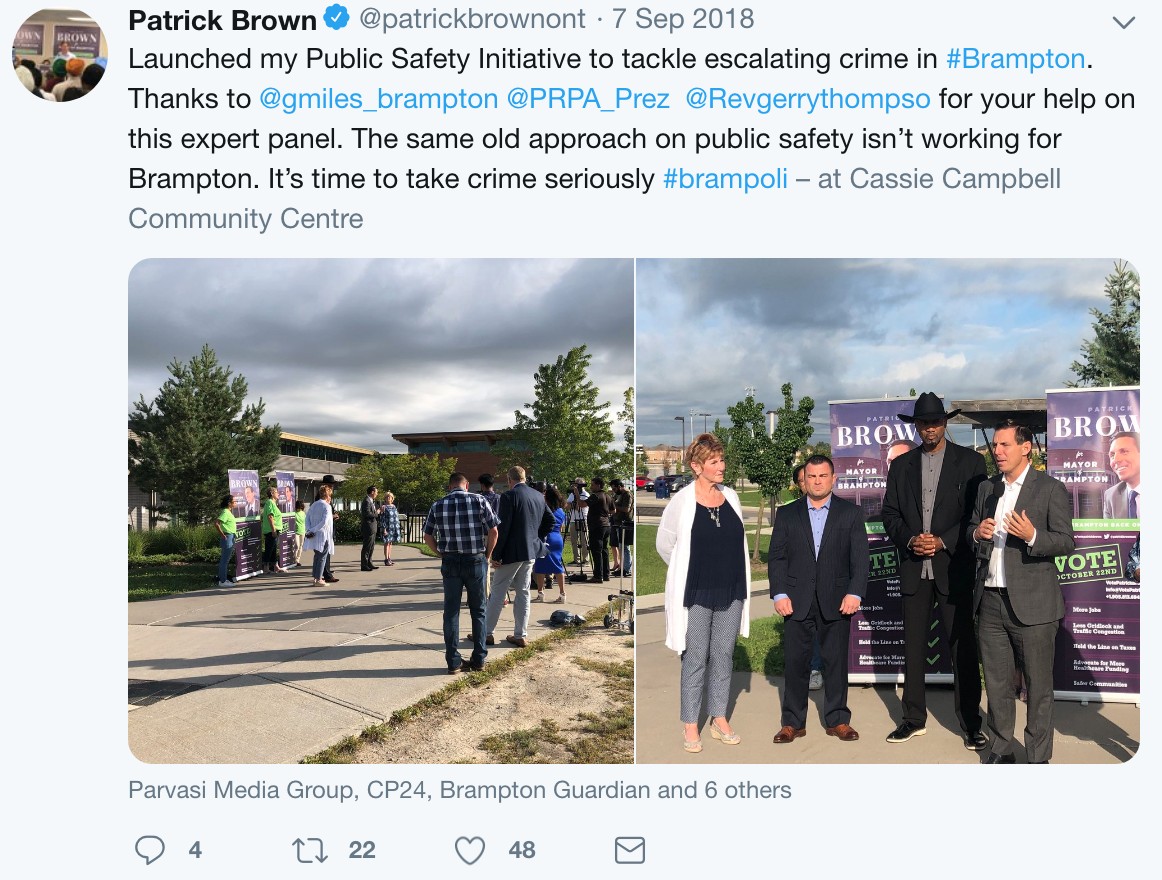 Regional chair Nando Iannicca, who serves as the chair of the Peel Police Services Board, called the charges "troubling."
"The Police Services Board and the PRPA maintain a good and respectful working relationship. Obviously, it is always troubling to hear about any of our officers being charged, especially as it relates to road safety," he states in an emailed response. "That said, because the matter is currently before the courts, it would be inappropriate to comment any further."
Woolley's charges come after a long series of misconduct cases involving the Peel Regional Police, some relating to illegal and unethical behaviour.
Three years ago, a Toronto Star investigation revealed that roughly 640 Peel officers, almost one-third of the force, had been disciplined for misconduct since 2010. That number was revealed shortly after former police chief Jennifer Evans' claimed that only 2 percent of the force's officers had been disciplined for misconduct. The Ontario Provincial Police (OPP) had roughly the same number of discipline cases during the same period, though it's a force nearly three times the size of Peel's.
The allegations included instances of sexual misconduct, misleading the court, falsifying evidence, and assaulting civilians. Critics have complained that it's rare that Peel officers are held to account for unethical behaviour.
Woolley has publicly suggested in the past that public officials should be held to a higher standard. In August 2018, he tweeted a portion of a Peel resident's letter in regards to negative comments a regional councillor had made about a senior Peel officer.
"Those councillors whom [sic] defended this egregious behaviour are just as culpable and are in need of an ethics lesson," the quote reads. "This is NOT how we expect our elected officials to behave."
Submit a correction about this story