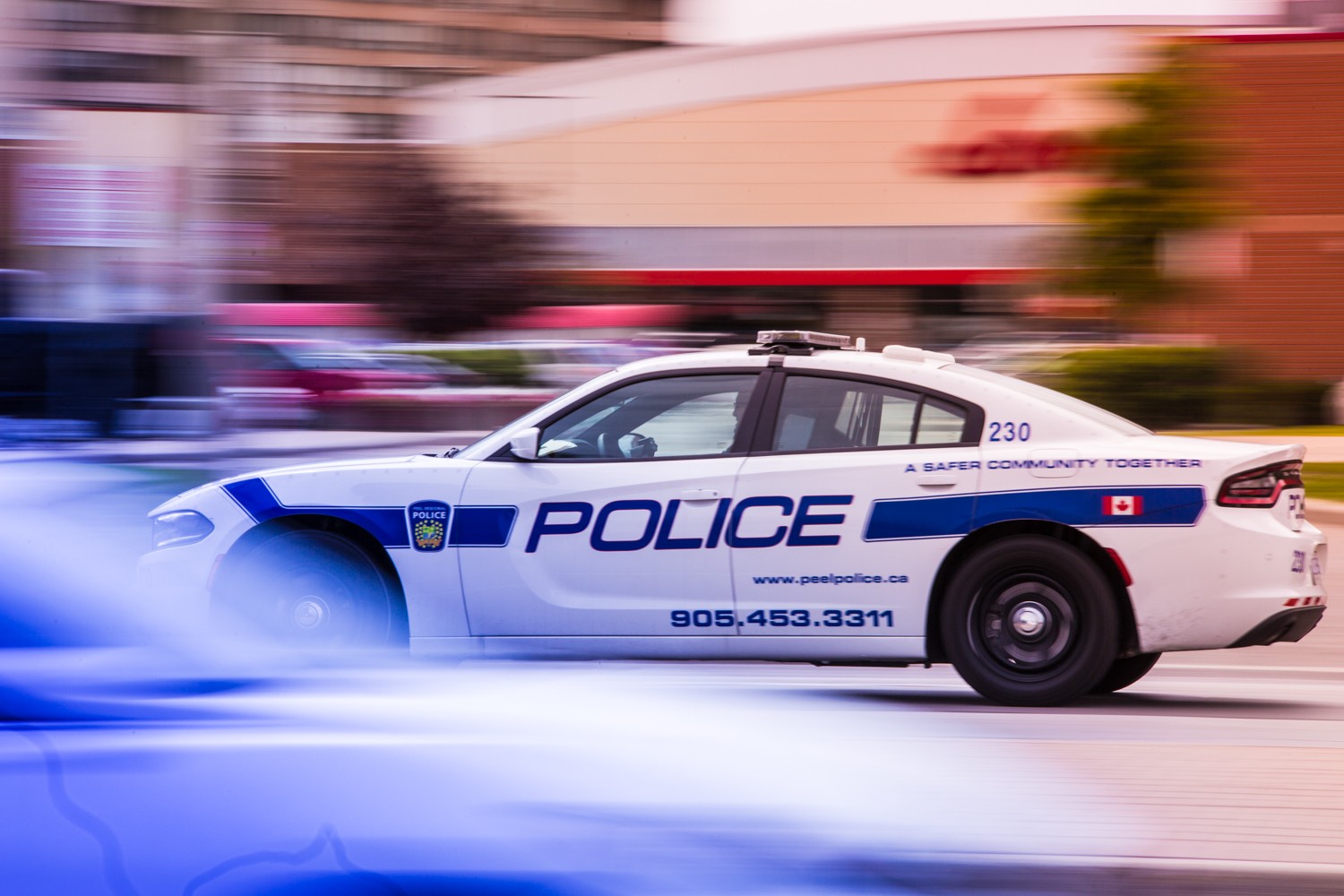 Photos from The Pointer files/Screengrabs from YouTube
Fatal police shooting of Mississauga resident raises complex questions around mental health calls
An 18-second clip posted to social media shows the moments leading up to the death of a Mississauga man on Saturday.
It was the heartbreaking ending to what simply started as a "check on the well-being of a man," as described by the Special Investigations Unit, which is now investigating the fatal shooting by Peel police. The video shows a ladder leaning against a balcony of a Malton apartment building, three officers standing in front of an entrance, then breaking down the door, the sound of gunfire then erupts paired with a visible streak of smoke in the air.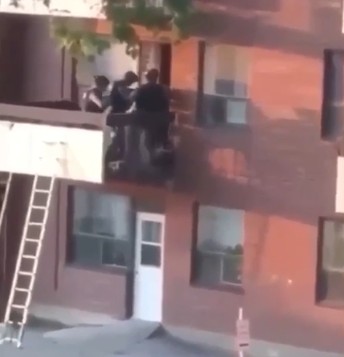 A short video posted on social media shows the moment Peel police entered the apartment of Ejaz Choudry, followed by a burst of gunfire.
The man has been identified by his family as 62-year-old Ejaz Choudry. MPP Gurratan Singh (Brampton East) said at a Monday press conference with the family in Malton that the call for help was initially made to paramedics. It's not clear how it turned into a response by the police. Family members said their loved one was dealing with schizophrenia.
"A schizophrenic person like my uncle needs comfort from loved ones when no matter what the situation is. He wasn't allowed to be comforted by his loved ones," Hassan Choudhary told The Pointer at the press conference.
The shooting has once again raised questions that have been recently posed around mental health calls, which represent one of the largest citizen-initiated call categories. The number of people apprehended under the Mental Health Act by Peel police has increased 50 percent over the last six years, from about 4,000 in 2014 to approximately 6,000 in 2019.
How do police de-escalate situations involving someone in distress? When a weapon, such as a knife, is involved, are there protocols for police to still try to de-escalate the situation, even if there is an imminent threat? And, in certain situations, are there other professionals who should handle interactions with individuals who are suffering a mental health crisis?
The answers are hard to pin down.
Brampton East MPP Gurratan Singh held a virtual press conference with members of the Choudry family calling for a public inquiry into the police shooting.
The Pointer reached out to Peel Regional Police to learn if the Mobile Crisis Rapid Response Team (MCRRT) was deployed on Saturday. It's a program launched in January that partners mental healthcare professionals with officers to respond in situations involving individuals in crisis. PRP said that because of the ongoing SIU investigation it can not currently address media questions.
"This program… is an effective way to deal with the ever-increasing calls for service involving those persons suffering from mental health challenges or in an addictions related crisis," the Canadian Mental Health Association (CMHA) Peel Dufferin's website states. The organization partners with Peel's police force to pair professionals with officers who do not have the same training and expertise to deal with people suffering a range of illnesses, including addictions.
But it's not clear if they ever made it onto the scene Saturday. The SIU, an arms-length agency that investigates the involvement of police when there has been a death, alleged sexual assault or serious injury, will hopefully provide some clarity around the many unanswered questions when it concludes its investigation.
---
More from The Pointer on the Peel Regional Police and the mental health sector in Peel:
Crisis Response Teams could be a lifesaver for Peel's ailing mental health system
'Nothing has changed': Province ignores mental health and addictions crisis in Peel, children waiting up to 737 days for help
Peel police received $23M more in 2020, marking a 69% budget increase in a decade; Is throwing money at crime working?
---
The family of the victim wants the officer responsible for the fatal shooting to be fired. But it's possible that those who responded to the call followed protocols and procedures for police. It's currently unclear what happened on the other side of the door seen in the video, which has been widely viewed and has created much speculation among the public.
Councillor Carolyn Parrish (Ward 5) who represents Malton, the area where the shooting took place, said she was in touch with "some of the police officers" and told The Pointer a tactical and K-9 unit were sent in. When asked if she heard about an MCRRT unit going in, she responded with "nope, not a word". While she did acknowledge that mental health teams could have been busy dealing with another police call at the time, she does not think the response she witnessed on the video was a good one.
"I also know that there is probably a mental health call every single day, 365 days of the year that we hear nothing about. So you have to understand that this is obviously very unusual. Errors do take place and this one was lethal," Parrish said. But it remains unclear if the officers who attended the call and can be seen in the video, on the balcony, responded appropriately to the situation. The video provides no evidence of what the victim did to provoke the fatal shooting.
And despite the growing calls from family and community members, and some local politicians for disciplinary action, until the SIU concludes its work, the public likely will not know what led to the fatality.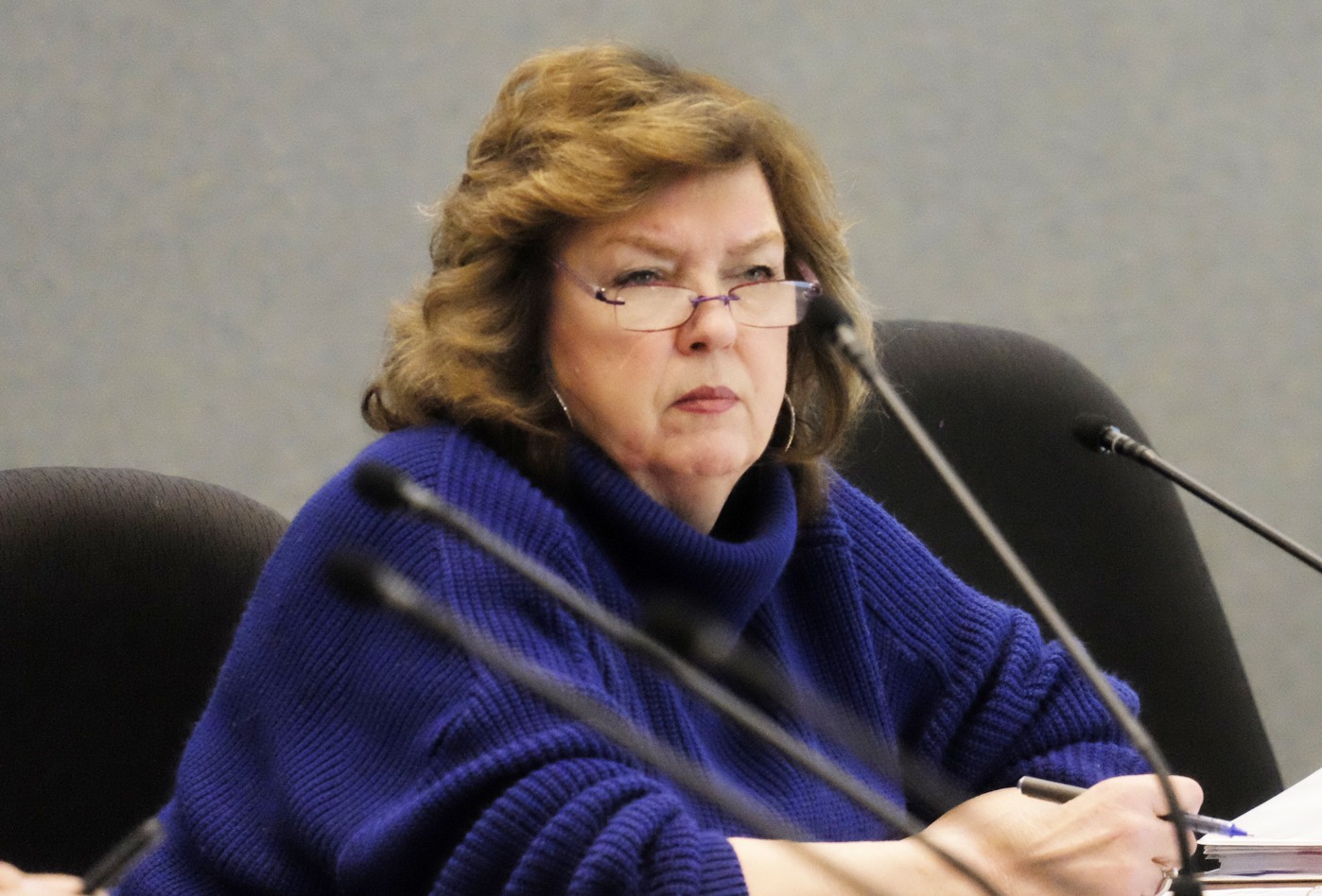 Councillor Carolyn Parrish (Ward 5) who represents Malton.
It's unclear what the original call was for, specifically, and why police responded.
The MCRRT pairs a crisis worker (such as a registered nurse with special training or social worker) with a police officer to respond to calls for people experiencing a mental health crisis. "Peel Regional Police 911 communications personnel determine if the call involves mental health concerns," Siobhan Kukolic, a spokesperson for CMHA Peel Dufferin, told The Pointer. But the program only has two cars operating 12 hours every day. Approximately 20 crisis workers rotate under the MCRRT program with Peel police, and may even be called upon to consult tactical teams. It's not clear if the team was involved in Saturday's shooting. When attending a scene, if the circumstance allows, a crisis worker enters behind an officer and identifies themselves as a non-officer crisis worker, and addresses the person in distress. Once the acute crisis has been dealt with, sometimes involving de-escalation, the mental healthcare professionals also connect the individual to community resources for longer-term support, Kukolic said. She did not comment specifically on the situation around Saturday's tragedy.
"Presently, when it comes to mental health calls, there's a lack of crisis intervention support," Rabia Khedr, Muslim Council of Peel's (MCP) executive director, said. "There is no real emergency response mechanism," with the size of the MCRRT further illustrating this.
For many, it's clear things need to change.
In Parrish's eyes, it involves cutting down on the equipment and protective gear that is used by officers. "I think that terrifies people," she said.
Family of the victim agree.
"He's scared of your uniform. He's not scared of you. He's scared of your uniform, he's scared of your big guns," nephew Khizar Shahzad said at a Sunday press conference, talking about his uncle.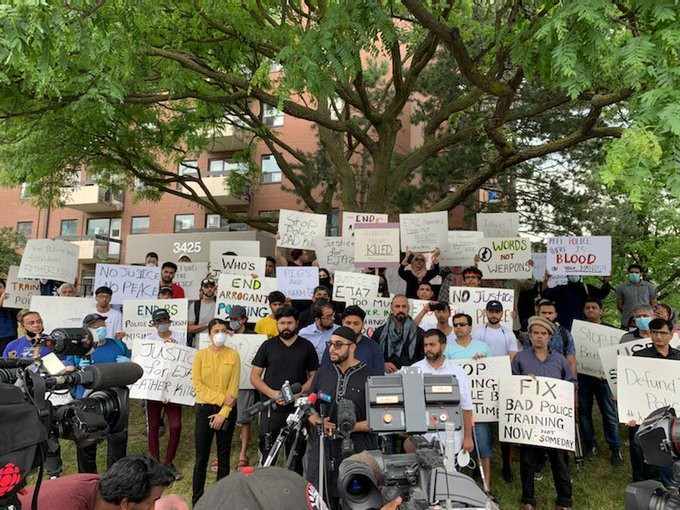 A press conference held by family and community members in Malton on Monday.
While the SIU is investigating the case, family members are more focused on a public inquiry which they are demanding. "Mental health is an issue that is always neglected. They're always neglected," Hashim Choudhary, another family member, said Sunday.
An inquiry could help with clearer protocols for responses to healthcare crises, and a shift away from police action in favour of a rapid professional response by healthcare experts, Singh said, referencing Mr. Choudry. "He needed, in that moment, mental health response and mental health care. Not a police response," Singh said. He did not provide details about what specific type of public inquiry he and the family would like to see and it's not clear who in the provincial government would need to trigger such a review or how it would be managed.
A major problem outlined by senior officers who recognize the need to shift focus away from police responses to mental health professionals, is the current infrastructure. In an emergency situation it is the police who are on duty, ready to be deployed around the clock. A series of division offices and smaller neighbourhood stations act as a network of community integration for police, who are constantly patrolling neighbourhoods spread out in vast areas.
There simply is no similar infrastructure in place for mental healthcare professionals and crisis intervention teams who can rapidly respond to dozens of emergency calls a day, around the clock, throughout large regions.
But changes could be coming to the police budget.
"In light of recent events here at home and south of the border, the Police Services Board will be looking at the 2021 police budget through a different lens of community safety and well-being," Mayor Bonnie Crombie, who sits on the police board, told The Pointer in an emailed statement. "It's about a change in the mindset of the entire service and about reforming policing to ensure police can best support the communities they serve and work hard to build and maintain trust," adding PRP Chief Nishan Duraiappah also committed to this. To further echo Singh's statement, a public health approach needs to be taken, as police can't be the sole answer for all issues, she said.
The Peel Police Services Board released a statement Monday evening.
Increased attention on funding models and the need to incorporate more mental health-service integration with policing is nothing new for Chief Duraiappah. As soon as he was named to helm the force last year he began taking action, putting together the MCRRT team and launching the program at the beginning of this year. He then recruited incoming Deputy Chief Nick Milinovich from Halton. He brings specific experience with mental health crisis and addiction services, both of which are critical issues in Peel.
"About 16 times a day, two officers each time, we are taking an individual under the mental health act to one of our local hospitals," Duraiappah recently stated. He pointed out that officers sometimes have to attend at a hospital for as long as five hours to deal with each incident. He believes mental health professionals would not only be better equipped to deal with certain situations, they would allow police officers to more effectively and efficiently use their time dealing with situations they are best equipped for.
Saturday's wasn't the first fatal shooting this year by police in Peel under similar circumstances. In April, 26-year-old D'Andre Campbell called police in distress. His family has alleged there was no effort made by police to de-escalate the situation involving the young man's mental health issues.
The SIU is also investigating Campbell's death, but The Pointer recently reported the officer who killed the man is not speaking with the agency on the matter, which Singh addressed. "The SIU does not have the ability to investigate properly and that's why I'm standing alongside the family on their call for an independent inquiry for this issue," Singh said in response to a question by The Pointer.
The Muslim Council of Peel wants to take things a step further. It is calling for race-based data on police shootings to be made public, as Khedr said, systemic bias exists when it comes to criminalizing behaviour. "We need to do a deep dive into data and evidence and build a non-biased strategy and serve the interests, the safety, and security needs of every civilian and that includes people with mental illnesses. They're customers, not criminals," she said.
---
Email: [email protected]
Twitter: @nida_zafar
Tel: 416 890-7643
---
COVID-19 is impacting all Canadians. At a time when vital public information is needed by everyone, The Pointer has taken down our paywall on all stories of significant public interest to residents of Brampton and Mississauga. For those who are able, we encourage you to consider a subscription. This will help us report on important public interest issues the community needs to know about now more than ever. You can register for a 30-day free trial HERE. Thereafter, The Pointer will charge $10 a month and you can cancel any time right on the website. Thank you.
Submit a correction about this story