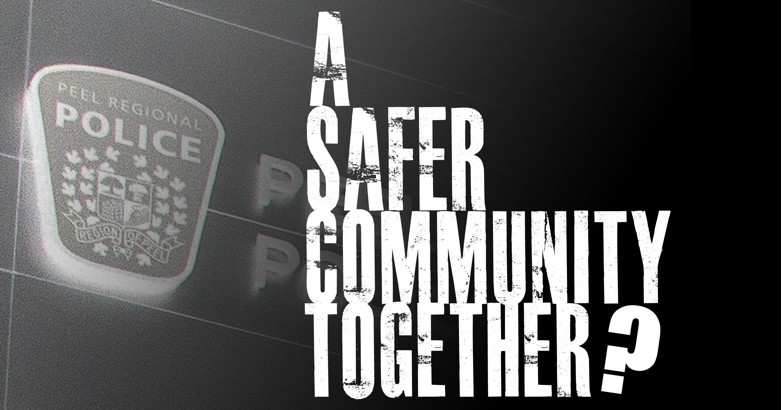 The Pointer file photos
Peel police received $23M more in 2020, marking a 69% budget increase in a decade; Is throwing money at crime working?
(This article was originally published October 28, 2019 and is being re-posted in light of calls to rethink how we fund police. A Malton man who reportedly suffered mental health issues was fatally shot by Peel police on Saturday.)
---
Is it a case of throwing good money at bad solutions? That's the question Peel Region Council will have to ask, as its police force grapples with its latest budget during another wave of violent crime.
The swearing in of new Chief Nishan Duraiappah signalled the start of a new era for the police organization which has been fraught with controversy in recent years. The new leader has many looking to the future with hope that Peel police will be able to leave behind controversies surrounding diversity and inclusion and weed out the behaviour that has seen Peel police become the worst major force in the province for officer misconduct.
Looking at the updated police budget proposal for the upcoming year, one can't help but feel a slight sense of déjà vu as they see a 5.4 percent increase, but looking a little closer shows that things are starting to change within the organization, and that might be the new chief's doing.
The proposed $445.7 million operating budget, which brings with it an additional 35 uniform officers, represents $22.7 million more than what was needed for 2019. The overall $490 million budget proposal for 2020 represents a 69 percent increase from the roughly $290 million budget in 2010.
The brand new contract for officers which sees a first class constable start at $100,420 represents a 41 percent increase from the $71,400 starting salary in 2006.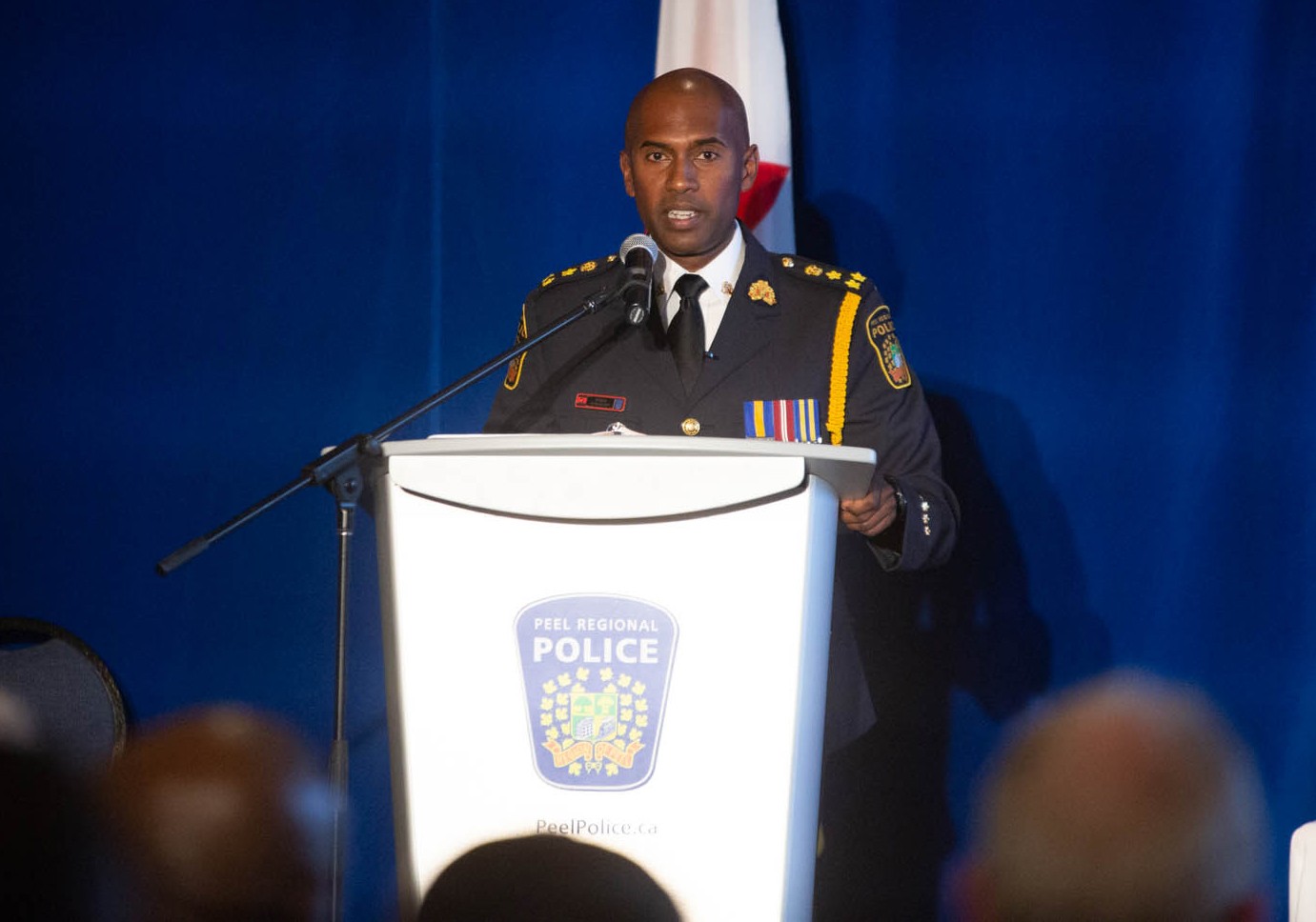 Peel Police Chief Nishan Duraiappah recently told The Pointer that changes are coming to the force
The proposed increase is driven mainly by $11.9 million in additional labour costs, $2.7 million in "operating and inflationary pressures" and a $2.6 million decrease in provincial grant funding.
It could have been worse. According to budget forecasts presented to regional council in June of this year, the police force was projecting a 6.1 percent budget increase for 2020. But since then the force has found approximately $3.1 million in savings.
The organization is also looking at $22.5 million to develop, purchase and maintain existing IT systems, $10 million for policing facilities and $6.1 million for police vehicles through its capital budget.
"We have done significant work to look at efficiencies within the organization," Chief Duraiappah told the police services board on Oct. 25.
The increasing budget represents the force's best guess of the dollars needed to deal with a number of pressures currently facing the organization. Most prominently, Peel is grappling with a significant rise in violent crime, particularly shootings and stabbings, both of which are "trending higher" compared to 2018, Duraiappah said. Additionally, the region has seen 22 homicides to date.
"The increase in resources required to investigate this is significant," Duraiappah said. "Overall, these growth pressures have a direct impact on our resources and our workload demand."
Entering the final quarter of 2019, Peel police are forecasting a 4.6 percent increase in Priority 1 calls for service this year and a 10.1 percent increase in citizen initiated events. The increases are the continuation of a trend that has been ongoing in Peel since 2014.
A rather deadly year, 2014-15 saw a 71 percent increase in homicides, 75 percent increase in attempted murders, and minor increases to both the sexual violations and "other violent offences" categories. For the past three years, those numbers have continued to rise. A 9 percent increase in crimes against persons in 2015-16 was followed by a 5.8 percent increase in 2016-17 and a 14 percent increase between 2017 and 2018.
To help address this growing workload, $6.6 million of the increased budget will be put toward hiring 27 uniform officers to be placed on the front lines and 8 officers for specialty bureaus.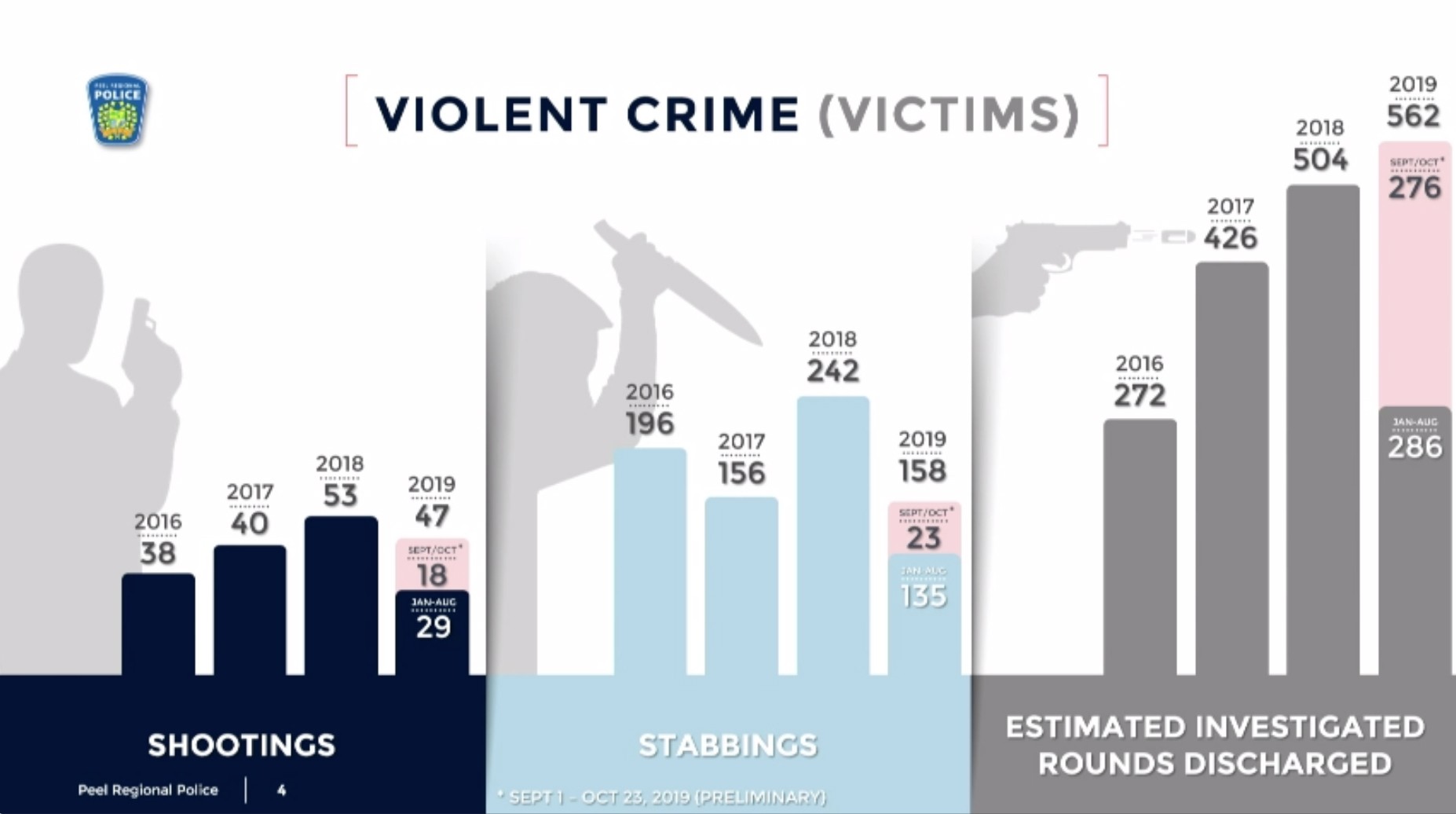 The additional 35 officers represent a reduction of 20 positions previously forecast for 2020, similar to 2019, when 55 additional officers were brought into the organization. Peel police were forecasting the hiring of 55 more officers annually between 2020 and 2022 to deal with continuing growth pressures as the population of the overall patrol area rises rapidly.
However, these 20 positions are not being left out altogether. While there will be 20 fewer officers than planned, Peel police will see 18 net new civilian positions, representing a progressive shift for the organization.
These jobs, which can include work like specialized cyber-crime intelligence, other high-tech crime fighting expertise, dispatch positions, as well as jobs assisting with more technical aspects of investigations, are increasingly being viewed as a way for police organizations to save money while improving the overall investigative competency of forces. However, convincing some police organizations to make the shift to allowing highly trained civilians to carry out "police work" can be tough for older organizations with traditional values, like Peel police.
The new chief has stated he wants to modernize and move the force in a new direction. It's unlikely that he had the opportunity to fully put his imprint on the 2020 budget proposal, as the process was already well underway when he started at the beginning of the month. But it's possible that it was his decision to reduce the number of new officers in favour of civilian staff.
Now, according to the PRP's draft budget, the force will "conduct ongoing organizational reviews to optimize efficiencies, service delivery, and resource allocation, including civilianizing positions in order to reallocate uniform officers to operations and outsource positions where feasible."
"It would certainly help the police force," said board member Len Howell during last week's meeting, referring specifically to cybersecurity experts who can assist Peel police with the technical portions of their investigations. "I think the more experts you have on the web the better it would be."
Overall, staffing and labour costs, including salaries and benefits, represent 85 percent of Peel police's budget, a one percentage point drop from 2019.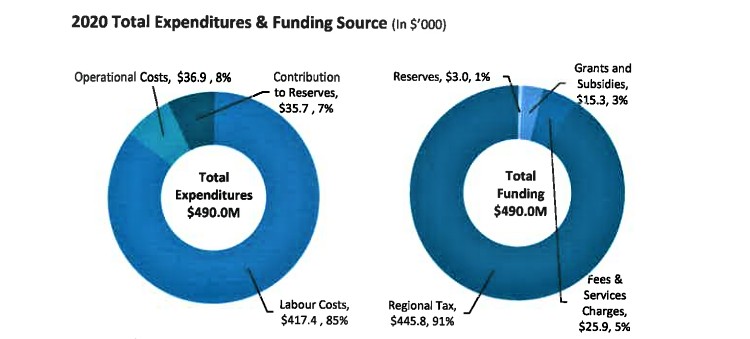 Despite the additional officers hired in 2019 and those planned for Peel in the coming year, the PRP still remains well below the average number of officers per 100,000 people when compared to other cities in Ontario. Peel currently sits at 140.5 officers per 100,00, an increase from the 138 officers per 100,000 seen last year. However, this is still far off from the provincial average of 183 per 100,000, and the national average which hovers around 188 per 100,000 residents.
"We believe as an organization that this will satisfy the needs," Duraiappah told the board.
PRP are also looking for other ways to keep its budget increase down. Currently, the organization is working with York Regional Police on developing a joint mugshot identification system and they are also partnering with the Canadian Mental Health Association (CMHA) in Peel-Dufferin on Mobile Crisis Rapid Response teams, which place a mental health worker with uniformed officers to deal with calls involving people in mental health crisis. These types of calls have been a main driver of Peel's increased workload.
It's these types of partnerships that again represent a shift for the PRP, and one that can almost certainly be a feather in the cap of new chief Duraiappah who championed such a push before being sworn in last month.
"We'll always be the experts on catching the bad guys, but we are also having to turn our minds to forward thinking models," Duraiappah told The Pointer ahead of taking his new post. "That's the kind of thing that I've committed to the police services board and that's to start weaving in these opportunities into how Peel Regional Police (operates), moving forward into the future. It is a philosophical change that is going to have to take seed right where the rubber hits the road."
He said much of the same to the board at last week's meeting, explaining that while the force continues to place an emphasis on battling crime, represented by the hiring of 35 more officers, "we're trying to look at upstream activities," he said.
These long-term, "upstream" efforts include any initiatives aimed at keeping individuals away from a life of crime. Particularly geared toward youth, these efforts are one of many ways to prevent crime before it happens, which in turn will have a positive impact on a police organization's demands. This results in less pressure on the force's bottom line and in turn, the taxpayers' wallet.
Other upstream initiatives include increased funding for social services, affordable housing and mental health supports, so a range of crisis situations can be prevented before police have to get involved.
---
Email: [email protected]
Twitter: @JoeljWittnebel
Submit a correction about this story