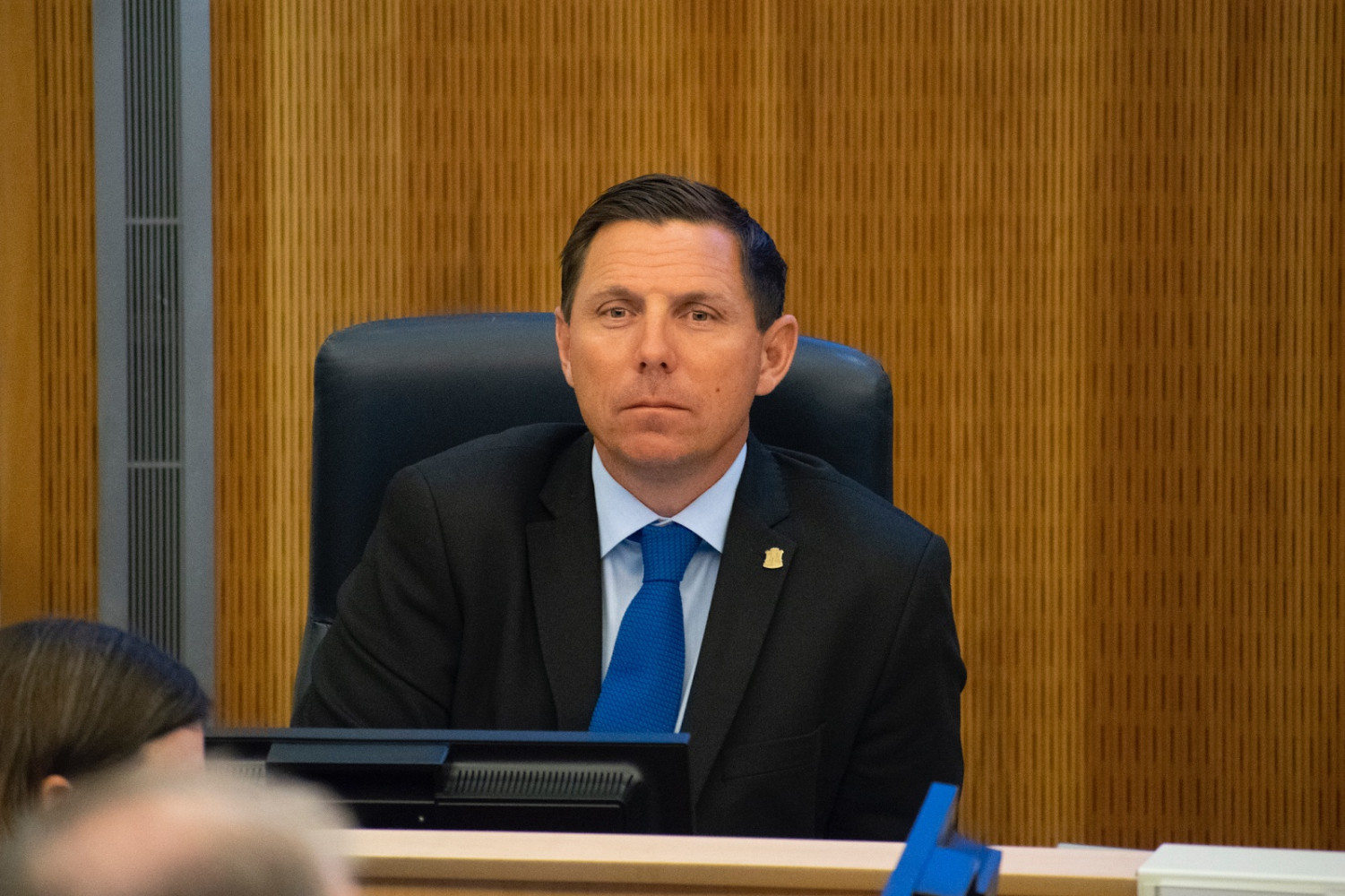 The Pointer Files
Ontario Ombudsman ignores investigations into Patrick Brown's disturbing conduct, which he cancelled himself
$630,000.
That's roughly how much taxpayers spent on the Mayor of Brampton's initiative to plan the BramptonU project which he and Councillors Rowena Santos and Harkirat Singh first backed in 2020.
From the start, the scheme was marred by questionable procurements to hire consultants with close ties to Patrick Brown and Santos, secretive processes and unfinished work. In the end, BramptonU was abandoned, and taxpayers were stuck with a $630,000 bill. The money went to friends of Brown and Santos, which council never knew about, and much of the work they were paid for, was never done. The price tag for the work Rob Godfrey, one of Brown's closest friends, was supposed to do went up by three times the limit approved by council, and they were never told how this happened behind their back. Much of the work he was paid for was never done. Brown has refused to answer any questions and investigators were unable to interview him before the mayor had the probes cancelled at the end of August last year, weeks before the 2022 municipal election.
Previous reporting from The Pointer had unpacked the connections the contracted companies had to Brown and Santos. After multiple complaints about these matters to the provincial Ombudsman and his recommendations issued to council for members to use their authority to launch investigations, the advice was taken.
But now, more than a year after those investigations were cancelled by Brown and his allies, and following another letter from the Ombudsman in the spring asking to complete the work, taxpayers want to know who will provide accountability of a controversial mayor with a long string of deeply disturbing allegations hanging over him from each step in his checkered political career.
Brampton residents still don't have answers about what was done with the hundreds of thousands of taxpayer dollars that were put into the failed BramptonU project since the cancelled investigations have not been reopened despite the provincial Ombudsman's recommendations. It is also unclear if any further action to hold elected officials accountable will be followed.
The Pointer asked the Office of the Ombudsman of Ontario if provincial Ombudsman Paul Dubé will consider using his mandate to carry out a full investigation into the matters relating to previous allegations against Mayor Brown and the cancelled investigations involving the BramptonU initiative as well as other procurements and key hirings. The Pointer also inquired about whether there is any other recourse for Brampton taxpayers who want to see the matters properly investigated if Dubé chooses not to do so.
Linda Williamson, Director of Communications at the Office of the Ombudsman of Ontario told The Pointer "the Ombudsman's position on this matter was set out in our Office's letter to the city in May, which was made public." She said no further comment would be provided "at this time."
Under legislation passed about a decade ago, the Ombudsman is mandated to investigate complaints within the municipal sector.
Dubé has previously advised council members to first use their investigative powers before he has undertaken his own probe. In Niagara Region, three of the same municipal officials involved in Brampton's recent problems, were investigated by Dubé after Niagara councilllors mishandled their own effort to have matters around a corrupt CAO hiring process probed. Dubé allowed that process to unfold but when it was clear he needed to do his own work in order to get to the bottom of what happened, his investigation eventually exposed the corruption in what he titled "Inside Job", the name of his Niagara investigation report.
Jason Tamming, who behaved corruptly in the Niagara CAO hiring process, was eventually fired and Brown, who had ties to the man going back to his time as a Conservative MP, when Tamming worked as a junior communications staffer for the federal government, hired him in Brampton. But around the time the investigations into Brown's conduct were launched by a majority of Brampton councillors last year, Tamming was no longer with the City. Then, after Brown cancelled the investigations, and after he won reelection in October, Tamming was hired back under Brown's leadership. He is once again in charge of all information that comes out of City Hall, as the head of its communications department.
Despite the disturbing pattern of conduct under Brown, Dubé has yet to do in Brampton what he did in Niagara.
"If the Ombudsman won't fulfill his mandate under provincial law, to hold municipal officials accountable and protect local taxpayers, citizens who care about the place they live will continue to leave Brampton," Chris Bejnar, co-founder of the City Hall watchdog group Citizens For a Better Brampton, told The Pointer. "The mayor cancelled investigations into his own disturbing conduct. He leaves a trail of scandal wherever he goes. We don't even know where he is right now, this week's council meeting was cancelled. There is zero accountability to the public in Brampton right now. But most people are too scared to raise their voice."
Under the Ombudsman Act, the provincial Ombudsman has powers of investigation, which allows him to probe complaints about any of Ontario's municipalities, work City Hall is required to cooperate on. The Ombudsman's dedicated units of specialized staff can conduct investigations and review complaints, and it holds other powers under its authority as well.
The Pointer followed up with the office about any possible future investigation into Brown and all the matters that were cancelled by him. No response was provided.
"Nothing has changed for me," former councillor Jeff Bowman told The Pointer. "When I voted last year, as a councillor at the time, for the investigations, it was to provide accountability to taxpayers and all residents. Just because I chose not to run for reelection, doesn't mean I feel any different. Brampton taxpayers, and I'm one of them, absolutely deserve to find out what happened to their money, how the hirings were done and how the contracts were handed out."
Bowman says residents have to keep putting pressure on the provincial watchdog to demand accountability, which is Dubé's job. "It may take a lot more complaints to the Ombudsman before anything is going to get done."
It is unclear why further action is not being taken. The BramptonU project led to the gross mishandling of taxpayer funds that were handed to consultants with direct ties to Brown and Santos without work being completed.
As written in the Ombudsman's May 8, 2023 letter, "the Ombudsman proposed several best practices aimed at improving not only Brampton's procurement practices, but also the public's trust in them. These included the establishment of a permanent, independent municipal Auditor General, as the cities of Ottawa and Hamilton had done." The letter went on to say the Ombudsman was continuing to receive ongoing complaints after an earlier report on the City's questionable practices. "[I]t is unfortunate that five years after that report, we are receiving complaints that express distrust in Brampton's procurement practices."
Councillor Rowena Santos and Mayor Patrick Brown led the push for Brampton University.
(City of Brampton)
The letter discussed how the complaints to the Ombudsman's Office involved council's decision to cancel the forensic audits in August of last year before they could be completed. "[S]erious issues identified in the BramptonU preliminary report would receive no further investigation and that there would be no accountability for individuals involved (if the investigations were not completed)" the Ombudsman wrote in May.
"Some expressed concern that municipal funds were spent on the audit, only to have the audit cancelled without any conclusions or improvements to municipal administration," Dubé wrote. He conveyed there were individuals who expressed concern about the lack of transparency and accountability around the cancelled RFP audits and added "the RFP audits were inappropriately referred to the Integrity Commissioner despite municipal funds already being spent on these audits."
When Brown cancelled the investigations he claimed they would be referred to the City's integrity commissioner at the time, even though staff told him the integrity commissioner could not handle such investigations, which was later confirmed.
Dubé wrote that Brown's claim of having a proper review done by the integrity commissioner would not likely result in "a proper audit, given the Clerk's warning that the issues may be outside of the Integrity Commissioner's authority to investigate."
The Pointer asked the City if the investigation by Froese Forensic Partners Ltd into BramptonU, the investigation into the procurement of legal risk assurance services, the probe of the original appointment of Ethics and Integrity Commissioner Muneeza Sheikh, the investigations into the cancelled Municipal Development Corporation initiative and the procurement of COVID-19 supplies would be revisited. City staff, who work under the supervision of Tamming, referred to council meeting minutes that do not address the Ombudsman's letter directing council to complete the cancelled investigations.
In the letter issued to Brampton City Council five months ago, the Ombudsman wrote, "Based on our review in this case, we are writing to express our Office's concern that there are unaddressed issues with respect to the BramptonU initiative and RFP procurement processes that have not been thoroughly investigated, given the previous council's decisions to cancel these audits prior to finalization," and encouraged the City to "revisit its decision to cancel these audits and take steps to ensure any outstanding concerns are comprehensively investigated and addressed at the municipal level."
In their promises for a university, Councillor Santos and Mayor Brown gave contracts to two companies when it came to facilitating the BramptonU project. As previously reported by The Pointer, the companies—Academy for Sustainable Innovation Canada Inc (ASI) and Stakeholder Research Associates Canada Inc. (SRA)—had associates with direct ties to the two elected officials. David Wheeler, who claimed to be a co-founder of ASI, and Rob Godfrey, a senior associate with SRA, were revealed to have connections to Santos and Brown, respectively, which council was never told about when their firms were given the lucrative BramptonU contracts.
In June of 2022, council, after voting 6-5 for the investigations, retained Froese Forensic Partners Ltd. (FFP) to conduct a forensic review of the costs and processes related to the BramptonU project. The forensic review aimed to investigate whether the companies hired to work on the BramptonU project performed their contracted work, whether the amount and timing of invoices and payments were reasonable, whether there were possible conflicts of interest and if there was compliance with the City's policies and procedures for awarding contracts. Council received Froese's Draft Status Update Letter on August 26, 2022, which revealed alarming conduct but made it clear that the work was far from complete. However, during a Special meeting called on a Friday afternoon by Brown with hardly any notice, with two of the members who had voted for the investigations not present (Charmaine Williams had won a seat in Queen's Park) Brown used his slim majority to cancel all the investigations and receive the incomplete update report as final. Despite the clear appearance of a conflict, after Froese had found Brown and Santos to be in a conflict of interest when they helped get their friends the contracts, both voted to cancel investigations that were zeroing in on their own conduct.
The cancellation of the investigations, as well as the vote to receive the update report as final, meant that Froese would not be able to further investigate the matters they were hired to probe, after the Draft Status Update already revealed a number of wrongdoings. In their Final Status Update Letter, Froese wrote that they informed the City by letter in September of 2022 that "the FFP Draft Status Update Letter was prepared as a status update of our ongoing work up to mid-August 2022 and was not intended to be, nor is it, our Final Report with respect to the BramptonU forensic audit."
Regarding their Final Status Update Letter, they wrote that "this letter is not a final report as we were unable to complete our forensic review as a result of the Council motion that required that we cease our forensic work as of August 26, 2022." It goes on to state that their Final Status Update Letter includes the status of their forensic review of the BramptonU initiative "as reported in the FFP Draft Status Update Letter dated August 17, 2022, and also includes work that was completed up to and including August 26, 2022," and that they "have dated this letter August 26, 2022."
Froese reported that "Dr. Wheeler 'was [Santos's] independent studies professor, while she was a student at the Schulich School of Business at York University in the late 1990s and that she still considers him a friend and mentor.'"
Councillor Santos and Dr. Wheeler's connection, Froese concluded, allowed Dr. Wheeler to obtain an initial consulting contract regarding the BramptonU project and that "Dr. Wheeler emailed Councillor Santos a draft of the July 10, 2019 presentation to Council that he prepared for the Acting CAO, with Councillor Santos advising Joe Pittari that she could assist in cleaning the presentation up" to help Wheeler get the job. Joe Pittari was formerly the CAO. Council members were not aware of any of this and were never told about the relationship between Santos and Wheeler.
The Froese Final Status Update Letter discussed how the City's Council Code of Conduct and the Municipal Conflict of Interest Act "recognizes that 'Members of Council are leaders of the community, they are held to a higher standard of behaviour and conduct,'" and that as such Froese considers the City's Employee's Code of Conduct "to be relevant to Councillors."
"The City requires its staff / employees to disclose any relationships that present a conflict or potential conflict of interest with respect to friends, relatives or anyone with who, they have a close personal relationship. The City's Employee's Code of Conduct (Section 6.2) dated February 16, 2021, states in part that: 'Employees must excuse themselves from work situations and decision-making that may involve friends, relatives, or anyone with whom they have a close personal relationship or business association. Employees will never use their positions with the City to seek personal benefit or further the interests of those [with] whom they have personal relationships or business associations. Employees will disclose any relationships that present a conflict or potential conflict of interest,'" Froese highlighted.
Froese reported that on October 2, 2019 the City issued two Requests for Proposals (RFPs), one for "Consulting Services for a Stakeholder Engagement for a Brampton University," and the second for "Consulting Services for Academic Engagement and Planning for a Brampton University," and that on November 4, 2019, SRA and ASI were awarded with contracts. Godfrey, who Brown called one of his closest friends, worked with SRA and was its point person with the City on the consulting job, much of which was never done.
A summary from Brampton City staff showed that SRA had received $505,399 for its work on the BramptonU project between 2019 and 2021. Documents obtained by The Pointer showed the initial contract, awarded in November 2019, was valued at $170,000 (as part of the $300,000 approved by council, along with the amount paid to Wheeler and other consultants hired for much smaller pieces of work). However, the financial documents, which included invoices and payment records, showed the amount eventually paid to Godfrey's firm was far more than the original contract value that had been approved by council. Two separate increases led to later payments that hiked the cost for SRA's work to a total of $531,100, according to the City of Brampton financial statements included in the documents. This was more than three times the amount that was supposed to be paid.
Froese was in the process of investigating how the increased payments to Godfrey, which council never knew about, were approved, when its probe was cancelled by Brown.
Froese reported that their findings revealed the work contracted by the City was never completed and that contracted deliverables "were received in part by the City".
Froese found SRA and ASI had an "unfair advantage" within the procurement process for the two RFPs, "Dr. Wheeler had knowledge, information and relationships that were not available to other vendors and the time period for submitting proposals, although meeting minimum policy limits, favoured Dr. Wheeler."
Froese shared that council, led by Brown, voted to end the forensic audit before they were able to interview Godfrey. "There is insufficient information to conclude whether the work contracted by the City was performed, given the lack of details on the invoices and the lack of supporting Documentation."
It found "SRA invoices did not include hours worked by date, descriptions such as whom… Mr. Godfrey [was] meeting, what detailed work was being performed, or its purpose."
"As of the date of this letter, with the motion of Brampton City Council to cease the forensic audit, the following work had not yet been completed: 1) Interviews with two consultants, Rob Godfrey, Dr. Wheeler, interview of Councillor Santos, and interviews with several City employees, including inhouse legal Counsel; and 2) Confirmation from the Province of the details of any formal and/or informal documentation submitted to the Province by the City of Brampton and/or its consultants as related to a proposed Brampton University," the Froese Final Update Letter reads.
The work that was cancelled "extended to the relationship between Mayor Brown and Rob Godfrey, a consultant engaged by SRA for Phase 3". Froese was "in the process of evaluating whether Mayor Brown's relationship with Rob Godfrey was a potential conflict of interest, given that: 1) Several news articles referenced Rob Godfrey as part of Patrick Brown's circle or part of his "team" and 2) The Acknowledgement section to Patrick Brown's book, "Take Down – The Attempted Political Assassination of Patrick Brown", referenced Rob Godfrey as one of Patrick Brown's closest friends…"
They were also in the process of evaluating this potential conflict of interest since Rob Godfrey was "paid by SRA for government relations services he provided as a consultant to SRA" for the BramptonU contract.
The entire BramptonU project was abandoned without any explanation by Brown, who had trumpeted it for years.
---
Email: [email protected]
Twitter: @_hafsaahmed
---
At a time when vital public information is needed by everyone, The Pointer has taken down our paywall on all stories to ensure every resident of Brampton and Mississauga has access to the facts. For those who are able, we encourage you to consider a subscription. This will help us report on important public interest issues the community needs to know about now more than ever. You can register for a 30-day free trial HERE. Thereafter, The Pointer will charge $10 a month and you can cancel any time right on the website. Thank you
Submit a correction about this story