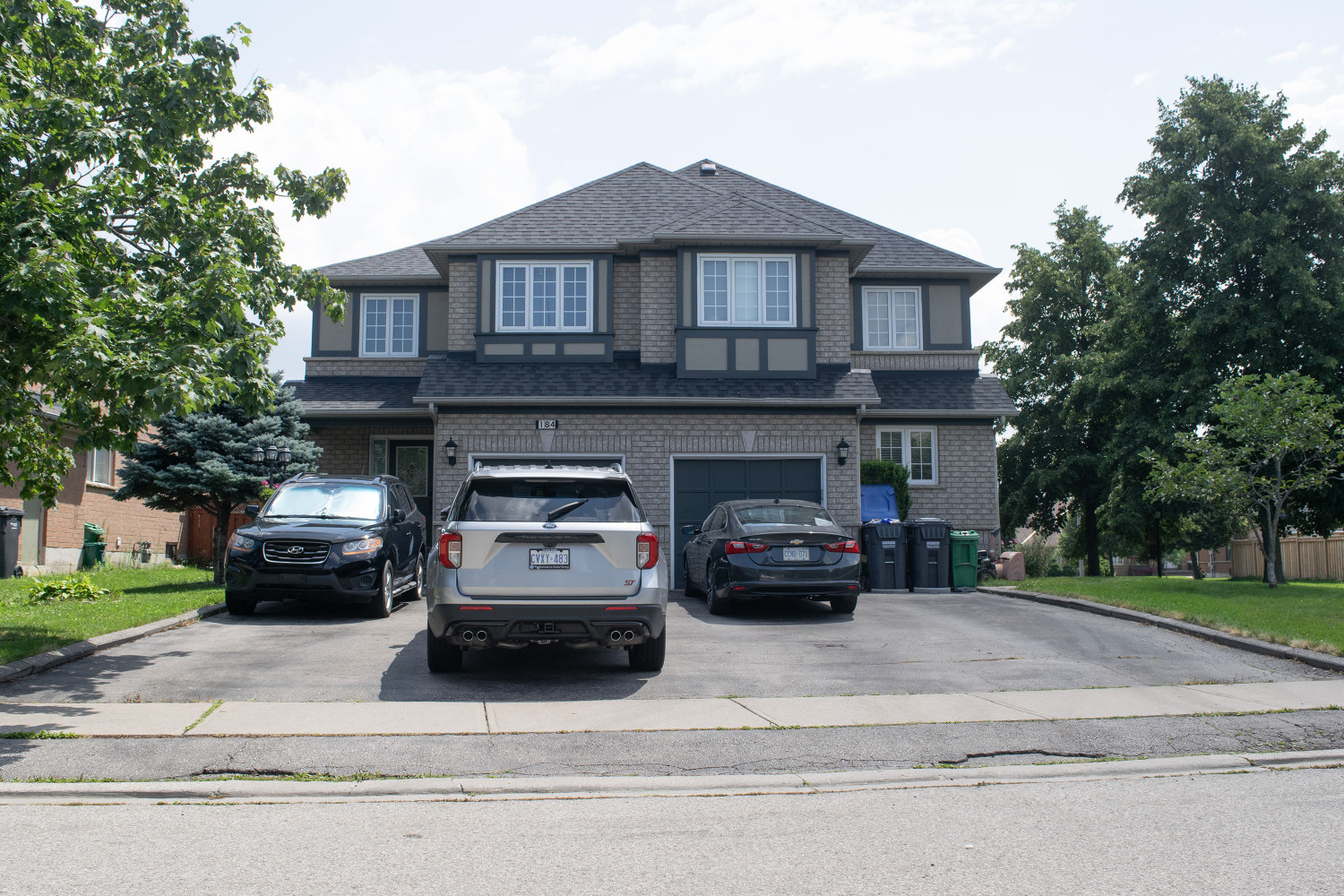 Alexis Wright/The Pointer
Driveways: the nexus of a demographic and environmental issue unique to Brampton
A strip of extra concrete on a driveway might not seem like a major problem for Brampton, but the desire for more space to house cars outside thousands of single family homes has become so common, it presents significant safety, environmental and legal challenges for City Hall.
Beyond the overcrowded look of neighbourhoods whose streetscapes are dominated by cars that seem piled on top of each other, creating an unwelcoming feel, the practice of driveway widening can overwhelm the city's stormwater systems. It also signals a larger issue of inadequate housing and infrastructure for Brampton's growing population. Many of these driveways belong to residents who rent out secondary units, often outside the legally regulated system.
The number of people living in a Brampton home, on average, illustrates just how big the problem has become. According to the 2021 Census, an average of 3.6 residents lived in each Brampton residential unit, compared to 2.4 in Toronto; and this figure does not capture all the tenants in illegal, unregistered apartments across Brampton.
It has been estimated by City Hall staff and council members in the past that there could be more than 50,000 unregistered secondary units in the city, with some councillors reporting that many of these apartments have more than a dozen people living in them, including many international students who flock to the city only to find a lack of appropriate housing. Even without capturing all those residents, in 2021 Brampton had 50 percent more people living in each of its homes compared to Toronto.
Driveway widening, which involves residents replacing small portions of their lawns with concrete or asphalt pads or extensions, has not only caused an unsightly feel and appearance in many neighborhoods across the city, it puts pressure on the current storm drainage system's limited capacity to handle surface run-off during heavy rainfall events. With more impervious surfaces there is less ground to absorb water and more rainfall that flows into the already taxed municipal stormwater infrastructure.
Driveways that can accommodate six or more vehicles are a common sight around the City of Brampton.
(The Pointer files)
A recent staff report by Alex Sepe, Principal Planner, Planning, Building & Growth Management, provided details of the City of Brampton's approach to addressing this ongoing issue, as well as recommendations for dealing with driveway widening moving forward. The report emphasized three main strategies: awareness, enforcement and accountability.
As outlined in the report, the design of Brampton's stormwater drainage system "assumes a level of impervious coverage that varies with the type and intensity of development."
Areas where Brampton's population density has increased, and where driveway widenings have proliferated in unison, have seen roadway corridors that experience more surface flooding due to the removal of lawn space. The two-fold impact of reducing ground to absorb water while sending even more rainfall into drains, is happening as severe weather events are experienced far more often due to climate change.
The storm sewer systems and surface drainage infrastructure were not originally designed to meet the levels of rain falling today. The climate crisis puts areas of Brampton at a heightened risk of flooding due to the provincial designation as a floodplain because of Etobicoke Creek.
Regarding the increase of these paved areas in Brampton neighborhoods over time, the report notes this can have, "significant negative engineering implications on the capacity and performance of the drainage infrastructure." The City, according to the report, is working on a jurisdiction-wide assessment to quantify the impact of changes to driveway features as rainfall levels increase and "develop revised stormwater design criteria that accounts for how areas will evolve after initial development."
The report recommends that a more "permissive approach to driveway widenings'' should not be implemented until the details of the assessment are made available. Currently, residents can get their driveways widened as long as it meets the City's zoning requirement and the work is done by a licensed driveway contractor who has trained with the City's online program. However, many driveway widenings are done illegally and violate the zoning requirements.
The Pointer spoke with former councillor of wards 3 and 4, Jeff Bowman, who during his time in office pushed the City to address the driveway widening issue. Regarding the report and efforts to enforce bylaws pertaining to driveway widening and mitigate the environmental concerns, he said the city has already seen the impacts of flooding and overwhelmed drainage systems, citing the evacuation of Churchville residents in February of 2022 after the Credit River breached its banks.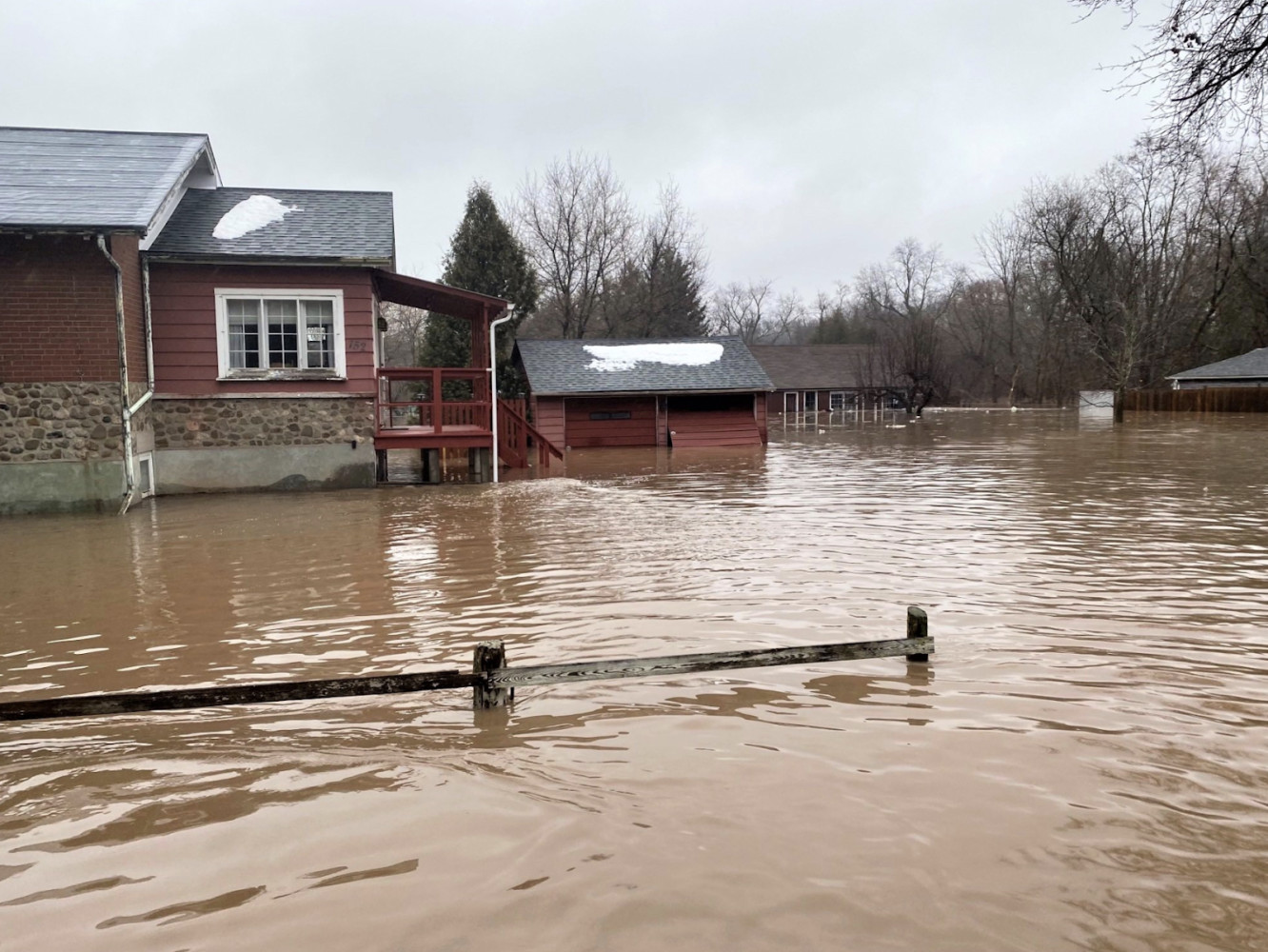 Homes impacted by flooding Brampton's Churchville neighbourhood last year.
(City of Brampton)
"This was all supposed to be managed properly but we've already seen it over the last four years cause extensive damage," he said. "I think we were too slow on the uptake."
In the past, the City of Brampton has attempted to address the problem in part through an educational approach, such as by reminding residents they "must check if their contractor is licensed by the City of Brampton." The City has also tried to follow up on bylaw enforcement, which Bowman told The Pointer is needed more than education at this point.
"There comes a time where education has to stop and penalties have to start being put in place," he said, noting that he had worked on the issue during his eight years on council while attempts to educate residents were regularly made.
The report highlights that in June 2021, staff were dealing with a backlog of over 1,000 driveway widening complaints which enforcement staff have been working through. "Coupled with the backlog, approximately 446 complaints are awaiting investigation," the report says.
To curtail driveway widening and the construction of larger homes, the City of Mississauga introduced a stormwater fee which increases depending on the amount of property that is covered by impervious surfaces such as asphalt and the roofs of homes. The policy aims to keep as much ground uncovered while making owners pay for increased demand they place on the stormwater system.
Despite attempts to address the driveway widening issue in Brampton, the City faces challenges with the sheer amount of cases as well as limitations to address homes with as many as eight vehicles in front of a house.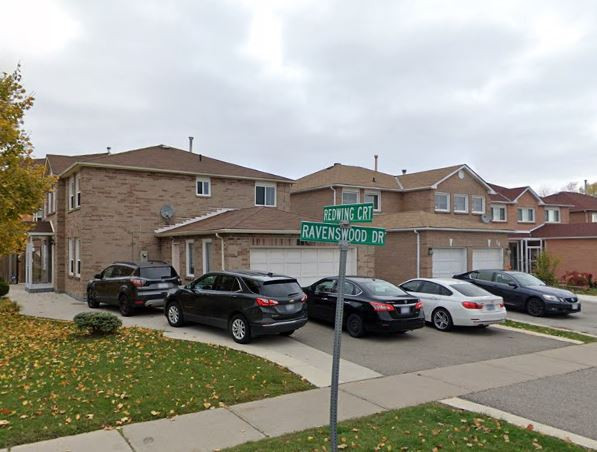 The lack of space for as many as eight cars at some homes has led some Brampton residents to convert other impervious surfaces, like walkways, into parking spots.
(Google Maps)
In Brampton, many households have secondary units that are rented out, often illegally, or are supporting multi-generational families. The city has a lack of appropriate housing to accommodate these residents, as well as a car-centric infrastructure which contributes to the demand for more parking space needed in front of homes.
"When you look at Brampton… the amenities, the water systems… [they] were all built for small, single families," Bowman said. "But now, probably half the houses have extra apartments in them, a lot of them [are] illegal basement apartments."
Single-detached houses make up over half of private dwellings in Brampton, 52.6 percent of all units in 2021. Apartments in the same year accounted for 21.2 percent of dwellings in the city.
As Bowman told The Pointer, "The housing that was built in Brampton was not built to sustain what we're doing to it today." He referenced the many old neighborhoods in the city that have seen development and population density beyond what the infrastructure was originally designed for decades ago.
Brampton is the third largest city within the GTA, the fourth largest in Ontario and the ninth largest in Canada. The city's population is expected to continue accelerating, with a forecasted population of 791,270 residents by 2026. The lack of housing to accommodate the growing population, with units often occupied by multigenerational families, or tenants living in suites that are not registered (Bowman has said as many as 14 people have been housed in one illegal basement apartment) and the car-dependency resulting from the city's design, pushes more and more property owners to widen driveways, legally or illegally.
Data from Statistics Canada showed that in 2021 about 77 percent of Brampton residents who commuted, drove cars, trucks or vans while an additional 8.9 percent were passengers. With more than 85 percent of residents relying on personal vehicles, while rapid growth continues and poor housing supply pushes more and more people into secondary suites in existing homes, the demand for space to house cars is far outstripping the capacity of infrastructure to accommodate them.
Public transit was used by 10.36 percent of commuters according to the 2021 Census, a drop from the 14 percent recorded in the 2016 Census. Brampton is increasingly reliant on cars and the refusal of Mayor Patrick to invest in transit expansion, as part of his vow to freeze the City's budget, has only made personal vehicle use more popular…while little money is available to invest in expanded stormwater capacity and other infrastructure required to accommodate all the cars.
At the same time, the backlog of bylaw complaints grows, with limited resources to hire the staff needed to address a growing problem.
Houses often designed for single-families, where units are instead rented out to multiple occupants have led to the trend of driveway widening to create additional space for parked vehicles, often at the expense of the home's front lawn. Without the right infrastructure to accommodate this pattern, the risk to stormwater management systems and the impact on the appearance of neighborhoods continues to put pressure on City Hall staff.
The report recommends effective enforcement of bylaws and "educational awareness to driveway contractors and residents."
---
Email: [email protected]
---
At a time when vital public information is needed by everyone, The Pointer has taken down our paywall on all stories to ensure every resident of Brampton and Mississauga has access to the facts. For those who are able, we encourage you to consider a subscription. This will help us report on important public interest issues the community needs to know about now more than ever. You can register for a 30-day free trial HERE. Thereafter, The Pointer will charge $10 a month and you can cancel any time right on the website. Thank you
Submit a correction about this story