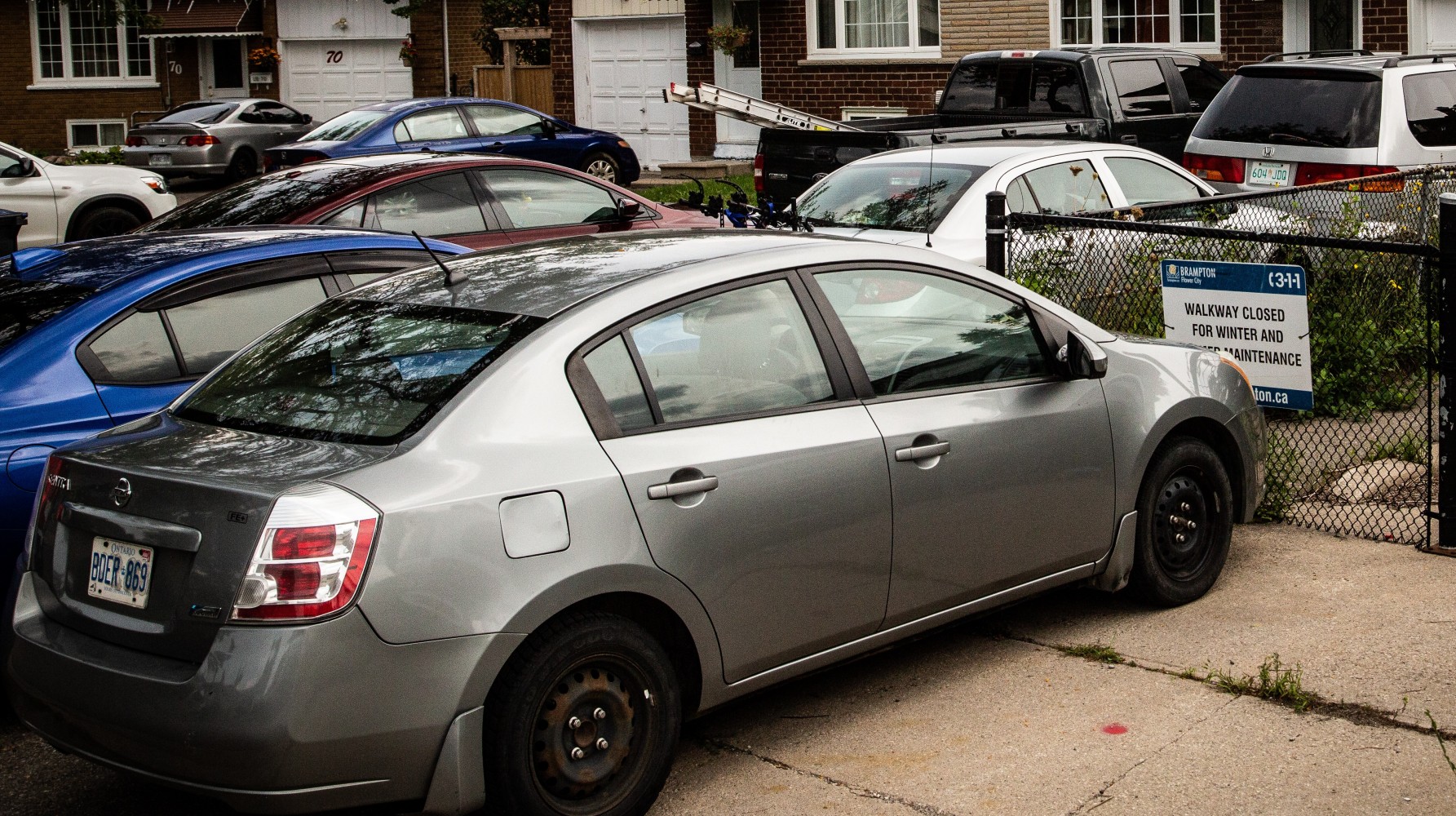 The Pointer file photos/City of Brampton
As coronavirus hot spots continue to emerge across Brampton, city needs a solution for illegal secondary suites
Could Brampton's novel coronavirus problem be linked to the affordable housing issue in the city?
Data that has been released by the Region of Peel shows high rates of infection in areas across the city where the average number of residents per household is well above the provincial average, and councillors have recently pointed out that with as many as two-dozen people living under one roof, high infection rates in the city could be linked to the dense living arrangements common in Brampton, where the population has exploded over the last 25 years, without proper housing to accommodate waves of new residents.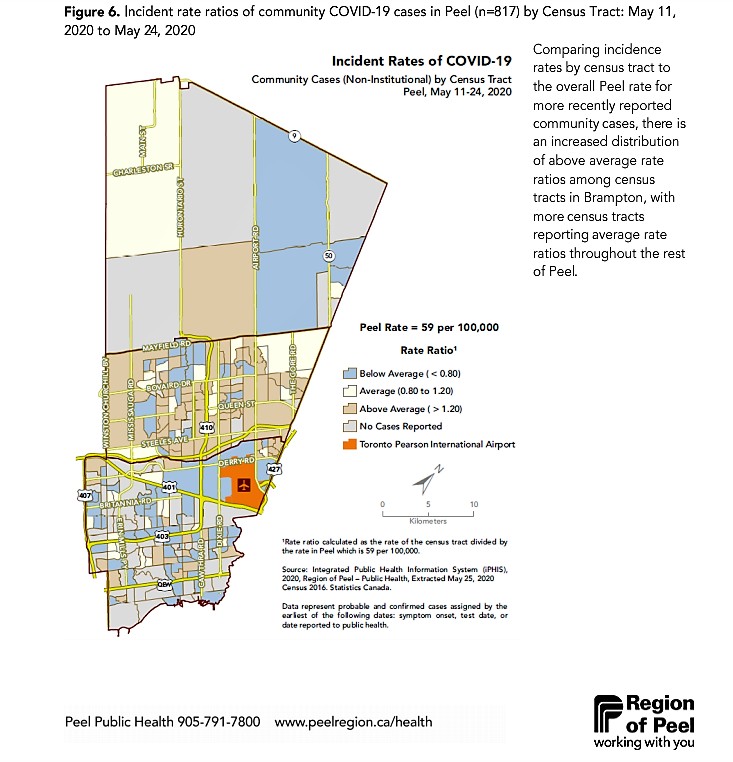 A recent map shows high infection rates across Brampton
According to Brampton's 2016 census profile, the municipality has the highest average number of people per household in the Greater Toronto Area, and one of the highest numbers for any large city in the country. Brampton households had an average of 3.5 residents, compared with a national average of 2.4 and an Ontario average of 2.6. That means the average Brampton household has 46 percent more people living in it than the average Canadian home.
But in particular parts of the city, especially where secondary suites are most common, the numbers are far higher.
As of the 2016 census, some 42,060 Brampton residential units housed five or more people. It's the only municipality in the GTA where this census category (households with five or more residents) outnumbers all the others, and a sharp contrast to Toronto, where one-person households are the largest category. The large household size has long been correlated with a high demand for secondary suites in Brampton.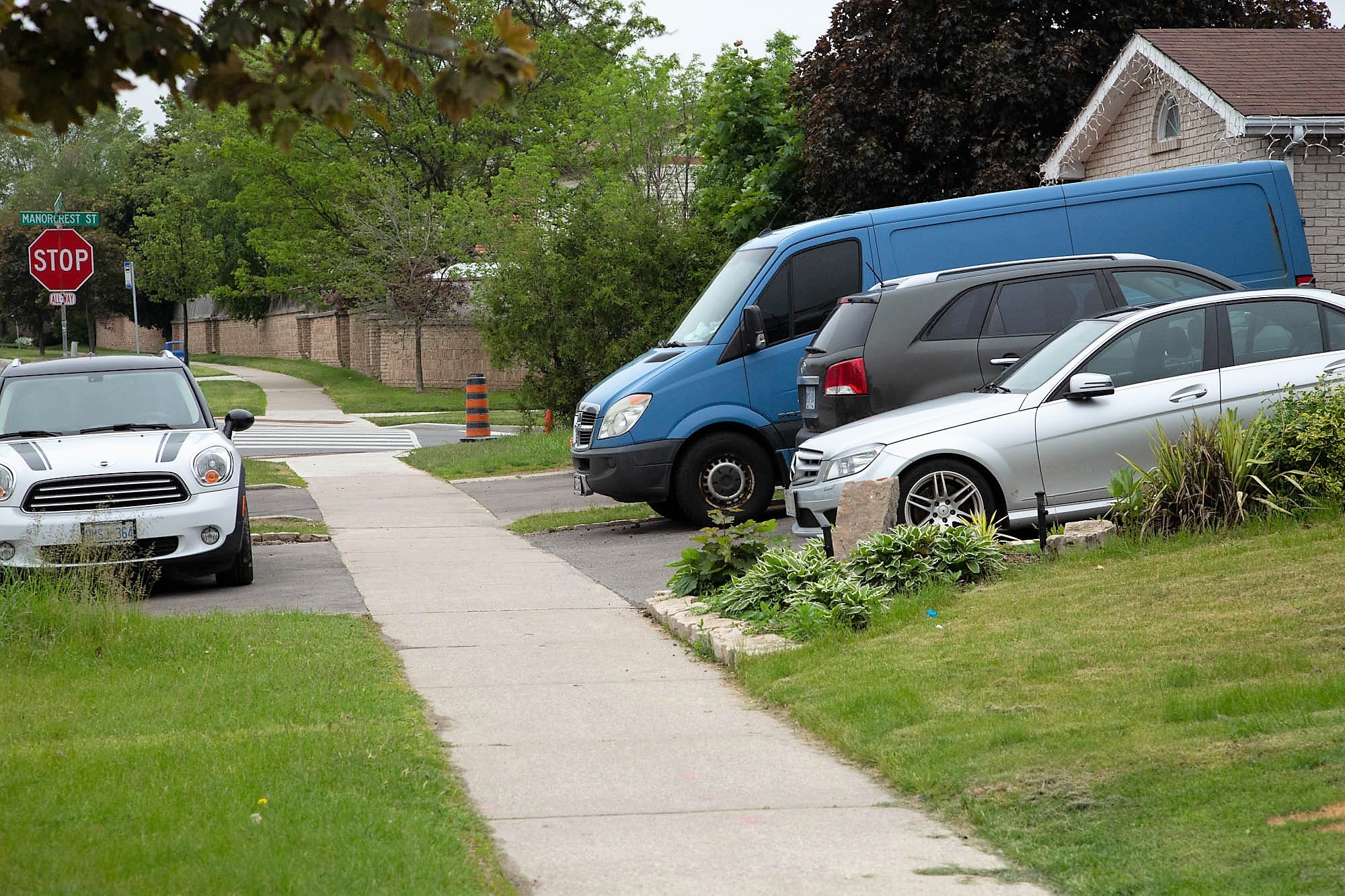 Cars spilling off driveways is a common sight in many parts of Brampton
In 2005, 32 percent of Peel Region's households were having issues with affordable living arrangements. A 2007 report from the Canadian Centre for Policy Alternatives (CCPA) stated Brampton would be an area of high-growth, and affordable housing would be crucial to meet the demands of an exploding population.
In 2019, the Region found 70 percent of low-income households and 30 percent of middle-income households were living in accommodations they couldn't afford, the result of a shortage in affordable housing. The June 2020 rental report from Rentals.ca included Brampton and Mississauga among the 10 most expensive Canadian cities to rent a one-bedroom apartment.
And now, as illegal basement apartments, or secondary suites, have become the de facto solution to the affordable housing crunch across the city, public health officials and data are pointing to the high numbers of residents living under one roof as a possible reason Brampton has become a hot spot for the novel coronavirus.
Last week, Councillors Jeff Bowman and Gurpreet Dhillon pointed to the lack of affordable housing for young people, with Bowman saying he has seen as many as 14 tenants living under one roof and Dhillon reporting that he has seen two-dozen students or other young people in one residential unit.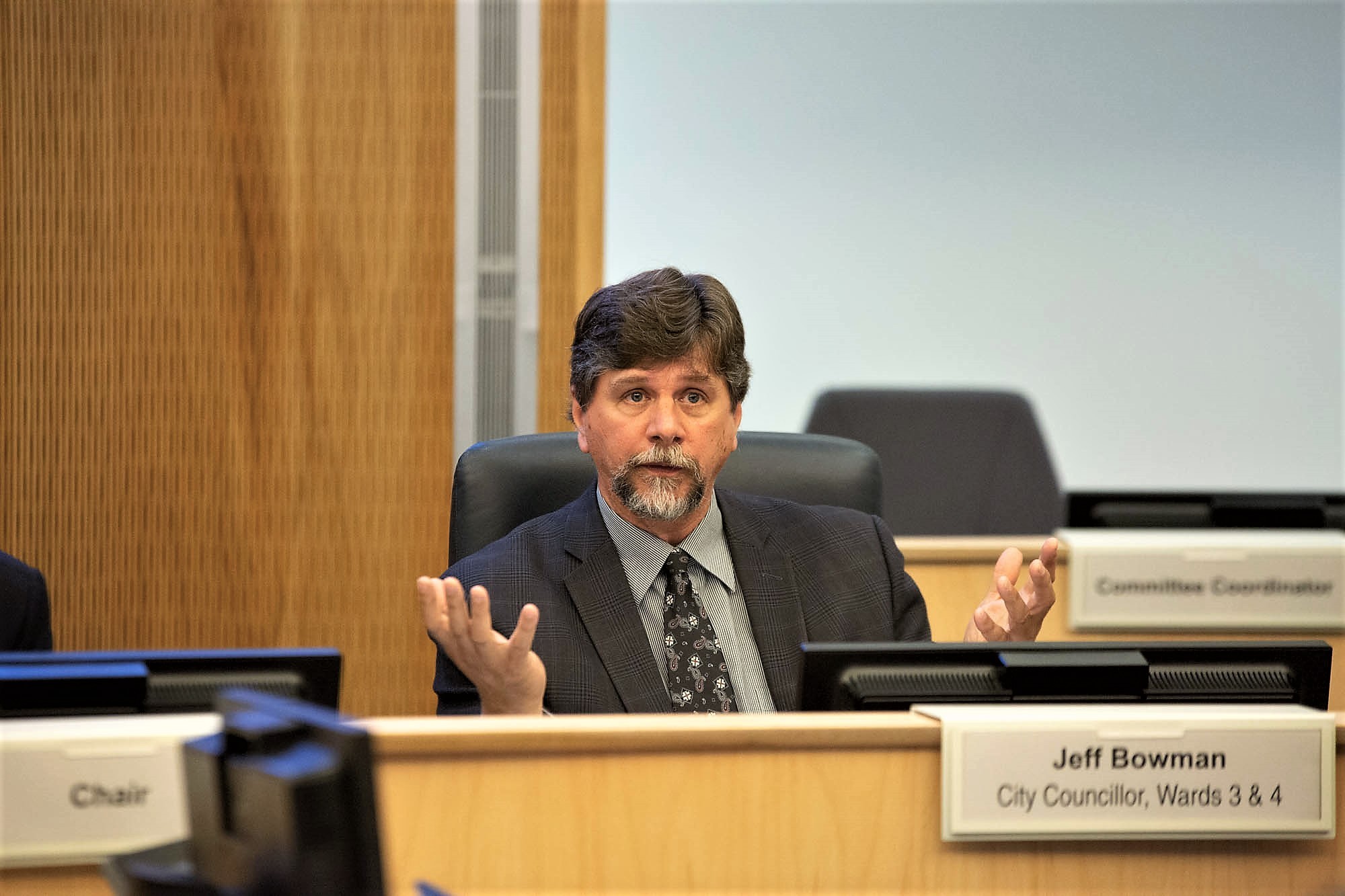 City Councillor Jeff Bowman has been the loudest advocate for clamping down on dangerous illegal units and now fears overcrowding is leading to high infection rates
Peel's top public health doctor, Lawrence Loh, also shared the concern, pointing out last week that Brampton's COVID-19 problems are largely due to "household clusters".
Household sizes are regulated by the City of Brampton's Occupancy Standards Bylaw, which stipulates that "the maximum number of occupants in a dwelling unit shall not exceed one person for each 14 sq. m (150 square feet) of the total floor area." It further restricts habitation by putting a cap on occupancy of bedrooms, stating that no room shall be used for sleeping purposes unless it has a minimum width of 1.83 metres (6 feet); a floor area of at least 5.6 square metres (60 square feet), and further, that a room in which two or more people sleep needs a floor area of at least 3.7 square metres (40 square feet) for each person.
On Monday, Peel was one of just three regions in Ontario that was held back from the reopening timeline for the next phase, and will not get to see the same further loosening of restrictions later this week, because of its persistent high rates of infection.
Brampton, in particular, now has among the worst recent infection numbers of any city in Canada.
And more people are wondering if it's tied to the lack of affordable housing in the city which has forced many into crowded living spaces that make infection spread more likely.
Brampton's problems with illegal secondary units adds other dimensions to the dilemma.
Ontario's Strong Communities through Affordable Housing Act was amended eight years ago, mandating that all municipalities in the province allow legal secondary suites. The legislation came into effect in 2012, but the province allowed cities a few years to work out their own rules and licensing to accommodate this alternative form of affordable housing stock.
Brampton brought in its new rules in 2015. According to the city's bylaw enforcement department, "the number of illegal secondary unit complaints increased from 861 in 2016 to 1,271" as of July, 2018. That's a spike of 48 percent within two years. As of 2017, the city reported that only 661 registrations had been submitted for secondary suites, and of those only 141 had been completed.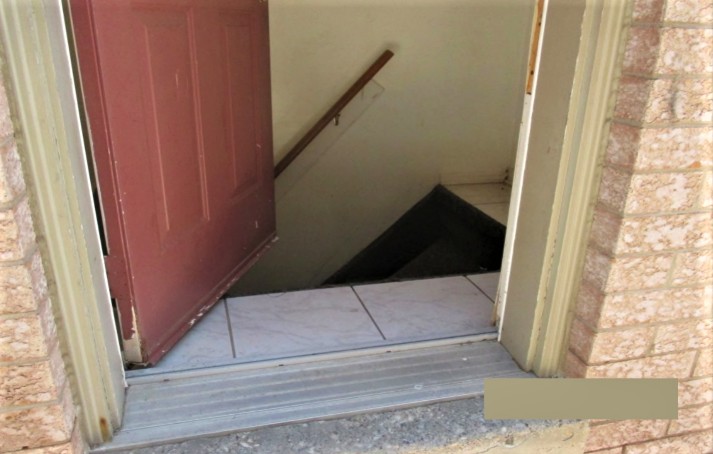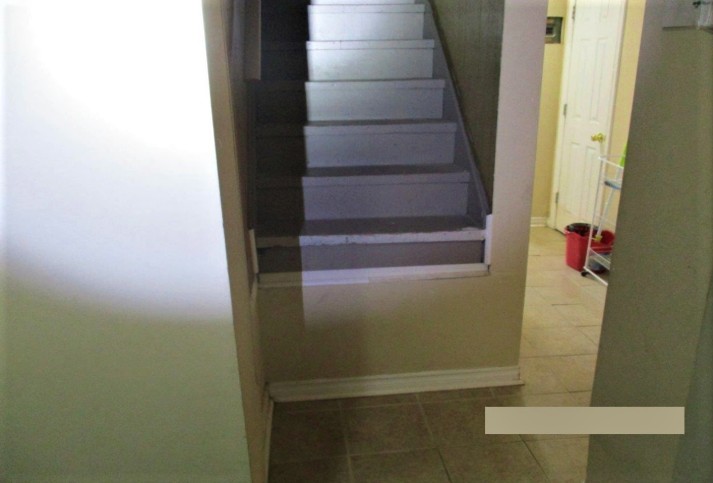 Dangerous illegal basement suites in Brampton are often overcrowded
However, last year, staff reported significant gains because of stepped-up enforcement, changes to registration rules and fee requirements, in an effort to encourage more property owners to legally register their units.
A report, presented last year by Paul Morrison, who heads bylaw enforcement, and Brampton Fire Division Chief Andrew von Holt, painted a picture of the more recent situation that suggested the city is benefiting from increased enforcement. A highlight was a horrifying slideshow presenting some of the worst offenders in the city. It showed exit doors taped shut that when opened led nowhere, heaps of garbage piled up outside and inside the house, mould, and dangerously fire-prone wiring — just some of the conditions found in unregistered suites that were not built to code or properly maintained.
Morrison and von Holt attributed a 770 percent increase in registration to an effort by the city to educate the public about secondary suites and how to register them. "The number of charges laid since January [2018] was 4,625," Morrison told council. "We want to gain compliance from the community, and when we don't gain compliance from the community through education, we want to do it through enforcement."
"We are making headway, and through those numbers you can see that we're being effective. More people are registering, more people are making their places safer," Morrison told The Pointer after his presentation to council last year.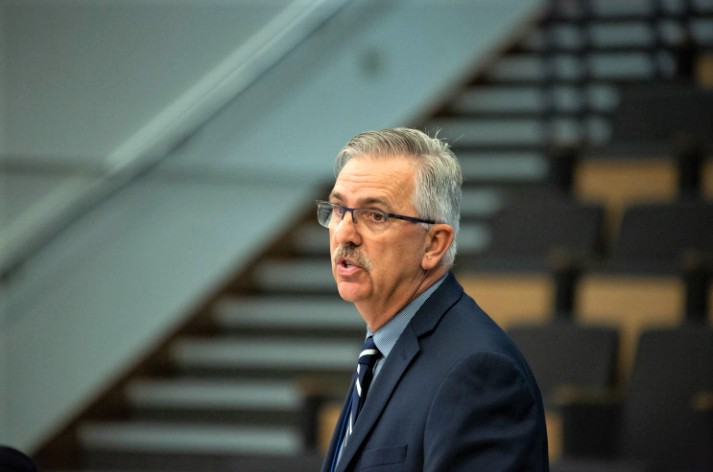 Paul Morrison, who heads Brampton's bylaw enforcement, said the city is making headway against illegal secondary units
Estimates have suggested there are at least 50,000 illegal suites in the city, while members of council have said the actual figure is much higher, but it's impossible to know exactly how many there actually are. "I can tell you that our [enforcement] officers don't have a spare moment," Morrison said. "They are busy 100 percent of the time."
The issue of illegal units in the city has been around for years.
"This is an issue that really concerns me," now-retired Ward 7 and 8 regional councillor Gael Miles said during a May 2017 council committee meeting. "The fact that we have many, many properties in the city that are converting single-family homes to multi-family residences." Miles said at the time she was aware of many single-family homes that were being converted to house three or more separate units.
The City of Brampton is trying to address two problems, the existence of illegal units and the lack of affordable housing. In 2015, it enacted the Second Unit Registration program, under the province's 2011 Strong Communities Through Affordable Housing Act. The aim is to create more affordable housing for a city in desperate need of it.
But it's a program that does not come without challenges.
This includes site inspections. A report dated February 4, 2020, and shared at the June 6 Planning and Development Committee, states "residents have reported a high degree of inconsistency between the requirements of one inspector vs. the next." The report attributes this to staff absences and varying workloads, leading to inconsistent requirements of inspectors between site visits. This is a factor that rings true for one Brampton resident, who asked that he be identified by his last name only. "One inspector may ask for one thing and ignore one, while the other may just do the exact opposite," Bhatti told The Pointer. He has gone through the process of trying to legally create a secondary unit as a homeowner himself.
The report further states there was a "significant increase" in requested inspections before construction for a project was completed, contributing to "frustration in both the home owner and inspector."
If the city doesn't get a handle on its lack of affordable housing, the numbers of people living in overcrowded illegal units will continue, and right now it could be contributing to the ongoing COVID-19 crisis in the city.
The economic loss of not having proper affordable housing stock is hitting businesses and the municipality, as it is forced to keep things closed until infection rates are under control.
One of the reasons for the explosion of illegal units, which are often overcrowded, is the lack of staff for inspections. As of February, there were four inspectors as part of the secondary unit task force, designed to assess and deal with illegal secondary units in the city. The 2020 budget called for the hiring of more staff under this division to assist with building inspections and reviewing applications. Four new building inspectors, along with two building supervisor and two plan examiners were to be hired, before the pandemic hit.
By February of this year, the city had already received 409 applications for secondary units. In the same time period, Oakville had five applications, Milton 46 and Mississauga 60.
The staggering difference illustrates how much demand for affordable housing exists in Brampton and also raises questions about how people are currently being housed. If there are not nearly enough units, then more people have to cram into limited spaces, creating conditions ripe for infection spread.
Since 2015, the City of Brampton saw 6,670 applications, half of which came in 2019 alone. The processing timeline for two-unit dwellings sat at 12 weeks earlier this year. Processing time for applications has since improved, city staff told The Pointer, with the average review time for applications reduced from 12 to 5 weeks. This was done with the help of additional staff and process improvements. The backlog could be attributed to a number of factors, staff said, including the increase in compliance orders given to property owners seeking to build and register legal secondary units.
To assist with the inconsistencies with inspectors, the report outlined the introduction of "Service Level Guidelines," which are intended to guide aspects of construction, ensuring it is compliant with the Ontario Building Code (OBC). "Having a consistent set of items to check allows the inspector to narrow their focus to the most critical regulations," city staff told The Pointer.
When asked why these guidelines weren't developed earlier, given the registration program was created in 2015, staff said they were "developed now in response to the feedback we are receiving from the industry."
More effective and consistent inspection criteria are also being implemented.
But the report does not fault the city on its own for the ongoing issues. Included in the report is a list of suggestions for the provincial government, such as how the process to construct secondary units can be improved. "The intent of the recommendation is to consolidate the requirements of second unit construction into one section of the OBC and create a consistent set of rules that are applicable to every scenario, regardless of the age of the building," the report states.
The code puts stricter requirements for homeowners to build secondary units if they live in a home that is less than five years old. Under this circumstance, it's classified as a "new building" and must follow the most current version of the building code. If the home is older than five years "compliance alternatives" can be used, city staff said, allowing for "reduction in the required construction based on existing circumstances and substitute measures." This can lead to inconsistent features between units.
Bhatti believes people are hesitant to go down the route of legally registering units because of the uncertainties around the construction phase. "The OBC's interpretations in terms of design are way simpler than the application of it by the inspectors," he said. But he does believe the process can become harder if homeowners use a contractor who can't complete the work under the set rules, which can leave "false perceptions" of the process being harder than it is, he said.
"While our staff are always available to help support in the process, a more standardized and straight forward set of rules helps make the process more streamlined for everyone," city staff said.
The recommendations from the staff report have not been adopted by the province, yet. "Everyone has a role to play in fixing Ontario's housing crisis. We invite municipalities, nonprofits and private industry to work with us to encourage the building of different kinds of housing – so that Ontario families have more affordable options," Praveen Senthinathan, a spokesperson for the Ministry of Municipal Affairs and Housing, said.
Since the creation of the city's 2015 by-law, 7,075 illegal units were investigated, as of February. In January of this year, 623 charges were laid against 181 properties with $193,000 in fines. As of June 8, there were 5,374 legal secondary units registered with the city.
If there are as many as 50,000 more that are not legally registered, many of which are severely overcrowded, it could be a huge obstacle in the city's fight against COVID-19, preventing residents from returning to their normal lives.
---
Email: [email protected]
Twitter: @nida_zafar
Tel: 416 890-7643
---
COVID-19 is impacting all Canadians. At a time when vital public information is needed by everyone, The Pointer has taken down our paywall on all stories relating to the pandemic to ensure every resident of Brampton and Mississauga has access to the facts. For those who are able, we encourage you to consider a subscription. This will help us report on important public interest issues the community needs to know about now more than ever. You can register for a 30-day free trial HERE. Thereafter, The Pointer will charge $10 a month and you can cancel any time right on the website. Thank you.
Submit a correction about this story