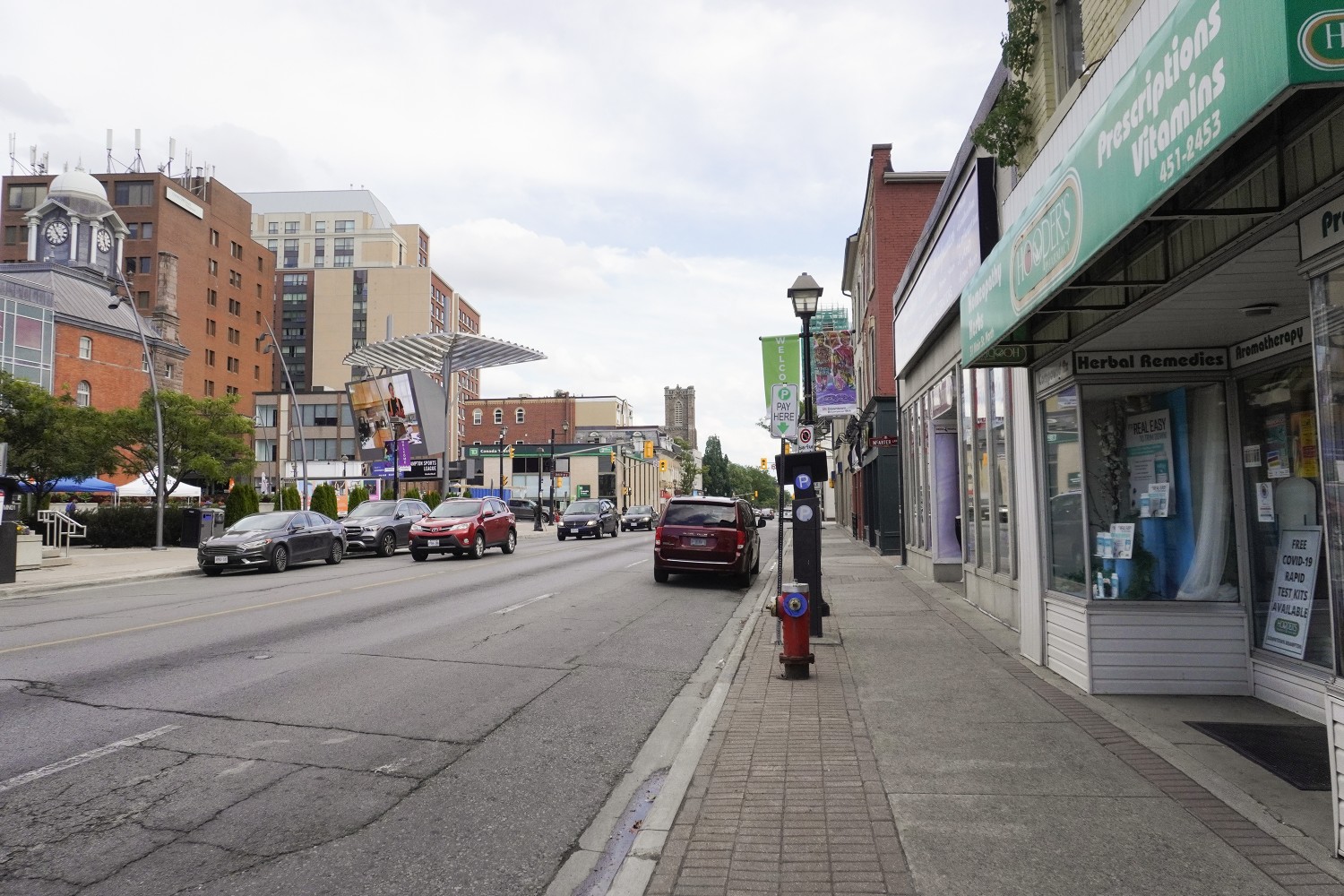 Alexis Wright/The Pointer
Businesses divided over supervised consumption site to alleviate tragic overdose crisis in downtown Brampton 
Business owners in Brampton's downtown agree on one thing, the overdose crisis is raging in the city centre. Many have experienced its fallout first hand. But what those who try to make a living in the downtown core don't agree on is what needs to be done about it. Some see the proposal from the Region of Peel for a supervised consumption site (SCS) in the downtown as a godsend—while others just want action taken to remove those abusing drugs.
The Region of Peel is moving forward with the consultations and study to find a suitable location for an SCS in the region following council approval in July. Regional staff are currently studying where best to place the facility. A previous needs assessment identified downtown Brampton and Cooksville in Mississauga as priority locations due to the prevalence of overdoses and drug use in the two areas.
Shahzad Ahmed, manager of the downtown restaurant Lot 25, spoke positively about the proposal—even if it's just for a small facility.
"I know people who overdosed and died so this is definitely something I think is a problem," he said. "Having a safe consumption site, hopefully where people use, but are also able to get help so they can wean off the drugs and not continue to use it. That is something I would absolutely support."
The owner of Lot 25 in downtown Brampton, who has known victims of the overdose crisis, would welcome a place where those battling addiction could get help in the city centre.
(Alexis Wright/The Pointer)
Ahmed said that his experiences have made it clear that such a facility is necessary for the downtown as public drug use has become common in the area.
"I've lived here almost my whole life and you see people on the side corners, or even right by the church or the different areas in the city itself where they're just hanging out," Ahmed said. "They're openly consuming drugs or they're falling down, or dying or getting ill from it. If they can safely do it somewhere and get help to eventually get off it, I think that would be a good thing. It's better for the city, it's better for the individual themselves, it's better for the community."
According to Health Canada, supervised consumption sites are set up in areas where there are high rates of public drug use to provide important health, social and treatment services, such as access to clean drug use equipment and a place to safely dispose of items, such as needles, after use.
At the facility, a person brings their drugs to consume in a clinical environment. Trained staff are available to help if there is an accidental overdose—something that has become increasingly common as toxic additives like fentanyl and carfentanil are finding their way into street drugs unbeknownst to the users. The type of staff varies by site, but generally includes nursing staff, social workers and peer and community workers in order to provide assistance and guidance that could eventually lead users on a path out of addiction.
The sites also include drug checking to detect if the product contains harmful substances; emergency medical care; basic health services; testing for infectious diseases; access to health care providers; referrals for drug treatment, rehabilitation and other health services; and access or referrals to social services.
According to Regional data, opioid related deaths have increased 249 percent since 2014. A total of 651 lives were lost between 2017 and 2021. In 2021, a total of 189 Peel residents died of an overdose linked to opioids, an increase of 35 from 2020—the Region's previous most deadly year for drug use fatalities.
In the report to Regional Council, Nancy Polsinelli, Commissioner of Health Services and Dr. Kate Bingham, Acting Medical Officer of Health with the Region of Peel noted that the public health issue has worsened over the past seven years and has been exacerbated by the COVID-19 pandemic. Now, drug toxicity related harms and deaths are at "crisis levels" in Peel.
Dr. Kate Bingham, Peel's acting medical officer of health made it clear to councillors, some concerned about a safe consumption site attracting drug use to the area, that the use of drugs is already occurring in these locations and a consumption site has the potential to bring it off the streets.
(Alexis Wright/The Pointer files)
Habonsu Bonsu, owner of The Palace Beauty Supply & Salon said that while she personally believes it has become better in recent years, drug use is still a problem in the downtown core. She blames the situation as the reason her shop was robbed multiple times including a burglary in the night, and a man stealing cash from her register who became physically violent when he was confronted.
"Even the police, they know the situation here, but I think they can't do anything unless something happens," she said.
Bonsu says there needs to be more programs and supports in place to address the issue, as customers have become hesitant about where they park in the downtown.
"It is tough, but we don't know what to do."
Habonsu Bonsu, owner of The Palace Beauty Supply & Salon, holds a brick that was thrown through the front window of her business.
(Alexis Wright/The Pointer)
Maya Flewelling, an employee of the downtown Brampton store The Wee Smoke Shop, said she thinks the addition of a safe consumption site would make a big difference to the community.
"It's all about safety and I think that's my main thing, and I think, even speaking on behalf of the owner, his main goal is safety. All we want is everyone downtown to be safe and happy and be able to enjoy everything that's down here."
Another business owner who spoke to The Pointer wishing to remain anonymous, told stories of their washrooms being used as an injection site, and a fear of not knowing how to confront the drug user, or what to do in the event of an overdose.
"I opened the [washroom] door, sure enough, the guy was on the floor at 9 o'clock at night. I was screaming, I ran out," she said, adding that they don't know if it was alcohol or drugs that led to his state. "Those kinds of situations, the City has to pay more attention to them… How can a business survive?"
"All we want is everyone downtown to be safe and happy and be able to enjoy everything that's down here," says Maya Flewelling, an employee of the The Wee Smoke Shop.
(Alexis Wright/The Pointer)
While some members of the downtown business community have been supportive of efforts to address the situation—the Region of Peel has been increasing its harm reduction efforts as part of its ongoing Opioid Strategy—the Brampton Board of Trade (BBOT) has been critical of the site's potential location. Todd Letts, the Board of Trade's CEO, wrote a letter to regional council, requesting they pause the process of moving forward with an SCS until further consultation could be carried out along with a number of studies.
"A supervised consumption site located near our regional Brampton GO Station, which is a gateway to downtown Brampton, or anywhere in Brampton's Innovation District is an incompatible use," Letts wrote. "Because of the wholly inadequate engagement process to date, Brampton businesses feel cheated by the process. In addition, the office of the Medical Officer of Health has not been adequately briefed on the views of downtown residents, when the last safe injection site proposal was presented."
The Board of Trade requested Peel Public Health bring back a proposal only at a time when more detailed engagement plans could be provided. These included a plan for meaningful consultation with businesses; a specific location for consideration; process for selecting a service provider; an assessment and mitigation strategy for surrounding communities; an economic impact analysis, including a business survey; a consumer survey; a resident survey; and a benchmark report on the experience of other business communities with close proximity to a supervised consumption site.
While council moved ahead with its process anyway, a key part of the Region's efforts moving forward, outlined ahead of council's approval, is detailed public consultations ahead of any site selection.
Brampton Councillor Paul Vicente proposed an amendment to council's approval, which advised staff to avoid locating the proposed site within the boundaries of any downtown Business Improvement Area (BIA). He claimed "it just wouldn't be compatible with local stakeholders."
The Brampton councillor isn't alone in his thinking.
The Region's needs assessment study for the facility conducted in 2019 found that approximately 61 percent of respondents had concerns with such a facility, including worries about the site leading to more drug use and trafficking in the area, alongside decreased property values, and personal safety concerns.
In an interview with The Pointer, Letts said their issue isn't with having the supervised consumption site in Brampton, it's the location in the downtown. He said customers need to feel safe and believe that downtown is healthy.
"BBOT does not have a position on the SCS. To say that it opposes it is factually incorrect. We support regional health objectives," Letts said. "BBOT does not support a flawed regional bureaucratic process that rushes Regional Council and ignores the valid perspective of small business people."
Letts pointed out that local businesses are particularly vulnerable to economic and marketplace conditions at the present time due to the effects of the COVID-19 pandemic.
"Small business owners should have had the opportunity to detail their concerns prior to Council approving a $5.8 million property tax expenditure," Letts said.
"Small business owners have health and safety responsibilities to their staff and their customers. The location of an SCS may impact their ability to provide a safe and healthy workplace and shopping experience. It is clear Peel Public Health's project plan, to date, is inadequate. The small business implications are not being heard."
The idea that supervised consumption sites lead to drug abuse problems in a community isn't new, even though evidence doesn't back it up. A 2016 study by the University of Alberta School of Public Health found that the majority of respondents who reported injecting drugs in the past six months would only be willing to travel up to one kilometre or less to access safe consumption services. Meaning these services will not bring a wealth of new users, but instead be relied upon by those who are already in the area. Further, according to the University of Alberta, there is no evidence to support the idea that an SCS will increase criminal activity around the area it operates.
Following this, the School of Public Health listed the idea of a SCS attracting drug users to a community as a myth.
The report, presented at the July meeting, aims for the site to be operational in early 2023 costing approximately $3.3 million for the first year, including $731,000 in one-time set-up fees, and $2.5 million for the second year.
---
Email: [email protected]
Twitter: @JessicaRDurling
---
COVID-19 is impacting all Canadians. At a time when vital public information is needed by everyone, The Pointer has taken down our paywall on all stories relating to the pandemic and those of public interest to ensure every resident of Brampton and Mississauga has access to the facts. For those who are able, we encourage you to consider a subscription. This will help us report on important public interest issues the community needs to know about now more than ever. You can register for a 30-day free trial HERE. Thereafter, The Pointer will charge $10 a month and you can cancel any time right on the website. Thank you


Submit a correction about this story