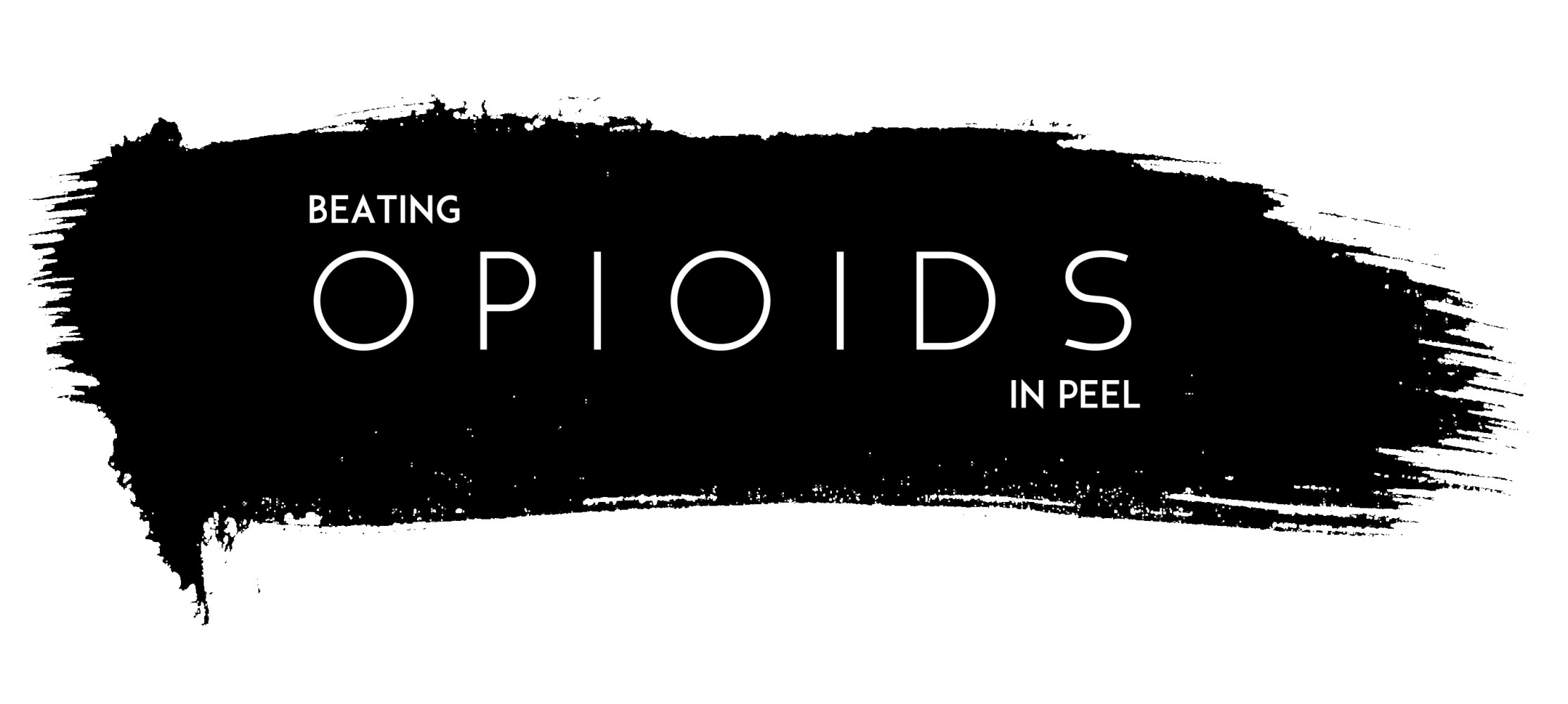 Photos and Graphics by Joel Wittnebel/The Pointer file photos/Region of Peel/CMHA Peel-Dufferin
Beating opioids: a look inside Peel's plan to turn the tide on the overdose crisis
People are dying on the streets of Peel, and to date, the efforts of local leaders have not been enough to stop it.
Between 2016 and 2018, every week was punctuated by at least one opioid-related death. In that three-year span, 236 people died in Peel because of opioids. They were men, they were women, they were brothers, sisters, moms, dads, and loved ones. From 2016 to 2018, 1,295 people checked into Peel emergency rooms because of opioids, likely due to an overdose, 366 people were hospitalized because of the highly addictive painkillers.
The Region of Peel admits it has not done enough to stop this tide, and the startling numbers only continue to rise.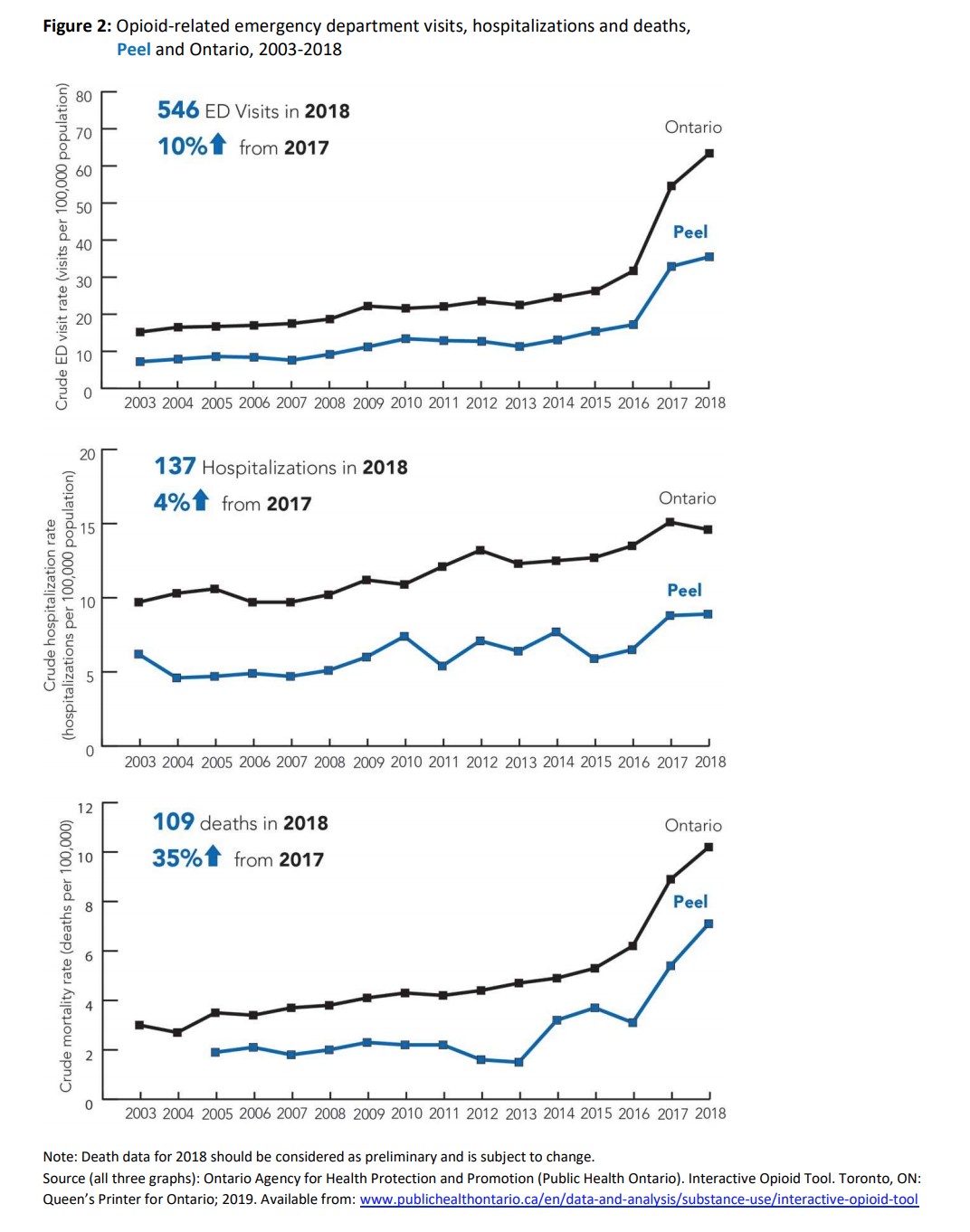 Two silent killers known as fentanyl and carfentanil have contaminated the local drug supply, triggering surprise tragic deaths and making worse the overdose crisis that has been growing grimmer in Peel over much of the last decade.
Peel has become one of the deadliest regions for fentanyl-related deaths in Ontario, with Peel Public Health recording 58 overdoses involving the drug in 2017, behind only Waterloo, with 67 deaths, and Toronto, with 218. The Simcoe Muskoka District Health Unit also recorded 58 overdoses involving fentanyl that year.
These deaths are happening despite the best efforts of community groups and service providers, many of which are fighting the crisis with one hand tied behind their back because of successive provincial governments funding them at the lowest levels in Ontario.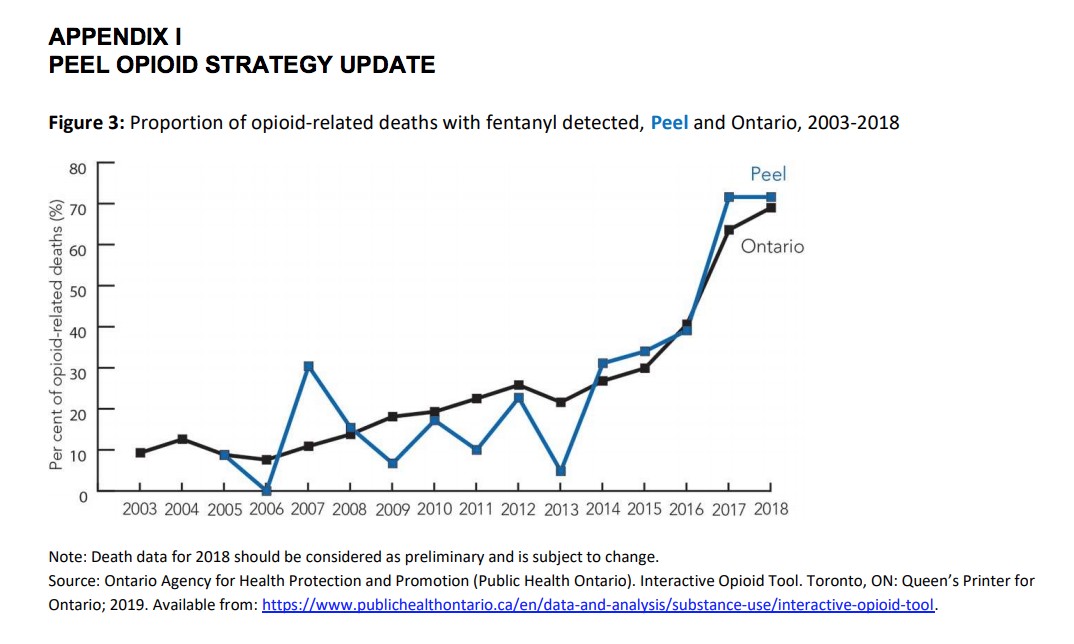 In the young, diverse, and highly educated Region of Peel, the number of opioid-related deaths is not as bad as areas at the epicentre of the crisis in Ontario. This has left public pressure to deal with the issue locally at a bare minimum. However, it's starting to become hard to ignore.
On Dec. 3, as residents escaped the dreary winter weather to enjoy hot drinks inside the Rutherford Road Tim Hortons in Brampton, one man collapsed to the cold, slush-smeared tile floor. He wasn't breathing.
Thankfully, a Brampton fire station is right across the road and when the 911 call went out, firefighters were able to get on scene fast enough to spray a life-saving dose of naloxone (a drug that blocks the opioid receptors in the brain and temporarily reverses the effects of an overdose) up the man's nose and save his life.
The opioid crisis is no longer just happening in the headlines, or out west, or south of the border. It's here in Peel, and the region has realized it's time to put an effective plan in motion to deal with it. With something as nuanced and unstable as the opioid crisis, this is no easy task.
"I think everyone can appreciate how complex an issue this is, there isn't any one group that is going to solve the challenges of overdose deaths," says Dr. Jessica Hopkins, the region's chief medical officer of health.
Like a captain leading the team, the Region of Peel approved its Opioid Strategy late last year, a plan of action that establishes the Region as the connective tissue for the response in Peel.
By bringing together different groups, advocates and service providers in the community — each of which has its own role and function — to fight a collective goal, the Region of Peel has a strategic plan to address its opioid crisis.
It's a lofty dream, but the new strategy is the roadmap for getting there. The plan is supported by four key "pillars" that take a holistic approach to addressing problems at all levels of the opioid crisis. From helping those who haven't even started using opioids (prevention) to those trying to kick the habit (treatment), to aiding those stuck in the storm of addiction through harm reduction and enforcement, the new strategy brings everything under one roof.
"I think key to it is you have to be thinking and addressing the immediate issue because people are dying in your community. You know, we need to work on that. But at the same time, you can't forget about all of those other things that you have to do there as well," Dr. Hopkins says.
Since the 1990s and the explosion of Oxycontin that triggered the first wave of the opioid crisis, similar "four-pillar strategies" have been approved in municipalities across North America, with mixed results. The opioid crisis is still happening, people are still dying, and the landscape continues to shift beneath the feet of policy makers as drugs change and more deadly additives find their way onto the streets.
For much of the last few years, Peel has been working in the dark. The Region, service providers and healthcare professionals are all putting forward their own efforts to help those dealing with addiction. For the first time, Peel has brought everyone together in a plan that takes local needs into account. It's an encouraging sign, but one that shows just how far the region has to go to find its way into the light.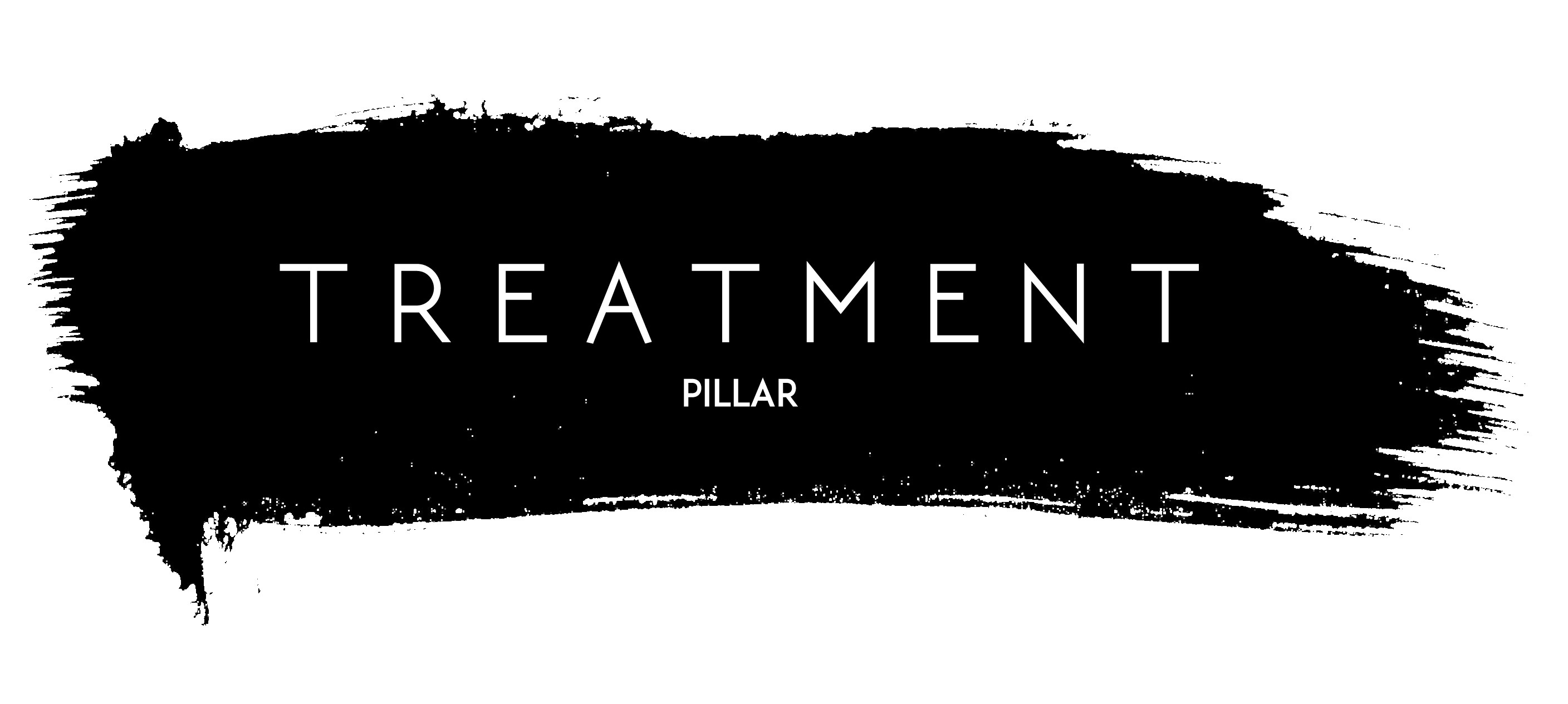 The woman speaks and Alison Corcoran smiles.
"I don't feel like a number here, I feel like a person," the woman said.
Corcoran, a nurse practitioner, works in Peel's five RAAM clinics (Rapid Access Addiction Medicine) helping those battling addiction. She's been in the role with the Canadian Mental Health Association (CMHA) Peel-Dufferin for about three months now and has quickly formed bonds with many of her returning clients.
"It's not a 10 minute event. They're able to actually meet us, spend time with us and we're able to get to know them as well," she says.
It's small, but when it comes to getting treatment for addiction, minor things can make all the difference. The smallest kindness can transform the journey to healing, and the smallest barrier (an unwelcoming face behind a counter or one minute too long of a wait) and the treatment sector could lose them forever. For RAAM clinics, the model operates on a walk-in, barrier and stigma-free environment, essentially an open door policy for those looking to get treatment for a variety of addiction ailments, be it withdrawal or other physiological needs, or assistance with housing and other healthcare providers.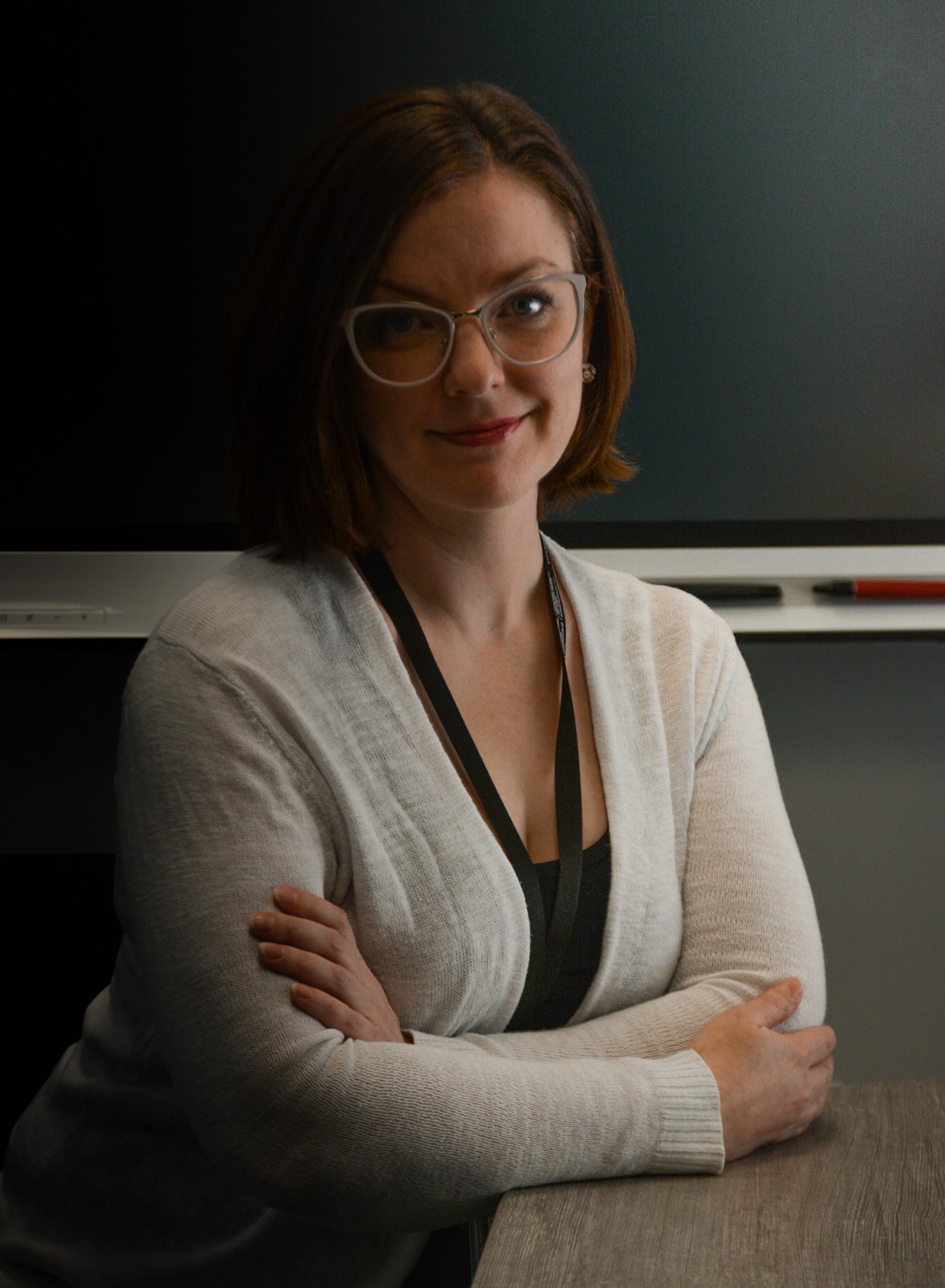 Alison Corcoran, a nurse practitioner in Peel's five RAAM clinics
In the opioid crisis, it's easy to become a number — a number in the emergency room, waiting hours for help, or a number on the street, counted among those who have tragically fallen victim to the crisis; count 1,473 souls in Ontario in 2018 alone. The opioid crisis has a lot of numbers, and for those stuck in the middle, it's easy to become one of them. RAAM clinics look to prevent that from happening, but in Peel, they're swamped, having served 334 clients between April and November 2019, without access to the proper tools to help those in need.
"There are so many people who need to see a psychiatrist or just have basic access to finding primary healthcare, but the mental health services are quite lacking," Corcoran says. "Oftentimes people come to us after years of experiencing symptoms, and years of having issues with substances and we're the first door they walked in."
The Region of Peel knows there are going to be many challenges ahead for its fledgling opioid strategy, and herein lies the biggest potential pitfall. Currently, any new initiative in the strategy is either funded through the existing public health budget — one that has been underfunded for the last two decades — or funded by local agencies, like CMHA, which have budget margins that are also razor thin.
Under Ontario's previous LHIN structure, one that is currently in the midst of being replaced by the new Ontario Health Team model, Mississauga and Brampton were among the lowest funded cities for mental health and addictions care in the province.
The Central West LHIN, which includes Brampton and the Mississauga Halton LHIN, received $66 and $53 respectively per capita from the provincial government for mental health and addictions, well below the provincial average of $107 per capita. Further, much of this funding is targeted to specific agencies, which can be good for that individual agency and their programming, but can create siloed efforts in the community that are not interconnected, making it difficult for those in need to access them.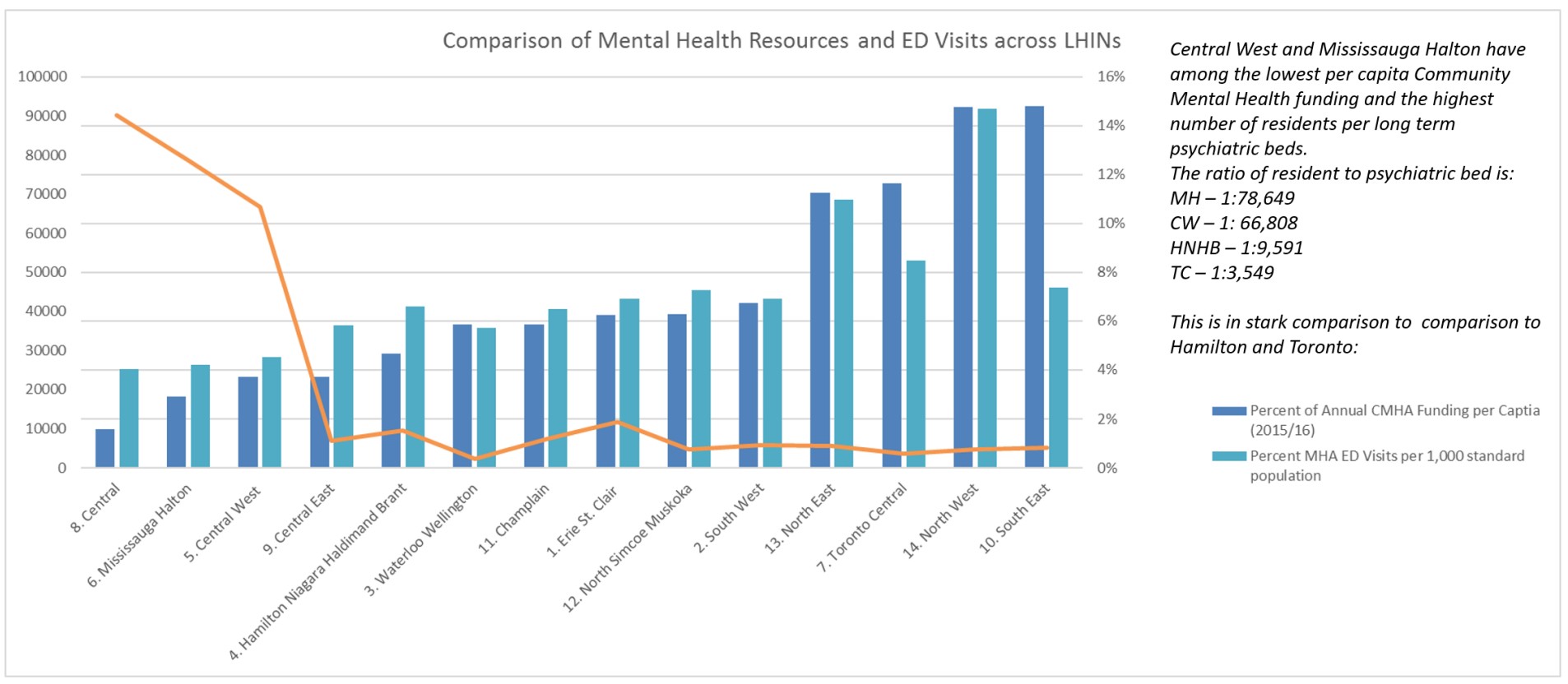 It gets worse.
For those in crisis or suffering serious withdrawal due to their addiction, Brampton and Mississauga have few resources available to help. The Mississauga Halton LHIN currently has one mental health bed per 78,500 people, while Brampton and the Central West LHIN have one per 66,808 people. By comparison, in Toronto Centre, one of the top-funded areas for these sectors, there is one mental health bed for every 3,500 people. Mississauga and Brampton also make do with 1/15th the psychiatric resources compared to other parts of the province, leaving those looking to discuss their mental health or addiction concerns with a professional, with very few places to turn.
"Those are enormous variances," says David Smith, the CEO of CMHA Peel-Dufferin, who attributes much of the funding and resource discrepancy to the area's rapid population growth. The province just hasn't been able to keep up, though it is trying, he says.
"They do disproportionately fund for our areas now, but it's going to take years to catch up," Smith says, and in the interim, there will be challenges. "Essentially it's harder to meet the needs of people in Peel."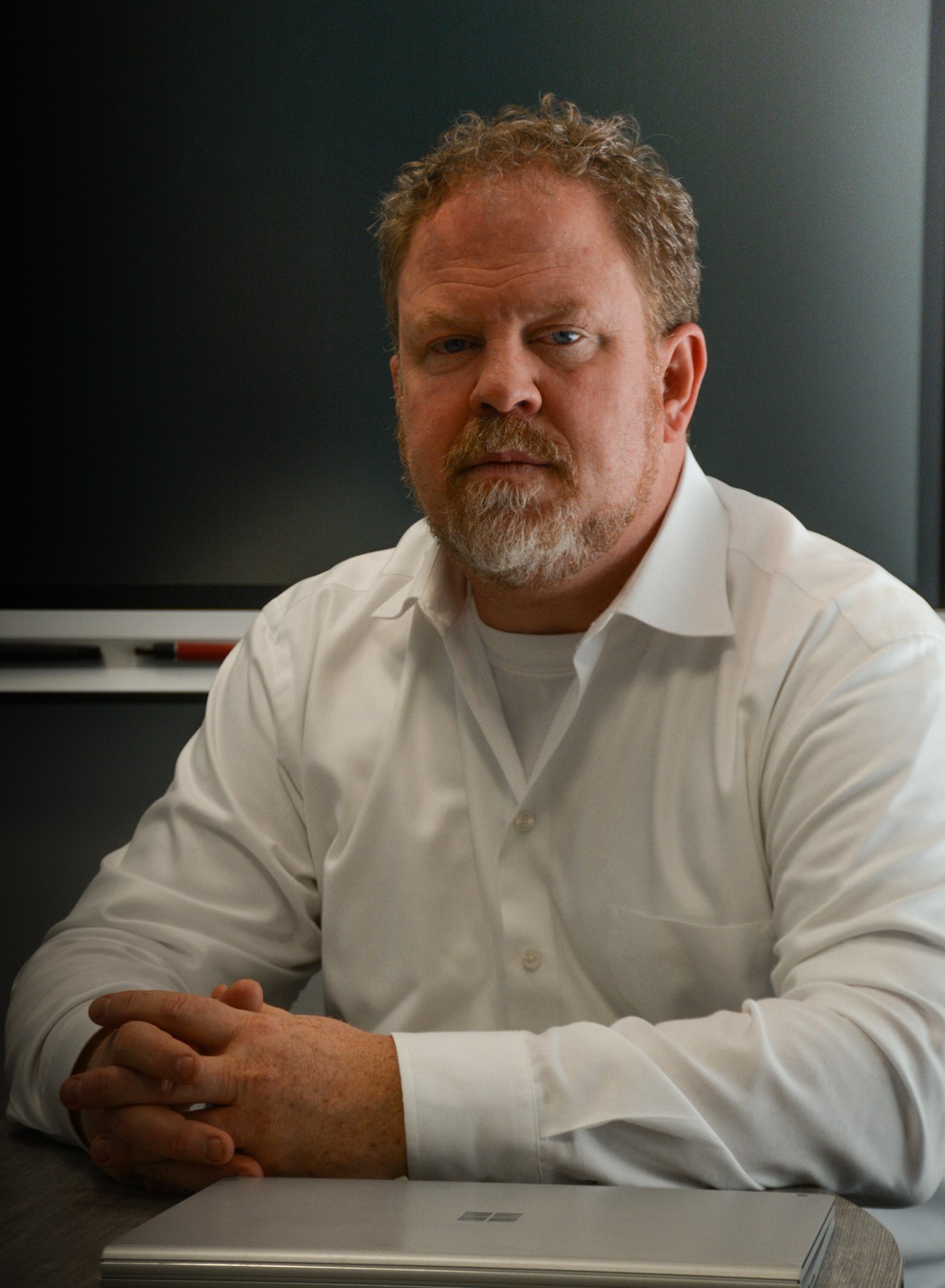 David Smith, the CEO of CMHA Peel-Dufferin
For a heavy opioid user, kicking the habit is not as easy as flushing pills down the toilet and going about your day. While quitting smoking can be done cold turkey (albeit with mild physiological discomfort for the seasoned smoker), quitting opioids in this manner could be deadly.
This means that for a heavy user who wants help, a good first step is a supervised detox. Patients are given a bed in a hospital, and typically taken through a treatment of methadone or suboxone, also known as opioid agonist therapy, to help them reduce their reliance on more powerful and addictive drugs. If you're a heavy user in Peel, you may have trouble finding such a bed.
"The patients that we have are increasingly, increasingly complex and require that sort of attention and care to ensure success and to ensure that they're able to withdraw safely and the waitlist can be weeks," Corcoran explained. The Region of Peel also does not have a provincially-funded in-patient residential treatment facility within its boundaries, unlike surrounding jurisdictions such as Etobicoke, Milton, Oakville, and Vaughan.
In the weeks it takes to receive care, someone battling addiction can easily change their mind about quitting and walk away. It's very common, and there's nothing those in the health sector can do to change their minds.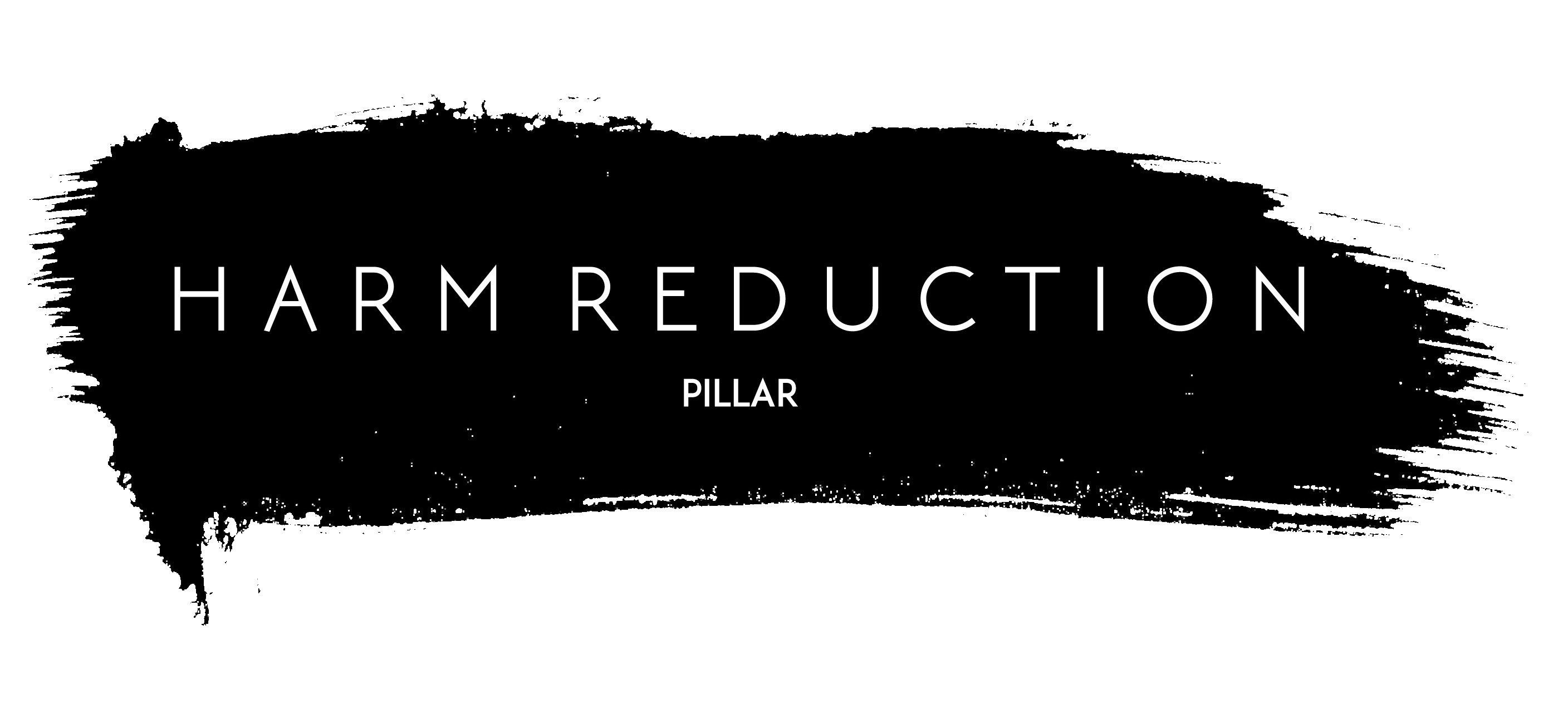 Harm reduction is the dark horse of any four pillar strategy. It's equally celebrated and vilified by those in the community — depending on your stance — and these efforts generate the most headlines as they draw controversy and serious bouts of NIMBYism.
The goal of harm reduction is not to get people off drugs, or stop them from using drugs altogether, outcomes addressed by the other pillars in the strategy. Harm reduction efforts are simply to reduce the negative consequences of using drugs.
In Peel, with treatment services unable to meet demand, drug users are left with few places to turn other than back to drugs, making harm reduction increasingly important.
As part of a survey, the Region of Peel interviewed 150 people who use drugs, and the results drive home the significance of local harm reduction efforts alongside the need for further initiatives. People in Peel are using drugs alone on a daily basis, which is a recipe for disaster.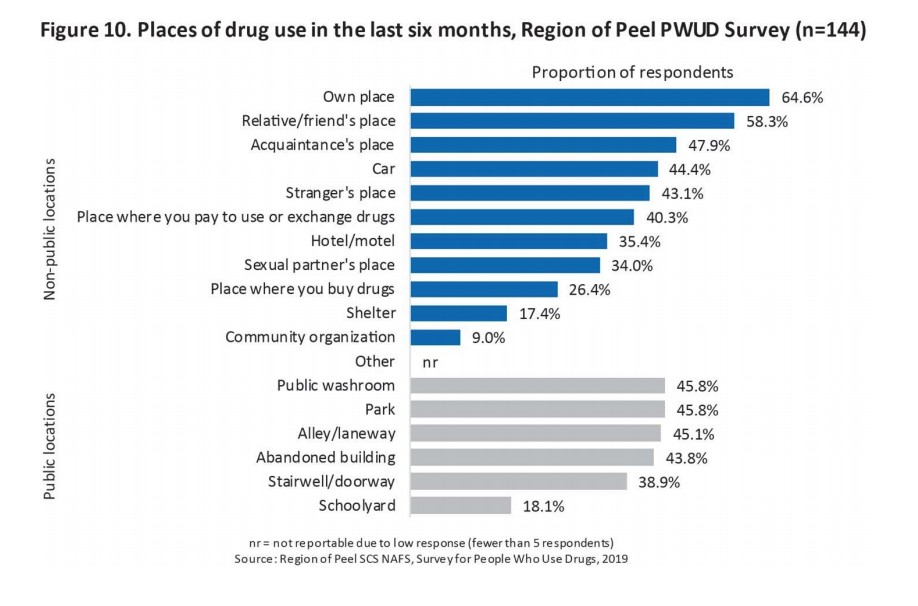 Approximately 78 percent of those surveyed said they use drugs on a daily basis, while 97 percent said they'd used drugs alone in their lifetime. This number is particularly startling when considering that 64 percent of respondents say they had overdosed in their lifetime (almost 40 percent in the last six months) and 80 percent reported receiving street drugs contaminated with something else, with many believing they were cut with fentanyl.
Thirty-nine per cent of respondents tried but were unable to access treatment programs in Peel in the last six months. That's almost 60 people looking for help, but unable to find it.
The Region of Peel has long been in the business of harm reduction, initiating efforts in 2002, with many of them having expanded since then. Interactions with Peel's mobile needle exchange program have grown by 162 percent since 2012, increasing from 2,610 clients to 6,834 in 2018.
The overdose-reversing life-saving naloxone is increasingly being put into the hands of the region's drug users to be employed in the event of an overdose. Distribution of naloxone kits has increased 276 percent in two years from 366 kits handed out in 2017 to more than 1,300 in 2019.
"We know it is getting out there and a significant number of people who come back to us for new kits — because they're provided free of charge — we find out that they were used to treat overdoses. So that's probably the most significant thing we're doing," says Dr. Hopkins.
These extremely valuable efforts take place mostly behind the scenes, and the typical resident of Peel, who has no interaction with drugs or the people who use them, will know nothing about these programs nor be bothered to learn they're available.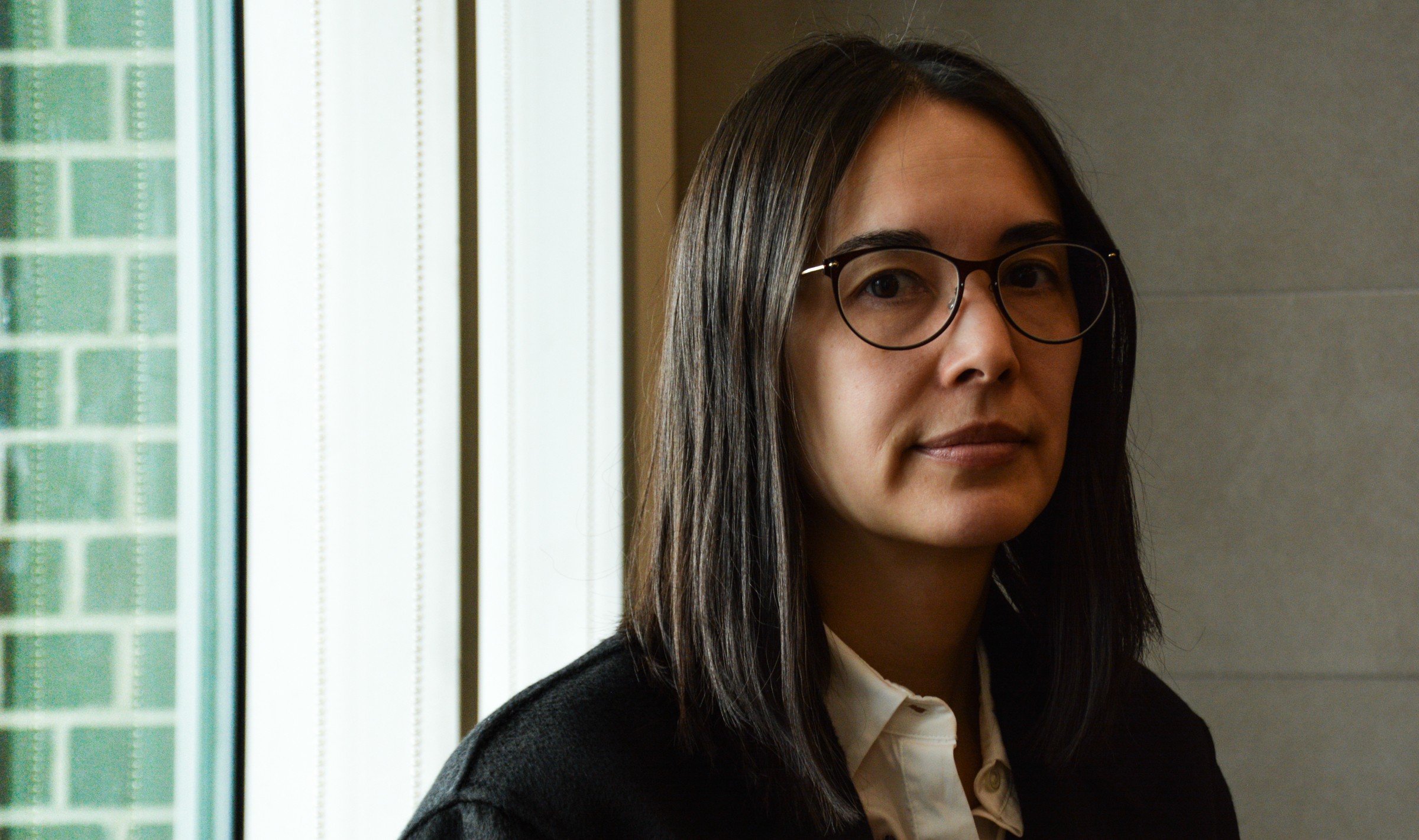 Dr. Jessica Hopkins, the Region of Peel's chief medical officer of health
That is about to change as Peel embarks on its next big project in the harm reduction sector, a supervised consumption site. Allowing illegal drugs to enter premises to be injected by a user is a specialized process, and one that requires licensing and approval from both the provincial and federal governments. In Peel, Moyo Community Health Services is currently leading the process and hopes to operate the future facility in partnership with Peel Region and other local organizations. However, there is already community dissent bubbling beneath the surface.
As part of the region's needs assessment study for the facility, a survey found that many community members didn't want it. Approximately 61 percent of respondents had concerns with such a facility, including worries about the facility leading to more drug use and trafficking in the area, alongside decreased property values, and personal safety concerns. Studies of other supervised consumption sites around the world, of which there are about 120, including 43 across five provinces in Canada, would suggest these concerns are misguided and built on stigma. Nevertheless, the establishment of such a facility will not happen without complaint.
"General Community Survey respondents were divided in their opinions on harm reduction. A common opinion expressed was that illegal drug use is a crime and criminal behaviour should not be supported. Respondents believed taxpayers should not be held responsible for harms associated with drug use and suggested that people who use drugs should be held responsible for their decisions and the consequences that come with drug and substance use," reads the region's needs assessment for the facility. "Respondents worried that SCS (supervised consumption sites) would enable drug use and not address the root causes of addiction."
Dr. Hopkins acknowledges that there will be community concern, and the region will allow residents to voice those opinions. The bottom line is, these are life-saving facilities, she says.
"We know that supervised consumption services, globally, have shown a decrease in overdoses. In Canada, there has never been a death due to overdose in a supervised consumption facility, I think that's a pretty significant statistic when you think about the number of people who've been through them in Canada."
Vancouver has arguably been hit the hardest by the opioid crisis and in 2003, the city opened Canada's first supervised consumption facility. Insite, situated in Vancouver's Downtown Eastside, has seen more than 3.6 million visits to inject drugs under nurse supervision since it opened. In that time, nurses have intervened in 6,440 overdoses. There has not been a single death inside the facility.
However, the process to open an SCS is a complex one, involving exemption under the federal Controlled Drugs and Substances Act, as well as the approval of provincial funding. Perhaps more difficult is getting the communities, and local politicians on board.
The report delivered by Dr. Hopkins to council in December triggered a lengthy debate about the harm reduction measure. With the needs assessment tentatively identifying downtown Brampton and Cooksville as two potential locations for facilities, Mississauga Ward 7 Councillor Dipika Damerla was unwilling to endorse the opioid strategy without first consulting her community.
"I'm concerned that this seems to be moving really fast," she said. "I feel like this decision, in principle, has to be made in the context of the residents of my ward being on side."
Dr. Hopkins assured Damerla that public consultation and local support are both part of the process, and are typically prerequisites for receiving provincial approval and funding, a process that can typically take up to two years. It wasn't enough to convince the councillor, who ended up voting against the opioid strategy as a whole, including the supervised consumption site.
Brampton Regional Councillor Michael Palleschi, displaying a frankness rarely expressed by politicians, said that councillors have no other choice than to take steps toward ending the crisis.
"Councillor Damerla, your community is not ever going to get behind a safe injection site, just like my community, it will not get behind it, but we have an obligation to help people that aren't going to be voicing their concerns," he said. "We've heard before from staff that this is a provincial responsibility. This is no longer a provincial responsibility, this is the responsibility of everyone who can help in this situation."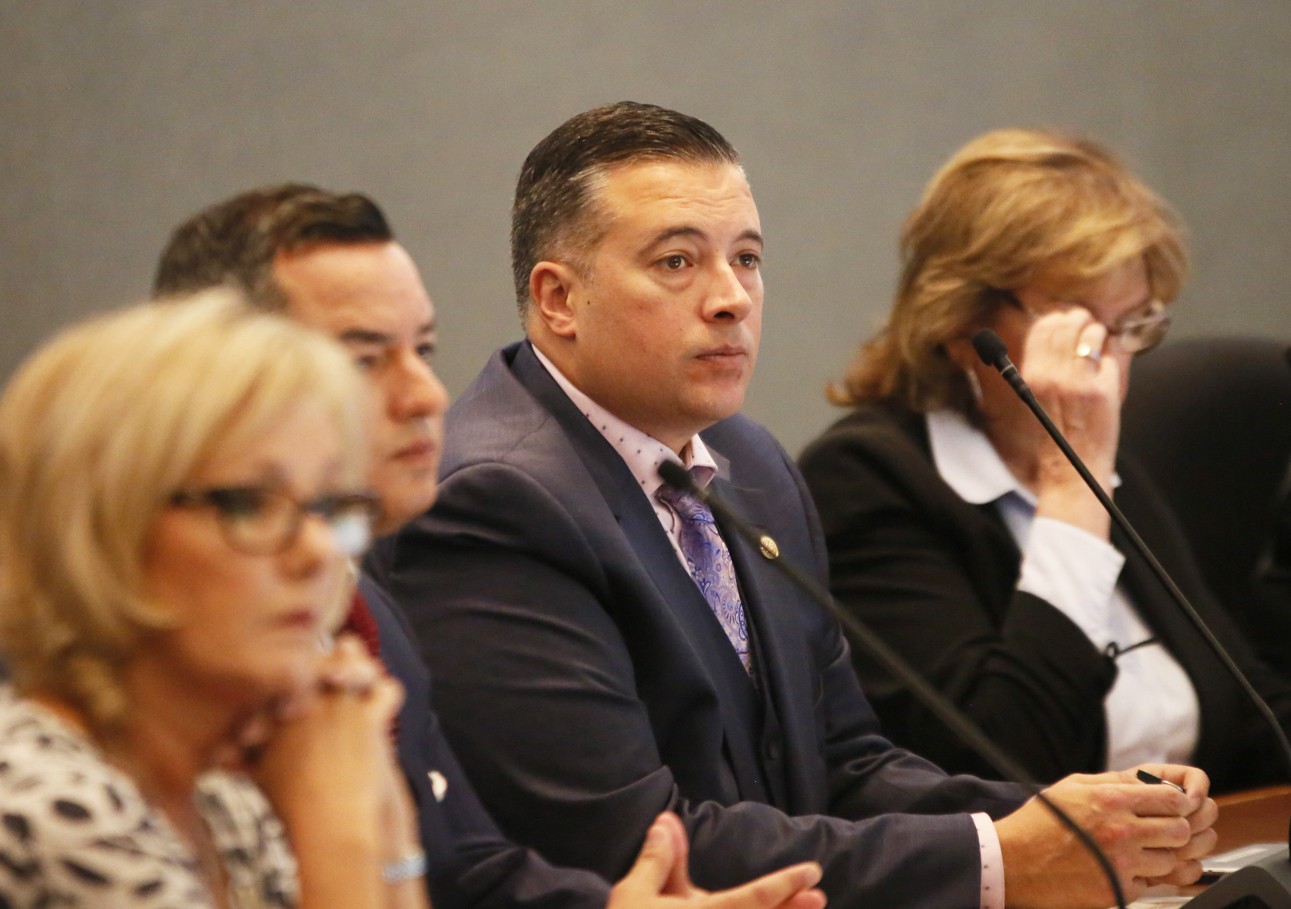 Councillor Michael Palleschi
"It's up to me to educate my community to make sure that they understand that this is how we save people's lives," he added.
The majority of councillors eventually agreed, despite a failed amendment from Caledon Wards 3 and 4 Regional Councillor Jennifer Innis to see the strategy "received" instead of "endorsed" — semantics with a significant outcome, as "receiving" a report would not obligate council to do anything further, whereas an endorsement actually triggers action. Only Councillor Damerla voted against endorsement of the plan.
"There's no time to waste, I don't think we can afford another overdose death in the entire region of Peel," said Brampton Regional Councillor Rowena Santos, who seconded the motion to endorse the strategy.
The council debate is a preview of what is to come, with the past year seeing intense community debates across the GTA, most recently in Oshawa where the local council ended up voting down a proposed SCS.
Moving forward, a steering committee including councillors, service providers and local stakeholders will work on the next steps in the application process, involving further study, consultation and the selection of potential SCS locations.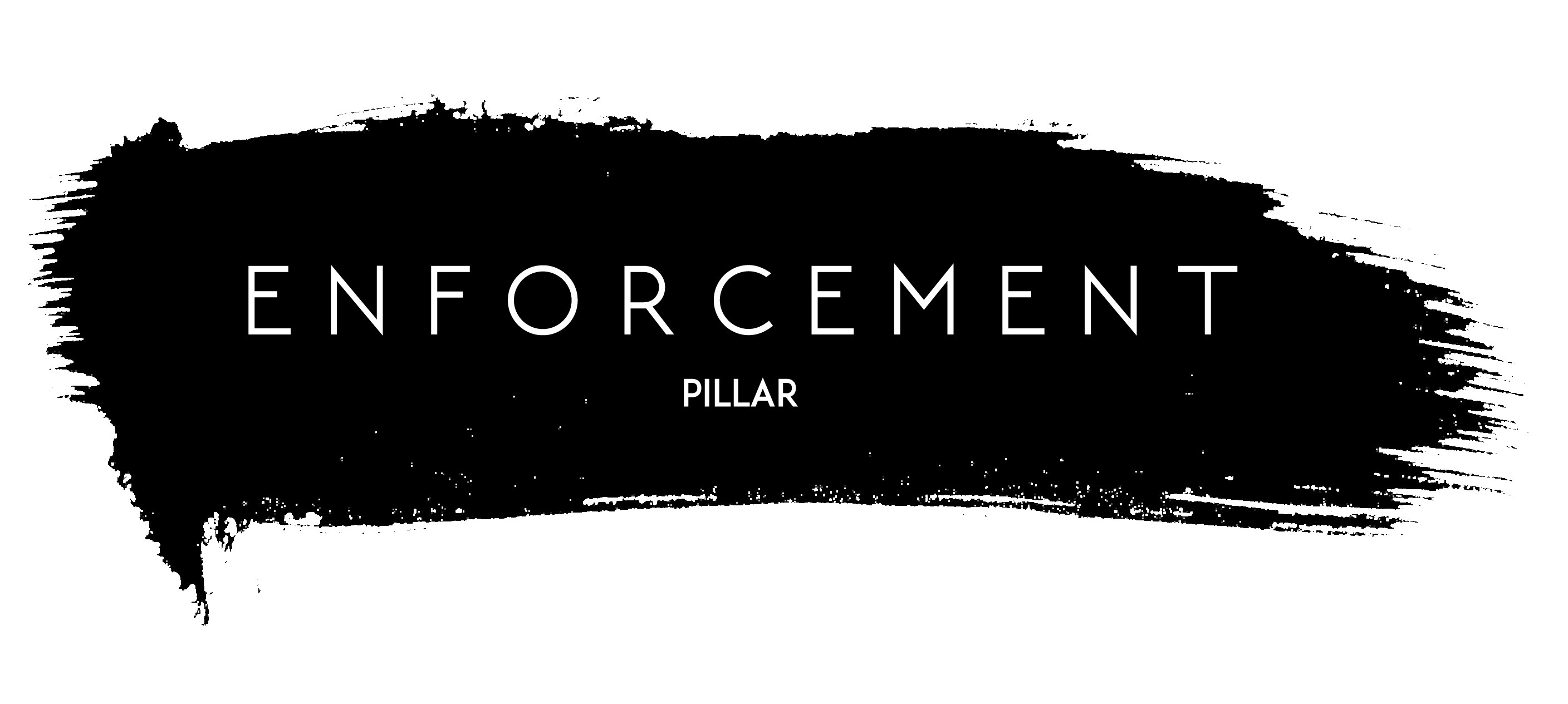 On March 21, Peel Regional Police (PRP) conducted six different raids across the GTA. The searches were the culmination of nearly three-months of investigation by the PRP's Vice, Narcotics and Street Level Organized Crime Bureau with all the sites and vehicles linked to one man: 35-year-old Salem Talke of Brampton.
What police discovered was one of the largest collections of weapons and drugs seized in the region's history: nearly 30 high-power firearms (16 handguns, four shotguns, six rifles), high-capacity magazines, 1,500 rounds of ammunition, a bullet-proof vest, and nearly eight kilograms of assorted drugs, including meth, cocaine, heroin and the deadly fentanyl. In short, a small arsenal, and $1.2 million worth of narcotics.
"This arrest, gun and drug seizure has made a dent in the criminal operations within our community and will significantly disrupt the distribution of illicit drugs and firearms within our region," said Det. Sgt. Kristine Arnold, the lead investigator on the file, at a press conference.
The enforcement pillar of any opioid strategy is typically the most visible. When the police see a success, they like to make a show of it, and the seizure in Project Baron was one of the largest in recent memory.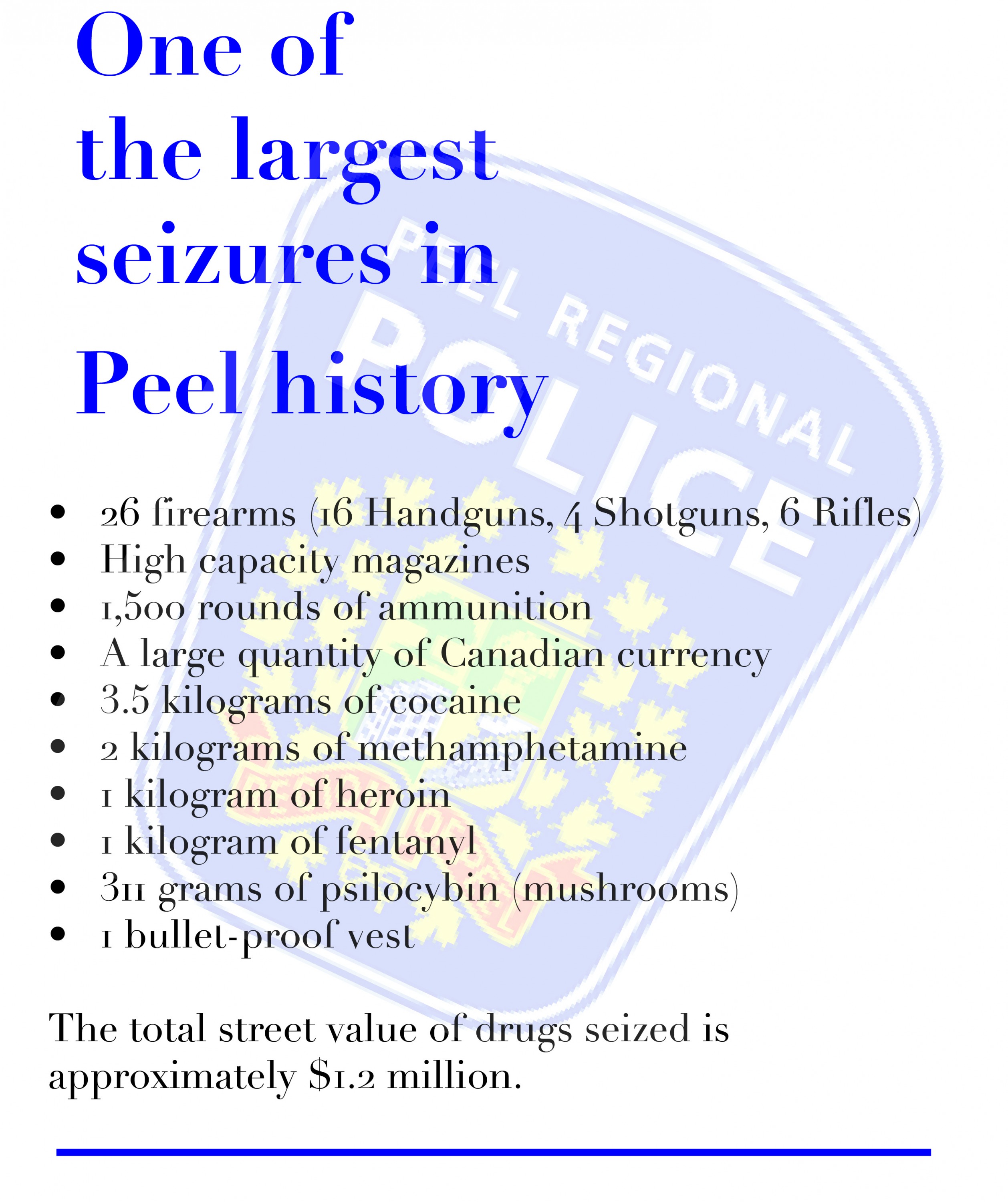 Pulling drugs and traffickers off the streets is the main role of the police in Peel's opioid strategy, and a critical one as, unlike other pillars in the strategy, the police are the only ones who can conduct these investigations, making them a significant player in the strategy. However, their role includes more than just police work, and highlights how the different pillars of the strategy overlap. Enforcement and justice may be their key role, but the police also have responsibilities in the harm reduction and prevention pillars.
Similar to fire departments and other first responders, police are now carrying naloxone kits, and are able to administer the medication in the event they are called to an overdose. Previously, this was a rare occurrence, but after the passage of additions to the Good Samaritan Act in 2018, a person cannot be charged with possession or other drug charges if they call the police to report an overdose, which can encourage people to call for help to assist a friend.
Since 2017, Peel police have administered naloxone 64 times, with 56 lives saved. Caledon OPP have administered naloxone in five cases with five lives saved.
In terms of prevention, police officers provide education to local residents and children through different anti-drug programming. In 2018, Peel police reached 23,261 Grade 6 students through their Reduce Abuse in Drugs program, and provided drug education to 22,389 students in Grades 9 to 12. The Caledon OPP offered similar programming and reached 3,700 students in Grades 6 and 7 and 2,000 high school students.
Further, police are quickly becoming the first interaction for people in crisis. Peel Regional Police are using increasing amounts of resources to deal with mental health calls, with 6,600 mental apprehensions made in 2019, nearly 20 every single day.
To assist in this area, CMHA Peel-Dufferin partners with the PRP for its Mobile Crisis Rapid Response Team (MCRRT), which pairs a crisis support worker (Registered Nurse, Registered Social Worker or Occupational Therapist) with a police officer to assist when dealing with individuals in crisis. The goal of the program is to direct the individual to community services and supports instead of handcuffing them and taking them to the emergency room.
While focused on those with mental health struggles, the MCRRT program is also a crucial piece in the fight against the overdose crisis, as typically those dealing with mental health issues are also battling addiction. If the MCRRT team is able to direct them to the proper addictions programs as well as assist with their mental health crisis, it could be potentially saving a life.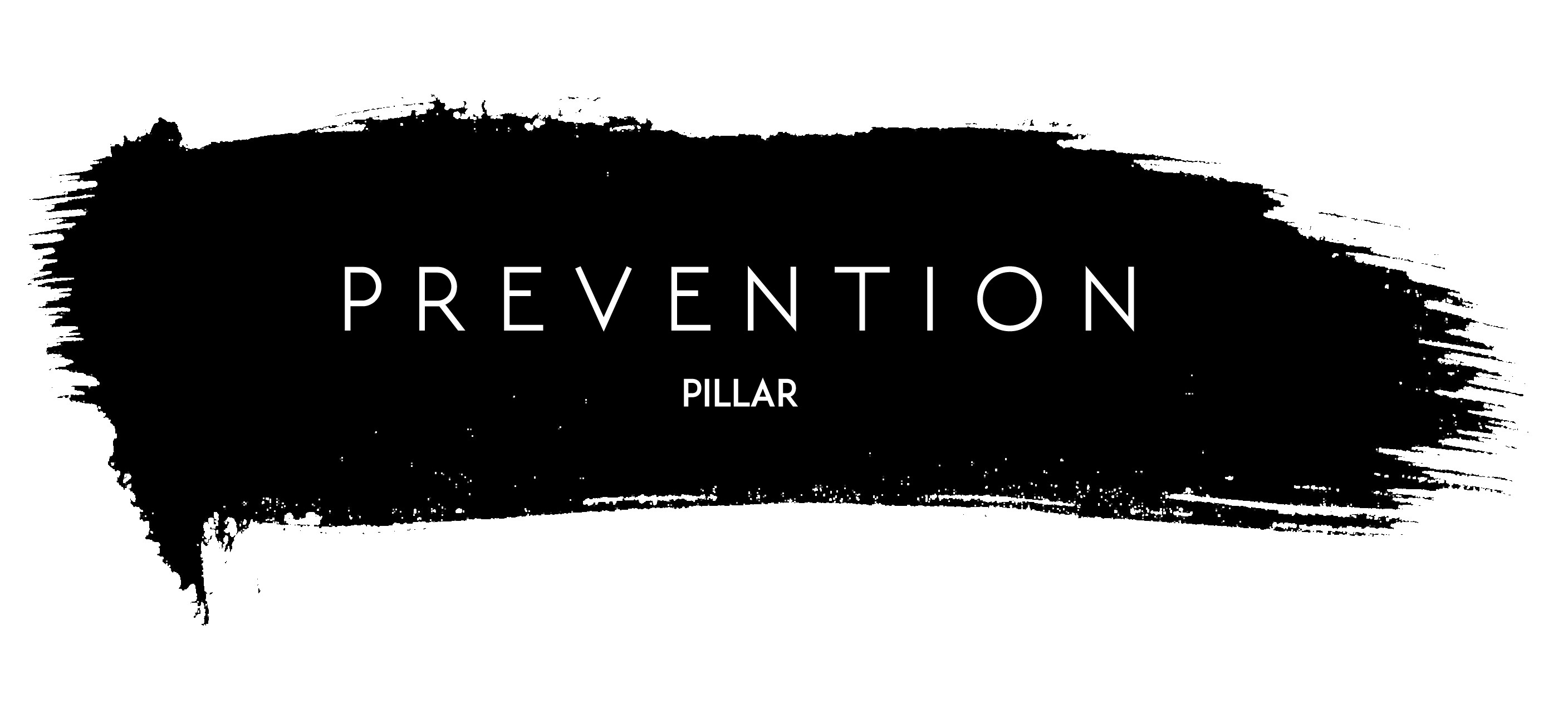 There is no single face of the opioid crisis.
"You never know who's going to walk in the door. We get people from all walks of life," says Corcoran, the registered nurse at Peel's RAAM clinics.
It reaches everybody, and knows no boundaries. This is why public health knows that efforts for prevention must be far-reaching not only geographically, but demographically as well. Those suffering come from all walks of life, and therefore the same can be said for potential future users.
Prevention is all about upstream approaches. In the addictions sector, prevention is meant to keep people from being pulled away in the metaphorical river — where the "downstream" approaches of treatment, and harm reduction are there to help them.
These upstream efforts, for Peel Public Health, start early.
"Once kids are [...] using drugs it's even harder to get them off that. So, you know, why are people, not just youth, turning to drugs? Oftentimes, this has to do with mental health, it has to do with lack of resiliency and sometimes it's a response to trauma that people have experienced. So a lot of the work we do focuses on how do you build strength and resilience in people," Dr. Hopkins explains. "The reality is, all of us are going to be faced with challenges in life. How do we get them in a place where they're going to be better able to respond to the stresses in ways that are healthy. So starting from the very earliest years."
This includes programs like Peel's Healthy Babies, Healthy Children program, which provides eligible families with a support worker to assist them from pregnancy through to a child's earliest years. This support helps ensure a child grows up healthy and happy in a safe, secure and loving environment, in turn developing healthy coping strategies. Healthy brain development means that a child is more likely to be able to say no to drugs when faced with pressure in high school, or avoid turning to substances in times of stress altogether. The more people who avoid taking drugs, the less there are who could potentially overdose.
Peel Public Health also works with schools to provide programming geared toward teaching kids about the importance of mental health.
"We can't anticipate every challenge that every person is going to have. Everybody's challenges are going to look different, but what we can do is try and give them the tools that they can use in order to respond to those challenges," Dr. Hopkins says. "We also look at things that at first blush may not seem that related, like physical activity programs. Physical activity is actually one of the best treatments for mental illness."
It is not always easy to quantify the success of initiatives like these. Statistics account for people who take drugs, not those who don't. However, Dr. Hopkins assures the strategy will tackle this issue in its most significant pillar, the full impacts of which will take years to see.
"These are some of the things that are all interconnected, and if we can do a better job upstream, ultimately we're going to be able to prevent the downstream and the overdoses," she says.
---
In 2018, when Doug Ford and the PC government were elected, the province changed the requirements for safe consumption sites, scrapping plans from community agencies that had been in the works, in some cases, for months, including here in Peel.
The changes now look to have these sites operate in what David Smith at the CMHA describes as a more "service oriented" approach. Essentially, the new safe consumption sites need to take a holistic approach to treatment. Instead of simply being a safe place for drug users to consume, these locations also need to provide access to other supports, treatments and services to meet the user's needs.
These needs can be diverse, Corcoran says, and housing is becoming an increasingly common one.
"Housing and homelessness is certainly an issue that we see, and we do serve clients from shelters, who are couch surfing or vulnerably housed, and that really impacts their recovery," Corcoran says.
Peel's four pillar strategy is what many would consider a holistic approach, dealing with all aspects on the care spectrum and providing opportunities to help people at all stages of their addiction. However, it's clear that the plan needs to include more than that, and it will take councillors and local leaders tackling all of Peel's issues in order to see real success.
The region is dealing with an increasingly unaffordable housing market that sees large portions of Peel's population living in homes they can't afford, hunting for rentals that end up either being too expensive or unavailable, and increasingly turning to shelters or the street with nowhere else to go. These issues are extremely stressful for people, which can lead to them turning to substances for relief.
Despite this, Peel's 2020 budget includes next to no investment in affordable housing.
It goes to show that the strategy needs to be more than just words on paper, and strong statements in council chambers. It will take real attention, and real investment into all of the social determinants of health to see success.
The alternative will simply leave residents vulnerable and continuing to die on the streets.
---
Email: [email protected]
Twitter: @JoeljWittnebel
Submit a correction about this story