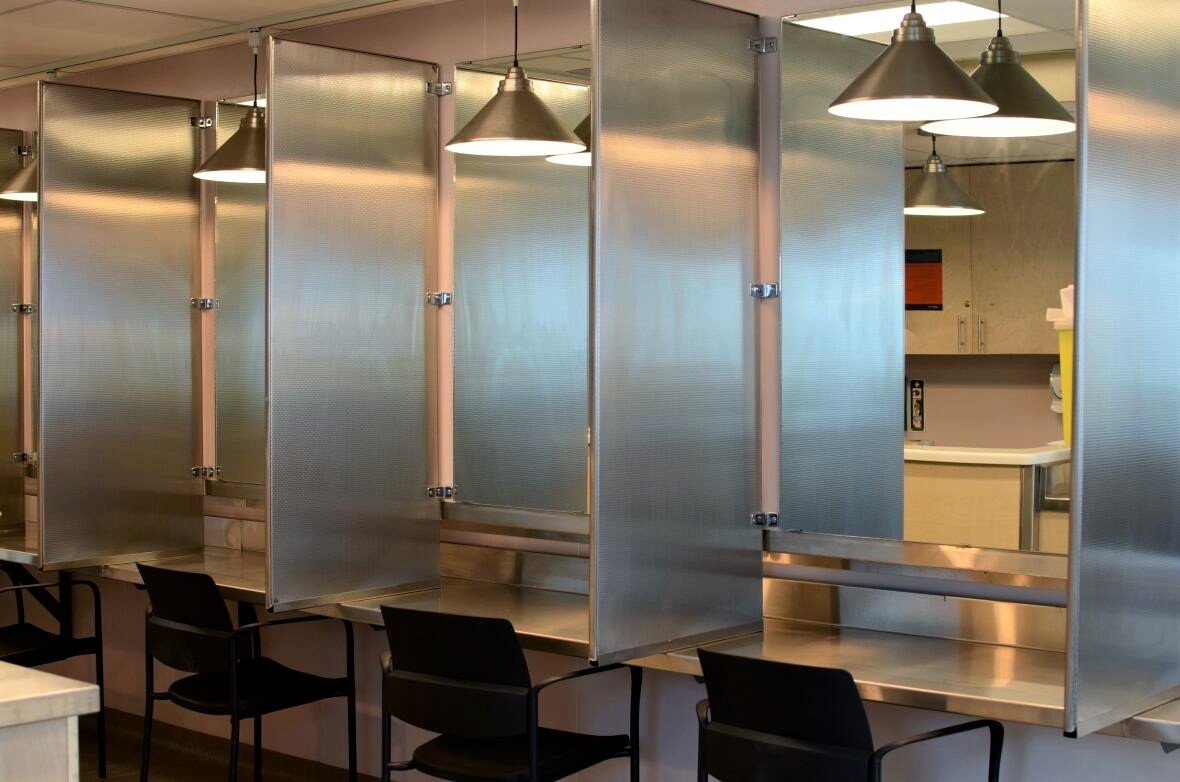 Fraser Health
Peel approves millions for safe consumption site as some councillors begin NIMBY objections 
On Thursday morning, Marie McKenna appeared before Region of Peel Council and played a voicemail her son, Corey, left for her before he died of an opioid overdose in 2018. He apologized for ending up in hospital earlier that day.
She told them how he picked up drugs from his dealer on the final day of his life. How he was found unconscious in the driver's seat of the family car in an underground parking garage in Mississauga by Peel Regional Police. How he was rushed to hospital—and survived.
She picked him up, drove him home.
Even though the drugs nearly killed him earlier that day, there was some still in his wallet.
He took what was left. He didn't wake up.
"My world went dark," she told councillors. "Corey and tens of thousands of people are dying these preventable deaths."
McKenna, a member of Moms Stop the Harm, shared her son's story in an effort to convince councillors of how a supervised consumption site could have saved his life.
Marie McKenna, alongside a poster of her son Corey who lost his life to an opioid overdose. "My son was poisoned," she told councillors.
(Alexis Wright/The Pointer)
She was one of a number of delegates who appeared before regional councillors—many with lived experience of drug use—a courageous effort that many hoped would convince councillors to put aside their possible biases. They called for the approval of a staff recommendation to immediately begin efforts to open a supervised consumption site in Peel as more and more residents continue to die from overdoses.
According to Regional data, opioid related deaths have increased 249 percent since 2014. A total of 651 lives were lost between 2017 and 2021. One of them was McKenna's son.
"These are preventable deaths, and they have to stop. They have to stop," she said.
Jasmine Flynn, a member of the Peel Drug Users Advisory Panel, who has lived experience with drug use, told councillors the decision was actually quite simple.
"This is no longer a debate about the morality of drug use. It's a debate about whether we're okay with letting people die," she said, noting the longer councillors wait to create the harm reduction site, the more deaths the region will experience. "Some people I know will not live to walk through the doors of Peel's site… the threat is real."
In May, regional staff advised councillors that "immediate intervention" was required in order to reverse the rising rates of death—a trend that has only been exacerbated by the COVID-19 pandemic, which forced the drug-using population to use alone with an increasingly poisonous supply of street drugs.
Overdoses are only a single indicator of the toll the opioid crisis is taking on the Region of Peel. According to regional data, for every fatal overdose, there are approximately 20-30 non-fatal ones—while not causing death, they can lead to dangerous, long-term impacts like hypoxic brain injury; peripheral neuropathy, a condition caused by damaged nerves that can lead to numerous side-effects in the body; and renal failure.
Councillors approved the staff recommendation unanimously, which will see them immediately move forward with the creation of an Urgent Public Health Need Site at a cost of $5.8 million over two years. The operation of the harm reduction measures at the site will be handled by Moyo Health and Community Services, with additional clinical services provided by WellFort Community Health Services.

A pillar of the Region's opioid strategy is harm reduction, which along with the future safe consumption site, includes the sharing of harm reduction supplies, like naloxone kits. The medicine can be used in the event of an opioid overdose to temporarily reverse the effects by blocking opioid receptors in the brain.
(Alexis Wright/The Pointer)
The recommendation's approval was not without pushback from some councillors, with statements from Mississauga Councillor Dipika Damerla and Brampton Councillor Paul Vicente suggesting it will not be easy to approve sites in areas where they are desperately needed.
As part of the recommendation, council approved a set of criteria to guide staff's processes as they move forward with the site selection. An amendment proposed by Vicente and approved by council advises staff to avoid locating the proposed safe consumption site within the boundaries of any downtown Business Improvement Area (BIA). Vicente raised concerns about locating such sites in downtown Brampton, noting "it just wouldn't be compatible with local stakeholders."
The locations he and Damerla focused on include areas where the safe consumption site is most needed.
The downtown Brampton councillor was mirroring comments received from Brampton's Board of Trade. A letter from the organization's CEO Todd Letts appeared on the regional agenda.
Letts claimed the Brampton business community felt the consultation to date on the staff recommendation was flawed, and his members "feel cheated by the process".
"It is important that prior to making any decision on allocating funds, contracting a provider or approving a location, Regional Council must convince itself that a fair engagement process has been undertaken and be fully aware of the location and its economic impact," the letter states.
Letts demanded councillors turn down the recommendation from staff until further information on a specific site was available, and further studies like an economic impact analysis, and a survey of business owners could be completed.
It was a request council ignored. A consultation plan that includes discussions with local stakeholders and residents is included as part of the report, and will include meetings with neighbours, businesses, community organizations, service providers, regional and local councillors, along with police, paramedics and fire services, the report states.
But the letter from Letts is a clear indicator of the difficulty that will surround the creation of these sites, and that community reticence about them identified in 2019 still persists today.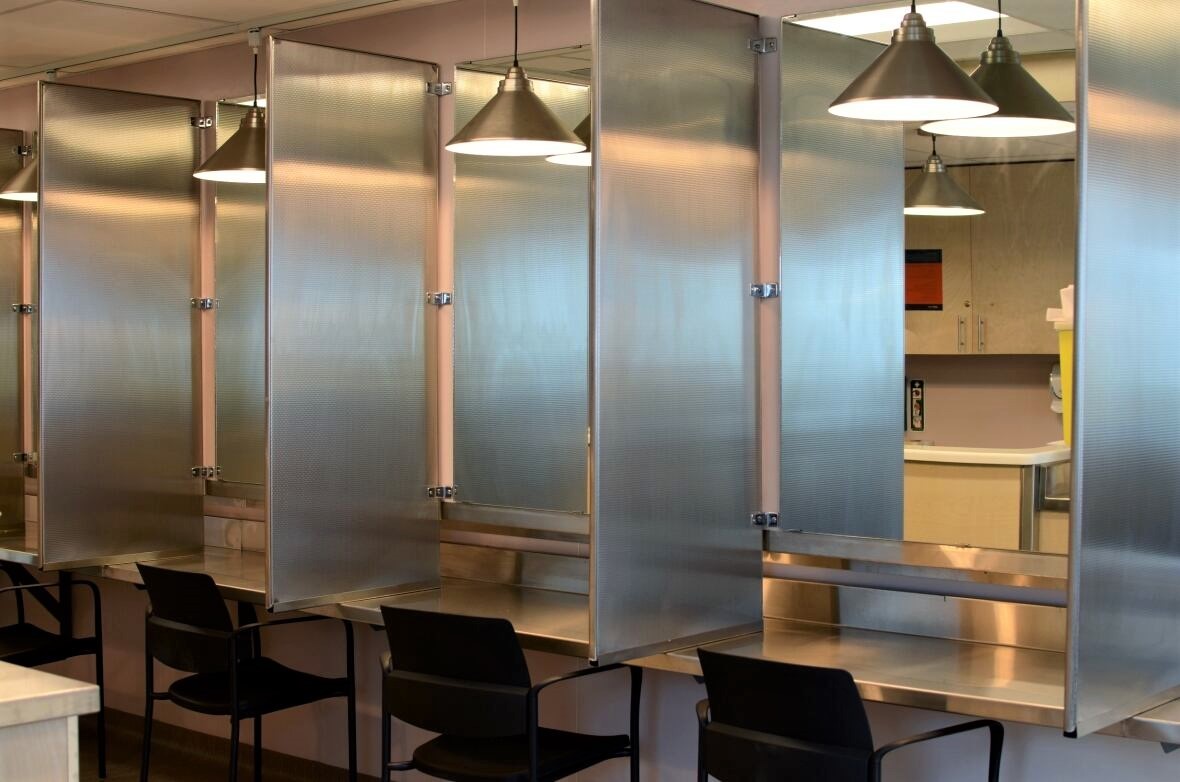 A safe consumption site located in Surrey, B.C., operated by Fraser Health.
(Fraser Health)
As part of the region's needs assessment study for the facility conducted in 2019, a survey found that many community members didn't want it. Approximately 61 percent of respondents had concerns with such a facility, including worries about such a site leading to more drug use and trafficking in the area, alongside decreased property values, and personal safety concerns.
Studies of other supervised consumption sites around the world, of which there are about 120, including close to 40 across five provinces in Canada, suggest these concerns are misguided and built on stigma.
"General Community Survey respondents were divided in their opinions on harm reduction. A common opinion expressed was that illegal drug use is a crime and criminal behaviour should not be supported. Respondents believed taxpayers should not be held responsible for harms associated with drug use and suggested that people who use drugs should be held responsible for their decisions and the consequences that come with drug and substance use," reads the region's needs assessment for the facility. "Respondents worried that SCS (supervised consumption sites) would enable drug use and not address the root causes of addiction."
It will be up to councillors to weigh the potential concerns of residents and business owners with the reality that these sites save lives. There has never been a recorded overdose death in a supervised consumption facility anywhere in the world.
Councillor Damerla echoed the concerns of Vicente, noting that her ward, which includes Cooksville and a BIA area, would also be an inappropriate location for such a site, noting that she would find it "very difficult" to support a site in that area.
"I just want to put it on record that it would be very difficult for me to support a safe injection site that would negatively impact small business," Damerla said. "We really have to be careful in balancing people's livelihoods and people's lives. They're both very important."
This is not the first time Damerla has pushed back against the proposed site. In December 2019, when the Region's opioid strategy was delivered to council, she raised the same concerns. She was the only councillor to vote against the endorsement of the Region's opioid strategy.
Her remarks drew the ire of fellow Mississauga Councillor Pat Saito.
"Did we not sit and listen to all these heartbreaking stories? The need is now," she said. "Sometimes NIMBYism costs lives."
The recommendation by Damerla and Vicente to have staff pay "due regard" to BIA boundaries is in direct conflict with the results of the needs assessment which found downtown Brampton and Cooksville in Damerla's ward are the areas where a safe consumption site is most necessary.
"Certainly the geographic concentration of overdoses is already occurring in these locations," said Dr. Kate Bingham, the Region's acting chief medical officer of health.
Dr. Kate Bingham, the Region's acting chief medical officer of health, fielded several questions about the proposed safe consumption site from councillors. She noted "there really is general support for this intervention."
(Alexis Wright/The Pointer)
Saito argued that concerns raised about these sites impacting businesses by leading to future public drug use, are misguided, pointing to Dr. Bingham's comments that drug use is already occurring in these locations.
"I would urge my fellow councillors to look at what is happening today. Is that what you want to continue to see happen?"
According to the Region's report, the SCS would create multiple benefits not only for the vulnerable drug users and the businesses which have shared a number of concerns with the potential location for these sites. It would give users a place to use safely, and in the presence of a trained health professional who could intervene in the event of an overdose—for over half of the opioid-related deaths in 2021 there was nobody present at the time of the incident.
It would also eliminate the need for users to take drugs in public, something that business owners have said is currently a concern. According to the Region's feasibility study for the SCS, 85 percent of drug users surveyed said they used drugs in public at least once in the last six months, and 47 percent said they used drugs in public usually or always.
"Some individuals use drugs in public to increase the likelihood of someone finding them and responding to an overdose, should they experience one," a regional report states.
An SCS would eliminate this need to use publicly, and would eliminate the litter and public visibility of implements, like needles, that can be discarded after a user is finished.
"For people to come forward and share this heartbreak with us is not easy," Saito said. "You can't sit and listen to it and say, 'Oh, we don't want it in our neighbourhood.' It's in your neighbourhood, and we all have an opportunity to make it much safer in those neighbourhoods," she said.
Council's approval now allows staff to move forward with its consultation and site selection plan. While downtown Brampton and Cooksville have been identified as priority locations, staff are also considering the potential for a mobile site.
According to the report, the site will hopefully be operational in the first quarter of 2023. Following this, regional staff will continue to work with the establishment of a more permanent location. A permanent SCS would require sustained funding from the provincial government.
Staff estimate the current plan will cost approximately $3.3 million for the first year, including $731,000 in one-time set-up fees, and $2.5 million for the second year. The majority of the costs are for staffing the site.
---
Email: [email protected]
Twitter: @JoeljWittnebel
---
COVID-19 is impacting all Canadians. At a time when vital public information is needed by everyone, The Pointer has taken down our paywall on all stories relating to the pandemic and those of public interest to ensure every resident of Brampton and Mississauga has access to the facts. For those who are able, we encourage you to consider a subscription. This will help us report on important public interest issues the community needs to know about now more than ever. You can register for a 30-day free trial HERE. Thereafter, The Pointer will charge $10 a month and you can cancel any time right on the website. Thank you
Submit a correction about this story