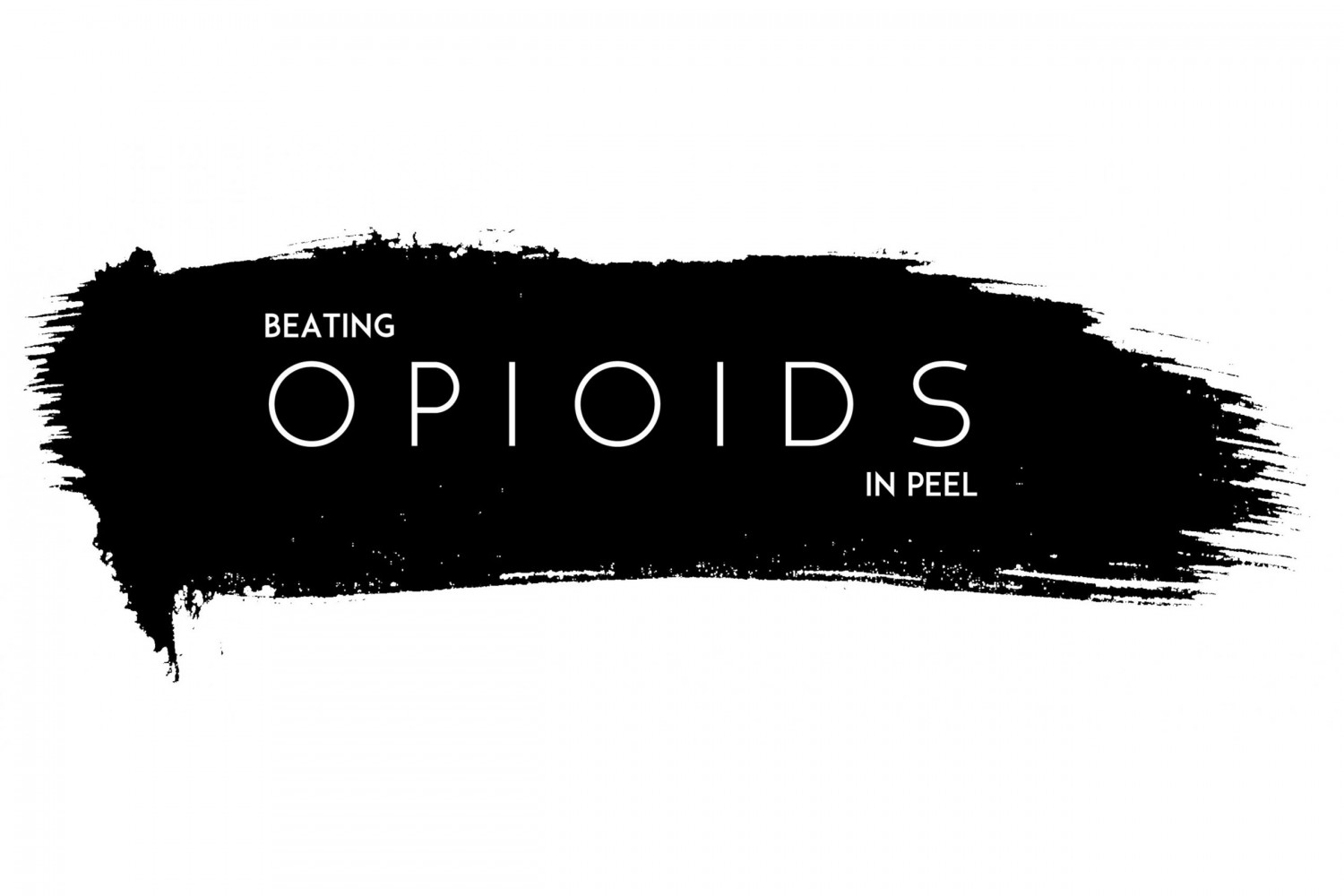 Graphic by Joel Wittnebel/ The Pointer files
As Peel's overdose rate surpassed Toronto's, Region addresses opioid crisis; pushes safe injection sites, decriminalization 
(Correction: An earlier version of this article used an incorrect figure for Toronto's 2021 rate of fatal opioid overdose cases. While the overall rate for the year was higher in Toronto, the rate in Peel surpassed Toronto's for a prolonged period of the year.)
---
A horrific record was surpassed in 2021. A total of 189 Peel residents died of an overdose linked to opioids, an increase of 35 from 2020, which had been the Region's deadliest year for fatalities due to drug use.
The increasing severity of Peel's opioid crisis is mirrored in major cities across Canada which saw similar jumps in the number of people losing their lives to drugs, as the COVID-19 pandemic continued to preoccupy services and supports that would normally mean the difference between life and death for those suffering with addiction.
Preliminary numbers released by the City of Toronto recorded 357 fatal overdoses in 2021, a 65 percent increase from the year before. In British Columbia, the epicentre of Canada's opioid epidemic, 2,224 people lost their lives in 2021 to illicit drugs—a 26 percent increase over 2021.
The increasing severity is concerning in Peel where a historically underfunded and under-resourced public health department is now being forced to handle opioid overdose rates per capita higher than those in Toronto, a city about twice the size. According to 2021 numbers, Toronto had a fatal opioid overdose rate of 20.6 per 100,000 residents, while Peel's was 13.6 per 100,000. For a prolonged period, between May and August of 2021, Peel's rate was slightly higher than Toronto's.
Those working in the mental health and addictions sector knew this increasing death toll would come as a result of the unprecedented lockdowns which isolated those already struggling, eliminated the services they rely on and forced them to use drugs alone—at a time when Canada's illicit drug supply is at its deadliest due to contaminants like fentanyl or benzodiazepine.
As COVID-19's most vicious waves continue to recede, Peel is left with a substantial amount of work to catch up on due to Peel Public Health (PPH) staff being redeployed to contact trace, enforce local pandemic measures and later vaccinate the population—pushing aside critical work on the region's Opioid Strategy (approved by council in 2019).
A report went before regional council on May 26, detailing for elected officials the grim reality of Peel's opioid crisis, which has seen the number of deaths increase by 249 percent since 2014. A total of 651 lives were lost between 2017 and 2021.
Staff state that without "immediate intervention" this trend will only continue. It will take a concerted investment in the supports the drug-using population requires, but also a significant shift in the mindset of those who do not use drugs.
At the Peel Addiction Assessment and Referral Centre (PAARC), the organization has what it calls a "six foot rule", which directs staff to interact with a potential client any time they come within six feet of the person, explains Karen Parsons, executive director.
"They tell us that they're so surprised at being seen," Parsons said. "That's all part of building hope, just treating people with dignity and worth."
She tells The Pointer that many are shocked when they are given this basic human kindness.
"They expect the worst of everything."
People who suffer homelessness are often treated poorly because of the stigma surrounding it.
(Matt Collamer/Unsplash)
More people continue to suffer from addictions, an extremely difficult condition to overcome. In Peel, overdose deaths increased sharply in 2017 rising from 3.1 deaths per 100,000 the previous year to 5.4 per 100,000, and continued upward. Between 2017 and 2021 opioid-related deaths in Peel rose 133 percent—the majority among the region's younger population. According to PPH the deaths were most common among adults aged 25 to 44 years; 1 in 6 of these individuals was experiencing homelessness at the time.
PPH noted 68 percent of people who died of an overdose between 2017 and 2021 were white, a flip of the region's demographics, which show only about a third of Peel's population is white.
"Drug poisoning does not discriminate. Regardless of gender, background or any other identifier, the outcomes are serious, and in some cases, fatal," a PPH spokesperson told The Pointer in an email. "Factors that increase the risk for opioid overdose include, using in isolation, using following a period of abstinence, increased toxicity of the drug supply, and decreased access to harm reduction and treatment services."
Language has changed substantially around mental health, and as discussions around addictions become more common, cities are able to better communicate with residents about the underlying issues more and more people face. After 2017, health experts noticed the majority of drugs causing death had fentanyl or carfentanil in them, either on purpose or by accident.
The very fine grains of fentanyl, a synthetic opioid, are 50 to 100 times more powerful than morphine, while the much deadlier carfentanil is said to be 10,000 times more powerful and is typically used to treat elephants and other large animals.
Fentanyl was detected in 89 percent of the region's opioid-related deaths in 2021. During the same time, Ontario-wide data show fentanyl was present in 92 percent of the 2,277 overdose deaths. Put in context, the increasing presence of fentanyl and other deadly drugs in the street supply is very concerning for public health experts. Before 2014, fentanyl was only detected in 13 percent of overdose deaths in Peel each year. That number increased to 35 percent between 2014 and 2016. Its prevalence has continued to grow.
"Many factors may be contributing to this including availability and presence of fentanyl and related highly potent opioids in the illicit drug supply," a PPH spokesperson said.
The pandemic had a substantial impact on the opioid crisis, affecting people directly and the services they rely on. Despite many restrictions placed on Peel and its providers, teams worked with organizations to continue interacting with clients and were able to distribute 4,394 naloxone kits, a 27 percent increase between 2020 and 2021.
However you look at the numbers they spell out one thing: crisis.
(Graphs by Natasha O'Neill with data from Region of Peel)
Naloxone, a nasal spray, works to temporarily reverse the effects of an overdose by blocking opioid receptors in the brain, allowing an unconscious person to be revived and taken to hospital.
"Gradual resumption of Peel Opioid Strategy related work began in late 2021, with a focus on 1) planning for supervised consumption services in Peel, 2) examining alternatives to drug criminalization, and 3) continuing work towards integrating the Peel Opioid Strategy with existing community and regional initiatives," staff wrote.
The Peel Opioid Strategy is a 2019 endorsed document diving into progressive ideas to combat the crisis. Staff took direction from community organizations, Public Health experts and people with lived experiences to put together a framework to aid decision makers. The work was planned over a few years with the hope of further government funding from all levels in the future.
The pandemic derailed the initiative.
There are four pillars in the strategy: prevention, harm reduction, treatment, and enforcement/justice.
To address harm reduction the Region wants to open "supervised consumption services" (SCS), places where people can use their own products safely. The sites would be monitored by staff trained in harm reduction tactics and overdose response.
PPH explained to The Pointer the reasoning for not calling them safe injection sites, to encompass a place open to many forms of consuming drugs not just through injection.
The sites would also have staff give users clean needles, avoiding dangers from blood-borne infections. These centres could also have other services to connect clients with healthcare, housing, mental health support, addiction treatment and primary care.
Clinton Baretto, a nurse practitioner who works with people suffering homelessness, has seen a need for increased care for opioid users.
"The goal is to really to keep them safe," Baretto said. "Just because somebody has a substance use disorder, doesn't mean that we shouldn't keep them safe. In the same way that, you know, what if people have diabetes, we give them a safe space to inject their insulin."
Homeless Health Peel (HHP), Baretto's organization, assists people living in precarious situations. It works with a growing population facing barriers to healthcare services and withdrawal management. The organization can assist users in the withdrawal process which, depending on the person's history, can be lengthy.
Baretto said the process of withdrawal is torture.
"Think about the worst illness you've ever had in your life, the worst pain, the worst headache, and then you multiply by 100, and it's from the inside out," Baretto said. "Being dope-sick is the worst thing I've ever seen."
There are three options for people going through withdrawal. They can go to a methadone clinic which uses a synthetic opioid in small doses to wean someone off harder drugs. Suboxone is a similar opioid used the same way but requires a monitoring system for 24 hours. The last option is likely met with the easiest relief—continue using opioids. Parsons tells The Pointer no one can force users to go through withdrawal; it has to be a journey and a process they want to do.
"It's a very hard lifestyle to break away from," she said. "So we do know that people will veer off the path once or twice, or three or four times even. And some just aren't ready."
Behind the Nelson Street Drop-In Centre in Brampton, Homeless Health Peel operates a small clinic room.
(Natasha O'Neill/ The Pointer)
Of the people who died of overdoses in 2017, one in six were suffering from homelessness. Lack of stable housing can prevent people from living a normal life, an issue becoming far too common in Peel. Over the pandemic the housing subsidy waitlist exploded to 22,445 residents in 2020 needing assistance, a 50 percent jump from 2019.
According to the staff report there are 38 SCS sites across Canada, 22 of which are in Ontario in nearby municipalities like Toronto, Hamilton, Guelph and Kitchener. Previously, staff examined and determined the need for Peel's own SCS area and have been trying to nail down a location. Downtown Brampton and Cooksville in Mississauga are being looked at but progress has been slow, with local businesses and residents voicing concern over a safe drug-use site being located near them.
In 2019 a Peel SCS study was done and explored the two areas as well as a mobile SCS to reach pockets of residents that would otherwise not benefit from a fixed location to use safely. The locations were based on calls to paramedics where naloxone kits were administered.
"The intent is to start with a low-barrier, smaller-scale service to address the immediate need for services and to learn from an initial interim site to inform ongoing and additional models of supervised consumption services to address the needs in different areas throughout the region," a regional spokesperson said.
Peel Public Health told The Pointer a report on SCS is planned for council consideration before July when it breaks for the summer.
Contrary to what many believe, these sites do not increase or encourage opioid use but instead offer a space for people to use safely and free of judgment. The areas can also be a place for users to start a process of recovery if they choose. PPH has engaged Peel Paramedics, Peel Regional Police (PRP) and regional government to plan for a SCS site.
Under the harm reduction pillar of the strategy, staff are also exploring impacts of drug decriminalization which would eliminate penalties for the possession of certain amounts of illegal drugs.
Recently the federal government allowed British Columbia an exemption under the Controlled Drugs and Substances Act, removing criminal penalties from possession of 2.5 grams of opioids, cocaine, methamphetamine and MDMA as of January 31, 2023. Vancouver and Toronto have also submitted exemption requests.
Toronto is asking for an exemption that would apply to all drugs.
"Participants expressed that there is no way to know which drugs may cause the most harm in the future, in addition to the fact that many harms come from polysubstance use (i.e., where two or more substances are used)," the exemption request states.
It is not just governments who are supporting decriminalization, in July 2020 the Canadian Association of Chiefs of Police, followed by the Ontario Association of Chiefs of Police, issued support of decriminalization efforts. The rationale behind the sometimes controversial policy involves treating those suffering from addictions as part of a health concern not a policing matter.
"We know a lot of these folks that are using substances are self medicating, they're medicating an underlying ADHD or they're medicating an underlying chronic pain condition, or a chronic injury, or depression," Baretto said. "We know addiction is a disease, so why are we criminalizing a disease process?"
According to Toronto's exemption request, the criminalizing of drug possession has led to use in isolation, away from access to police for fear of being charged. Opioids laced with fentanyl are much deadlier and take seconds for someone to overdose, leading to escalating deaths among community members. Even being associated as a drug user comes with harsh stigmas and different treatment from healthcare providers. Those with criminal records related to drugs face a difficult path to securing employment and subsequently housing and a life away from addiction.
"Criminalization of drugs has not effectively reduced the supply of drugs and the unregulated market is increasingly volatile in terms of potency and composition," Toronto's exemption request states.
Peel's own strategy describes drug decriminalization as something between criminalization and legalization. An example of a decriminalization policy is The Good Samaritan Overdose Act, a federal law, which protects people who are overdosing or are a witness to an overdose from being charged or fined when calling 911 seeking assistance.
In 2020, Peel Police attended 5,950 calls related to mental health and spent 45,000 hours on mental health related calls. Baretto believes many of the people who become addicted to opioids are attempting to manage pain, whether that be physical or mental. Peel Police introduced Mobile Crisis Rapid Response Teams (MCRRT) which pair an officer with a support worker trained in mental health and de-escalation tactics.
One of the police force's strategies builds on a model of care and treatment of individuals suffering from mental health and addictions problems, rather than harsh enforcement of laws and criminalization.
According to staff, Peel Public Health is exploring options for drug decriminalization strategies in consideration of the unique local picture.
Staff have noted that if recommendations from the opioid strategy are not implemented in a timely manner it will look like inaction on the Region's part, especially for people (and their friends and relatives) who are living — or have lived — with addiction.
"We impose things on people, we impose what we see as a solution and then we wonder why we get resistance," Parsons said. "I think sometimes, it's not that the solution isn't a good one, it's not being offered at the right time, it's not matching the person's stage of change."
"Then what happens is we say, 'well, that person failed the system,' when really the system failed the person."
---
Email: [email protected]
Twitter: @taasha__15
---
COVID-19 is impacting all Canadians. At a time when vital public information is needed by everyone, The Pointer has taken down our paywall on all stories relating to the pandemic and those of public interest to ensure every resident of Brampton and Mississauga has access to the facts. For those who are able, we encourage you to consider a subscription. This will help us report on important public interest issues the community needs to know about now more than ever. You can register for a 30-day free trial HERE. Thereafter, The Pointer will charge $10 a month and you can cancel any time right on the website. Thank you
Submit a correction about this story