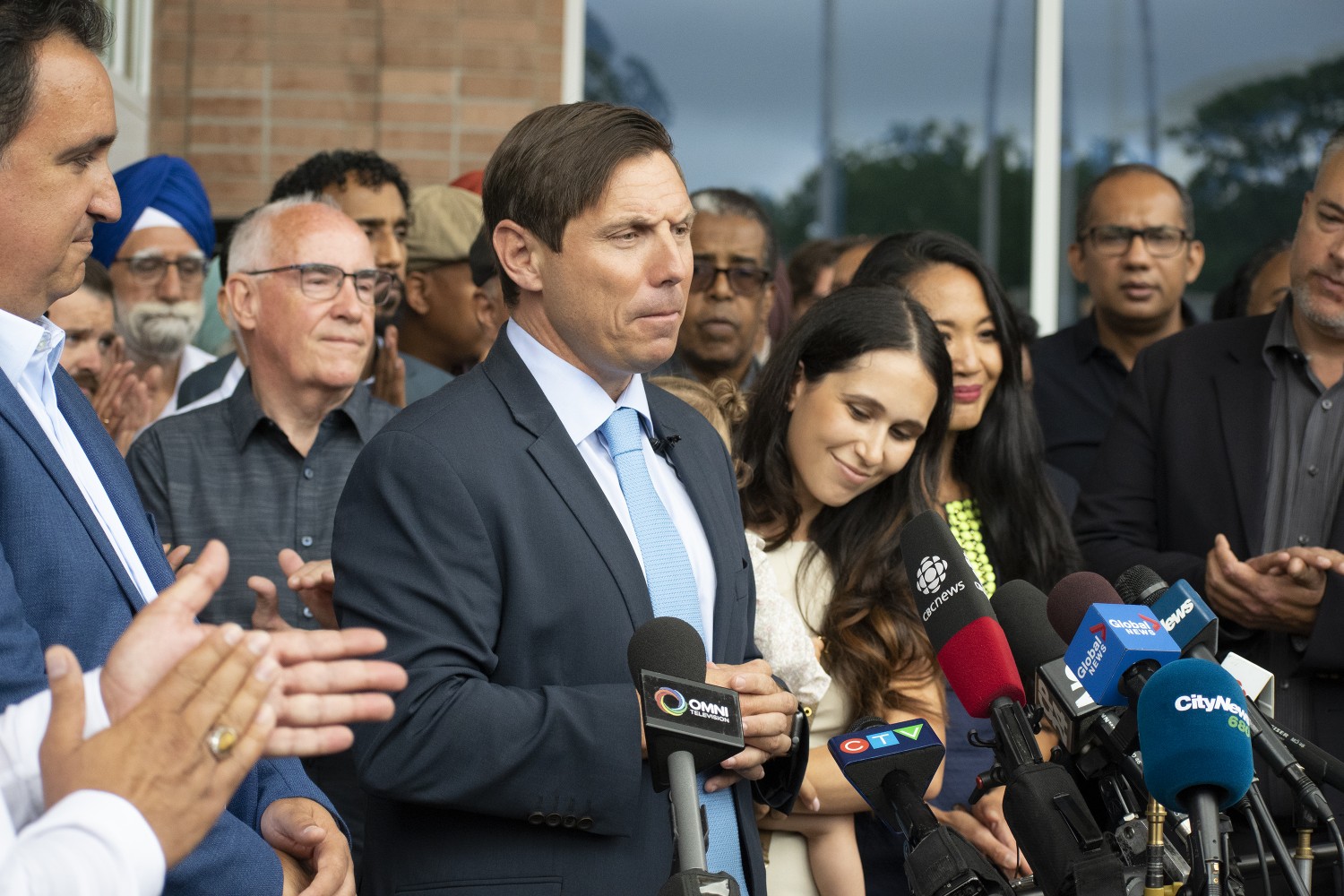 Alexis Wright/The Pointer
With multiple misconduct allegations hanging over Patrick Brown, mayoral reelection announcement filled with deflections & denials
"Why did your office's social media spending go up (from $9,880.76 for all of 2021 to $16,943) in the months of March and April 2022?"
"Are there any other questions?"
With six ongoing City Hall investigations around his conduct and allegations of committing election crimes federally hanging over Patrick Brown, he announced his mayoral reelection bid Monday outside Brampton City Hall.
He gave a four-and-a-half-minute speech in front of reporters, family and his Council allies followed by a 13-and-a-half-minute press conference where he took a variety of questions. Some he refused to answer entirely, including those related to his use of City resources during his Conservative Party of Canada leadership bid (cut short by his disqualification two weeks ago) and more than $330,000 given to a firm—without Council approval—whose point person for the deal was one of Brown's closest friends.
On Monday, he thanked his supporters and promised an economically strong future for Brampton under his leadership.
"For me, being tax-competitive is very important. It's going to continue being a priority. I'd also say, I hear from residents that challenges from public safety are very important," Brown told the crowd in his speech. "We've seen a real growth in auto thefts and I'm going to do whatever I can to support the Peel Police to make sure they have the tools to keep our community safe. I'm excited for the challenges that lie ahead, grateful for the support in the City."
Brown does not sit on the Peel Police Services Board, which provides governance to the force, and oversight of its budget is handled by Peel Regional Council (where he serves as one of 25 members) not by Brampton City Council.
Questions were put forward by reporters, bringing attention to his disqualification from the CPC leadership race and ongoing forensic investigations at City Hall. Brown gave misleading responses to many of the questions.
Claim: "The councillors that had objected to my term as mayor were held by the Superior Court to have broken the law."
After Brown was asked how he will lead the City while "half the council is very adamantly opposed" to him staying on, he said the councillors who have taken this position recently broke the law, suggesting they are the ones who have done damage to good governance inside City Hall.
On May 31, in preparation for the possibility Charmaine Williams would be elected as MPP in the June 2 provincial election, Council passed a motion to select former councillor Elaine Moore as her replacement, if Williams was successful. Moore has publicly stated she would work to reveal the truth about allegations of widespread City Hall misconduct under Brown's leadership. Council is obligated by the Municipal Act to appoint a replacement, after a seat is declared vacant, when it's too late to hold a by-election.
A majority of councillors, including Williams who voted on the preparation motion before she won her Queen's Park seat, obtained a legal opinion that stated the Municipal Act was silent on the matter of choosing a conditional replacement ahead of a possible vacancy, and therefore the move should be allowed.
Brown and his four council allies including Harkirat Singh opposed the selection of Moore and Singh brought an application to the Superior Court to quash the motion.
The finding quashed Council's previous motion, ruling that the Municipal Act's use of the term "appointment" is akin to the selection of a replacement, which must happen after the seat is declared vacant. The judge wrote that none of the background facts were in dispute and expressed "appreciation to counsel on both sides for the high quality of their written and oral submissions."
"I hasten to add that neither party is alleging any bad faith by anyone in this matter, and I am making no findings of any deliberate misconduct," the judge wrote in his decision, released July 11.
Brown has wrongly claimed the councillors were fined, suggesting they had been punished; they were not fined, and there was no punishment, the judge ruled they would have to pay $20,000 in costs to cover legal fees.
Following Brown's statement that they broke the law, the mayor told reporters "this division" on Council was due to allegations that Councillor Gurpreet Dhillon, part of the bloc opposed to Brown's leadership, sexually harassed a woman while on a trade mission to Turkey in 2019.
Claim: "This division is really centred around the Integrity Commissioner's finding of guilt over allegations of one councillor and sexual assault."
In 2020, Council unanimously passed a motion asking Dhillon to resign, and voted for the harshest penalty available, suspension of pay for 90 days.
Every member of Council, other than Dhillon who did not vote, supported the motion. It's unclear why Brown is now claiming the issue is the cause of the divide.
Dhillon has adamantly denied the allegations against him and his lawyer questioned why the now former integrity commissioner, Muneeza Sheikh, would not hand over an audio recording of the alleged incident taken by the alleged victim (which convinced the integrity commissioner of Dhillon's guilt) so it could be properly scrutinized.
No charges have been brought forward by police and Dhillon has said police did not contact him about the matter which The Pointer confirmed was investigated by Turkish authorities with the cooperation of the RCMP and Peel police.
Brown is now claiming the courts upheld the guilty finding by the former integrity commissioner, which is misleading; a court ruling on an application by Dhillon decided, despite Sheikh's failure to follow the proper procedure, that her report would not be quashed on procedural grounds. The allegations against Dhillon have never been tested in court.
A review of Sheikh's hiring is ongoing. She had direct ties to Brown and publicly defended him against the allegations of sexual misconduct, prior to her hiring in Brampton. She had no experience in municipal law and had never worked as an integrity commissioner.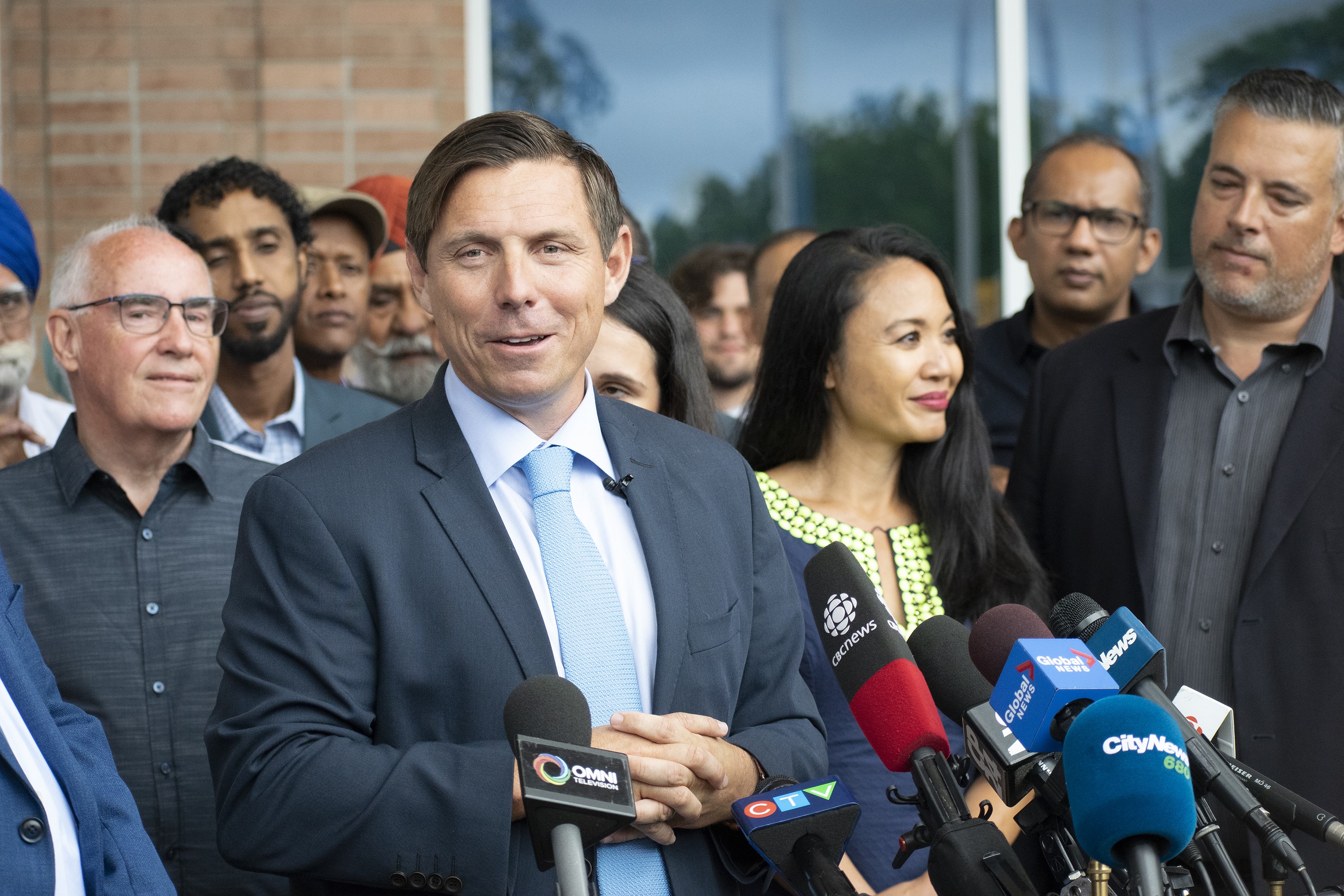 Since Mayor Patrick Brown's election in 2018, repeated controversies have plagued City Hall.
(Alexis Wright/The Pointer)
The divide on Council deepened this year.
In early 2022, councillors who have been critical of Brown including Jeff Bowman, Pat Fortini, Martin Medeiros, Doug Whillians, Williams and Dhillon vowed to restore good local government in the City after a series of scandals and allegations of widespread misconduct under Brown's leadership.
The six councillors voiced concern over the conduct of City Clerk Peter Fay and former City colicitor Sameer Akhtar who sided with Brown in numerous procedural debates. Akhtar had never worked in a municipality's law department and it remains unclear how he was given the top job under Brown. The advice of the lead solicitor and the clerk helped prevent motions calling for accountability and transparency from coming to the floor or pulled controversial issues in camera, behind closed doors where the public could not see what was going on.
After the former integrity commissioner Muneeza Sheikh was let go by a vote of council in March, the move was followed by Akhtar's replacement in June.
Brown has raised concern in recent days about these two decisions by the rival group of councillors.
When asked Monday why people should vote for him as mayor when Brampton is clearly his backup, Brown said he will be "loud and be heard to make sure residents are never short-changed."
Claim: "One of the things I'm proud about this council doing is for decades we got short-changed and for the first time we're starting to see real investment and we need to keep that going. Literally, we are at the epicentre of hallway healthcare and we're now we're getting a billion dollar new hospital and a med school. These are examples when you don't back away and you stand up you can get results."
Brown was actually opposed to creating a levy this year to raise required funds for an expansion of Peel Memorial. This was after staff informed council that the PC government wanted a local share investment of $250 million, half from William Osler, which manages Peel Memorial, and half from the municipality, in order to move forward with the planned expansion of the facility.
Brown ally Councillor Michael Palleschi spoke during a spring Council meeting, suggesting that the Peel Memorial levy would have a negative impact on Brown's bid for the CPC leadership. He was claiming to be the only big city mayor who kept taxes in check over the last four years. Other members said it was disturbing that Brown would sacrifice the desperately needed hospital expansion just to have a low tax slogan for his federal campaign.
Brown did not participate in the vote that approved the required hospital funding in the 2022 budget.
Councillors reminded residents that they tried to put the hospital funding into the 2021 budget, but Brown shot down the idea, failing to secure the needed money.
When Brown was asked Monday if he will step down from the mayor's race if federal charges are brought forward against him for allegedly paying campaign staff using a third-party company, Brown claimed no wrongdoing.
Claim: "Obviously there was no wrongdoing. There was a reason that was manufactured to remove the participation of more than 150,000 Canadians in this race. That wasn't right, that's not what we're here today to talk about. I'm here today to make my intentions clear, we're here today to serve the City of Brampton."
On July 5 he was disqualified from the CPC leadership race. According to the CPC leadership election organizing committee, the Party became aware of "serious allegations of wrongdoing by the Patrick Brown campaign that appear to violate the financial provisions of the Canada Elections Act."
On July 7, the whistleblower, Debra "Debbie" Jodoin, revealed details of her accusations that led to Brown's disqualification.
Jodoin is a 22-year member of the Conservative Party of Canada and its predecessors, in April she joined Brown's campaign as regional organizer, at his request.
"Mr. Brown told me that it was permissible for me to be employed by a company as a consultant, and then for that company to have me volunteer with the campaign," Jodoin said through a statement released by the law firm representing her. "He connected me by text message with a third party for that purpose. I trusted him, but as time went on I became increasingly concerned with the arrangement and suspected it was not okay."
According to her, in June she asked Brown personally to have mounting expenses paid by the campaign. Brown expressed surprise that the expenses had not been covered and allegedly said he was "on it". Shortly after, a corporation paid Jodoin's expenses, according to her.
Following a meeting with legal counsel, Jodoin shared her concerns with the Conservative Party, and at her request, the Party made efforts to keep her identity confidential, but shortly after she came forward through her lawyers. She did so after Brown claimed leadership opponent Pierre Poilievre was behind the allegations that led to the disqualification.
The Party said the information was shared with Elections Canada, responsible for ensuring compliance with, and enforcement of, the Canada Elections Act.
When Brown was asked Monday if he would support the City Hall forensic investigations currently underway, any expansion of them, and the full disclosure in public of the findings, he changed the subject.
Claim: "We do need to have an investigation into why the Integrity Commissioner was fired for doing her job, why the City Solicitor was fired for doing his job. I believe the residents of Brampton will render their verdict on what I believe was inappropriate conduct by some councillors."
The forensic audit into the mishandling of $629,000 for the failed Brampton University plan was ordered May 18, following an alarming staff report that showed much of the work was never received and some of it arrived 17 months late, while at least one of the two firms was not qualified for the lucrative job. Questions have also been raised about the quality of the work that was done.
Councillor Rowena Santos and Brown are directly linked to the two firms that billed more than $600,000 for work that either was not completed, or failed to meet the objectives of the project.
Stakeholder Research Associates employed Rob Godfrey as a senior associate when it was given a contract that was only supposed to be for $170,000 to do work to help launch BramptonU. Despite no council approval, and without the knowledge of a majority of councillors, Godfrey's firm was given more than $500,000, and much of the work was never received. Brown has publicly stated that Godfrey, son of Postmedia Chair Paul Godfrey, is one of his closest confidantes and a key political advisor.
Senior staffer Gurdeep "Nikki" Kaur said during a public Council meeting that Santos yelled at her when she questioned what work had been submitted for the payments she was told to get approved. She has stated Godfrey would often call asking for payment and she was directed by staff who took instructions from Brown not to ask questions.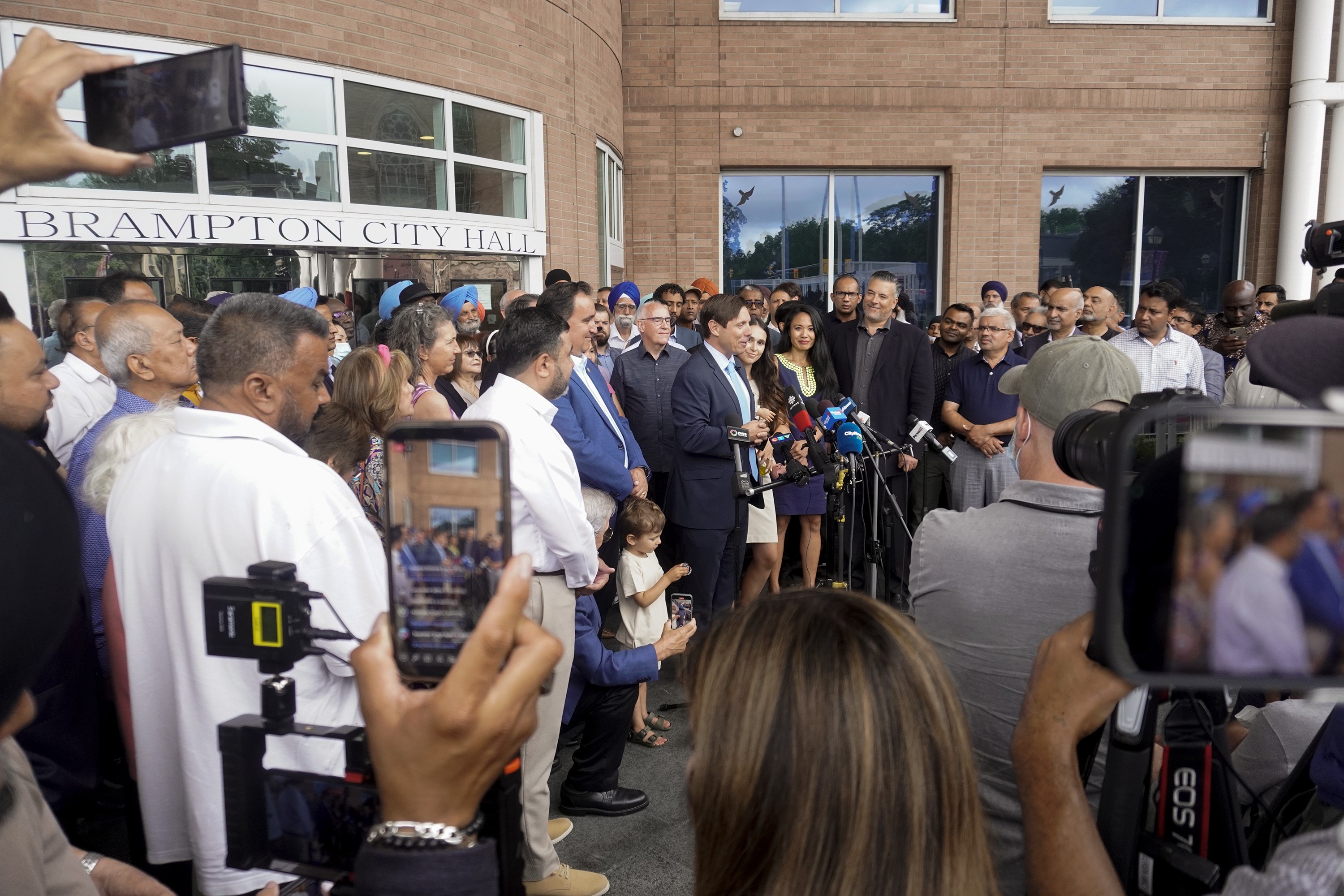 A crowd of media question Mayor Patrick Brown outside Brampton City Hall.
(Alexis Wright/The Pointer)
"In my mind, procurement rules were broken," Councillor Medeiros said during the May 18 Council meeting, after reading the staff report (read the full report here). "We're talking about manipulation, deliberately misleading Council… Essentially, and I hate to use this term, Brampton taxpayers got hosed."
On Monday, when Brown was asked about the current forensic investigation into the contract given to his close friend, he ignored it. "Are [there] any other questions," he said.
A reporter then asked about his social media expenses charged to Brampton taxpayers after he entered the CPC race: "Why did your office's social media spending go up (from $9,880.76 for all of 2021 to $16,943) in the months of March and April 2022?"
His social media use since he entered the CPC leadership race has almost exclusively been for the campaign, but the expense amount that was about ten times higher than what it had been prior to his entry was charged to the City under his role as mayor.
"Are there any other questions?" Brown asked again.
A reporter pointed out Brown's deflection.
"Another question has been ignored, I don't know who they're from but if you become mayor again, would you shut down any audits into any financial activity from you at Brampton City Hall, possibly connected to the federal race. Would you let those audits go?"
Brown once again denied any wrongdoing, calling the claims "ludicrous", refusing to guarantee he would not interfere with the ongoing forensic investigations.
Eleventh Hour Council Meeting
Giving less than 24 hours notice, Brown scheduled a special meeting of council for Tuesday, July 19, while half of council were away on vacation or for personal reasons which they gave notice of several weeks prior.
Brown criticized them Tuesday for not showing up to the snap meeting he called with less than 24 hours notice, knowing they had already informed his office weeks earlier of their schedules, according to emails sent by councillors to The Pointer Tuesday.
Brown has not been physically present for most meetings since March while campaigning, missed key votes and admitted after his CPC disqualification that the campaign monopolized his time (he refused to take a leave of absence and was paid by the City since his formal CPC campaign began in March). Over the past four weeks he did not attend Council meetings, which had to be cancelled.
"Deputy Mayors Martin Medeiros and Pat Fortini, and Councillors Jeff Bowman, Doug Whillans and Gurpreet Dhillon all had informed the Mayor's Office they were unavailable to meet this week, as they had other personal and family commitments, understanding as there was no prior scheduled Council or Committee meeting this week," a statement Tuesday explained.
"Despite hearing scheduling conflicts from other councillors and being apprised by the City Clerk's Office of the fact that a number of Members have sent their regrets to attend, nevertheless, the Mayor intentionally proceeded to call a meeting, knowing quorum will not be reached and the meeting cannot be held."
They accused Brown of playing "yet another game" and pointed out the four previous meetings Brown boycotted alongside his council allies, which had to be cancelled.
"We welcome the Mayor and his supporters (Rowena Santos, Harkirat Singh, Michael Palleschi and Paul Vicente) to join us back at the Council table on August 10, 2022, during the next regularly scheduled Council meeting."
---
Email: [email protected]
Twitter: @JessicaRDurling
---
COVID-19 is impacting all Canadians. At a time when vital public information is needed by everyone, The Pointer has taken down our paywall on all stories relating to the pandemic and those of public interest to ensure every resident of Brampton and Mississauga has access to the facts. For those who are able, we encourage you to consider a subscription. This will help us report on important public interest issues the community needs to know about now more than ever. You can register for a 30-day free trial HERE. Thereafter, The Pointer will charge $10 a month and you can cancel any time right on the website. Thank you
Submit a correction about this story