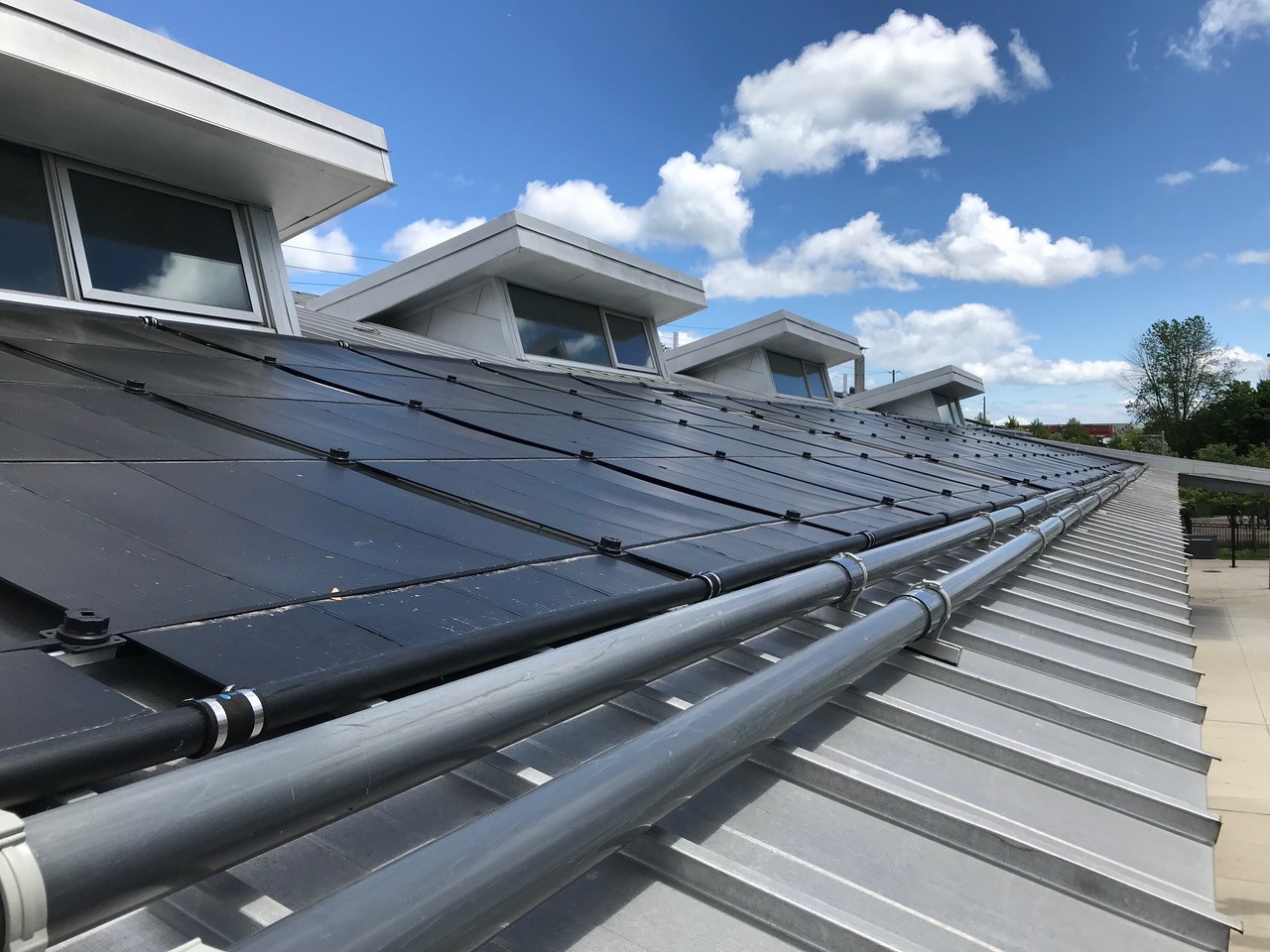 Feature image from City of Mississauga 
Mississauga sees emissions reduction success by building greener, but PCs need to step up 
"We believe that we have – collectively – mobilized and used the potential of this meeting. We now have a blueprint of acceleration to take further," Sweden's Minister for Climate and the Environment, Annika Strandhäll, said. "Stockholm+50 has been a milestone on our path towards a healthy planet for all, leaving no one behind."
June 3 was the final day leaders from around the world gathered for the Stockholm+50 conference. It saw collaboration between countries, panels of youth activists and an urgent message for environmental transformation.
It can feel hopeless when recycling, promoting green initiatives, changing personal transportation habits, implementing household biodiversity, all in an effort to lower individual carbon footprints, is confronted by soul-wrenching headlines like this recent one in the New York Times: "Carbon Dioxide Levels Are Highest in Human History."
According to the Times article, the concentration of greenhouse gas (GHG) emissions reached almost 421 parts per million in May. The total count of emissions was 36.3 billion tons in 2021, "the highest level in history."
The Intergovernmental Panel on Climate Change (IPCC) has made clear that in order to lower GHG emissions and avoid the irreversible destruction a heating planet will cause, local governments must play a critical role.
A 2018 report pointed to the pressing need for municipal leaders to pick up the torch of green, sustainable development in order to prepare for a future where cities are built with public transit, active transportation, complete communities and sustainable energy systems as central planning features.
Residents are often most familiar with the lowest level of government and interact with City Hall more often than any other public legislative institution. In order for cities to encourage residents to invest in green retrofits for homes or purchase a zero emission vehicle, governments must lead by example.
The City of Mississauga is spearheading green infrastructure initiatives and promoting environmentally conscious urban design, as staff and Council members try to implement policies that support legislated commitments to decrease carbon emissions to numbers that are 40 percent below 1990 levels by 2030—an accomplishment that will collectively benefit the Region of Peel which according to data is warming twice as fast as the global average.
The Credit Valley Conservation Authority (CVC) reported from its watersheds, which cover the majority of Peel, an average annual temperature increase of 1.8 degrees since 1940 — this is about double the rate of warming that has happened globally.
Residents feeling the sticky, humid heat currently can attest to how much hotter the Region has become in recent years. The past two days, Environment Canada has issued heat warnings for the Greater Toronto Area as forecasted temperatures were set to reach the mid-30s with humidity values closer to 40 degrees.
Each step taken by all levels of government to address climate change will have a direct impact.
(City of Mississauga)
With more extreme heat days and more frequent violent storms as the planet warms beyond pre-industrial climactic norms, Mississauga staff and councillors vowed to spend almost half of the 2022 capital projects budget on green initiatives. An analysis of the 2022 capital budget completed by The Pointer found a total of $197.9 million worth of investment connected to the City's plans to mitigate or adapt to the changing climate. This accounts for approximately 41 percent of the $476.2 million in capital projects moving ahead this year.
This is a dramatic increase from capital budgets approved up until a few years ago, suggesting a City Hall culture shift.
On June 7 staff presented some significant reductions in the City's corporate emissions. According to a presentation given to the Environmental Action Committee, last year saw Mississauga achieve a 10-percent reduction in energy use, a nine percent cut to GHG emissions and a 17 percent reduction in water usage compared to 2018, according to the 2021 Annual Energy Report.
The pandemic fallout could have contributed to the reductions, but the numbers show City Hall is taking a leadership role, as local governments become the focus of climate change advocates around the world, who recognize the way we use land to plan and live in our communities has a huge impact on global temperature.
To achieve 2050 targets, Mississauga has approved the Corporate Green Building Standards, to mandate new construction or major renovations to City-owned or operated buildings with green policies as a focus.
Under the standardized framework, Level 1 is the bare minimum for new city buildings, requiring developers to construct facilities using specific efficiency designs. Some key features include lowering the energy consumption by at least 10 percent. To do this heating/cooling pumps, window retrofits and LED lighting is required.
Mississauga staff describe Level 2 as more "ambitious". On top of meeting all requirements listed under Level 1, all on-site renewable energy devices need to offset five percent of a building's annual energy consumption. Level 3 demands on-site renewable energy devices need to offset 100 percent of annual energy consumption, essentially creating a net zero facility.
Since the implementation of the Green Building Standards, there was a 30 percent reduction in corporate building emissions in 2019 relative to 1990 levels.
According to Sharon Mittmann, manager of urban design, planning and building for Mississauga, Queen's Park asked for one thing: "The only comment the Province gave back to us is, 'please don't give us any direction to actually update our building code," Mittmann said. "So that was really a non answer for us. We would love to make things a little bit more mandatory, but they do have a legal framework that is limiting us through the Planning Act to do that."
After coming into power in 2018 the PC government scrapped a $2.5 million incentive program allowing homeowners to install charging equipment for electric vehicles (EV). Simultaneously, Ontario walked back a line in the Ontario building code forcing new builds to have EV charging requirements. This among other environmentally devastating cuts to renewable energy contracts and strict limitations placed on the Province's conservation authorities, defined Doug Ford's first year as premier.
Shortly after, Mississauga endorsed the City's Climate Change Action Plan (CCAP) in 2019, which outlined that building emissions account for the second largest source of CO2. The City breaks down GHG emissions into two categories: corporate emissions from buildings and other structures, the MiWay fleet, street lighting and fire stations/trucks; and community emissions from private homes, businesses, buildings and personal vehicles.
By introducing green building standards for new city-owned facilities, Mississauga significantly reduced costs and lowered carbon emissions.
(City of Mississauga)
The CCAP says buildings account for 50 percent of community GHG emissions. For the City, MiWay is the single largest source of emissions (67 percent) followed by city-owned buildings (20 percent).
"In 2019, GHG emissions from municipal operations were approximately 81,000 tonnes eCO2, an increase of 18 percent relative to the 1990 baseline," the CCAP details.
Staff mobilized 89 actions from the CCAP to lower consumption of energy and decrease GHG emissions; 19 are specifically focused on buildings. A 2021 update on the progress suggested one action had been completed with six underway, two ongoing and 10 either paused or not started.
Key investments in a solar energy generation system at the Edward J. Dowling Transit Facility for $2.6 million and pathway lighting LED upgrades for $1.7 million at various parks will assist Mississauga in getting closer to its targets.
In 2021 Mississauga was the first municipality in Canada to achieve the ISO 50001 Certification which is a global energy standard with specific requirements for implementing, maintaining and improving an energy management system.
In 2021 the focus on buildings allowed a reduced consumption of electricity (13 percent), natural gas (eight percent) and water (17 percent), significant decreases.
"In 2019, the first year of the newest energy conservation plan, there was a 1 percent increase in energy consumption and a 3 percent increase in GHGs," the CCAP states. "While a number of upgrades resulted in a 1 percent reduction in electricity consumption (e.g., lighting upgrades), increased rentals and hours – especially in indoor swimming pools – resulted in a 4 percent increase in natural gas consumption."
Almost exclusively Mississauga's buildings are heated and cooled using natural gas. In order to reduce consumption of the "fossil gas" Mississauga is looking for alternative ways to power buildings.
One solution is district energy, which uses thermal energy as a way to heat and cool buildings. The new technology is being proposed at Lakeview Village, the massive new development going up on the eastern lakefront, and would use energy from the nearby G.E Booth Water Resource and Recovery Facility.
"As noted in a UN publication on District Energy in Cities, DE 'is one of the least-cost and most-efficient solutions for reducing GHG emissions and primary energy demand,'" the CCAP quotes.
On June 22 City Council will have the opportunity to discuss a partnership with a private company on how to support a district energy system at Lakeview Village.
Massive rebuilding of community centres also provides the city with the opportunity of a do-over.
Both of the above community centres have stringent targets to reach and are undergoing construction until 2025 (Carmen Corbasson) and 2023 (Burnhamthorpe).
(City of Mississauga)
Fire station 125 at Union Park on Tenth Line and Aquitaine Avenue will be the first net zero city built project. According to the report the fire station is in the design phase.
Proposed incentives through governments would allow homeowners to retrofit their house lowering energy usage and decreasing community carbon emissions.
Mississauga is in the process of partnering with the City of Brampton and the Town of Caledon to design a home energy retrofit program for single-family homes. It will be designed to improve energy efficiency and promote cost saving solutions for residents. It is unclear if the pilot program would only address single-family homes and then be expanded to other forms of housing.
Councillor George Carlson recently asked staff if designing with green initiatives in mind has gotten easier over the years, citing possible pushback from residents or developers as a reason for the lack of progress previously.
"In urban design, everything's an uphill battle. But honestly, I think it is getting easier," said Mittmann. "I think the general public is actually asking for more of these features."
---
email : [email protected]
Twitter: @taasha__15
---
COVID-19 is impacting all Canadians. At a time when vital public information is needed by everyone, The Pointer has taken down our paywall on all stories relating to the pandemic and those of public interest to ensure every resident of Brampton and Mississauga has access to the facts. For those who are able, we encourage you to consider a subscription. This will help us report on important public interest issues the community needs to know about now more than ever. You can register for a 30-day free trial HERE. Thereafter, The Pointer will charge $10 a month and you can cancel any time right on the website. Thank you
Submit a correction about this story