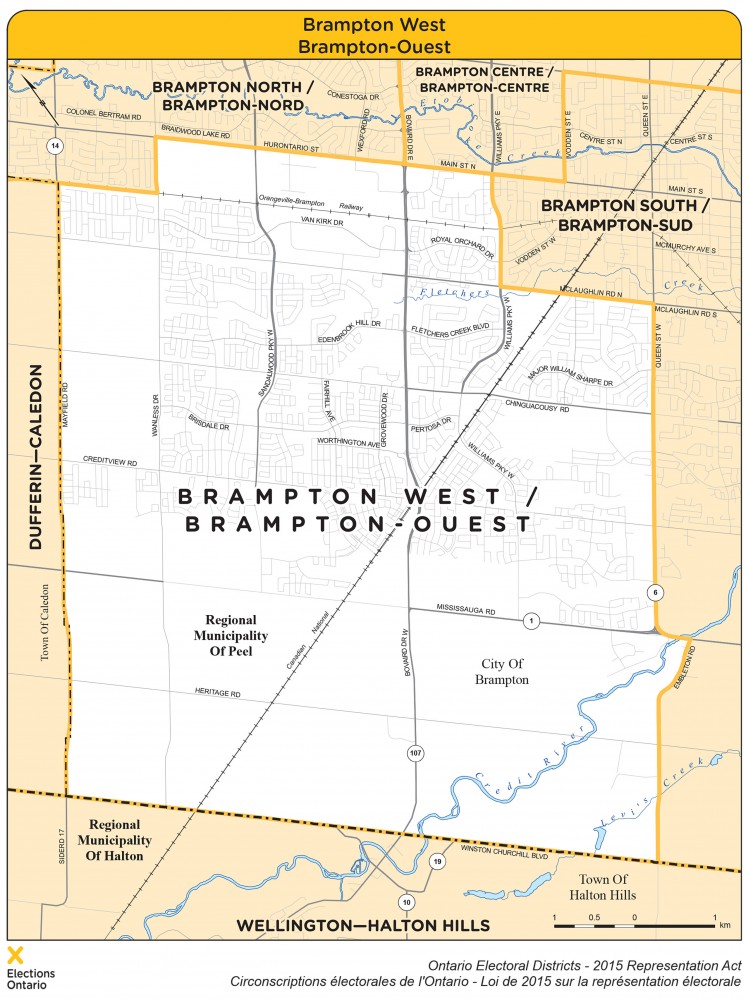 Feature image from Elections Ontario
Brampton West: After four years of Amarjot Sandhu constituents need an MPP who will work for their interests
In an effort to provide voters with the information they need to know about incumbents and new candidates this election, The Pointer will be looking at Peel's 12 ridings and how candidates in Ontario's four big parties plan to help their future constituents.
In 2018, unknown PC candidate Amarjot Sandhu, who had zero experience as a public servant and had no record of community work in Brampton, benefitted from the anti-Liberal vote. With 14,921 votes, he narrowly beat NDP candidate Jagroop Singh who had 14,461 votes.
His complete lack of experience and lack of history in the area showed during his four years in office, as Brampton West seemed like an afterthought to Sandhu, who ignored local concerns in favour of supporting whatever Doug Ford and the PC Party pushed, even when it had negative consequences for his own constituents.
In 2018 there were 80,196 registered voters, but only 38,229 voters submitted ballots, a total of 47.67 percent—the lowest in any Brampton riding.
Placing third was incumbent Vic Dhillion of the Liberals with 7,013 votes, only a third of what he earned in the 2014 election, illustrating the extent of the frustration after 15 years of Liberal rule in the province.
Sandhu is back after four years of trumpeting his Party leader and other PC MPPs on social media, while ignoring the pressing concerns of his constituents.
Had residents known who they were voting for in 2018, there might have been a different result.
Shortly after his victory Sandhu was charged for operating illegal basement rental suites, one of the biggest issues in Brampton West and across the city.
Illegal secondary suites cause a huge strain on the municipal budget as costs for services such as garbage collection have to be stretched far beyond the property tax revenues collected to cover a range of local needs.
These common illegal apartments, often in the basement of homes (that's where Sandhu operated his) are also a huge safety risk as fire codes are ignored and tenants are often cramped into unsafe quarters.
None of this mattered to Sandhu, who ignored the rules. Constituents didn't find out about his behaviour until after the election.
"Brampton has one of the youngest populations across Canada," Sandhu says in a quote on his campaign website. "Just like many Bramptonians my wife and I are proud to raise our two children right here in this beautiful and vibrant city. I will always do what is best for our community to secure a better tomorrow and continue to advocate for Brampton at Queens Park."
While his campaign website boasts about being dedicated to improving the quality of life for Bramptonians and advocating passionately for critical improvements needed, in 2021 he voted down an NDP motion to fund two new hospitals in Brampton. He had previously failed to support similar motions earlier in the term, despite the city's desperate need for a second hospital and despite the widespread awareness of Brampton's ongoing healthcare crisis.
The NDP motion asked the Ford government to increase funding commitments for Peel Memorial's expansion to ensure 850 hospital beds, rather than the 250 promised by the PCs, an actual emergency department in the facility and a third hospital in Brampton.
His campaign website refers to Sandhu as having "advocated for a second hospital," as well as promising Peel Memorial will be transformed into a full-service hospital.
He has failed to answer questions about the expansion of Peel Memorial and why the PCs refuse to fund its redevelopment into an actual hospital. There has been no money for its construction put into the provincial budget, only a planning grant has been funded.
Sandhu is also a supporter of Highway 413, one of three 400-series highways being planned by the PCs that will run partially through Ontario's protected Greenbelt.
The proposed route is expected to cause significant environmental destruction in the headwaters of key watersheds that support much of the biodiversity in southern Ontario.
He also promises a two-way all day GO service, three new long-term care homes, and a new Peel Regional Police Station in Brampton. None of this was pursued by Sandhu throughout the term and his very limited work in the legislature included no funding for any of these initiatives. It's unclear how he will bring a new police station to Brampton, as he does not have the jurisdiction and he never even appeared before Peel Regional council or the Peel Police Services Board to discuss the issue.
Sandhu was hard to spot at any level of local government over the last four years, absent from discussions on key issues such as public safety, Brampton's healthcare crisis and topics around the pandemic, such as how education needs to be supported going forward.
He appeared late for one local meeting on rising crime in the city before the pandemic, but did not speak.
Amarjot Sandhu markets himself as an advocate for critical improvements in Brampton at Queen's Park.
(Screenshot from Sandhu's campaign website)
Representing the NDP this election is Navjit Kaur, a registered respiratory therapist at Brampton Civic Hospital. A main focus of Kaur, to no surprise, is healthcare. Civic operates 96 beds per 100,000 residents, less than half the provincial per-capita average of 220 beds per 100,000 people.
Kaur promises to fight for better healthcare, affordability and better schools in Brampton.
A focus for Kaur during the 2022 election campaign is healthcare.
(Navjit Kaur/ Twitter)
In January, The Pointer published an op-ed by Kaur, where she wrote about the problems plaguing the hospital which became the face of hallway healthcare long before the pandemic, a term coined due to patients housed in an unconventional location like a hallway or closet because no rooms with actual hospital beds were available.
"A man was brought in with the worst COVID symptoms but we had to send him two hours away to London for treatment because we did not have space. Not even in our hallways," Kaur wrote. "His wife and two kids would ask me in Punjabi if their husband and father would be okay and whether the children would be able to see their father anytime soon. I don't remember a single day when I did not see that woman crying."
In Ontario, healthcare funding is provincial, but with capital projects Queen's Park demands a local share contribution. Currently, under the PC commitment to expand Peel Memorial (a provincial promise made a decade ago), the William Osler Health Network and the City of Brampton are both required to contribute $125 million each to expand Peel Memorial to an inpatient facility. The PCs have not provided an official agreement detailing what exactly the expansion will include, have not guaranteed a full suite of acute-care beds (The Pointer has reported that almost all of them will be for non-acute care) but have repeatedly said its plan is to turn Memorial into a hospital with a 24/7 emergency department. It is currently an outpatient facility that has an urgent care department open daily from 8 a.m. to 9 p.m.
At an announcement on May 6, Andrea Horwath, Leader of the Ontario NDP, promised to turn Peel Memorial into a full-service hospital with a 24/7 emergency department, build an additional, third hospital in the high-growth community, as well as add a dedicated cancer centre in Brampton.
Some other targeted sector changes in healthcare being promised by the NDP include fully covered dental, mental health supports and better coverage for medication.
Instead of Highway 413, the NDP is promising to handle gridlock issues by removing tolls on trucks using the often poorly utilized Highway 407.
On the ballot for the Liberals this election is another voice from the healthcare field, registered nurse Rimmy Jhajj.
Rimmy Jhajj is another candidate whose focus during the election is on Brampton's failing healthcare system.
(Rimmy Jhajj/ Twitter)
Jhajj promises to extend the parental leave program to 18 months, and invest $8 billion into the education system.
"Since the beginning, I have been on the front lines of the COVID-19 pandemic and have the firsthand experience to see how the Ford government's mishandling of the pandemic has impacted Brampton West residents," Jhajj said in a video posted May 14. "To all residents of Brampton West, I want you to know that I've listened to your concerns and you're being heard. The Ontario Liberal Party will work to strengthen the healthcare system in Brampton as well as ensure that it's easier for Brampton West residents to find an affordable place to call home."
Her campaign video also states her opposition to "paving over wetlands and farmlands," a reference to Ford's Highway 413 project.
Representing the Greens is Pauline Thornham. A Brampton resident and retired Peel District School Board elementary school teacher, she ran in the now dissolved Bramalea-Gore-Malton provincial riding in 2011 and 2014. Thornham earned 2.5 percent of the votes and 4.29 percent respectively.
She is a relatively private candidate, who describes her primary concern as being centred on the climate.
"Pauline is committed to fighting climate change," reads the Green Party website. "She is a Brampton Cycling Advisory Committee co-chair and a member of the Sierra Club's Peel chapter and Bike Brampton. She strongly advocates for reformed transportation, including trains, LRTs, and electric buses. Pauline is also strongly opposed to the development of Highway 413."
For Pauline Thornham, this election is about fighting climate change including reformed transportation and ending Doug Ford's Highway 413 project.
(Green Party of Ontario website)
To find out whether you are registered to vote, and where your nearest voting location is, visit Elections Ontario.
---
Email: [email protected]
Twitter: @JessicaRDurling
---
COVID-19 is impacting all Canadians. At a time when vital public information is needed by everyone, The Pointer has taken down our paywall on all stories relating to the pandemic and those of public interest to ensure every resident of Brampton and Mississauga has access to the facts. For those who are able, we encourage you to consider a subscription. This will help us report on important public interest issues the community needs to know about now more than ever. You can register for a 30-day free trial HERE. Thereafter, The Pointer will charge $10 a month and you can cancel any time right on the website. Thank you
Submit a correction about this story