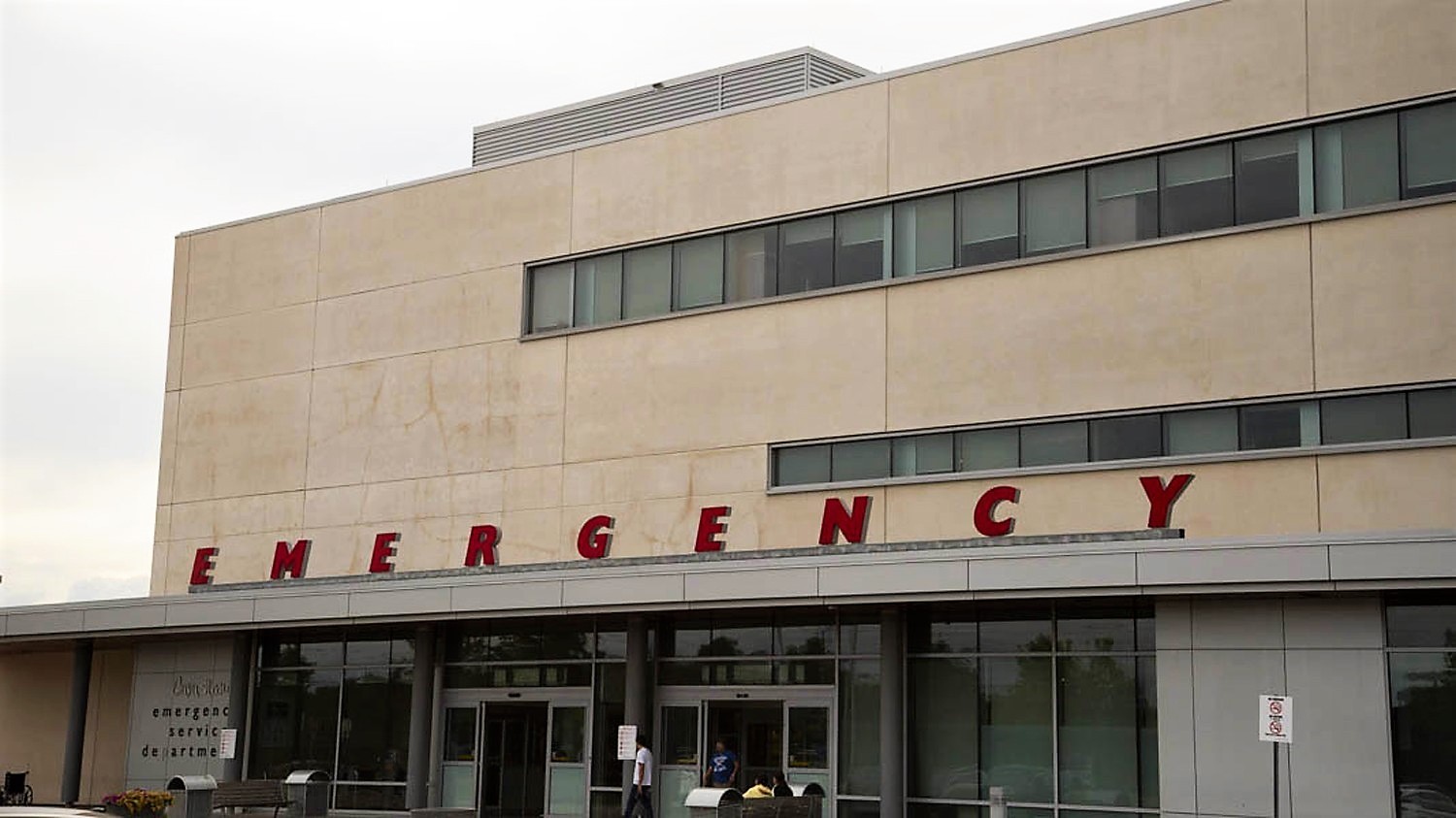 The Pointer file photo
Brampton declared a healthcare emergency 2 years ago, nothing has changed councillors say
The walls inside the City Hall chamber echoed with heart wrenching stories two years ago of Brampton residents losing their loved ones in the hallways of the city's lone full-service hospital while they waited and watched in pain.
Since then, more anguish has washed over the city.
Harjinder Kumar Sharma and Sangita Sharma vowed to stay together in sickness and in health before being abandoned by Brampton Civic and the William Osler Health System administrators who run the city's only hospital. Harjinder could no longer be housed in the complex care unit where he required round the clock attention after a massive heart attack. William Osler informed patients like Kumar they would have to find alternative healthcare somewhere else to make room for COVID-19 patients in the dangerously overcrowded hospital.
Another Brampton resident, Manmeen Oberoi, lost her 36-year-old son, Harmandeep Singh Oberoi, because of a lack of capacity at Brampton Civic. Suffering severe COVID symptoms he was turned away after visiting the emergency department because no beds were available. He died the next day.
The family of 13-year-old Brampton resident Emily Victoria Viegas was terrified of taking her to Brampton Civic, for fear she would be stacked in a hallway or be sent elsewhere. Last April she was one of the youngest Canadians to die from COVID as her family struggled to comprehend how such a preventable loss could have happened in one of the world's wealthiest nations.
But in Brampton, more and more families do not feel like they are living in a country that cherishes its world class healthcare system. It is an entirely different story here.
There are families in Brampton that will live forever with the aching pain of losing a loved one who could have been saved.
Brampton declared a healthcare emergency in January 2020 after doctors shared horrific stories, witnessing first-hand the suffering of their patients, condemning the Province for not providing the Flower City with adequate healthcare and pleading with city councillors to take action.
To address the crisis in Brampton, a motion included two key measures — a commitment to bring 850 beds to Peel Memorial as part of its long promised Phase 2 expansion into a full-service hospital with an emergency department, and more healthcare funding from the provincial and federal governments to meet the needs of the rapidly growing community, where an outsized number of newcomers to Canada put down roots.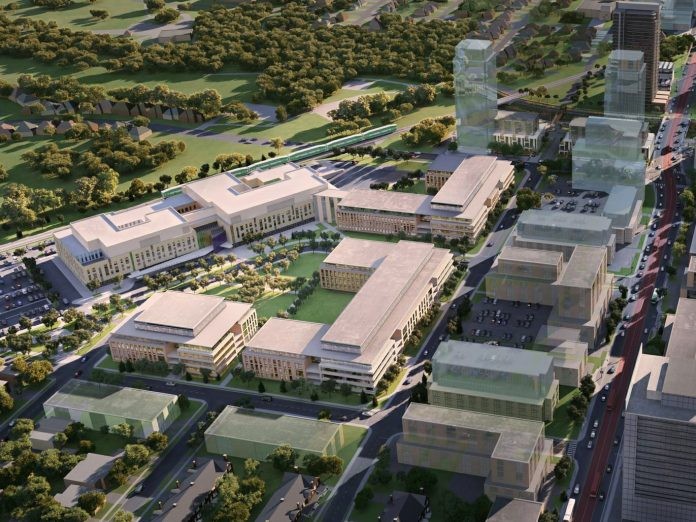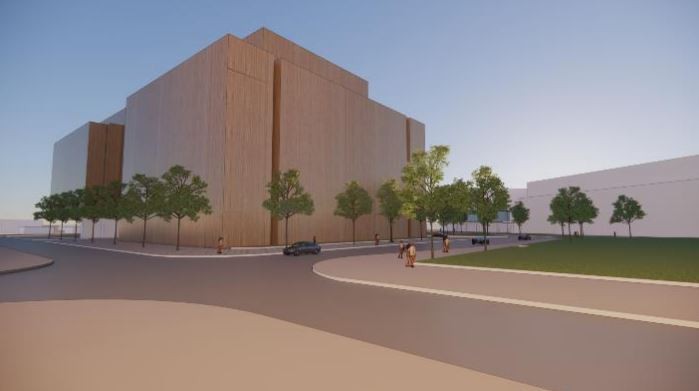 Top, original renderings for a much larger Peel Memorial Phase 2 expansion into a full service hospital; bottom, the much smaller expansion plan presented last year by William Osler which will only include 250 beds and will not be a full-service hospital.
(William Osler)
While Ontario's recommended standard of care states hospitals should not operate at more than 85 percent capacity, Brampton Civic operated between 101 and 106 percent capacity in 2019.
Peel Memorial, which is an integrated wellness centre that does not have any in-patient beds and only operates an urgent care facility not an emergency department, operated at 557 percent to 587 percent capacity through much of 2019, prior to the pandemic.
In a two-week period in September 2020, code gridlock was declared eight times inside Brampton Civic, meaning the number of patients waiting to be admitted from the emergency department exceeded the number of beds available, so those suffering could not be given proper care.
In January 2022, William Osler announced a code orange, a dire protocol when patient levels exceed staff's ability to adequately care for them. The Omicron variant was crushing the hospital which, without adequate funding from the Province, could not meet its responsibility to the community. The code orange ended after two days but patients had to be transferred to neighbouring hospitals to free up space for others waiting desperately for care.
Two years have passed since council declared a healthcare emergency. But what has changed?
Nothing, Councillor Jeff Bowman recently told The Pointer.
Bowman said he was frustrated when William Osler officials, including since departed former CEO Naveed Mohammad, told council last year that instead of the 850 beds being demanded only 250 would be part of the Phase 2 development. And none of them would be for acute care to treat the most pressing conditions patients commonly suffer. Mohammad was vague about whether Memorial will even get a hospital designation as part of the new development.
But he was not vague about the need for Osler and City Hall to come up with a local share of funding for the project, which City staff have said will be $250 million, to be split evenly between the municipality and the local healthcare system.
Concerned residents including Chris Bejnar, co-founder of Citizens For a Better Brampton, have told The Pointer City Council should refuse to fund anything unless the Doug Ford PC government guarantees 850 beds and investments to support the creation of a second full-service hospital with a fully functioning emergency department as part of Memorial's Phase 2 development.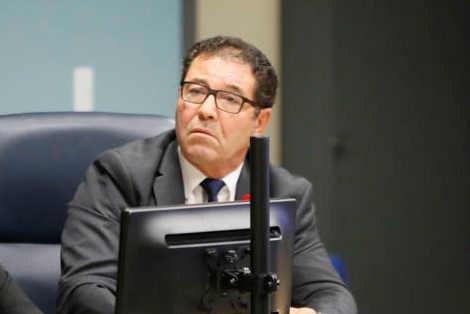 Councillor Pat Fortini is bringing forward a motion for a hospital levy this week, to ensure the Peel Memorial project will move forward.
(The Pointer files)
Councillor Pat Fortini told the Pointer that while the population in the city continues to swell, by the time Peel Memorial's Phase 2 expansion opens, the city will need a third hospital.
"Historically, Brampton has not received its fair share of funding in healthcare services, resulting in hospital overcrowding and hallway medicine, which has only been exacerbated by the COVID-19 pandemic," Megan Ball, senior adviser of media relations for the City, told The Pointer in an email.
Prabhnoor Singh, a 20-year-old Brampton resident, has volunteered at Peel Memorial and has seen the overcrowding in hallways with his own eyes.
Singh started the Better Healthcare Brampton Facebook page and 'Brampton Needs a New Hospital!' petition on Change.org after the PCs voted down a motion by the NDP asking for a new hospital in the city and more funding for Peel Memorial's expansion.
He was taken aback when Prabmeet Sarkaria and Amarjot Sandhu, PC MPPs from Brampton, voted no to the motion asking for increased funding for Peel Memorial and a third hospital in the ballooning city.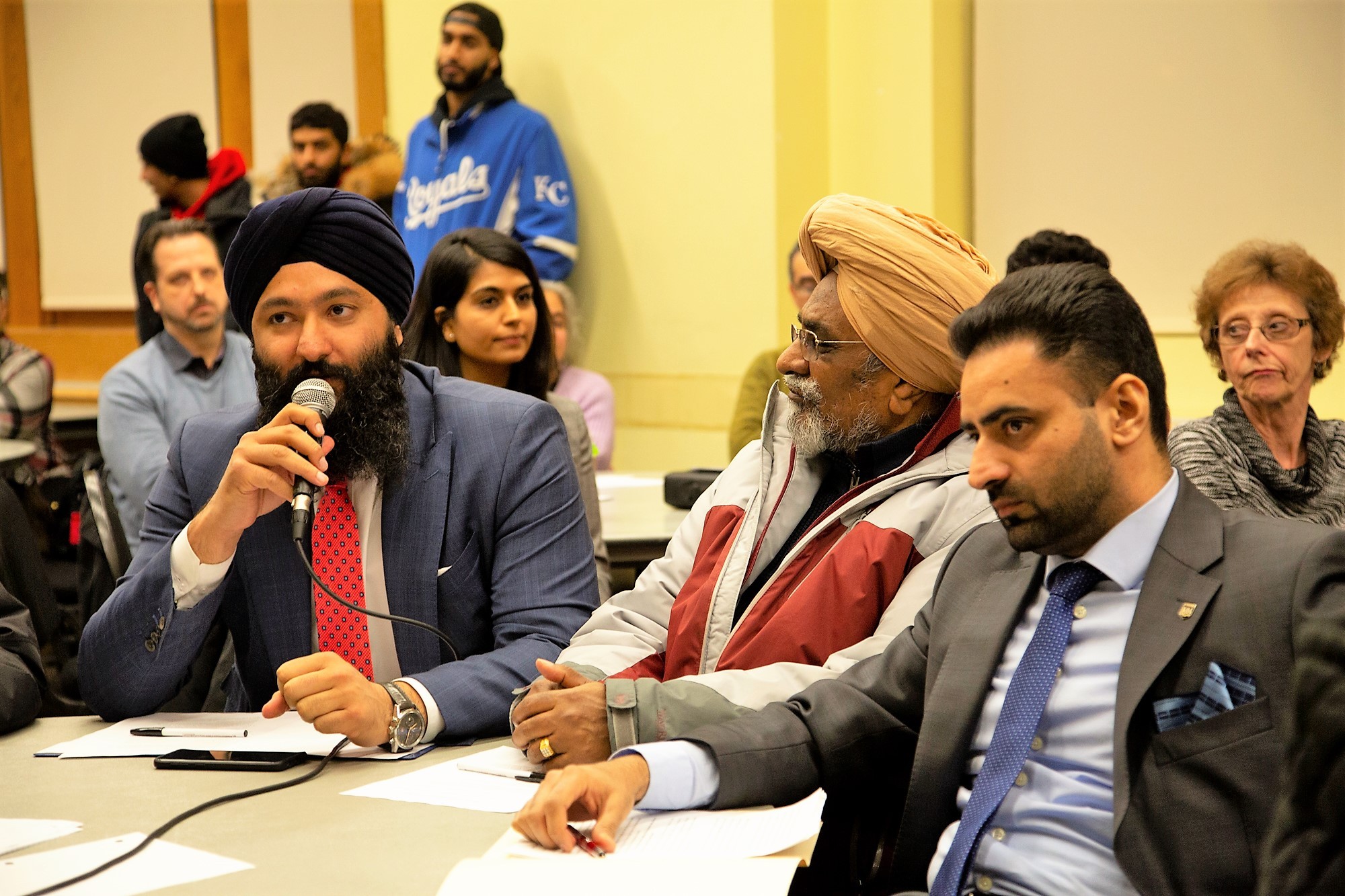 PC MPPs, Prabmeet Sarkaria (Brampton South), holding mic, and Amarjot Sandhu (Brampton West), right, voted with their Party and rejected a motion calling for expanded hospital investment desperately needed in their own city.
(The Pointer files)
"I'm sure they are affected too but they voted it down and it's just very strange to me… it is very unfortunate," he told The Pointer.
"If you're not gonna fight for the city, then what's the point of electing you?"
Councillor Bowman is hopeful that residents will make sure their voices are heard when the provincial election takes place June 2.
"I hope they will hold their elected officials to task in making sure that there's always an equal footing when it comes to the availability of medical and hospital care in every city, for every tax dollar," Bowman said.
Councillor Bowman was not the only one enraged when Osler's ex-CEO Dr. Mohammad told council members that they would be getting only 250 beds in November last year.
In a letter to The Pointer at the time, Geoffrey Ritchie, chair of the William Osler board, said Peel Memorial's expansion will open up with 250 beds, with space for 100 more.
"For the next four years, this hospital and the residents of Brampton will have exactly the same number of beds that we've always had, as the population grows every year," Bowman said.
But something is better than nothing, Fortini says. "We are desperate."
He has been trying to get council to initiate a hospital levy to secure needed funding to guarantee the project, after his wife waited in Brampton Civic's hallways last year to receive care, to no avail. He had to drive her to Georgetown when he could no longer watch her suffer in pain.
"I don't blame the hospital that we have here, just because of the population they are too busy and they can't keep up," Fortini says.
He initially brought forward a motion for a levy to fund the Memorial expansion in October, but it was agreed that $62.5 million could be drawn from capital reserves and the Region of Peel would be asked to provide the remaining municipal share.
Peel Region Council heard Fortini, and officials from William Osler on March 10 but decided to delay any decision until exhausting all efforts to convince the PC government to cover the local share, ahead of the June election.
On March 9 Brampton Council voted in support of the Association of Municipalities of Ontario request to have the Province re-examine the "local share" hospital capital calculation methodology.
A day later, Peel Region Council postponed discussion on agreeing to Brampton's ask for $62.5 million to be added to Peel's 2023 budget, until the Province is lobbied to reconsider the local share, which it can waive.
Fortini is worried if Brampton doesn't show the Ford government a plan on how the City will fund the $125 million expected, the Province will pull the plug on the project.
"So, the 30th of this month I'm bringing the motion back to City Hall. I've already sent it to the clerk, that we have to start our levy. We have to do it. We have to come up with a cheque for $125 million by 2027."
On Wednesday, March 30, Brampton Council will discuss the fate of Peel Memorial's expansion and consider options to secure the $125 million.
City staff in a report to council, have proposed two options, a new six-year hospital levy that would amount to a 1.76 percent property tax increase annually, equivalent to a $93.63 increase (less than $2 a week) to the average household tax bill each year; or a 1 percent levy with plans to issue a further $24 million in external debt in 2027.
Bowman says Brampton needs to start lobbying the provincial government to cover the entire cost, but at the same time begin planning to raise the funds in case the $125 million is not waived.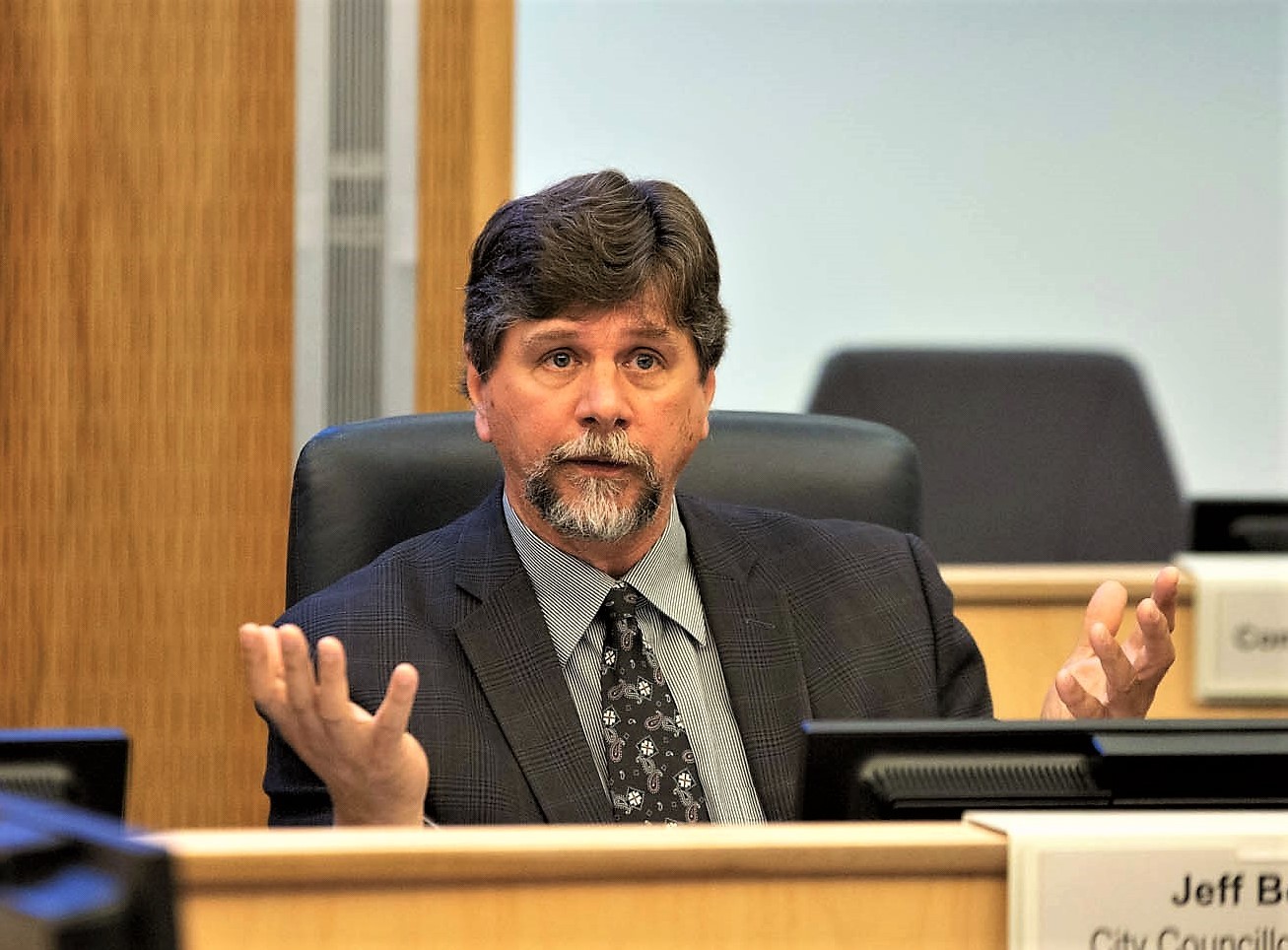 Councillor Jeff Bowman says the City needs to start planning for how the $125 million will be raised.
(The Pointer files)
"We need equal access to health care that every other resident in every other city gets, and we certainly do not have that. And if it's going to take a new hospital levy to start planning to get that money in hand so we can get this building going… we need to take matters into our own hands."
If other councillors do not vote for the levy, they will owe residents an explanation, Fortini says.
"They will have to tell the residents why we don't have a second Hospital."
He said anyone who votes no will answer for their decision when October's municipal election takes place.
"They were doing media… 'Oh! we support the hospital.' Well, you never did when I brought it forward —You said no. So they will have to face those residents."
---
Email: [email protected]
Twitter: Anukul_AT
---
COVID-19 is impacting all Canadians. At a time when vital public information is needed by everyone, The Pointer has taken down our paywall on all stories relating to the pandemic and those of public interest to ensure every resident of Brampton and Mississauga has access to the facts. For those who are able, we encourage you to consider a subscription. This will help us report on important public interest issues the community needs to know about now more than ever. You can register for a 30-day free trial HERE. Thereafter, The Pointer will charge $10 a month and you can cancel any time right on the website. Thank you
Submit a correction about this story