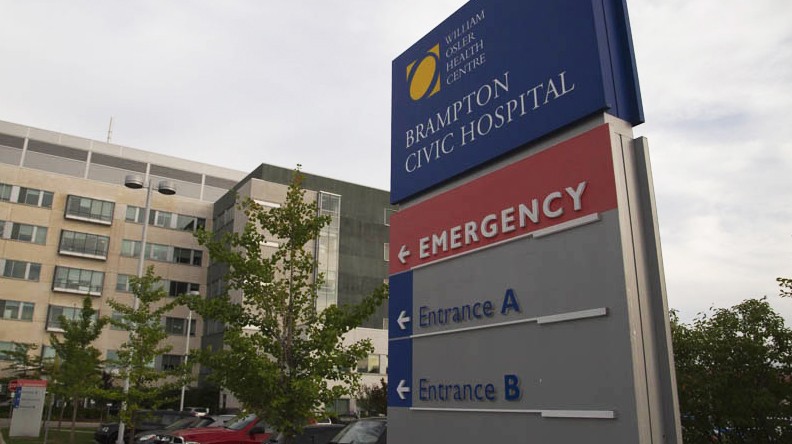 Photos from The Pointer files/William Osler Health System/Public Health Ontario
Brampton's lone full service hospital at capacity: How will it weather COVID's second wave?
Brampton Civic Hospital is struggling to keep up with demand.
In a two-week period in September, code gridlock was called eight times. Based on William Osler's own words, it means the hospital is at a "standstill", and the number of patients waiting in the emergency department in need of a bed exceeds the amount of space available. When capacity is reached, patients end up waiting in hallways to be treated.
The numbers were obtained by Ontario's NDP, and also showed the occupancy rate for acute beds as of September 23 was 93 percent.
As the lone hospital in the City of Brampton, serving upwards of 670,000 residents, code gridlock is common and the number of patients being cared for in non-treatment spaces has continued to rise in recent years. In 2018, Brampton Civic treated 3,035 patients in hallways, a sharp increase from the 1,014 patients treated in 2012.
The spread of the novel coronavirus adds another layer of fear to this already dire situation, raising questions as to what will happen if an outbreak occurs under code gridlock and how the lack of available beds could cause further capacity problems during the second wave.
In Ontario, more and more people are being hospitalized because of the virus on a daily basis. According to Public Health Ontario, 195 people were hospitalized (including in intensive care units) on October 7, an increase from 192 the previous day. The daily case count has been rising steadily since September 18.
Brampton Civic's numbers have also been increasing. As of October 7, there were 7 inpatients being cared for, 3 of which were in intensive care, according to a weekly update by Mayor Patrick Brown. This is an increase from the week before. On September 30, four patients were being treated in the ICU and there were no other COVID-19 inpatients.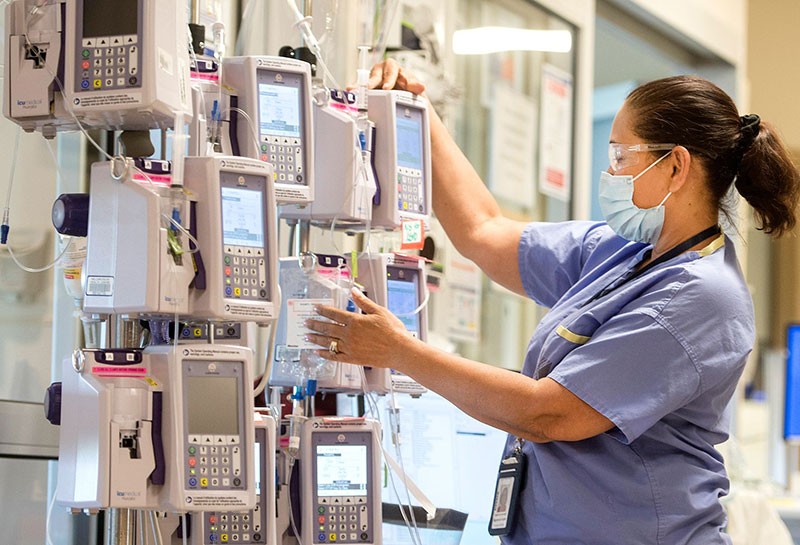 More and more, patients are being treated in hallways at Brampton Civic as the hospital is unable to keep up with demand.
Dr. Nitin Mohan, a physician epidemiologist and professor at the University of Western Ontario, believes success dealing with the second wave will rely on what was learned during the first wave: better preparation and effective drug use for severe cases are needed. "This will enable hospitals to fare better this time around," he told The Pointer. But it's not clear how prepared hospitals can be if they don't have the space to assist people.
In June, the average wait time for patients in the ER at Brampton Civic who ended up being admitted to the hospital was 16 hours. In August, it rose to 20 hours. With cases in the city continuing to rise, the situation may only get worse. On October 7, Brampton reported 48 COVID-19 cases, representing nearly 51 percent of Peel's new cases that day.
The discussion around capacity in Brampton isn't new, as concerns come up every couple of months. Each time the issue reaches a tipping point, it's met with a lack of action from government leaders at Queen's Park responsible for funding the province's healthcare system and solving these issues.
During Question Period at Queen's Park on October 6, Brampton NDP MPP Sara Singh (Brampton Centre) questioned what the government will do to assist the hospital currently facing routine gridlock. "This is completely unacceptable and puts patients and our frontline workers at risk," she said.
The answers offered no commitments whatsoever. Health Minister Christine Elliott's lack of specificity highlighted an absence of concern for the ongoing situation at Brampton's lone full service hospital.
Brampton Centre MPP Sara Singh
"We have the plan that we've set out, keeping Ontarians safe and we're prepared to put the money into dealing with [capacity] as well," she said, noting $2.8 million will be used to help Ontario hospitals with capacity challenges. Details are not yet available and will be shared in the coming days.
Singh was not impressed with the response. She's concerned that the funding won't address underlying issues Brampton's hospital system has been facing for decades.
"It's these empty promises with a lack of action and we see it time and time again and it's getting extremely disappointing," she told The Pointer.
The NDP has raised the issue with the PCs a number of times in the past. Last November, the NDP brought forward a second motion in just over a year asking for the government to allocate funding for a new hospital in Brampton. It repeated the results of the 2018 vote asking for the same thing. That motion was defeated 65 to 35. Neither of Brampton's two PC MPPs were in attendance for the first vote.
It's not clear how much of the $2.8 million will go toward Brampton Civic. Historically, the hospital has received only a fraction of what others have. William Osler is responsible for operating Civic and Peel Memorial in Brampton and Etobicoke General Hospital in Toronto.
In 2017-18, the Central West Local Health Integration Network, which serves Brampton residents, received $936 of funding per person compared to the provincial average of $1,907. There is also less than one hospital bed for every thousand residents in the city, while the provincial average is 2.3 beds for every thousand residents.
According to information obtained by the NDP in 2019, Brampton Civic operated between 101 percent and 106 percent capacity throughout the entire year, well above the recommended 85 percent. Peel Memorial was operating at 557 percent capacity in 2019, which increased to 587 percent between April and June 2019.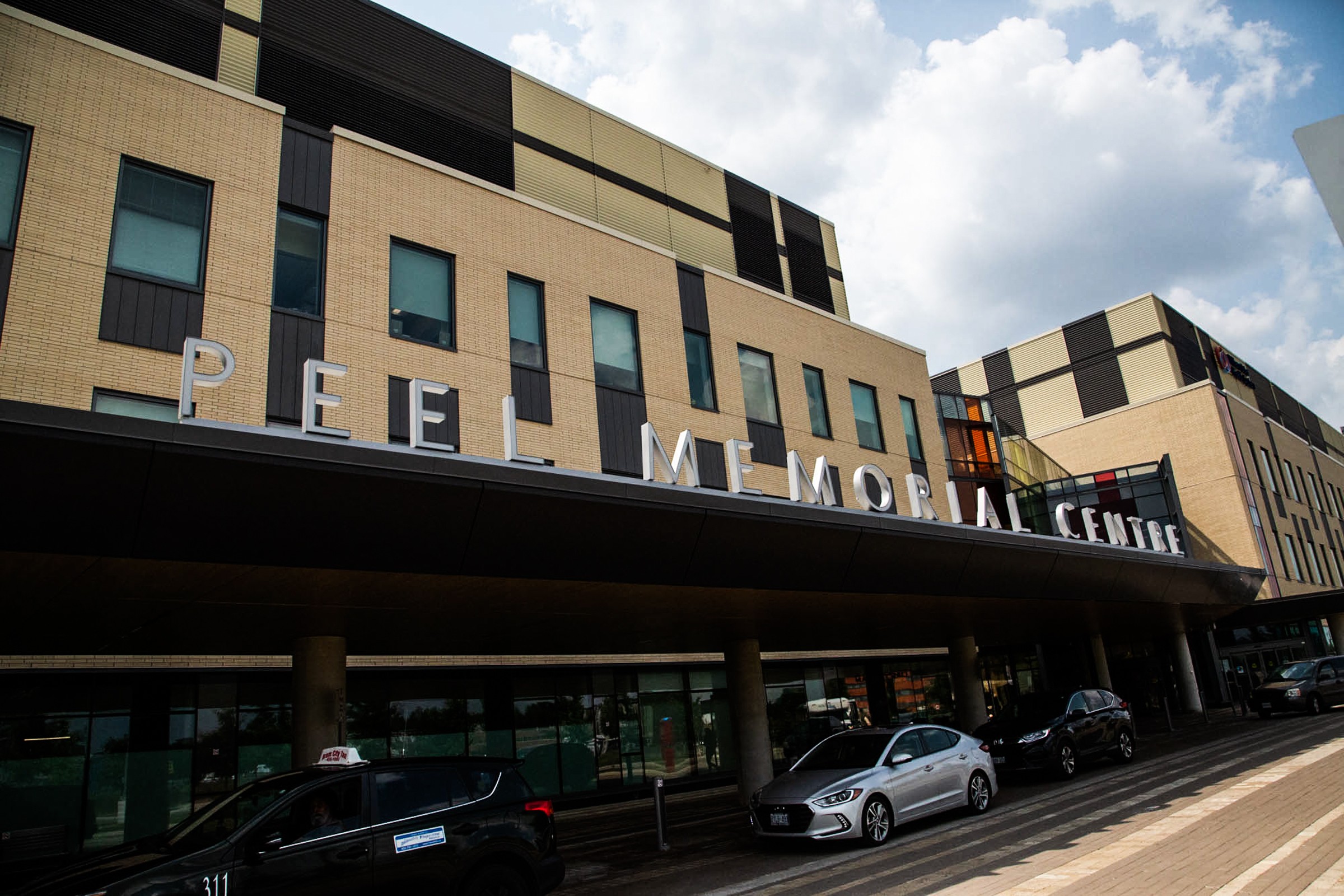 Currently, the ER at Brampton Civic is the only place for residents to go in case of an emergency. Peel Memorial shut down its Urgent Care Centre (UCC) in the summer because of a lower patient volume, a trend seen across the country, and to redirect resources toward the fight against COVID-19.
While the UCC is not an emergency department and Peel Memorial is not a full service hospital given its absence of inpatient beds, it did offer treatment for less urgent matters such as broken bones, minor burns, and infections.
"Osler continues to monitor demand for its emergency services and any surge in inpatient and emergency department patient volumes at Brampton Civic and Etobicoke General would trigger re-opening of the UCC," Osler said in a previous news release.
It's unclear how this would happen as the cold and flu clinic is being operated at the UCC, creating further concerns over the ongoing capacity issue.
According to a report from the Toronto Star, staff are also concerned. Dr. Andrew Healey, Osler's interim chief of emergency and medicine, said that resources are so stretched, proper assistance can not always be provided. "Should there be a surge, we won't have a warning to plan for a rise in severely ill patients needing care," he said.
The Ontario Hospital Association has also been raising the same concern, stating occupancy levels across the province are rising quickly, with stand-by-capacity created in the spring filling up. Back in April, the province expanded bed capacity in hospitals to deal with COVID outbreaks, adding 1,035 acute beds and 1,492 critical care beds.
Figures from Critical Care Services Ontario (CCSO), obtained by The Pointer, showed on May 18, Brampton Civic had used 93 percent of its regular care capacity and 83 percent of its extended capacity. According to CCSO, the hospital started with 46 critical care beds and had 18 ventilators. An additional 24 beds with ventilators were added in response to COVID-19.
To assist hospitals in creating more capacity, OHA has asked the provincial government to return to Stage 2, putting restrictions on indoor dining, places of worship and other non-essential businesses, something the Province has refused to do. Instead, it has reduced hours of operation for restaurants and the number of people who can gather in outdoor and indoor settings, among other changes.
"While changes to these establishments' operating hours may have a small impact on transmission, we cannot afford to wait and find out. In order to keep schools open, protect our province's most vulnerable, and conserve our health system's limited resources, stronger restrictions are needed now," Anthony Dale, the president and CEO of OHA, said in a press release.
Putting strict restrictions on social activity and non-essential businesses during the first phase was to ensure hospitals wouldn't be overwhelmed with cases in a similar manner to countries around the world.
Italy's Lombardy region displayed one of the most notable examples of this. Out of the 737 ICU beds available in the region, 600 were filled by mid-March, according to a report from the Washington Post.
But now that a second wave has hit and restrictions aren't as tight, many experts are concerned hospitals will become overwhelmed.
After seeing a decline in hospitalizations due to COVID-19 in July and August, numbers in Ontario are now trending upwards.
A second question is what will Brampton Civic, which is experiencing gridlock, do if an outbreak occurs? Operating at capacity and treating people in hallways could create the perfect environment for the novel coronavirus to spread.
Repeated requests to William Osler asking for an explanation on protocol were not answered. Questions on the resumption of elective surgeries, any plans to handle a second wave, the hospital's current ICU capacity and the extent to which patients are being treated in hallways were not addressed.
"We're currently focused on transitioning to automated booking options for our COVID-19 testing, so unfortunately I am not able to respond to your questions at this time," Donna Harris, William Osler's public relations manager told The Pointer.
At Delta Hospital in British Columbia, a large outbreak among patients means those who need to stay at the hospital overnight after going through the ER have to be transferred to another hospital. The location declared an outbreak September 16; 18 patients and 17 staff members have tested positive.
On a much smaller scale, a COVID outbreak occurred at Brampton Civic. In April, 32 staff members of the specialized kidney care program, which runs at Brampton Civic and Etobicoke General, tested positive for the virus. In total, 10 staff members were from Brampton Civic. Patients in the hospital were not directly impacted. While the organization stated "all infection prevention and control precautions were taken," such as ensuring patient and staff safety, it did not provide any details.
---
Email: [email protected]
Twitter: @nida_zafar
Tel: 416-890-7643
---
COVID-19 is impacting all Canadians. At a time when vital public information is needed by everyone, The Pointer has taken down our paywall on all stories relating to the pandemic and those of public interest to ensure every resident of Brampton and Mississauga has access to the facts. For those who are able, we encourage you to consider a subscription. This will help us report on important public interest issues the community needs to know about now more than ever. You can register for a 30-day free trial HERE. Thereafter, The Pointer will charge $10 a month and you can cancel any time right on the website. Thank you.
Submit a correction about this story