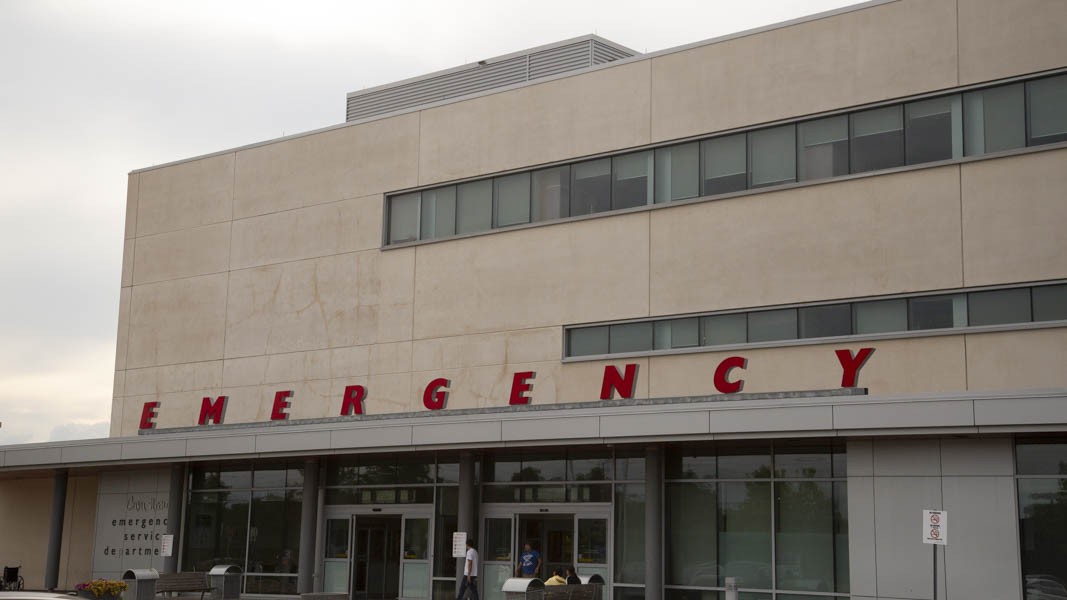 Photos from The Pointer files/Twitter
While city starts to reopen, ICU at Brampton Civic nearing capacity
At the beginning of the COVID-19 pandemic, all eyes were on hospitals. In the shadow of newsreels showing overwhelmed intensive care units in Italy and New York, officials in Ontario were desperate to avoid the same fate.
A scramble to find ventilators ensued, while tents were erected in hospital parking lots to ease emergency room backlogs. The measures weren't to deal with current demand, they were to make sure the province wasn't caught cold by the virus' coming onslaught.
Ontario was primed; COVID-19 would not cause the heartache here it had inflicted on families in Italy, Spain, New York and beyond.
But, while everyone was busy watching the front door, the coronavirus slipped in through the back.
Freshly reinforced hospitals lay near-empty, while COVID-19 ripped through the province's long-term care homes. Its particularly vicious effect on older people meant death rates were high and Ontario was indeed overwhelmed, just not in the way it had expected.
Quickly, attention turned to retirement homes and long-term care. Roughly a month of debate and new regulations followed, including the military being sent into some institutions with particularly severe outbreaks including Brampton's Grace Manor.
Ultimately, the continuing tragedy inside our long-term care facilities prompted the announcement of an independent review.
Now, as the sun begins to shine daily in Peel and the province rolls out its first phase of reopening, the Region of Peel and Ontario as a whole are once again in danger of taking their eyes off the ball.
With COVID-19 continuing to spread, the number of people with extreme cases requiring intensive care has increased too. The averages around Ontario have looked promising in the daily charts released by the province, but the local picture is not the same.
In Brampton, where just one full-service hospital cares for more than 650,000 people, the issue has become severe. Unmentioned at media briefings and unreported by William Osler, the health network that runs Brampton's hospital, intensive care capacity is being reached.
Figures obtained by The Pointer from Critical Care Services Ontario (CCSO) show that on May 18 Brampton Civic Hospital had used 93 percent of its original critical care capacity and 83 percent of its expanded capabilities. They are figures that paint a worrying picture for a city still experiencing significant new daily case numbers.
Numbers for the Central West (CW) region show that occupancy at Brampton Civic under the William Osler Health System (WOHS) is nearing capacity.
CCSO exists as an internal resource for the province that disseminates daily information about hospitalized cases to decision makers. All hospitals around the province are required to enter their ICU, ventilation and COVID-19 data for the preceding 24 hours by no later than 5 a.m. the following morning. In theory, this gives the province insight on where demand is high and which systems are struggling at the beginning of each day.
Using this data at the beginning of April, The Pointer reported that Credit Valley in Mississauga had run out of critical care beds and that Brampton Civic was experiencing negative ventilator capacity, with more patients in need of breathing assistance than the number of available mechanical ventilation units.
Within a few days of the alarming numbers, all three full-service hospitals in Brampton and Mississauga received reinforcements from the province and were able to expand their capacity. This gave them ample breathing room with expanded ICU and ventilator capacity over the following weeks comfortably meeting the demand.
But, just as the mood sweeping across Ontario suggests the worst is behind us, this does not appear to be the reality inside Brampton Civic.
According to CCSO, Civic started the pandemic with a baseline of 46 critical care beds, 18 of which had ventilators. As of May 18, 43 of those were being used. In response to COVID-19, the hospital added 24 critical care beds (all equipped with ventilators), 17 of which were occupied as of May 18.
CCSO reports that just 8 critical care patients in Brampton Civic as of that date were suffering from COVID-19 and 7 were "PUI", or "patient under investigation [for COVID-19]".
The majority of the strain on Civic's critical care capacity remains non-COVID-19 patients. This raises questions about its ability to respond to the growing number of patients suffering from the disease as new cases are announced daily.
"Osler has a phased approach to capacity for its Intensive Care/Critical Care beds and can increase capacity in alignment with its pandemic plan to meet the needs of patients," Donna Harris, a spokesperson for William Osler, told The Pointer. "Osler is currently near its baseline capacity, but is below total space capacity for the use of Intensive Care/Critical Care beds at its hospitals."
Throughout the pandemic, Osler has failed to provide a detailed picture of each of its hospitals. The comments made by Harris include Etobicoke General, which Osler also runs, and it's unclear why she has not addressed the specific situation at Civic, which is clearly worse than Etobicoke General.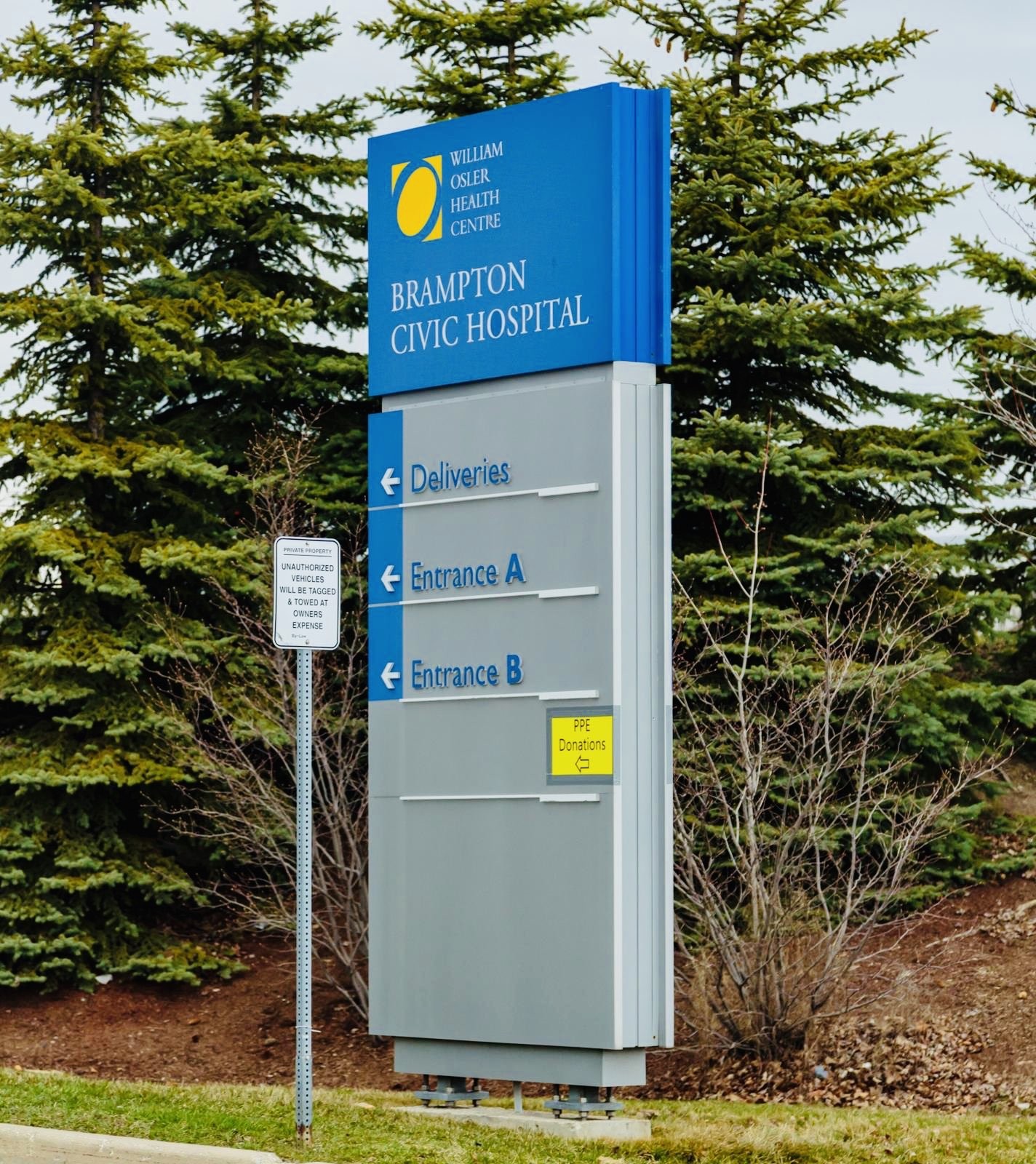 Lumping both hospitals together creates a better overall picture. Where Civic is at 93 percent of its baseline and 83 percent of its expanded capacity, Etobicoke General has used 89 percent of its baseline but just 52 percent of its expanded beds.
Additionally, Harris did not explain how capacity would be increased if needed. Osler gave no indication whether this expansion would involve temporary structures, an increase in staff or the order of more ventilators, all of which would need to be done through coordination with the provincial health ministry.
Osler's continued inclusion of Etobicoke General data does not paint a full picture for residents in Brampton.
At the heart of the issues faced by Civic, with its dwindling number of critical care beds, is its status as Brampton's only full service hospital. As The Pointer has extensively reported in the past, the patient load has been unmanageable for years, with the city the epicentre of Ontario's hallway healthcare crisis.
In Brampton, there is an average of less than one hospital bed per 1,000 residents, which continues to get even worse as 14,000 new residents move to the city every year. Brampton Civic Hospital operated beyond 100 percent capacity throughout 2019, despite standard of care guidelines to not exceed 85 percent, while Peel Memorial (which offers no in-patient care and cannot treat COVID-19 cases) started last year at 557 percent capacity, increasing to 587 in April of the same year.
As a result, the strain on Civic's intensive care (where Memorial's most serious emergency room cases are sent) is particularly high. Anyone in Brampton in critical condition will likely end up on Civic's wards meaning that, even without COVID-19, the hospital faces chronic overcrowding.
In April, The Pointer highlighted how the CCSO dashboard is designed to create a province wide response. Numbers submitted are monitored by the Command Table, with transport arranged between hospitals for patients if one reaches capacity.
For hospitals that near or reach capacity like Brampton Civic, transfers can be arranged for patients. In an ideal world, this would be a last resort, but remains an option if things take a bad turn.
"We treat it as a provincial resource and we run it out of a central table," Matt Anderson, president and CEO of Ontario Health, said during a tele-conference at the end of March. "This disease is not spreading equally and equitably across the province, we have hotspots or places where it goes up and we have other places where it has not been too pervasive yet."
As cases continue to pop up in Brampton, with Peel Public Health pointing out that more than 20 percent of Ontario's new cases last week were in the region, the pressure to treat critical COVID-19 patients will continue to grow.
Having been caught off-guard once already, Ontario, and Brampton specifically, need to avoid the worst case scenario they spent months preparing for.
If the loosening of restrictions leads to any surge in cases, Civic could be pushed over the threshold that is already dangerously close to being reached.
---
Email: [email protected]
Twitter: @isaaccallan
Tel: 647 561-4879
---
COVID-19 is impacting all Canadians. At a time when vital public information is needed by everyone, The Pointer has taken down our paywall on all stories relating to the pandemic to ensure every resident of Brampton and Mississauga has access to the facts. For those who are able, we encourage you to consider a subscription. This will help us report on important public interest issues the community needs to know about now more than ever. You can register for a 30-day free trial HERE. Thereafter, The Pointer will charge $10 a month and you can cancel any time right on the website. Thank you.
Submit a correction about this story