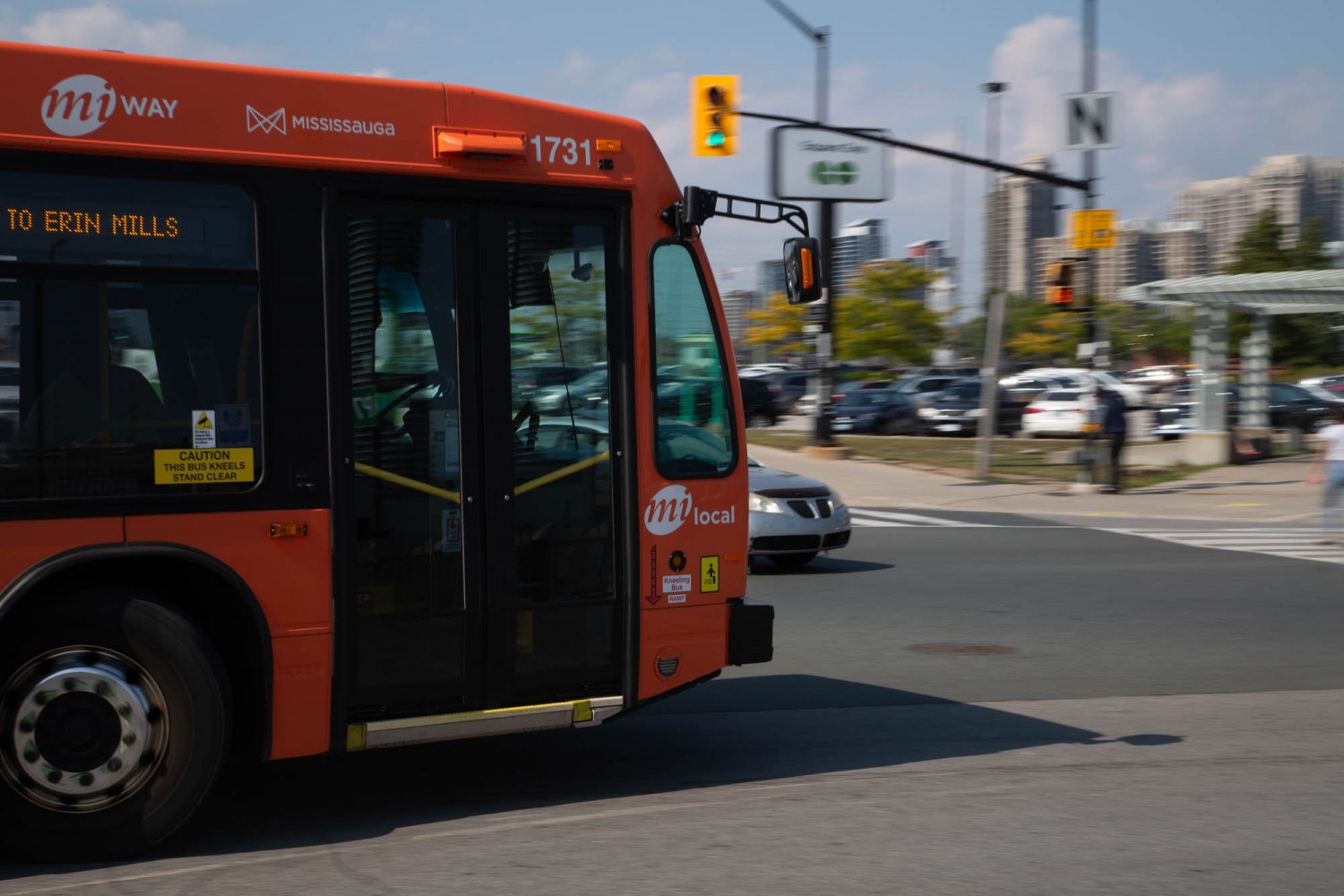 Feature image from The Pointer files
Accelerated action needed for Mississauga to meet 2030 climate targets
The old saying goes, "the best time to plant a tree was yesterday, the second best time is now." This adage is becoming more poignant the longer serious action against climate change is delayed across the planet. It's something the City of Mississauga is going to have to seriously consider after a new study on electrifying the City's bus fleet has shown significant investment is needed immediately if Mississauga is to meet its 2030 carbon emission reduction targets.
It's a reality municipalities across the globe are waking up to after decades of warnings from organizations like the Intergovernmental Panel on Climate Change, and numerous local organizations. The consensus now among governments and public stakeholders is that switching over to zero emission vehicles is no longer an "if" but a "when."
The feasibility and financial constraints placed on cities, who have limited ways of generating revenue, complicates the path towards a green future. This is why MiWay has been closely studying the potential for battery electric buses (BEBs) and how to upgrade existing transit facilities in order to achieve the city's critical GHG reduction targets, without straining an already limited City budget.
Previous reports from the City's Climate Change Action Plan (CCAP) indicate MiWay is the single largest source of corporate emissions for Mississauga, accounting for nearly 70 percent of the total. The CCAP has 89 recommended actions, two have been completed by the City to date, 27 are being implemented, 29 are ongoing, six are paused and 25 have not been started, according to a recent update.
The City differentiates its own emissions from those created by the community-at-large by labeling them as corporate emissions. They come from Mississauga's transit, buildings and other public infrastructure.
(City of Mississauga)
Understanding the largest contributors to GHG emissions in Mississauga allows the City to target investments in order to achieve the biggest impact. To date, Mississauga has invested in the BEB study, as well as a fuel cell hydrogen bus pilot project and the purchasing of hybrid electric vehicles.
Last week, Prime Minister Justin Trudeau announced the Federal and Provincial Governments would be investing almost $500 million towards three key Mississauga transit projects through the Investing in Canada Infrastructure Program (ICIP). The most costly is funding for 314 new hybrid electric buses and the replacement of 44 existing diesel vehicles, $142.8 million from Parliament and $119.8 million from Queen's Park. Mississauga is required to fund $95.9 million for the buses and approximately $84.8 million for the other two projects gaining upper government support.
According to a recent staff report there are a number of upgrades, studies and funds needed for the City to achieve its 2030 and 2050 emission target reductions, set at 40 percent and 80 percent below 1990 levels.
Even though climate activists want immediate implementation, officials argue these projects take time, and significant investment. The report contains limited information on the costing for this plan over the next decade. Other than noting that the costs for electrification infrastructure are "very high", the true cost of this transition remains unknown at this time. Mississauga is undertaking a pilot project with 30 BEBs to be housed at the City's main garage, a process that will help determine the costs for a full transition. The report notes external funding will most likely be required to assist the municipality with the transformation.
An ongoing goal for MiWay has been to transition its entire fleet of diesel buses into hybrid electric (diesel-electric) buses through the established replacement program. As buses come to the end of the lifecycle and more technology becomes available, they will be replaced with zero-emission buses. Currently, 41 of 507 (about eight percent) of MiWay buses are hybrid electric. The goal is to have 391 hybrid buses (almost 80 percent of the fleet) and 101 diesel buses by 2027.
While hybrid buses are greener than their full diesel guzzling cousins, the recent study shows that it will not be enough for the City to achieve emission targets.
"Preliminary calculations undertaken as part of the ICIP submission noted that conversion of MiWay's diesel fleet to hybrid buses, while providing reduction in overall GHG emissions, would not enable MiWay to achieve the GHG emission reduction targets set for 2030 or 2050," a staff report states.
To obtain set climate mitigation goals, MiWay needs to explore zero-emission technology, the report states. Staff presented a battery electric feasibility study to council March 9.
To understand if a fully electric fleet is in the cards for Mississauga, staff used a simulation tool for multiple scenarios, trying to understand which year the first BEBs would need to be active and if they would help the City achieve its goals.
According to the report, the following would have to occur for BEBs to be effective in reaching local climate targets:
Hybrid buses (diesel-electric) need to be "fast-tracked" between now and 2027

The first BEBs would need to be introduced in 2028, with a fleet composition of 384 hybrids, 113 diesel and 14 BEBs

All future replacement and growth buses would have to be BEBs

Some existing diesel buses/hybrid would be replaced with BEBs at mid-life

2030 emission reduction targets can be met in 2029 with an assumed fleet composition of 66 BEBs, 369 hybrids and 76 diesels

2050 emission targets can be met in 2039 with an assumed fleet composition of 547 BEBs and 93 hybrids
The technology leaves Mississauga with many choices, from manufacturers which offer different bus sizes, battery capabilities, carrying capacities, to differences in charging capabilities. While the buses are the way of the future, staff state the technology doesn't come without consequences or limitations.
Some of the charging options for battery electric buses create different problems for Mississauga.
(City of Mississauga)
Current battery size and functionality during cold weather and snowy terrain is the largest factor MiWay has to consider before purchasing BEBs. There is hope this technology will drastically improve before 2028 when staff expect the first BEB to be functioning. Without advancements in batteries, staff explain more buses would need to be purchased in order to maintain service.
"For example, it is estimated that for every 10 hybrid buses, 13 BEBs will need to be purchased to maintain the existing service delivery capabilities," staff wrote.
A 40-foot hybrid bus costs around $900,000 compared to a hydrogen fuel cell bus at $1.5 million, BEBs are inbetween these prices Goeff Marinoff, director of transit told The Pointer. The cost of BEBs depends on the size of battery, the larger it is the farther the bus is able to travel, but the higher the price.
A rough calculation, based on prices provided by the City, shows that if a BEB costs $1.25 million (between the price of a hybrid bus and hydrogen fuel cell) an investment of $82.5 million—or $11.7 million annually— between now and 2029 is needed in order to put the 66 BEBs on the road to meet its climate targets. This does not include the additional costs for infrastructure or upgrades/transitions to other buses in the fleet.
The money recently given to Mississauga from both governments is strictly for hybrid-electric buses, not BEBs.
The feasibility of charging and storing BEBs was also considered in the staff report, which suggested multiple solutions to the conundrum.
MiWay has two transit garages, one on Central Parkway named the Edward J Dowling Transit facility and the Malton Satellite Garage. Additionally, the City owns an undeveloped parcel of land at 7300 West Credit Avenue, set aside for a third transit facility. In order to successfully transition the fleet to BEBs, staff have concluded a separate garage phasing strategy needs to occur simultaneously.
Under the BEB schedule assumed by the City, staff concluded the following would have to happen to support the transition:
Construct the West Credit Avenue site as a fully electric facility

Demolish and reconstruct the Malton site as a fully electric facility

Install fast chargers at Dowling, complemented by on-route chargers or implement an alternative energy technology
In the 2022 budget, only the Dowling facility is mentioned in the 10-year capital budget plan, which doesn't include upgrades for electric charging infrastructure. The budget mentions a parking lot renewal, solar panel installation and approximately $10.3 million for "critical state of good repair projects" including the Dowling facility.
The most significant element of this green transit future is quickly initiating development of the new West Credit facility. Staff estimate the Transit Project Assessment Process (TPAP), designs and construction can take up to five to seven years (landing between 2027 and 2029) meaning any delays could jeopardize the feasibility of electrification.
At this time, staff are unable to pinpoint costs, but are sure "external funding sources will be required."
MiWay also has to coordinate efforts with Alectra for further electricity capacity to the site, which the company confirmed is possible.
Because there are so many moving parts to the new facility, staff believe a contingency plan is needed in case there is a delay. The report recommends the two existing garages would have to house an additional 66 BEBs (24 at Dowling and 44 at Malton) in order for the emission targets to be achieved.
Consequently, the two existing facilities will need upgrades to make sure they can support the maintenance and charging of the BEBs. The two older facilities have issues of their own limiting potential options of which BEBs can be purchased.
For example, the roof of the Dowling facility cannot support overhead chargers, this means BEBs would have to use chargers on the sides, but this can reduce the capacity for more buses by a minimum of 25 percent, staff state.
Both facilities would require upgrades to the existing power supply, as the current support systems in place cannot accommodate the high intensity chargers BEBs require. Extra power at the Malton site is possible with an extension from Alectra, but the company told staff it would likely not proceed with the same approach to the Dowling facility.
"The main garage (Dowling), would require significant infrastructure upgrades to Alectra's system as the existing transformers are already operating at capacity; however, Alectra has noted that it will not undertake this upgrade unless there are other large-scale residential/commercial developments to justify this major investment in electrical infrastructure," staff wrote.
While both the full electrification and garage construction is occurring, staff want to have a practice run with 30 BEBs before the first 'official' bus launches in 2028.
"Prior to 2028, MiWay will have no experience with BEBs in terms of asset management, operations and maintenance," the report states.
Even though staff are confident BEBs will help Mississauga achieve targets — so much so they are starting long term projects — they still want to make sure they know what they're getting the City into. These buses will be housed at the Annex building at the Dowling facility, with some modifications needed to the electrical charging infrastructure. The report states this smaller project can be accomplished with "minimal costs."
Even the smallest modification undergoes rigorous planning and studies, which staff estimate will take place over three years, with the first BEBs to be on site in 2025.
In order to stay on this extremely tight timeline, these projects need to start immediately.
On Wednesday staff requested (and received approval) for $700,000 to complete the TPAP and feasibility design for the West Credit site and the building modification designs at the Dowling garage.
Mississauga is also considering investments into hydrogen fuel cell electric buses. Staff are expected to report back on the feasibility of the technology in Mississauga in April 2022.
Marinoff says the two technologies will likely coexist similar to diesel and natural gas buses today. It means that if Mississauga invests into infrastructure to support BEBs, there is potential to transition charging stations and other assets to support hydrogen fuel cells.
---
Email: [email protected]
Twitter: @taasha__15
---
COVID-19 is impacting all Canadians. At a time when vital public information is needed by everyone, The Pointer has taken down our paywall on all stories relating to the pandemic and those of public interest to ensure every resident of Brampton and Mississauga has access to the facts. For those who are able, we encourage you to consider a subscription. This will help us report on important public interest issues the community needs to know about now more than ever. You can register for a 30-day free trial HERE. Thereafter, The Pointer will charge $10 a month and you can cancel any time right on the website. Thank you
Submit a correction about this story