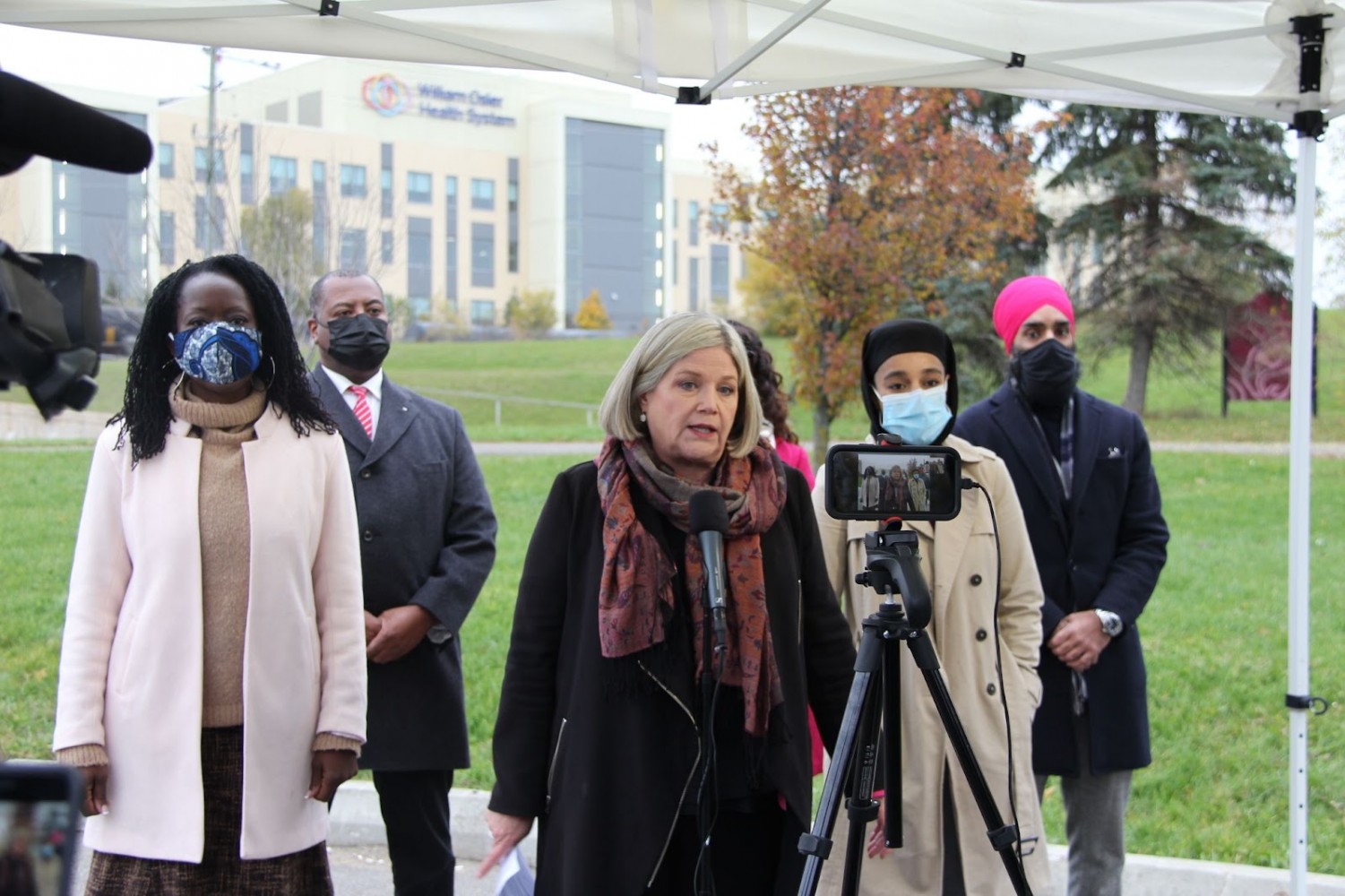 Feature Image from Ontario NDP
'We will never, ever give up on Brampton families': NDP planning motion to ensure two more hospitals
For years, Andrea Horwath, who represents a Hamilton riding, has made Brampton's dire healthcare situation a top priority.
She has visited Brampton Civic Hospital, where hallway healthcare is common, numerous times, has pushed motions in Queen's Park to get a second hospital in the city and has demanded during local healthcare town hall meetings organized by her party a fair share for beleaguered residents in Ontario's fourth largest municipality.
She was in Brampton once again this week, and promised that, if elected next year, the Ontario NDP will transform Peel Memorial into a full-service hospital and fully fund a third hospital that Brampton already desperately needs.
During a press conference in Brampton Wednesday, Horwath, joined by her local MPPs and candidates, announced the NDP will force a vote at Queen's Park next week, to once again push the Province to fund the construction of a new hospital in Brampton while guaranteeing the immediate expansion of Peel Memorial into a full-service hospital with a 24/7 emergency department.
"I've been going door knocking and visiting the residents in this area and one of the biggest issues that comes up is health care. We simply don't have enough services to take care of our population," said Andria Barrett, the NDP candidate for Brampton South.
Standing alongside, outside the Peel Memorial campus, Horwath said that Brampton families have suffered long enough from having just one hospital, Civic, which is chronically over-capacity with an overcrowded emergency department.
"Brampton has been promised many times, but after years of promises, Brampton is ignored or shortchanged by governments again and again — it has to stop," she said. "People in Brampton deserve the same level of health care as others around this province are able to get."

Official Opposition Leader Andrea Horwath said the NDP will push for a motion to make Peel Memorial a full-service hospital and to build a third hospital in Brampton.
Brampton's approximately 700,000 residents receive less than one bed for every 1,000 of them, while the provincial average is about 2.3.
"Brampton families know what it's like inside Brampton Civic and Peel Memorial — crowding, hallway medicine, and long waits for patients in pain, while their families are sick with worry," Horwath said. "Under Doug Ford, the Peel Memorial expansion plan will have no ER, and far less than the 850 beds Brampton needs. Brampton deserves so much better. Right now, we can amend the mid-term budget to include funding to make Peel Memorial a full hospital with an ER, and get to work on another brand new hospital."
In a letter published by The Pointer, Geoffrey Ritchie, chair of the board of directors for the William Osler Health System, said he was confident that the city's second ER department would open at the same time as the Peel Memorial expansion. But Osler has detailed that almost all of the 250 inpatient beds the Memorial expansion will deliver will not be for acute care, meaning residents with the most pressing medical needs won't be able to get full treatment for most of these types of emergencies when the Peel Memorial expansion opens, which will not happen until at least 2027.
A handful of short-term inpatient beds will offer some acute care, but only until patients can be transferred elsewhere.
Horwath says an NDP government will change this and is committing to making Peel Memorial a full-service hospital with a proper number of acute care beds to support a range of pressing medical needs and a comprehensive emergency department.
She also lambasted the Liberals.
"Kathleen Wynne and Steven Del Duca had years to build hospitals in Brampton, but chose not to. From July 2018 to June 2019 Peel Memorial was between 557 percent and 587 percent full," she said.
Brampton Civic has routinely experienced "code gridlock", which means patients in need of a bed could not get one because they were all full, leading to the use of makeshift spaces and hallways for treatment. The city's only full-service hospital, Civic continues to see patients who have to be either cared for on stretchers in hallways or have to wait excessively long; sometimes more than 20 hours to receive care in an inpatient bed after arriving at the ER.
As of September, according to data posted on the Health Quality Ontario website, the average time to admit a patient from the emergency department at Civic was 18.9 hours, almost two-and-a-half times longer than the provincial target of 8 hours. By comparison, St. Joseph's Hospital in London took just 4.4 hours, on average, to admit a patient from the ER in September (the provincial average was 16.5 hours).
Only 18 percent of patients at Brampton Civic were admitted within the target time in September.
This has been the reality for Bramptonians for the last 15 years, and has seen many voices speak out about the need for change. Most recently, Brampton Councillor Pat Fortini experienced the impact of this lack of resources first hand when his wife required care during the pandemic, he told The Pointer. Councillor Fortini had to drive his wife to a Georgetown hospital to receive proper care, after she languished inside Civic for hours, before he could no longer bear it.
Horwath says she too has seen Brampton Civic overburdened with patients, leaving residents no choice but to travel outside of the city to try and improve their chances of being seen in an emergency ward.
There has been heated debate about the Peel Memorial expansion around the table of Brampton council, particularly after a report came forward earlier this month detailing the expansion plans, which fell short for many councillors.
"I don't know how to put this any other way: we are critical. We are too far behind everybody else. When we get those 250 beds opened, we'll be another 500 beds behind," Councillor Jeff Bowman said. "We should be pushing this government, right now, before this election, to make sure that when this hospital opens, it has a minimum of 850 beds."
Premier Ford campaigned on ending hallway healthcare in 2018, but what Brampton Civic goes through on a daily basis is an indication that his promise has not been kept. In January 2020, Brampton councillors officially declared a healthcare emergency (before the pandemic hit) to draw further attention to the city's hospital crisis. Despite this performative call to action, councillors have made little progress in raising the necessary funds to support the City's share of the Peel Memorial expansion. Mayor Patrick Brown has been more focused on freezing taxes — to the detriment of the city — than on putting money away for much needed, critical projects such as hospital expansion.
According to numbers from the NDP, by the end of June 2021, Brampton Civic had transferred away more than 567 patients, 150 of them in critical condition, because there were not enough beds or staff to care for them.
Horwath says Brampton's hallway medicine crisis has only been exacerbated during the COVID-19 pandemic.
"Things have become worse and not better," she said. "If the NDP were the government today, we would be building a new hospital in Brampton plus expanding Peel Memorial to include a full emergency department."
"If Doug Ford doesn't get the funding in place and shovels in the ground now, we will in 2022. We will never, ever give up on Brampton families."
Horwath says Peel Memorial should include a 24-hour emergency ward with extra beds, but "unfortunately that's not what Doug Ford is doing."
"We're all trying to hold Doug Ford's feet to the fire."
Horwath and the NDP will force a vote at Queen's Park on the construction of a new hospital in Brampton and the immediate expansion of Peel Memorial into a full-service hospital including a fully operational emergency department.
"On Wednesday of next week, every MPP in the legislature will have an opportunity to vote yes or no," she said. "That's not too much to ask for. It's something that you've deserved for a very long time."
The NDP had put forward a similar motion in 2018, asking for funding for a much-needed third hospital in Brampton and raised the issue again in 2019. Local PC MPPs Prabmeet Sarkaria (Brampton South) and Amarjot Sandhu (Brampton West) were absent for the 2018 vote. Both supported the motion in 2019, but it wasn't enough as both motions were easily defeated by the majority PCs.
Horwarth was asked whether the NDP motion will request the Province fully fund the third hospital.
"A lot of municipalities have concerns about the funding formula where municipalities have to bear a portion of the funding," Horwath replied.
Fortini took to the Regional Council meeting on November 11 to ask Peel Region to help cover Brampton's share of the Peel Memorial expansion, estimated to be approximately $125 million for the local amount. The possibility of regional support has been deferred for discussion under Peel's January 13 council meeting, as councillors wait for a report from Regional staff.
Horwath says it's incumbent upon any government to recognize that if there's a situation where a municipality doesn't have the resources to bring forward its fair share, then the province must consider taking that responsibility.
The Province has yet to put any money into the budget for the Peel Memorial expansion, though it has been mentioned in the 10-year capital plan.
"No matter what happens in terms of Brampton's ability to raise a portion of the capital funding, we will be building that [third] hospital, I can guarantee you that," said Horwath when asked by The Pointer whether the NDP government, if elected in June 2022, will fund the third hospital completely without any capital contribution from Brampton.
"It needs to happen. It's long overdue."
Brown has failed to explain why he continues to refuse to put any local contribution for the Peel Memorial expansion in the budget he helps determine, choosing to instead demand tax freezes that leave no money for hospital expansion. The budget proposal for 2022 once again includes no additional money for the Memorial expansion, and nothing for a third hospital. This has hurt the city's ability to secure commitments from Queen's Park, which usually expects a local share for new hospitals.
The NDP motion for three complete hospitals in Brampton will be debated and voted on next week at Queen's Park on November 24.
---
Email: [email protected]
Twitter: Anukul_AT
---
COVID-19 is impacting all Canadians. At a time when vital public information is needed by everyone, The Pointer has taken down our paywall on all stories relating to the pandemic and those of public interest to ensure every resident of Brampton and Mississauga has access to the facts. For those who are able, we encourage you to consider a subscription. This will help us report on important public interest issues the community needs to know about now more than ever. You can register for a 30-day free trial HERE. Thereafter, The Pointer will charge $10 a month and you can cancel any time right on the website. Thank you

Submit a correction about this story