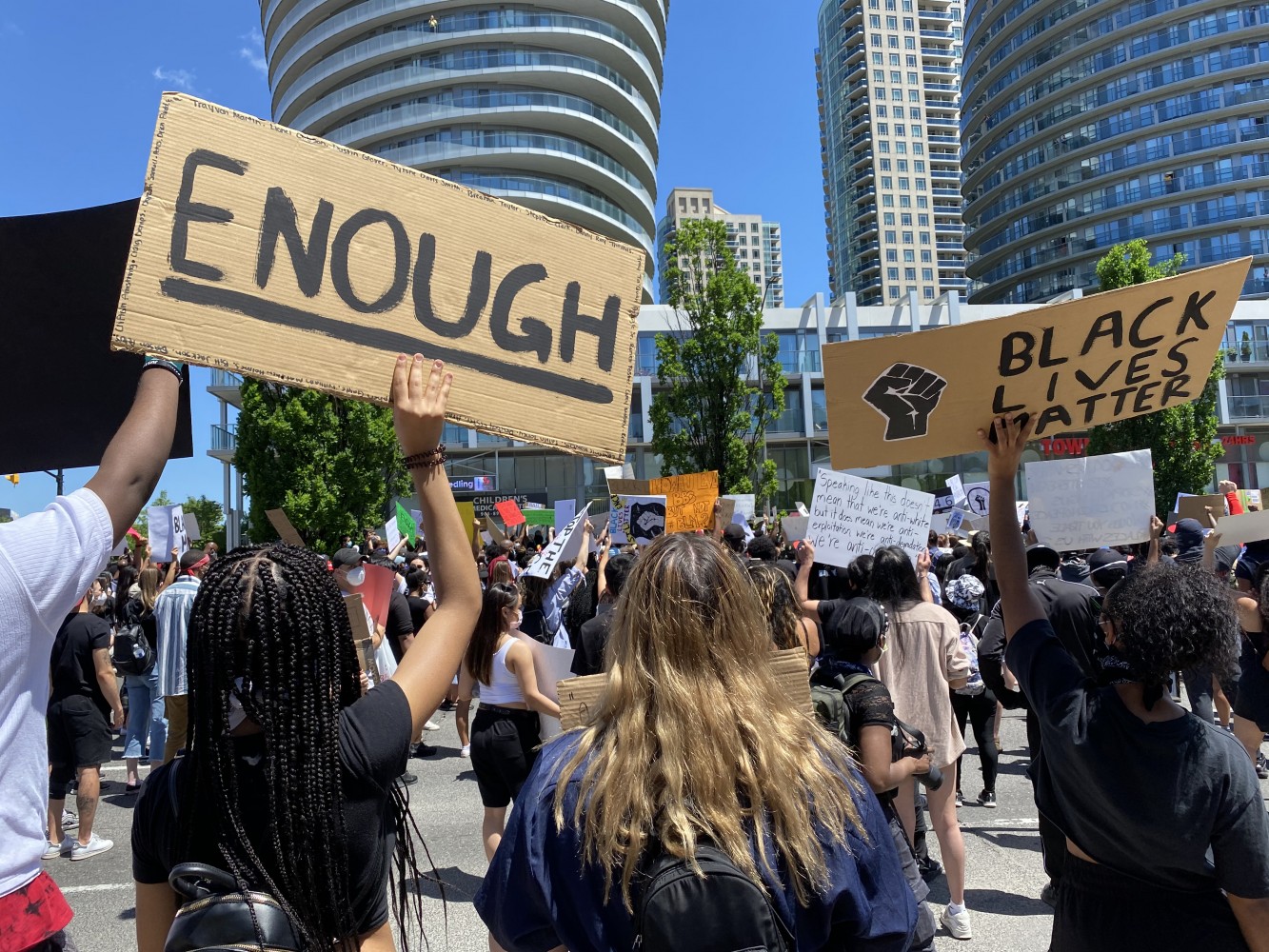 Feature image from The Pointer files
Peel Police launch questionnaire to address systemic racism; activists say the force already knows the answers 
A new survey launched by the Peel Regional Police looks to gather information from community members about their interactions with its officers, but some are worried that if the past is any indicator, certain viewpoints will be excluded.
Launched on September 15, the community survey aims to gather feedback to help inform PRP's work with the Ontario Human Rights Commission (OHRC) to address systemic racism in the force, which polices Mississauga and Brampton, two of the country's most diverse cities, where about two-thirds of residents are visible minorities. About three quarters of uniform officers are white.
The survey is asking for community feedback on "experiences with, and perceptions of" Peel Regional Police.
Questions are being raised about how effective the survey will be in gathering the voices PRP needs to hear from in order to truly understand the work it needs to do to fix systemic racism within its organization.
Facing mounting scrutiny over racial profiling, in 2016 former chief Jennifer Evans commissioned a "community" survey and claimed 93 percent of residents in the two cities were "satisfied" with the force.
When police board members at the time, led by Mississauga Mayor Bonnie Crombie, got Evans in front of them, they grilled her about the so-called "community" survey. It turned out the force had designed the questions for the work done by a third-party firm, which admitted it made no effort to ensure visible minorities were properly represented in the survey and that neighbourhoods were hand-picked without any regard for getting an accurate sample of the two cities based on race.
A sample of questions asked in the ongoing PRP community survey.
Now, questions are once again being raised about how the latest survey is being conducted.
Community activist Dave Bosveld says the PRP should already have more than enough information to understand the problems faced by particular populations in Peel — Black communities especially — and he's uncertain another survey will be able to tell the police force anything more than what it should already know.
"I know Black community members want action, not another survey that describes for the police how we feel about them," he says. "They should know from the demonstrations, they should know from every consultation and engagement that they've had where we've said they should be working to address those concerns."
Mississauga residents march in demonstrations in support of Black Lives Matter following the murder of George Floyd last year.
(Photo from The Pointer files)
In August, a report was handed to the Peel Regional Police Services Board that showed Black individuals in Peel are more than three times as likely to experience forceful treatment at the hands of police than other residents. The findings mirror that of carding data released to the media under a freedom of information request that highlighted how Black individuals were three times more likely to be randomly stopped by police officers on the street than whites.
"There's reams and reams of data," Bosveld says. "You'll never see from a broad survey like this, an actual result that clarifies what has been clarified through various consultations, engagements and the CCDI study."
The study by the Canadian Centre for Diversity and Inclusion, published in 2019, shared a troubling view of the PRP organization where nearly 80 percent of employees who responded to a survey reported experiencing harassment or discrimination on the job. It described senior leadership as "change averse" and unwilling to accept that systemic racism existed within the organization. The force has made improvements since then, under the direction of Chief Nishan Duraiappah, including hiring a diverse pool of new recruits last year.
"Peel Regional Police is at a critical juncture in the work to improve relationships and restore trust with the community," OHRC Chief Commissioner Patricia DeGuire stated in a news release. "The OHRC remains committed to collaborating with PRP and its Board to pursue transformational changes that will improve outcomes for members of Black, Indigenous and other racialized communities across Ontario."
Past community surveys completed by the police force have failed to provide a comprehensive look at how all of the diverse communities in Brampton and Mississauga (Caledon is policed by the OPP) experience the work of Peel Regional Police. This is particularly true for Black communities that represent only about 10 percent of the population in the two cities, but disproportionately have negative interactions with police. A survey of only 1,200 residents is unable to capture such nuance.
The 2016, community satisfaction survey found 93 percent of residents were satisfied with the work of PRP, and more than 90 percent described officers as professional and courteous, treating people with respect. Over 80 percent of respondents said PRP officers treat everyone fairly. The survey was published at a time when PRP was embroiled in controversy after the release of carding data showing Black individuals were disproportionately impacted by the harmful practice of randomly stopping people in street check (carding) encounters.
During a police services board meeting at the time, the survey was picked apart by Mayor Crombie who criticized the inaccurate picture the results painted. Experts also pointed out that the survey did not capture those being criminalized by police.
The same survey stated that 57 percent of respondents felt safe in their community, compared to 49 percent of respondents to a 2013 survey. However, a survey commissioned by The Pointer in 2018 and completed by Forum Research asked residents if they felt safer at that time than they did four years earlier, with 65 percent of respondents saying, no; highlighting the vast discrepancies that can be found through different survey methods and populations.
Crombie told former chief Evans that anyone could manipulate a survey to get the results they want.
Another survey was released in 2020 that stated 74 percent of residents thought PRP was doing a "good/excellent job." This time around, Chief Duraiappah acknowledged the result only represented a "subset of input" from the community.
Bosveld is encouraged that a portion of the current survey featured prominently on the force's website requests demographic information about the respondent's identity. The information could help PRP to once again see that certain communities are having disproportionately negative interactions with officers.
Peel Regional Police Chief Nishan Duraiappah was hired to change the force's culture.
(Photo from Peel Regional Police)
"The questions are only as good as who answers them," he says.
Whatever the results, the data will require analysis not only from Peel Police and the OHRC, but it will require the political and community leaders of the Peel Police Services Board to absorb it, and understand it in order to push for the necessary changes. Despite promises and the new partnership with the OHRC, little concrete action has been taken to address the issue of system racism within the force.
Earlier this year, Bosveld recommended the Board form an anti-Black racism advisory committee to help guide board members in their decision making around these issues. A report written by the Board's executive director Robert Serpe and published in August, recommended against the formation of such a committee, noting that: "There does not appear to be a gap that would be filled by establishing a standalone Peel Police Services Board anti-black or anti-racism advisory panel." It's a recommendation that appears contrary to the findings in the use-of-force data.
Serpe's idea was challenged by community members and even the anti-Black racism experts hired by the Peel Regional Police service, who were quick to point out the flaws in the suggestions by Serpe, who has no background in policing or equity and inclusion work. He was a communications staffer for former Brampton mayor Susan Fennell who sat on the police board for years.
"It is African-Canadians, Black Canadians, who are particularly overrepresented and have particular needs, not only within policing, but in society more generally. When the issues facing Black people are subsumed under diversity, which includes sexual orientation, race and ethnicity, because those two things are distinct, then those concerns do often get lost," said Akwasi Owusu-Bempah, a University of Toronto sociology professor who has done extensive research on the intersection of race, crime and criminal justice and is working with PRP to eliminate systemic racism within the organization.
Owusu-Bempah said there is a need for a distinct anti-Black racism panel to advise the board.
While Bosveld believes the newly launched survey will not tell the PRP anything beyond what it already knows, he is trying to remain hopeful.
"The good news is, I do think they have intentions of being better, I don't know that they have the ability. This is such a big job," he says. "It's tough to be excited about it, but the wheels are turning to some extent."
---
Email: [email protected]
Twitter: @JoeljWittnebel
---
COVID-19 is impacting all Canadians. At a time when vital public information is needed by everyone, The Pointer has taken down our paywall on all stories relating to the pandemic and those of public interest to ensure every resident of Brampton and Mississauga has access to the facts. For those who are able, we encourage you to consider a subscription. This will help us report on important public interest issues the community needs to know about now more than ever. You can register for a 30-day free trial HERE. Thereafter, The Pointer will charge $10 a month and you can cancel any time right on the website. Thank you
Submit a correction about this story