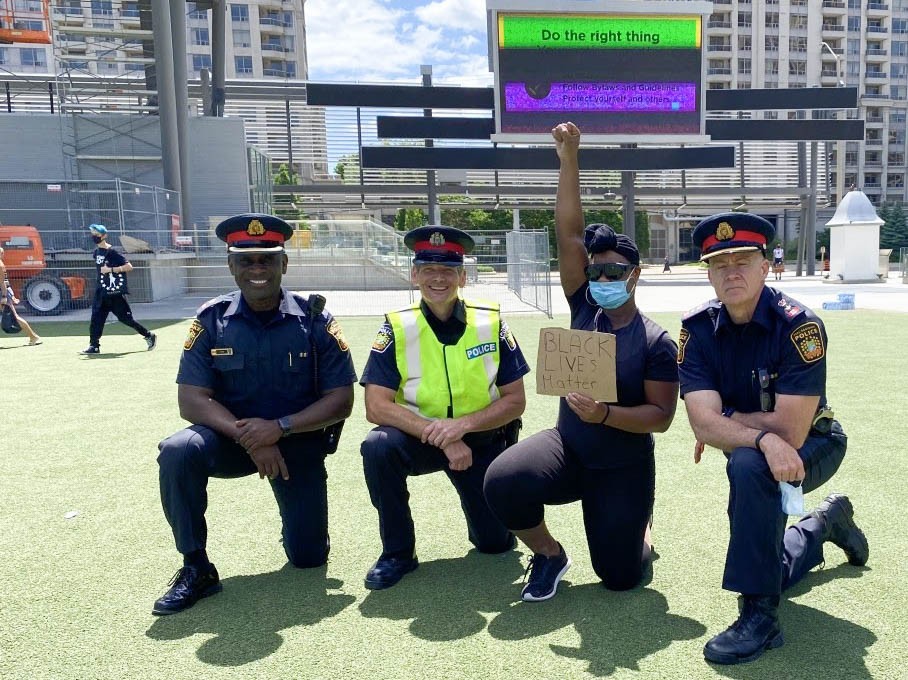 Feature image from The Pointer files
After scathing 2019 equity audit, Peel police hires its most diverse pool of candidates 
In Canada's most diverse cities, neighbours come from opposite sides of wars and pray to different Gods, but live harmoniously in inspiringly united communities.
In Brampton and Mississauga, the local police force has not been one of these communities.
It has been dogged for decades by a culture that refused to adapt. While the demographics shifted rapidly, ushering an era of vast diversity, Peel Regional Police remained white and male.
The refusal to reflect the communities it serves led to a series of high-profile controversies and a constant string of alarming behaviour by officers and senior brass.
Racial profiling cases were dealt with by Ontario's human rights commission, a highly decorated officer won a landmark case that exposed widespread, systemic discrimination within the force and misconduct became the norm.
It was a police force in crisis.
But things are starting to change.
While the pandemic stalled many initiatives in the two cities, PRP took strides forward to create a more reflective police force, as required under Ontario's Police Services Act, which outlines, "The need for sensitivity to the pluralistic, multiracial and multicultural character of Ontario society; The need to ensure that police forces are representative of the communities they serve."
Based on the 2016 Census, 65 percent of Brampton and Mississauga's residents were visible minorities, half the population was female and approximately 13 percent were people with disabilities. Despite being located on the territory of the Anishinabek, Huron-Wendat, Haudenosaunee, Ojibwe/Chippewa, Métis and Mississaugas of the Credit, Indigenous People made up only 0.7 percent of the population in the two cities.
In 2020, there were 2,236 uniformed officers employed by Peel Police, 78.9 percent were men. Visible minorities, who make up the vast majority of the population, represented only 27.9 percent of the force, while 1.1 percent were Indigenous. People with disabilities made up 0.2 percent of PRP.
There is a noticeable increase in racialized uniformed officers in 2020.
(Graphic from Natasha O'Neill / Datawrapper)
In 2019 a scathing report commissioned by the board that governs the force (after years of broad community pressure) and conducted by the Canadian Centre for Diversity and Inclusion (CCDI) showed the force was not only failing to represent its community, there was also widespread pushback against change.
The 142-page document describes a police force that punished those who spoke out, and had turned a blind eye to systemic discrimination. The review by CCDI included one-on-one interviews with PRP senior leadership, two public town halls, a census and inclusion survey of employees (garnering 1,808 responses out of 3,048 staff, including civilians) and focus groups.
Of the police employees who took part in the focus groups, 79 percent reported experiencing harassment or discrimination within PRP, while 90 percent of participants reported witnessing such behaviour.
The CCDI report placed most of the blame for these issues on senior leadership with a majority of employees describing the organization as "change-averse" and "elitist". The report says almost three-quarters of police leaders and members of the board "do not seem to recognize that barriers exist or [believe they] rarely exist for certain groups at Peel Regional Police."
About a third of the PRP leaders in place in 2017-18 "indicated their belief that these systemic oppressions do not exist within PRP," while others suggested they believe "these oppressions manifest only as individual acts of meanness." These leaders, the report said, don't make "the connection that these oppressions are systemic in our society and therefore are also in our organizations."
Contrastingly, rank-and-file officers were asked if "everyone benefits from equal access to resources and opportunities" within PRP; and only half of the over 1,800 who responded offered a positive answer. The benchmark for an organization is 70 percent.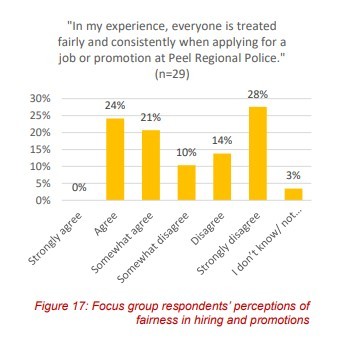 (Graphic from CCDI)
There was a clear divide between those in senior leadership positions and those in the lower ranks.
The report addresses the problems within the force as "fundamental issues," which won't be solved with programs or initiatives; instead a widespread cultural change was needed. CCDI recommended Peel Police create a task force including members from various ranks and divisions to help create a sweeping organizational culture change.
The Pointer asked about work being done to finally make equity and inclusion a part of the culture for a force that polices two of the most diverse cities in the world.
"Our objectives are to attract and retain skilled employees who represent our community and to develop and implement initiatives to support diversity, equity and inclusion in our workplace and in the community," a spokesperson for PRP said.
In 2014, only 26 visible minorities (including one Indigenous person) were hired by PRP out of 91 hires for the year.
During the year, a few promotions occurred within the force, but only a handful went to people who were racialized or female. Almost all positions at the senior leadership level were dominated by white men.
In the civilian force, there were far more racialized people and women represented, however these are generally not public facing roles that demand crucial, complex interactions with residents often in crisis.
By the end of 2015, 17.5 percent of the force's employees were racialized and 18.2 percent were women. Indigenous officers made up 0.9 percent of the workforce and persons with a disability made up 0.4 percent.
Peel Police now have a force that reflects Indigenous Peoples in the community.
(Graphic from Natasha O'Neill / Datawrapper)
A year later, during the high-profile case of former officer B.J. Sandhu, whose human rights case involving shocking evidence of widespread, deeply ingrained internal discrimination shook the foundations of the force, more visible minorities and women were being hired, showing a small change, but raising questions about whether the moves were only a reaction to all the negative publicity, rather than a genuine commitment to culture change.
Of the 61 promotions to senior levels in 2016, 16.4 percent went to female officers and 14.8 percent went to a racialized officer.
Men still make up most of PRP's force.
(Graphic from Natasha O'Neill / Datawrapper)
From 2016-2019 the population of the two cities continued to become even more diverse, according to demographic projections, but the police force remained stagnant, despite mounting pressure on former chief, Jennifer Evans, widely viewed by advocates in the community as a change-resistant leader.
Racialized staff only comprised about 20 percent of the force, while women represented around 18 percent.
While all the cards were laid out on the table by the damning CCDI audit report, it was time for PRP to face the music and finally get serious about change. Mississauga Mayor Bonnie Crombie, a member of the Peel Police Services Board, had witnessed how unwilling Evans was to change when she refused the mayor's directive to stop the damaging practice of police carding, despite media reporting that showed the practice was discriminatory and targeted the Black community in the two cities. The board, led by Crombie, knew change would not happen with Evans at the helm, and, facing more and more pressure to step down, she left before the embarrassing audit report revealed how bad the leadership was.
Chief Nishan Duraiappah was brought in later the same year, expected to drive the change community members demanded.
Chief Nishan Duraiappah was sworn in October 2019.
(Photo from Peel Regional Police)
The Chief hit the ground running even under a global pandemic.
In June 2020, policing faced backlash across the globe after George Floyd suffocated beneath the knee of Minneapolis police officer Derek Chauvin dug his knee into the neck of unarmed George Floyd. For more than eight minutes Floyd pleaded with the officer telling him he could not breath, until he stopped altogether. This put a spotlight on how police organizations treat Black communities worldwide and triggered widespread calls for police reform.
Days later, Chief Duraiappah told The Pointer, "change is coming."
"I know that many chiefs and police leaders have taken a public stance and the position that we are open, we recognize we need to change and systemic change is needed. I think your readers really are now interested in, 'okay show me, and what is that going to look like?'" Chief Duraiappah told The Pointer.
"My efforts to ensure we are watertight and that we are strong for the future, will be shown in real, systemic, structural change – activities that are coming. I just ask that the community come alongside us. It's an opportunity to help us get there, that's what we need."
With strong leadership determined to eradicate systemic racism within the force, supported by strong recommendations from the CCDI audit, Peel Police was in its best position yet to start turning the page on years of inaction.
In Chief Duraiappah's first year, he hired the largest number of racialized and female recruits to date, and pushed past a barrier of 20 Indigenous officers to 25. While not all attribution can solely go to the Chief, his drive to dismantle and end bigotry within the force is telling.
The CCDI report laid out problems within the force traced to the senior management positions, the vast majority of whom are older, white males. These senior officers have been with the PRP for a number of years, earning their promotions in the process. Due to problematic hiring processes of the past, it has created a lack of qualified, diverse employees at the lower level to choose from when handing out promotions. This means that in order to change leadership, future promotions will be an important aspect, but it will take time for individuals more representative of the Peel community, to reach these senior positions.
Over the past several years, very few promotions have been given to racialized people or women. In 2015, there were 156 promotions, of which minorities were given 56 percent of the higher positions. In later years, instead of increasing promotions to racialized people and women, the statistics show they earned fewer.
In 2020, minorities accounted for 38 percent of the promotions. Over the past six years, only two Indigenous Peoples and one person with a disability earned a promotion within the higher ranks.
If senior management is the largest blockade for drastic change, promoting those who represent the community from lower ranks will be a key barrier to break down in this transition.
To be able to promote officers to higher positions starts with them at a constable level or lower. To have a good pool of diverse candidates to promote, there needs to be a diverse pool to begin with.
Applications to be on the force have increased over the last three years, many applying are racialized people or women. In 2018, 62.1 percent of candidates identified as racialized and 18.6 percent were women. Indigenous and persons with disabilities accounted for 0.9 and 1.6 percent of the pool.
In 2020 all these numbers have increased, indicating efforts by Peel Regional Police to reach out to diverse groups in its recruitment process could be working.
Racialized people made up 69 percent of the applicant pool and women made up 22.4 percent. Indigenous and persons with disabilities made up 1.8 percent each.
Almost no Indigenous People have been promoted with PRP in the past six years.
(Natasha O'Neill / Datawrapper)
At the Peel Police Services Board meeting in June, Sgt. Tony Doherty spoke to members about how interactive they have made the recruitment process. Using social media platforms like Twitter and Instagram, he explained the force has been able to interact with applicants and reach out to more communities throughout the pandemic. The recruitment team also used various meeting platforms to hold question-and-answer sessions and one-on-one discussions with potential hires.
The implementation of the Female Inclusion Team (FIT) was also successful in attracting and retaining female applicants through a mentorship program with officers on the force.
"One thing I can say about my recruiters, which I'm very, very impressed with, is the fact that they really take pride in getting to know their applicants. It's a very people focused connection," Sgt. Doherty said.
Becoming a police officer is a highly competitive and demanding process. PRP has eight steps with various mental and physical components, including an in-depth psychological assessment.
"Our Regional Police psychological assessment is more stringent than the province's and when an applicant is deemed suitable in that area, they will then proceed on to background checks," Sgt. Doherty said at the June police services board meeting.
Even with the "stringent assessment", weeding out those who should not be in positions of authority has plagued PRP recently. On June 24, PRP charged one of its own cadets, Luke Eastman, who faces charges of domestic abuse. The list includes: assault with a weapon, forceable confinement, sexual assault and suffocation against three women over a five-year period.
Eastman had recently undergone the application process which also included a background security and financial check. How police didn't find him ill-suited for the extensive cadet program is unclear.
The Pointer reached out to PRP to understand what would disqualify someone based on the assessment. The organization responded with a PDF file explaining the hearing and vision requirements for constable selection. The file did not name any psychological conditions that would exempt someone from being an officer.
The Pointer also inquired if the physiological assessment could disproportionately affect Indigenous candidates who may have a history of intergenerational trauma.
"Our qualified psychologists conduct impartial assessments of all applicants to determine their suitability as a police officer candidate," a spokesperson said.
---
Email: [email protected]
Twitter: taasha__15
---
COVID-19 is impacting all Canadians. At a time when vital public information is needed by everyone, The Pointer has taken down our paywall on all stories relating to the pandemic and those of public interest to ensure every resident of Brampton and Mississauga has access to the facts. For those who are able, we encourage you to consider a subscription. This will help us report on important public interest issues the community needs to know about now more than ever. You can register for a 30-day free trial HERE. Thereafter, The Pointer will charge $10 a month and you can cancel any time right on the website. Thank you.
Submit a correction about this story