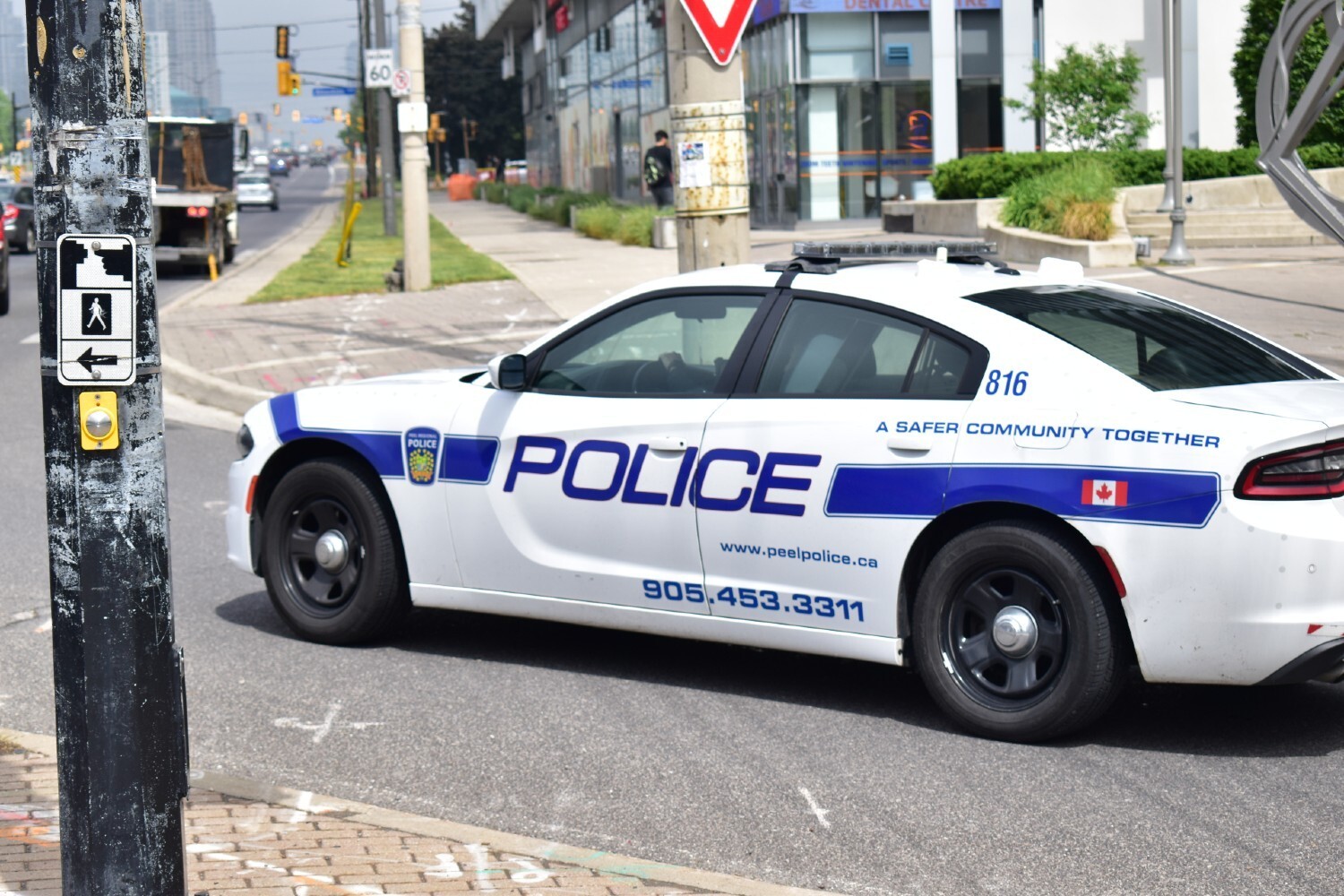 Feature image from Isaac Callan/The Pointer
Former Peel police cadet facing multiple domestic abuse charges raises questions about force's hiring
On June 24, the Peel Regional Police announced the force had charged a 24-year-old Brampton man after he allegedly committed violent offences against three women.
The media release detailed how Luke Eastman had allegedly been involved in incidents of domestic abuse against three different women he was in relationships with over a five-year period, beginning in 2016. Police believe he may have used online dating websites to meet other women.
Eastman, who appeared for a bail hearing in Brampton on June 22, was charged with a range of offences. The list includes: assault with a weapon, forceable confinement, sexual assault and suffocation.
The press release about Eastman's charges left out one key detail: he was a cadet with Peel Police.
Eastman had recently gone through the application process, was hired and progressed through the cadet ranks, set to become a constable once his training was complete. There is no guarantee that a cadet will be promoted to the rank of Constable.
The decision to keep his employment with the force from the public when the charges were reported raises serious questions about consistency in how police identify alleged serial abusers. It also casts doubt on how professional Peel Police's recruitment and screening processes are.
Forces across the country are expected to use extensive vetting and analysis when prospective candidates for frontline police work are screened through the application process. Intelligence and background checks should be routine to ensure the force is not put at risk, that reputational damage will not result due to the hiring of anyone ill-suited to be an officer of the law and to protect the criminal investigation process from being tainted by an officer with questionable ethics and judgement.
Peel police states on its website: "The hiring process for police officers is both extensive and exhaustive for very good reasons. In Ontario, community safety and well-being is a priority which requires us to select the most suitable applicants for the role of police officer. Therefore, police services have chosen to adopt an intensive hiring process focused on attaining the best applicants. The average police constable selection process can range from 5 to 10 stages."
It's unclear what the force did to screen Eastman before he was hired to become a cadet on his way to being an officer, with wide policing powers over the public.
"I can confirm that Luke Eastman was employed by Peel Regional Police in the capacity of a cadet," Akhil Mooken, a spokesperson for Peel Police, told The Pointer in an email. "He is no longer employed with Peel Regional Police and resigned immediately following the charges."
Mooken said Eastman resigned rather than being dismissed. After police became aware of a complaint against the Brampton cadet, a criminal investigation was started and "charges were laid the same day", with Eastman suspended from duty.
Luke Eastman was a cadet with the Peel Police.
(Image from the Peel Regional Police)
A 2019 PRP equal opportunity plan describes the cadet program Eastman was enrolled in.
It is a 30-month training approach that "socializes new candidates into the policing culture, provides them with learning and developmental opportunities and familiarizes them with the policies, procedures and work practices of the PRP through various training assignments." Cadets are assigned to various parts of the Peel police force to gain frontline experience in preparation for an application to the position of recruit constable.
The report says there are 30 cadets in the program. In 2019, 16 cadets were promoted to the position of recruit constable, making it a direct pipeline to full-time employment as a frontline police officer in Peel.
It appears Eastman, based on his age, would have been near the end of his cadet program, before moving on as a recruit constable.
Peel police's website says recruits should have "good moral character and habits" and a clean criminal record.
According to the force's media release, Eastman's alleged offences date back to 2016, well before he could have been enrolled in its 30-month cadet program. He was able to pass the force's interview process and background checks, while allegedly involved in multiple domestic assaults.
"All potential employees of Peel Regional Police, both civilian and uniform, undergo a thorough vetting process including reference, criminal and background checks to name a few. These checks are all conducted within the limits of legislation," Mooken wrote.
Current laws allow employers to verify education or professional credentials, but are also limited by privacy rules. The Ontario Human Rights Commission says psychological testing should be treated with caution.
Asked specifically if the recruitment process would be reviewed in light of Eastman's hiring as a cadet, Peel Police were not specific. Mooken said that the "recruitment processes and requirements are continuously being reviewed and updated".
Peel Police's cadet program can lead to promotions within the force.
(Image from The Pointer files)
The charges against Eastman are not unique within the force or exclusive to cadets. Peel Police has seen a number of officers charged with assault, sexual assault and domestic charges in recent years.
Since 2015, 15 Peel Police officers have been charged with domestic related incidents and six officers have been charged for sexual assault. One additional officer has been charged in relation to sexual harassment.
In 2017 Constable Rajvir Ghuman was charged with a series of offences similar to Eastman. The charges included domestic assault, forcible confinement and mischief. In 2019, Constable Daniel McAllister, a veteran of 22 years, was charged with sexual assault and in 2020, Constable Latshmam Raghunath was charged with one count of sexual assault for an alleged incident that occured when he was off-duty.
Last year, a former Peel Police officer was charged in connection with a sexual assault in Barrie in 1992.
Since 2010, the Special Investigations Unit has laid 14 sets of charges against Peel Police officers relating to sexual assault, assault or domestic violence, a spokesperon told The Pointer. The charges included 16 officers.
A summary of charges laid against Peel Police officers by the SIU relating to assault, sexual assault or domestic violence since 2010.
(Data from the Special Investigations Unit)
Peel Police says there is "no trend" in the numbers, but it's clear this is a problem Peel Police has dealt with for a significant amount of time.
Earlier this year, former Peel officer Frank Kohler was sentenced to four years in prison for abusing Brampton resident Kevin Dickman multiple times between 1967 and 1972. The abuse began when Dickman was 11-years-old. When the abuse was exposed in 1974, Kohler confessed to his fellow officers, but was not charged. He resigned and moved to Nova Scotia. The Peel Regional Police have said that due to the documents being no longer available, it's impossible to determine why the force allowed the child abuser to walk out the door. Dickman took his own life in 2019.
Recent studies have identified that intimate partner abuse by police officers is a systemic issue.
"Intimate partner abuse by police officers is a systemic, structural issue created and fuelled by the ways in which police officers are socialized and trained," reads a 2015 study completed by Leigh Goodmark, a professor of law at the University of Maryland. "Police officers are more likely than others to abuse their partners, and as a result of their training and their state imprimatur [position of authority], police abuse of partners is more problematic and potentially more dangerous than abuse by civilians."
Chief Nishan Duraiappah came to Peel in 2019 after former Chief Jennifer Evans resigned. During Evans' tenure, the force was dogged by systemic discrimination and allegations of cronyism, while the public and human rights cases raised questions about nepotism in Peel police's hiring culture.
A diversity and equity survey commissioned in 2017 for the Peel Regional Police was shared with the force early in 2019. The results found that employees "indicated that they perceive favoritism in the processes at Peel Regional Police". Specifically, only 24 percent of respondents had a positive reaction to the issue of fairness and consistency in promotions and hiring. Only 50 percent of respondents agreed or strongly agreed that "everyone benefits from equal access to resources and opportunities" within the Peel Regional Police.
"Our members will be held responsible for their actions, as police officers we are held to a higher standard than those who we have been sworn to serve," Chief Duraiappah said last summer after one of his officers was charged for sexual assault. "Every member must understand and appreciate the challenges and the need for transparency with members of our community."
Chief Nishan Duraiappah was brought in with a mandate to bring change.
(Image from The Pointer files)
It is the perception of favouritism within the force, alongside high profile cases of police misconduct, Duraiappah is tasked with addressing. The decision by Peel police not to publicize Eastman's status as a cadet when it announced his charges raises questions about the new regime's commitment to moving forward transparently.
"Because these matters were all intimate partner/domestic matters, to help protect the identity of the victims and because he was not an officer with direct interactions with the public, there was no public safety concerns that would have been relevant to his former employment being shared," Mooken explained.
At the end of April, Peel police laid charges against a teacher in Mississauga. Following an investigation into a teaching assistant who allegedly exploited a 16-year-old victim in 2009, the force charged a man named Jeffrey Gallow with sexual exploitation. In contrast to Peel Police's media release announcing charges against Eastman, the Gallow press release said he worked as an elementary school teacher in Mississauga for the Dufferin-Peel Catholic District School Board. This was likely done because the man had already been interacting with the public in a school setting.
A separate press release in March announcing the arrest of a man for allegedly being in possession of child pornography listed various usernames he allegedly used online and the name of a childcare service that operates from his home address. Again, the information disclosure was likely because of the possible risk to the public.
Despite not having a public role at the time of the charges, the decision not to publicize Eastman's employment as a cadet is made more complicated by the nature of his alleged offences. In Peel, police have struggled with a rising number of domestic abuse calls for years and have been trying to increase trust and confidence in the force to urge more victims to come forward. Not immediately sharing Eastman's position with the force could hamper efforts to foster a culture of openness and transparency.
Eastman's charges were laid by the Intimate Partner Violence Unit.
"It takes a great deal of courage for survivors of violence to reach out for help. At the Safe Centre of Peel, it is our goal to create a safe space for them, where they can access culturally responsive services that are suited to their personal situation," Shelina Jeshani, co-chair of the Safe Centre of Peel Advisory Committee, said in an April media release.
Police play a key and visible role in the Mississauga and Brampton communities.
(Image from Isaac Callan/The Pointer)
In Peel, domestic violence is a problem that is not going away.
In 2019, of the 31 homicides committed in Peel, 13 were allegedly committed by a family member, intimate, or former intimate partner. Between 2009 and August 2020, 44 women in Peel were murdered by an intimate partner. Calls to the police for intimate partner violence are also seeing a steady increase. Between 2014 and 2018 the number of family dispute calls increased 33 percent and intimate partner disputes jumped 23 percent to nearly 10,000, or almost 30 a day in 2018. In 2019 there were 10,818 calls, along with 7,519 calls related to family domestic violence.
It's not a problem isolated to Peel. According to the province's Domestic Violence Death Review Committee, between 2002 and 2017, 433 people lost their lives in domestic homicides, 81 percent of them were women, the majority of them under the age of 40.
The complicated interconnectivity of domestic relationships can make coming forward even harder for victims. For example, an abuser could also be a father or the main money earner in the household, meaning there could be significant risks of coming forward and reporting to police.
"It takes a community to support violence against women," Jakki Buckeridge, manager of family services at Indus Community Services, previously told The Pointer.
As Peel Regional Police continues to develop its Intimate Partner Violence Unit and increase trust within the community, its efforts to hire responsibly will face further scrutiny.
---
Email: [email protected]
Twitter: @isaaccallan
Tel: 647 561-4879
---
COVID-19 is impacting all Canadians. At a time when vital public information is needed by everyone, The Pointer has taken down our paywall on all stories relating to the pandemic and those of public interest to ensure every resident of Brampton and Mississauga has access to the facts. For those who are able, we encourage you to consider a subscription. This will help us report on important public interest issues the community needs to know about now more than ever. You can register for a 30-day free trial HERE. Thereafter, The Pointer will charge $10 a month and you can cancel any time right on the website. Thank you.
Submit a correction about this story