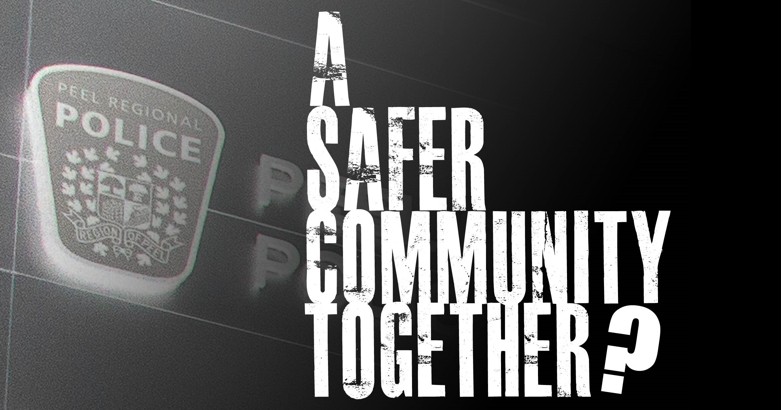 Feature image from The Pointer files
Police board stalls on anti-Black racism panel as new data show use of force far more common against Black residents
New data from the Peel Regional Police show that Black residents in Brampton and Mississauga are more than three times as likely to experience forceful treatment from police officers than other residents.
In 2020, PRP officers used force — which along with using physical force, includes drawing or pointing any type of weapon — in 1,092 incidents. In cases where officers were able to determine the person's race, 35 percent of those individuals were Black, despite Black people accounting for only 9 percent of the population.
This disproportionate use of force against one racialized group is a crisis that advocates are demanding action on. As Black residents continue to be subjected to unfair treatment, following decades of carding that targeted them in these random police stops at three times the rate compared to whites, many are calling on police to finally find immediate solutions to prevent further harm to the community.
"The case is already made in the data that we need to talk about tackling anti-Black racism," Anu Radha Verma, an anti-racism advocate and Mississauga resident told the Peel Police Services Board last week.
The data, which clearly show PRP has significant work to do in tackling systemic racism within its force — something that has been known since the release of carding data several years ago, and in the findings of a diversity and inclusion audit in 2019 — appeared on the same agenda as a report from the police service board's executive director Robert Serpe, recommending against the formation of an anti-Black racism panel to advise the board on these matters.
"There does not appear to be a gap that would be filled by establishing a standalone Peel Police Services Board anti-black or anti-racism advisory panel," the report by Serpe states, a recommendation that appears contrary to the findings in the use-of-force data. Serpe has a communications background and previously worked in that capacity for former Brampton mayor Susan Fennell. He has no background in policing or in equity and inclusion, and it's unclear why he assumed so much authority to make recommendations against the formation of an anti-Black racism body to help inform a police board that currently has no Black members.
Brampton Councillor Martin Medeiros, who sits on the board, pointed out several issues with Serpe's report, including its complete ignorance to the detailed points raised by community members, but also its lack of information about the anti-racism committee formed by the Toronto Police — something Peel's police board asked for when it requested a report.
The recommendation to form an anti-Black racism panel came from advocate Dave Bosveld, who previously told The Pointer that Black voices are not being prioritized around the police service board table.
"Executive Director Rob Serpe has written a report that would mislead the Board members into thinking that PRP and the Board are doing enough to combat the tragic and persistent effects of police culture, anti-Black racism and community safety, and that a panel set to advise the Board on issues of policing as related to Black community members is an unnecessary redundancy. I beg to differ," Bosveld wrote to the board. "Please understand that without representation and without a body to inform and share perspective and lived experience the agreements and consultations and work that is being done will likely not have the impact necessary to end anti-Black racism within PRP."
Serpe's report highlighted 11 other Ontario police services of which only two, Toronto and London, have dedicated anti-racism advisory panels. He concluded that because of the lack of panels in other jurisdictions and because of anti-Black racism work being done by separate public organizations in Brampton and Mississauga, there was no need to form an advisory panel for the police board, despite no board member being from any of the diverse Black communities in the two cities.
"The executive director has not provided you with the right info, context or analysis for the decision at hand," Verma said. "There are serious gaps in the process."
The Toronto Police Services Board Anti-Racism Advisory Panel provides guidance to the board on a number of issues, including anti-Black racism, and anti-Indigenous racism, and recommends policies or strategies to the board to solve these problems. The panel's mandate also includes:
- Monitoring the implementation of the Board's Race-Based Data Collection, Analysis, and Public Reporting Policy, including reviewing the data analysis and any interventions developed by the Service to address racial disparities for feedback and recommendations for enhancement
- Reviewing Service reports on Conducted Energy Weapon (CEW) use and making recommendations for enhancement
- Reviewing the development and implementation of all Service training and offering recommendations for enhancement, including training on anti-racism
- Participating in the community consultation process on the Toronto Police Service's annual budget.
Many of the items included in the mandate of the Toronto ARAP are exactly what members of racialized communities in Brampton and Mississauga have been requesting. Nothing about the ARAP mandate was included in Serpe's report.
"Clearly we have a community group or community leaders that feel this board is not accurately or effectively getting that (Black community) lens," Medeiros said during the meeting.
In defending his report, Serpe pointed to the ongoing partnership between the Peel Regional Police and the Ontario Human Rights Commission (OHRC), which includes community-based committee work to address racism in policing. With the terms of reference for that committee still to be finalized — to be made public some time in October — Serpe noted it could potentially fill the gaps noted by Black community members.
In addition, Serpe recommended the formation of a Diversity and Inclusion committee for the police services board, which could be used to discuss issues raised by many other groups in Brampton and Mississauga.
"I think the level of engagement that the entire community wants from a board governance perspective, wouldn't be precluded through the work of a (broader) committee, in fact I actually believe it would be enhanced," Serpe said. "I think what the ability for the committee to do is to ensure that the voices of all diverse communities in Peel are heard and brought to the board at the governance level."
Mississauga Mayor Bonnie Crombie, who has sat on the police board since she was elected to lead her city, agreed with Serpe and suggested the existence of anti-racism and diversity committees at the City of Mississauga and other public bodies across the region, was enough to inform the police board.
Neither explained how a police organization responsible for specific issues such as crime-data collection and use-of-force could get complex race-based information from committees that have nothing to do with policing.
Serpe's idea was challenged by community members and even the anti-Black racism experts hired by the Peel Regional Police service, who were quick to point out the flaws in Serpe's suggestion.
"When diversity committees, writ-large, are struck, the views, interests, concerns and issues related to various groups that come under the umbrella of diversity, often get lost," said Akwasi Owusu-Bempah, a University of Toronto sociology professor who has done extensive research on the intersection of race, crime and criminal justice and is working with PRP to eliminate systemic racism within the organization.
"It is African-Canadians, Black Canadians, who are particularly overrepresented and have particular needs, not only within policing, but in society more generally. When the issues facing Black people are subsumed under diversity, which includes sexual orientation, race and ethnicity, because those two things are distinct, then those concerns do often get lost."
Owusu-Bempah said there is a need for a distinct anti-Black racism panel to advise the board.
Following a motion from Councillor Medeiros, the report was deferred, with the board requesting further information about the Toronto ARAP, as well as a clearer view of any anti-Black racism work to be done as part of the OHRC partnership, before the board makes any decision on a separate body to inform it on anti-Black racism issues.
Several board members pushed back against assertions by community members that the group does not effectively represent the community, while taking little time to adequately listen to their requests.
"The diversity and expertise and challenges that we all bring as director to this committee are exceptional," said Len Howell. "I think that we're doing a great job." He offered no examples of any action he has taken to address systemic racism in the force, and supported Serpe's suggestion to ignore the community's request.
But the vote to defer any decision carried.
In June of last year, when approving a pilot project for the PRP body-worn cameras, the police services board received an overwhelming number of letters from community members who advised the board against approving the project, stating it was merely a Band-Aid solution and would not address the foundational systems that perpetuate anti-Black racism within the force.
During a board meeting at the time, Howell dismissed the overwhelming number of letters, claiming the views held in the over 90 pieces of correspondence were not a widely held assertion.
"I don't think the deputations are a common attitude. Likely [they're] coming from a common source," Howell said, without explaining how he came up with his claims. "I cannot be more supportive of body cameras." It's unclear how Howell might have known what the "common attitude" is. He is a former Peel police officer who left the force after about a decade and has since worked in real estate.
Former board chair and current member Ron Chatha, who has no background in policing and also works in real estate, also defended the board's record, stating "I'm not going to say it's easy for someone to say that the board is out of touch". He defended the board's work on issues of anti-Black racism, but provided no examples of that work.
He added: "With all due humbleness, I take all the criticism with an open heart."
Statements downplaying the deeply destructive issue of anti-Black racism from senior leaders in Peel's policing community are unfortunately not uncommon.
This lack of accountability and the continued ignorance to the issues impacting Black community members, including those within Peel Regional Police, were identified in the diversity and inclusion audit completed by the Canadian Centre for Diversity and Inclusion in 2019.
The report said almost three-quarters of police leaders and members of the board "do not seem to recognize that barriers exist or [believe they] rarely exist for certain groups at Peel Regional Police."
About a third of the PRP leaders in place in 2017-18 "indicated their belief that these systemic oppressions do not exist within PRP," while others suggested they believe "these oppressions manifest only as individual acts of meanness." These leaders, the report concluded, don't make "the connection that these oppressions are systemic in our society and therefore are also in our organizations."
When rank-and-file employees were asked if "everyone benefits from equal access to resources and opportunities" within the PRP, only half of the more than 1,800 who filled out a survey offered a positive answer. According to Michael Bach, the founder and CEO of the CCDI, an industry benchmark for such a question is 70 percent.
The CCDI audit found many PRP employees viewed the organization as protectors of the status-quo.
(Graphic from CCDI)
While the board membership was vastly different during the audit's study period, the comments of current members suggest some have not strayed far from the beliefs of their predecessors.
Mayor Crombie, a progressive voice on the board in the past, who was behind the push to complete the CCDI audit, supported Councillor Medeiros's motion to defer the report, but initially said she did not believe the anti-Black racism committee was required.
"I tend to support the direction of our executive director in a D&I committee and that is because I also have my own Black advisory committee and we are striking up a number of other committees as well," she said. "This is a governance board, we provide oversight to the chief and deputies on policy matters and I'm not entirely sure that we have the capacity to strike up a number of these committees, once again, to hear input from the community."
Community members have criticized the efforts Crombie mentioned as being separate from the work of the police services board and therefore ineffective when it comes to policing issues.
Speaking to the findings of the use-of-force data, Chief Nishan Duraiappah said his organization has recognized that systemic change needs to occur.
"We recognize the community wants to see change being very obvious and transparent," he said, pointing to the partnership with the OHRC, which he says will provide assistance from both the police operations and government oversight functions of the board. "We want to be able to demonstrate our commitment to explore strategies to reduce this disproportionate data."
According to the report on use-of-force data, the police have already implemented new training mechanisms to try and address the issue.
"This mandatory training now includes content on procedural justice, enhanced crisis deescalation, anti-Black racism, racial profiling, biased based policing and taking a trauma-informed approach to all interactions with members of the community," the report states.
It was presented right after Serpe's report recommending the board disregard the community request to create an anti-Black racism advisory panel.
---
Email: [email protected]
Twitter: @JoeljWittnebel
---
COVID-19 is impacting all Canadians. At a time when vital public information is needed by everyone, The Pointer has taken down our paywall on all stories relating to the pandemic and those of public interest to ensure every resident of Brampton and Mississauga has access to the facts. For those who are able, we encourage you to consider a subscription. This will help us report on important public interest issues the community needs to know about now more than ever. You can register for a 30-day free trial HERE. Thereafter, The Pointer will charge $10 a month and you can cancel any time right on the website. Thank you
Submit a correction about this story