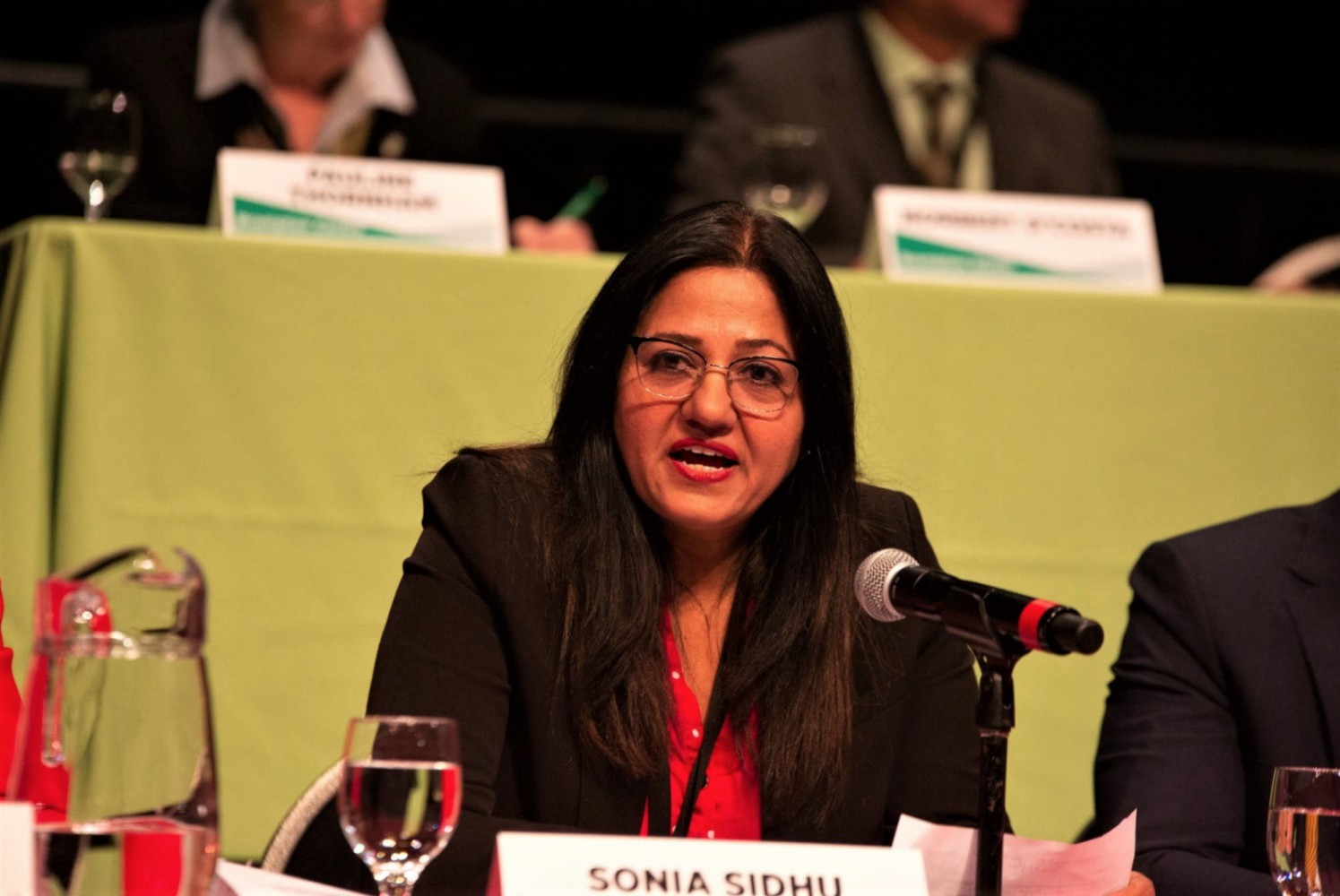 Feature image from The Pointer files
Sonia Sidhu advocated on health-related issues in Ottawa, but was quiet beyond that   
Residents of long-term care homes disproportionately suffered during the early stages of the pandemic. The situation was so dire in Ontario the Canadian Armed Forces was called to assist a handful of devastated facilities.
Among those was Grace Manor in Brampton. A whistleblower report revealed staff were moving patients with the virus to other units without changing their contaminated personal protective equipment when attending to other residents, and using it for multiple tasks. Twelve residents passed away from COVID-19 at the facility.
Family members were heartbroken after learning of the way loved ones were treated and publicly called out those responsible for the inhumane behaviour. The Ontario government, responsible for regulating LTC homes, was put under a harsh spotlight.
Sonia Sidhu, who represented the riding of Brampton South where Grace Manor is located, mentioned the damning report multiple times during federal health committee meetings, to advocate for families demanding accountability.
"Not making substantial adjustments after the tragic first wave proved to be dangerously irresponsible. As it stands, Canada needs to be prepared to train higher and to fund more personal workers, even in the absence of a pandemic. We have an aging population and seniors want to stay in their homes as long as possible, something that is even more true after the devastation that was seen in long-term care," she said June 21, before supporting a study to examine how elderly care can be improved.
Her stance was part of Sidhu's comfort zone in Parliament; She worked for almost two decades as a diabetes educator and coordinated research in the area, according to her biography. But her impassioned statements in Parliament have seldom been accompanied by tangible action, until the successful work she did to get her recent Bill passed.
She has addressed the need for more affordable medication and has voiced support for lowering prescription drug prices, while her new Bill will create a more focussed national approach to tackle rising rates of diabetes across different demographic groups.
She spoke a total of 45 times in the chamber and 284 times in committee meetings, almost always on healthcare, issues directly related to women and the pandemic.
Sidhu, who worked in the medical field before being elected for the first time in 2015, and a second in 2019, focused a majority of her work over the last two years around her recently passed diabetes legislation.
Bill C-237 was introduced in February 2020 and received royal assent on June 29, 2021. It will usher in better access to diabetes prevention and treatment, while helping align medical research to prevent and deal with cases, by educating those healthcare professionals who work in the diabetes field and ensuring cutting edge approaches are being used across Canada. Through enhanced data collection and other medical research tools, jurisdictions across the country will be brought together to better address diabetes in a coordinated, wholistic manner, bringing a range of knowledge to healthcare communities including many that have been isolated from much of this information. Sidhu's Bill will also ensure the Canada Revenue Agency administers disability tax credits properly to help diabetes sufferers get all the financial benefits available.
The federal health ministry has one year to unveil the plan. Consultations with provincial and territorial governments, Indigenous groups, and stakeholders in the diabetes community will take place to work toward the framework that will cover awareness, education, treatment, research, and best practices.
Sidhu (left) at Ruby Sahota's campaign launch.
(Nida Zafar/ The Pointer)
Sidhu has spoken at length about how diabetes impacts Brampton residents and the savings a national plan will create, by approaching diabetes with a preventative strategy that will dramatically reduce expensive treatment costs, to help the healthcare system.
"In my community, diabetes affects one in six Bramptonians, and across the country there are 11 million Canadians living with diabetes or prediabetes. They are at risk of serious complications such as heart and kidney disease, blindness, amputation and many others," she said in Parliament on June 9.
While her Bill is a significant achievement for many residents in Brampton and beyond, other pressing issues did not attract Sidhu's attention.
In February 2020, the City of Brampton declared a healthcare emergency after decades of underfunding and disproportionate access to healthcare services. Sidhu acknowledged this in the health committee and asked the federal Health Minister Patty Hajdu how she would work with the Province to "ensure that the people of Brampton can access the services they need to stay healthy?"
Hajdu referenced "significant investments" the Liberals would be making but didn't offer specifics about how these investments would improve Brampton's dire situation. Sidhu didn't press the minister and did not address what her government could do, specifically, to help fix the city's ongoing healthcare crisis.
The cost of diabetes to Canada's healthcare system is on the rise.
(Image from Diabetes Canada)
While the Doug Ford PC government did announce 250 additional beds that will come from turning Peel Memorial into a full-service hospital, the investment will do little to fill the growing gap between Brampton's exploding population levels, and the inadequate number of hospital beds. The City had asked the provincial government for 850 beds just to reach the provincial average.
Sidhu also didn't speak on what she has done to bring infrastructure and other investments to Brampton. Since the 2019 election, Brampton received a handful of commitments from Ottawa, including investments for the Riverwalk project, electric buses and the city's third transit maintenance and storage facility. These federal investments are contingent on the City of Brampton moving forward with its share of the funding commitments. But it's not clear what Sidhu did to secure these funding pledges for Brampton, which has received far below its fair share of federal funding since the Liberals took office in 2015. Based on per capita spending, and keeping in mind that Brampton residents pay their required share of income tax dollars into federal coffers, the city was given only about 5 percent of the infrastructure dollars it should have received from 2015 to 2019.
While City Hall is responsible for making applications for funding, local MPs have the ability to highlight available funding envelopes and advocate within the federal government to secure money for their riding. Public records indicate Sidhu did not do this, and if she worked behind the scenes, there is little available information to indicate this was done. She has consistently declined to be interviewed about her record.
Brampton was one of the communities hit hardest by COVID, and records show Sidhu did little to convince her government or the Province to allocate more resources to her city. She did highlight the shortcomings of the Ontario government.
Dr. Lawrence Loh, Peel Region's chief medical officer of health, was present at the June 7 health committee meeting where Sidhu asked if he believes the Province could have done more to slow the spread of the virus.
"Brampton is one of the most racialized communities in the entire country. I'm concerned that many of the policies of the Ontario government are disproportionately affecting essential workers who cannot access sick leave, and those who are living in multi-generational households and workplaces that may not be considered truly essential. Do you think the Ontario government has sufficiently examined the impacts of its policies on the community in Brampton," she asked Dr. Loh.
On April 16, she shared that Justin Trudeau had a conversation with Mayor Patrick Brown about the rising case count. At the time Peel Region had more than 5,000 active cases. She said Trudeau was ready to offer assistance but the Province had to ask for it.
Records show Sidhu was vocal about Brampton issues and asked experts who appeared in committee meetings what the federal government could do to improve specific situations. For example, at the June 11 health committee meeting, she asked where the "federal government can be most effective in supporting youth" as pandemic restrictions were easing. But there is no indication that Sidhu took any action to turn recommendations into tangible benefits.
Sidhu also sat on the committee on the status of women and addressed the ongoing issue of sexual abuse within the military. While she was supportive of a motion to study the deeply damaging effects of this behaviour, she defended the actions of her party when it faced widespread criticism for blatantly ignoring the issue since the Liberals came to power in 2015. During a meeting of the standing committee on national defence, the Conservatives put forward a motion to have the former chief of staff of the Minister of National Defence, Harjit Sajjan, testify on sexual assault allegations in the military, when the Liberal government learned of them and what it did to ensure justice.
Sidhu, contradicting her claims of being concerned, did not support the motion, instead showing her loyalty to her party ahead of those Canadians demanding justice be served.
She said she was "disappointed to see the politicization of this issue." She mentioned that a study was initiated by the committee to examine sexual misconduct in the military and that what other parties were demanding on behalf of Canadians wouldn't be supportive of survivors.
The Pointer reached out and asked her to explain her stance on the issue and other topics relating to Brampton. She did not respond.
---
Email: [email protected]
Twitter: @nida_zafar
Tel: 416 890-7643
---
COVID-19 is impacting all Canadians. At a time when vital public information is needed by everyone, The Pointer has taken down our paywall on all stories relating to the pandemic and those of public interest to ensure every resident of Brampton and Mississauga has access to the facts. For those who are able, we encourage you to consider a subscription. This will help us report on important public interest issues the community needs to know about now more than ever. You can register for a 30-day free trial HERE. Thereafter, The Pointer will charge $10 a month and you can cancel any time right on the website. Thank you
Submit a correction about this story