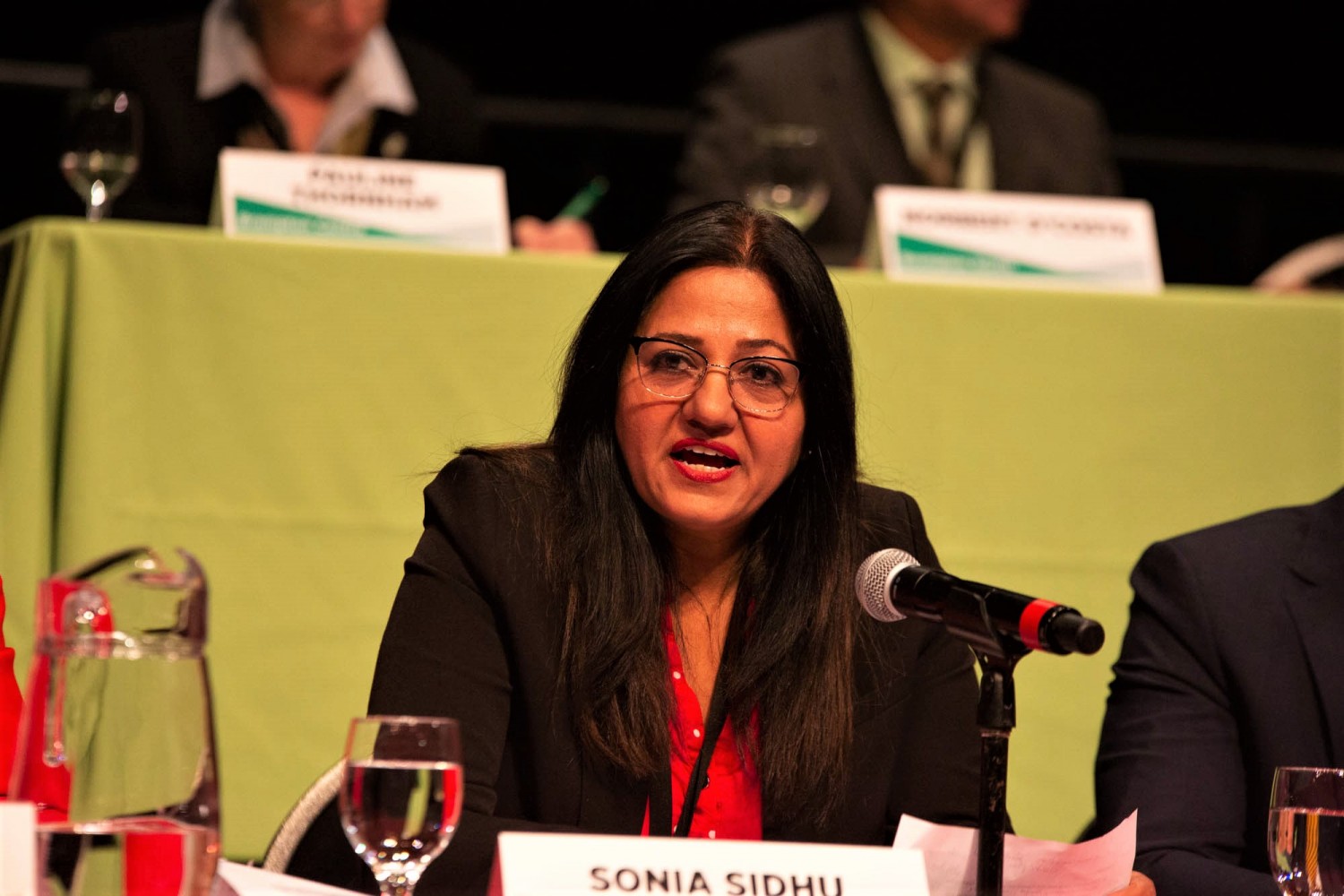 Photos By Mansoor Tanweer/Flickr-Prayitno/Twitter
In the fight to make Brampton a healthier community, Sonia Sidhu offers a strong voice but little action 
In the 10 years leading up to 2015, a health crisis was smouldering in Peel.
Diabetes, an illness with life-altering consequences and significant public health impacts had become twice as prevalent in a little over a decade, with the rate of the disease in Peel more than doubling between 1996 and 2015.
For Brampton's Sonia Sidhu, a South Asian-Canadian whose community, particularly those from northern India, suffers from some of the highest diabetes rates in the world, she knew how the condition could impact families.
Sonia Sidhu at a recent Liberal campaign event in Brampton
After working in the medical field as an educator for more than a decade, including time running a diabetes clinic, the situation was no secret to her, and when she was elected in the October 2015 federal election to represent Brampton South, she made it her mission to battle for the cause in Ottawa.
As a first-term MP, elected in a red wave that swept across Brampton and Mississauga in the 2015 election, Sidhu was relegated to the back bench in the House of Commons with few responsibilities given by Liberal Leader Justin Trudeau. However, she did receive an appointment to the Standing Committee on Health, allowing her to put her knowledge of the field to good use. She would also later be named chair of the All-Party Diabetes Caucus.
"I spent 18 years working in healthcare, especially as a diabetes educator and research coordinator," she told the House of Commons in 2016. "As an elected representative I am committed to speaking up about diabetes, which affects 11 million Canadians and can lead to serious complications."
Speak up she did, numerous times over the last four years. Sidhu eventually sponsored a motion in 2018 to have November labelled as diabetes awareness month. However, between the green, felt floors and gothic ceilings of the House, talk is cheap. A look at the limited investments in health and other related areas in the City of Brampton over the last four years raises questions about the effectiveness of Sidhu's efforts.
The Pointer requested an interview and responses to questions but Sidhu declined.
An MP's success in Parliament can be judged by looking at their ability to follow through on the responsibilities of federally elected politicians, who are supposed to represent their local constituents and the country as a whole:
Legislate in Parliament
Represent their riding and political party
Serve constituents' needs
Advocate for the needs of their riding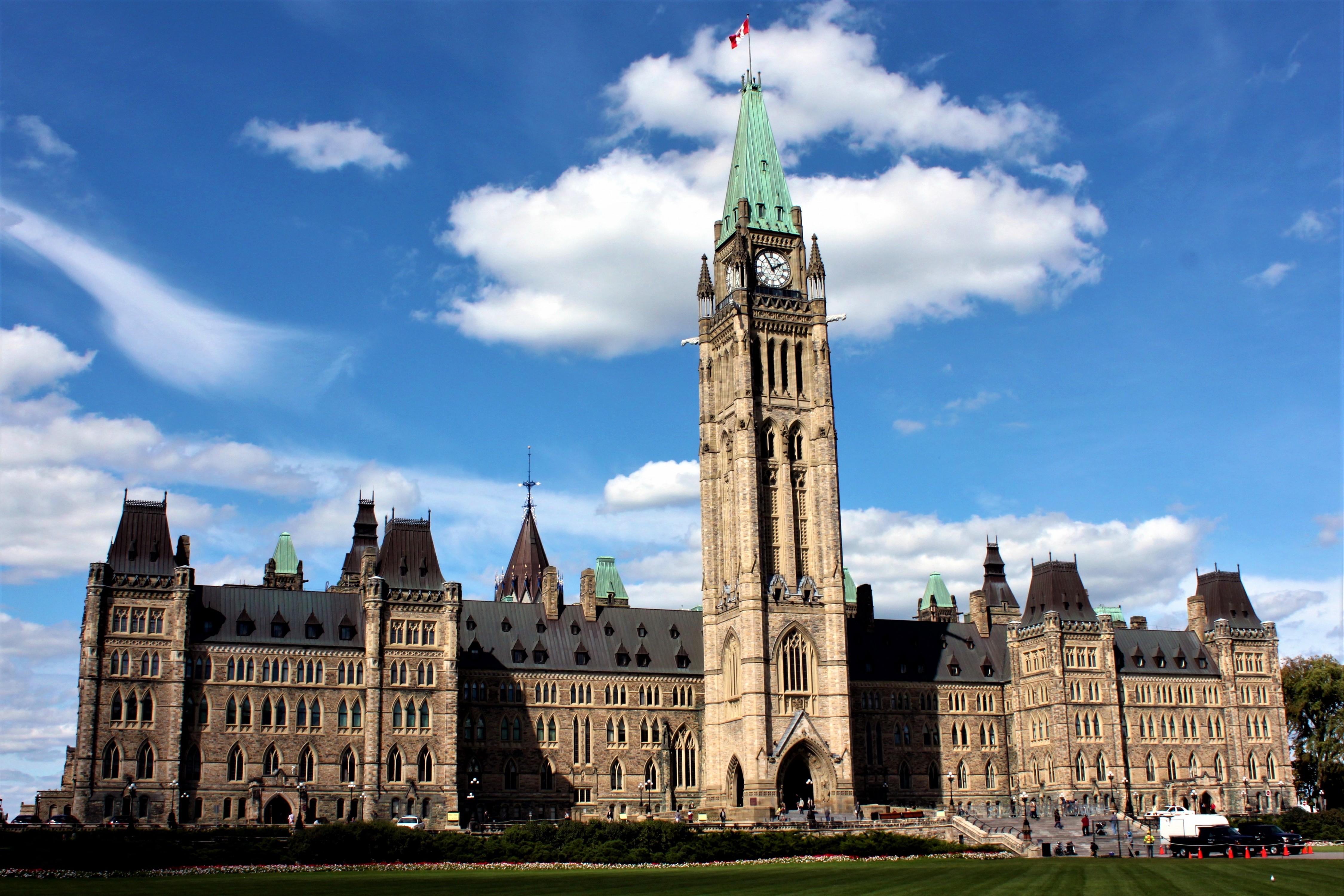 As The Pointer has reported previously, each MP prioritizes these four responsibilities differently. Some take the role of representing their party more seriously than others by falling into step, toeing the party line, and effectively becoming another mouthpiece for the party brass and prime minister in the hope of being awarded a coveted cabinet position or parliamentary secretary role. Others take a different path, putting their riding and their constituents above all.
For Sidhu, it was clear early on that she was making an effort to connect with her constituents, despite her busy schedule which involved close to 60 roundtrips between Ottawa and Brampton in her first 18 months in office. According to Sidhu's expenditure reports, her office spent approximately $11,837 on town halls and other meetings with constituents in 2015 and 2016 with more than 1,500 constituents attending her gatherings. The largest of these involved a town hall meeting in September 2016 in Brampton, which saw approximately 1,000 people attend and cost taxpayers over $7,000.
It's evident the discussions taking place with her voters was rubbing off on her work in Ottawa, as she addressed possible changes to the Canadian Pension Plan, which would greatly assist seniors in her riding.
"When I was going door-to-door in Brampton South in the last election, I met many seniors, I met seniors who were concerned about themselves, but more concerned about their families' futures," she said inside Parliament in November 2016. "They wanted to know if their grandchildren would have the chance to go through life with the same security that was there for them."
At the same time, as an associate member of the standing committee on citizenship and immigration, she was speaking out about the rise in complaints she was hearing from constituents in her riding about processing times for family immigration (reunification) applications.
"Like many of my colleagues in their ridings, I have a high rate of casework in Brampton South. Over the last years I have seen a steady improvement, but there's definitely more we need to do," she said in December 2016, a day after the federal government announced – in Brampton – that the processing time for family applications would be cut from 24 to 12 months. Sidhu pushed further, seeking to find out if any work would be done to improve the process for parent-and-grandparent sponsorship applications as well.
The Government of Canada keeps a record of every statement made in the House of Commons and all its committees. For Sidhu, the records show she spoke 103 times in the House of Commons during her four years in Ottawa. On average, the House sits for 135 days in a given year, totalling approximately 540 full days over a four-year term. Simple math shows that Sidhu spoke approximately once a week in Parliament.
While her topics of discussion ranged widely, from commenting on ongoing pieces of legislation, such as proposed bills about palliative care, citizenship, trade, and the government's budgets, to ceremonial praise for local events and celebrations, a main theme remained the health file.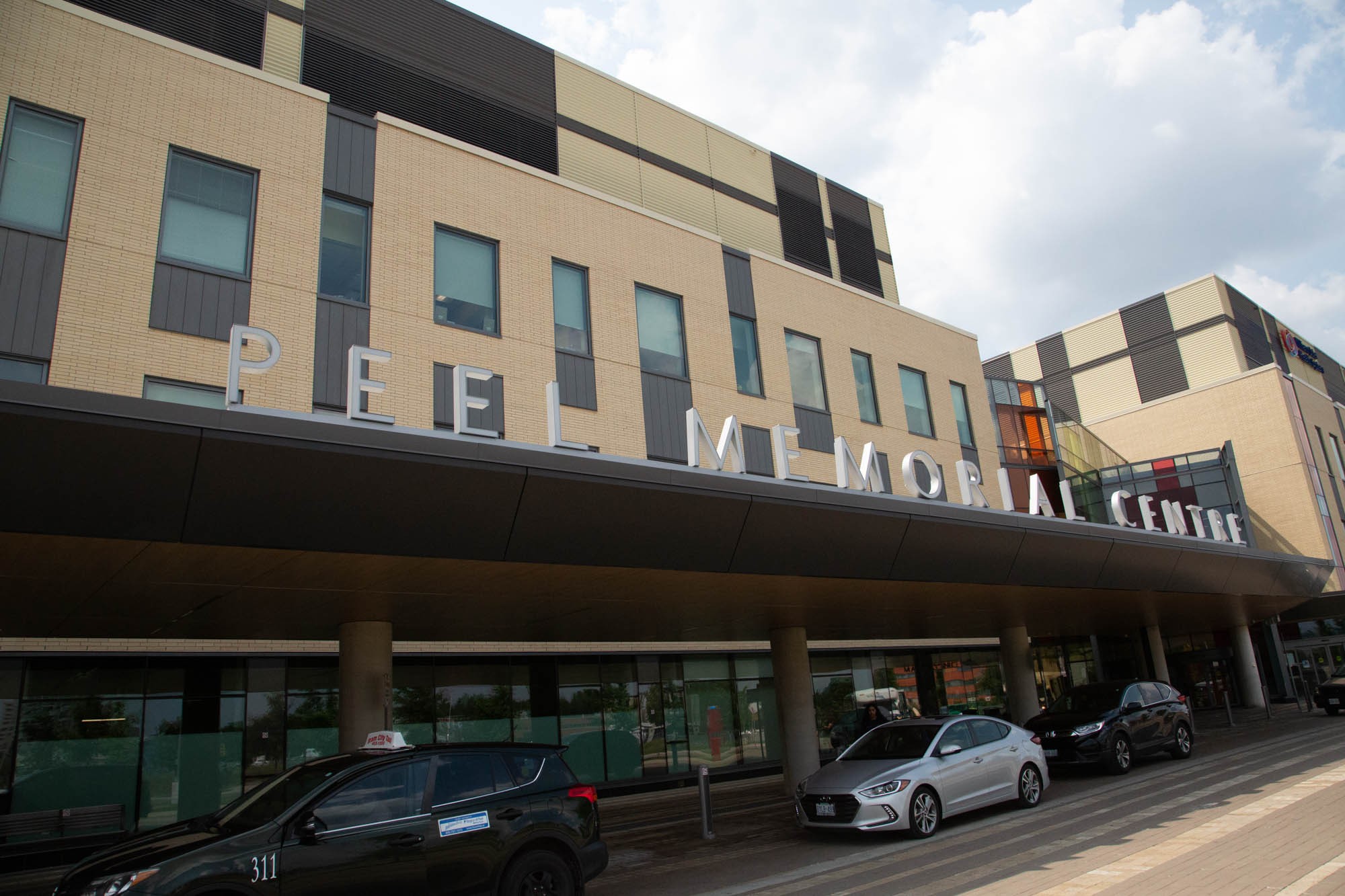 In February 2017, she welcomed the opening of the Peel Memorial Centre for Integrated Health and Wellness, a preventative-care hospital, stating "this facility is a great example of innovation in our healthcare sector, and a sign of good things in Brampton." However, while it was a good news story, the reality was that all the heavy lifting to get the facility built happened before Sidhu's election and under her watch little was done to address the city's ongoing healthcare crisis. In the Central West Local Health Integration Network (LHIN), where Sidhu's riding is located, there are currently 0.96 beds per 1,000 people. When compared to the Ontario average, the troubling reality is that residents in the rest of the province, on average, are provided with approximately two-and-a-half times more beds for every thousand people than those who live in Brampton.
It raises serious concern that Brampton taxpayers, including those living in Sidhu's riding, are, effectively, subsidizing others across Ontario and the country, who pay the same in federal and provincial taxes, but receive far more in healthcare infrastructure and services. The federal healthcare transfer to provinces for the 2019-20 fiscal year is projected to be $40.37 billion. But once again, Brampton residents, despite paying for their portion of that transfer, will not get their fair share in return.
As a healthcare professional in Brampton before her time in Ottawa, it's an issue that Sidhu is well aware of, and referred to during her time in office.
"People don't want to go to the hospital because of the long, long waiting lines, even though we've reduced the waiting period. Still, the old people don't want to go there. It's a big hassle," she said during a February 2016 committee meeting.
Sidhu also mentioned in 2017 that she toured Brampton Civic, the city's only full-service hospital and a location where the hallway healthcare crisis (that term's use in Ontario was coined in Brampton Civic) can still be seen firsthand. In May 2019, she flat out raised the fact that Brampton still only has one full-service hospital. However, there is little evidence she took any steps to change the situation other than pushing blame to the province.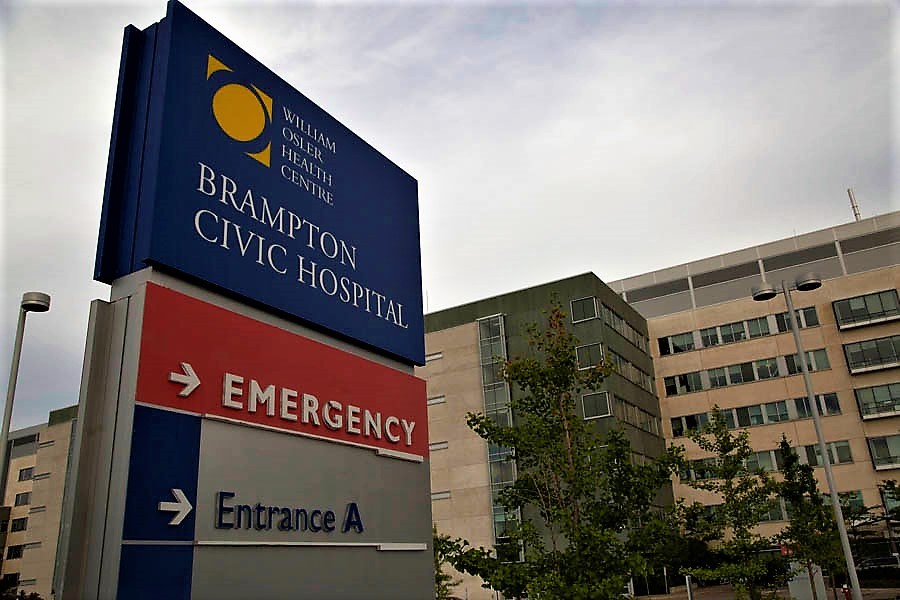 "I'm from Brampton South and we have 900,000 residents and it's the ninth largest city, and we have just one hospital. There are more provincial healthcare cuts. It's not acceptable; everyone deserves good care," she said during a 2019 committee meeting. (Brampton's current population is estimated to stand at about 650,000.)
A similar disconnect between word and action can be seen in another major health issue currently impacting Brampton and all of Peel Region: the opioid crisis.
Numerous times Sidhu raised the ongoing crisis in Canada, and in October 2016, introduced a motion for the Minister of Health to move as quickly as possible to review the rules and regulations around safe injection sites, which eventually resulted in Bill C-37, making it easier to apply for applications to open safe consumption sites.
However, there was very little mention of the crisis happening directly in her backyard, despite being well aware of what was unfolding in other parts of Ontario and the country.
"At the local level, we have seen action already undertaken. In the city of Toronto, the mayor met with the mayor of Vancouver and other officials in order to plan a proactive, not reactive, response for Ontario as the crisis drifts eastward," Sidhu said in February 2017. "The mayor of Hamilton held a discussion about this as well, and other municipalities have been doing the same. I hope more municipalities will reach out, learn from one another, and take proactive measures in their communities."
According to data from Peel Public Health the region saw 496 emergency department visits related to opioids in 2017 (the latest year for which complete data is available). This is not only an unsettling 96 percent increase over the 253 ED visits in 2016, but a shocking 520 percent increase from 2003 numbers. Through nine months of 2018, Peel saw 254 ED visits related to opioids.
Hospitalizations and deaths also saw similar increases, with the number of those being admitted to hospital for opioid use increasing 35 percent between 2016 and 2017 (an 89 percent increase from 2003), and the number of people dying from opioid overdose increasing from 23 in 2005 to 81 in 2017, a 252 percent spike.
There was no mention of these numbers in the House.
At the same time, Sidhu's investment in efforts to connect with her constituents was waning.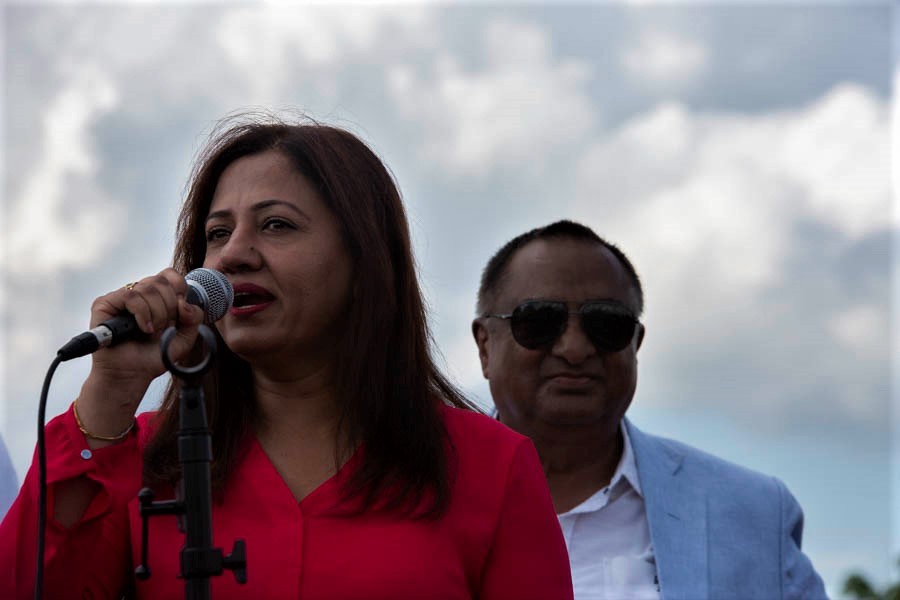 Brampton South Liberal incumbent Sonia Sidhu at a community barbecue in Brampton last year
As mentioned earlier, during her first two years in office, she spent over $11,000 in expenses on town halls and other meetings in Brampton. Between 2017 and the dissolution of Parliament in September 2019, despite her travel records indicating she returned to Brampton at about the same frequency, the budget for such events to meet with constituents, dropped to just under $2,800.
The largest of these Brampton events occurred on Jan. 5, 2019, and saw 450 residents attend, at a cost of $407.88.
However, during this time period, Sidhu also took part and paid for two events that were labelled as hosting a town hall or community event, but those gatherings took place outside her Brampton riding, making it unclear whether these events were marketed to her constituents. The first of these took place at the Scarborough Convention Centre on January 16, 2018, cost her publicly funded budget only $275, and saw 750 people attend. The second occurred almost a year to the date, on Jan. 15, 2019, this time in Markham, at a cost of $363.25, and saw 500 people attend. According to her social media feed, on that date she took part in a celebration for Tamil Heritage Month alongside party leader Justin Trudeau.
These types of celebratory events and galas are quite common in the role for MPs, who receive many invites to community celebrations, weddings, birthdays, religious ceremonies and a variety of other functions for different causes.
A scan through Sidhu's Twitter feed for 2019 shows a myriad of appearances at these types of events, pictures and general statements which dilute any substantive conversation on real issues facing Brampton and her constituents. While she does highlight particular politicking she's done, like her work with the 905 caucus or her efforts to persuade the provincial government to revert to previous GO Train schedules when new ones caused chaos earlier this year, they are few and far between amid the grip-and-grin images and ceremonial community celebrations.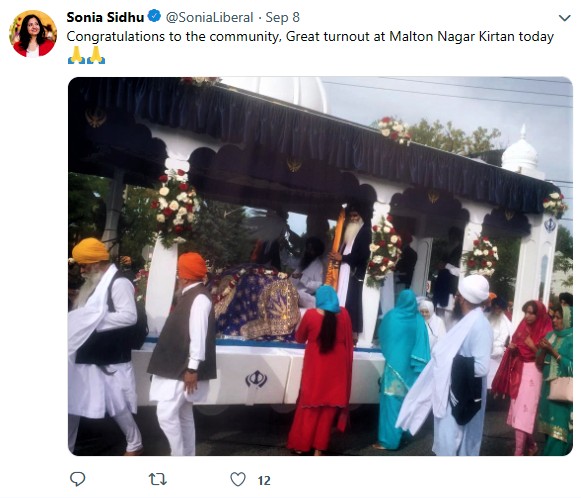 Sidhu at a Sikh religious ceremony early in the campaign
While an MP needs to remain connected to their riding in order to effectively represent taxpayers and other residents in Ottawa, when these events turn into nothing more than a photo-opportunity for elected officials it can become a distraction. Those who use these sorts of popular functions as little more than constant, free campaigning promotions, getting their names and images out to the public through social media and other methods spread by politicians and their supporters, the cycle can distract from real work and any real advocacy for constituents desperately looking for a champion to make their lives better.
In her own words, Sidhu has been working hard to fulfill promises made in her 2015 campaign, noting in June 2019, in one of her last statements in the House, that "I had very good feedback" while door-knocking the previous weekend.
When she won in 2015, Sidhu was able to woo 52 percent of the vote. If she hopes to return for a second term, she will need to accomplish a similar feat, as polls currently show a close race between her and her main Conservative challenger Ramandeep Brar, with Sidhu holding approximately 40 percent of the vote to Brar's 36 percent, according to polling aggregator 338Canada, as of October 13.
Email: [email protected]
Twitter: @JoeljWittnebel
Submit a correction about this story