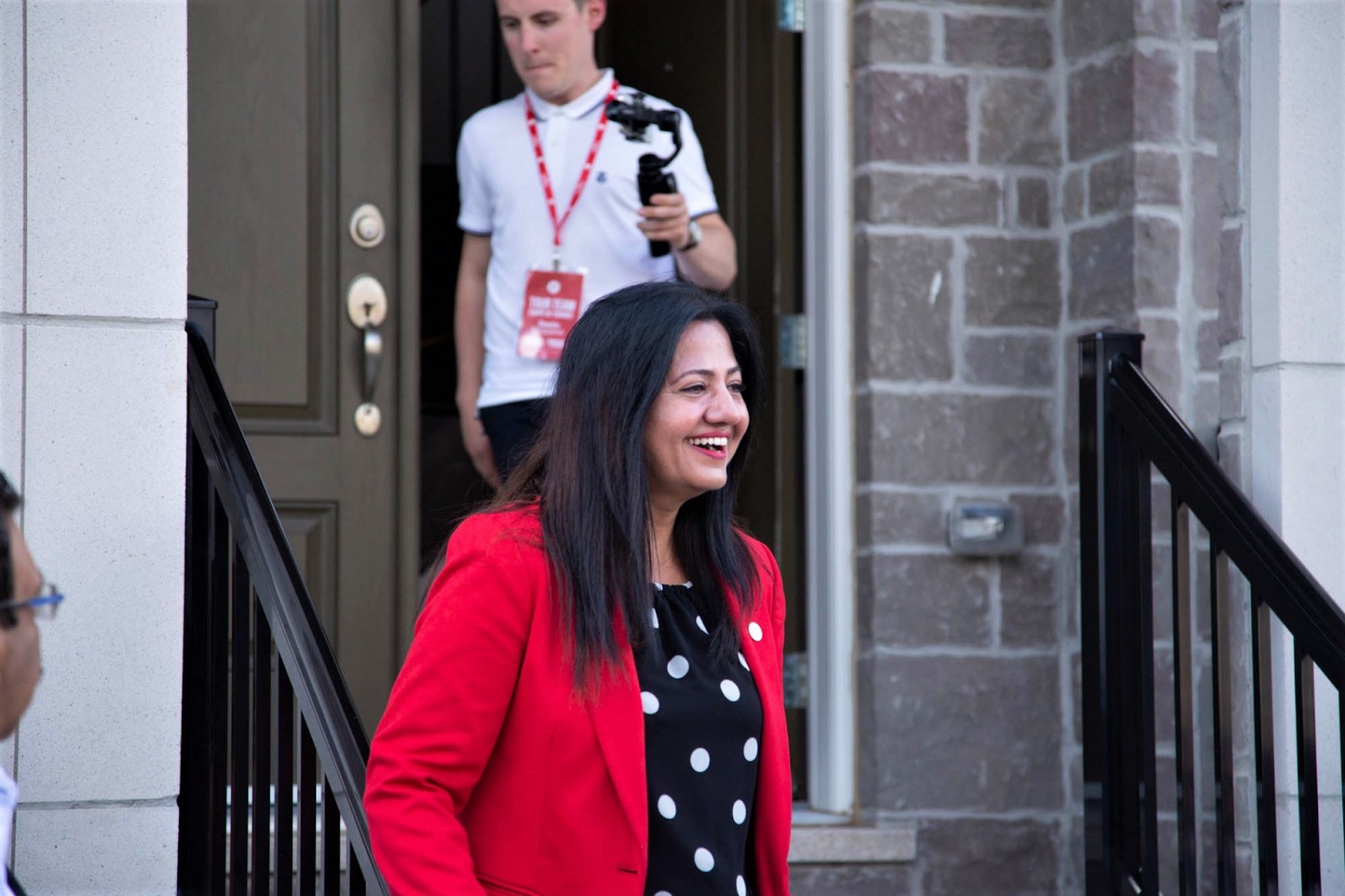 Feature image from The Pointer files
Sonia Sidhu's diabetes legislation is vital for her Brampton residents; why is she shy about her move?
On July 30, 1921, the temperature in Toronto topped out at 29 degrees celsius.
Locals struggled through their day, seeking relief in basements or under the shade of a porch. It was suffocating.
Buried in a University of Toronto laboratory, Frederick Banting and Charles Best didn't notice they were on the edge of a monumental medical breakthrough that would save millions of lives.
Through endless research, experimentation and failure, their work was progressing. Then, that summer, the pair discovered injecting the extract of a degenerated pancreas from a dog into a diabetic animal caused its blood sugar to drop dramatically. They found the key to diabetes.
Diabetes is a chronic disease which means the body has difficulty regulating the amount of glucose in the blood. Higher levels of blood glucose can lead to organ or nerve damage over time, with many diabetes complications being potentially life-threatening.
Banting and his team revealed their results to the world the next summer; they had discovered insulin and with it the ability to manage diabetes. Banting and his supervisor J. J. R. Macleod were awarded the Nobel Prize.
The University of Toronto is celebrating the discovery of insulin 100 years later.
(Image from Isaac Callan/The Pointer)
Brampton South MP Sonia Sidhu invoked the breakthrough 100 years later. Speaking virtually to parliamentarians from her air-conditioned office, there were few similarities between the surroundings of Sidhu's speech and the lab where Banting and his colleagues worked feverishly.
Despite remarkable technological progress over the past century, those living with diabetes are still waiting for the next medical revolution. Insulin has changed how diabetics are able to live and thrive, but as rates of the disease rise in parts of the world, millions are waiting for what comes next.
Advocates have, for decades, been calling for a national diabetes framework. It would unify research, education and treatment across the country, ensuring everyone is pulling in the same direction.
Sidhu introduced Bill C-237 to create a national framework for diabetes in February 2020, building on her 2018 legislation to designate November as Diabetes Awareness Month. Her push for a national framework wound its way through the House of Commons and its committees, officially receiving Royal Assent on June 29.
The legislation sets Canada up to have a national framework for diabetes very soon. It imposes a timeline for the federal Minister of Health to unveil a plan within a year and demands an update report after five.
Ottawa will now engage in consultations with provincial and territorial governments, Indigenous groups and stakeholders across the diabetes community in Canada. Once finished, the framework will cover awareness, education, treatment, research and best practices.
Diabetics have to regularly monitor their blood glucose levels.
(Image from Mykenzie Johnson/Unsplash)
"Canada gave the world the gift of insulin 100 years ago and it's time for Canada to once again lead the way in the fight against diabetes in its own nation," Laura Syron, president and CEO of Diabetes Canada, said in a media release. "The passage of Bill C-237 is a testament to how Canada is addressing the urgency of diabetes. It highlights the national importance of the disease, its prevalence and life-threatening complications, and the financial burden on the millions of people living with diabetes as well as on federal and provincial governments."
The case for improving how Canada deals with diabetes is compelling. One in three people across the country are diabetic or pre-diabetic and young people currently face a greater than 50 percent likelihood of developing the disease in their lifetime. Data from Statistics Canada show diabetes is the leading cause of death in the country, excluding accidents.
The problem in Peel is particularly bad. The prevalence of the disease more than doubled between 1996 and 2015, consistently and significantly above the Ontario per-capita average. A 2014 study by researchers at St. Michael's Hospital in collaboration with Peel Public Health suggested one in six residents could have diabetes by 2025.
Diabetes is on the rise in Canada and it comes with an economic cost.
(Image from Diabetes Canada)
"A National Diabetes Framework will support better health outcomes for Peel residents and Peel Public Health's work on diabetes prevention, which links with screening and treatment interventions led by our local and provincial healthcare partners," Dr. Lawrence Loh, Peel's medical officer of health, told The Pointer.
There are several reasons for Peel's high rate of diabetes.
The region's significant South Asian-Canadian population, which suffers much higher rates of the disease than the general population, explains some of the prevalence. South Asians, genetically, have increased insulin resistance, which prevents the proper use of glucose from the blood for energy, the pancreas has to make more insulin. This in turn elevates sugar levels in the blood over time which often leads to diabetes and high cholesterol. Cholesterol, a waxy substance, forms along the walls of arteries, creating plaque build up which narrows the passage and leads to a lack of blood flow to the heart.
Dr. Maher Hussain, clinical director of the South Asian Canadians Health and Social Services in Brampton, previously explained, "South Asian people in Canada have higher rates of heart disease, double the rate of diabetes and are more prone to becoming overweight."
A book launch in Brampton, home to one of the largest South Asian-Canadian communities in the country.
(Image from The Pointer files)
Peel's suburban built form, disincentivizing residents from walking and directly leading to increased rates of obesity, is also to blame.
"We found that diabetes rates were highest in neighbourhoods that discourage walking and in neighbourhoods where more of the residents come from world regions that have high levels of diabetes," Dr. Gillian Booth, an endocrinologist and researcher at St. Michael's Hospital, said after the 2014 report was released.
Despite introducing legislation that seems destined to deliver positive results to her constituents in Brampton South, Sidhu seems shy about her achievements.
On July 12, The Pointer emailed her office to arrange an interview about the new legislation and the outsized impact diabetes has in Peel.
"Unfortunately, MP Sidhu's schedule is fairly full for the next couple of weeks," Colin Campbell, a legislative assistant, replied the same day. "Can I suggest that you send us your questions in writing and we will respond to you ASAP?"
Three follow-up emails offering to wait a fortnight, among other solutions to facilitate an interview, were ignored. On August 9, The Pointer sent a short list of questions to Campbell who, after ignoring three messages to arrange an interview with Sidhu, replied to acknowledge them within two hours.
It is unclear why Sidhu, who was elected by residents to represent Brampton South, is unwilling to sit down and talk about her achievements. Instead of taking the opportunity to celebrate the new national framework for diabetes and explain why it will make a difference in the lives of her residents, Sidhu has delegated the role of public accountability to an unelected staff member in her office.
Sonia Sidhu won't discuss her potentially game-changing diabetes legislation.
(Image from The Pointer files)
"Before I entered politics, I worked in healthcare for 18 years, and often saw how diabetes was a complicating factor in other conditions, like heart disease, kidney disease, amputation, and blindness," Sidhu said via her assistant. "In preparation for this bill, I conducted local town hall meetings with stakeholder groups, doctors, patients, and caregivers. It is estimated that 1 in 6 people in Peel Region have diabetes, and it is especially prevalent in certain communities, like among Black, South Asian, and Indigenous Canadians. Bramptonians know how important this issue is."
The pandemic slowed the progress of her bill. "The House must juggle priority government business, opposition motions, and many private member's bills, so some business can move slowly. Fortunately, my colleagues on the Health Committee were all supportive, and it has robust support across all parties each time it was voted on," the emailed response read.
Sidhu's legislation is based on Diabetes 360, a national framework model introduced in 2018 by Diabetes Canada. It stems from a recommendation from the World Health Organization. The original Diabetes 360 report called for a national framework to be introduced in 2019.
The model is inspired by the approach used for HIV/AIDS around the world to promote prevention and management of the disease. In just seven years, the Diabetes 360 model aims to create a country where 90 percent of those living with diabetes are aware of their diagnosis, 90 percent of those living with diabetes are managing it to prevent complications, 90 percent of people managing their diabetes achieve improved outcomes and 90 percent of people live in an environment designed to promote healthy lifestyles that reduce diabetes.
(Image from Diabetes Canada)
The framework is estimated to cost around $150 million to establish. Its lofty recommendations include eliminating food inequity, regular physical activity options for everyone, increased diabetes screenings and supporting further research into the disease.
Around 90 percent of people with diabetes suffer from type 2 diabetes. Those who develop it can be susceptible to the condition, but it is primarily driven by poor nutrition and a lack of physical activity, both of which stem from one's surroundings or socio-economic status.
Beginning to address these factors is daunting: Peel saw food insecurity (which in itself is almost directly linked to the cost of housing) jump dramatically during the pandemic; independent restaurants and grocery stores have been battered by COVID-19 shutdowns while fast food joints survive; and Peel's car-centric design encourages only those without another option to walk. The factors that can play a key role in developing diabetes, ranging from housing to travel patterns, are disparate and an overarching strategy may be one of a few ways to bring things together.
Peel's highways and wide roads make walking harder, which can lead to sedentary lifestyles for many residents, increasing the chances of developing diabetes.
(Image from Isaac Callan/The Pointer)
That means the people leading food banks, politicians tasked with funding affordable housing and developers designing Peel's future density will all have to work together. Loh identified the region's sprawling built form as a key driver of diabetes.
"Peel's suburban built environment community presents an environment that limits access to healthy food choices and physical activity," Loh said. "Shifting Peel's community context through planning and policy continues to be one of the biggest priorities to promoting healthy behaviour choices and better community health in the long-term."
Bringing the different government agencies, private companies and medical leaders together will be a challenge. It will require bold leadership and, if Sidhu is going to continue to front this battle, it may require a more open attitude to discussing and defending the plan.
---
Email: [email protected]
Twitter: @isaaccallan
Tel: 647 561-4879
---
COVID-19 is impacting all Canadians. At a time when vital public information is needed by everyone, The Pointer has taken down our paywall on all stories relating to the pandemic and those of public interest to ensure every resident of Brampton and Mississauga has access to the facts. For those who are able, we encourage you to consider a subscription. This will help us report on important public interest issues the community needs to know about now more than ever. You can register for a 30-day free trial HERE. Thereafter, The Pointer will charge $10 a month and you can cancel any time right on the website. Thank you
Submit a correction about this story