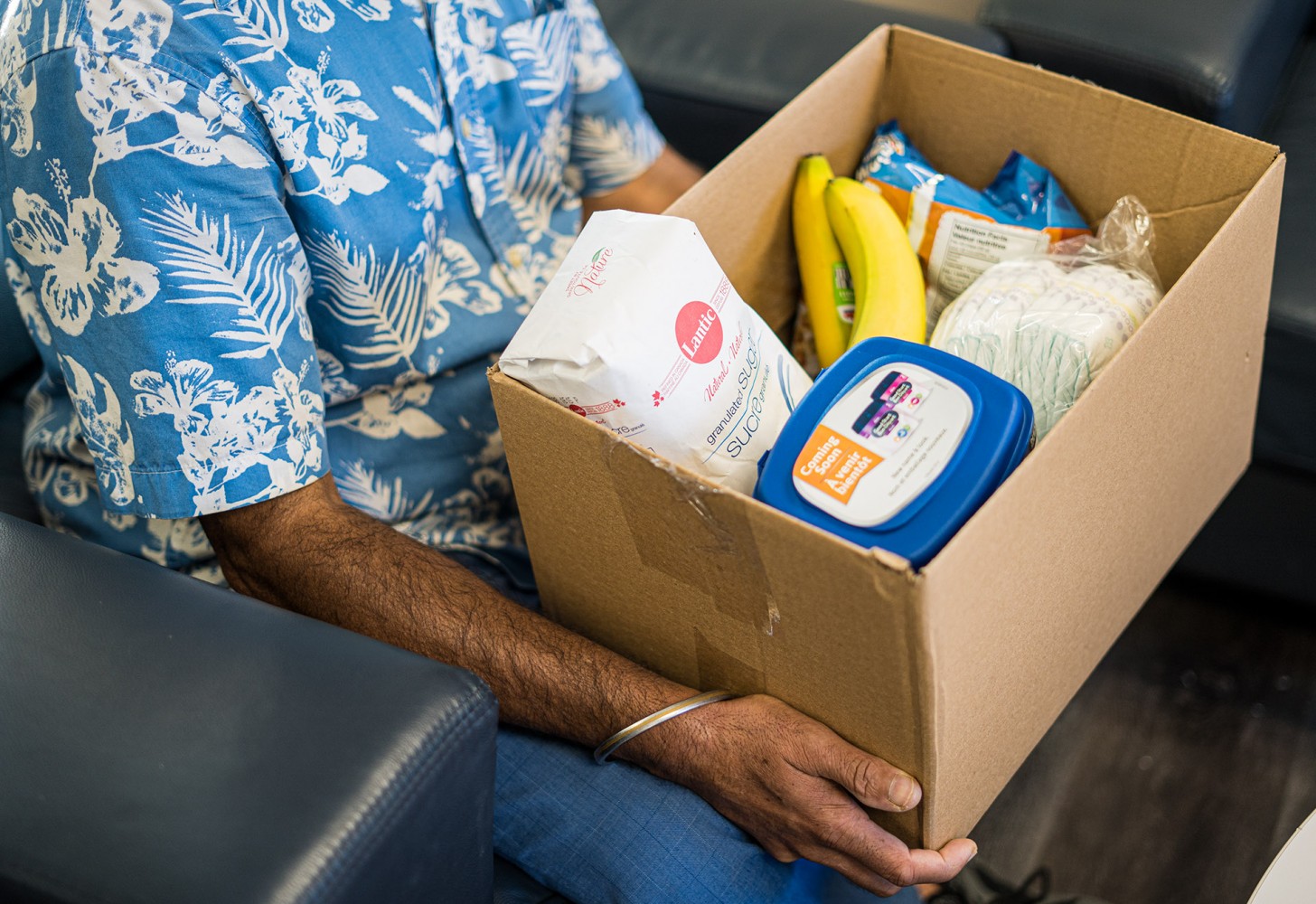 Photos from The Pointer files/Regeneration Outreach/Creative Commons-ER's Eyes-Our planet is beautiful/Feed Ontario/Mississauga Food Bank
'The worst is still to come': Food banks brace as pandemic pushes people to the brink
At the start of 2020, Grace, a single mother of three, was just about making ends meet. Working to keep her young children fed and sheltered was a challenge.
Widespread closures in March to contain the novel coronavirus overwhelmed her.
"As a result of the pandemic, I had to stop working when child care shut down," said Grace, who has relied on the Mississauga Food Bank, and is quoted in a new report on food poverty by Feed Ontario. "Being the only adult at home with my three young children made going to my local food bank impossible."
With schools closed and no child care, she was forced to drop her part-time job and stay home. Overnight, her family's income dried up, and hard choices between rent or food were nearly impossible to make.
Grace is one of 800 clients now benefiting from a delivery program launched by the Mississauga Food Bank. Without a car to haul her young family around, the food bank's service is a lifeline.
"I really needed help," she said. "I wasn't able to keep up with my family's expenses; I'm a single mother and was looking for support."
Grace is one of thousands across Ontario with similar stories.
The COVID-19 pandemic has led many residents in Peel and across Ontario to turn to local food banks for help.
On Monday, Feed Ontario released its Hunger Report, tracking a continued increase in food bank use around the province. The organization links this rise to a variety of structural issues, including unstable housing, precarious employment, insufficient social safety nets and, of course, the pandemic.
The report analyzes data from 130 member food banks around Ontario, including the Mississauga Food Bank and Knights Table in Brampton. The figures are from April 2019 to March 2020, with additional sections of the report focusing on the impacts of COVID-19.
While Mississauga Food Bank acts as a charitable umbrella organization for its city, Knights Table in Brampton is just one organization. Peel's northern city has a scattergun approach to food intervention, so data and analysis are available on a wider scale in Mississauga than Brampton.
Following a discussion at the Region of Peel early in 2020, a process is beginning in Brampton to bring more uniformity to its food bank model. In years to come, this could mean more complete numbers for the city and more help.
"To address the concern about capacity, the United Way of Greater Toronto announced funding for a consultant/specialist to work with the partners to co-create a survey, provide data collection training, and support the data analysis," a December 3 Region of Peel council report explains. "The Request for Proposal was released at the beginning of November 2020."
The figures for food poverty and insecurity in Ontario are devastating.
As of 2018, one in eight Ontario households were considered food insecure. A total of 1.7 million people fall into the category and dependence on food banks has increased as a result of COVID-19.
The use of food banks, designed as an emergency option and not a full-time solution to policy failings, has steadily increased for years. According to Feed Ontario, the 2008 recession resulted in a 29 percent jump in food bank users. The overall number has not dropped in the years since, meaning those driven to this last resort as because of the pandemic join an already growing line.
"What was scary [in 2008], was we didn't see it immediately," Feed Ontario executive director, Carolyn Stewart, told The Pointer. "People expect our demand to be highest right now even with the pandemic, but we're saying the worst is still to come. We see the rippling effects of economic impacts. People are going to do things like: burn through savings, borrow from friends, use credit cards to get loans … unfortunately we are still carrying the demand from the last recession, our numbers have never gone back down."
As previous reports have done before it, Feed Ontario points a finger at housing as a key driver of food bank use. A survey completed in September showed one in two respondents reported they were worried about evictions or defaulting on their mortgages in the months to come; 86 percent of food bank users were rental or social housing tenants who spent the majority of their income on rent.
Rental prices in cities like Mississauga and, to a lesser extent Brampton, are at the root of the problem. As a general rule, people should not spend more than 30 percent of their income on housing, a metric that is near impossible to achieve in Peel.
In Mississauga, a November report by Rentals.ca shows the average one-bedroom unit costs $1,877 (down 5.6 percent from 2019). Across a year, total rent would come to $22,523. In Brampton, an average one-bedroom rental comes to $18,804 in a single year. To pay no more than one third of income in rental costs in Mississauga, an individual would need to earn $67,572 per year and $56,412 to achieve the same in Brampton.
According to the 2016 Census, Brampton's median total individual income was $29,092, and Mississauga's was $31,311. Today's real estate picture points to how out-of-reach rental accommodations are for many Peel families, and those living on their own.
In the country's sixth largest city, that median individual income, after taxes, would be about $25,886, so to cover the cost of an average one-bedroom apartment in Mississauga, it would leave about $280 a month to pay for food, utility bills, other bills, clothing, transportation and all other expenses.
At minimum wage ($14.25 per hour), a full-time (40 hours per week) job will only yield an annual salary of $29,640, before taxes.
The Canada Emergency Response Benefit (CERB), introduced to help those suddenly out of employment as a result of COVID-19, lasted just a few months in the summer and did not come close to these figures. Feed Ontario notes in its report that (at $2,000 per month) CERB is significantly more generous than comparable social securities.
More than 65 percent of food bank users in Ontario receive some kind of social assistance; 32.6 percent cited Ontario Works and 33.2 list Ontario Disability Support as their main source of income.
Information about those using local food banks from Feed Ontario's Hunger Report.

When the pandemic first hit, food banks saw a massive spike in demand. The introduction of CERB helped a little, but early data suggest the end of many of the pandemic measures introduced earlier (including a moratorium on evictions) could see things worsen once again.
"We're still tabulating those numbers. For September, we did see a 10 percent increase in visits," Stewart explained, suggesting it could correlate with a reduction in government support.
In its annual report, the Mississauga Food Bank shows a sharp increase in the number of first-time users, with a 15 percent jump over last year, along with a 41 percent increase of unique individuals served. Ontario 211, a social security helpline, said requests for information on food services increased 1,307 percent in the first week of March and the second week of April.
"It was in June [we saw our big spike]," Megan Nicholls, CEO of the Mississauga Food Bank, told The Pointer. "I suspect people thought: 'This is a short time, I'll try and make it, things will go back to normal quickly.' Then people thought: 'Oh, my resources have been depleted and now I need to seek out support from the food bank'."
In the face of rapidly growing food insecurity, both Feed Ontario and the Mississauga Food Bank have created a list of recommendations for governments. Each of them speaks to policy failings which have allowed so many people to fall through the gaps, waiting to be saved by non-governmental charities like food banks.
Feed Ontario has recommended CERB continue for all social assistance recipients throughout the pandemic as well as desperately needed rent relief for low-income tenants. The group is backing calls, also being made by Peel Public Health medical officer of health Dr. Lawrence Loh, Mississauga Mayor Bonnie Crombie and Brampton Mayor Patrick Brown, to guarantee sick days for workers to offer them some income security in the midst of the ongoing public health crisis.
"Food banks are not the solution to ending food poverty in Ontario," Stewart said. "We are an emergency support system that exists to provide emergency support to people in need who are facing hunger."
In Ontario, the current PC government's record in the area is patchy at best. Early into his term, Premier Doug Ford cancelled a universal income pilot which had been widely praised by equity advocates. Universal income is one of the Mississauga Food Bank's recommendations to help reduce food poverty.
In late 2018, his government also scrapped paid sick days for low-income workers, which have been recommended by Feed Ontario.
Finally, recovery legislation has been criticized for increasing housing insecurity. Bill 184 (Protecting Tenants and Strengthening Community Housing Act) received Royal Assent on July 21 and was called out by housing experts for the manner in which it made evictions easier for landlords.
As the pandemic continues, it is unclear how long charities can play the role of Atlas, carrying the world on their shoulders. Legislative changes are being demanded to tackle the root causes of food insecurity and poverty.
Food banks are carrying the world on their shoulders like Atlas, an ancient Greek Titan.
"Let's say, three years from now, there's another pandemic or disaster on the same scale, would the community be willing to be generous to support their neighbours in that way again?" Nichols said. "Or would there be the expectation that society, that government, has determined a way to make the holes in that safety net a little bit smaller, so not as many people fall through?"
---
Email: [email protected]
Twitter: @isaaccallan
Tel: 647 561-4879
---
COVID-19 is impacting all Canadians. At a time when vital public information is needed by everyone, The Pointer has taken down our paywall on all stories relating to the pandemic and those of public interest to ensure every resident of Brampton and Mississauga has access to the facts. For those who are able, we encourage you to consider a subscription. This will help us report on important public interest issues the community needs to know about now more than ever. You can register for a 30-day free trial HERE. Thereafter, The Pointer will charge $10 a month and you can cancel any time right on the website. Thank you.
Submit a correction about this story